Our Simple Valentine's Day Table Decorations
Do you decorate for Valentine's Day? Today, I'm sharing the simple Valentine's Day table decorations that we use in our home year-after-year for our family Valentine's Day celebrations.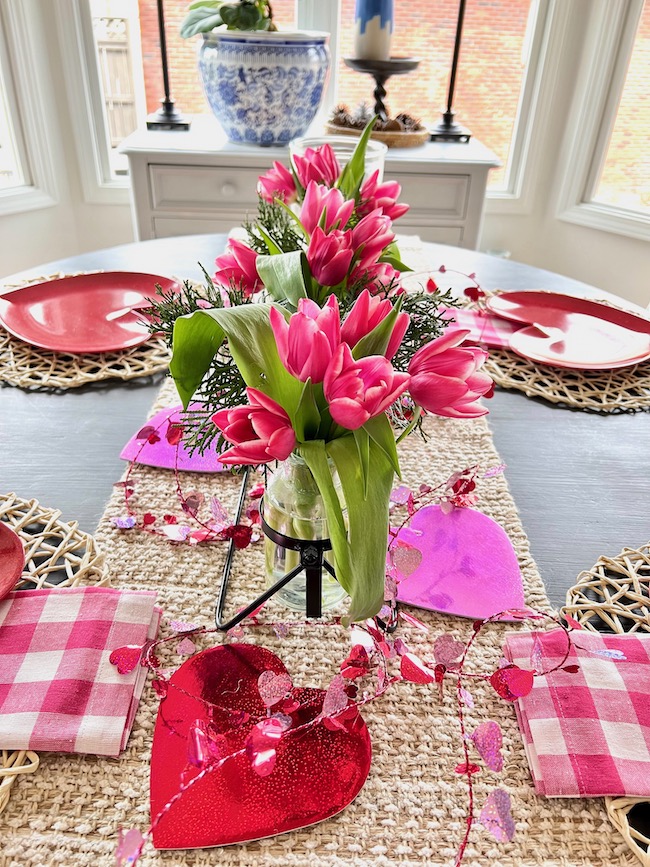 When it comes to decorating for Valentine's Day, you probably fall into 1 of 3 camps.
One. You go all out and throw all of your Christmas decorating energy into all the heart and Valentine's Day love. You turn all of your red Christmas decor into a Valentine's theme and celebrate for weeks leading up to the holiday. Your home is full of hearts from mid-January to February 14th.
Two. Valentine's Day decorating really isn't your thing. You're still trying to recover from un-decorating all of your Christmas. I get it! Or,
Three. You fall somewhere in-between. You like to celebrate the actual day with some simple decor and gifts and then move on. It's not a two or three week season for you. You make the day somewhat festive for your kids or loved ones, but you don't go all out crazy.
This post is for you if you fall into category #3. It's pretty much where I fall and how I decorate for the day. Valentine's Day is really fun for kids and I've always made it more of a family thing in our house.
(This post contains affiliate links, so I may earn a small commission when you make a purchase through links on my site at no additional cost to you. As an Amazon Associate I earn from qualifying purchases.)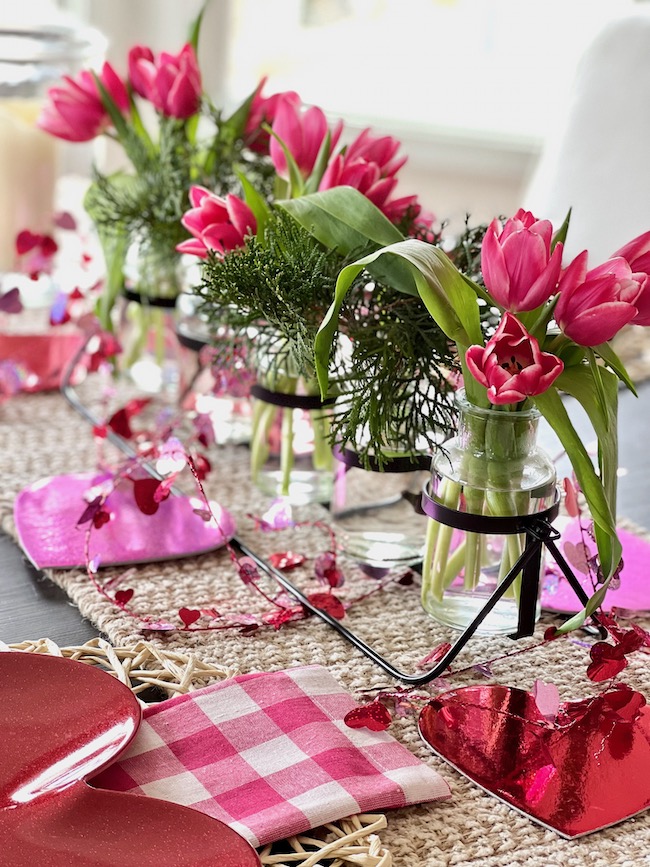 I don't typically decorate our home with a Valentine's theme weeks ahead of the day, although if you do that's fun, too.
This time of year, I'm usually still putting away all of the Christmas decor, transitioning into some simple winter decor around the house, trying to get organized, and looking ahead to spring and what fun home projects I want to tackle for the year.
So, most years I find myself throwing something together quickly the day (or night) before Valentine's Day, and it's usually just a simple Valentine's Day table. And, honestly, I use most of the same decor year after year.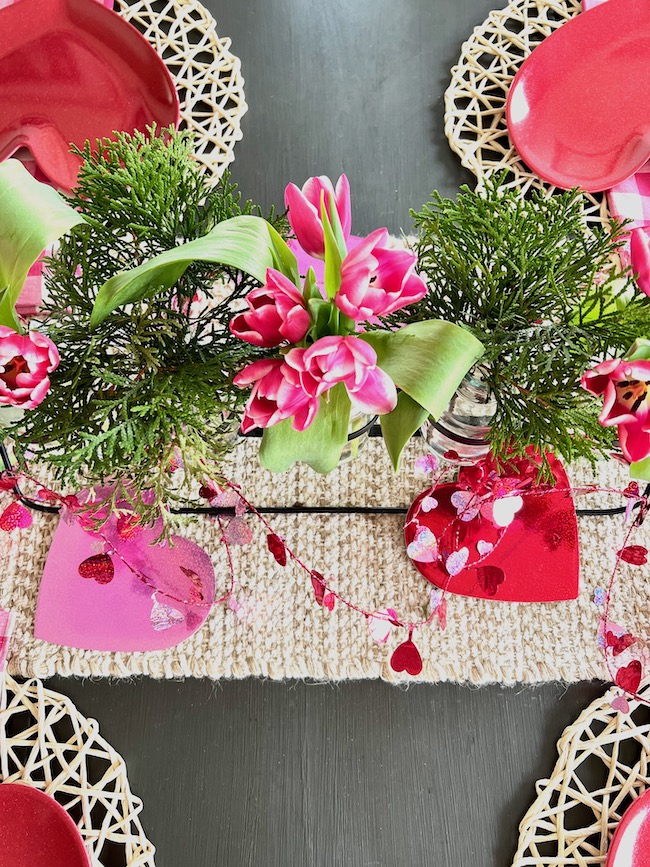 The key to making this so easy year after year is having a few items like non-disposable plates and cloth napkins in your color scheme that you always have on hand. 
Yes, I am planning ahead a little this year so I can show you what I do so that you have something you can throw together the day before Valentines' Day this year, too! That's just what comes with writing a blog about decorating:)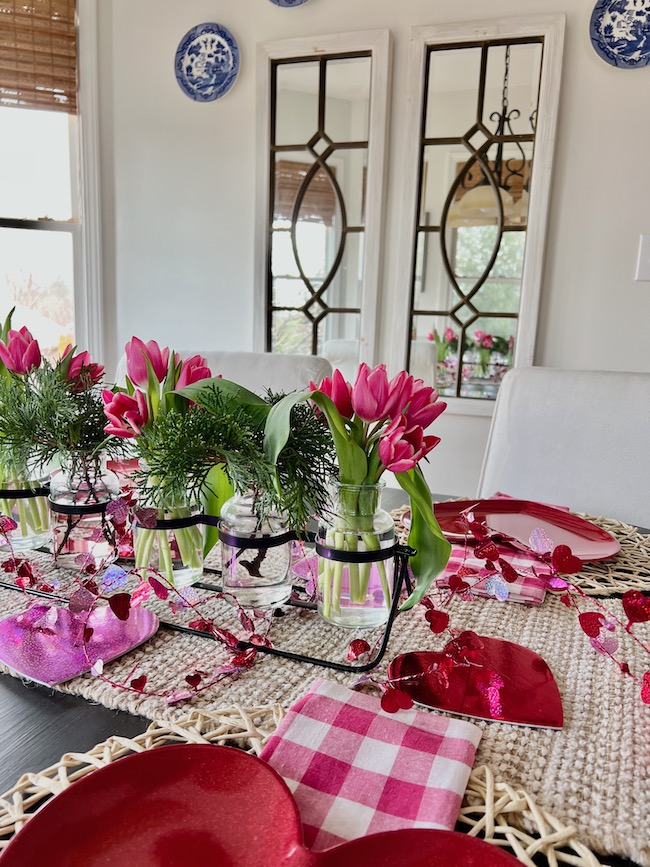 I love having a simple decor piece like this multi bud vase centerpiece. I purchased mine locally from At Home and here is the online link to it.
Amazon also has some great bud vase centerpiece options like this one.
It's so easy to change out from season to season. This is how I love to decorate in general — with staple decor pieces that are easy to change out. You can read more about foundational decor pieces I love to use here.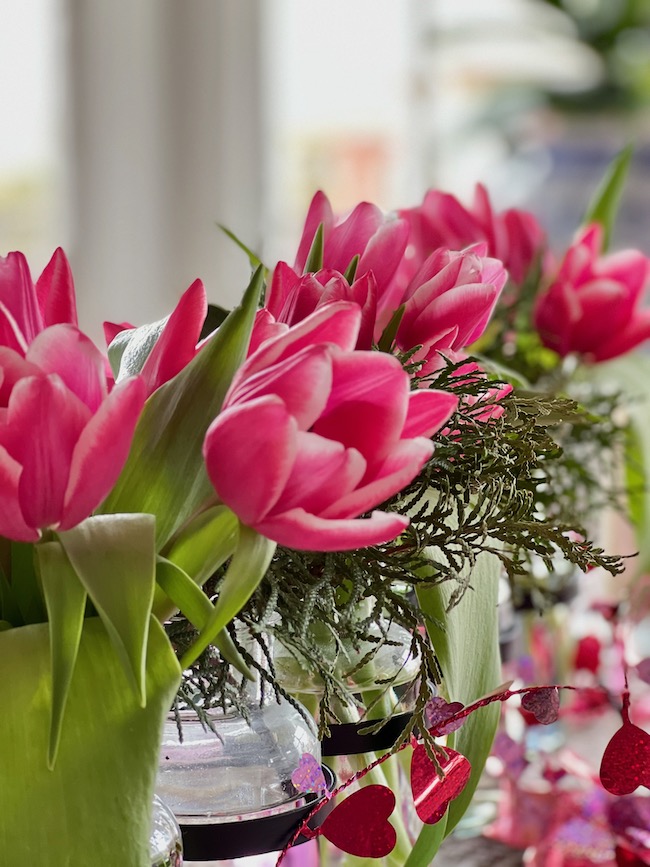 You want to know a secret? This greenery is the same greenery I clipped WEEKS before Christmas, and it is still going strong! It's just a little arborvitae from the landscape.
My winter flowers were starting to fade, and there were so many tulips at the grocery store this week, so I snatched up a bouquet to use in the vases. I had a hard time choosing which color!
I just love how the centerpiece turned out! It's perfect for Valentine's Day, or for any day for that matter. It's the perfect pop of color in our winter decor.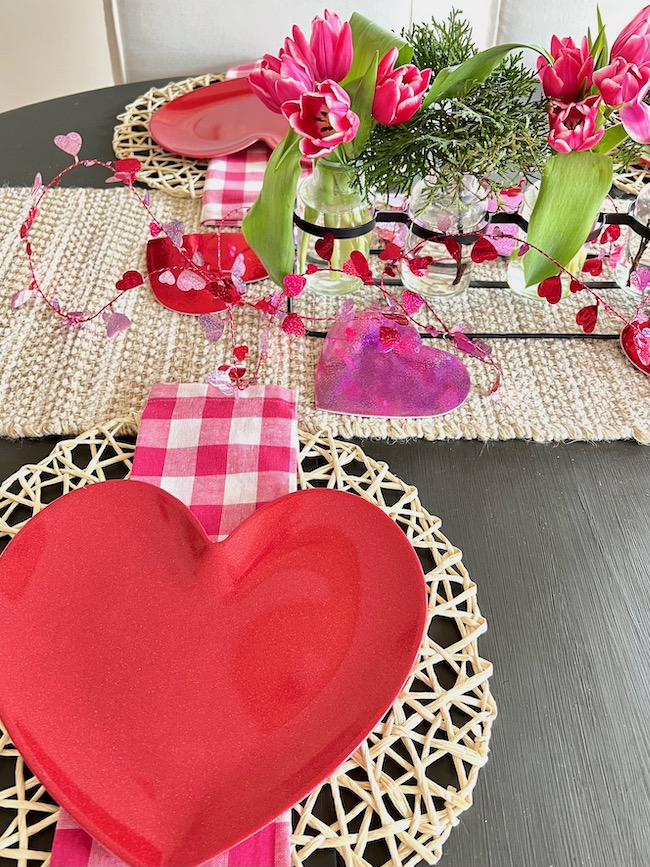 I've probably had these red melamine heart plates for 13 – 14 years. They make their appearance every Valentine's Day, usually for breakfast, but sometimes dinner. 
I'm using them with these pretty placemats for some fun texture.
And, I added these cute pink and white plaid napkins for my red and pink color scheme.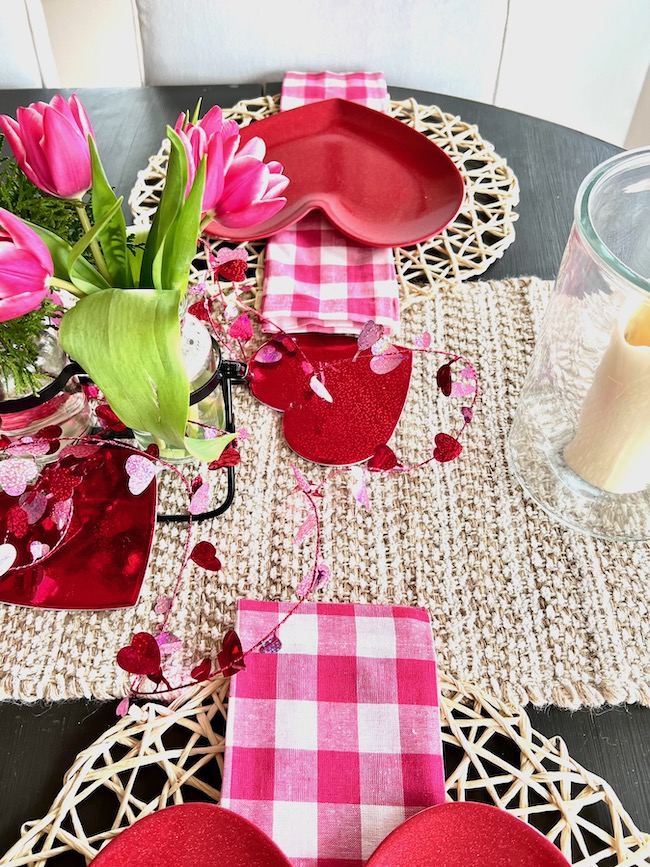 The heart garland and heart cutouts have been used in our home on Valentine's Day for a LOT of years.
---
---
These red heart melamine plates are similar to mine.
These are the pink plaid napkins I have.
This garland could be cut apart to make hearts for your table, or keep it to use as-is.
My placemats were purchased from TJ Maxx a couple of years ago, but these placemats are similar in color.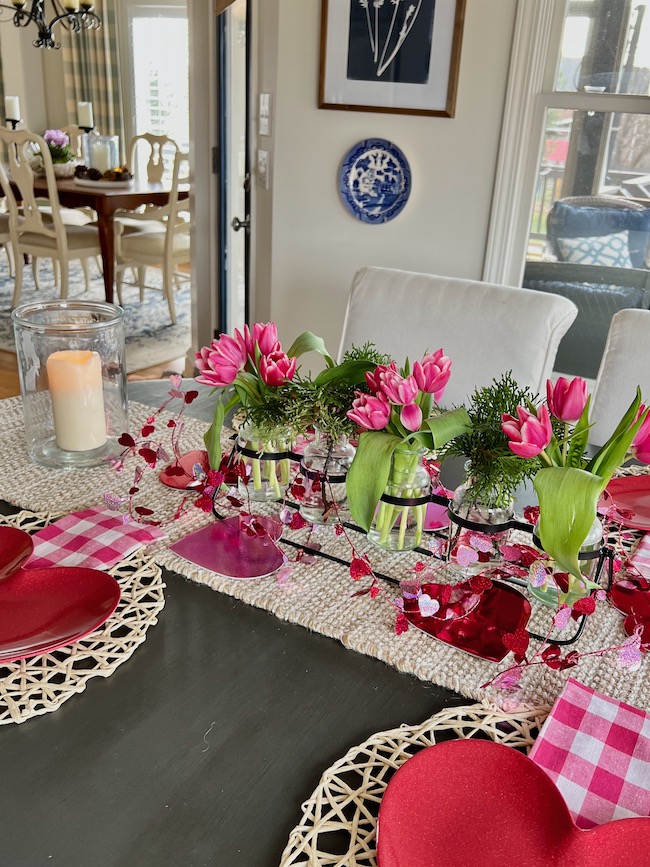 You can always just cut out some construction paper or card stock hearts to use if you didn't purchase ahead of time.
It's fun to kick off the day with a special breakfast of some of our family favorites before work or school. 
Our favorite sausage casserole is always a hit in our family. You can find my sausage casserole recipe in this post.
Of course, on Valentine's Day you need something sweet, so this French toast casserole is perfect. 
You can always go with yummy cinnamon rolls or donuts!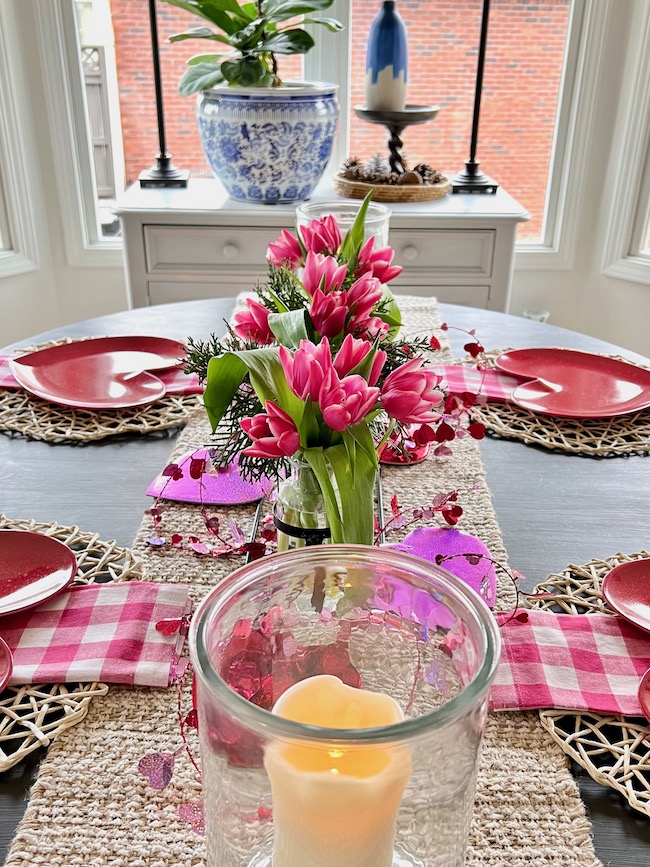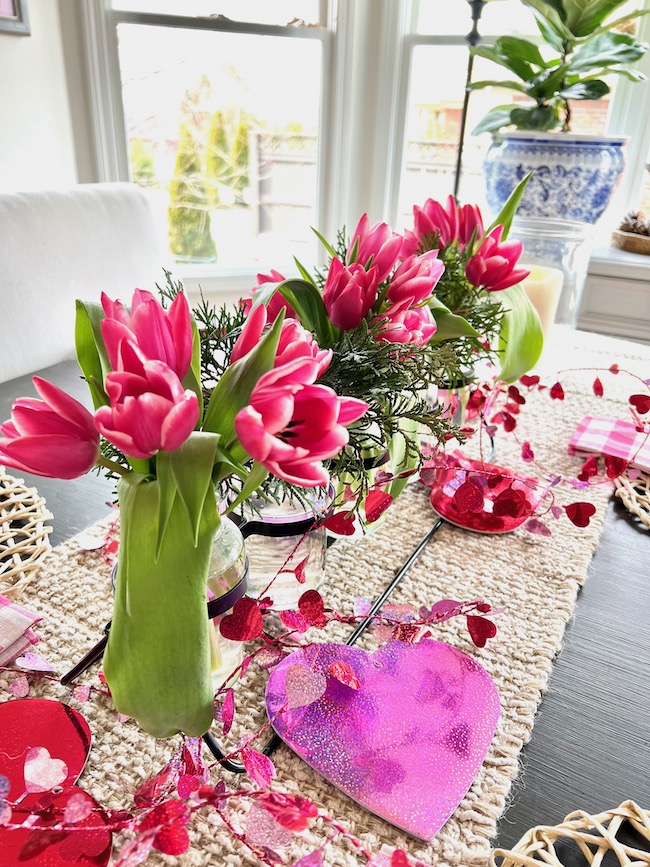 I hope you enjoyed this very simple Valentine's Day table. I hope it inspires you to think of how you can create simple tablescapes and centerpieces with just a few simple things on hand.
So much of life is what you make of it. Celebrate and enjoy, but keep it simple! 
Happy decorating!
You might also enjoy reading …