Gorgeous Bud Vase Centerpiece Ideas for Your Table
Need an easy flower arrangement idea for your table? These bud vase centerpiece ideas are beautiful and easy to create.
​Creating a pretty centerpiece is super easy when you have the perfect vase — or vases in this case! Using a bud vase holder is the perfect way to style your table and show off your gorgeous blooms!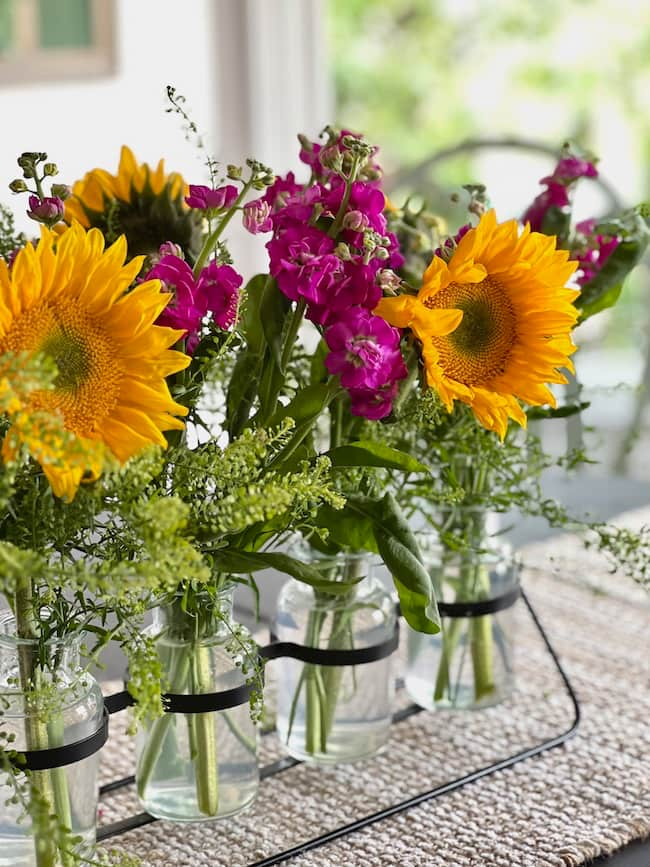 (This post contains affiliate links, so I may earn a small commission when you make a purchase through links on my site at no additional cost to you. As an Amazon Associate I earn from qualifying purchases.)
I just love it when beautiful and simple can both be used to describe a decorating project — and those are perfect words to describe today's centerpiece arrangement!
There's nothing like a trip to Trader Joe's for a little flower styling inspiration. I do have to confess though that with so many pretty flowers available it can be hard to narrow down my choices!
This week's Trader Joe's shopping trip was on a particularly plentiful day in the flower department, but I managed to procure my flower selections and be on my way in a reasonable amount of time to head home to create a pretty late summer centerpiece!
Whether you have an abundance of summer blooms in your flower garden, you love to pick flowers at a local farm, or, like me, you've just completed your grocery shopping with an abundance of blooms in hand, styling your flowers in a grouping of small bud vases is a gorgeous and easy way to show off your creativity!
By combining bud vases, small glass bottles, or glass jars, these mini floral arrangements gathered together on a table will become the focal point of your room.
Every table needs a pretty centerpiece, and when you have the right vases and vessels, it makes styling them a breeze!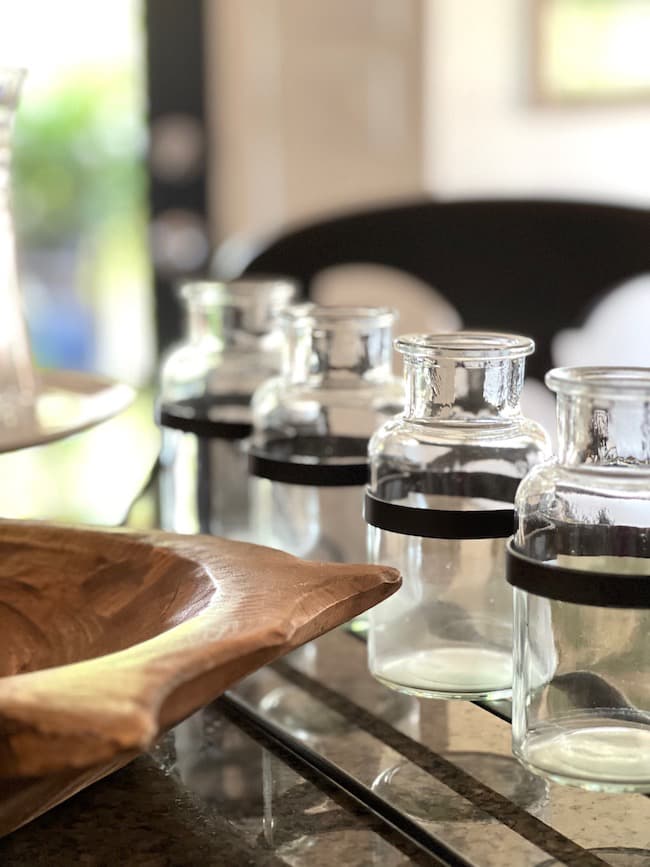 One of my favorite pieces in my arsenal of vases and containers is this wonderful little multi bud vase holder! With its easy-to-arrange structure, creating a perfect centerpiece for your kitchen table or dining room is as simple as selecting your favorite blooms and placing them in the small bud vases. It provides so much flexibility for mixing and matching different flowers, experimenting with varying arrangement heights, and adding your favorite seasonal touches.
It makes arranging flowers so easy, and I'm going to show you how I used it to create these gorgeous arrangements today.
​Creating an Easy Bud Vase Arrangement:
These arrangements certainly have a late summer vibe with the shades of gold, purple, magenta, and green flowers I chose.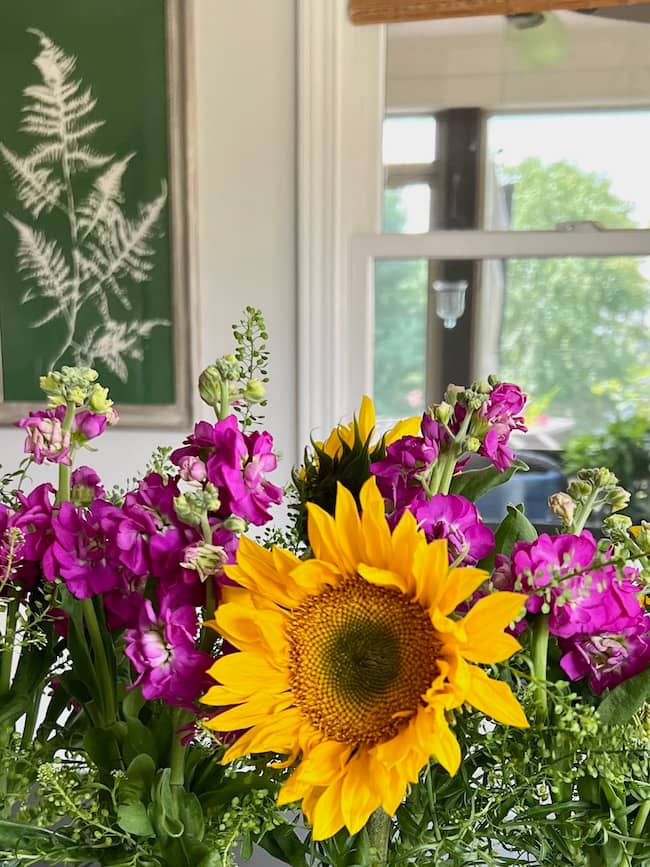 When I create floral arrangements, I always remove the flowers from their wrapping, cutting away any rubber bands holding the stems together. Trader Joe's is great about providing these wonderful buckets with a small amount of water for bringing the flowers home. I separate all of the flowers so it's easy to grab what I need as I'm creating.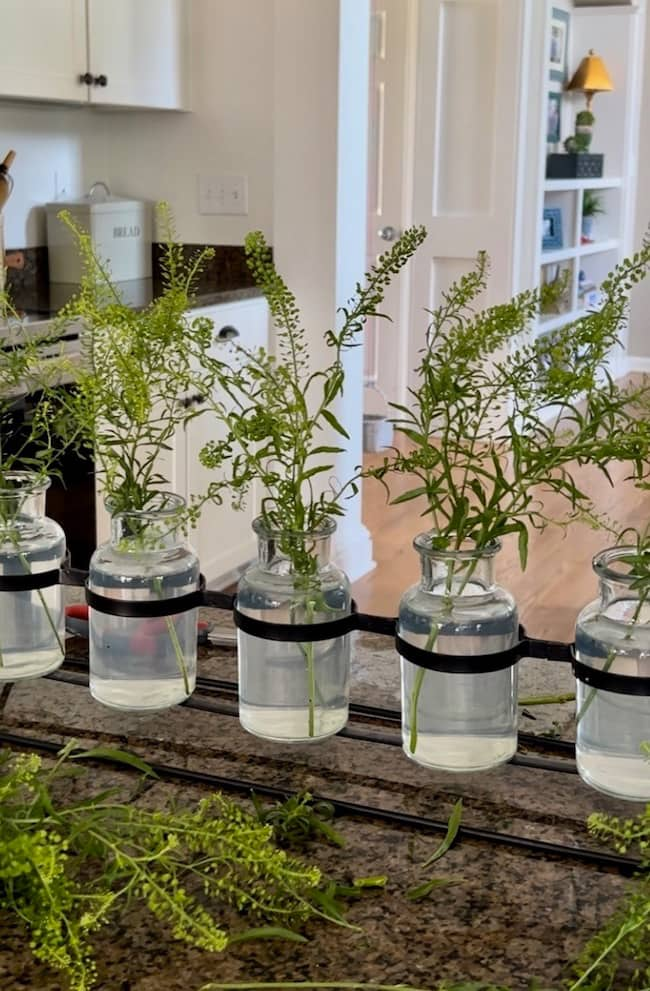 Don't forget to purchase filler greenery for creating your arrangements. I started with a layer of greenery filler and added to each bud vase.
Next, I add stock in this lovely magenta color.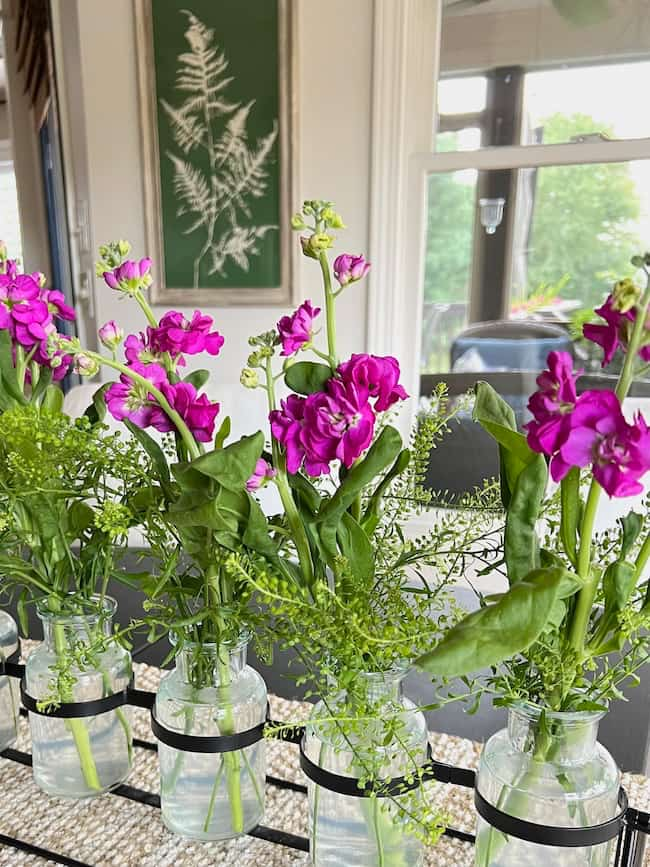 ​The beauty of creating arrangements with bud vases lies in their flexibility. You can keep the bud vase centerpieces simple with only a single stem, or add as many as the vases with hold.
This arrangement looks beautiful with simple greenery and the purple stock.
For more vibrant late summer color, I added golden sunflowers to each vase.
After adding the sunflowers I filled in each vase with a little more greenery to provide support for the heavy stems of the sunflowers.
I love the vibrant summer flowers on our kitchen table. The chartreuse greenery pops against the white walls, and plays well with the green and white botanical prints for a relaxed late August summer look.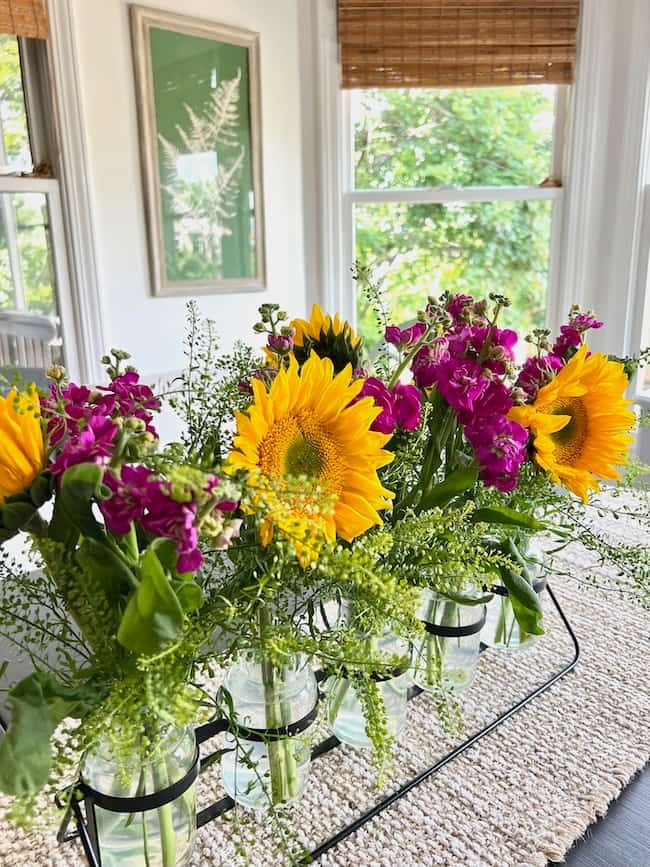 These small vases can hold quite a lot of flowers, so this vase holder gives lots of freedom to play with different varieties and sizes of blooms to create gorgeous arrangements for any occasion that comes your way. Whether you're going for a soft, romantic vibe with pastels or a burst of vibrant color for a celebratory gathering, this bud vase holder makes flower arranging a breeze! It's all about making things easy and elegant – just what you need when you want a beautiful centerpiece without the hassle.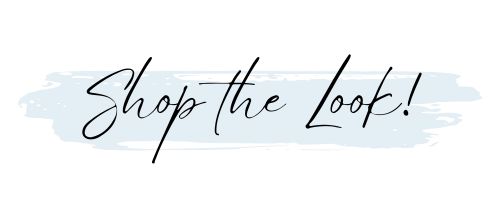 Creating Easy Seasonal Arrangements:
It's incredibly simple to transform your dining room table decor with the changing seasons, all thanks to the magic of these small vases in this versatile multi bud vase holder.
When fall arrives, simply add a gorgeous fall color palette with cut flowers, leaves, and berry stems or twigs for a rustic look. This holder is great for both real and faux flowers, or using a combination of both!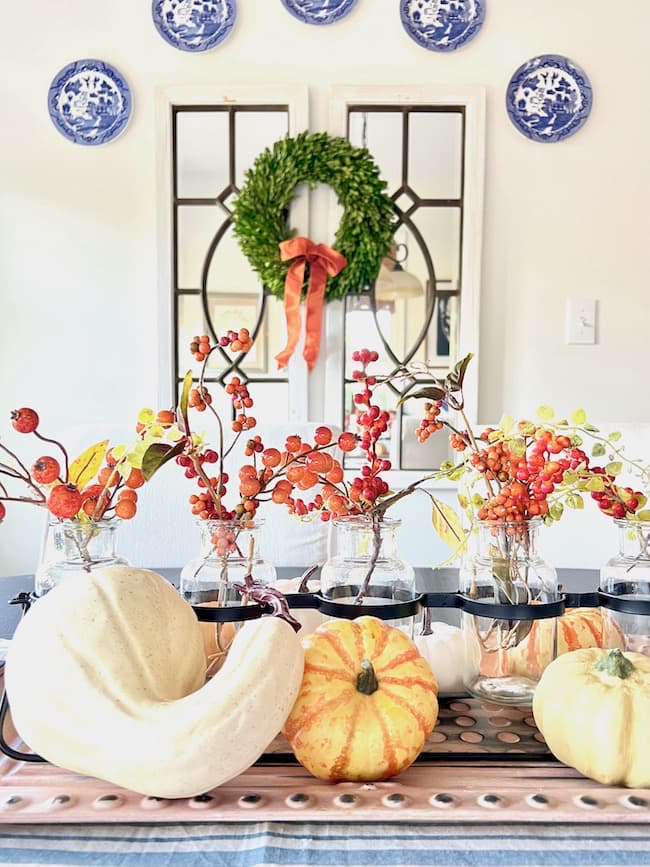 Faux berries make a subtle fall statement in this simple arrangement on our fall table.
For Christmas, add greenery from your yard and red roses for a festive look!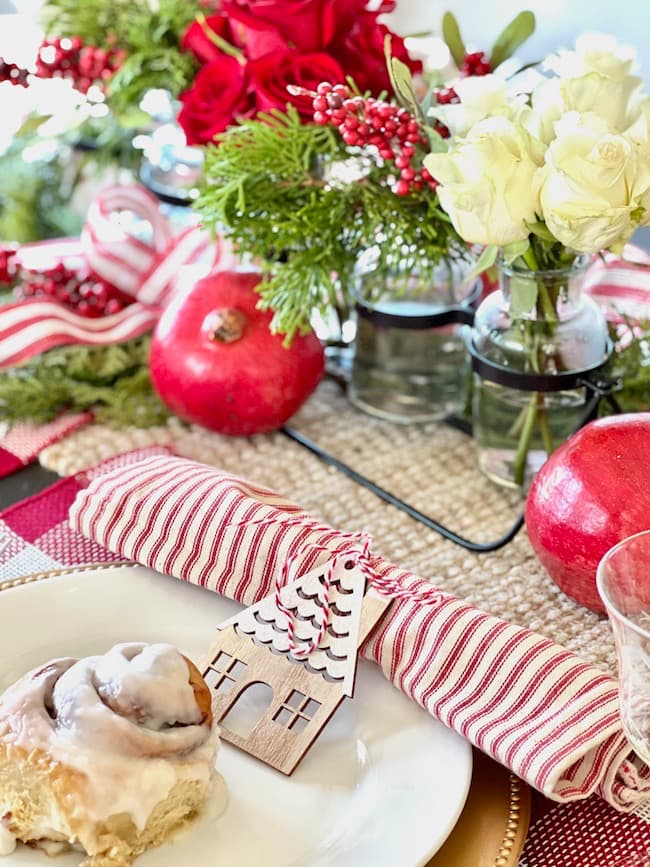 Red and white roses paired with greenery and faux red berries makes a beautiful centerpiece for a Christmas brunch!
The greenery is perfect for the winter months, and a few simple flowers can brighten up the long winter months.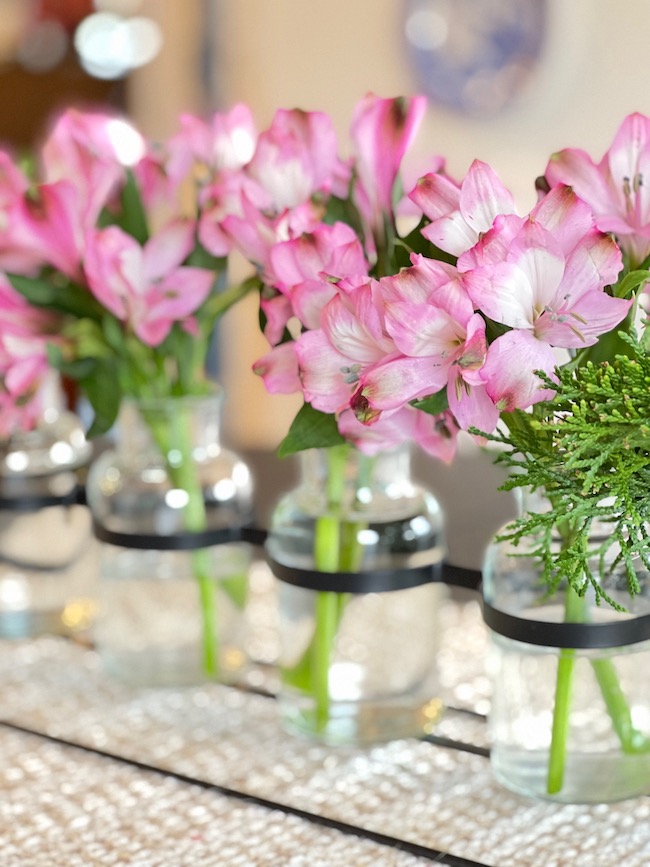 Pink Alstroemerias are the perfect addition to evergreen stems.
Bright pink tulips, greenery, and pink and red heart garland add a festive touch to the bud vase holder for Valentine's Day!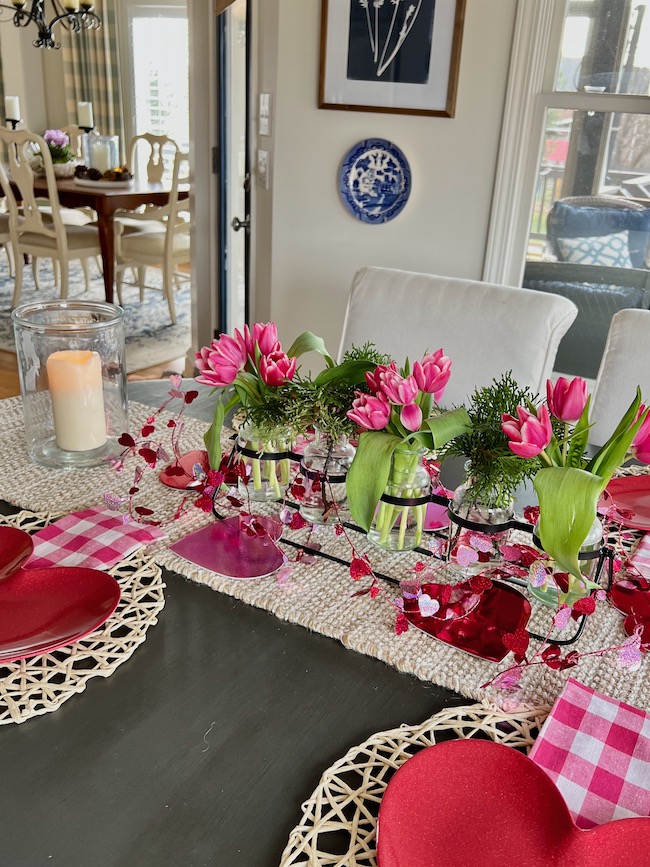 Adding tulips or daffodils will make a perfect centerpiece for the spring season.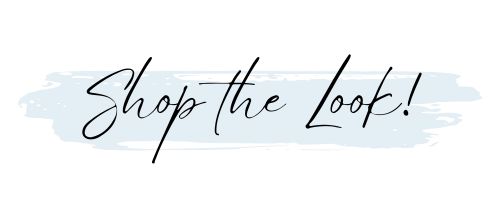 There are so many different ways to create table centerpieces with this decor staple all year long!
​Create your own multi bud vase holder.
The beauty of decorating with small bud vases lies in their versatility. They can be used in different ways to suit your home decor preferences. If you don't have a specific holder designed for holding multiple bud vase arrangements you can create your own.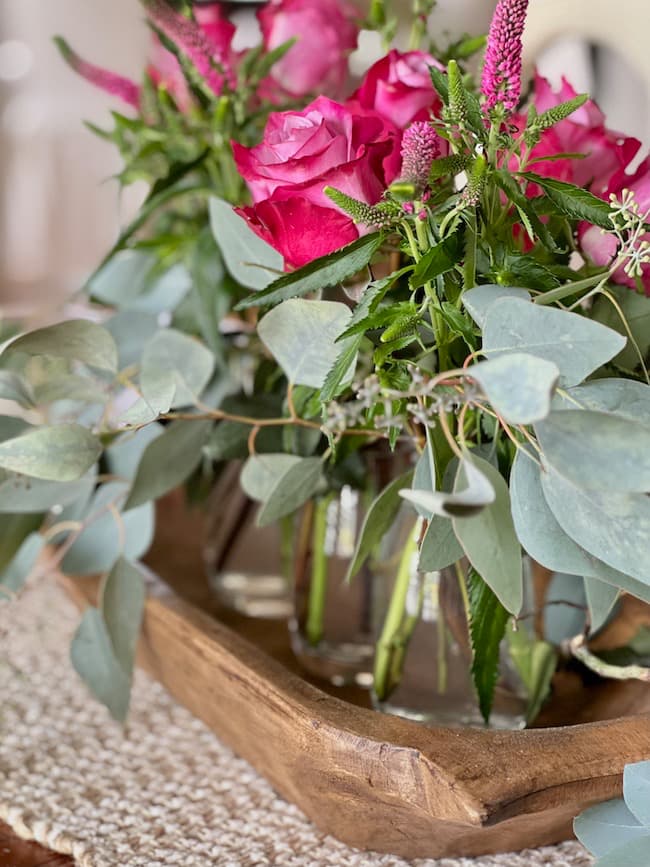 I love the rustic, yet elegant look of this bud vase arrangement in a wooden dough bowl.
Simply gather 3 small bud vases. You can be creative and use any small glass cylinder vase or jar for this purpose.
Arrange the vases in a row in the middle of the dough bowl.
Begin by adding seeded eucalyptus to the vases. For a more romantic unstructured feel for this table centerpiece, allow the eucalyptus to spill over into the bowl in a random fashion.
Add the roses to the vases, and then the magenta Veronica stems for a little more texture and charm.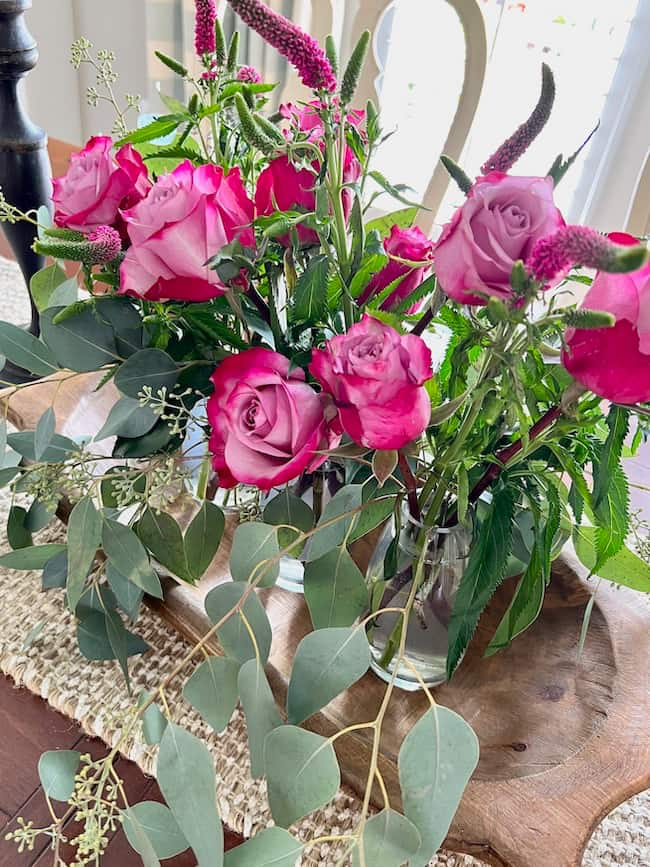 The beauty of bud vases lies in their versatility. Experiment with different blooms and foliage to find the perfect centerpiece that speaks to your style.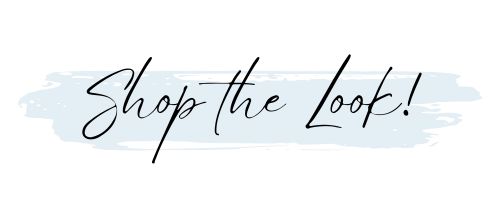 Group a Variety of Bud Vases on a Pedestal:
The creative possibilities are endless when it comes to decorating with bud vases. You can be as creative as you want to be. Combining multiple patterns, colors, and sizes of vases provides the perfect opportunity to add a whimsical touch to your decor.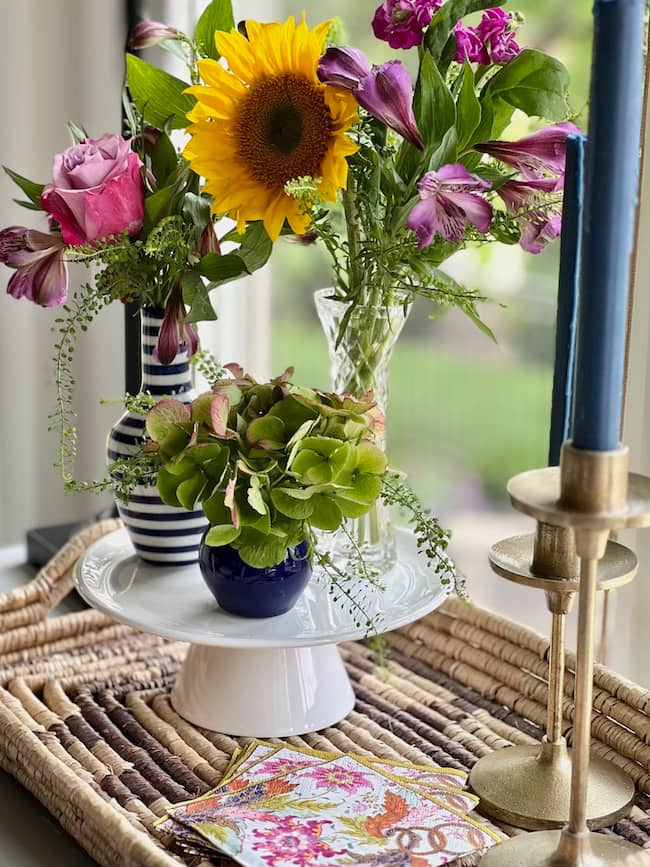 I gathered a favorite blue and white striped vase, a petite navy bud vase, and a classic crystal bud vase for this pedestal display on our buffet table.
The vibrant gold sunflower paired with the purple alstroemerias and pink rose create a relaxed, end-of-summer-vibe in our kitchen. I added a hydrangea bloom from our yard for the finishing touch.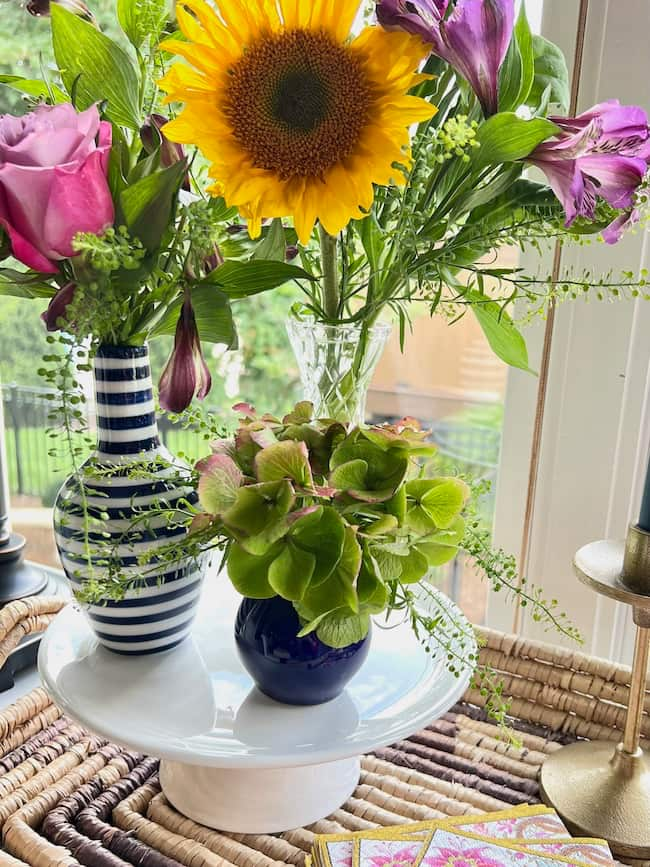 Fresh Flowers for Every Occasion: Creative Bud Vase Arrangement Ideas:
Whether you're hosting a formal dinner party or simply enjoying a cozy family meal, bud vase centerpieces can add that perfect touch. Add fresh flowers to create an elegant and timeless look that suits any table setup. There are so many fun ideas and centerpiece themes you can try!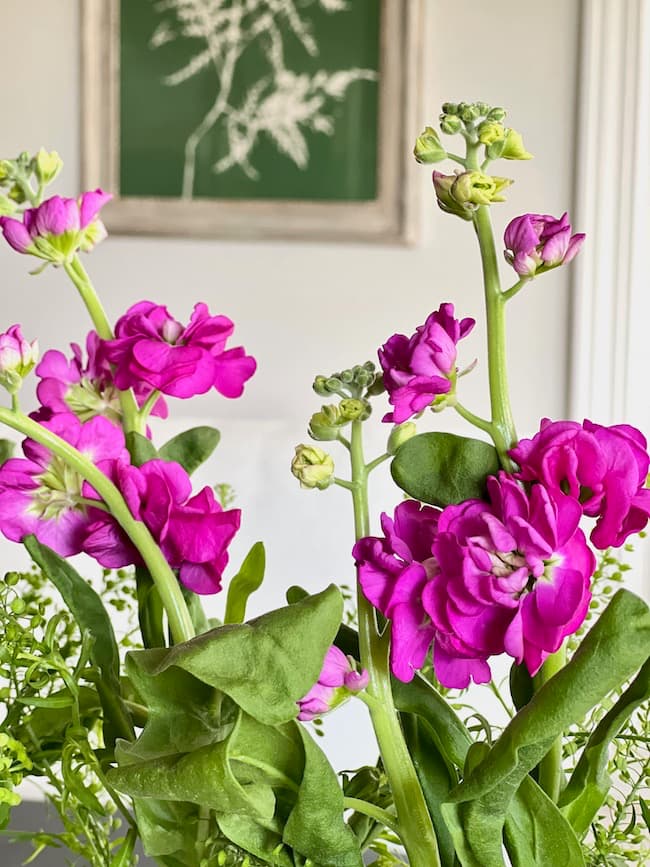 Arrange a row of bud vases with varying heights, each holding a single stem of the same flower in different shades of a single color.
Group bud vases in soft pastel hues with delicate blooms like roses, peonies, and ranunculus for a romantic and serene centerpiece.
Create a diverse mix of flowers, foliage, and herbs in each bud vase to mimic a garden in full bloom.
Arrange bud vases with autumnal blooms like sunflowers, dahlias, and berries for a rich and cozy fall centerpiece.
Combine an assortment of wildflowers with varying heights in bud vases for a charmingly rustic centerpiece.
Fill bud vases with vibrant tropical flowers and lush greenery for an exotic and lively display.
Pair delicate blooms with textured elements like feathers, twigs, and branches in bud vases for an intriguing mix.
Display small citrus fruits like oranges, lemons, and limes alongside colorful blooms in bud vases for a refreshing centerpiece.
Line up a series of minimalist bud vases with single, sculptural stems like call lilies or gladiolus for a sleet and contemporary look.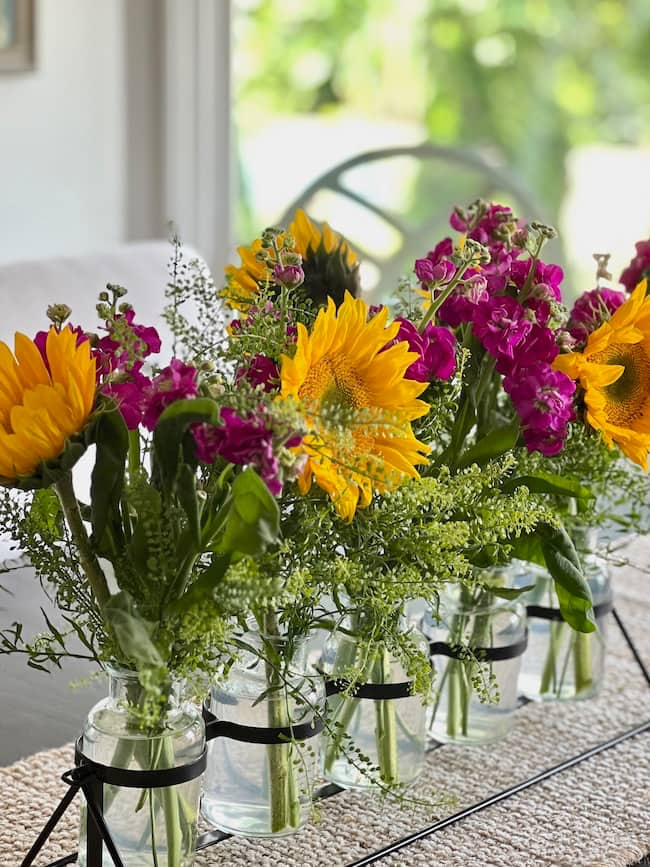 Incorporating bud vases into your table decor opens up a world of possibilities. From elegant dinner parties to casual family meals, these bud vase centerpiece ideas are the perfect way to elevate your table decor effortlessly.
So, gather your favorite bud vases, select the freshest flowers, and watch as your table comes to life with the perfect centerpiece.
Happy Decorating!