Biophilic Design — How to Bring Nature into Your Home
Have you heard the term biophilic design?
Biophilic is kind of a trendy word these days. In fact, it's one of the most searched terms on Pinterest. So, what is it?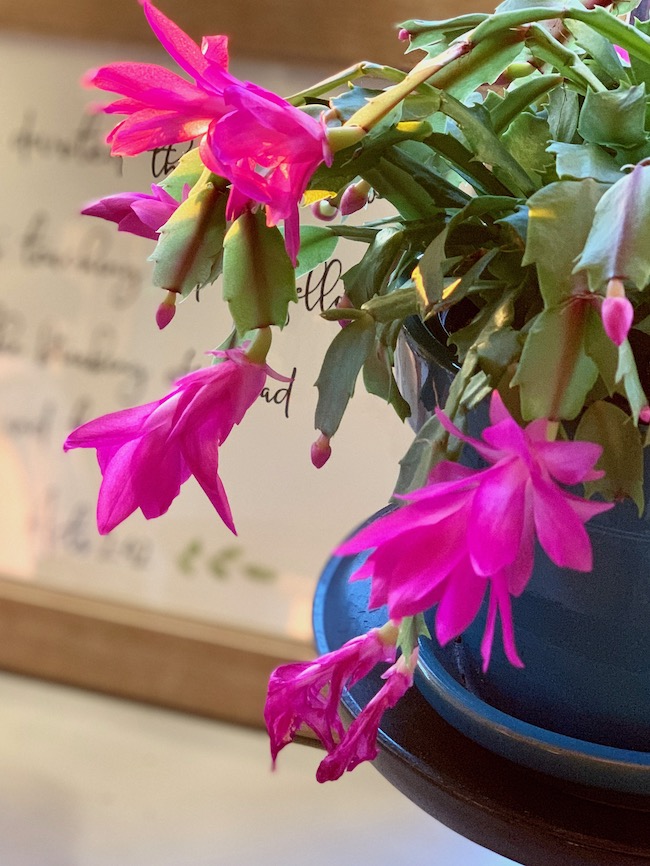 It's all about bringing nature into your home — the practice of incorporating natural elements such as light, foliage, water, air, and other earthy elements into the design of your home to help you interact with the natural world in ways that are beneficial to your health and well being.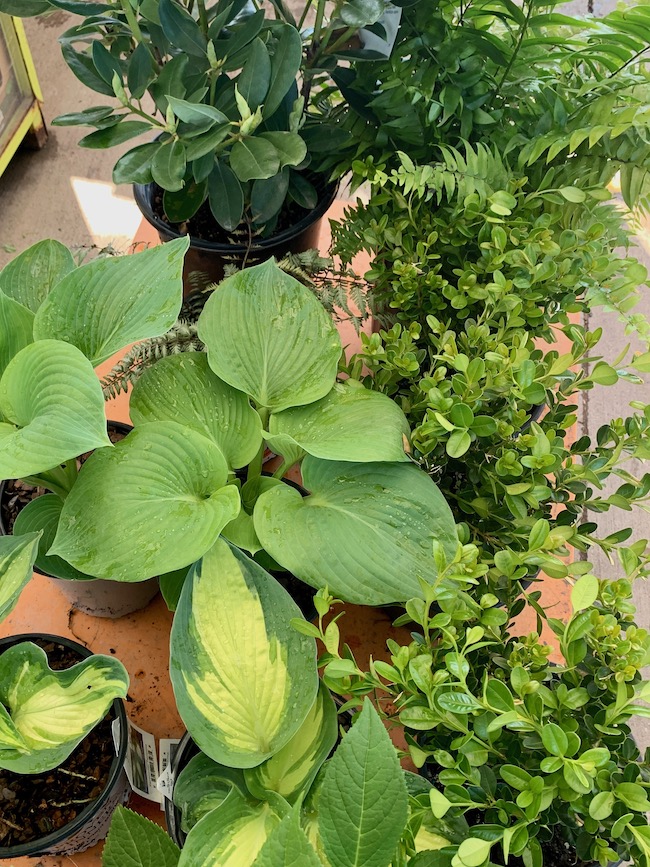 This weekend half the east coast and a lot of the south experienced snow and icy winter weather. In the cold winter months we tend to hibernate. We like to draw inside our homes and snuggle up in cozy, warm spaces. In Kentucky, we get a lot of dreary, cloudy winter days, and the lack of sunshine can certainly wear on you — especially if you are prone to seasonal affective disorder (SAD).
If you're like me, you find yourself wishing for warm, sunny spring days.
One way to lift your spirits a bit is to get outside and interact with nature; however, sometimes it's just not possible.
There are several ways you can bring a little nature and light into your home, particularly during these cold winter months.
You may not be able to go all "Clue"/Biltmore House and build a conservatory in your home.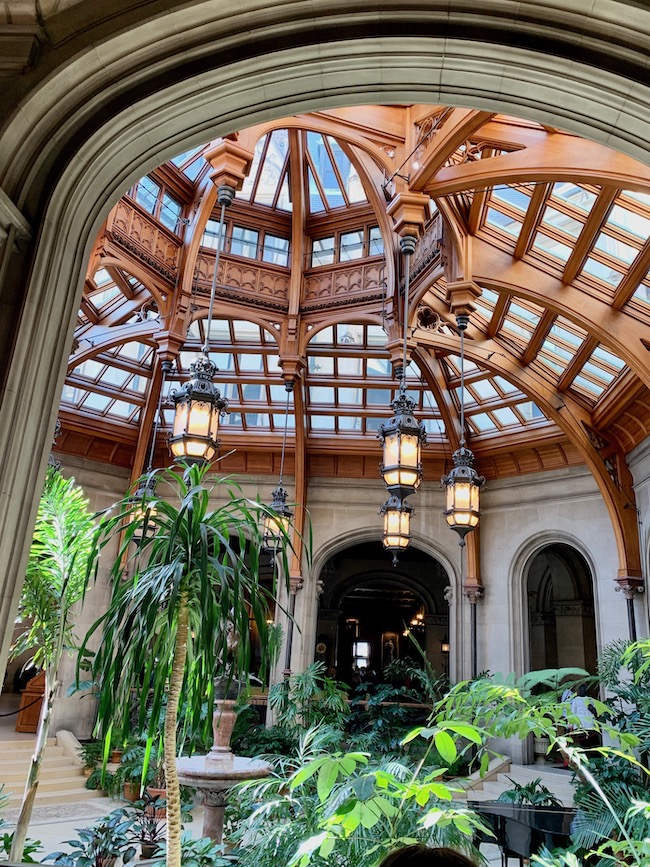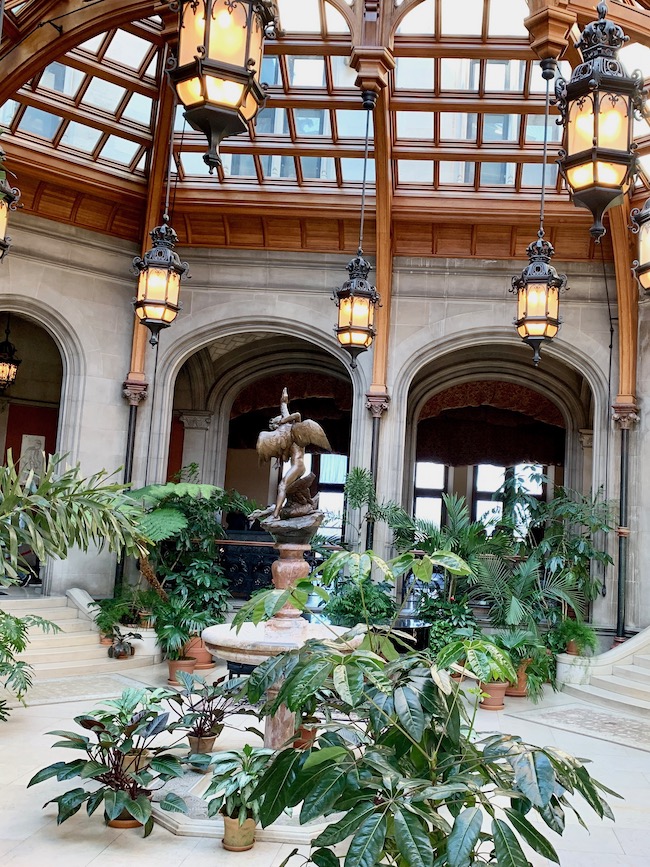 However, you can apply a few principles of biophilic design in simple ways around your home. It's kind of a big, fancy word, and a lot of the newer biophilic architectural and design trends have a more contemporary design aesthetic; however, there are many very simple ways you can incorporate these ideas into more traditionally decorated homes. The concept has been around for a very, very long time.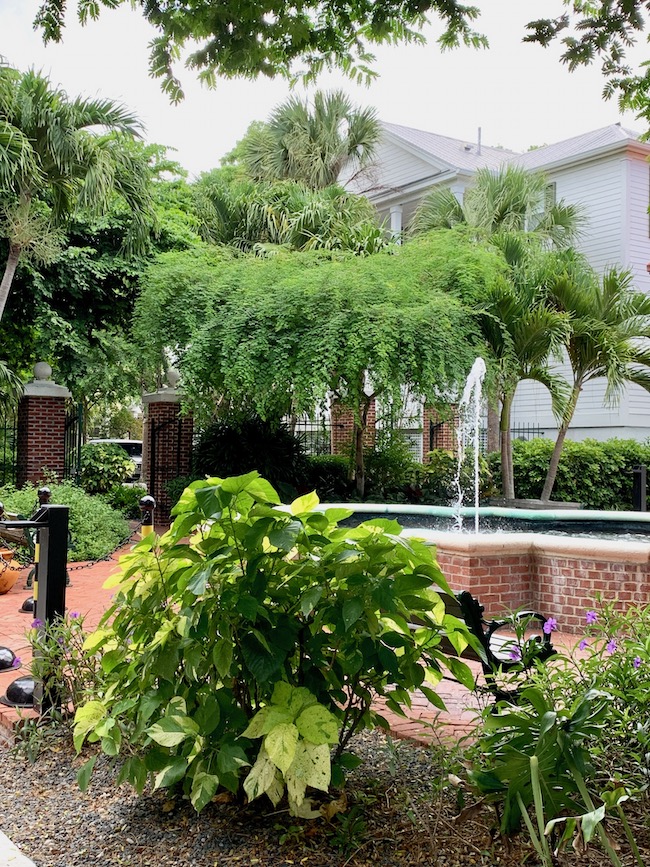 So, what are these biophilic design elements, and how can you bring a little nature inside your home?
(This post contains affiliate links, so I may earn a small commission when you make a purchase through links on my site at no additional cost to you. As an Amazon Associate I earn from qualifying purchases.)
Maximize the natural light in your home.
I absolutely love to have all of my blinds, shutters, and curtains wide open to let as much natural light in as possible. Light just feels happy and bright and can absolutely help your mood. Every morning I open all of my window coverings so I can see outside and enjoy as much of nature as I can.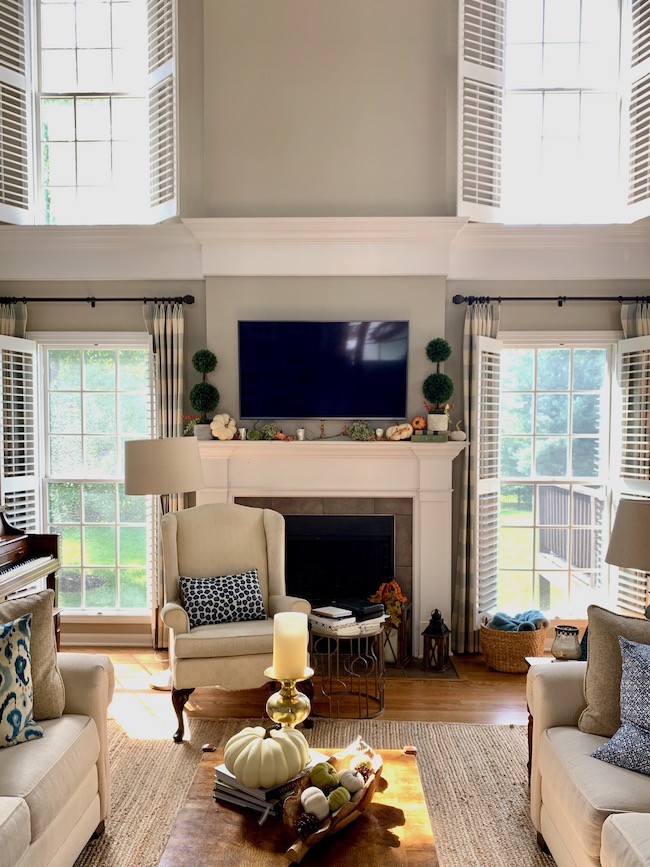 I even enjoy the winter scene — the bark of the trees, the leftover dried hydrangea blooms still on their stems, and the pine trees in our back yard.
I do love winter days that are sunny. There aren't a lot here in Kentucky, but when the winter sun shines it casts such a beautiful light across our rooms. Everything just feels more inviting and the rooms just have a little more life to them.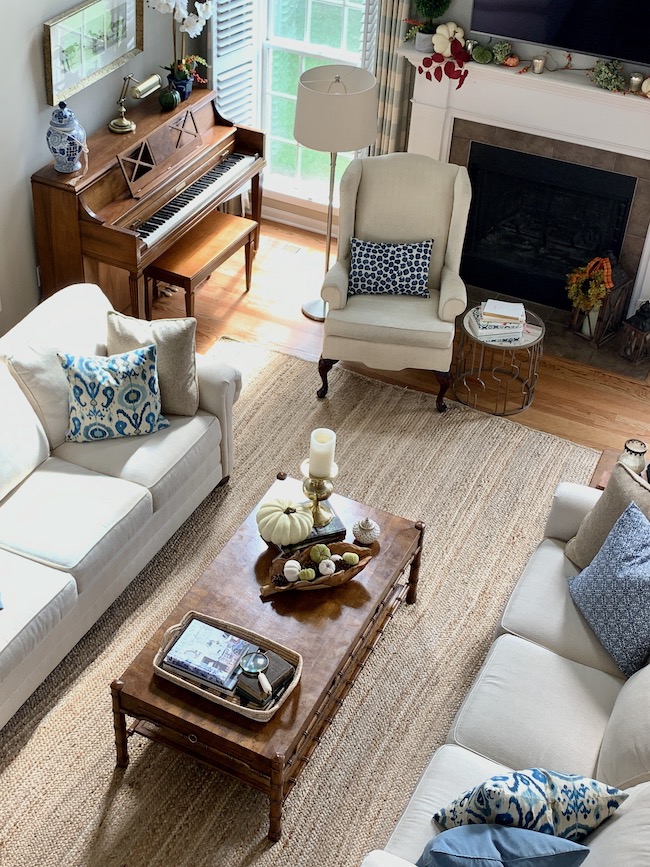 So, raise those blinds and let as much natural light into your home.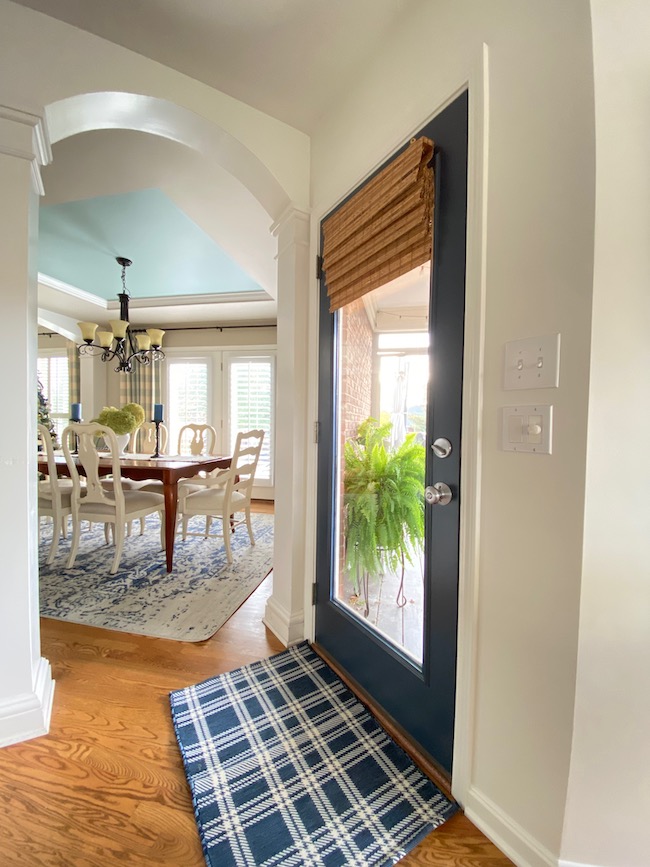 For days that are not so bright, use layers of artificial lighting in your rooms. I keep table lamps and task lighting on throughout the day to add warmth to our home. It just feels more inviting and cozy.
Add live plants and flowers to your rooms.
I'm trying to get better at keeping plants alive! I've never really had a very green thumb, and honestly, it's because I'm just not that attentive. My daughter is very good with plants, and we joke around our house that if I'm going to keep something alive I have to put Caroline in charge! I'm learning to be better about it.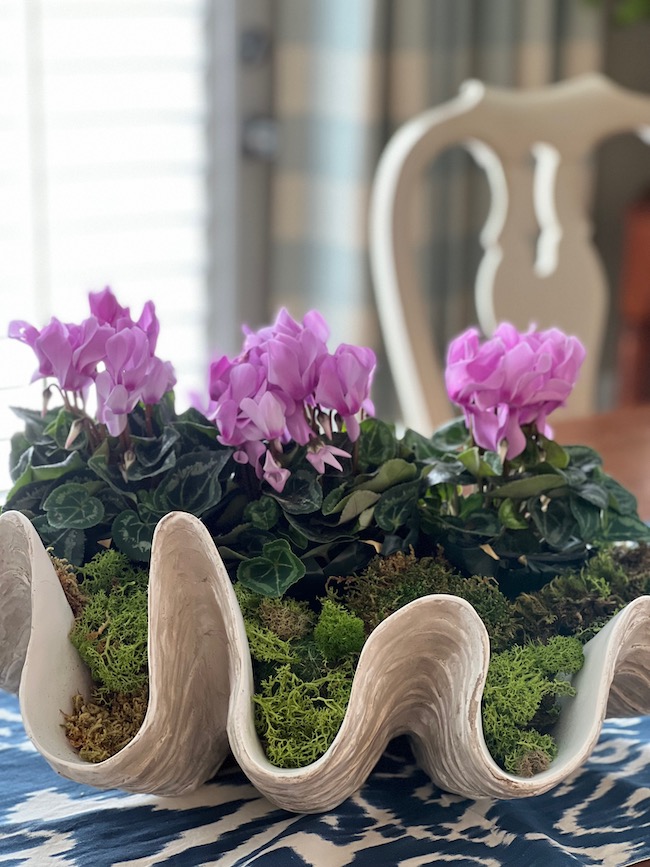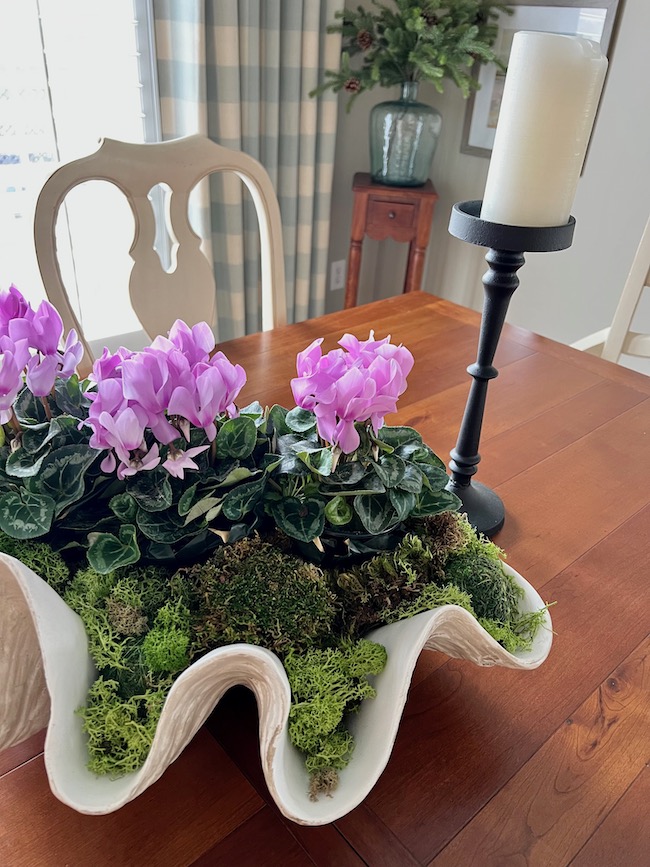 I love to use potted flowers in my centerpieces all throughout the year. I love this pretty lilac color especially during the winter months. I've added potted cyclamen to this large clam shell bowl from Ballard Designs.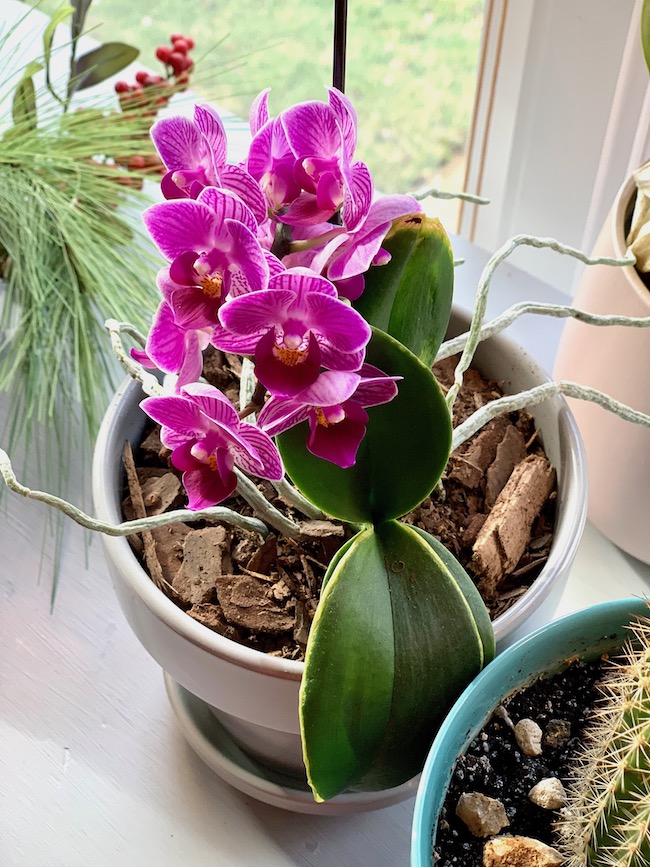 I also love to use orchids around the house. Caroline is great at getting them to bloom again and again!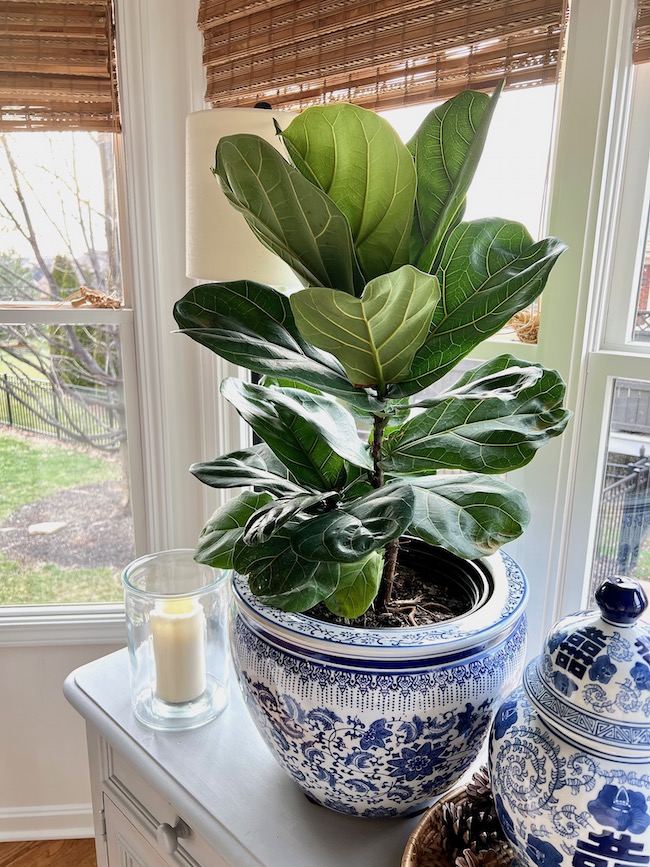 I did go out on a limb (no pun intended) and purchase a new fiddle leaf plant for this pretty flower pot my husband gave me for Christmas. I realize that they are a little tricky to grow, and maybe I should have started with something a little simpler, but I decided to give it a shot!
Wish me luck!

Include water features in your home decor.
Water is another natural element that you can incorporate in your home. Caroline has this small tabletop fountain on her desk in her room. You can find lots of small fountains to use in your space.
Add natural wood elements and textures around your home.
I think pretty wood tones add such warmth to your room.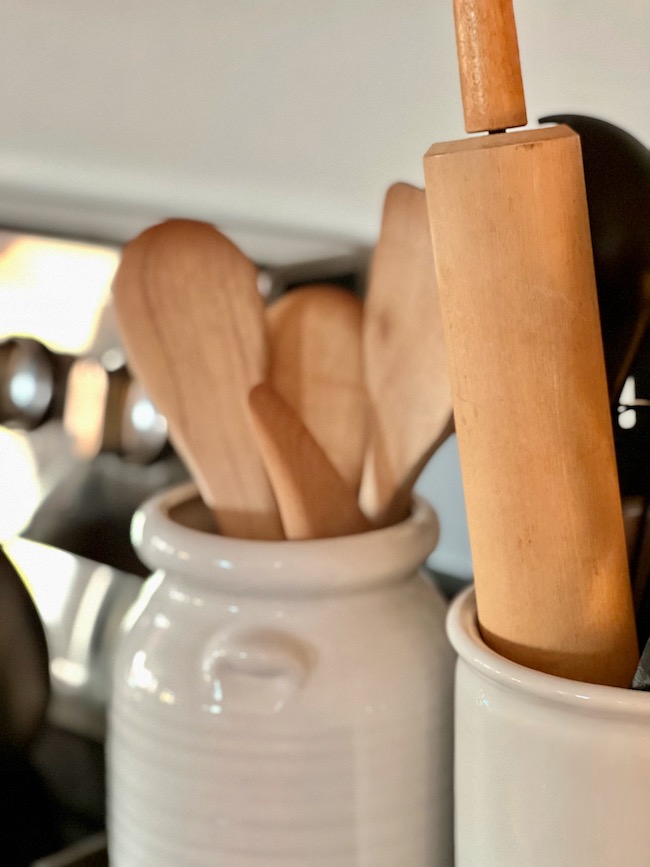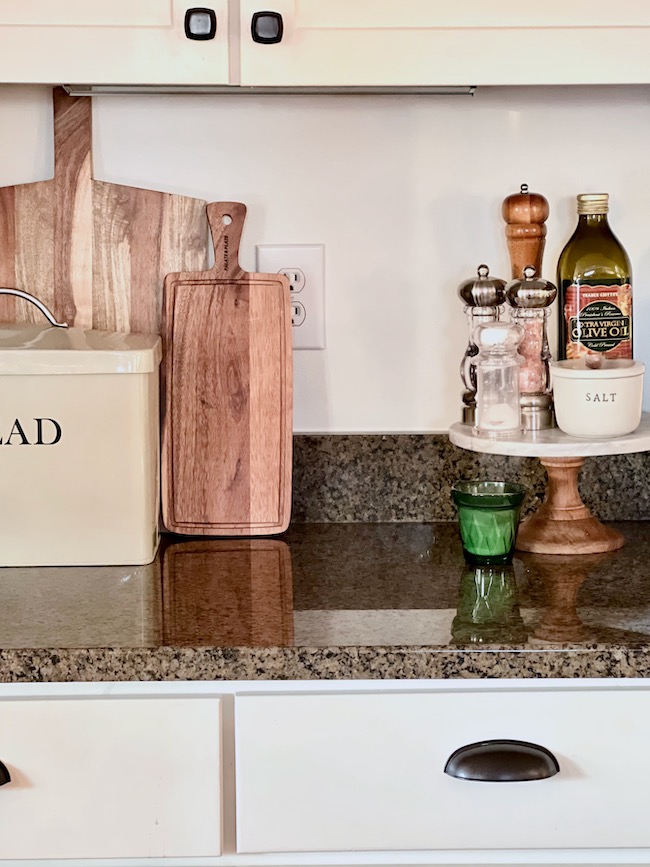 In your kitchen, add wooden cutting boards and rolling pins. Add wooden trays to your tables.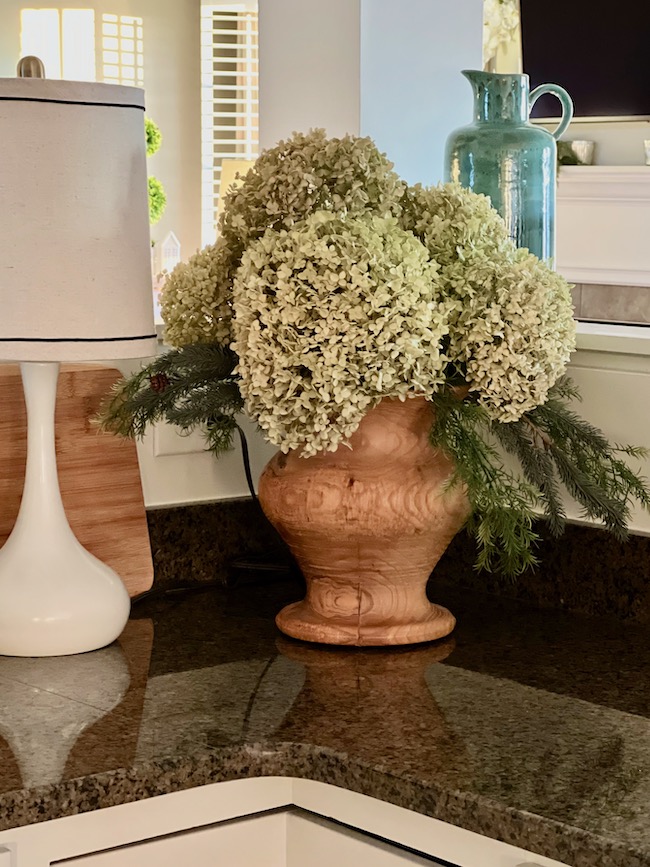 I found this beautiful turned wood vase at a thrift store just recently and I love it! While the hydrangea blooms aren't live, they still add a natural element to our kitchen.
Pine cones also add a little natural texture to your decor, especially coupled with a woven basket.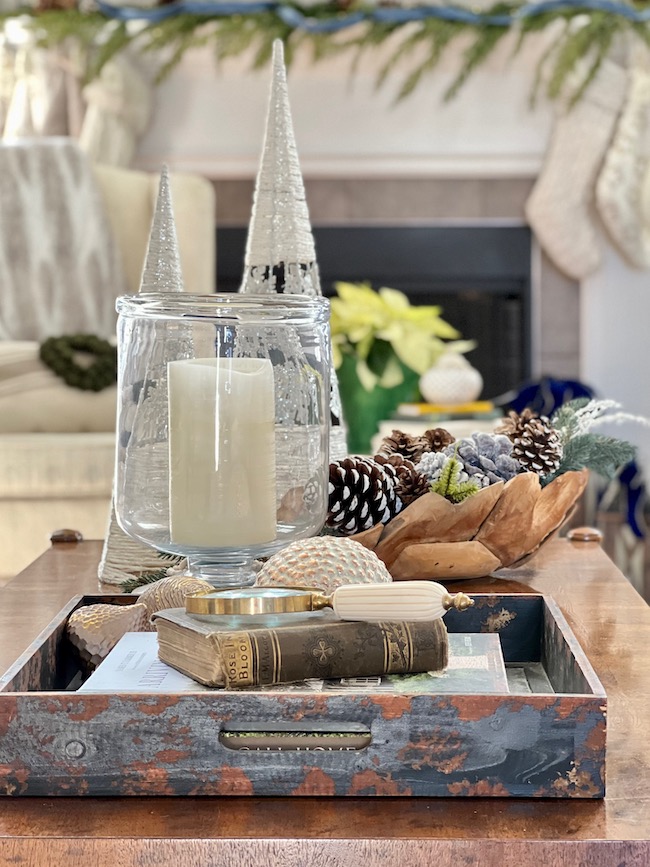 Incorporate a fire feature.
A fire in the fireplace is certainly a cozy feature in your living room.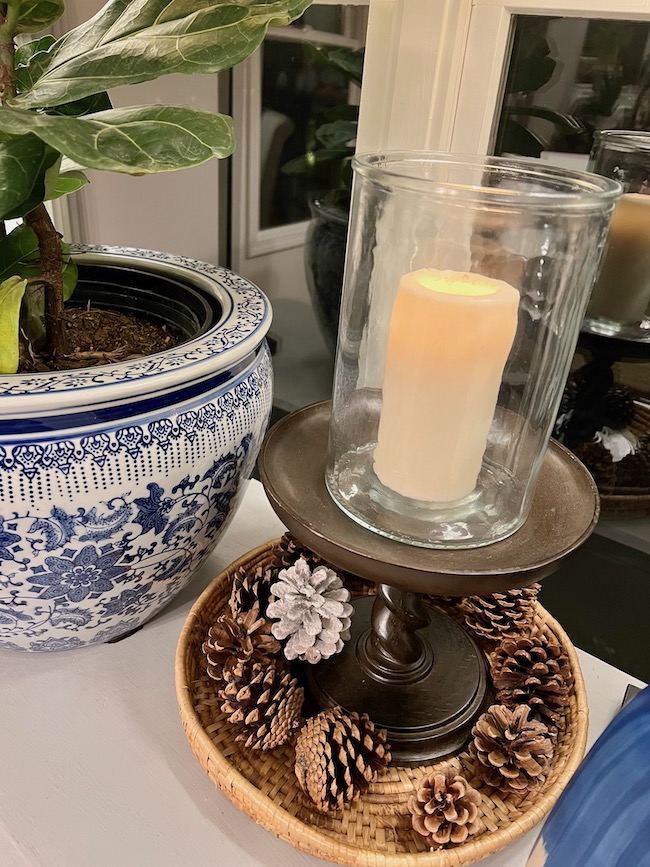 I also love to burn candles during the day and evening, especially during the cold winter months to add a warm glow.
Add earthy, organic tones to your rooms.
Warmer neutrals and earthy tones are definitely starting to trend again. Most of the major paint companies selected a shade of sage green as their color of the year, and green is everywhere in home decor.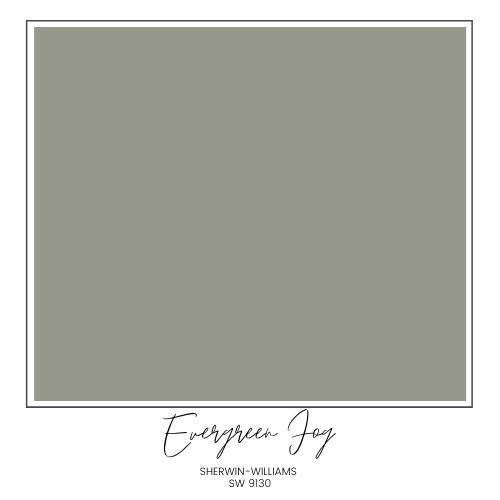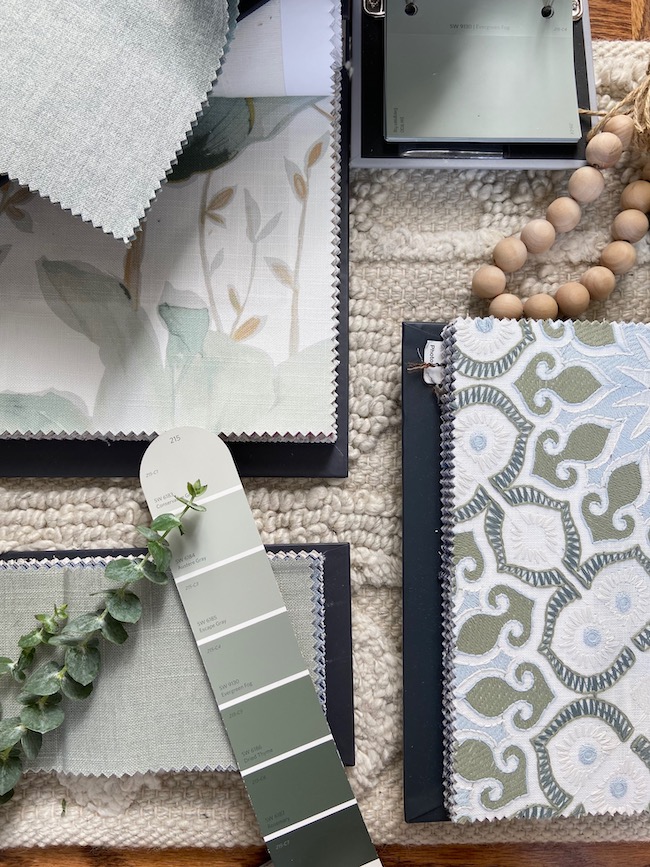 You can add pretty pillows in a pretty green, or even paint a furniture piece. The thing I love about green is that it can work with warm or cool colors, so it's a great bridge color into a more earthy color palette. Or, it can simply warm up an already existing cool palette.
Include images of nature in your artwork.
We all just seem to be drawn to the outdoors in our artwork. Forests, rivers, oceans, leaves, and animals have always been so prevalent in works of art, and there is a reason. We are drawn to nature, and portraying elements of nature in your artwork also helps you feel just a little more connected to outdoors.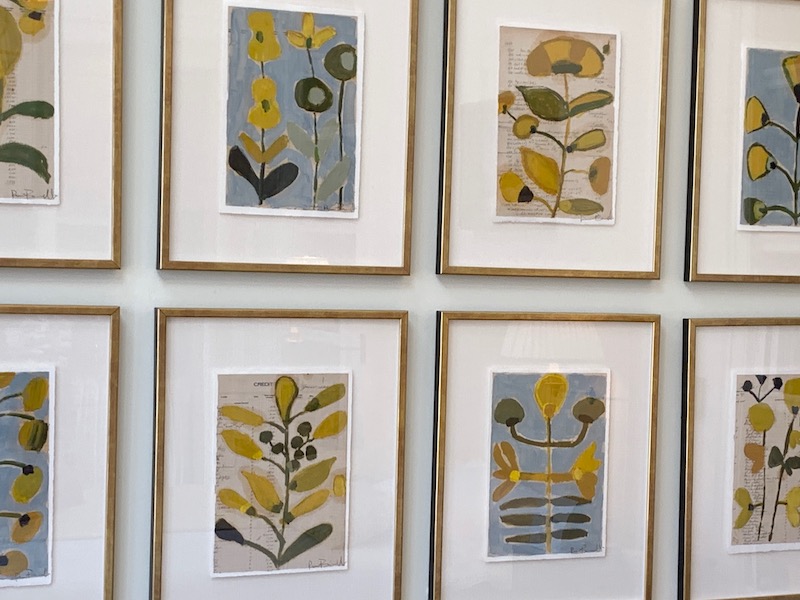 Nature is God's handiwork. So, it just makes sense that including elements of creation in your decor adds a sense of calm and beauty.
Include elements of nature in your textiles and fabrics.
The same applies to the fabrics and textiles in your home. Include some natural fibers and images of nature in your textile prints to bring the outside in.
Let the fresh air inside.
It may be a little hard to do this when the temperature is so cold, but as soon as the temperature starts to warm, open those windows and let some fresh air inside your home. Its just feels a little more invigorating and lifts the mood.
Screen in a porch or create an outdoor living space.
We love our screened-in porch! We can't use it year round, but as soon as the weather allows for it, you'll find us out there enjoying the sights and sounds of nature — the trees, the hummingbirds, the flowers. We just love it!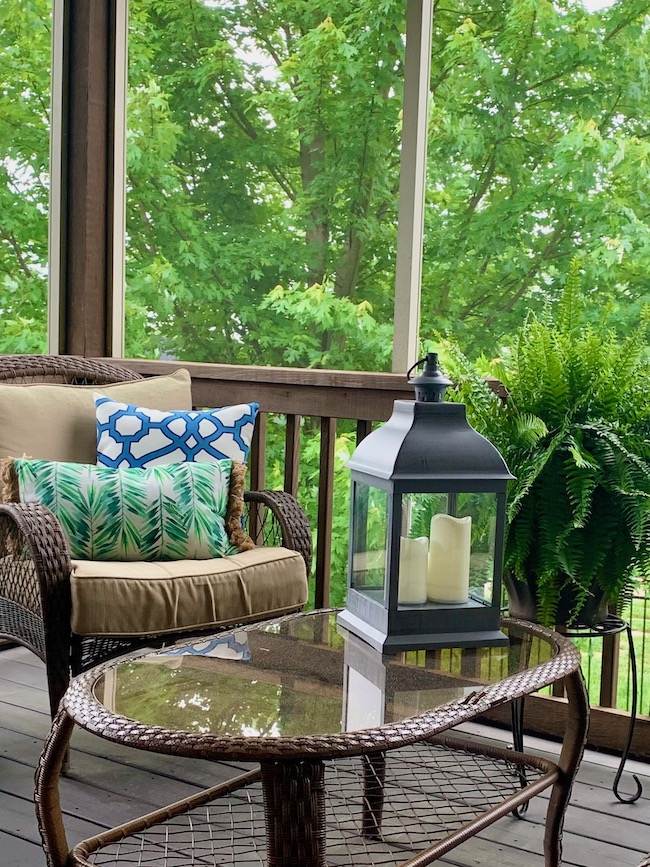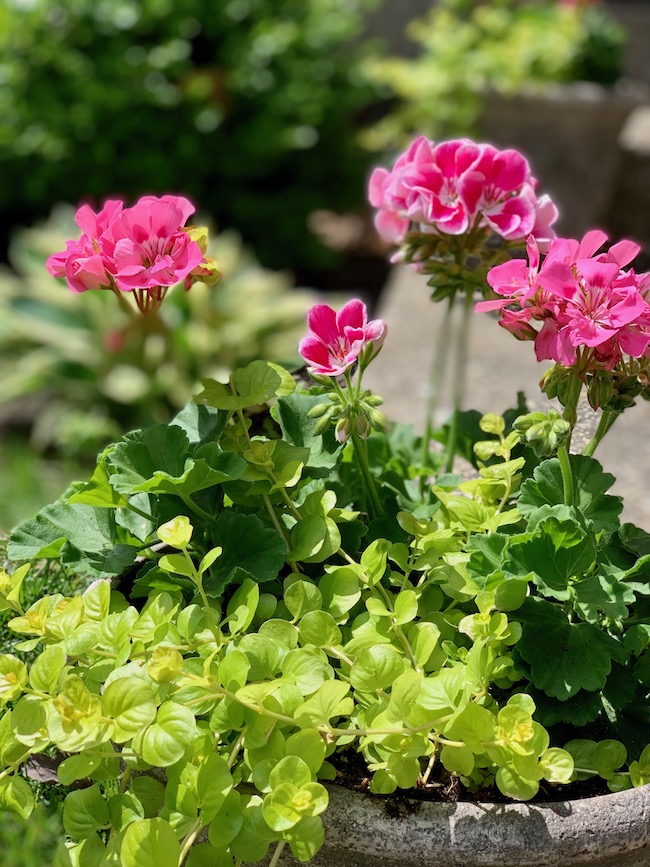 The room is an extension of our home into the outside. Even if you don't have an enclosed or screened-in porch, try to create some sense of an outdoor living space once the weather warms up. You'll find it a very restful and calming place to be.
Whether you incorporate one or several of these biophilic design ideas in your home, I hope this post helps you find a way to bring a little bit of the outdoors into your home this winter.
Let me know in the comments what you do to bring a little bit of the outdoors into your home.
You might also enjoy: