Home Decorating Tips and Tricks FAQ
Do you have a lot of questions about how to decorate your home? I'm sharing my best decorating tips and tricks answering my most frequently asked questions about design.
I know it can be so frustrating sometimes not having all the answers! There are so many aspects of decorating your home and so many questions that come with it. It can be a little overwhelming trying to figure out how to make it all work together, and stay on budget.
I've been decorating my own home for over 30 years (oh, my!), and doing this professionally with design clients for seven years. Over the course of those seven years I've received a lot of questions about how to decorate.
This post can't begin to cover all the information related to these questions, but hopefully, it'll provide a quick reference for you and answer some questions you may have.
 
Decorating Tips and Trips — FAQS:
1. How do you find home decor inspiration?
Of course, Pinterest is a great source for curating and organizing ideas for your home decor. I still love to pour over magazines, such as Southern Living, and read design books. Instagram is another great source for design ideas. I could scroll for hours if I let myself. It's fun to see all the creativity in the world. Colorful images always catch my eye.

It's so easy, today, to find pictures that inspire you online. As I'm scrolling and come across something that strikes me, I either save it to Pinterest or screen shot the picture. I look for lots of details in photographs of spaces. Sometimes, it's a single detail in a room that catches my eye — the way a piece of furniture is painted, an area rug I like, a wallpaper pattern, the arrangement of a space. Any one of these ideas could become the inspiration for the design of a new space, or simply be an element I'd like to change or incorporate into the existing decor in a room.

Another way to get great decorating inspiration for your home is to visit blogger seasonal home tours as well as in-person design home tours in your local area. These home tours showcase local builders and designers and are full of wonderful design inspiration!
You can read about my tour of the 2021 Southern Living Idea House in Louisville here. 
You might also enjoy these seasonal home tour blog posts featuring our home.
Magical Christmas Lights Home Tour
Our Colorful Fall Decor Home Tour
Fall Decorating Ideas in My Fall Home Tour
You can follow me for great ideas on Pinterest here.
And for pretty home decor inspiration on Instagram here.
2. What is your decorating style, and how can I know what mine is?
My personal decorating aesthetic is traditional with a fresh look. I like timeless over trendy. I'll always choose painted cabinets over wood tones. I love a mix of old and new, with lots of texture. I love wallpaper and feel much more inspired by homes with lots of color over neutral spaces. I want the beauty of my home to come, not just from the pretty things I put in it, but in the joy and laughter and love and community that takes place here.
While all the design style quizzes are fun, I think the best way to determine what you like is to pour over magazines and images of rooms online. What types of spaces do you return to over and over? Do you gravitate to certain looks and scroll past others? Which look stands the test of time for you? It's easy to get caught up in the latest design and color trends, but over time, do you see consistent themes in what you like?
And, it's entirely possible to like more than one style. That's the beauty of decorating your own home — you, honestly, can make just about anything that you love work in a space. I think the most beautiful, curated spaces are those that are gathered over time, have elements of old and new, combinations of high end and low end, and exude the personality of the owners.

3. Do I have to spend a lot of money to have a beautiful home?
Oh, absolutely not! My home is a mix of old and new — furniture we've purchased, furniture that's been handed down, items we've  splurged on, and items I've thrifted. I'll shop from furniture companies that have a tradition of exellence, and from Target, Homegoods, or the local consignment store. If I love it, it doesn't matter to me where it comes from.

I'm a do-it-youself kind of gal, so if I can paint it, make it, fix it, update it that's what I do. Over the years, I've taught myself a lot of skills that I can use to decorate my home. I learned to sew for our home so that I can make custom window treatments and pillows. My husband and I do all of our own painting. If we can, we do it ourselves, and hire out the things we can't.
Being a little crafty and determined to figure it out has allowed us to decorate our home on a budget. It takes time, and some extra work, but we sure do enjoy the results!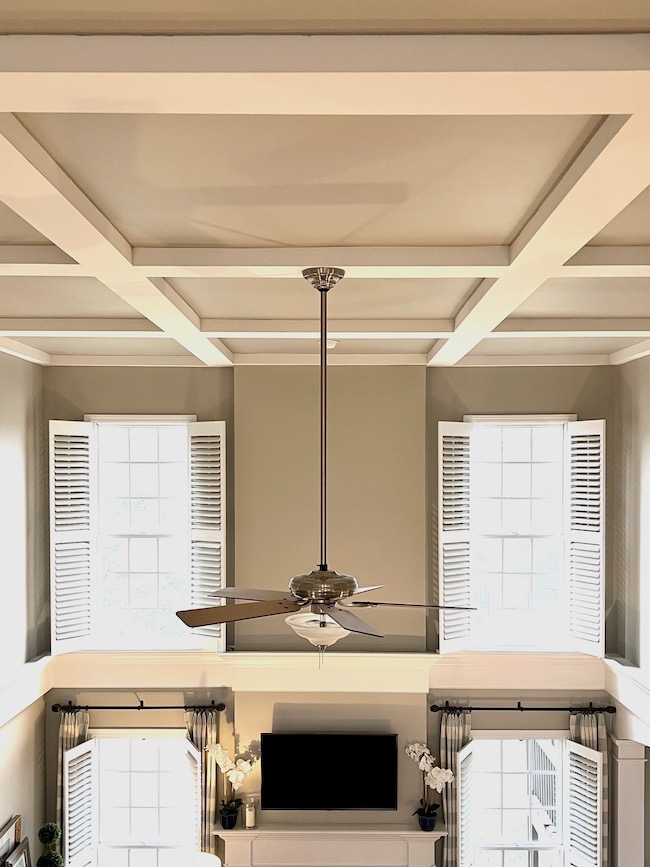 You can read about some of our home decorating projects here:
DIY Antelope Print Pillows for the Living Room
DIY Christmas Decor You Can Make with Yarn — Tassel Trees and Pom Pom Wreaths
My Kitchen Paint Color Combination – SW Alabaster and BM Hale Navy
Painted Kitchen Cabinet Makeover Tips
4. When decorating a room what do you start with?
You need to first think about how the room will be used. What specific needs do you have for the space? Who will use it and what will you do in it? This will determine your layout, the furnishings you'll need, and the types of materials that will be best.
Then, the fun part comes — what colors do you want to use? If you're starting from scratch, I find it helpful to find something you love as a jumping off point. A pretty fabric, an area rug, or a piece of art you love can be the inspiration for the color scheme of your room. Again, you can search Pinterest and scroll Instagram for room inspirations and make notes of colors and looks that catch your eye.


5. How do I choose a paint color for my room?
I could go on and on about this topic! It could take an entire series of blog posts to fully answer this question, but here are some basic things to consider.
If you are repainting a room, you should always consider any elements in the room that you cannot, or won't be changing, such as flooring, tile, or granite. These are the fixed elements in your space, and you shouldn't ignore them. Tile and granite can be little bossy, and they dictate whether you can choose colors that are warmer or cooler.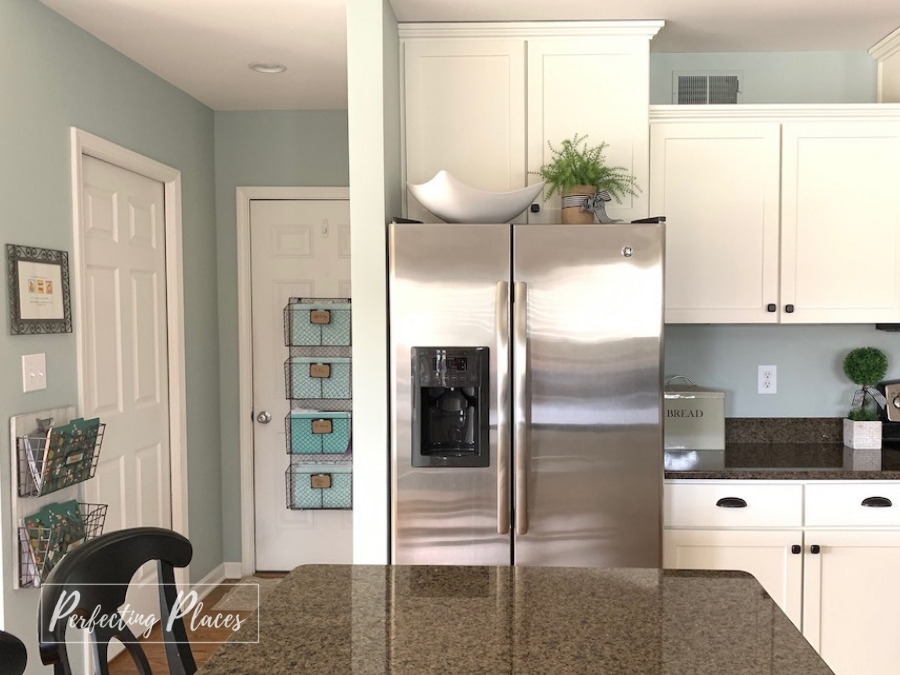 As a general rule, if your fixed elements are on the warmer side (beiges and browns), your neutral colors should be warmer, and your colors a little muddier.
If your flooring or counters are gray, white or black (cooler), you can choose cooler neutrals and truer (clean)colors.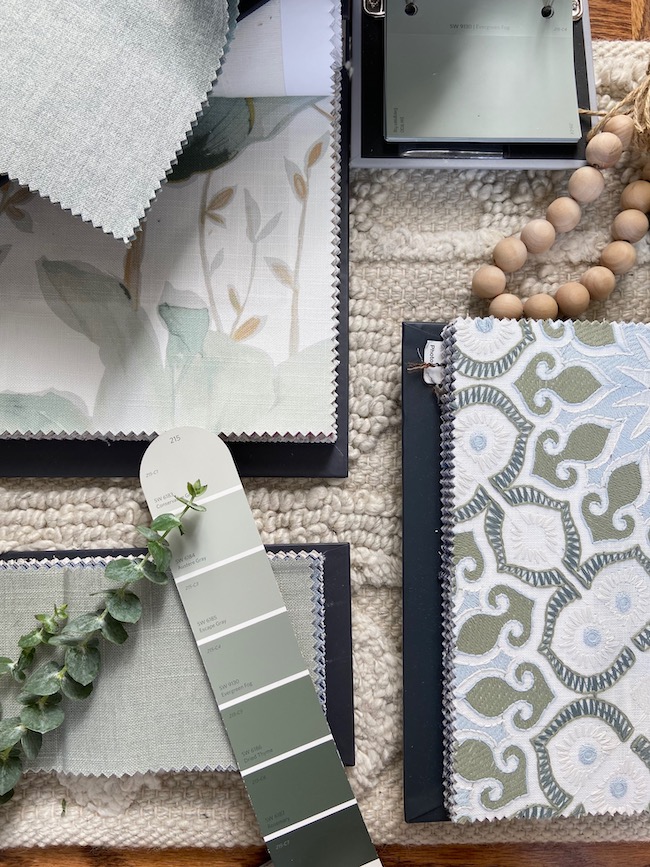 Always, always, always test your colors. The best way to test your paint color is to purchase samples of the colors you're considering and paint boards with these colors, rather than simply painting it on the wall. This allows you to move the color boards around the room at different times of the day to see how light affects the colors.

Be particularly mindful of those fixed elements in your space. Hold the sample boards next to your countertops, flooring, or any furnishings that are staying in the room, such as a large sofa.
One of the biggest tips is to take your time with this decision. I can't tell you how many color consultations I've done when the client needed the paint the next day for the painter. It's so much better if you take the time to test the colors in your home with the changing light of the day.
And one more color tip — you can't depend on the colors in the pictures you see online. Screens and filters alter colors. Online pictures are a wonderful starting point to head you in the right direction, but it's so important to test the color in your actual room to get a true picture of how it will look.
You might enjoy reading these posts on paint color.
Painted Kitchen Cabinet Makeover Tips
My Kitchen Paint Color Combination – SW Alabaster and BM Hale Navy
How to Decorate with Sage Green Paint Color
A New Green Front Door Color — SW Billiard Green
6. What sheen of paint should I use in my room?
As a general rule, when I specify paint, I recommend an eggshell or matte finish on the walls. The names and types of sheen vary from paint company to paint company, and even within the different lines of paint each company carries. Generally, eggshell or matte has just the tiniest hint of sheen to it. It appears flat, but with just the slightest bit of sheen to make it wipeable. It's perfect for the walls of most rooms in your home.
I recommend flat paint for your ceilings. Flat paint has no sheen to it and therefore hides the imperfections in your walls a little better. That's why it's often used on ceilings since it's harder to get them perfectly smooth.
The trim in your home should be either semi-gloss or satin, and this is true of any painted cabinetry as well. A few years ago, I only recommended semi-gloss for trim work, however, a satin finish has become a little more popular. When we painted our own kitchen cabinets a couple years ago we used a paint with a satin finish, and I love it. Our trim is semi-gloss. You really can't go wrong with either.
7. How do you determine the best way to arrange furniture in a room?
You have to consider a few things when determining your room layout. It all depends on how you plan to use the room and the types of furniture you will need, the amount of space in the room and the size of furniture it will accommodate. Then take into consideration the following things:
The Focal Point of the Room
In the living room, this is usually the fireplace. In the bedroom, it's the headboard wall. In some rooms, you need to determine what the focal point will be or create one if there isn't really one. You can do this with a special piece of art, a large piece of furniture like an armoire, or a painted accent wall. Arrange your furniture with this point in mind. As the name implies, it becomes the point that your furniture is focused around.

The Architectural Features of the Room
Does your room have any special architectural features that you need to work around or take into consideration. A fireplace is an obvious one. It could be a wall of windows or special trim work, a staircase or built-in shelves. Make sure your furniture layout incorporates these features into the room plan. Is it a feature that needs to be highlighted, or should it play more of a supporting role.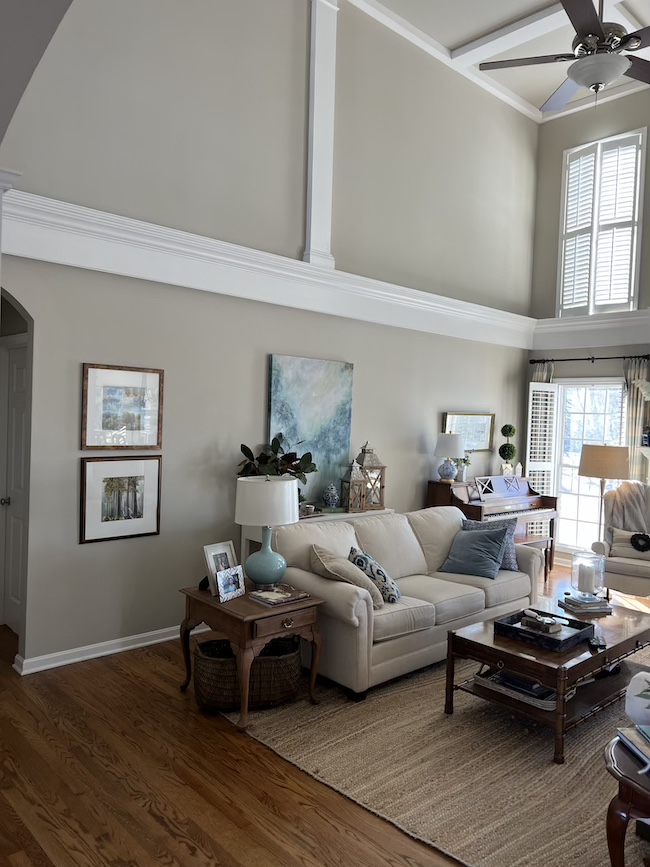 One example of this in our home is the vertical trim piece on the upper walls in our living room. It divides our room, and it just feels more balanced with our sofa centered under this feature.
Traffic Patterns in the Space
Sometimes traffic patterns are obvious and set in your room, and you can't really change them; but sometimes you can create the traffic pattern with your furniture layout. How do you want to move around or through your rooms? Consider this traffic flow when determining the size of furniture you need.
Create Conversation Areas in Your Living Room
Not all of your furniture should face the TV! Your living room is a place to gather and connect. Make sure your sofa and chairs are arranged in a way that facilitates conversation. If your living room is large you might be able to create more than one conversation area.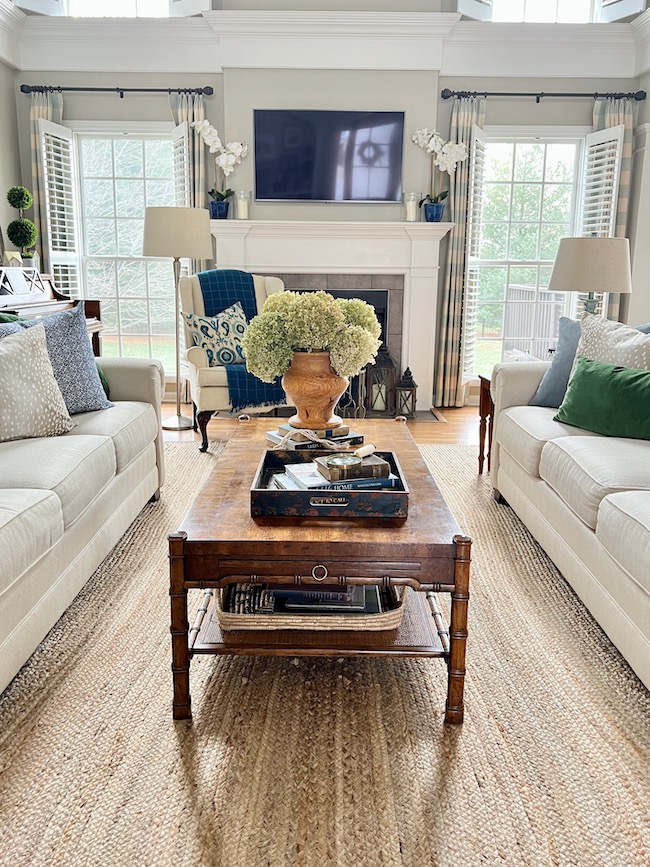 In an open floor plan, you can use area rugs to anchor your conversation areas and define the space.
Make Sure the Room Feels Balanced
The visual weight of your furniture is important to consider. You don't want all of your heavy pieces on one side of your room.
Avoid lining up your furniture along one wall, or pushing all of your furniture up against your walls. If your space allows for it pull  your sofa and chairs away from the walls. It actually makes your room feel larger by creating a cozy conversation area.
8. How big should my area rug be?
The area rug in your living room should be large enough for at least the front feet of your sofa and chairs to sit on.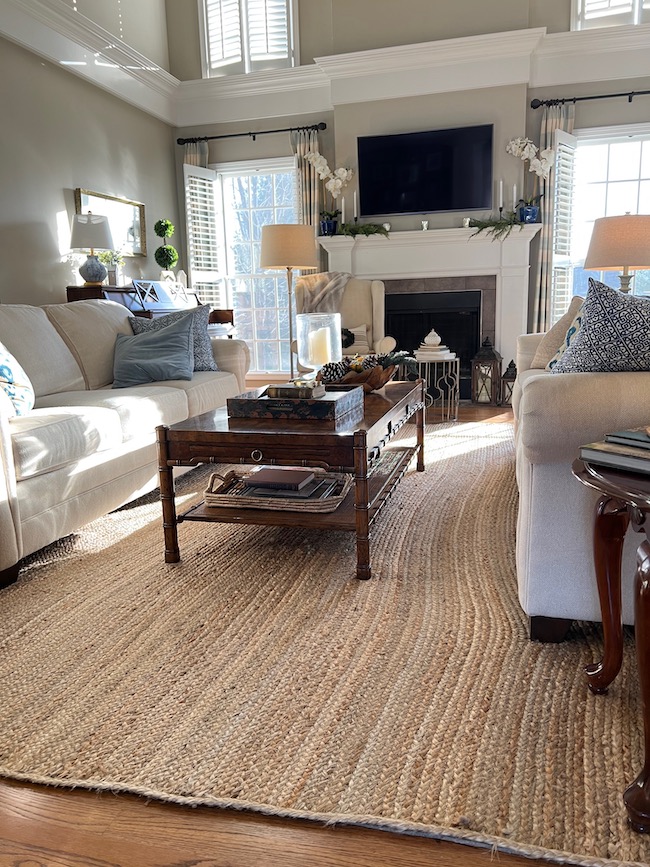 An area rug under your dining table should be large enough that the chairs remain on it when you pull them out to sit down or stand up.
The size of an area rug in the bedroom depends on how big of an area you would like to carpet, particularly if the floor is hardwood or tile. At a minimum, the rug should extend 18-24″ out from all sides of the bed. You can certainly go larger if you'd like more of the floor to be covered.
9. What kind of lighting should I put in my living room?
Adding appropriate lighting is one of the most important ways to help your home feel cozy and inviting. Your living room should have a variety of light sources to create a cozy feel in your room, and allow for reading, games, or conversation. Table lamps really do the heavy lifting here! A pretty chandelier or pendant can be the perfect "jewelry" for your living room; however, table lamps and floor lamps create a more intimate and warm feeling in your room. You need several table lamps in your living room, not just the ceiling light.
10. How high should I hang my dining room chandelier?
The general rule is to hang your chandelier 30 to 36 inches above your dining room table. This is based on a room with 8 foot ceilings. If your ceilings are taller, you can raise it another 2 or 3 inches for visual balance. Your chandelier's size should be 1/2 to 2/3 the width of your table.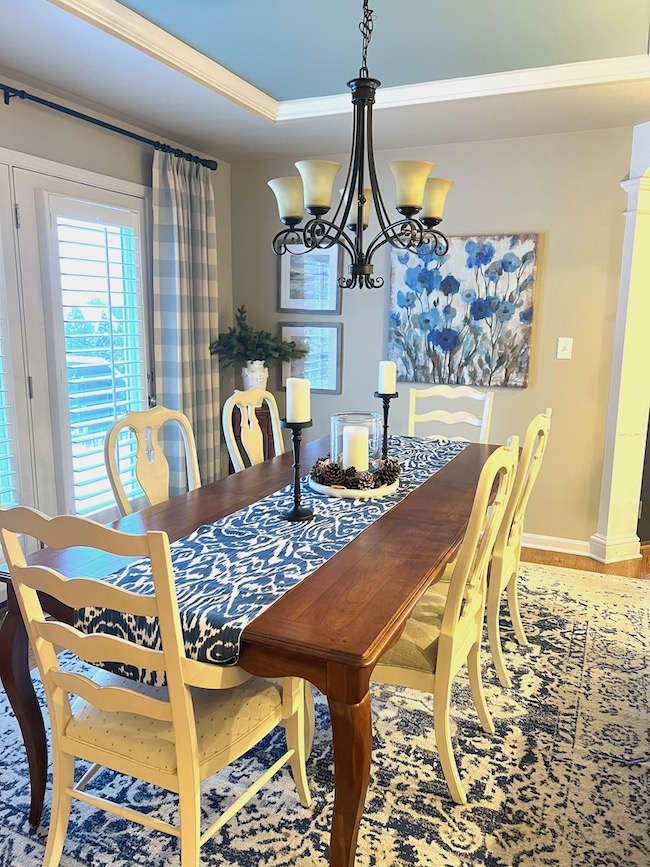 11. What are some ways to add color to a neutral room?
Neutral interiors have been on trend for some time now. But what if you're ready to add some color?
There are a lot of benefits to a neutral interior even if you are a color-lover. The neutral colors form a nice backdrop for colorful furnishings and accessories. The colors pop against the neutral walls, and my favorite benefit is the ability to change up your room color scheme easily from season to season.
It's important to keep the undertones of your neutrals in mind as you add colorful accessories. Warmer neutrals need more muted  or "dirty" colors, while cooler neutrals look great with more pure or clean colors. Clean colors are more vibrant and true to the actual color, white muted or dirty colors are the clean colors with some gray or black added in to tone them down.

So, now that we have that out of the way, how can you start to inject color into your neutral decor?

You want to make sure you maintain balance and repeat the colors in various places in your room, so that the color isn't jarring in your mostly neutral room.
You can added varying shades and tones of the color — lighter and darker hues.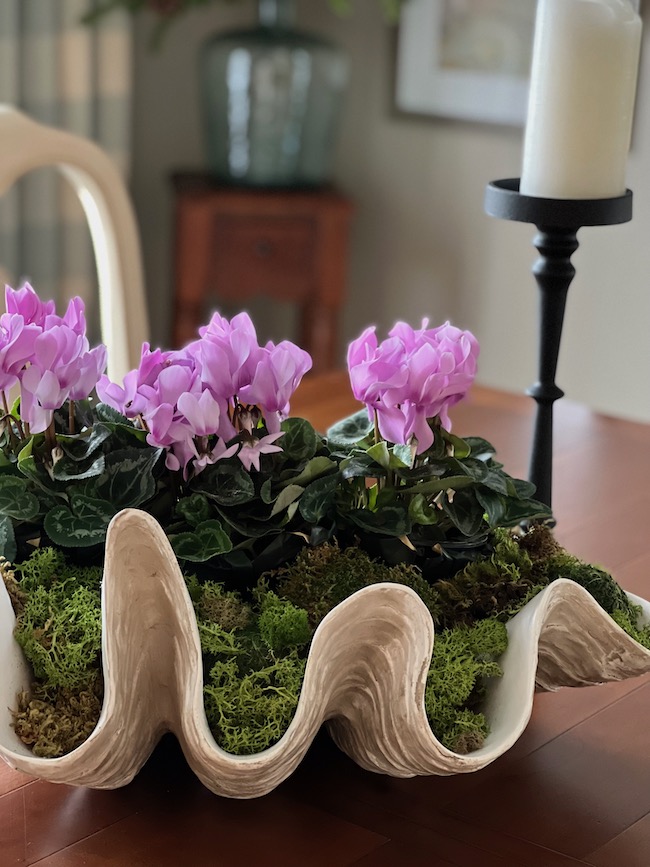 You can bring in color in a variety of ways.
Add a pretty area rug that's mostly neutral, but with some of your new color worked into the design. Carry this color into some table lamps, artwork, or pillows.
Add a pretty upholstered chair in a new solid color or pattern. Repeat this color in artwork or patterned pillows on your neutral sofa.
Start with a piece of art that you love. Pull colors from the piece and add throw pillows, a rug or accessories that compliment the art.
The most important thing is to blend and repeat. By blending, I mean add various shades of the color around the room, and repeat the color enough that it looks intentional with the neutrals.
12. How do you mix different patterns in a room?
You want to vary the scale of the patterns in your room. If all of your patterns are similar in scale then your room will look cluttered. I like to incorporate three different types and scale of patterns in a space.
So, what are these three types?
Choose a large floral print or abstract.
Choose a medium geometric design like a buffalo check, a stripe, or repeating trellis.
Choose a small print design.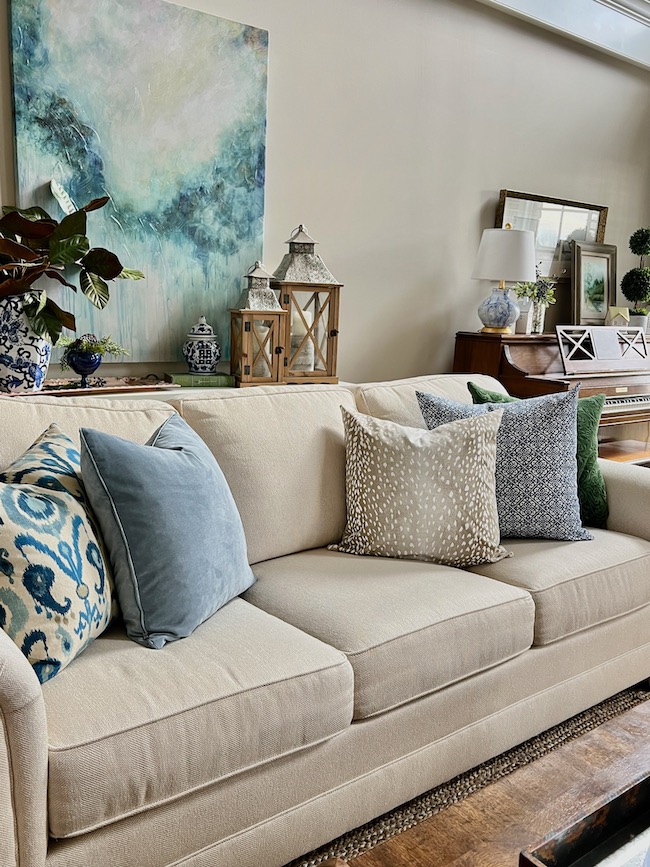 So, for example, in your room you may choose a large floral or abstract print in your draperies, a smaller print pattern on a pair of upholstered chairs, and coordinating medium scale checked or striped throw pillows on your sofa.

Or, combine an area rug with a large geometric pattern, large floral print pillows on your sofa, and a small print design in your curtains.
There are lots of different possibilities for combining different patterns in a space. Just be sure to vary the scale and repeat around your room.
13. How do you arrange pillows on a sofa?
So, how many pillows are too many? Well, that depends on who you ask:) I'm a pillow-loving gal, so I like a LOT of throw pillows. My children and husband, on the other hand, wouldn't mind paring back a bit on the pillow-scape!
Throw pillows are an easy way to add a lot of color and pattern to your room. Plus, there are so many inexpensive options available that it makes it more affordable to freshen up your look.
Use 20 x 20 square inch pillows paired with lumbar pillows.
I have two sofas in our living room and typically use four 20 x 20 pillows and 1 lumber pillow on each one.
If that feels like two many pillows, you could leave out the lumbar pillow or use two 20 x 20 inch with one lumbar on each sofa.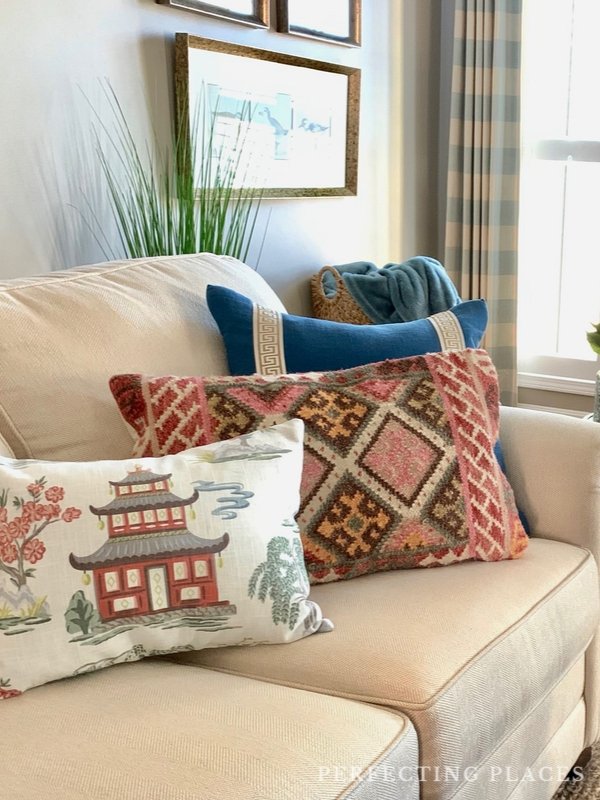 Use a combination of solids and prints. You can apply the same pattern principles above when combining patterns in your throw pillows on your sofa. Use a variety of the large, medium, and small prints and geometrics.
You might also enjoy this DIY Antelope Print Pillow post.
14. How high should I hang my art?
It's pretty common for people to hang their art too high. Artwork should be hung at eye level. As a general rule the center of the piece should be roughly 57-60 above the floor. Sometimes you have to eyeball it a little depending on the size of the piece of art.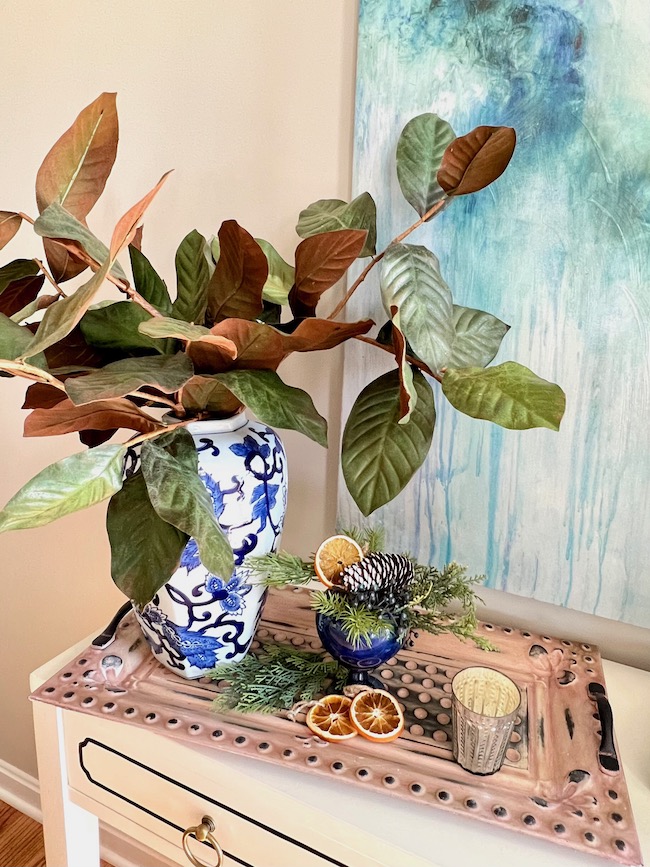 If hanging a grouping of pictures or gallery of art on a wall, then consider the whole grouping as a single piece and find the midpoint of the grouping to determine the best height. When hanging art in a gallery, space the art about 2 inches apart.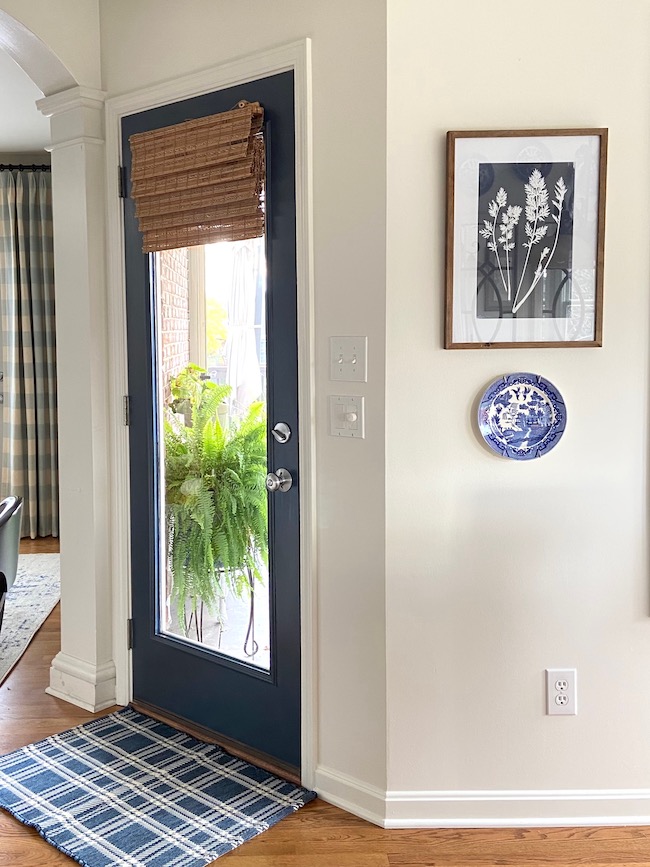 If hanging art over your headboard or above a sofa, then the bottom of the frame should be 6-8 inches above the furniture. The scale of the art should be proportionate to the furniture it hangs above. So if the piece of art you want to hang is too small, you should consider grouping it with another piece or using it on a smaller wall.
When hanging art over a dresser or desk, the bottom of the frame should be 4-8 inches above the desk. Again, the size of the art is important to consider.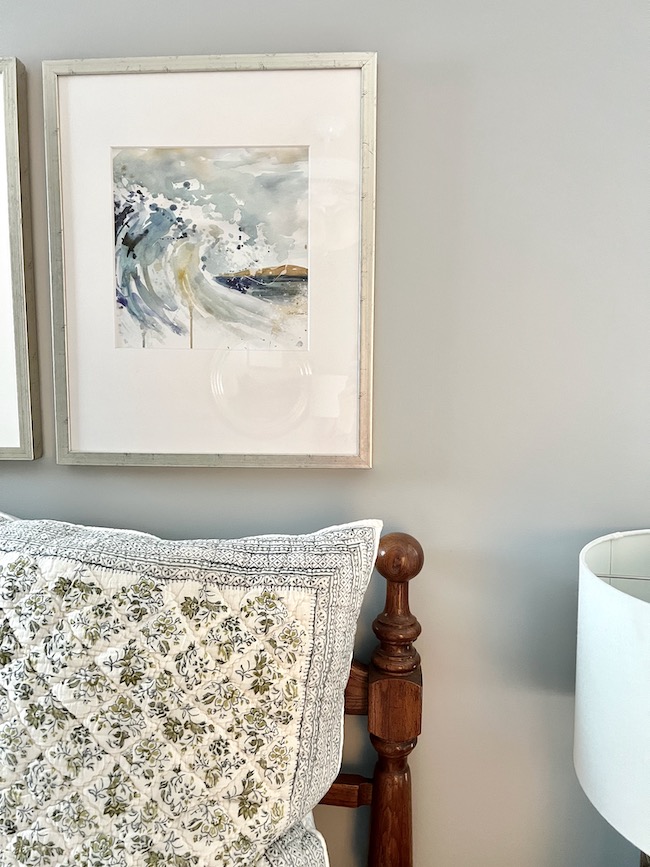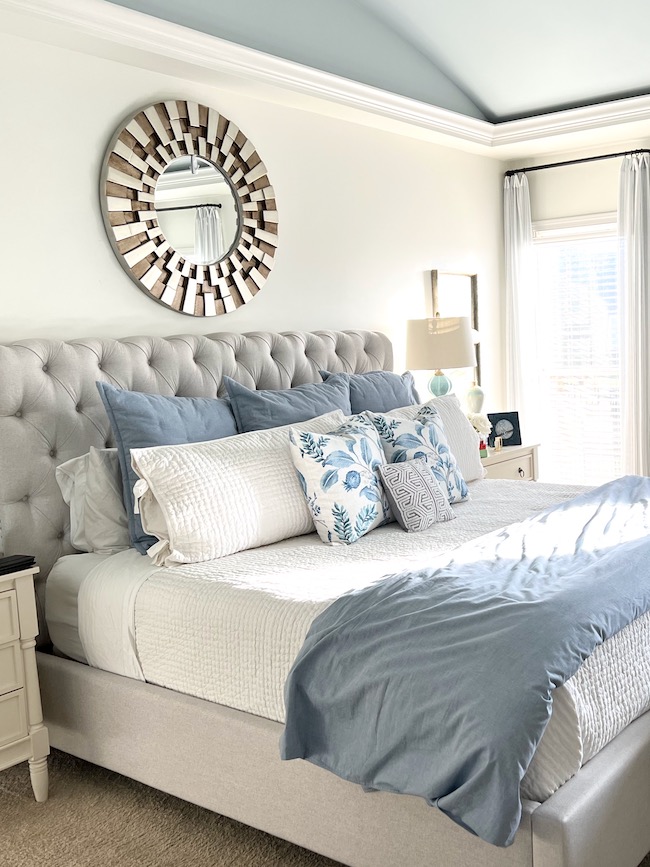 15. How high should I hang my curtains?
This is one of my favorite topics to talk about. Whether you are making or buying curtains, knowing how to hang them will help you determine the size curtains you need. The way you hang your curtains has a huge impact on how tall your ceilings look and how large your windows look. Drapery panels can visually transform the size of your space when you apply this drapery hanging tip.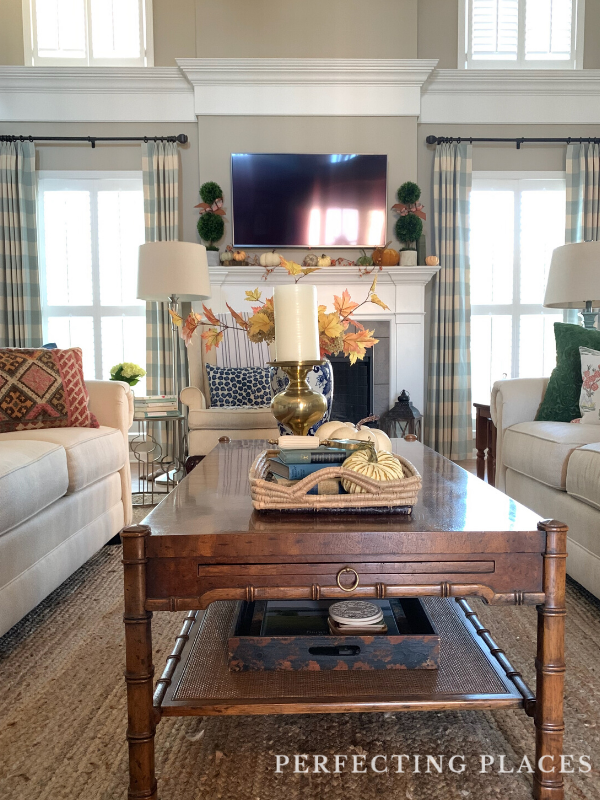 Hang your curtain high and wide. In most 8 – 9 foot rooms, set your drapery rod just below the ceiling and wide enough so that your drapery panels can rest outside the windows when they are opened. You'll be shocked at how much larger your windows look, how tall your ceilings feel, and just how much larger the room feels. Plus, setting the curtains outside the windows allows for maximum light in your room because the windows aren't partially covered by fabric.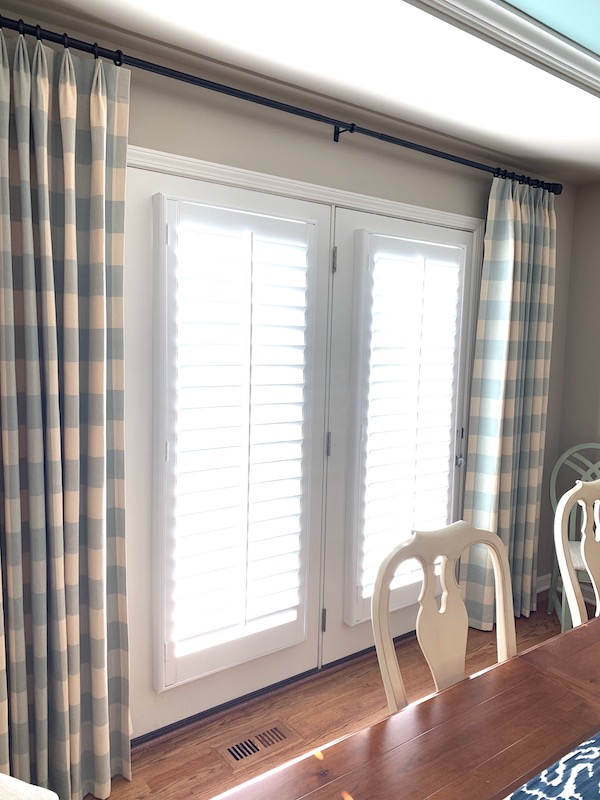 Read more about Tips for Buying Curtains You Love in this post.
16. How can you have a timeless home?
It's easy to get swept up in interior design trends and fads, especially today with so many beautiful images available at your fingertips on Pinterest and Instagram.
It's expensive to constantly be updating styles to keep up with all the latest and greatest, so my most important tip is for you to really drill down on what you love. What colors have always made your heart sing? What kind of look has always felt right to you?

When creating a timeless home, think classic. What styles of furniture have stood the test of time? What colors of wood stain, or cabinet colors, or flooring style options look great and seem to work, no matter what decade. These are the general principles to apply to your purchases when creating a classic timeless look.
You definitely want to keep these questions in mind for the larger purchases and fixed elements of your home that can't be easily changed. You can always add smaller accessories to add some trending decor, but when it comes to the more expensive purchases and design decisions, stick to the classics.

Timeless flooring — I think hardwood floors are hands-down the most timeless look, but the color of the stain is important. The most timeless look is a medium brown stain (think Provincial). Avoid stains that are reddish or orange in color, or that are really dark and espresso. Gray stain is not a timeless color, and while it may look nice with some current design trends, I don't think it will stand the test of time if that's what you're going for.
Timeless countertops — I like to stick with white or black countertops. These colors will stand the test of time, and the less pattern and movement in the design the better to have a design that will feel current for years to come as you update wall color and other decor in your home.

Painted cabinets — Nothing dates your home faster than the stain of your cabinets, particularly if you install the "trendy" stain color of the time. Painted kitchen cabinets, while popular now, are not a trend. They are timeless. Painted cabinets have been a design choice for decades and decades. I have loved painted cabinets my entire life, and will always choose them over stained.
So, here are my best decorating tips and tricks for creating a timeless home. The furnishings and accessories of a classic, timeless home should be a reflection of the owners. Mix in old with new. Shop vintage and consignment alongside new pieces. A timeless home feels curated over time and tells a story. It's full of the personality of the homeowner.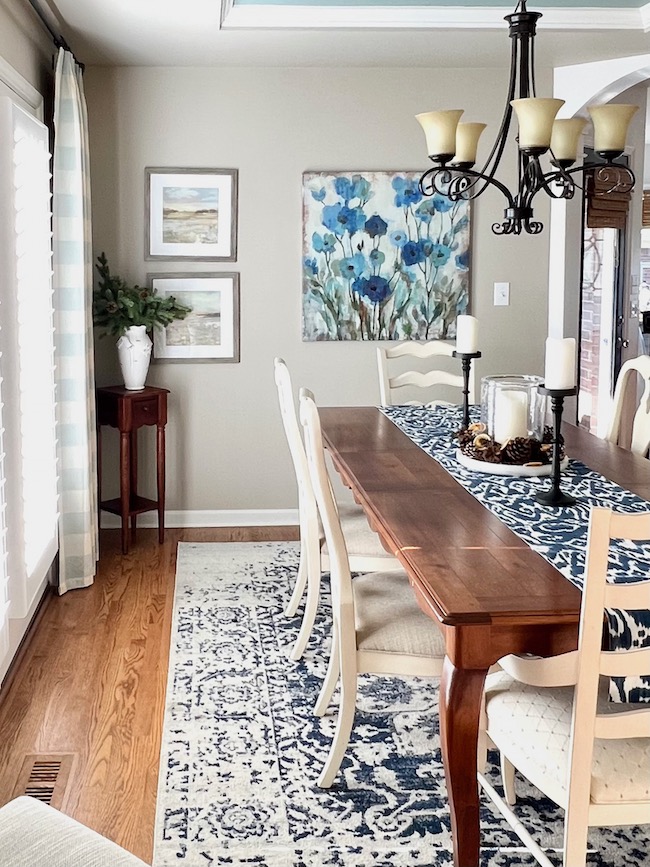 You might also enjoy 5 Ways to Learn to Love Your Home.
So that's the top 16! There are so many topics we could add here, and could certainly do into more depth with each topic. I hope some of your burning questions were answered in these decorating tips and tricks!