DIY Flocked Christmas Tree Ideas with Flocked Garland
Do you love a flocked tree? Create your own tree with these DIY flocked Christmas tree ideas using old garland.
I love a great little makeover, and today I'm sharing a super easy way to transform a scrawny little tree into a flocked thing of beauty for the holiday season!
(This post contains affiliate links, so I may earn a small commission when you make a purchase through links on my site at no additional cost to you. As an Amazon Associate I earn from qualifying purchases.)
When it comes to Christmas decorations, I love to remake, repurpose, and reuse items year after year.
It's fun to find new ways to recreate something, and it's especially great when you can turn an ugly duckling into a beautiful swan, and that's just what today's DIY is all about.
I've had two of these pre-lit 4 foot trees for years and years. They were originally intended to be used in pots or planters on the front porch beside the front door.
The trees are very narrow and a little top heavy, so they definitely need to be anchored down in a sturdy pot.
I've used them in our kids' rooms to serve as the Christmas tree for their rooms, and I've placed one on a stand in front of an upstairs window.
But, my favorite thing is this pretty transformation I'm about to show you.
How to Use Flocked Garland to Create a Beautiful Christmas Tree
Years ago, I decided to transform the green Christmas tree in our living room by adding flocked garland to it to create the look of a flocked tree, and yet still maintain the ability to have our natural green tree if I wanted to go that route. It's a great idea if you don't want to commit to purchasing a new flocked tree or to spraying on or adding flocking material directly to your tree.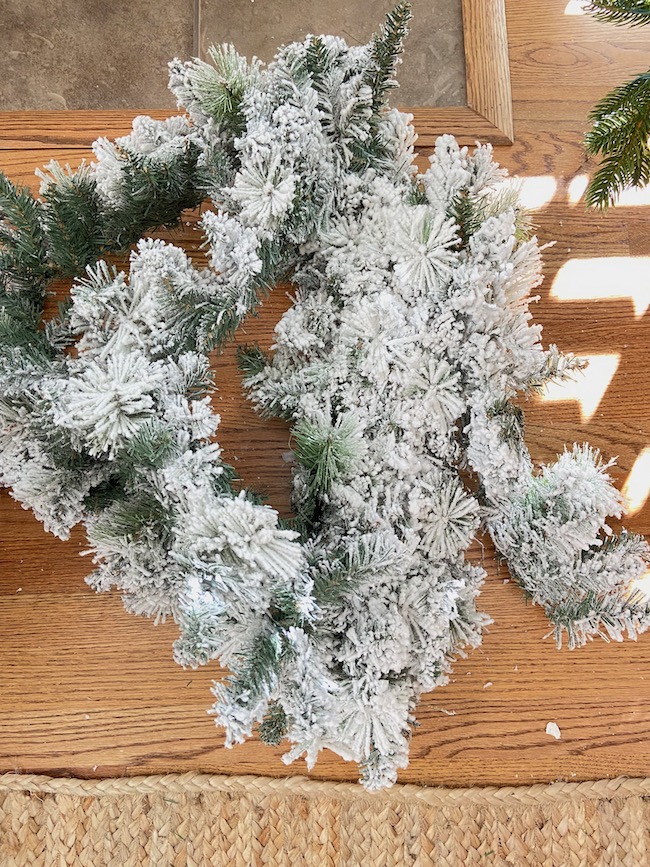 I purchased several inexpensive flocked garlands and cut them apart into approximately 12 inch pieces. It was more cost effective to purchase garlands and cut them into pieces instead of buying individual flocked stems to cover the tree.
I added the pieces to our Christmas tree to create the look of a flocked tree. The beauty of this approach is the lack of commitment to a flocked tree. The following year, if I choose to go back to a green tree, I can still use the same tree.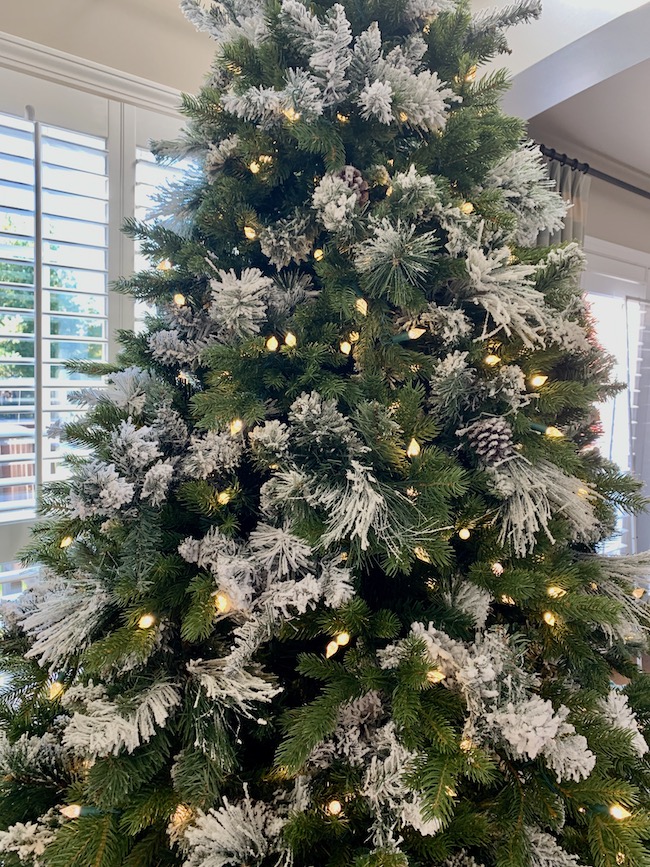 It has worked perfectly. By the time I add in all the other Christmas tree decor, the tree has the look and feel of a flocked tree.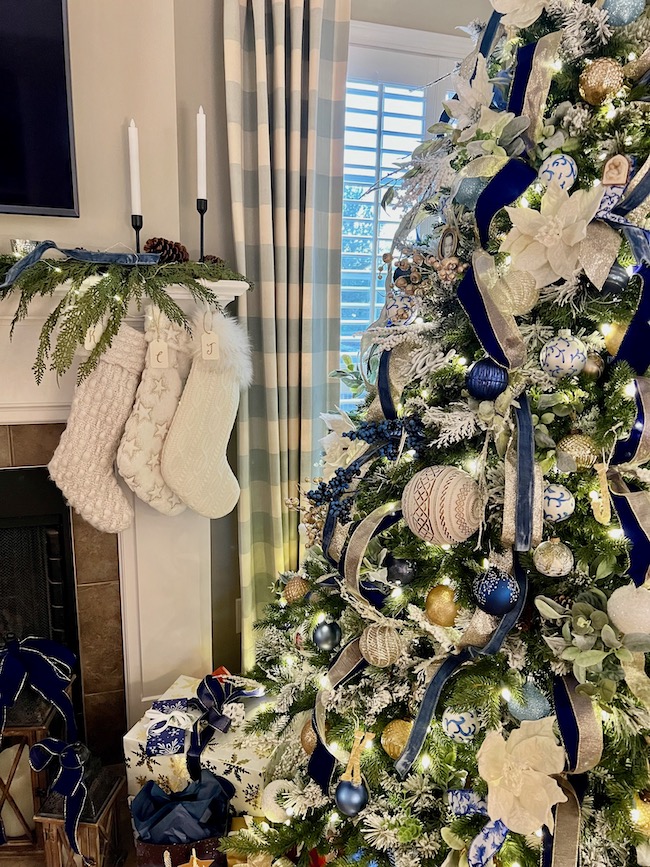 This year, I'm opting to go for a more natural look for our living room tree, and I'm going sans flocking.
So I had a whole container-full of flocked stems to use in some fun new way!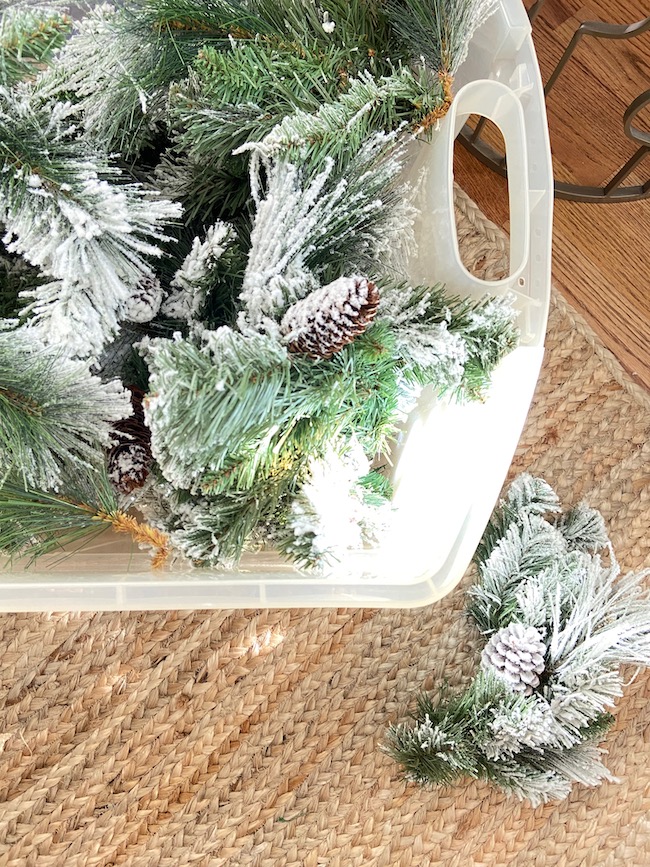 A DIY Flocked Christmas Tree Makeover
I first considered purchasing this pretty flocked 4 foot tree, which is at such a great price this year.
But, then I remembered our scrawny little porch tree and the full bin of flocked stems that needed a
brand new purpose this season.
I imagined all the potential that our little tree had inside, and grabbed the bin of flocked stems. In just a few minutes our scrawny little ugly duckling was transformed into a beautiful swan of a tree!
How to Transform a Potted Flocked Tree Using Garland
I wanted to use this blue and white Chinoiserie pot with the Christmas tree. The pot looks great on top of a little plant stand, and it's the perfect size for the 4 foot tree.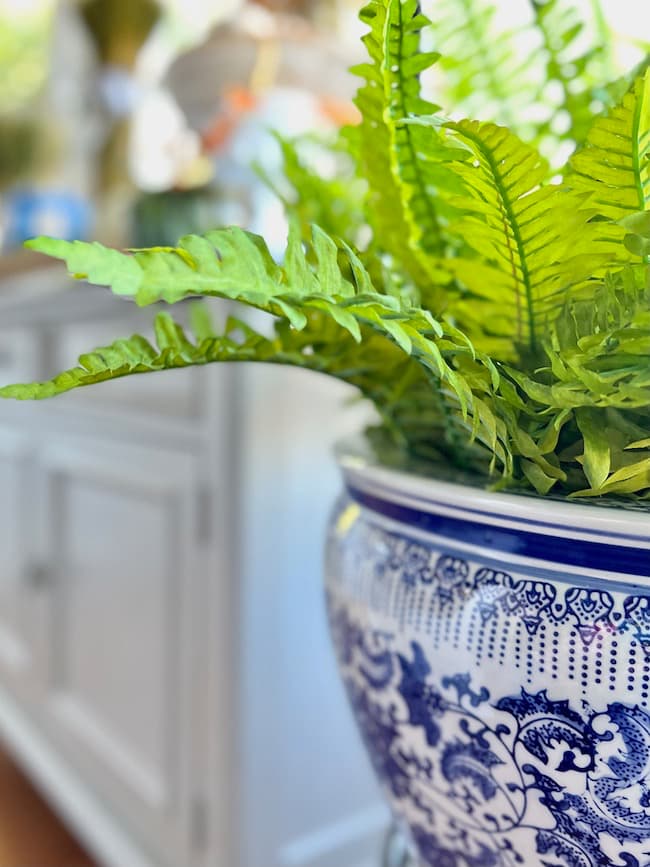 For the first step, I placed a pie plate on a bowl in the bottom of the blue and white planter. This gave the tree the perfect height, and the pie plate created a stable foundation for our wobbly little tree.
I then rolled up brown paper grocery bags and placed them around the base of the tree to add more support.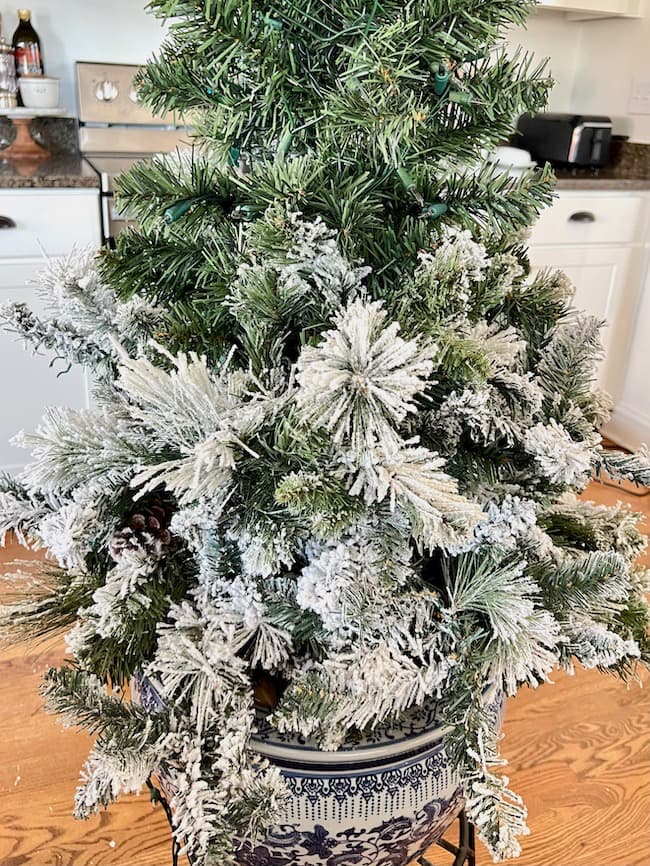 I just started working around the base of the tree, adding larger pieces of the flocking all around the tree.
The pieces were approximately 10 – 12 inches long.
I worked around the base of the tree, tucking the stems into the pot.
I moved up and around the tree from the bottom and layered the flocked stems all over the tree.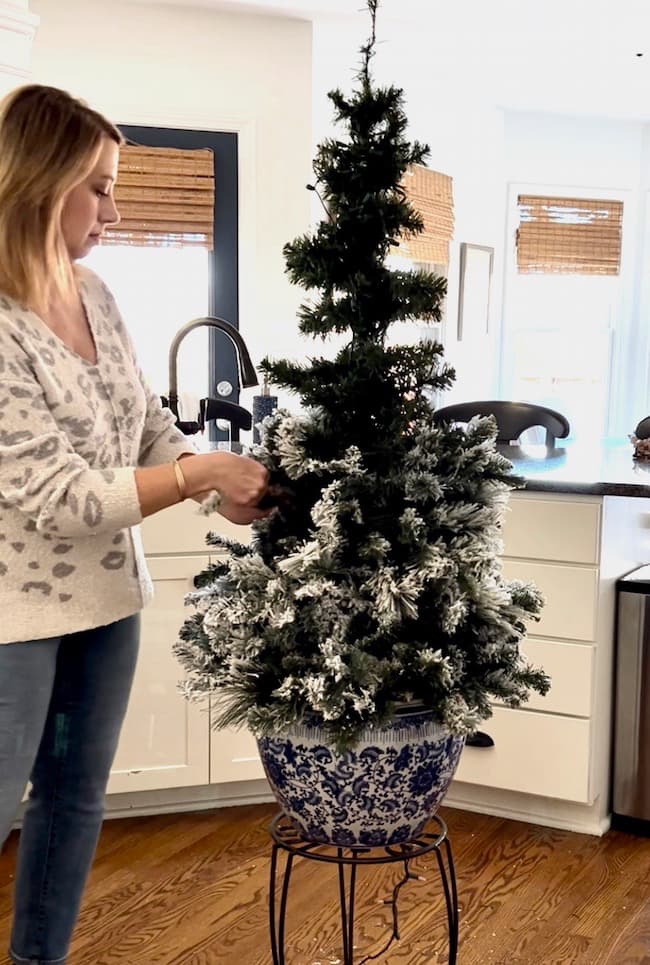 As I got closer to the top of the tree, I started using small pieces of garland – approximately 6 – 8 inches long.
At the top of the tree I used single small pieces of the flocked greenery.
I didn't attach my stems to the tree. I simply placed them and tucked them in. You could certainly secure the flocked stems using the actually tree branches, or wire them in with floral wire.
They stay pretty securely in place without any wiring.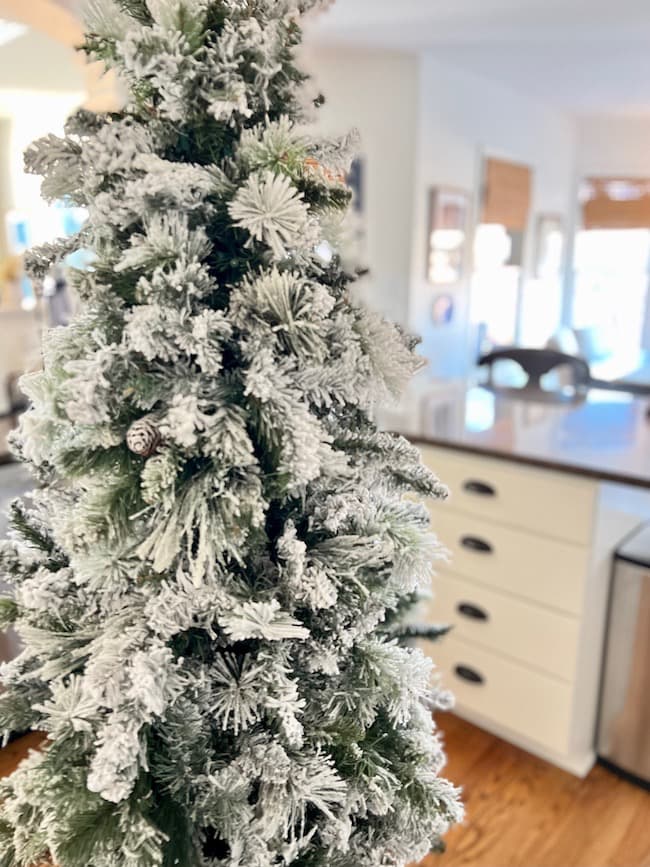 The end result is a gorgeous flocked tree that's the perfect snowy look for our kitchen bay window. It makes a beautiful flocked Christmas tree.
I placed ours to the left of our buffet in the bay window area.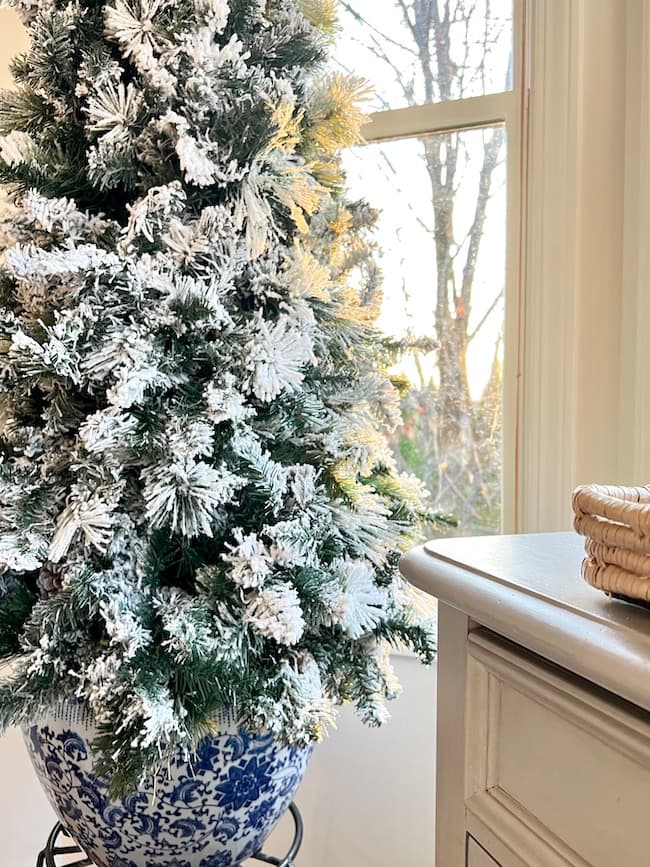 Ours is a pre-lit tree, but I plan to add some newer warm white LED lights to the tree instead. The older lights on the tree are covered by the flocking, and they get pretty hot, so the LED lights are a safer way to go.
The "new" tree is so much more substantial that it was previously. It's the perfect tree for our kitchen, but we could also use it in our foyer, or upstairs in our loft window. It's a great tree for any small space in your home.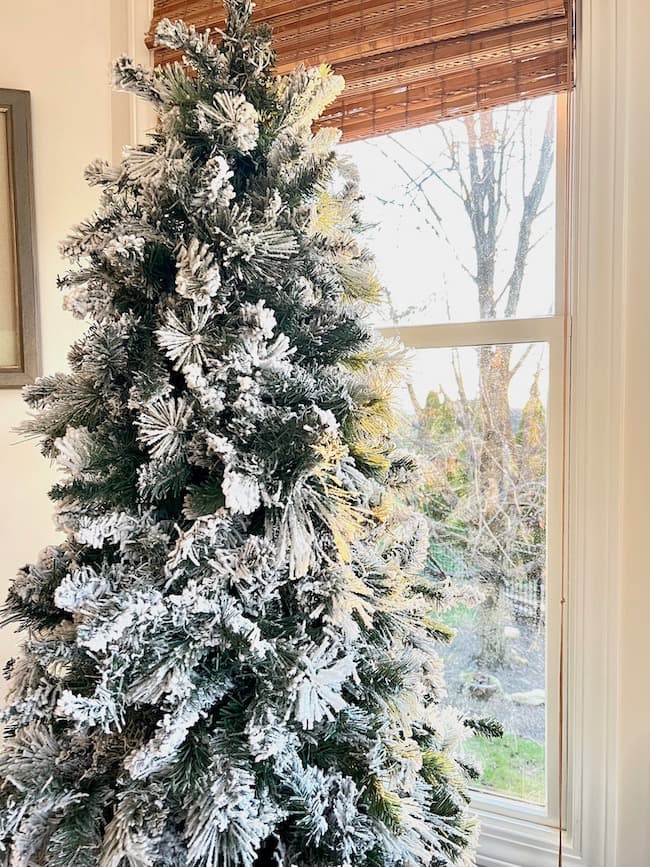 I love it in our kitchen, however!
I'm still in Christmas decorating mode, so the final flocked tree reveal all decked out in it's Christmas finery will have to wait a little longer. I'm still working on all of our holiday decor.
Flocked Christmas Tree Decorating Ideas:
There are so many different flocked Christmas tree looks. Whether you prefer to decorate with traditional Christmas ornaments, more rustic Christmas decorations, or natural elements, a flocked tree is a gorgeous Christmas look!
1. Add Tartan plaid ribbon.
Tartan plaids in reds and blues are my favorite at Christmas, and are sure to grace this tree. They are the perfect traditional Christmas decor, and look great with the blue and white planter.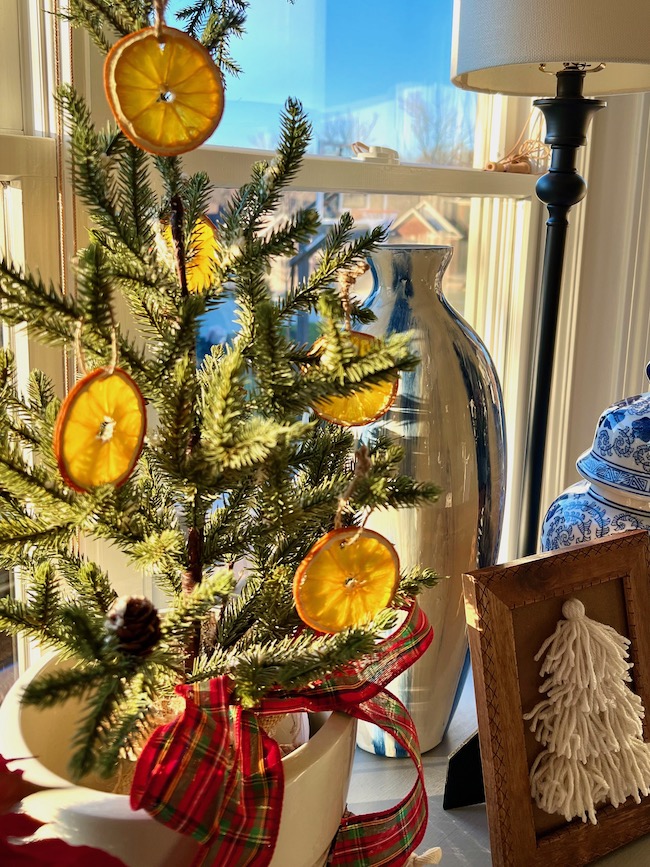 2. Add dried orange slices.
I love the natural look of dried oranges. I dried oranges for the first time last year, and will certainly be doing it again this year!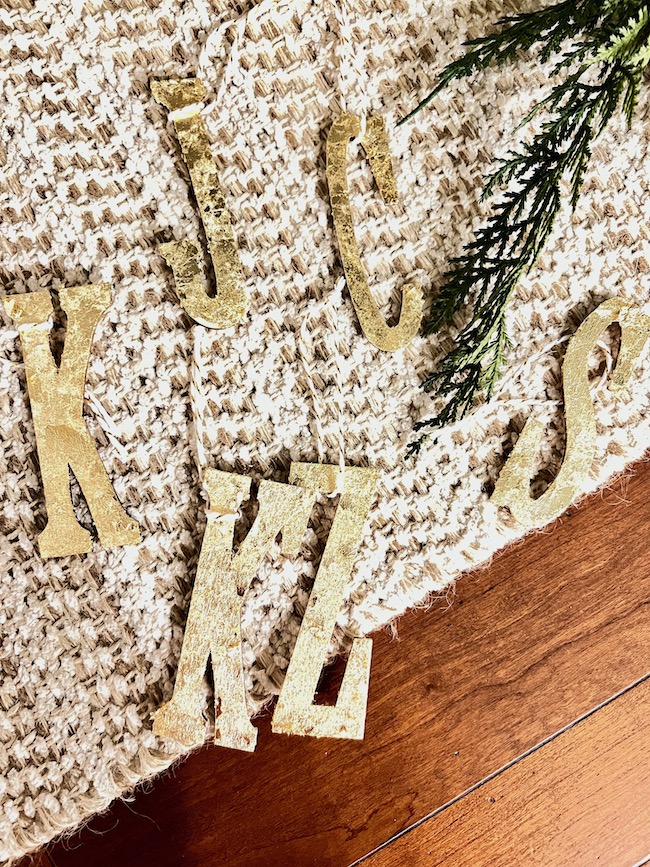 3. Add homemade ornaments.
A small Christmas tree in the kitchen is the perfect place to add small homemade ornaments or special ornaments made by the kids.
4. Add some jingle bells.
Jingle bells are a simple and fun look for the tree.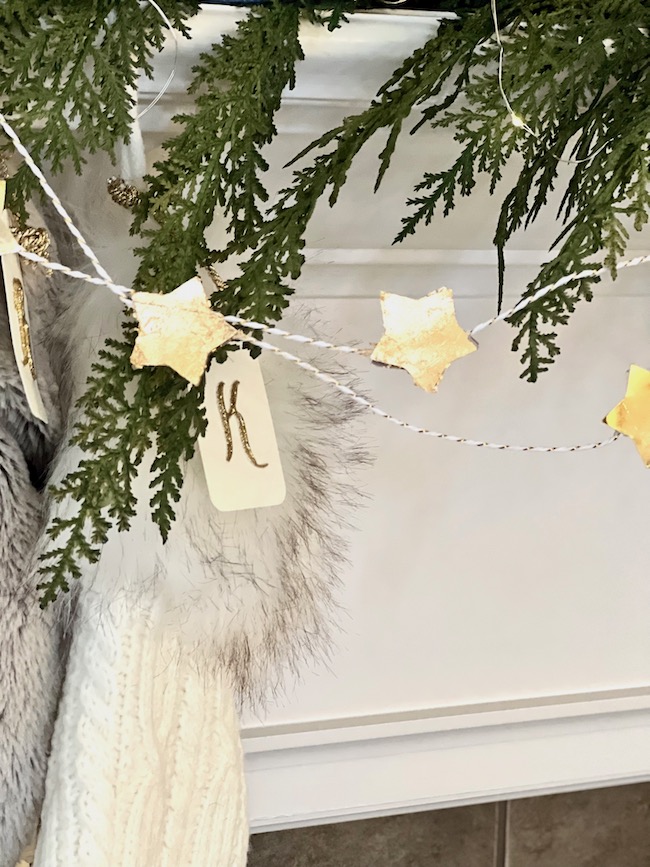 5. Add some gold leaf star garland.
Create this easy star garland for your tree.
6. Add paper snowflakes.
Use small pointed scissors and create intricate snowflakes for your tree. Cut the flakes from white or brown paper.
7. Add wood beads.
A garland of wood beads on a simple flocked tree is a lovely look.
8. Make a pom-pom garland.
Make a garland of pom poms for the tree. You could either stick with a neutral color palette or go with Christmas reds or colors that match your color scheme for the year — whichever is your personal taste.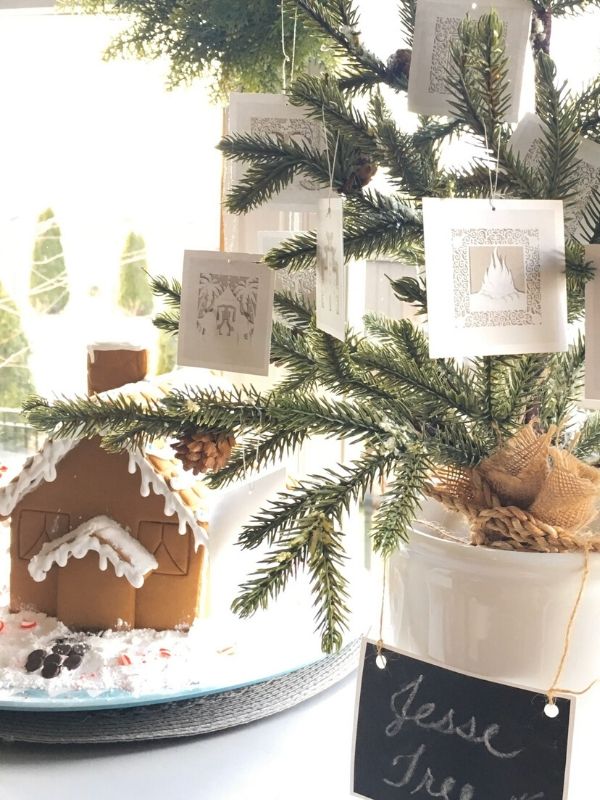 9. Make an advent or Jesse tree with ornaments.
Keep Jesus at the center of your Christmas celebration with special ornaments that tell the story of his birth and lineage.
This children's advent devotional is one of my favorites.
10. Just add lights.
I think a flocked tree is beautiful all on it's own. Go for a simple look by only adding lights to the tree. Add some small fairy lights for a magical look.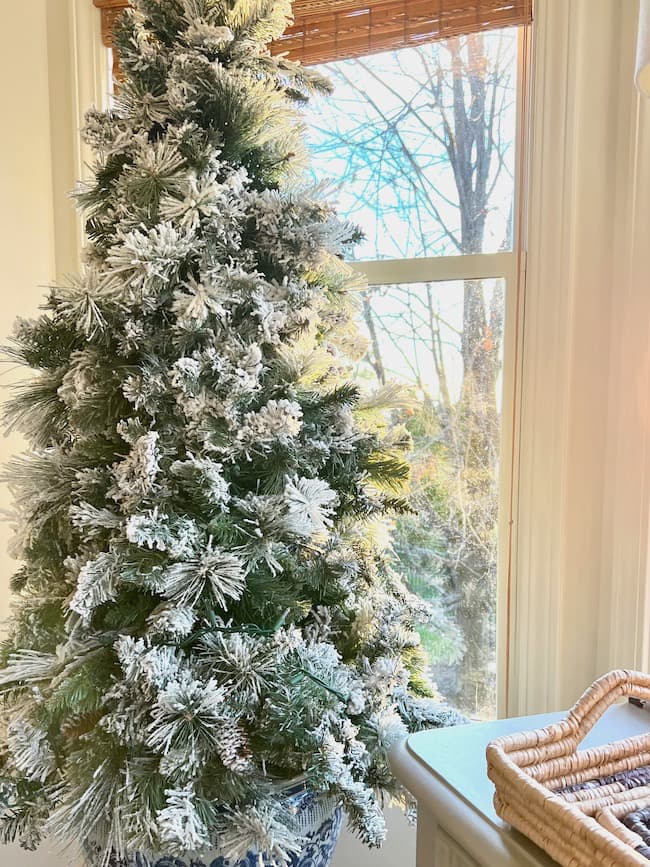 Shop the Look
Of course, you can always just purchase an inexpensive flocked tree if you don't have the old decor on hand. I've included some great small flocked trees and Christmas tree decor below.

Do you have any older trees or garland that you can transform into a new thing of beauty this Christmas?
I hope this encourages you to take inventory of your old Christmas decor and think of new beautiful ways to use it.
Happy Decorating!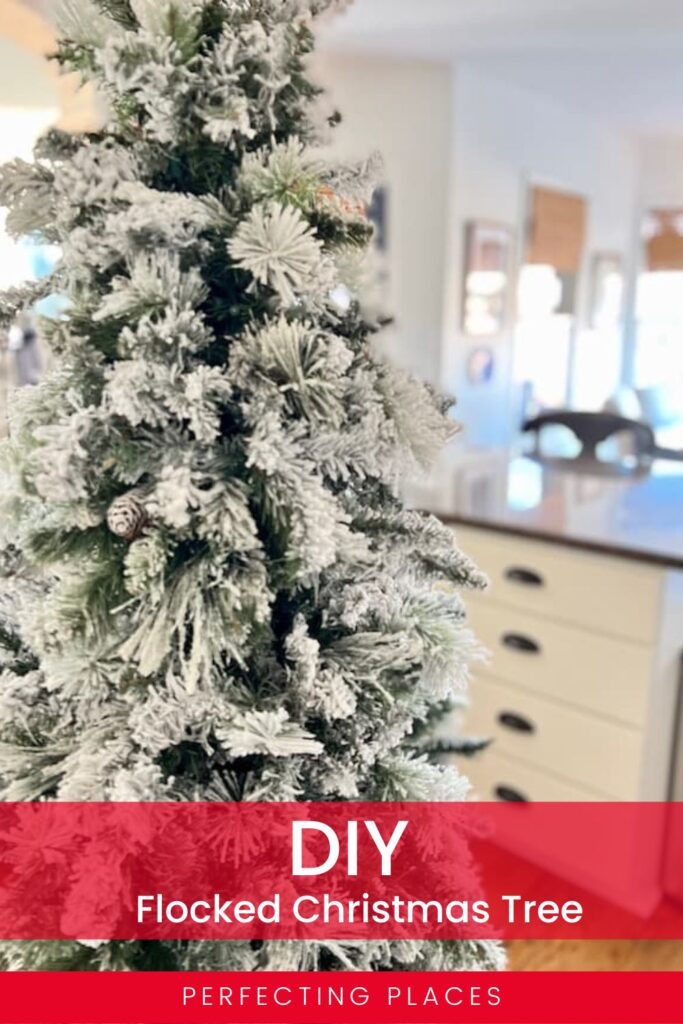 By the way, do you follow me on all the socials?? If not, check out my Pinterest, Instagram, and Facebook and be sure to follow me on all the socials so you don't miss out on any of my holiday decorating and DIY ideas!