Our Christmas Table Centerpiece and Tablescape
Today, I'm sharing our our dining room table setting and Christmas table centerpiece. In just a few days our extended family will gather together for the first Christmas meal we've had together in two years! We're so excited to host and can't wait to have everyone gathered around our table.
I feel especially grateful to be with family this year as so many have experienced deep loss and pain over the past two years, and most recently in my own home state as December tornados completely decimated towns. It puts it all in perspective what we place importance on, and makes us hug our loved ones a little closer. In light of so much tragedy and loss, I'm reminded that this is all just stuff. It's pretty, and beauty does bring joy, but only with the proper perspective.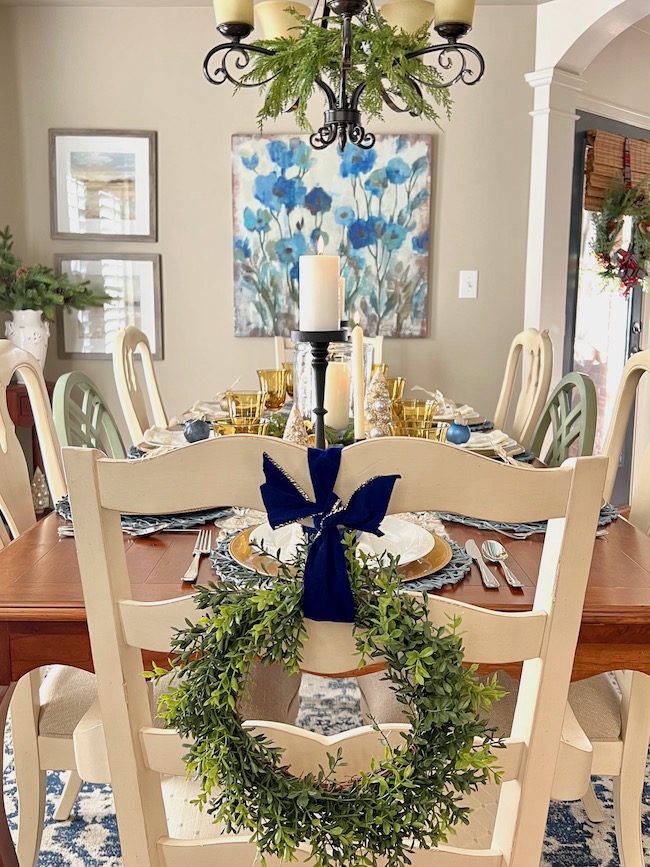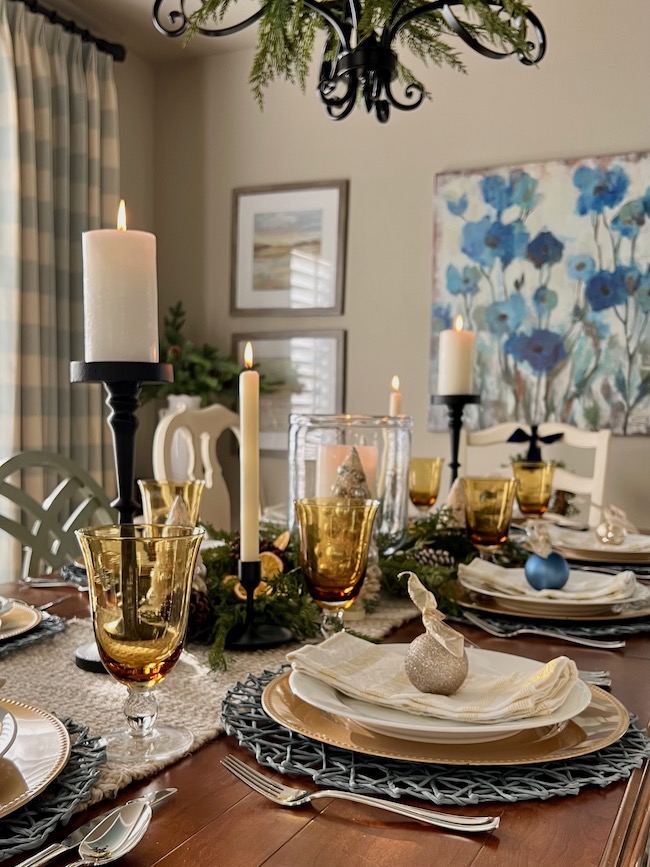 (This post contains affiliate links, so I may earn a small commission when you make a purchase through links on my site at no additional cost to you.)
As with most tablescapes and centerpieces, I pretty much just use what I have around the house to mix and match and pull  together. In this tablescape, I've gathered old greenery, candles, and bottle brush trees to create this Christmas table centerpiece.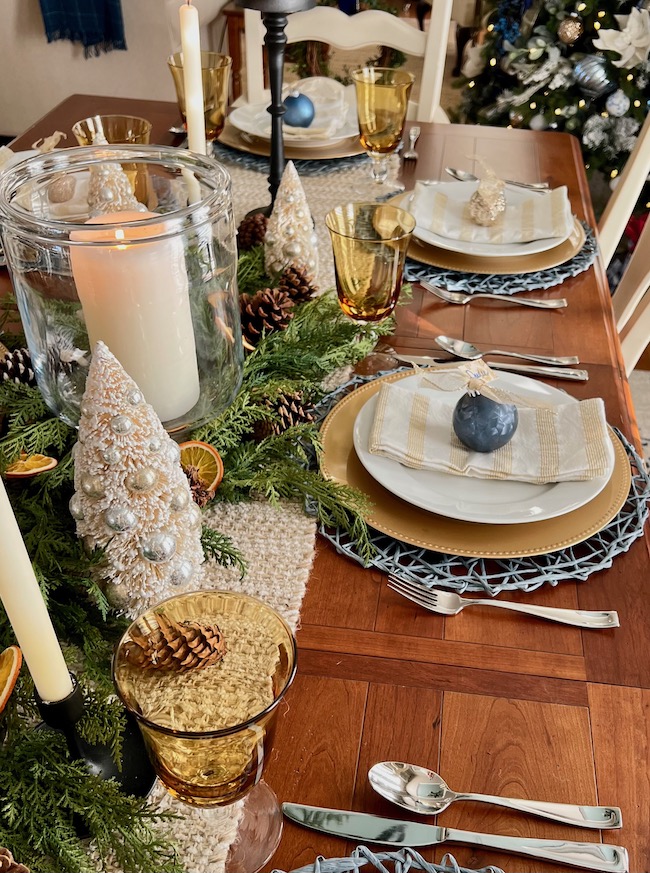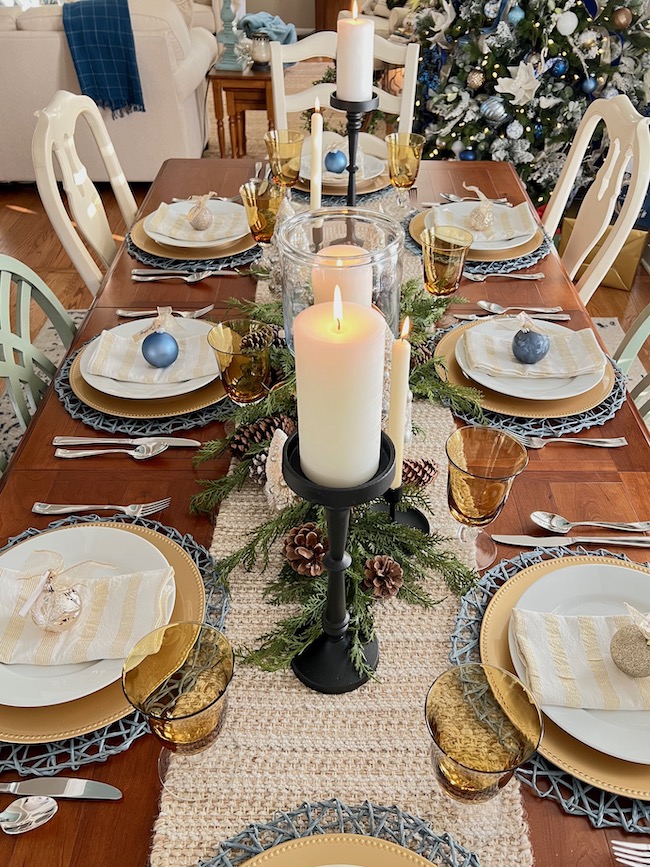 There were a few new details thrown in, such as these new blue placemats and some dried oranges — a first for me!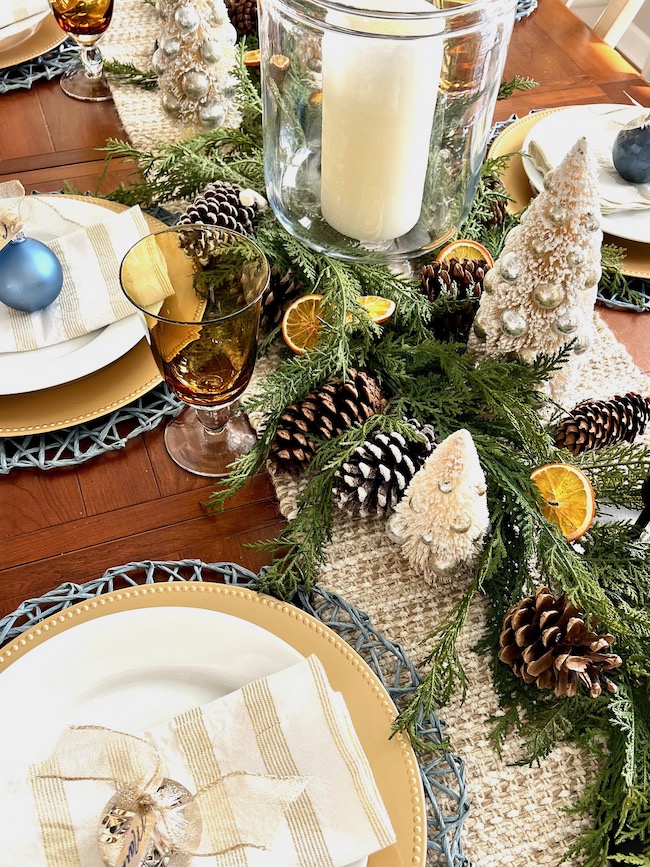 The base for this Christmas table centerpiece is just simple garland on top of a natural jute table runner. You can use fresh cut cedar or cypress, but mine is a really pretty faux cypress garland I've had for a few years.  I think it looks really natural, which is the key to look for when buying faux greenery. I've always loved the "drapey" look of cypress.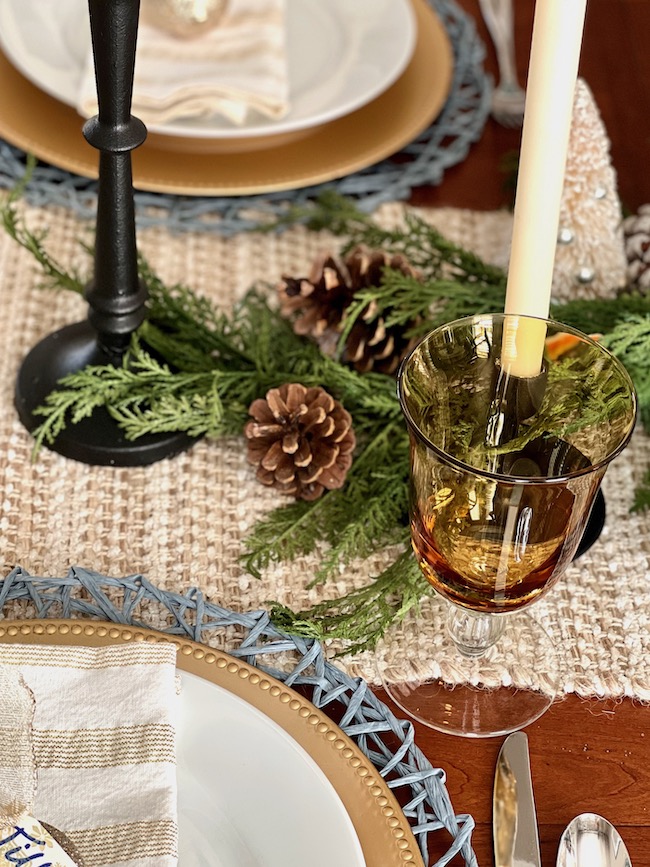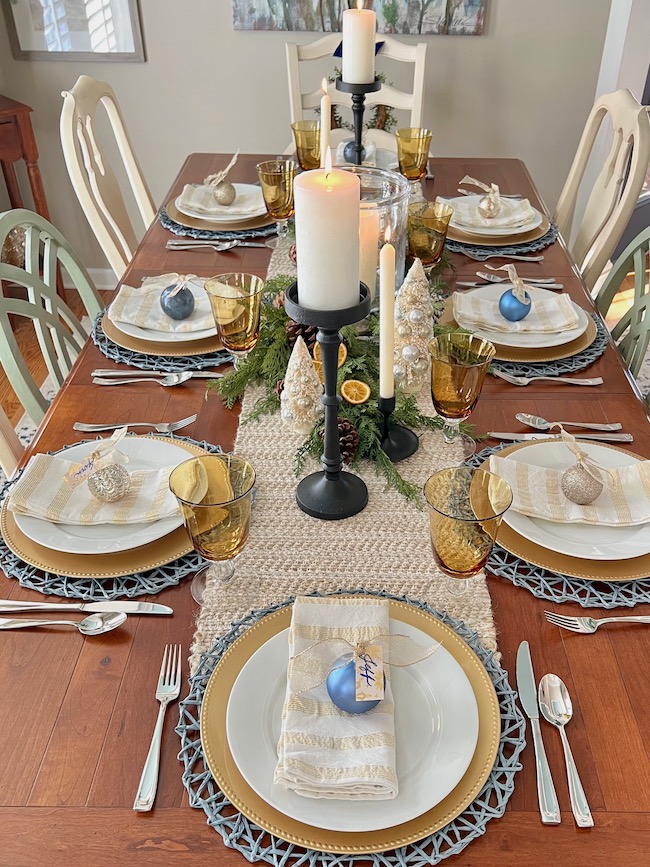 This jute table runner from Walmart is a great buy! It's such a versatile look and I love the texture it adds to the tablescape.
I layered the garland on top of the runner, and then added in the other elements.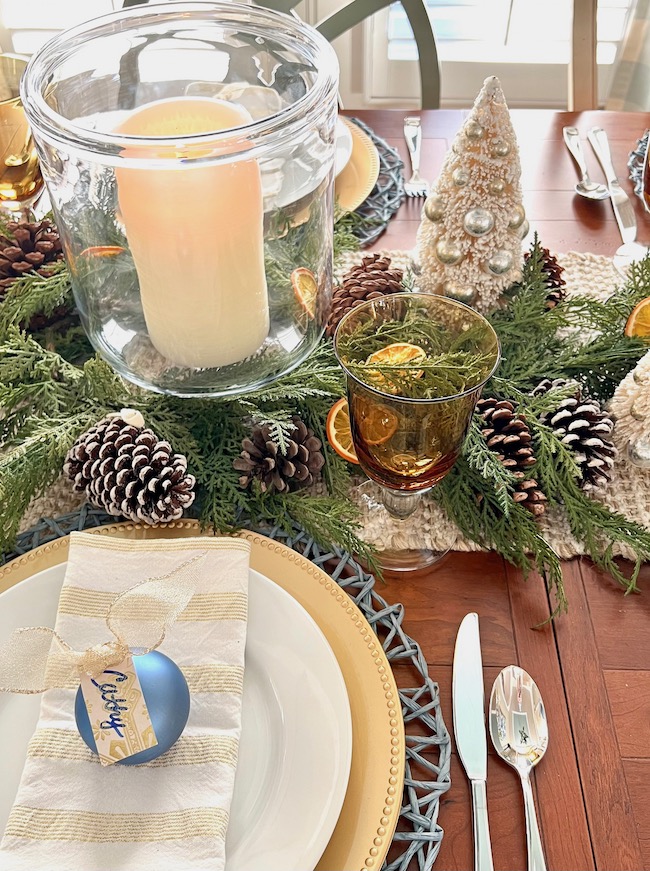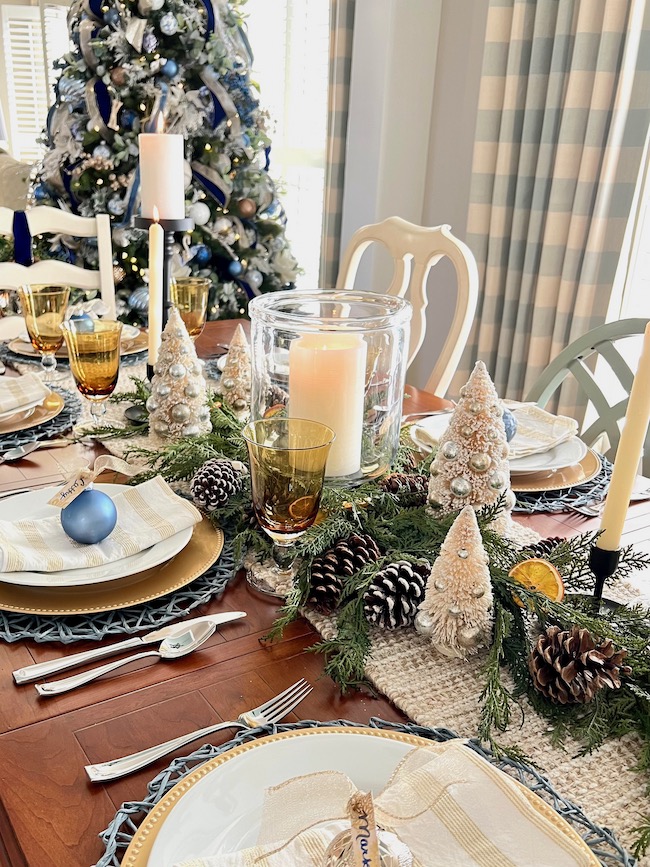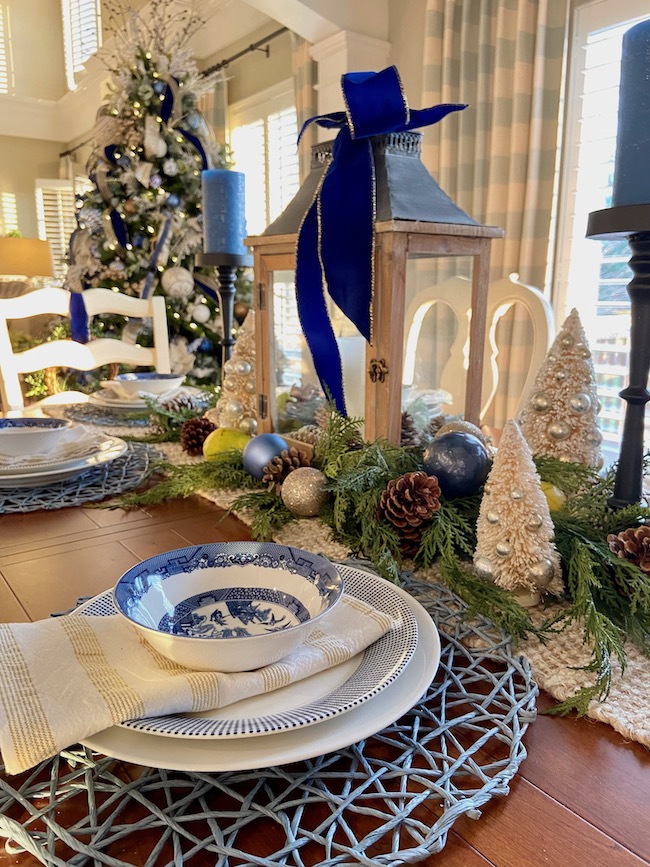 In my previous Christmas Home Tour a couple of weeks ago, I shared our table all decked out for Christmas. For most of the holiday season, I use a large lantern as the centerpiece on the table, but only when we aren't using it for a meal. Most of the time our family uses the kitchen table for meals. To prepare for our dinner guests, I've moved the lantern to the sideboard.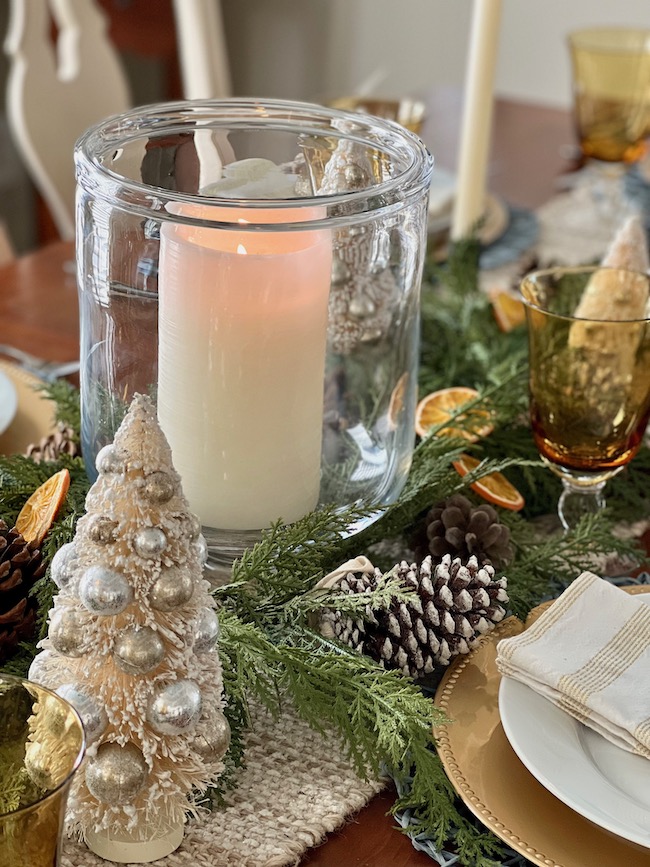 I switched out the lantern for a lower profile piece so it doesn't interfere with conversation during our meal.
I'm using the same large hurricane that I have on our coffee table for the main centerpiece. I love how sturdy and stable these hurricanes are — particularly for burning candles nightly on our coffee table. I'm always a little nervous about open flames in the living room, so this hurricane is perfect for that area! It's also a nice stable substantial piece for our dining table.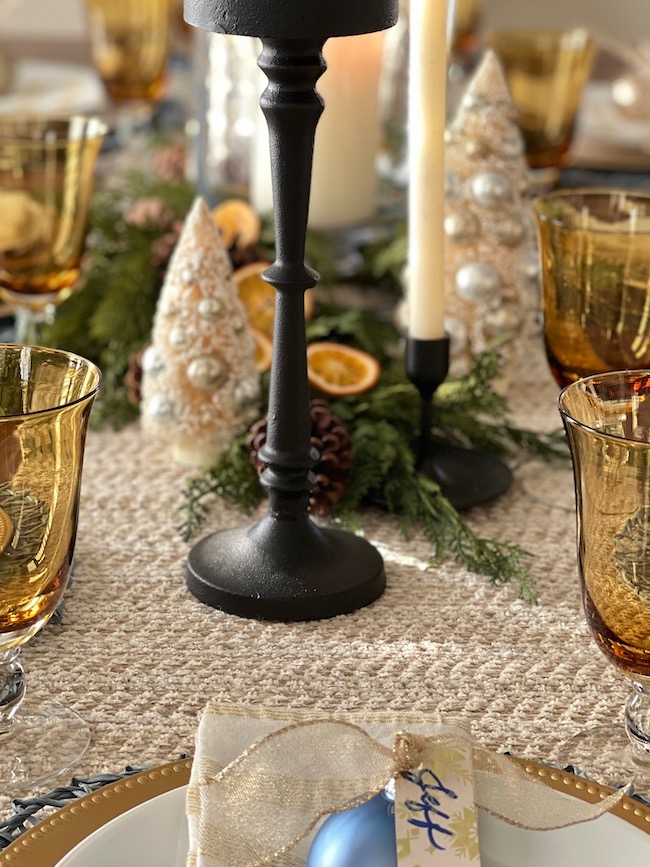 Some additional candlesticks and cream candles create soft and elegant look in the tablescape.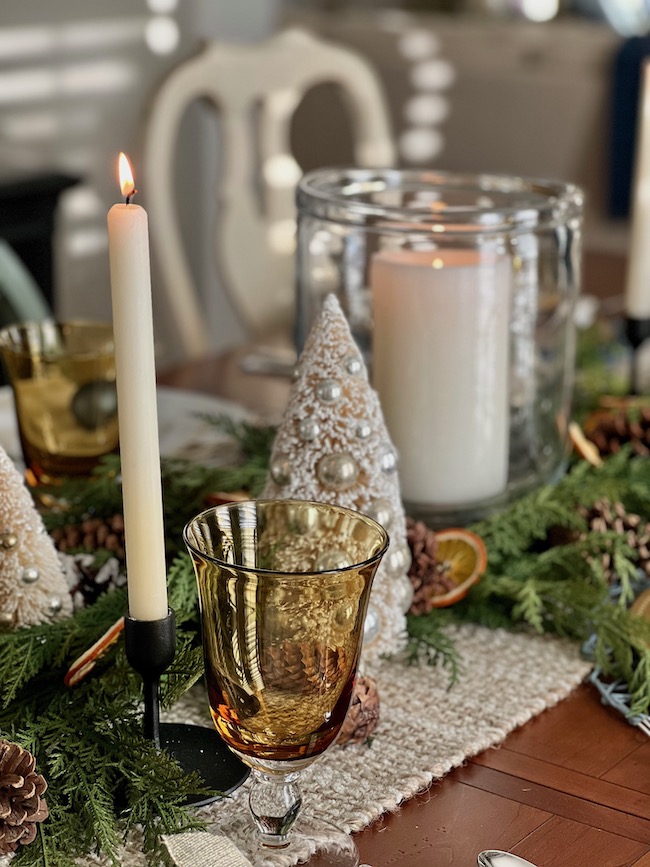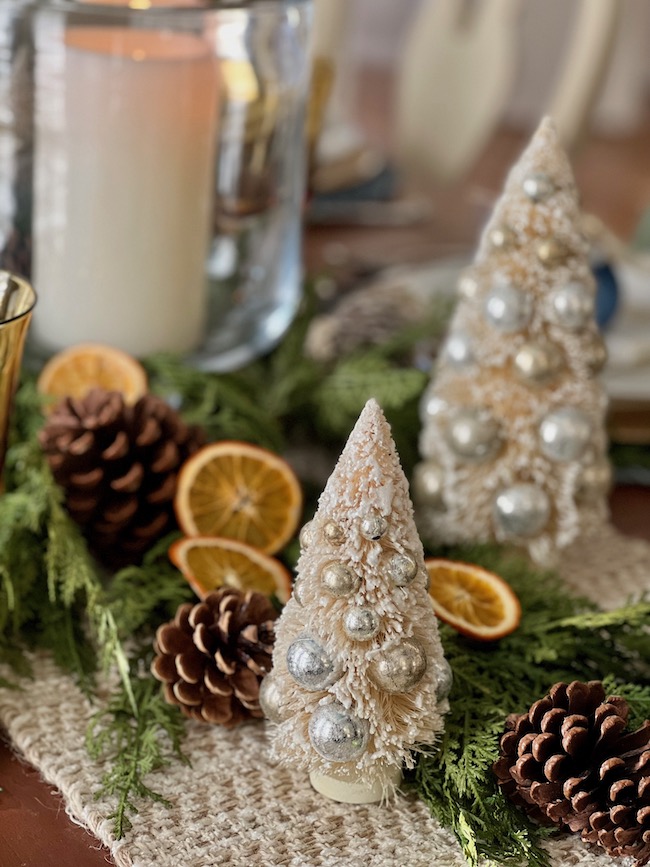 I added some pinecones to the greenery and dried oranges for a pretty, natural look. Marian Parsons, of Miss Mustard Seed, inspired me to try drying oranges this year. It's the first time I've ever done it, and I've enjoyed adding them throughout our Christmas decor. I love the color and natural element they add!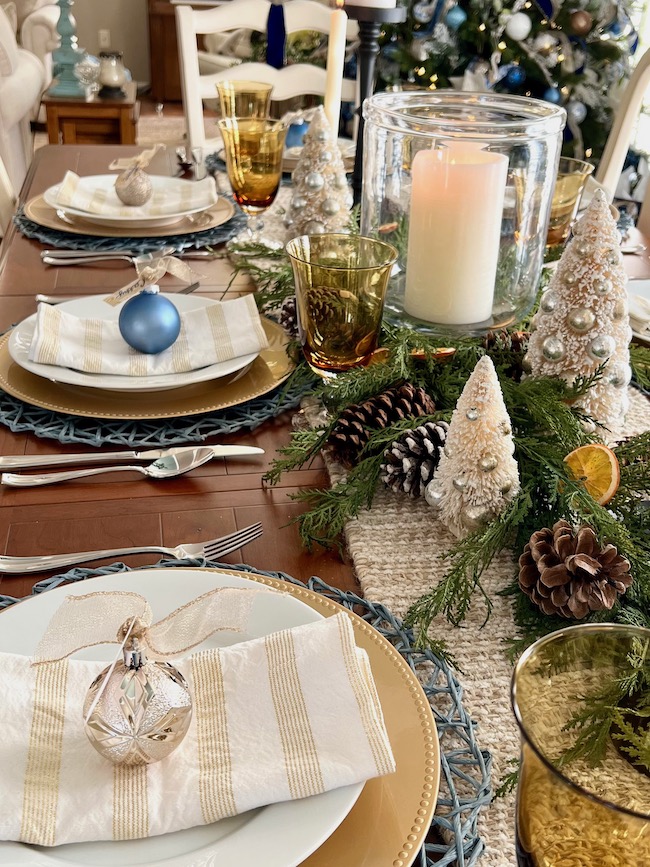 It's actually a very simple process if you have an 8 hour stretch of time to dry them slowly in your oven at a low temperature. I recommend an oven safe cookie rack like this one. You can read Miss Mustard Seed's instructions here.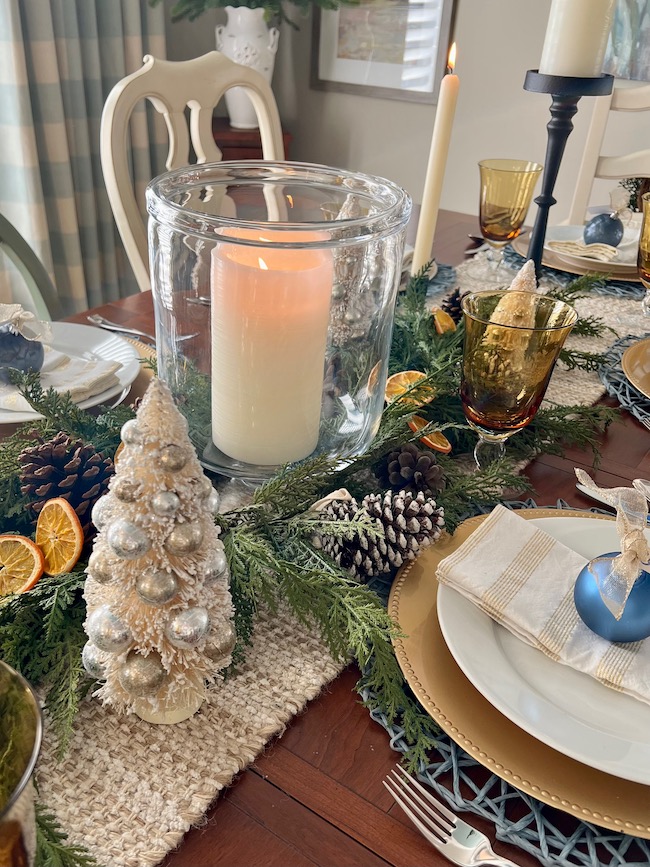 I'm also using a few of my favorite bottle brush trees which add some subtle sparkle to the natural elements in the tablescape. You can read other ways I've incorporated bottle brush trees into our Christmas decor here.
These pretty blue placemats were a HomeGoods a few weeks ago, and I love how they blend with my blue, white, and gold Christmas theme! I have the same placemats in a natural color, so I can mix and match them when we need more place settings for larger gatherings.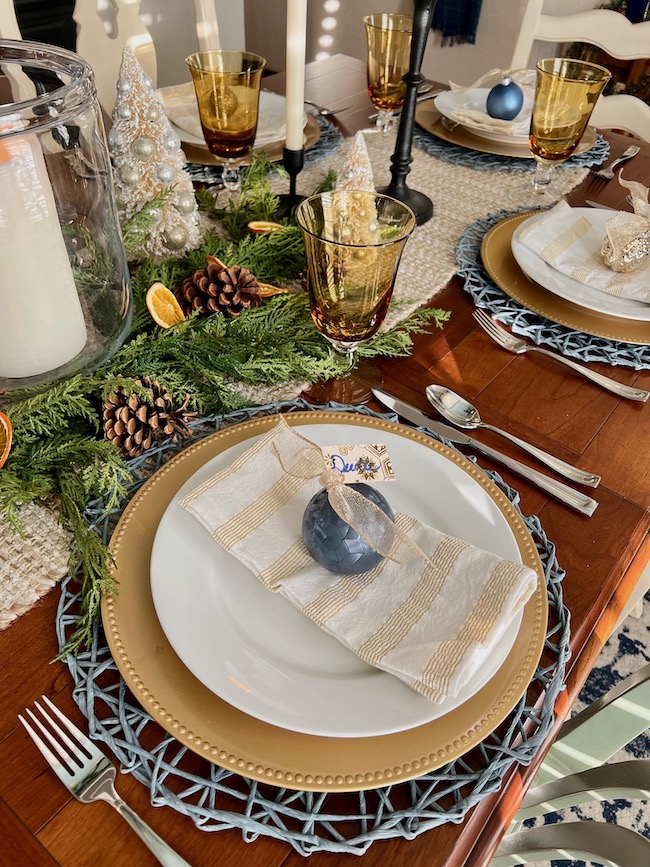 I purchased these gold bead-rimmed chargers from the Dollar Tree a few years ago to use for my daughter-in-law's bridal shower. They are the best deal, for only $1. I use them often. You can still get them several colors.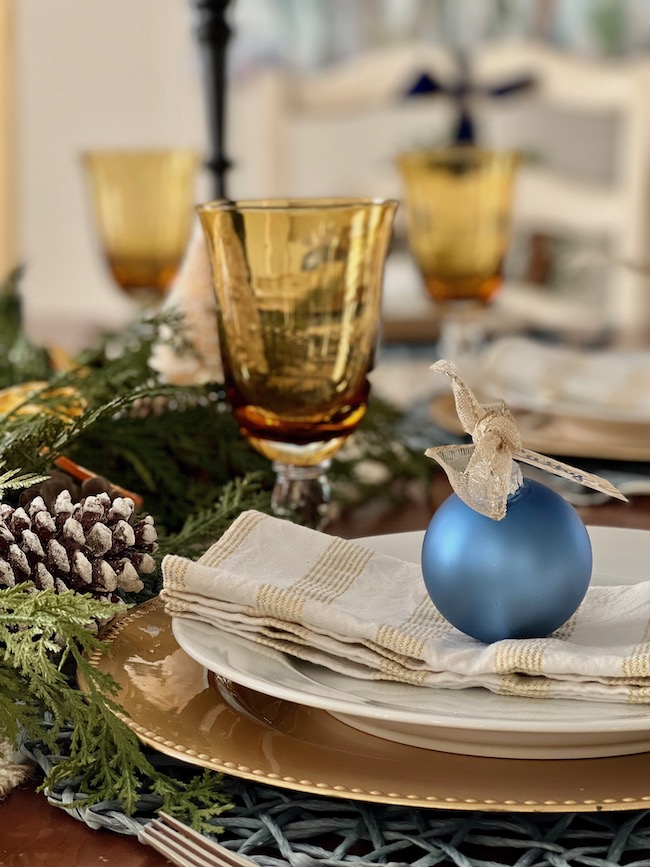 I added my white dinner plates and white napkins with gold stripes and attached names to Christmas balls using gold ribbon to use as place cards at each table setting.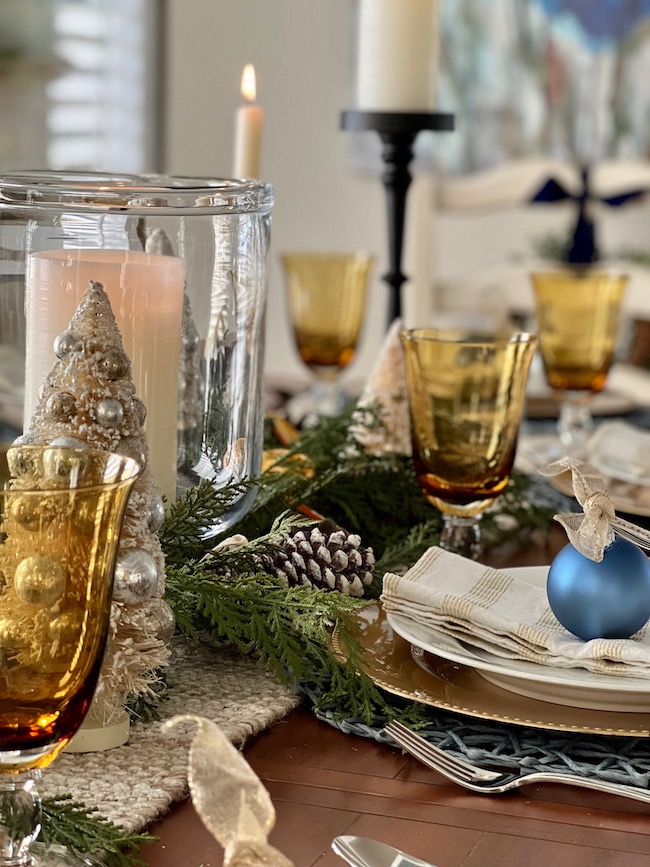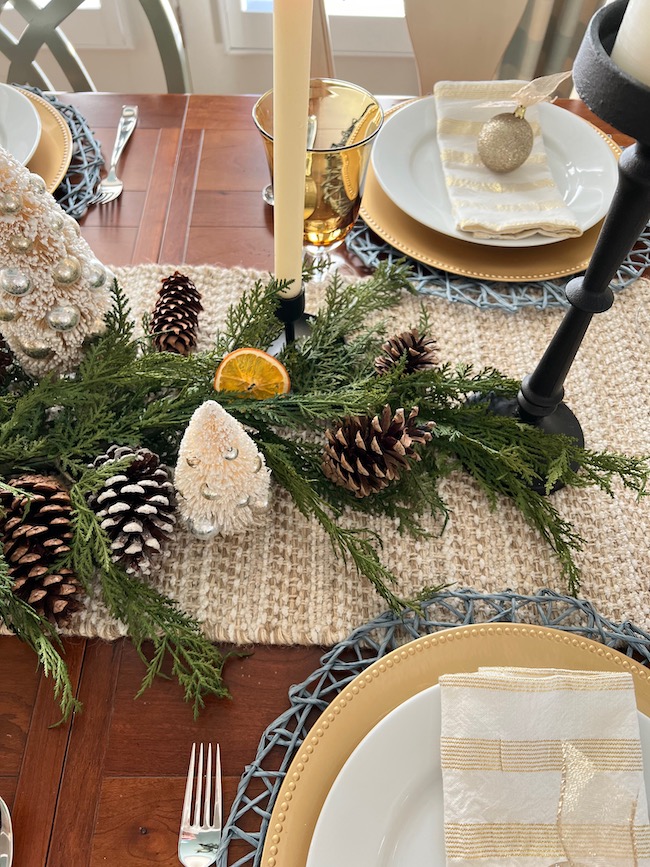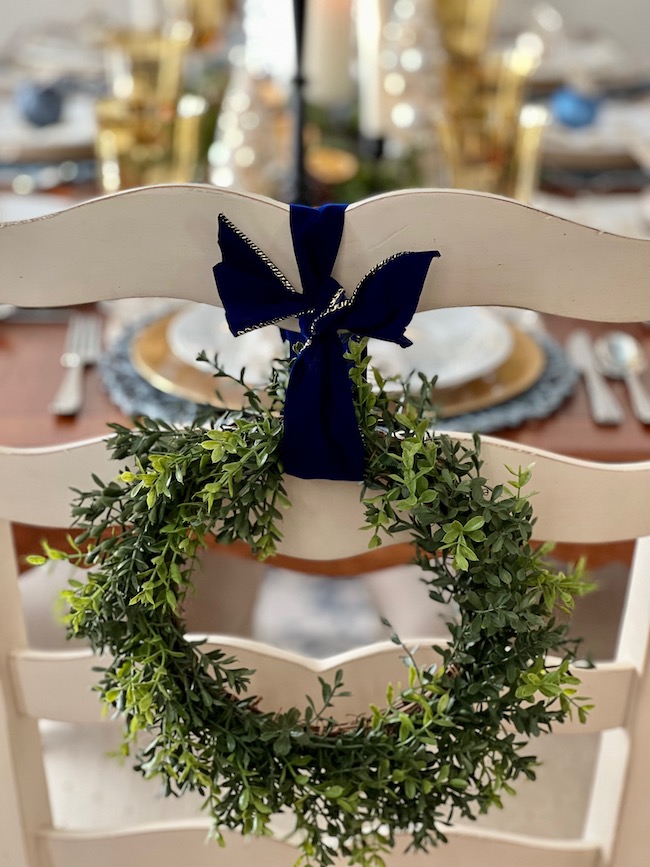 I hope you enjoyed your little tour around our dining room all decked out in blue, gold and cream for Christmas! We're looking forward to lots of wonderful laughter and conversation around this table next week!
The greenery and candles, and pinecones, and bows are all beautiful, but they pale in comparison to the beautiful loved ones who will fill those seats next week. To those facing empty seats, and in some cases, those whose very seats were stripped away, my heart goes out to you and hurts for you.
You have been and will continue to be in my thoughts and prayers.
Thank you so much for stopping by.