An Easy Chinoiserie Ornament DIY and Christmas Tour
Yay, it's December! Today's post is all about my Christmas Home Tour and an easy Chinoiserie Ornament DIY project. I'm sure you've been visiting lots of Christmas Home Tours this week, and I'm so glad you've stopped by!
We're in the midst of all things Christmas around here!! This year I discovered the wonders of decorating for Christmas before Thanksgiving, and I am forever changed!! It's amazing!! Who knew??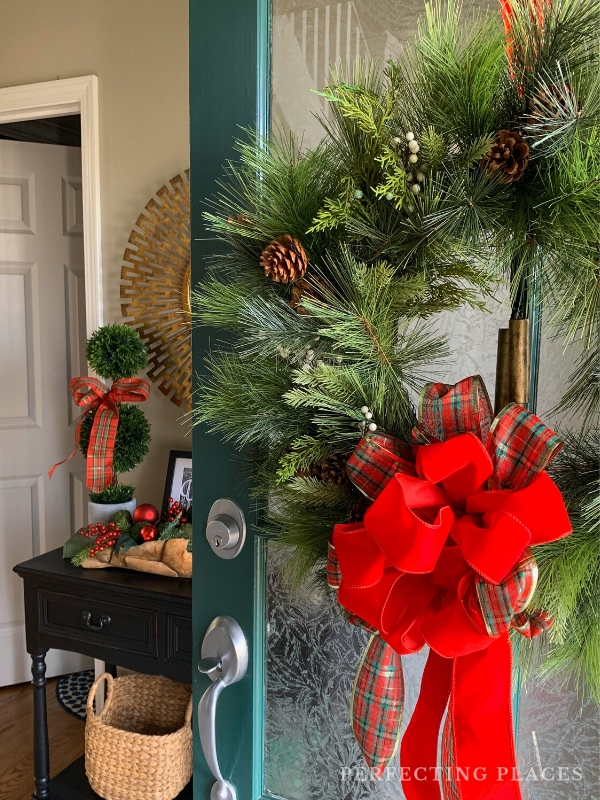 I love how Christmasy our green door paint color, Sherwin Williams Billiard Green, looks with our Christmas decor!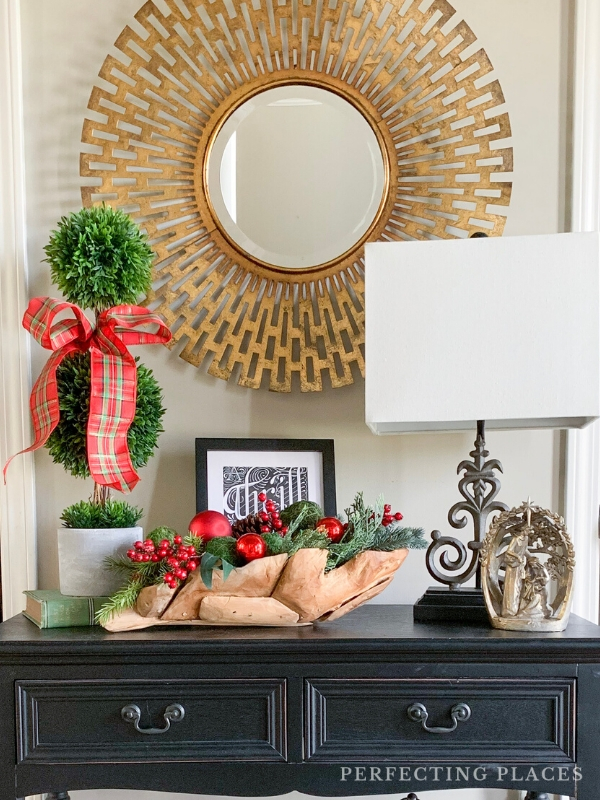 This year I'm all about tartan plaid with blue and white Chinoiserie — a very traditional Christmas look.
My original plan was to stick to a more "toned-down" palette, but after finishing my tree in greens and golds, I was politely informed by our 11-year-old daughter that we needed more color:)
So, I obliged and went from this …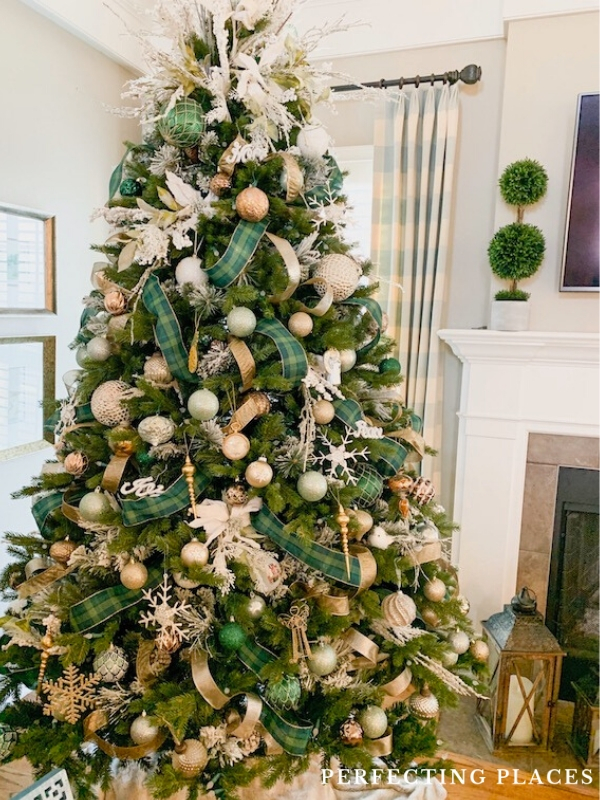 to this.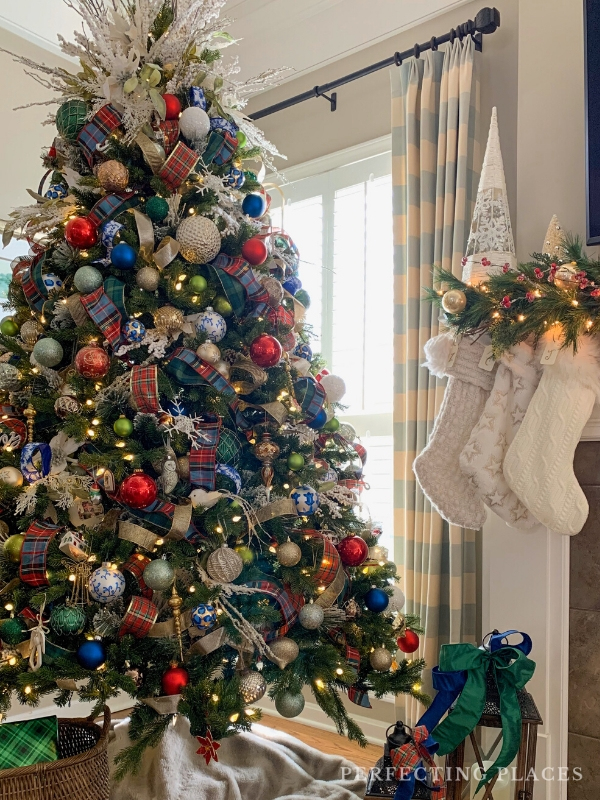 Tartan plaid just kind of exploded all over our tree in reds, blues, and greens, and I love the color! I never tire of traditional Christmas red, and always seem to return to it.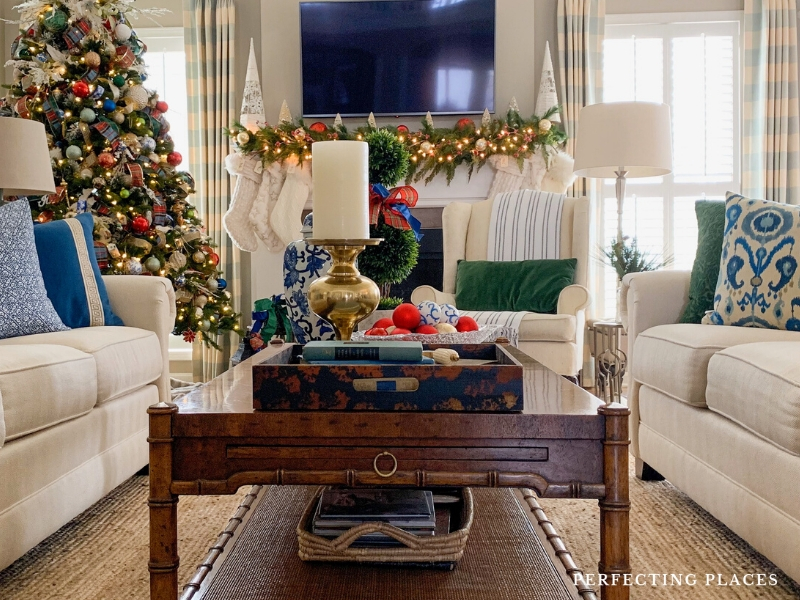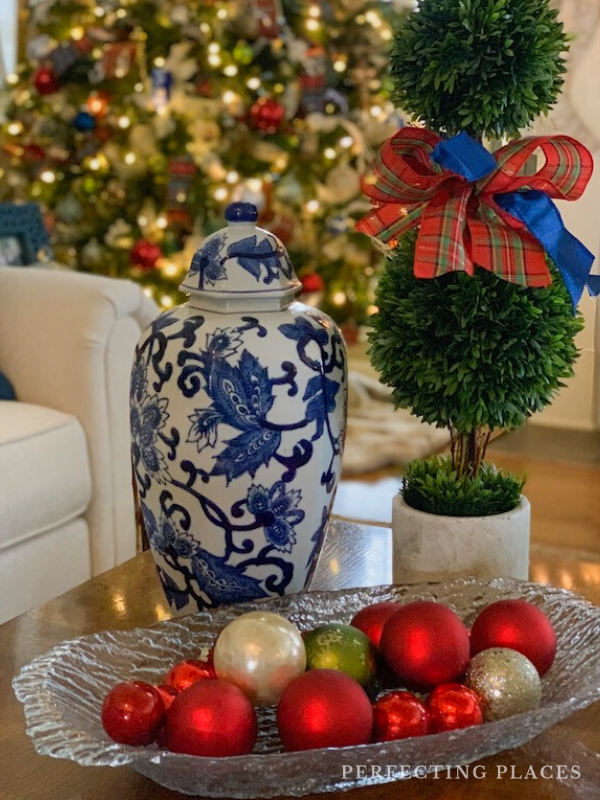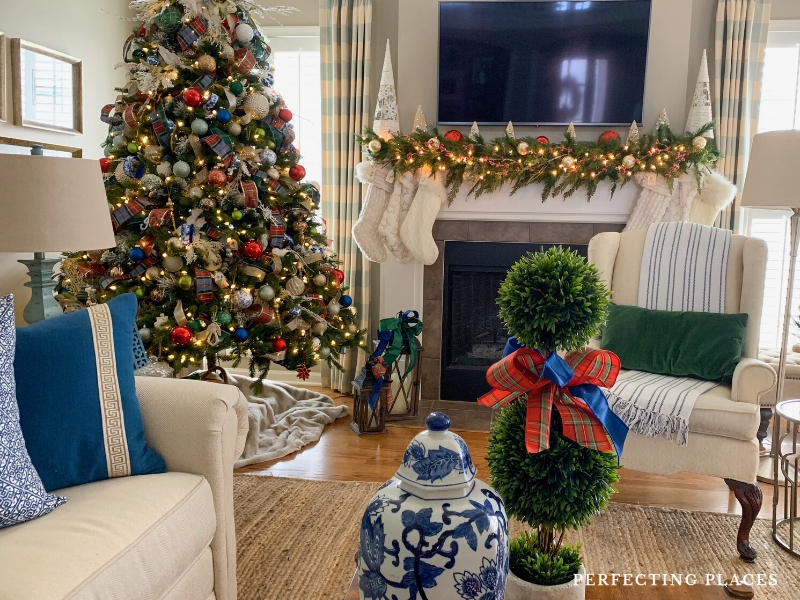 An Easy Chinoiserie Ornament DIY:
I wanted some pretty Chinoiserie Christmas balls to incorporate into my decor in bowls, centerpieces, and of course, on the tree. Everything I found online was more than I wanted to spend, so I created my own.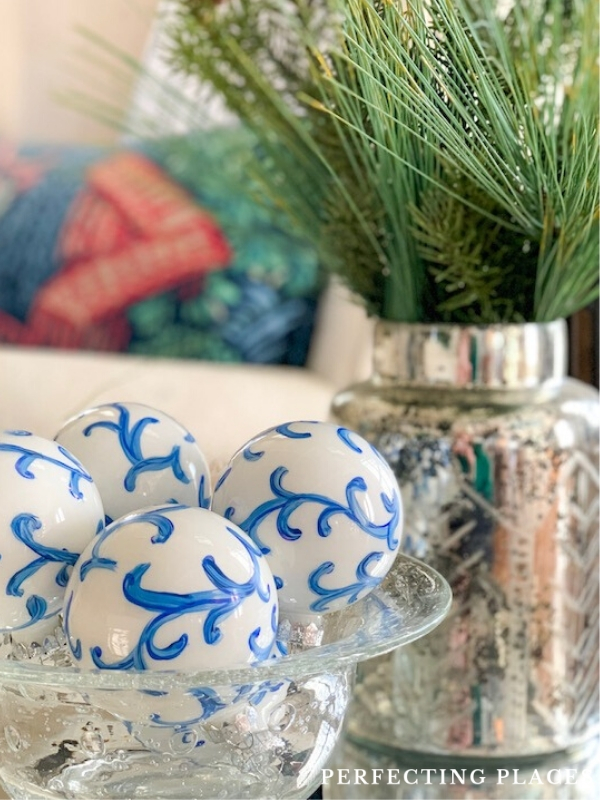 Check out my Facebook Live video tutorial for this easy Chinoiserie ornament DIY!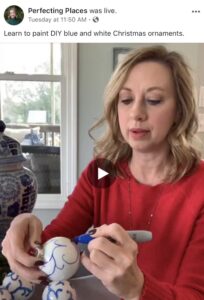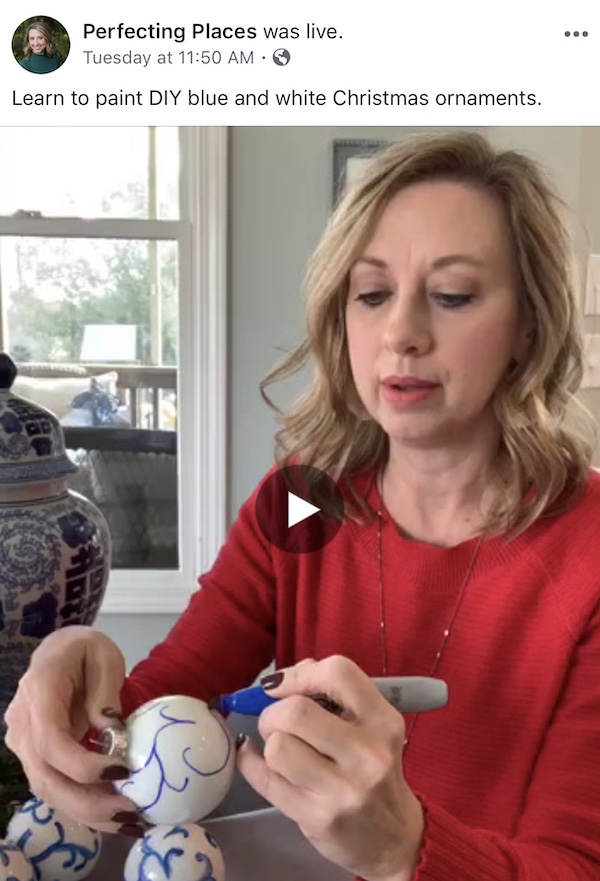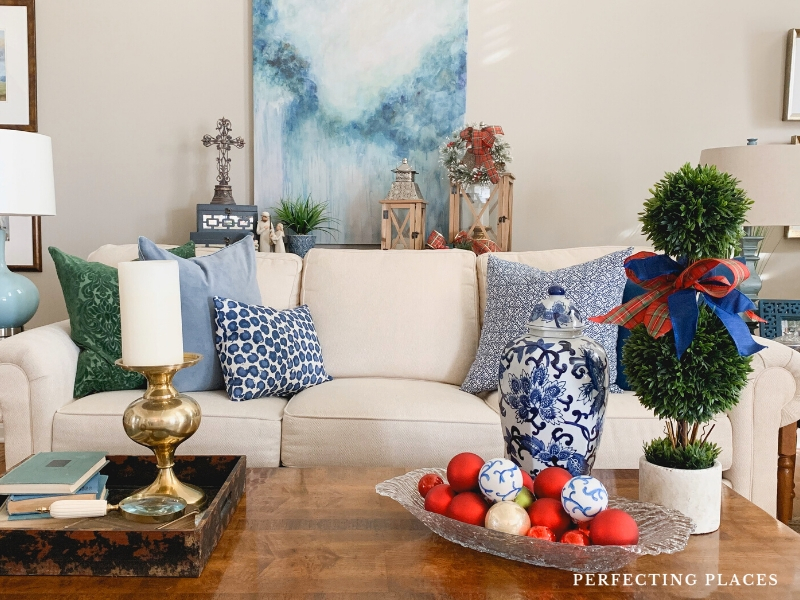 In the dining room, I used cypress and magnolia greenery to create a centerpiece runner and added the red tartan plaid. I interspersed the hand painted Chinoiserie ornaments throughout the centerpiece, and added navy candles.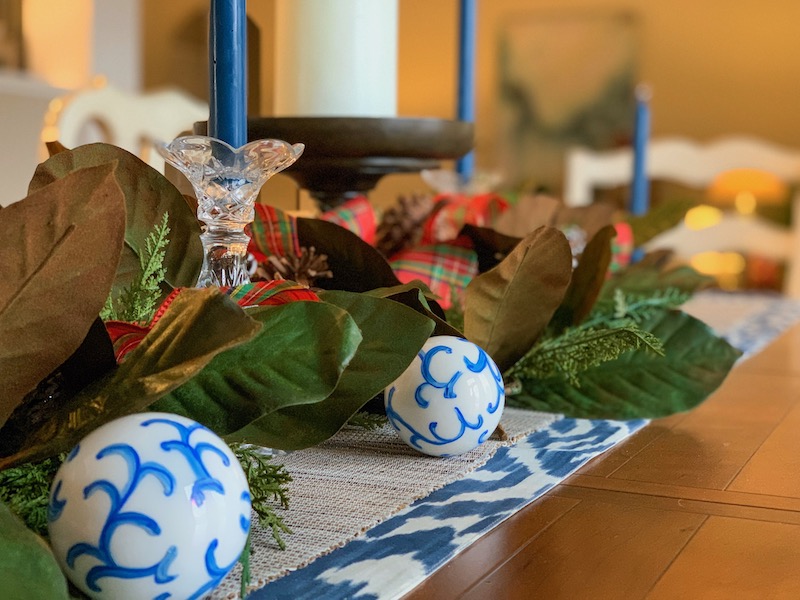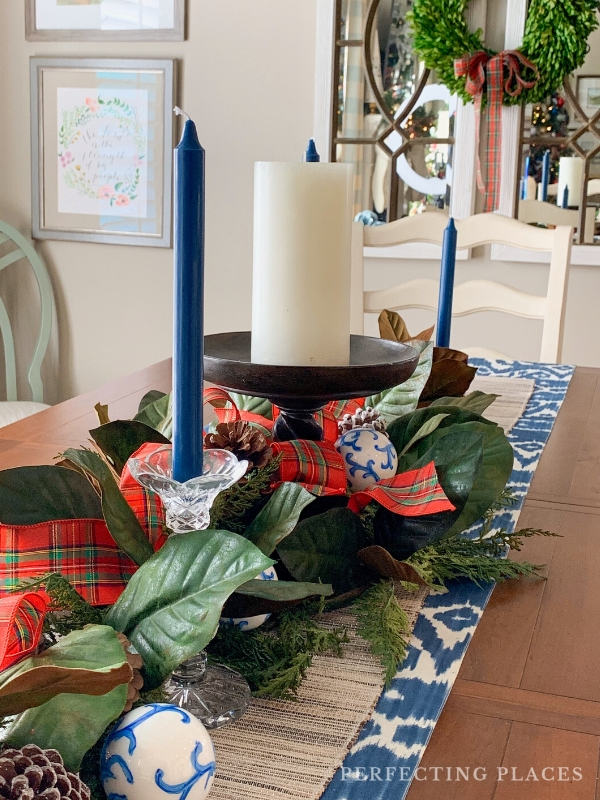 The blue and white ornaments are pretty with the blue and white ikat runner.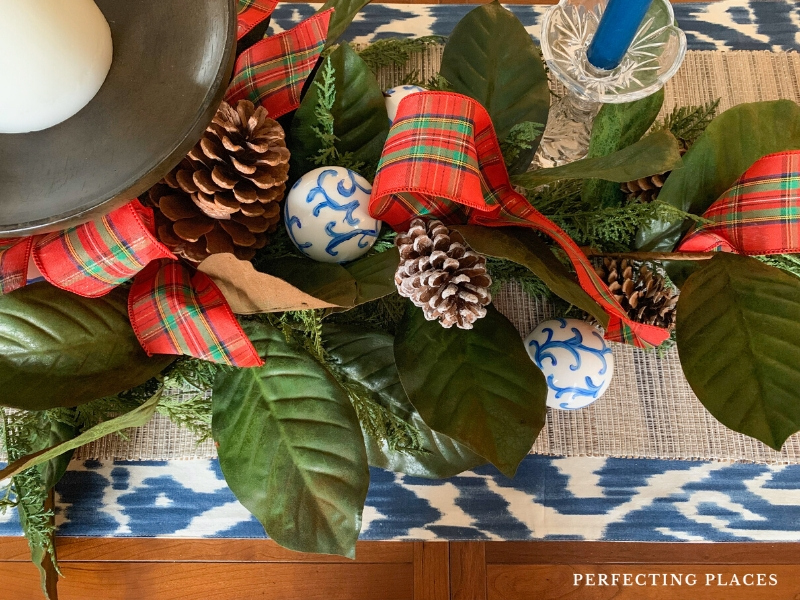 I carried the red tartan plaid and blue and white Chinoiserie theme into the kitchen breakfast area.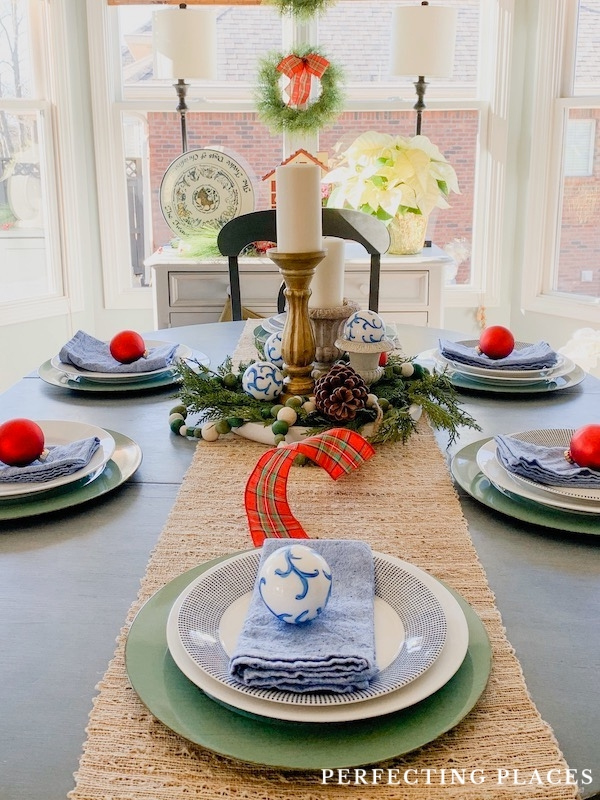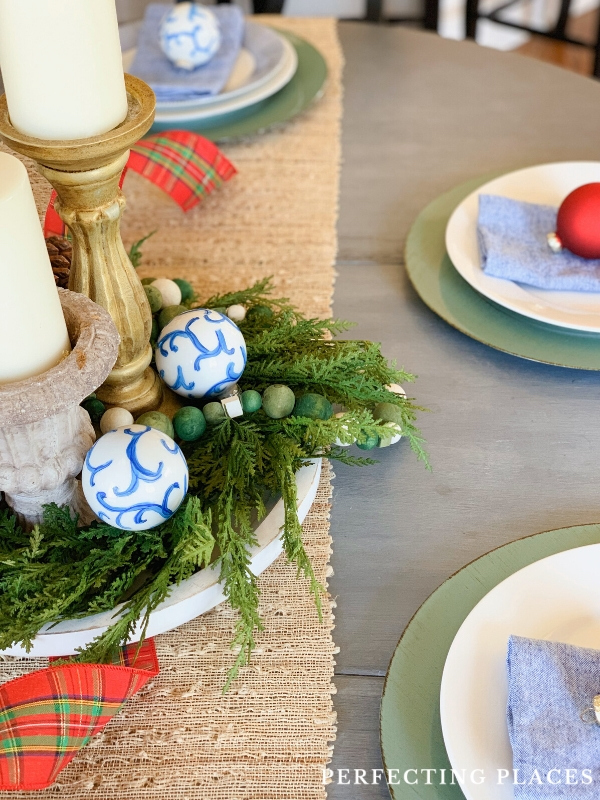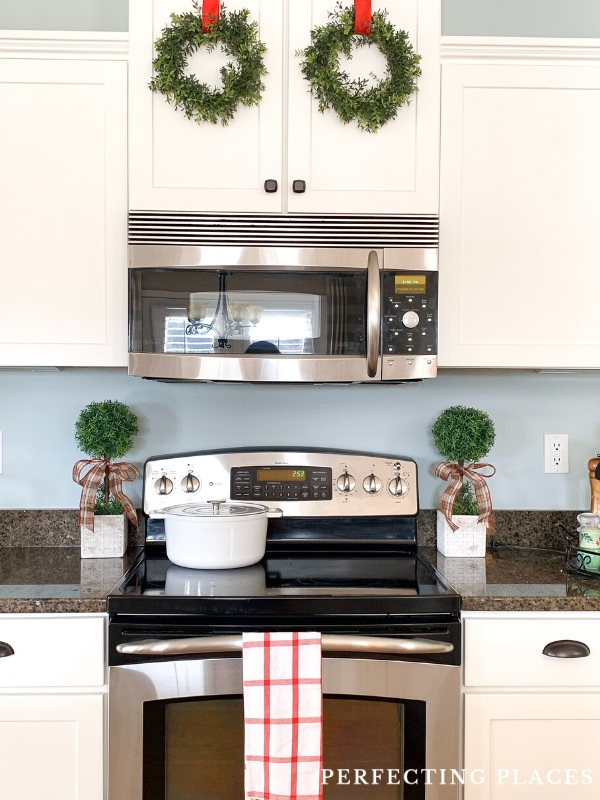 Wreaths on white cabinets create such a cozy look in the kitchen! It's time to put that oven to good use with some Christmas baking!
To round out the kitchen decor, I decked out a three-tiered tray with Santa mugs. As we get closer to Christmas and the grown kids come home, I'll turn this into a hot chocolate bar. The little snow woman is Miss Julie, by the way (named by the same 11 year old daughter who dictated the brighter color scheme).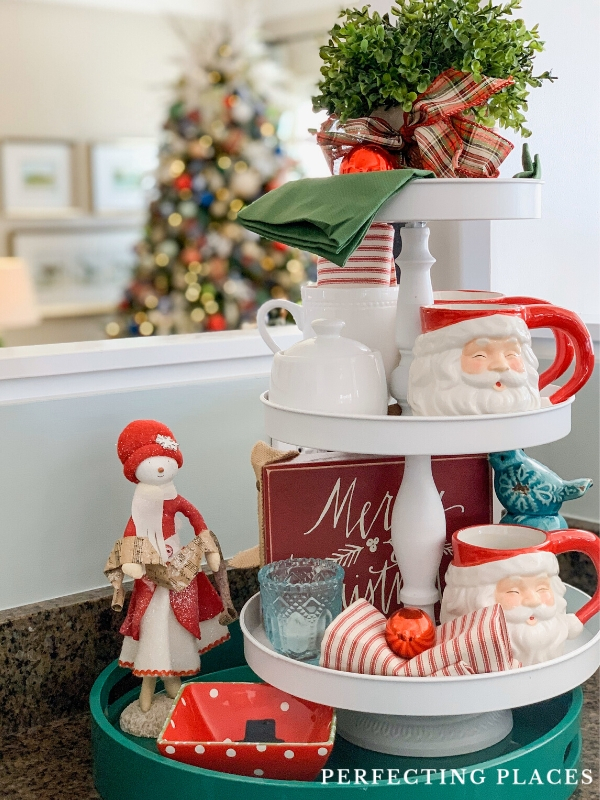 Thanks so much for stopping by for my Christmas Home Tour and for an easy Chinoiserie ornament tutorial! Now it's time to get my shopping finished!! I hope you get LOTS of decorating and shopping done soon, and can enjoy the holiday season!
Do you still have Christmas decorating and shopping to do?