Simple Winter Decor Ideas
Happy 2022! This morning, as school starts again for our daughter, Christmas break is officially over and we're now officially into new year mode. Today, I'm sharing some simple winter decor ideas to use in your home after you put away all the Christmas pretties.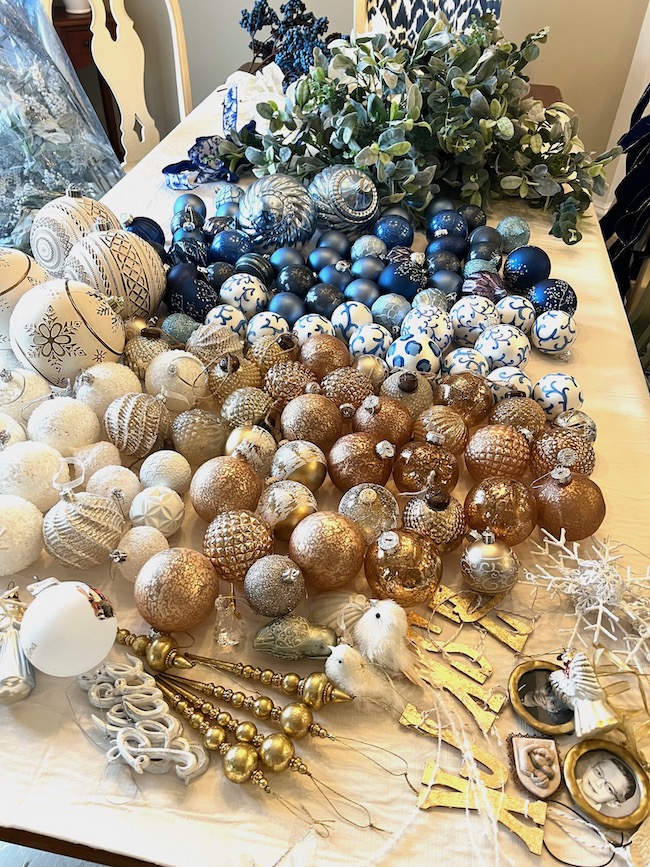 (This post contains affiliate links, so I may earn a small commission when you make a purchase through links on my site at no additional cost to you. As an Amazon Associate I earn from qualifying purchases.)
After the holidays are over, I tend to take a much slower approach as I move into the new year. I like to give myself time to adjust to new schedules, work into better eating and exercise habits, and take time to transition my home from Christmas to winter. It's a great month to take inventory of your home and assess areas that need some organization help.
The months of January and February can be a little cold and dreary in Kentucky, so adding some warmth to our home is important.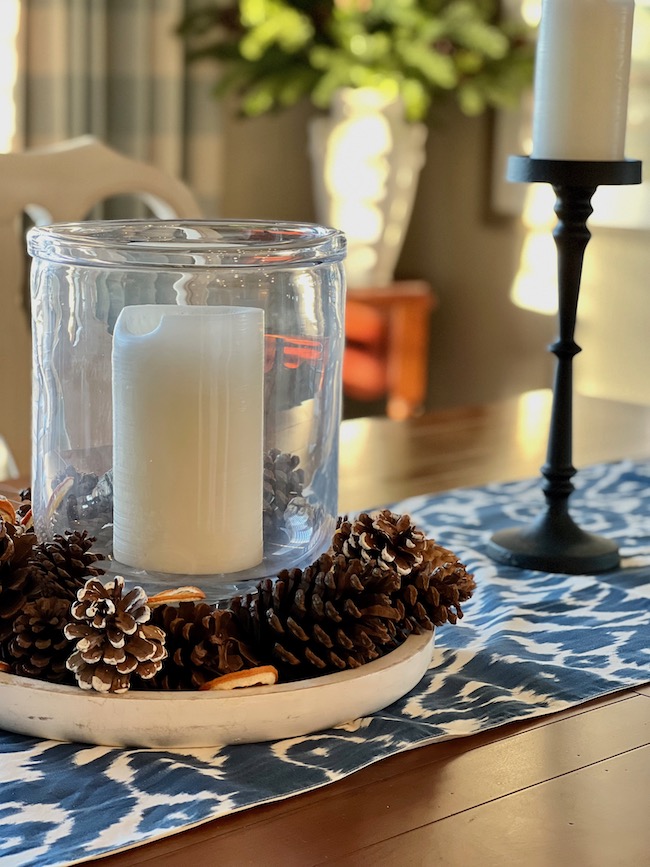 I love all of the Christmas decor, but once the new year rolls around I'm ready for a clean slate. The trick is to create a clean slate while keeping just enough touches of warmth to keep your home feeling cozy throughout the winter months.
As I mentioned, I tend to move slowly into the changes of a new year, and that applies to my home as well. A lot of energy went into decorating for Christmas, not to mention all of the other festivities, and the planning and shopping that comes with the holiday season.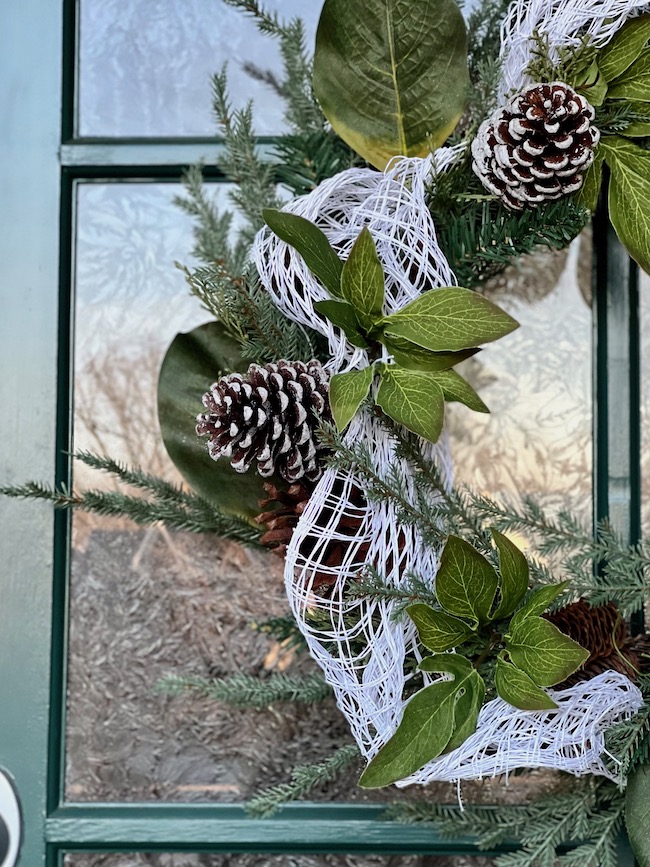 Now that the holidays are over, I've simply removed the more Christmassy items — particularly the reds, the velvet ribbons, the ornaments and nativities, and anything that is Christmas-specific.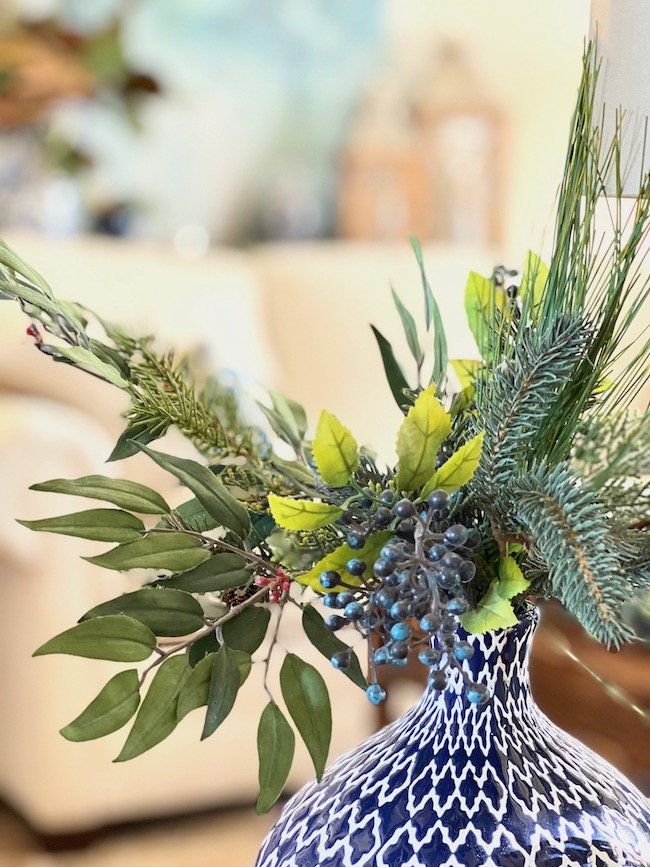 But, there are a few things I keep out.  I keep the greenery and natural elements like dried oranges and pine cones and create simple arrangements in vases and bowls.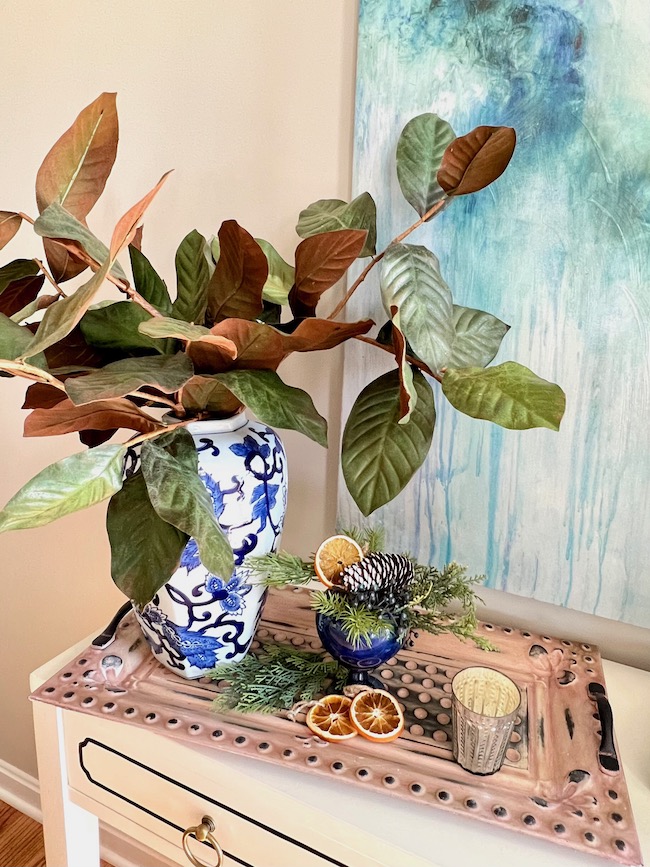 Magnolia stems look great all winter long, and that's why I love investing in some pretty faux magnolia stems. We don't have a magnolia tree, but if you have access to one, you can keep fresh magnolia all winter long.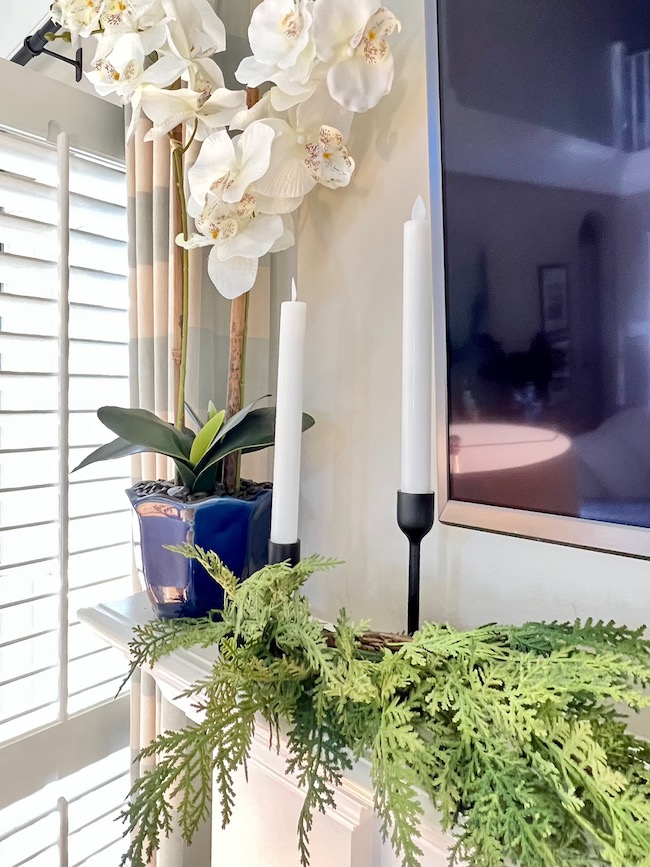 I'll use some greenery and candles on the mantel to add warmth. I did add a couple of faux white orchids in blue pots to the mantel for a little winter color.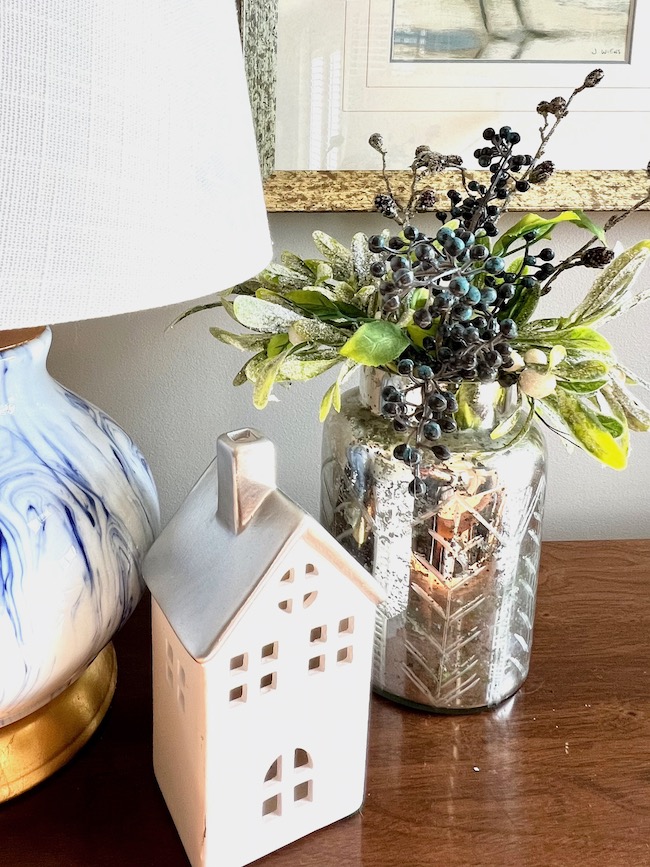 I've kept the little houses, minus the bottle brush trees on the piano.
I also keep a few pieces of mercury glass and silver out to add just a little sparkle during the long winter months.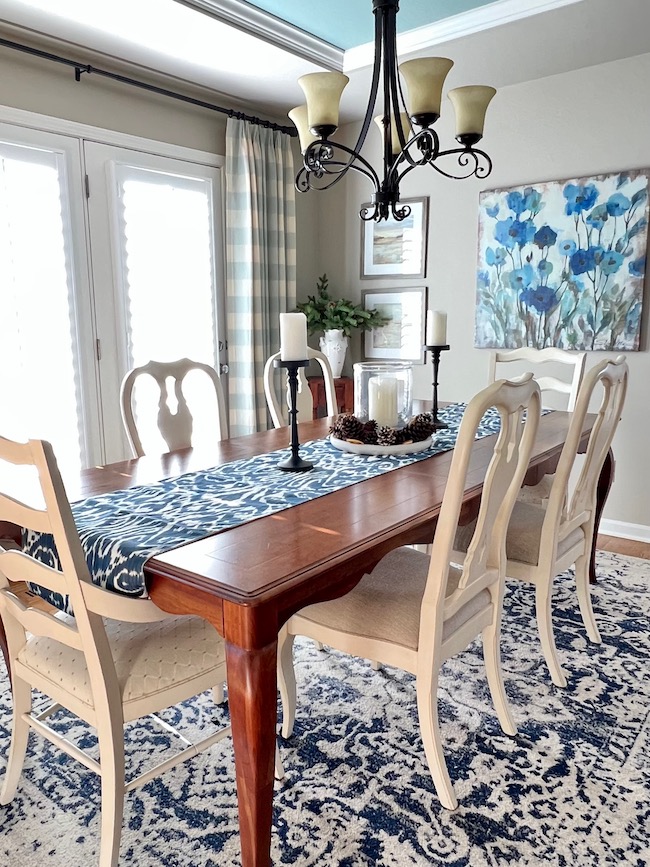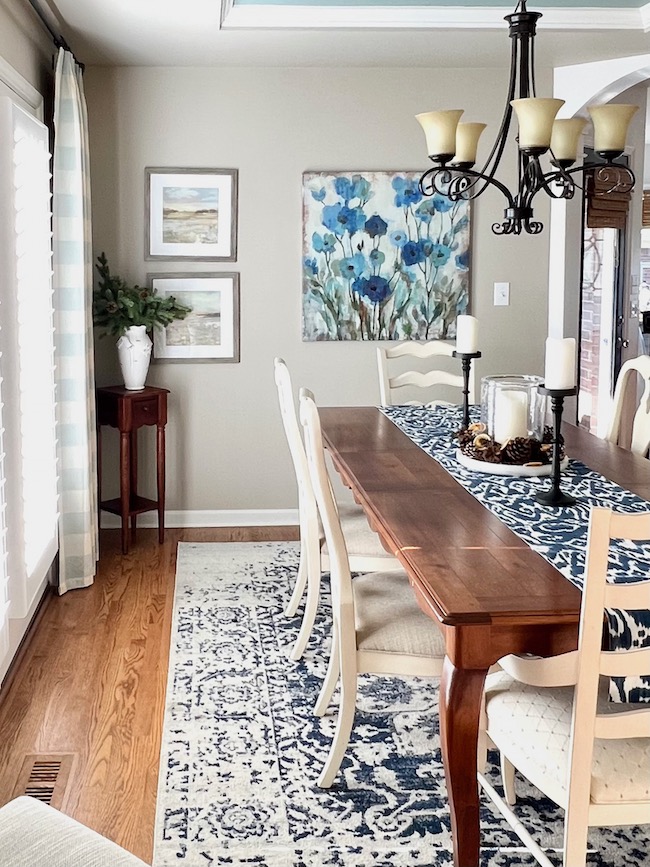 ---
---
In the dining room, I'm using simple white pillar candles with pine cones for a simple tablescape. I've kept a vase full of greenery to add some warmth.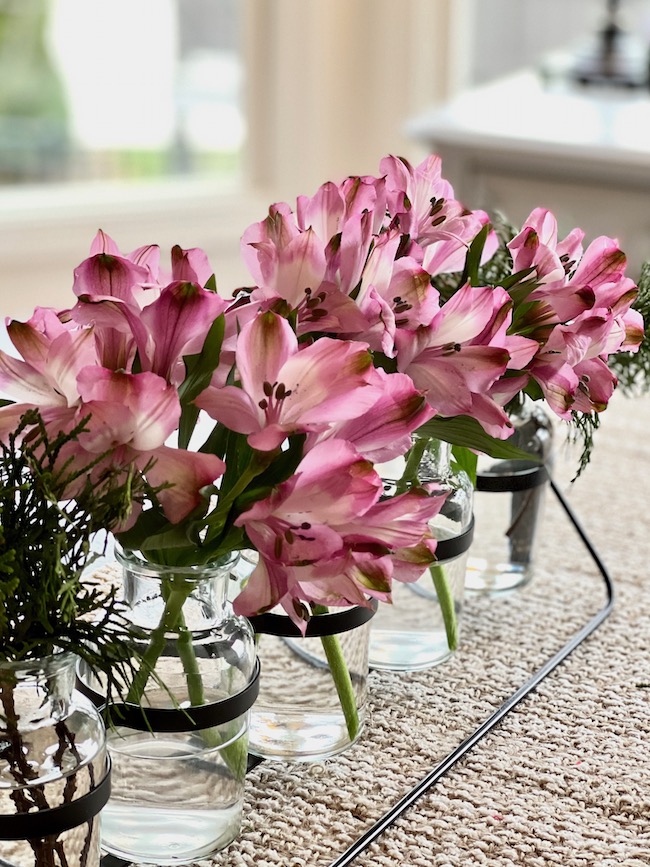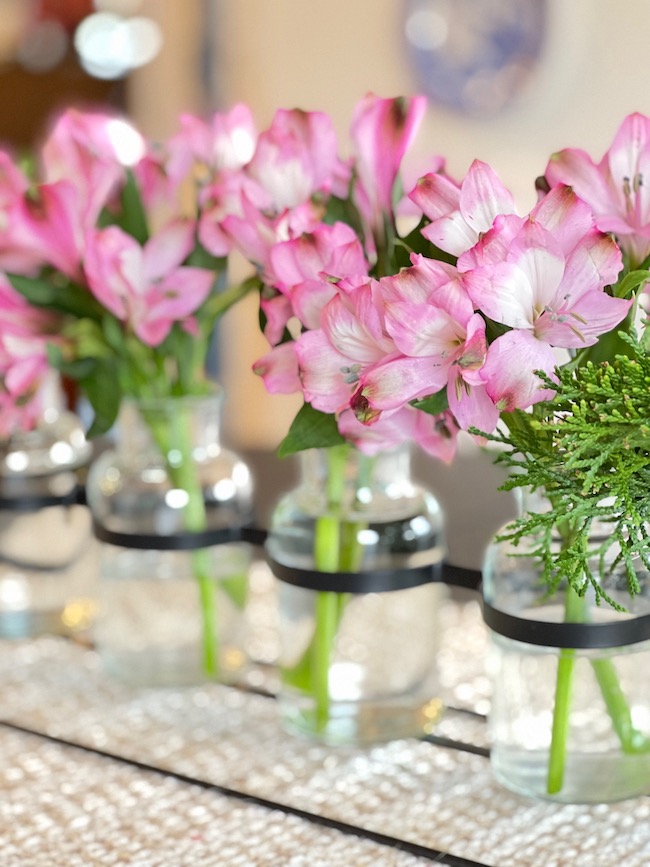 In the kitchen, I've changed out our centerpiece for some pretty pink flowers, but kept the fresh greenery with them. I replaced the Christmas wreath on the kitchen door with a boxwood wreath and fresh blue and white plaid ribbon.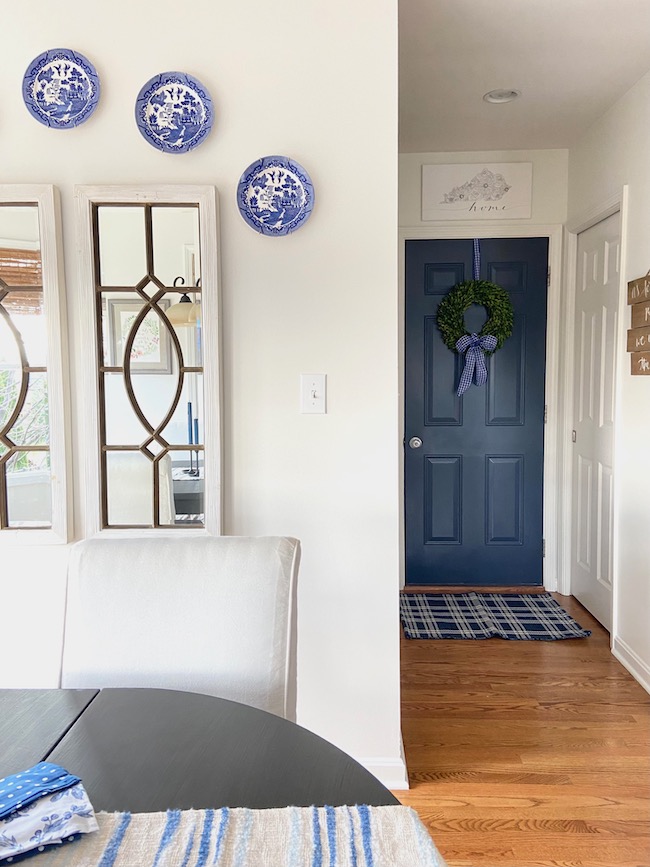 ---
---

It's all pretty simple right now, but as I move through the next couple of months, I'll add in a little more color and pattern here and there.
Now that I have a clean slate and some simple decor in our home, I'm thinking about all of the fun design and decorating ideas I have planned for our home in 2022.  I'll be spending this month organizing and cleaning, and planning out the projects that I'm excited to share with you this year.
I hope this post encourages you with some simple winter decor ideas as you decorate your home for the winter months.
Thanks so much for stopping by, and have a Happy New Year!
You might also enjoy:
A Few Christmas Organizing Ideas for After Christmas