Inexpensive Home DIY Projects for 2022
Disclaimer — this is not a pretty post. In fact, it's a bit of a hot mess.
It's a post of all the "befores" in our home that need some work to become "afters" (some a little more than others!).
A new year brings a fresh start, and it's fun to look ahead to the upcoming year and plan out some fun projects. I have to be honest. I didn't make any typical New Year's resolutions this year, but I am looking ahead to some fun projects and updates I'd like to do around our home this year. Today, I'm sharing some inexpensive home DIY projects I'd like to accomplish this year around our house. Hopefully, they'll inspire you with some ways you can make your house feel like home.
We had some unexpected roofing and plumbing work done in December and also need to replace our deck in the coming year, so most of our interior projects will be smaller in scale, and definitely budget friendly. My overall goal for our home this year is to inject a little more color and pattern — to focus more on what I love rather than what feels safe.
1. Get organized!
Like a lot of you, I'm excited to get a few spaces organized! I did a lot last year to purge and get storage and closet spaces around our home in order, but boy does it seem like that's a never-ending process! I still have more items that I need to go through and donate, and of course circling back to keep the areas I've already organized in good shape.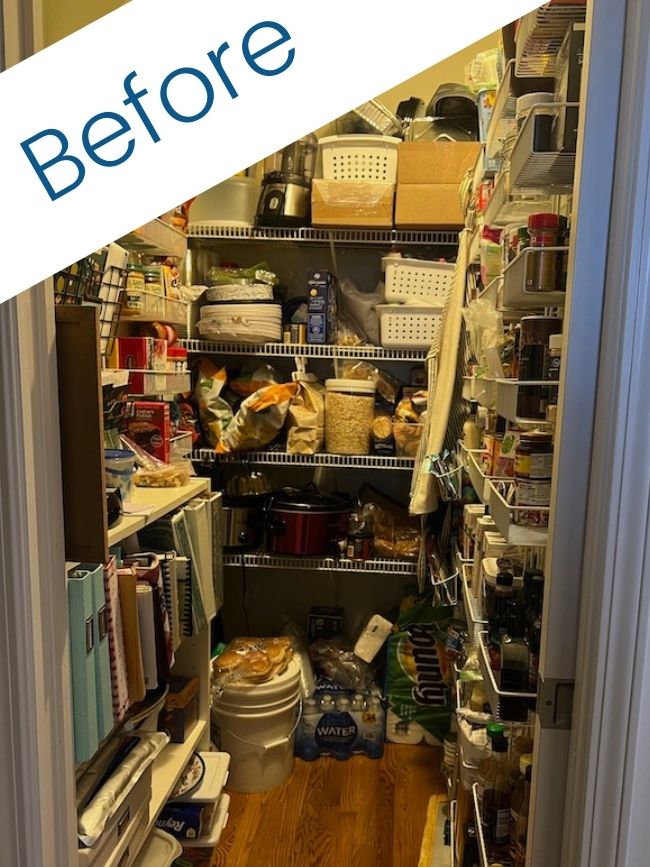 My first organization project will be our walk-in pantry. I did a quick make-shift clean out just before Christmas, but it is definitely time for an overhaul!! I started organizing my recipes back in the fall, but it's time to make more progress on that.
2. Add some finishing touches to our master bedroom.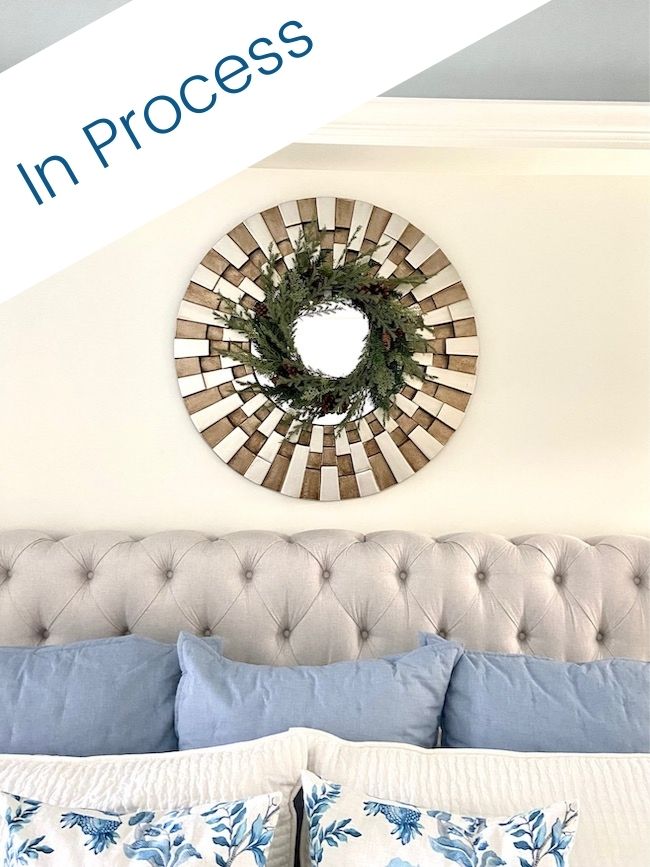 I've never really shared our master bedroom on the blog. We started our master bedroom and bathroom makeover a few months ago, and while the bulk of it is complete, I'd like to add the finishing touches. The bones of the room are done, but I need to layer in some new art and accessories to make it feel a little more complete. I'm also considering some wallpaper or stencil projects in there.
3. Cozy-up the living room with new paint and trim work.
Our living room could use a paint refresh. We have such tall ceilings in our living room, and my plan is to try to cozy-up the space this year through some paint and wall applications — possibly adding a little millwork and using paint color placement to create the illusion of a cozier room. I've mentioned before, I think I'm part den animal, so two-story walls and open floor plans are not my favorite; however, one must work with what one has!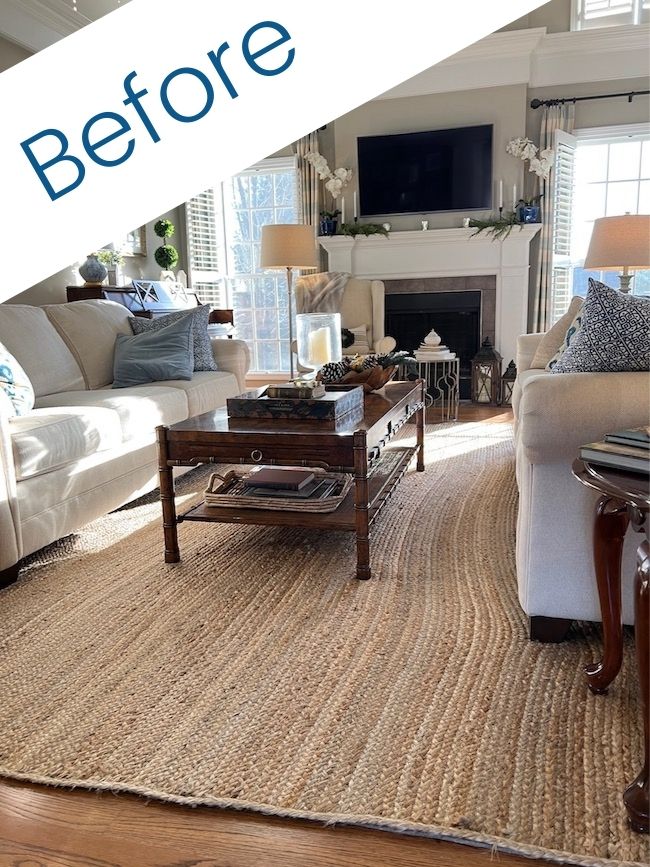 4. New paint or maybe even wallpaper in the dining room!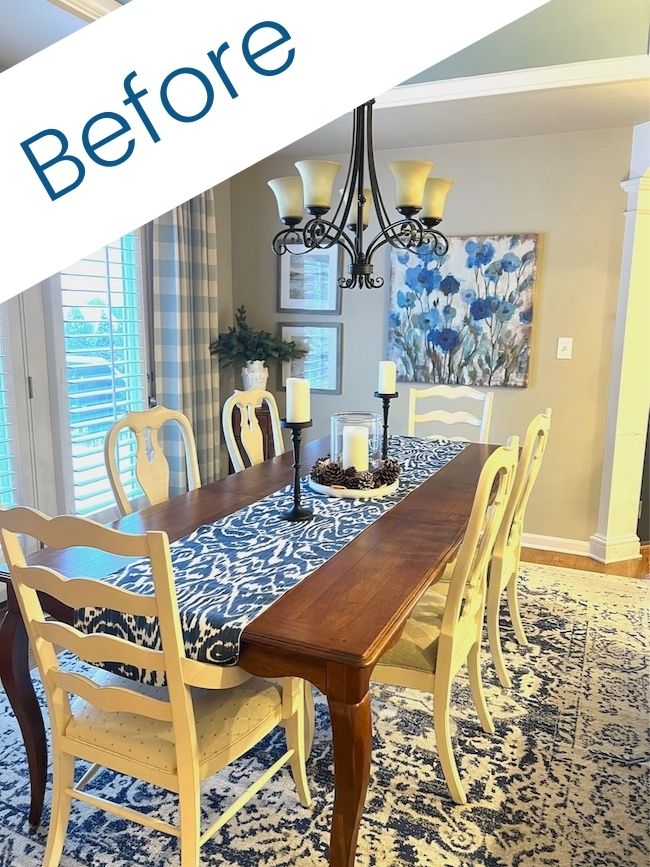 I'm considering adding a little wallpaper into the mix in the dining room; either that or new paint. Whatever I decide, one thing is for sure, the turquoise tray ceilings in the dining room (and the foyer) are on their way out!
5. Paint the basement.
Our basement hasn't been touched since we finished it 13 years ago! It could use a total overhaul, but that's probably a little out of reach this year. I hope to at least add some fresh paint color down there. I'm thinking we need a little green in the mix down there.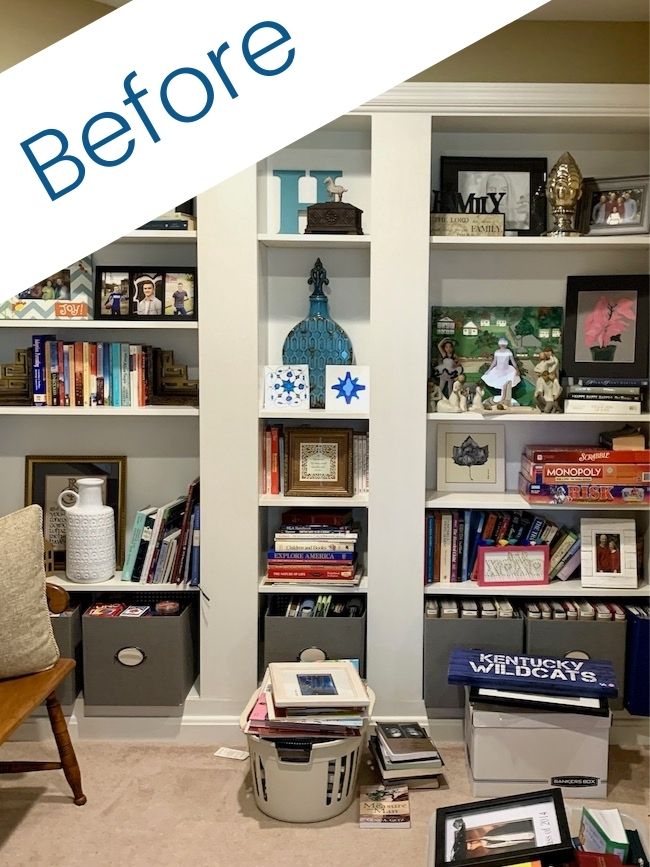 6. Deck out the walls.
I've really been wanting to try my hand at some fun DIY art, and I have several walls around our home that could use some fun new touches of personality. Hopefully, I can find the inner artist in me!
7. Update our photos.
I think I may be the world's worst when it comes to keeping updated photos in frames around our home. One of my home goals this year is to get some new and fun photographs printed and framed around our home. (I at least need to add photos to the empty frames that have been sitting on our bedroom nightstand for a few months!)

8. Makeover the end tables in our living room.
I did complete one end table update last fall, but still need to paint the other one — no more high-gloss cherry stained tables for us!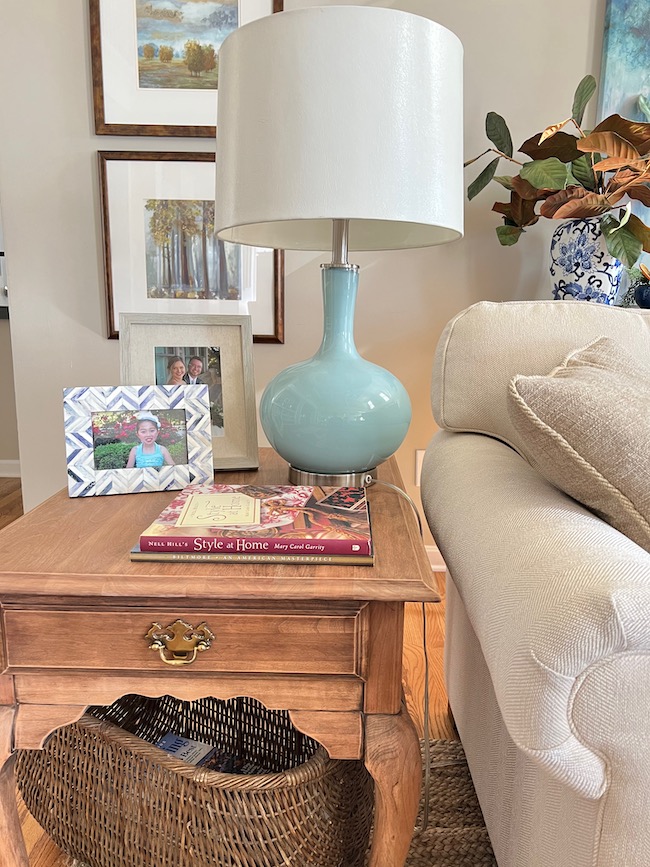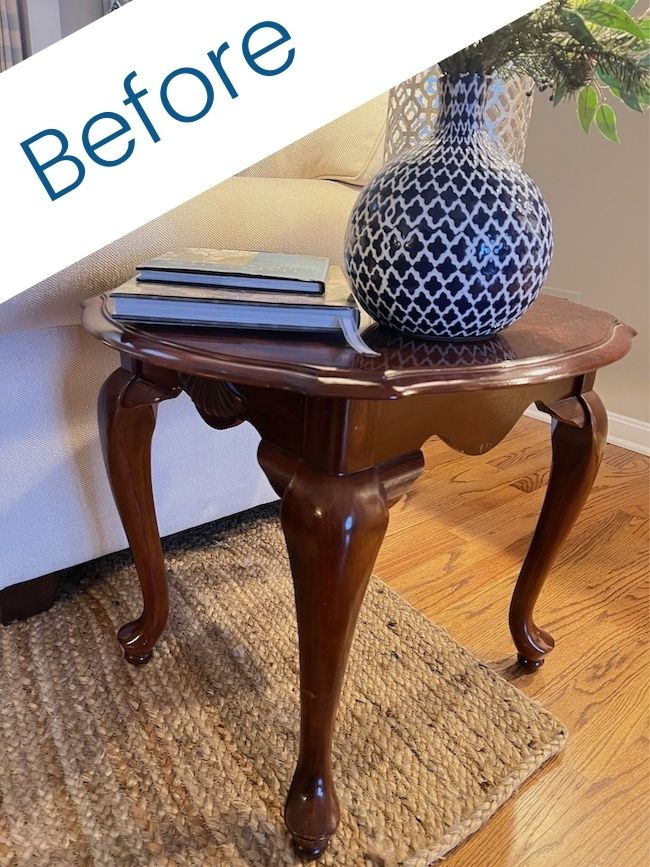 9. New bedding and paint in the guest room.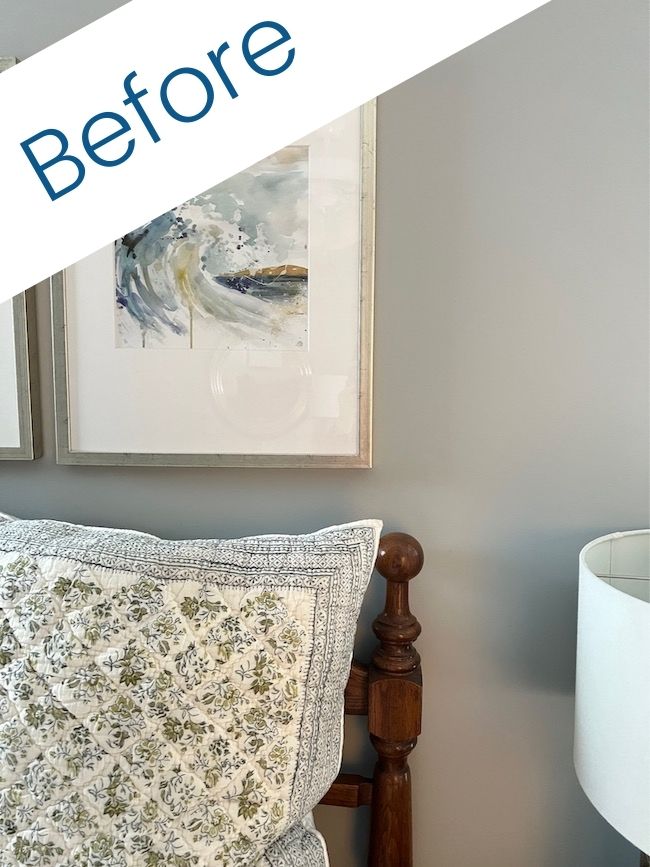 Our guest room, which is my oldest son's old room that he and our daughter-in-law share when they come home to visit could also use a little paint love and some fresh new bedding. The walls are currently SW Krypton, but I'd like to warm it up a little in there with a pretty green.
10. Spruce up and organize the home office space.
We've certainly made use of our home office areas the past two years, with my husband working from home since 2020, and my full time blogging. I need to organize these spaces a little better, and add some personality since we spend so much time in them. We do have a good amount of shelving in both dedicated home office spaces, so they need few organization and style updates.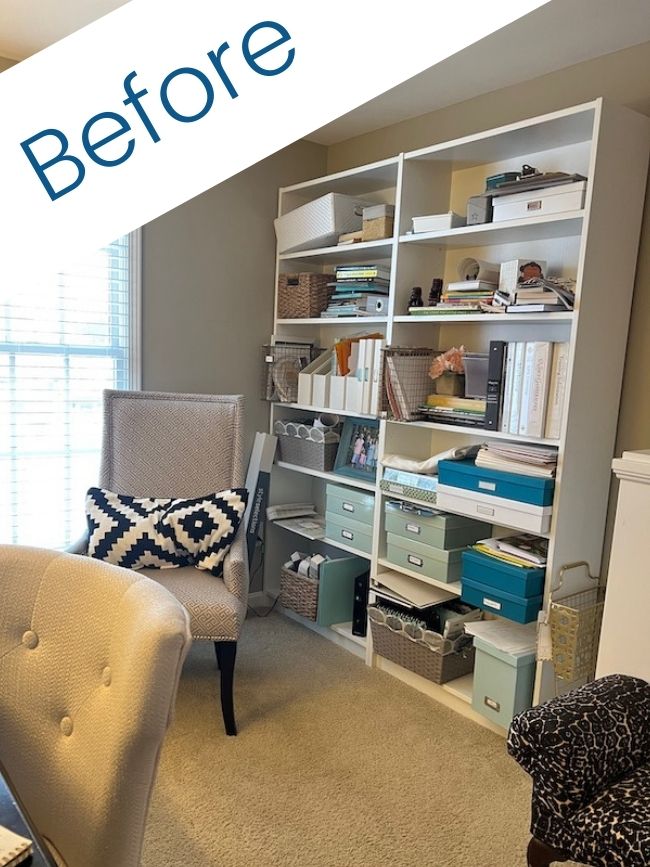 My main goal for our home this year is to really inject personality and a little more color and pattern. I love creating beautiful spaces in our home and hope to inspire you to do the same with yours!
What projects do you have planned for your home this year?