3 Great Inexpensive Christmas Wreaths from Walmart
Today I'm sharing three of my favorite inexpensive Christmas wreaths from Walmart that I'm using in our home this holiday season.
There's just something about Christmas wreaths that epitomize Christmas hospitality to me. They're the first to greet your guests when they arrive at your front door. They add life and holiday charm to walls, mirrors, doors, fireplaces, windows, chairs, and so many other places throughout your home.
(This post contains affiliate links, so I may earn a small commission when you make a purchase through links on my site at no additional cost to you.)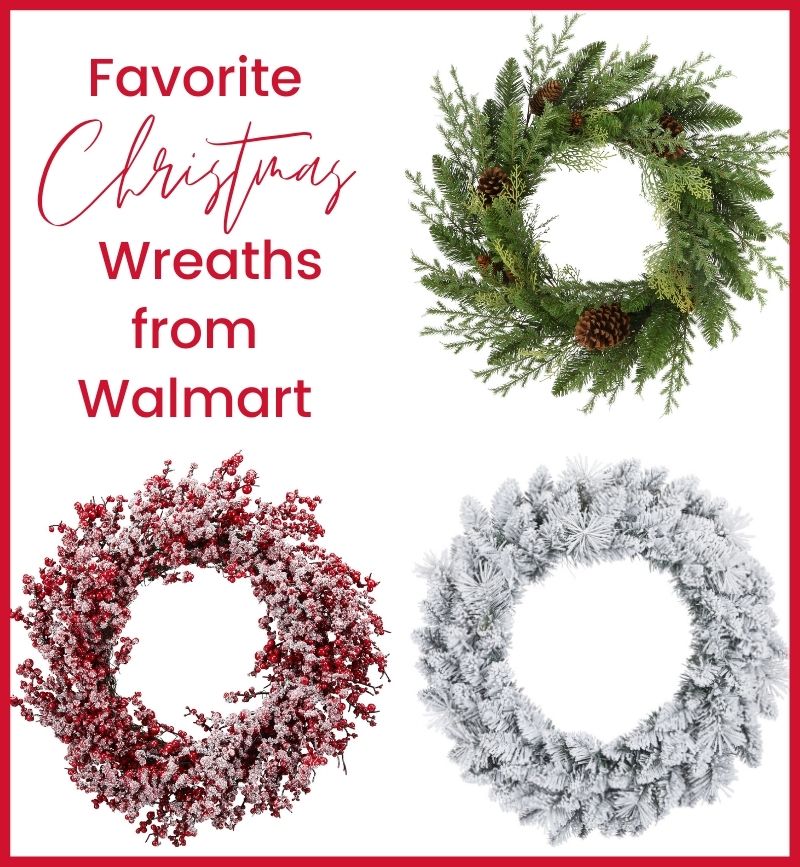 Our Christmas decorating is coming along. The main Christmas tree is done, the outside lights are hung (but not turned on yet), and now I'm adding touches of Christmas and greenery all around our home.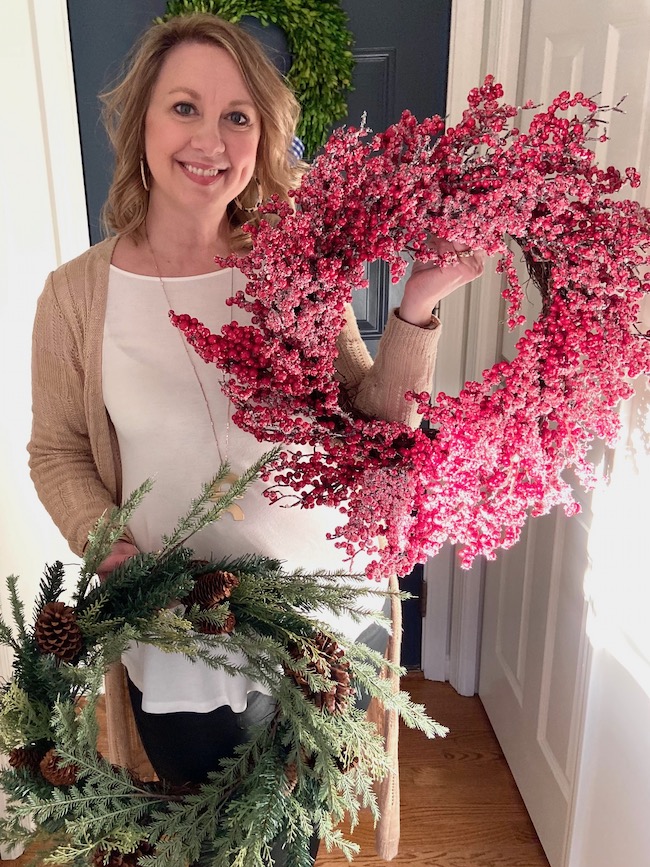 This traditional mixed green and pine cone wreath is just perfect on its own for a more natural look, or add a simple red or plaid ribbon. I purchased three of these to use around our home. One for the kitchen door, one for the mirror over our bed in our bedroom, and the other one is still up for grabs.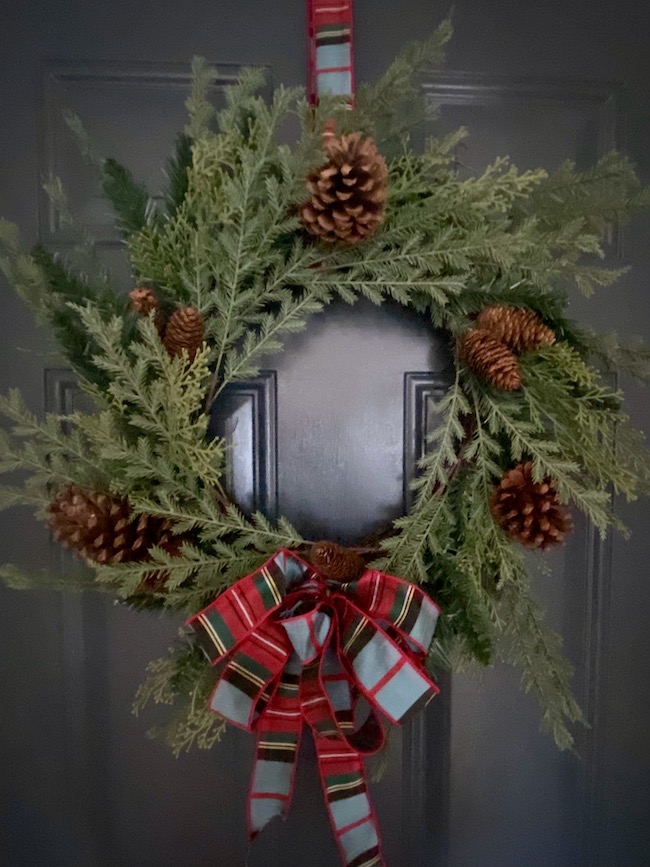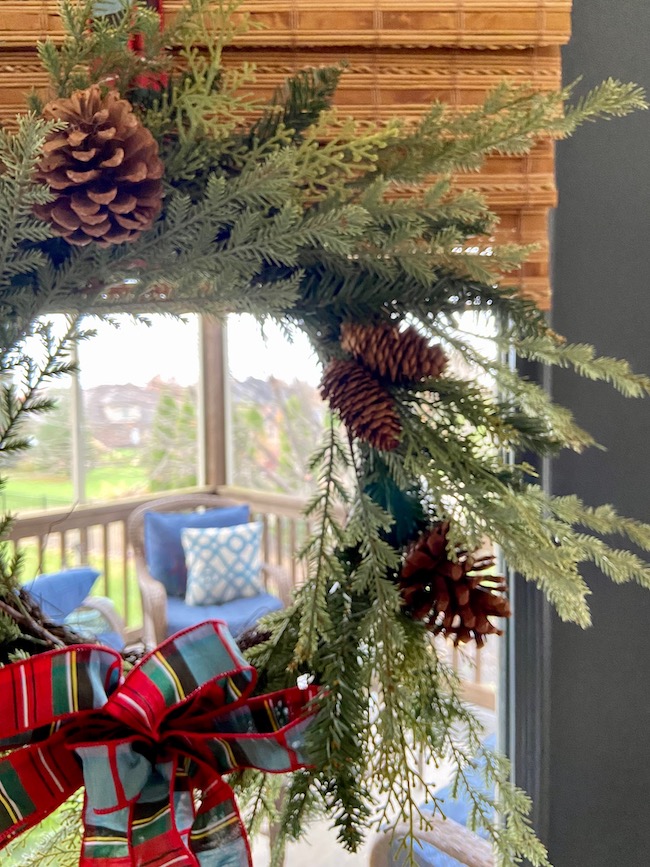 I've added plaid ribbon to the one on the kitchen door,
but I'm keeping the one over the bed natural.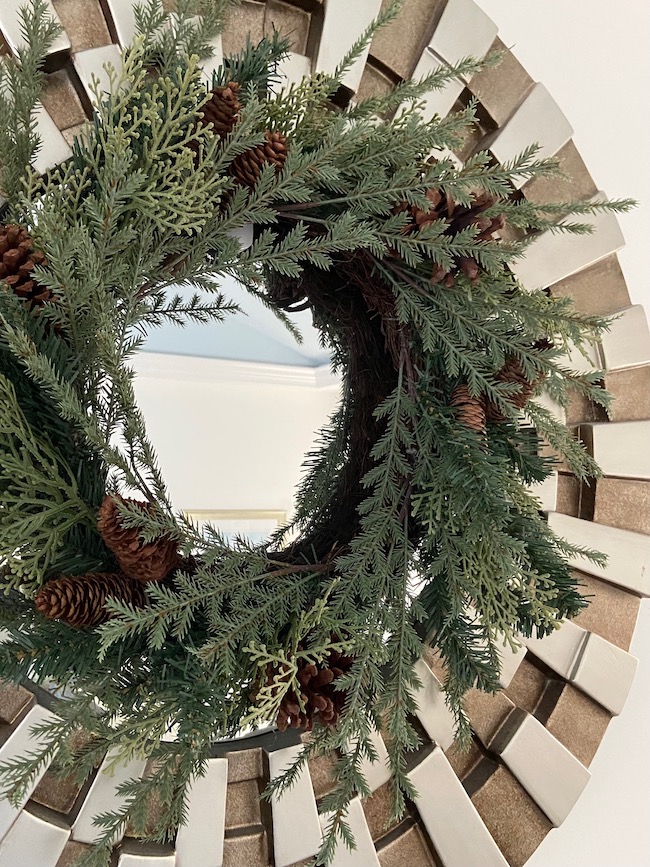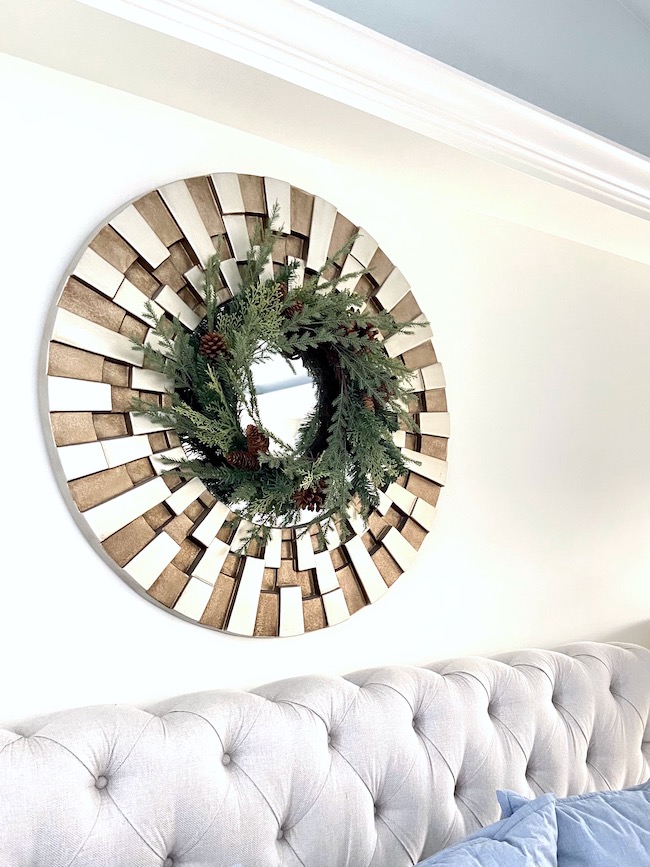 I love this frosted red berry wreath. It's going in our kitchen either on our windows backed by the bamboo shades, or on the mirrors on the wall — jury's still out on that one. That's the beauty of a wreath — they can go so many different places!!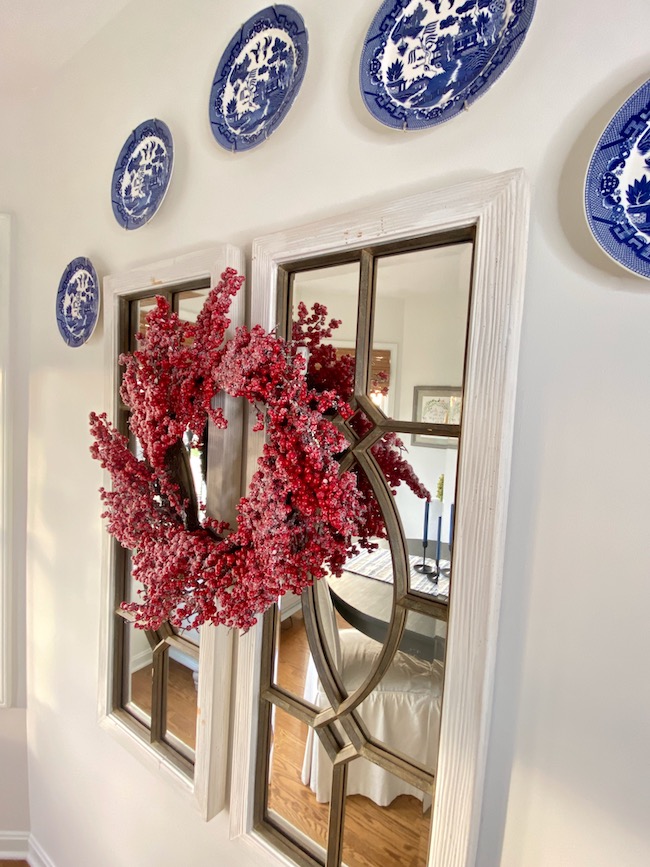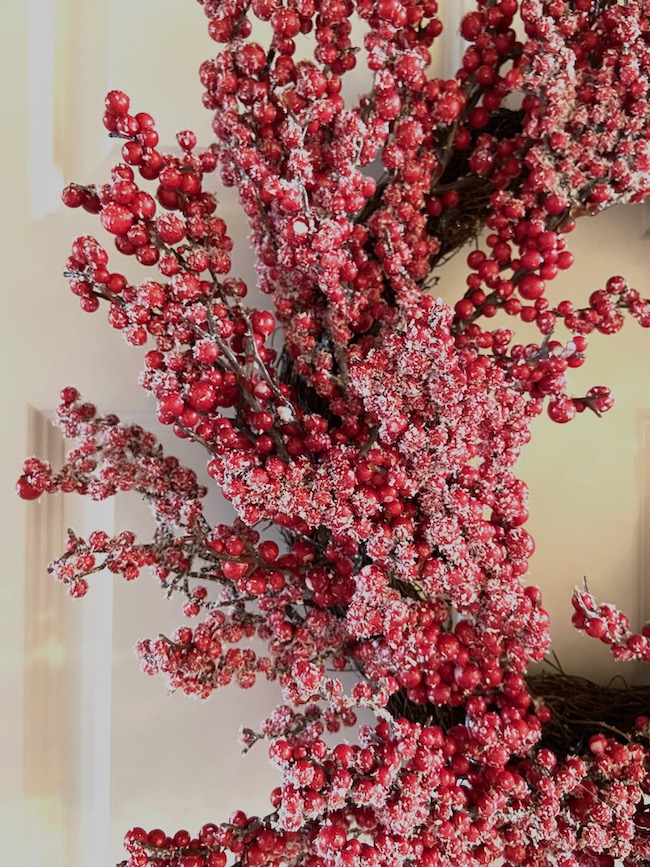 The flocked wreath is the fun one of the bunch. I love flocked wreaths. They look beautiful with red velvet ribbon for a lovely traditional, snowy look.
However, this one is going all glitzy glam for our teen daughter's bedroom. Lately, she is all about cheetah, which is a 180 degree switch, and I am delighted! This was a fun wreath to put together! You can see the IG reel here.
I found these adorable cheetah ornaments at Walmart a couple of weeks ago, but unfortunately they are no longer available. If you love the look, you can easily recreate them with some glossy white ornaments and a little gold paint. The cheetah design is really easy to duplicate.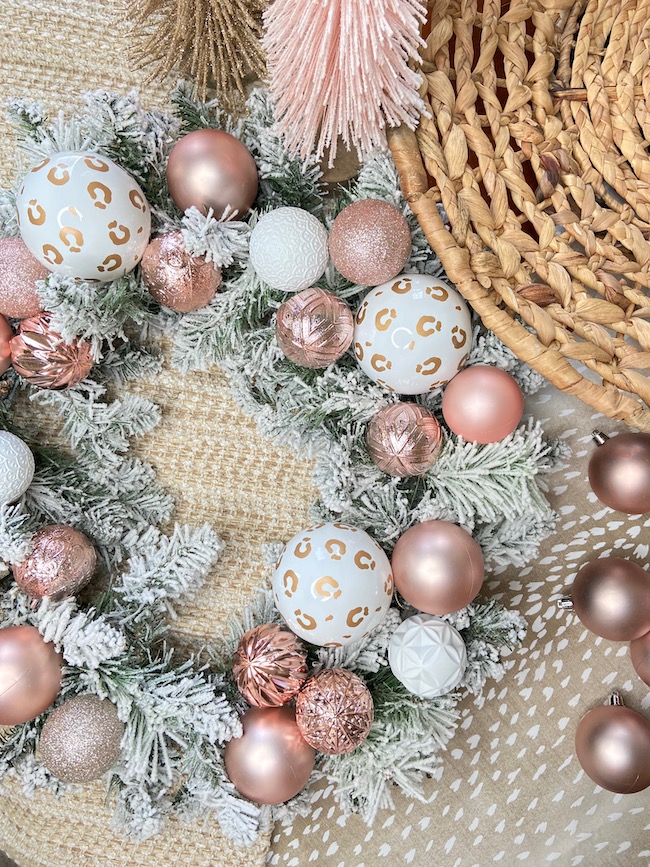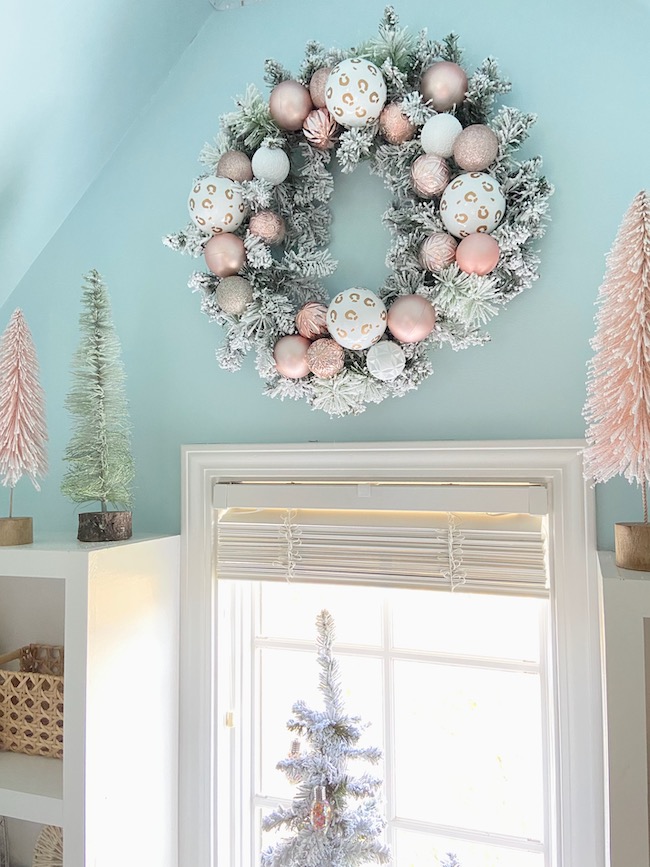 You can find these inexpensive Christmas wreaths at Walmart  at great prices, especially if you want to do multiples!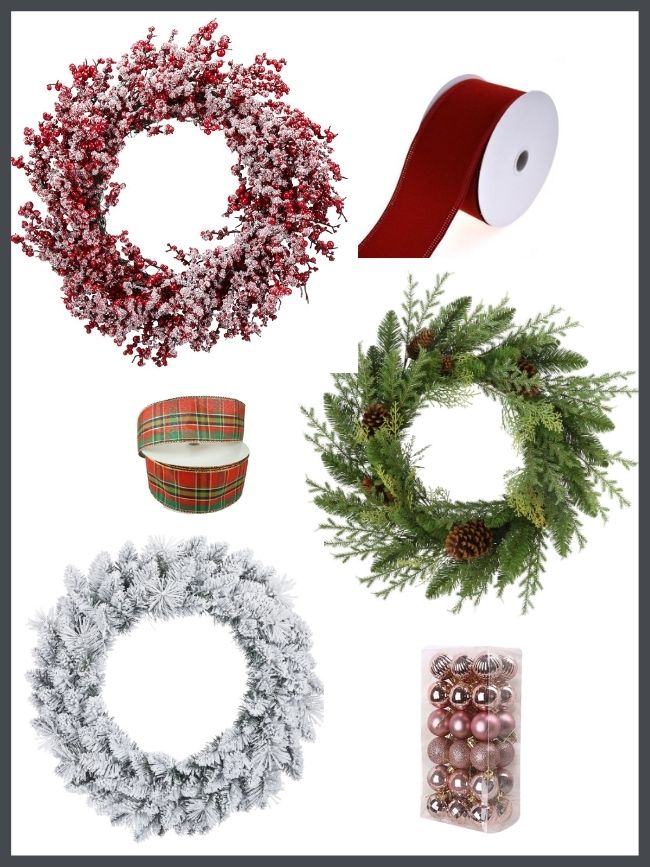 I hope this gives you some ideas for how to use these great inexpensive Christmas wreaths from Walmart in your home!
Thanks for stopping by!
Check out more great Christmas ideas below:
Our Blue and White Color Scheme for Christmas
An Easy Chinoiserie Ornament DIY and Christmas Tour
Gift Ideas for Those Who Love Home!