15 Simple Ways to Add Texture to a Room in Your Home
Want to make a room more interesting? I'm sharing easy ways to add texture to a room to create visual interest and a gorgeous designer look!
When it comes to designing a room in your home, incorporating texture is one of the best ways to create a visually captivating and inviting space! There are so many ways to add textural elements, and today I'm sharing some of my favorites!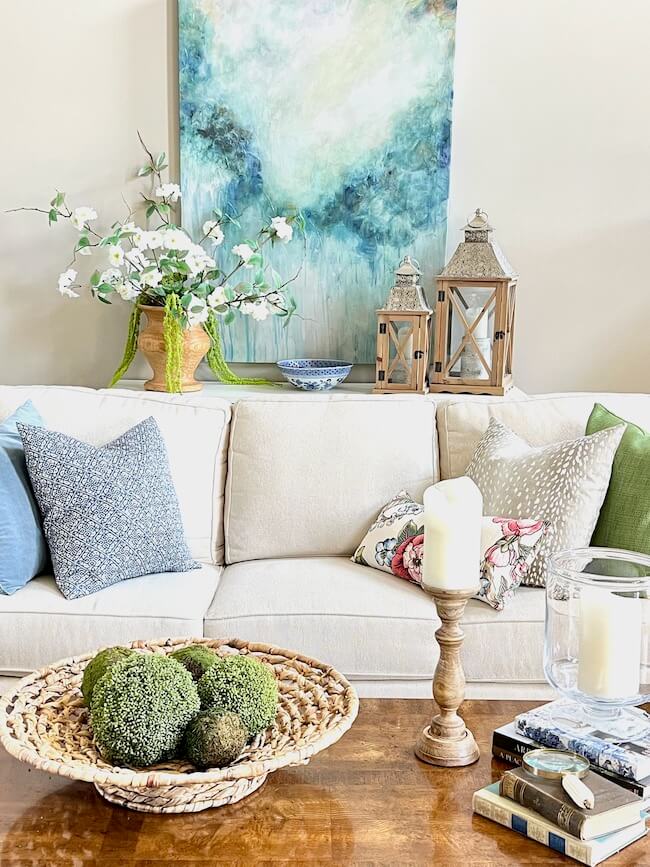 (This post contains affiliate links, so I may earn a small commission when you make a purchase through links on my site at no additional cost to you. As an Amazon Associate I earn from qualifying purchases.)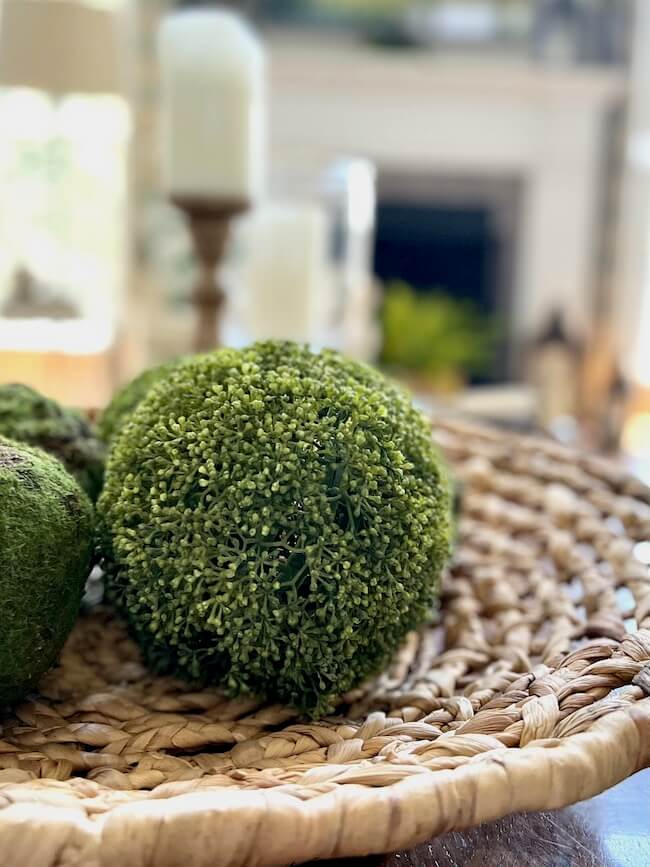 I'm all about creating beautiful and interesting spaces that are timeless, classic, and exude relaxed elegance! I'm a little bit Southern traditional, a little bit coastal, and a little bit cottage with some English garden thrown in. I love refined classic style, but I always want it to feel cozy and inviting!
One element that pulls this mess of design styles together for me is the use of textures! No matter the season, the most interesting spaces in our home are full of lovely and varied textures.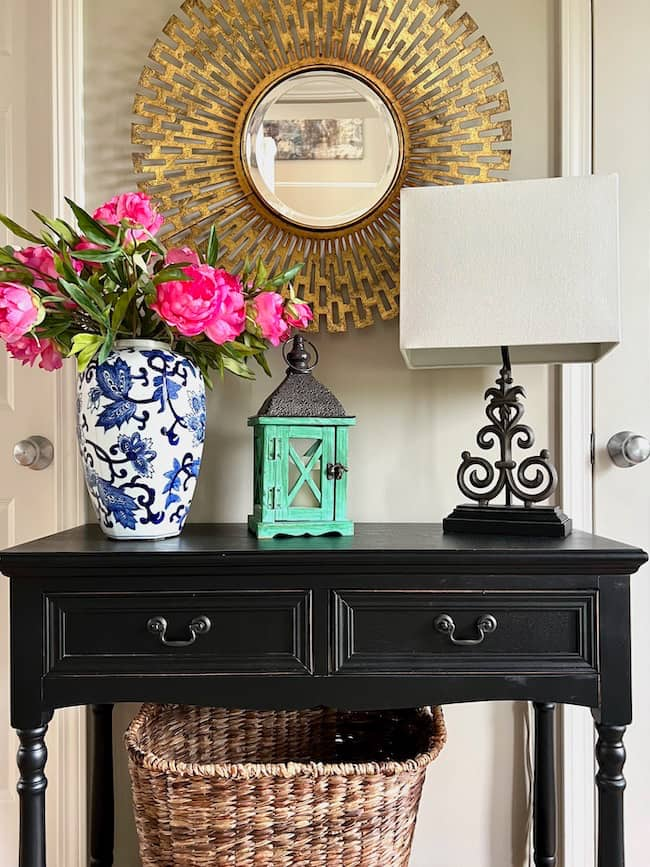 Adding texture to a room not only makes it more interesting, but I think more liveable and inviting! The textures I add in our home keep our rooms from feeling too stuffy and create a beautiful contrast to the more refined and elegant features in our spaces.
If you'd like to learn more about super easy ways you can create cozy classic rooms in your home by adding lots of texture, read on! From throw pillows to light fixtures and natural materials, I've got you covered!
What is texture in the world of decorating?
In the world of decorating, texture refers to the visual and tactile nature of the surfaces and materials in the room. The texture in a room appeals to the senses of sight and touch. Since you can both see and feel texture, it plays an important role in creating a visually appealing and inviting space.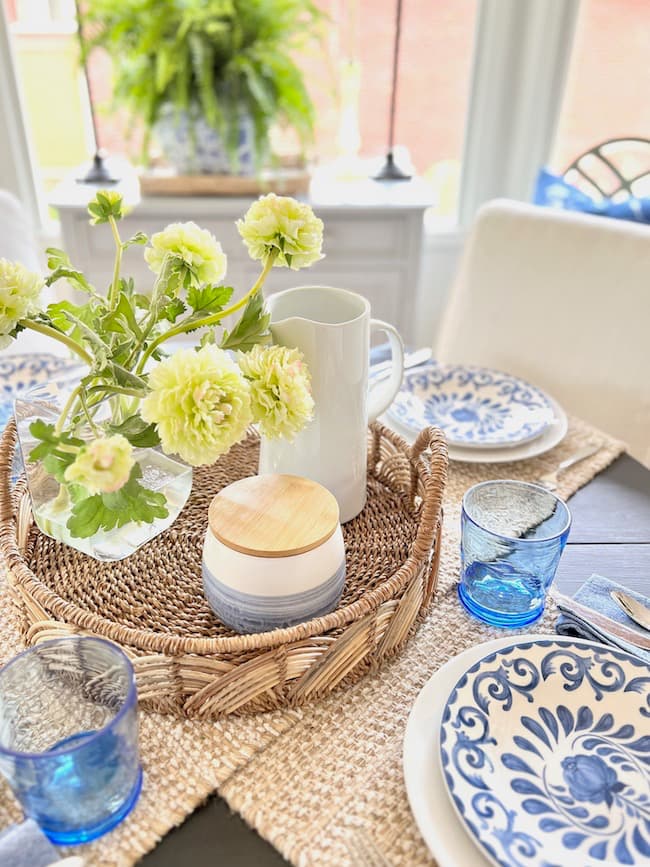 Adding texture to a room adds depth, visual interest, and a sense of touch, and can transform an ordinary and bland room into a gorgeous space in your home.
And, it's super easy to do!!
15 Easy Ways to Add Texture to a Room:
1. Add texture with throw pillows.
Throw pillows are an easy and versatile way to add texture to room. Experiment with various sizes, patterns, and textures to create a visually lovely arrangement of textures on your sofa, chairs, or bed.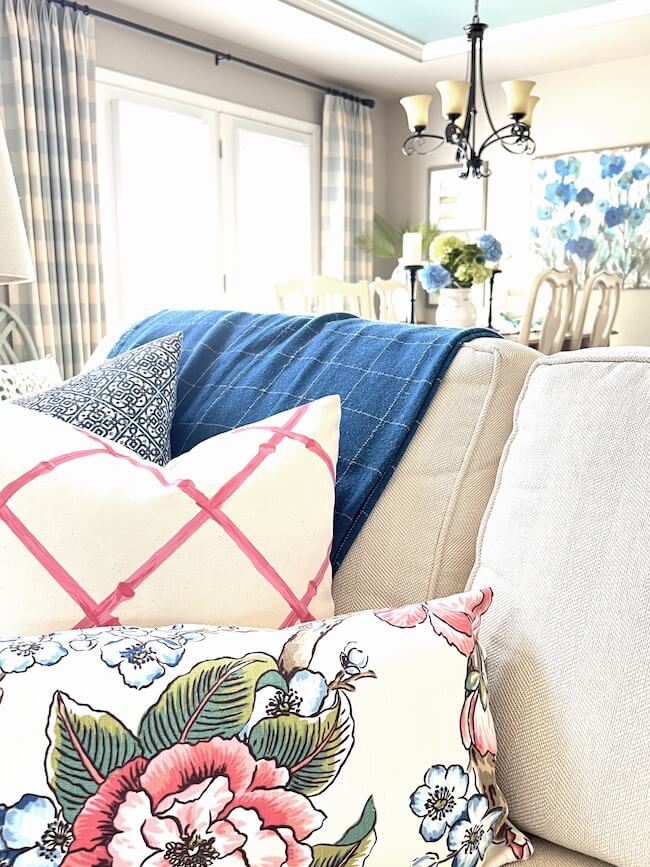 Not only will these pillows add visual interest, but they will also provide a sense of touch, making your rooms feel cozy and inviting. Mixing and matching pillows made from different materials and textures such as velvet, linen, faux fur, knitted fabrics. and other woven materials is fun way to set the tone of your room. It's also an easy and inexpensive way to change up your space for a quick refresh!
---
Shop for Textured Pillows

---
Thibaut Javanese Stripe Pillow
Beige and White Diamond Woven Pillow Cover
2. Add lots of texture with your coffee table styling.
Your coffee table is a great place to incorporate texture into your living room. First, the coffee table itself is a great source for texture in the room. Choose a coffee table made from natural materials like wood or stone, which add texture through their unique grain patterns and tactile qualities.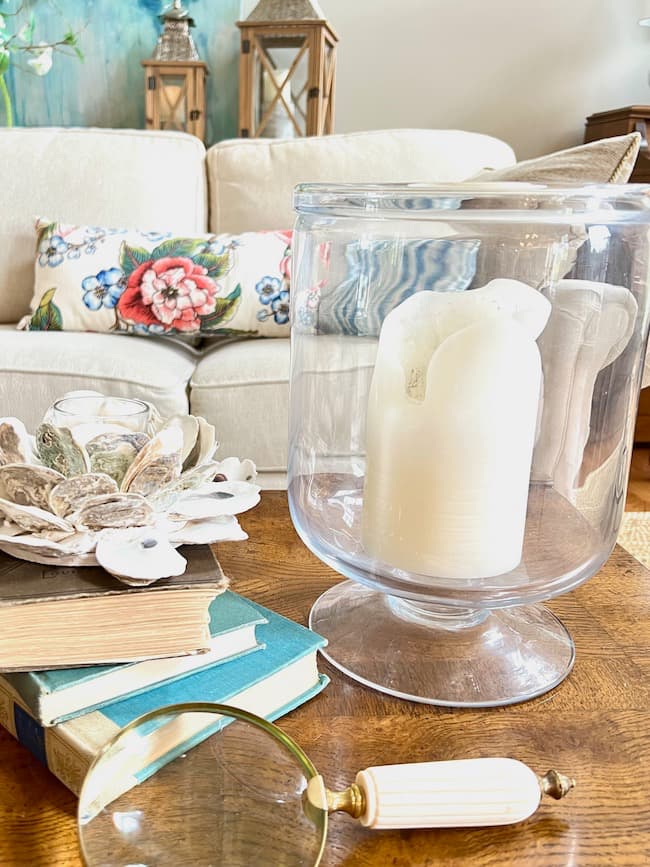 Second, style your coffee table with a display of decorative objects such as textured vases, sculptures, or books with interesting covers. These elements will bring depth and visual intrigue to your living room.
3. Light fixtures and lamps add textural elements to a room.
Light fixtures serve both functional and decorative purposes in any room. Look for light fixtures that have a lot of visual texture, such as pendant lights with woven rattan shades or chandeliers with intricate metalwork. Consider adding dimmer switches to light fixtures to create different levels of lighting, further enhancing the ambiance and texture in the room.
---
Shop for Textured Lighting

---
Gold and Crystal Ball Buffet Lamp
Cream Coastal Lamp with Beige Shade
Glass Ball Lamp with Gold Accents
4.Layering your room with natural materials adds tons of visual interest to a room.
One of the best ways to add texture to your home is by incorporating natural materials. Choose furniture made from materials like wood or rattan, which not only provide a visual texture but also a sense of warmth and relaxed comfort. Opt for wooden floors, which add natural texture and warmth.
Consider using natural linens and fabrics for your curtains and upholstery to introduce softness in your space.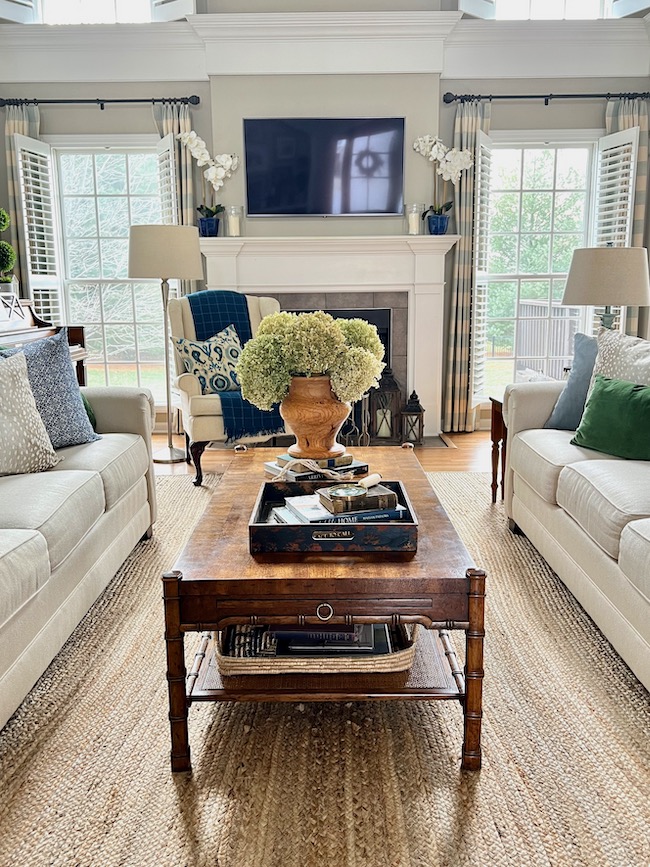 5. Create layers or texture with rugs.
Rugs are an excellent tool for adding texture to your living room, especially when you layer them. Start with a jute rug as a base, which brings a natural element and a sense of earthiness to the space. Layer on top with a beautiful patterned area rug to introduce even more texture and visual interest. This layering technique adds depth and dimension to your living room floor, making it feel cozy and inviting.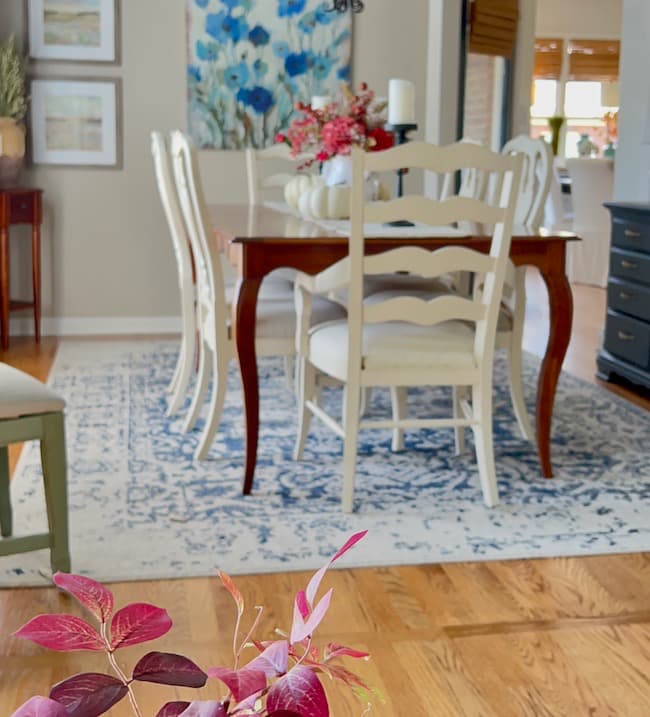 Our pretty navy and cream dining room rug is linked here!
Layering a patterned rug over a woven rug is a cost effective way to add a gorgeous rug to to a room. Choose a larger, less expensive jute or natural fiber rug for the base layer. Then you can select a smaller size in a more expensive pattern design for the top rug.
---
Shop for Textured Rugs

---
Navy and Cream Distressed Medallion Rug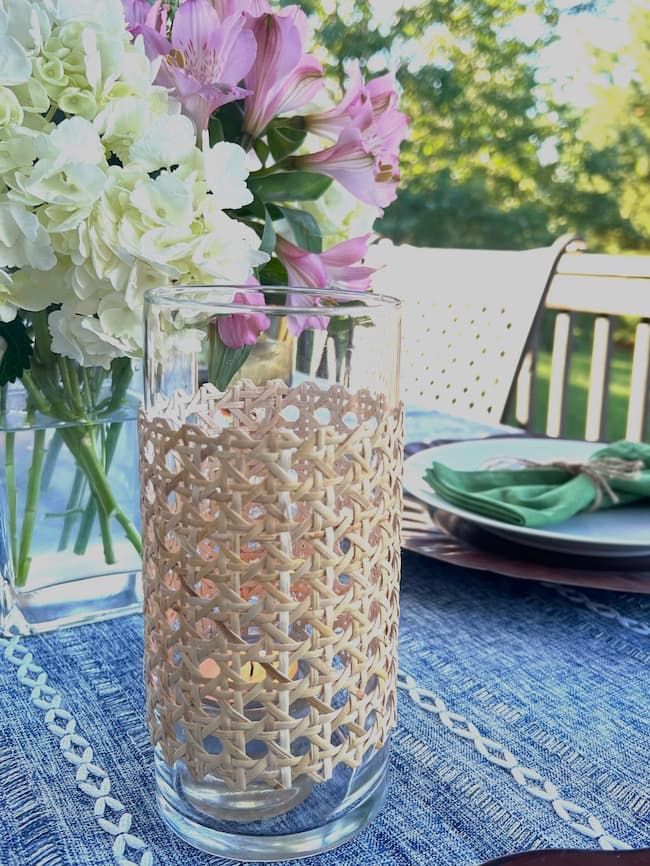 Make this easy DIY rattan vase!
6. Use accent pieces full of lots of texture.
Accent pieces and decorative accessories are perfect for adding texture and personality to your living room. Display decorative objects with interesting textures, such as ceramic vases, woven baskets, or carved wooden sculptures. These pieces will not only provide visual interest but also a sense of authenticity and craftsmanship. Mix and match different accent pieces to create a curated and texturally rich display.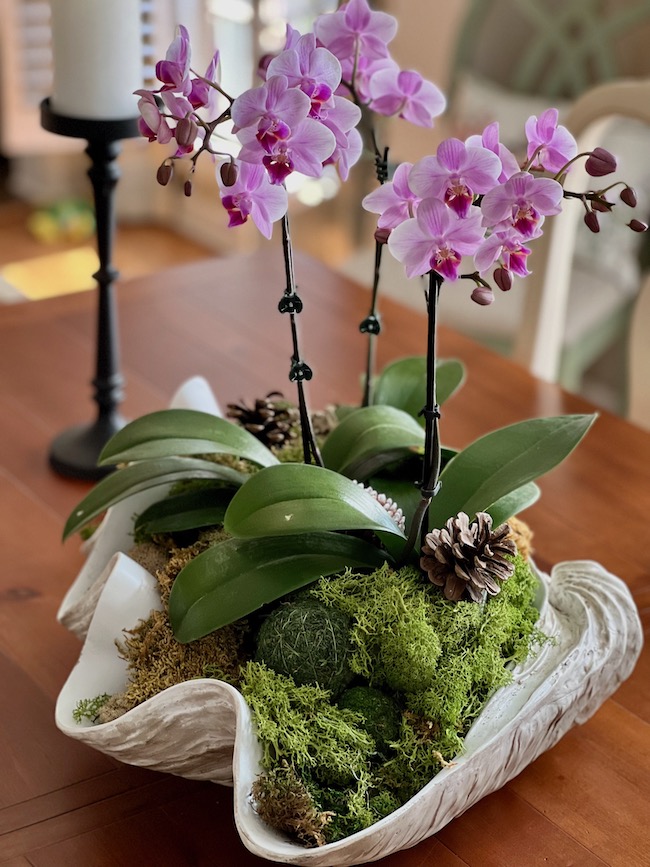 ---
Shop for Textured Accent Pieces

---
White-Washed Woven Sea-Grass Boxes
7. Add elements from nature in your room for texture and beauty.
Display artwork, sculptures, or decorative items made from natural materials. Pieces crafted from driftwood, moss-covered balls, seashells, or stones bring a unique texture and an organic feel to your room. By incorporating natural elements, you infuse your room with texture that comes directly from the beauty of the outdoors.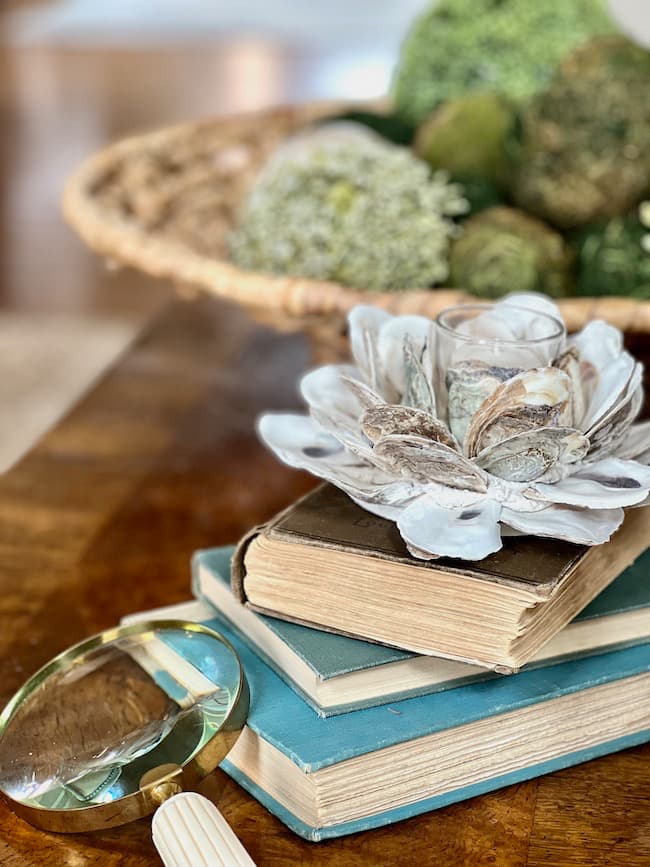 I love this pretty oyster shell votive holder layered on top a stack of vintage books!
8. Layer natural fabrics in your room for gorgeous texture.
Natural fabrics such as cotton, linen, or jute can instantly add texture and a sense of coziness to your living room. Choose textured upholstery on your sofas or armchairs, such as woven fabrics or fabrics with subtle patterns. Use textured curtains made from natural materials to soften the windows and add depth. These natural fabrics not only provide visual texture but also a tactile appeal that adds comfort to your living room.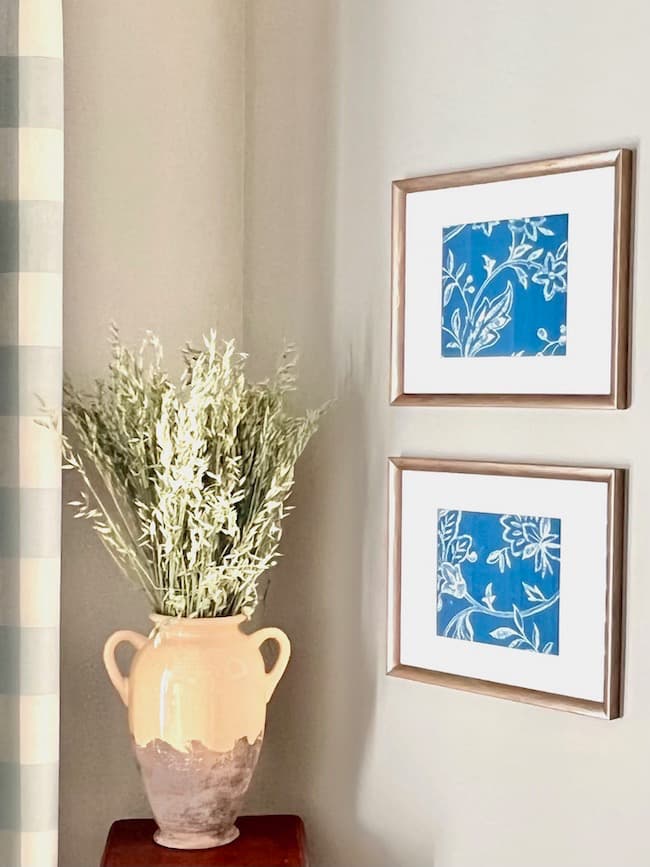 9. Add texture to a room with your window treatments.
The windows in your home provide an opportunity to introduce texture and enhance the visual appeal of your rooms. Choose curtains or blinds made from textured fabrics such as linen or woven materials. These textures not only add visual interest but also create a sense of depth and softness. Consider layering curtains with different textures or patterns for an added touch of luxury and sophistication.
Woven roman shades are a great way to add subtle texture to your windows.
10. Experiment with wall coverings and wall finishes in your room for added texture.
Consider using wallpaper with textured patterns or opt for textured paint techniques such as faux finishes or stucco. These wall treatments add visual texture and create a focal point in your room.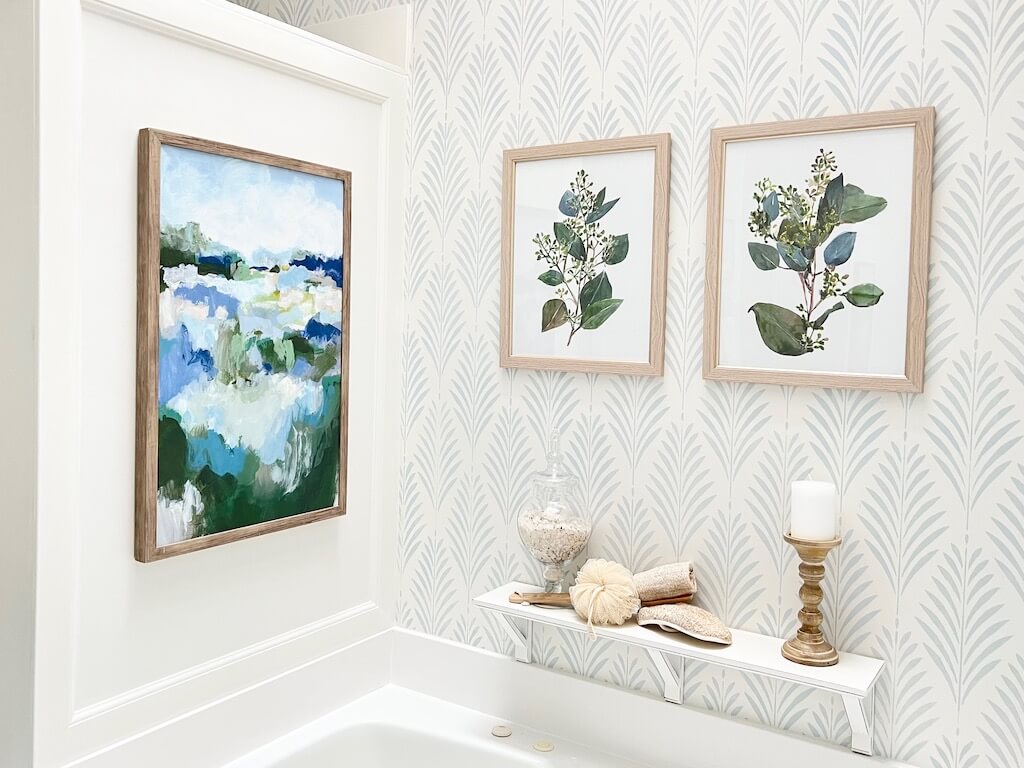 I created this DIY wallpaper in our bathroom with a stencil!
You can also hang artwork or decorative wall panels that feature different textures.
Explore textured wall coverings like grasscloth wallpaper or linen textures. These materials add depth, warmth, and a tactile texture to your walls, transforming them into stunning focal points.
Even adding trim elements to your walls such as wainscoting, board and batten, and bead board can add an extra element of texture and elevate your space.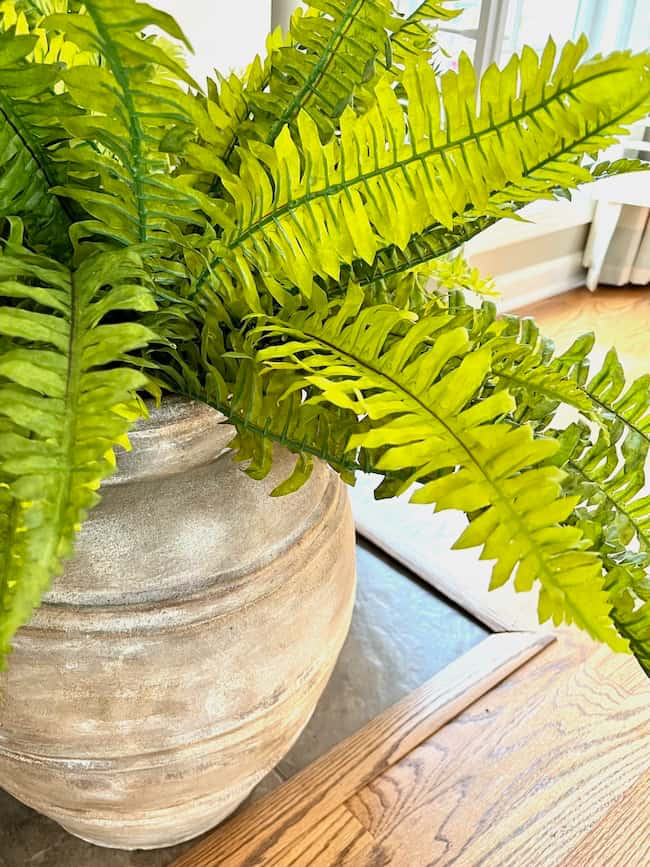 Add texture to a pot or urn with this DIY vase makeover for a rustic "Pottery Barn" look.
11. Don't forget about your floors when adding texture to your home.
The flooring of your home is another great way to add texture and make a significant impact on the overall look and feel of your rooms. Consider using textured flooring materials such as patterned tiles, natural stone, or distressed hardwood. These flooring options add visual interest and a sense of depth to your space, creating a foundation for the other textures in the room to shine.
12. Add textured elements with throw blankets.
Introduce texture and a sense of coziness by incorporating throw blankets into your living room or bedroom. Choose blankets made from different fabrics, such as chunky knits, faux fur, or woven cotton. Drape them over your sofas or chairs to add a touch of softness and visual interest. Not only will these throw blankets provide texture, but they will also be functional during colder months.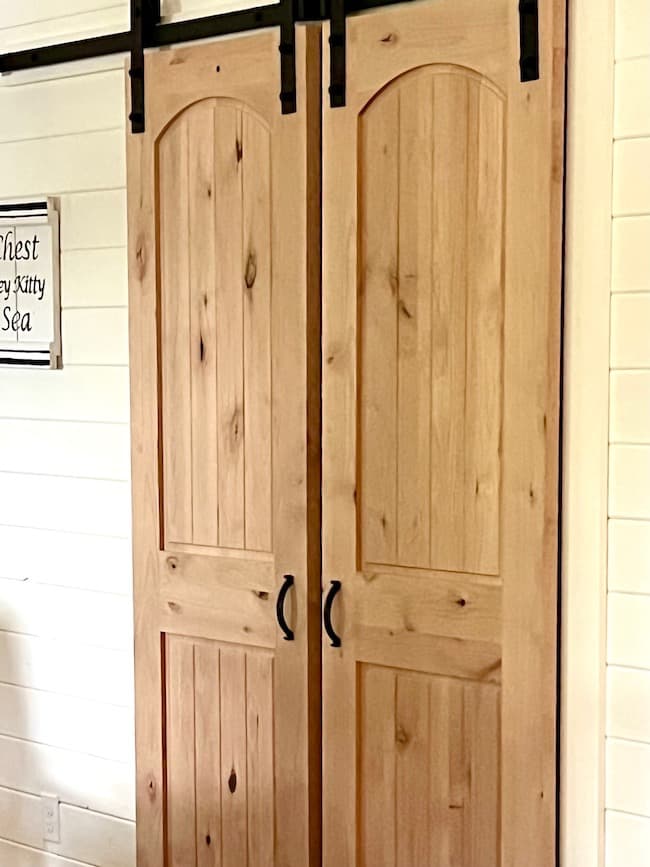 13. Incorporate wooden furniture into your space.
Wooden furniture adds natural texture and warmth to any living room. Choose wooden pieces with visible grain patterns and unique textures.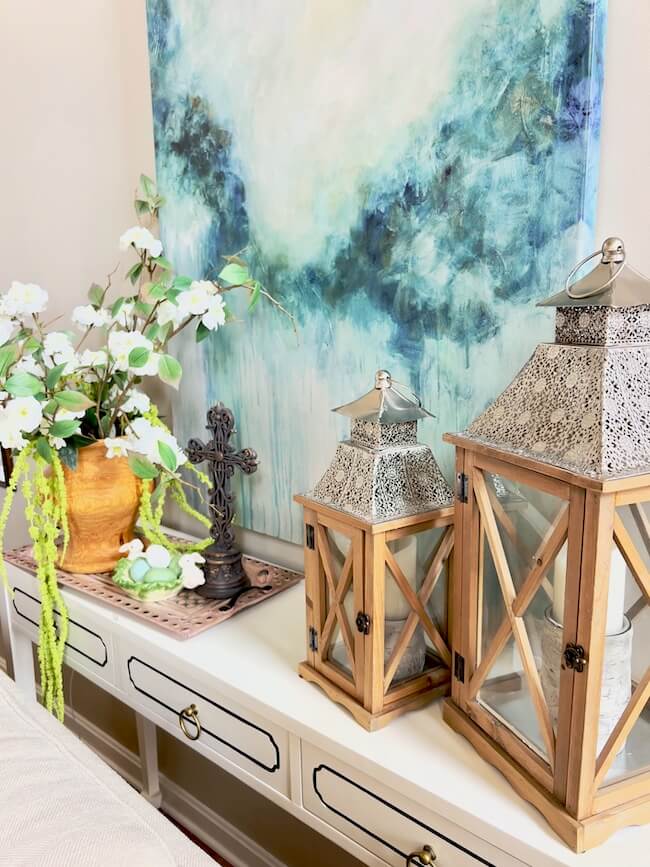 Whether it's a solid wood coffee table, a bookshelf, or a sideboard, these furniture pieces will bring visual interest and a sense of organic beauty to your space. Mix and match different wood tones and finishes for a more eclectic and textured look, and don't be afraid to mix natural stains with painted pieces in your home. The prettiest homes have a perfect blending of painted and stained furniture pieces.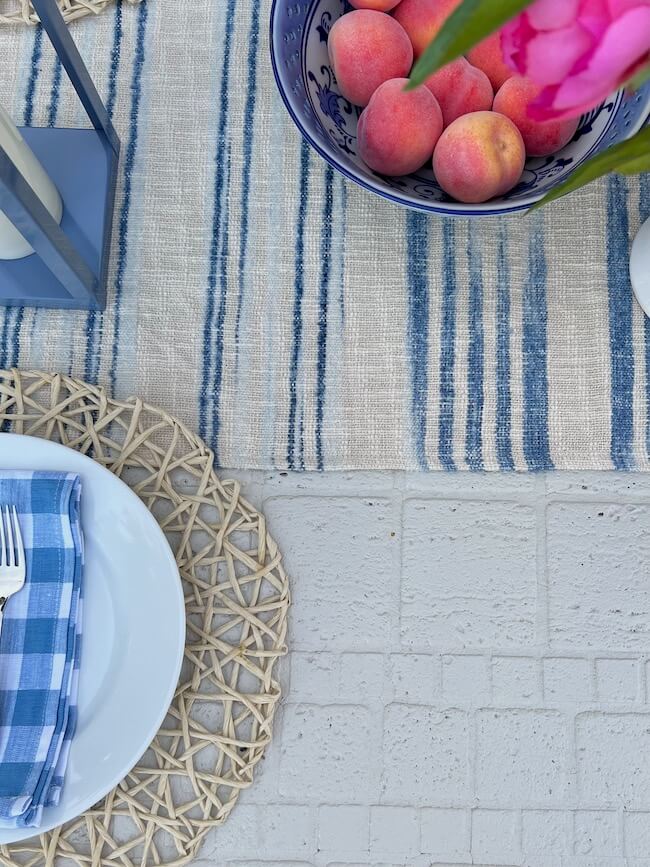 Read how I painted our textured tile patio table here.
14. Consider unique sources of texture for your room.
Consider incorporating texture through other interesting sources such as architectural elements, such as exposed brick walls or textured ceiling beams. These interesting textures can add tons of visual interest and create a captivating focal point in your living room.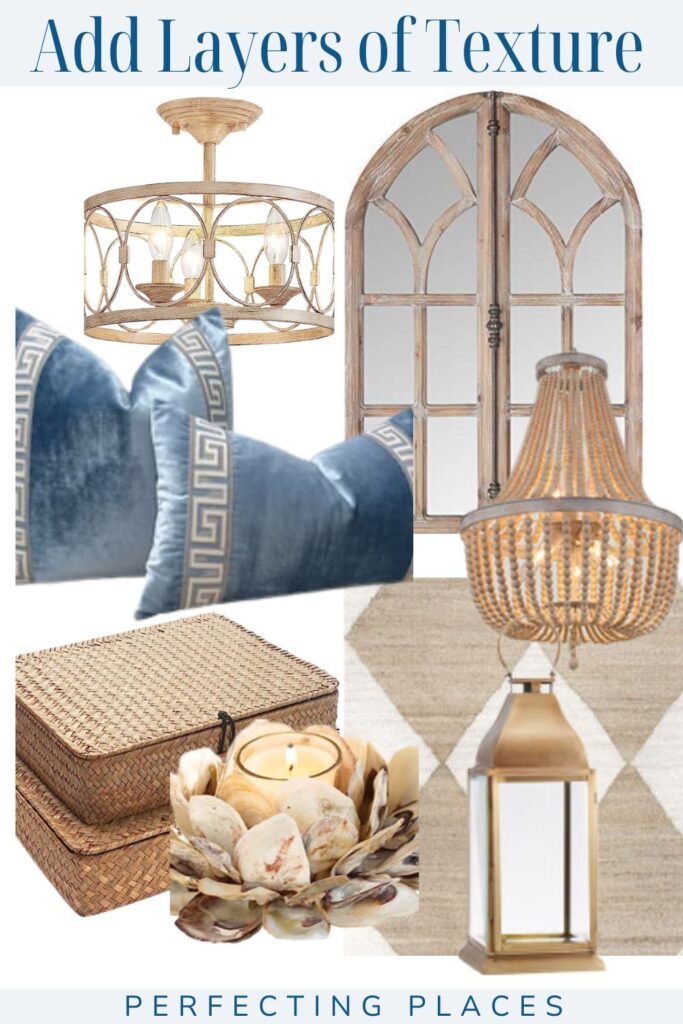 Metal Flush Mount Fixture // Wooden Arch Mirror // Blue Velvet Pillows // Beaded Chandelier // Woven Lidded Boxes // Oyster Shell Votive Holder // Diamond Jute Rug // Gold Metal Lantern
15. Mix and match various textures in your room.
Don't be afraid to mix and match different textures in a space. Experiment with a variety of materials like different metals (and yes, you can mix your metals), glass, leather, and fabric to create a lovely balance of textures. For example, combine a plush velvet sofa or chair with a sleek glass coffee table and a woven rattan accent chair. The combination of these different textures will create a visually intriguing and gorgeous space that you will love!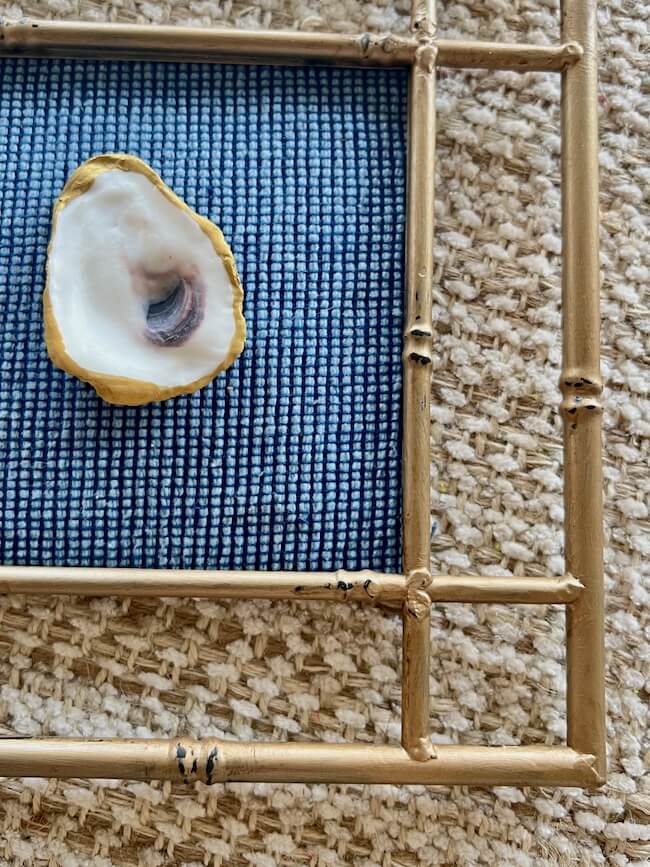 See how I created this textural DIY Oyster Shell Art here.
Whether it's a touch of velvet or the warmth of wooden furniture, texture will bring depth, visual interest, and that irresistible sense of coziness.
I hope this inspires you to think creatively and discover ways to add texture to create a lovely room! Adding texture to your room is a powerful way to enhance its visual interest and create a cozy and welcoming space in your home. From incorporating throw pillows and textured light fixtures to embracing natural materials and layering rugs, there are so many creative ways to introduce texture and create a room your family and guests will love!
Happy Decorating!