Dorm Room Design: Trendy Dorm Room Color Scheme Ideas
Want to to transform your dorm room into a stylish retreat? These dorm room color scheme ideas will make your college dorm room feel like home!
Create a cozy dorm space to retreat to with these vibrant dorm room decor ideas!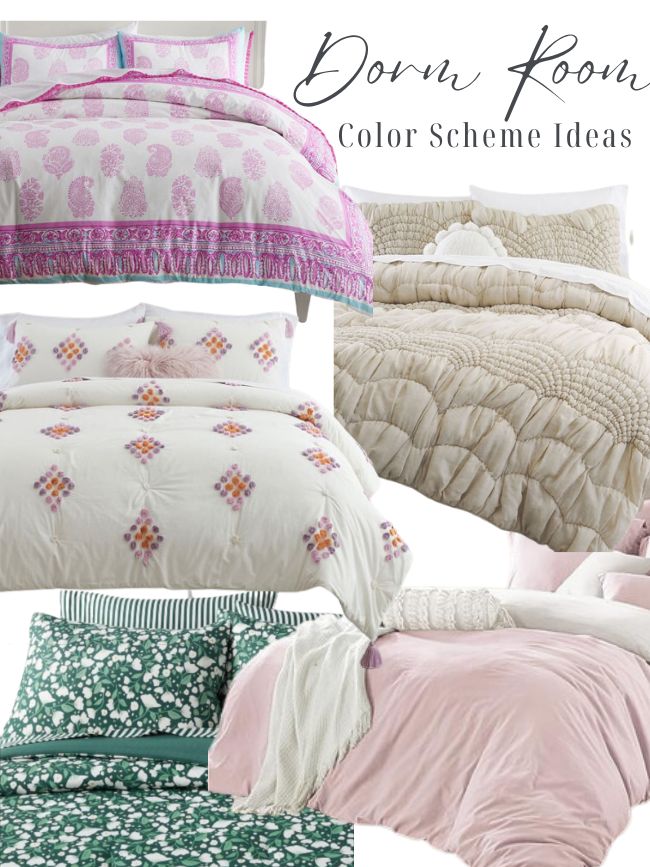 (This post contains affiliate links, so I may earn a small commission when you make a purchase through links on my site at no additional cost to you. As an Amazon Associate I earn from qualifying purchases.)
I had so much fun putting this post together! The college years are such a fun and exciting time of life, and that sense of adventure and independence really colored my choices for these inspiration boards.
When it comes to decorating a college dorm room, choosing a fun color scheme is the perfect starting point in creating a room you love! Your dorm room is your living space for the next several months, and it should be a reflection of your unique personality and style! You're spreading your wings, heading off on your own, and you get to design a space that's uniquely yours!
The most important thing to do first when decorating a room is choosing your color scheme. I've created five dorm color scheme inspiration boards to get your juices flowing and inspire your creativity!
I've selected bedding, art, rugs, pillows, and a few fun accessories to serve as a jumping off point for your dorm room design. We'll explore a variety of fun color schemes, each carefully curated to inspire your creativity and help you design a dorm room that truly feels like home.
A Vibrant Fuchsia and Teal Color Scheme:
This fuchsia and teal color palette will infuse your college dorm room with a vibrant burst of color! This pretty combination exudes freshness and energy! It's full of classic details, but with a modern twist that will reflect your bold and playful personality.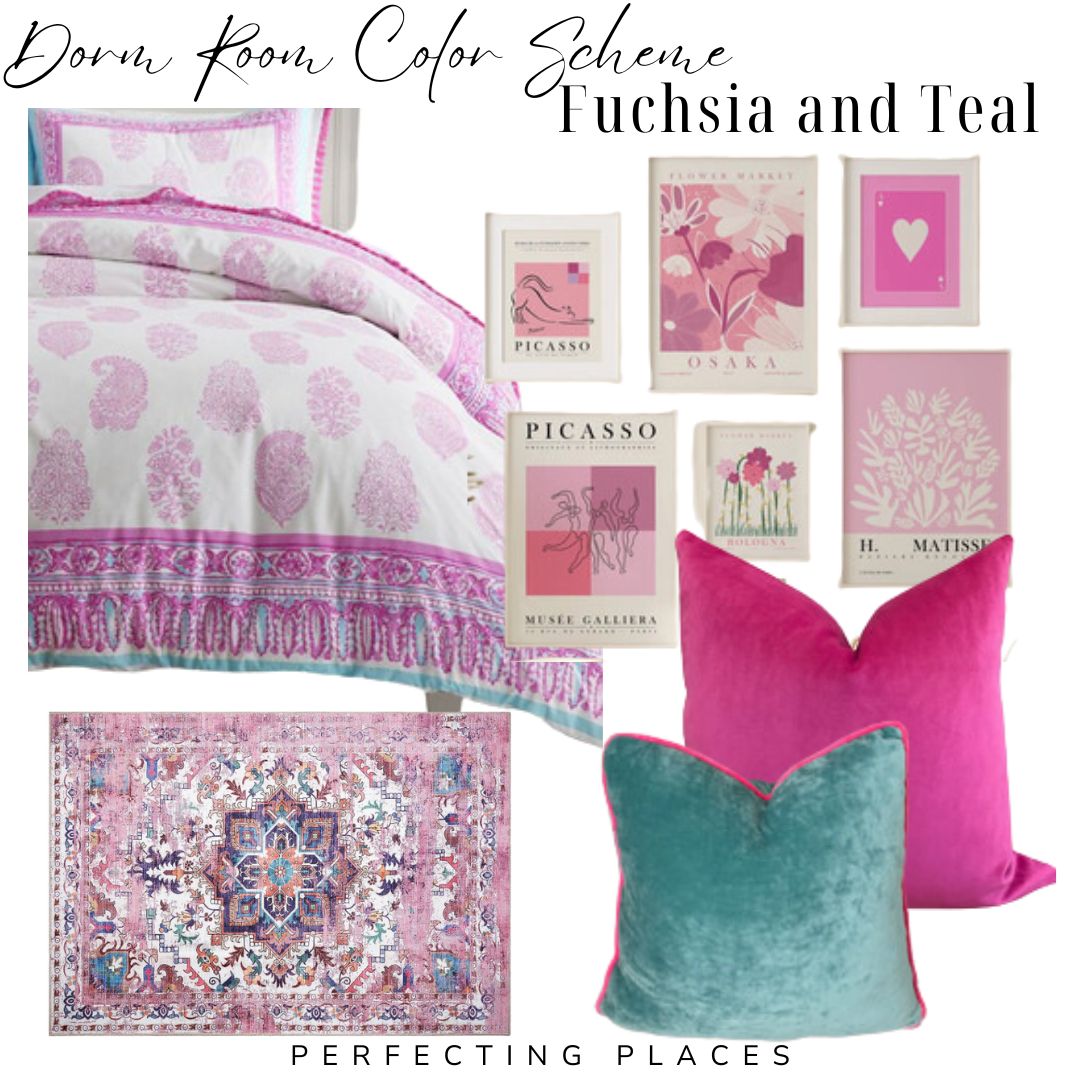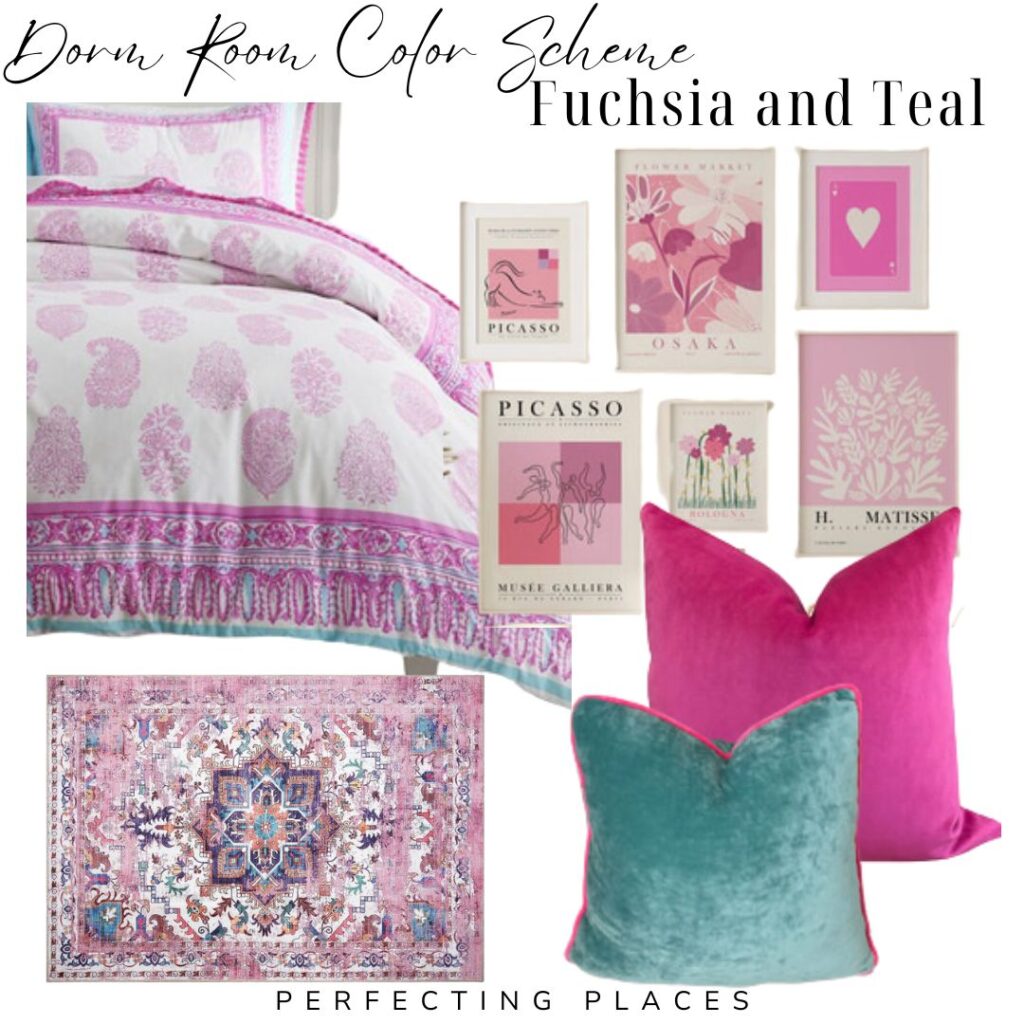 This Isabella color block duvet cover adds classic charm to this fun space!
Create a delightful wall gallery in your dorm room with these fuchsia and pink-themed art prints.
Set a solid foundation in your space with this washable area rug!
Layer on the texture and color with these velvet pillow covers in fuchsia and teal!
Shop the Look for Vibrant Fuchsia Dorm Decor

A Neutral and Blush Dorm Room Color Scheme:
There are so many colorful, cute dorm room ideas out there, but sometimes opting for a neutral color scheme is the most sophisticated and restful choice for your space.
A neutral color palette forms the perfect foundation for any dorm room design. Neutral colors such as soft grays, warm beiges, muted whites, and calming taupes set the tone for a comfortable and inviting living space. By choosing neutral hues as your dorm room's primary color palette, you'll create a neutral foundation that allows you to incorporate some subtle pops of color.
In the room design below, I've included some soft blushes and muted browns along with the neutral pieces for a soft look.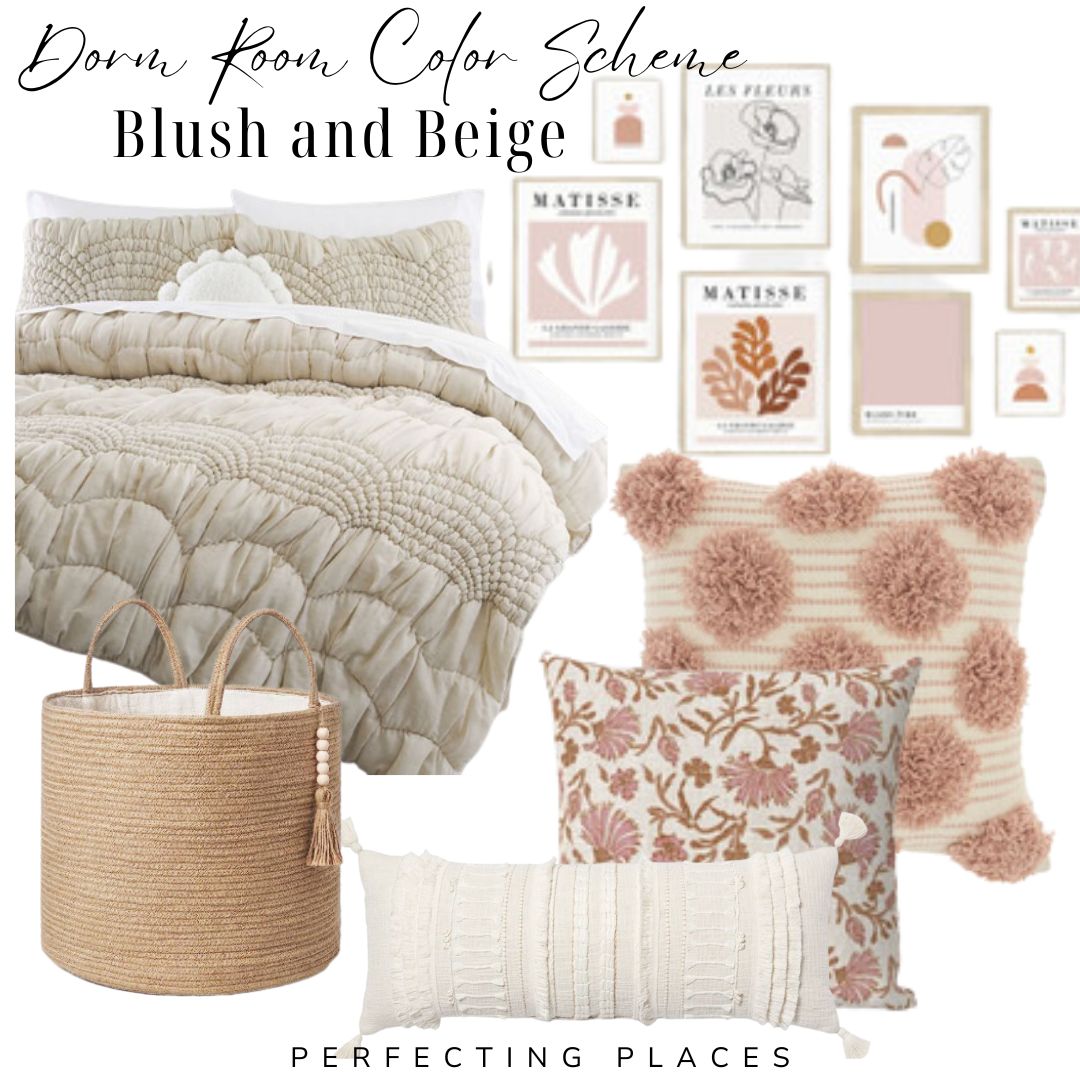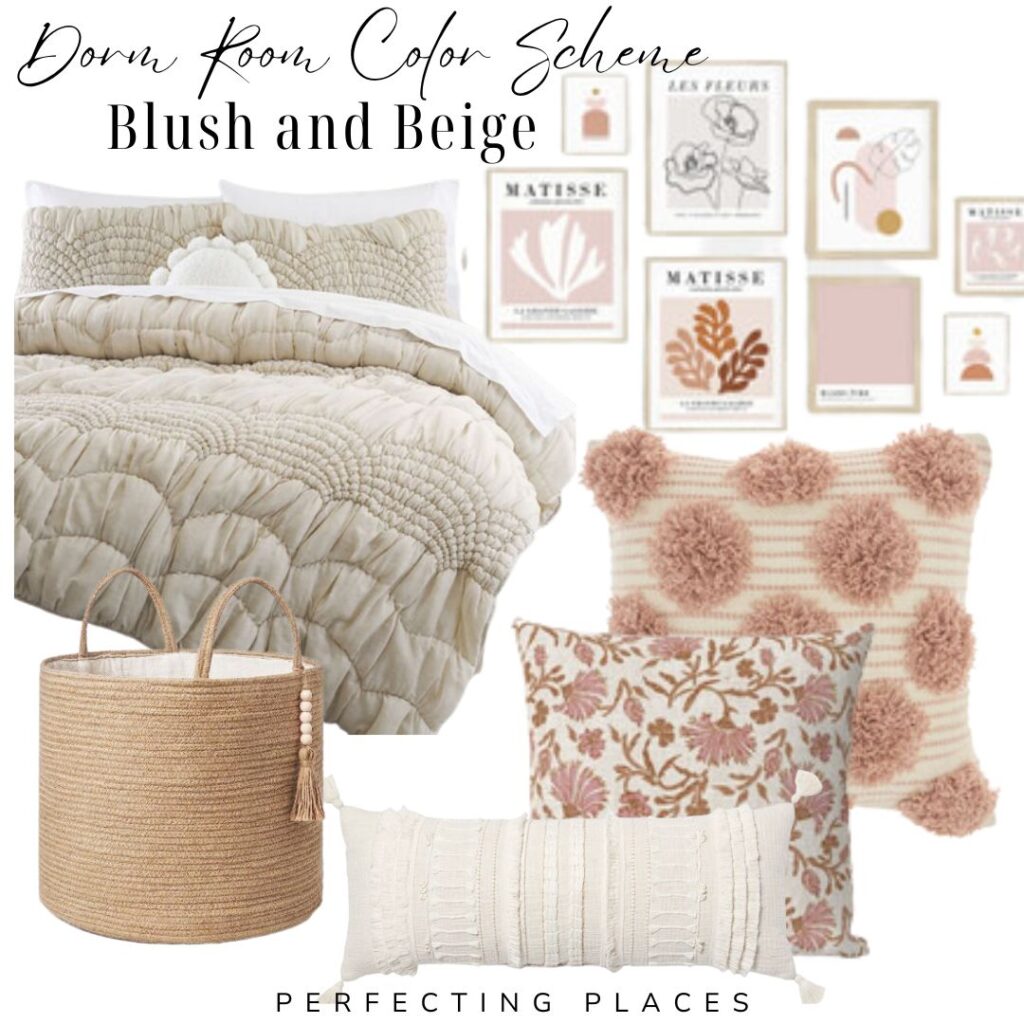 This beige comforter is soft and fluffy and so inviting.
Top your comforter with a cozy grouping of pillows — a blush Pom Pom pillow, a subtle print pillow, and cream lumbar pillow add beautiful color and texture to the bed!
Add a gallery wall of blush and beige art prints.
Decorating your college dorm room in a neutral color scheme creates a peaceful and sophisticated look that can easily adapt to your changing style preferences.
Shop the Look for Neutral Dorm Decor

Vintage Cottage Charm with a Green and Coral Color Scheme :
If vintage prints are more your style, create a dorm room look that's full of life with this green and coral palette! From fresh green floral print fabrics to charming floral art prints, this space will breathe new life into you after a long day of classes!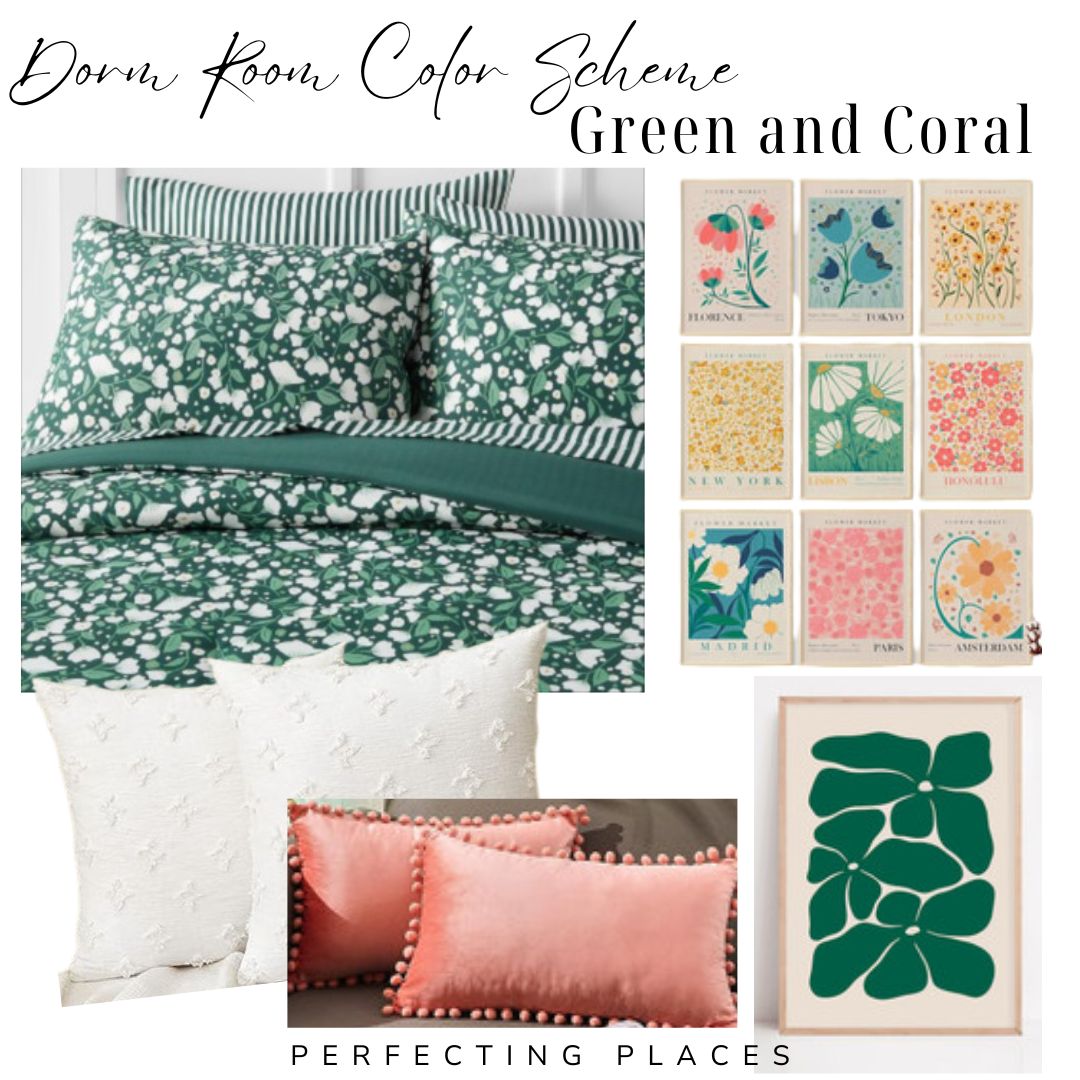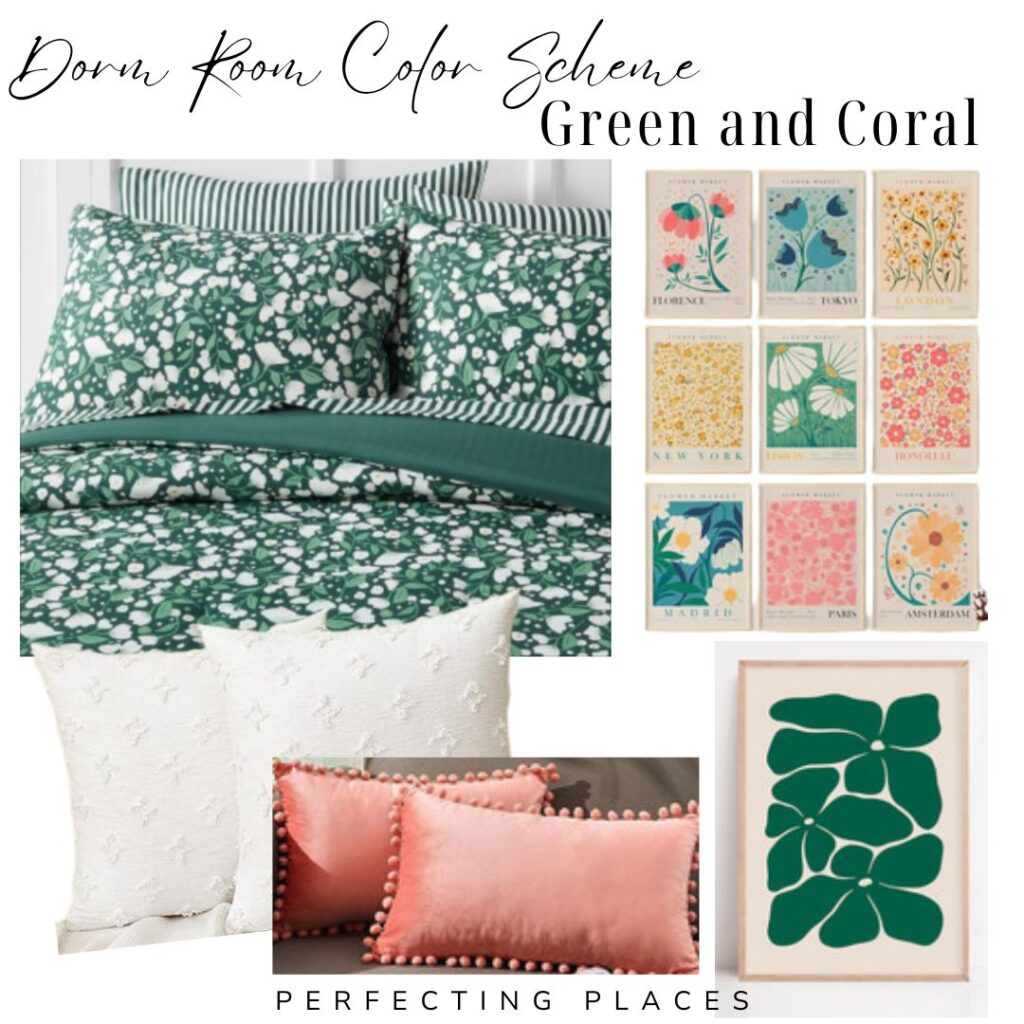 This pretty green floral print comforter and sheet set is reversible and adds gorgeous color and pattern!
Create a vintage garden scene on your walls with a gallery full of these fresh floral prints.
This funky green and white floral artwork adds a little mid-century modern vibe.
Add cozy texture to your bed with these pretty throw pillows in white and coral!
Shop the Look for a Green and Coral Vintage Vibe

A Pretty in Pink and Teal Dorm Room:
Create a playful and feminine look in your dorm room with these pops of pink and teal accessories! These multiple layers and shades of pink paired with teal and pops of gold create a cozy and inviting look for your space.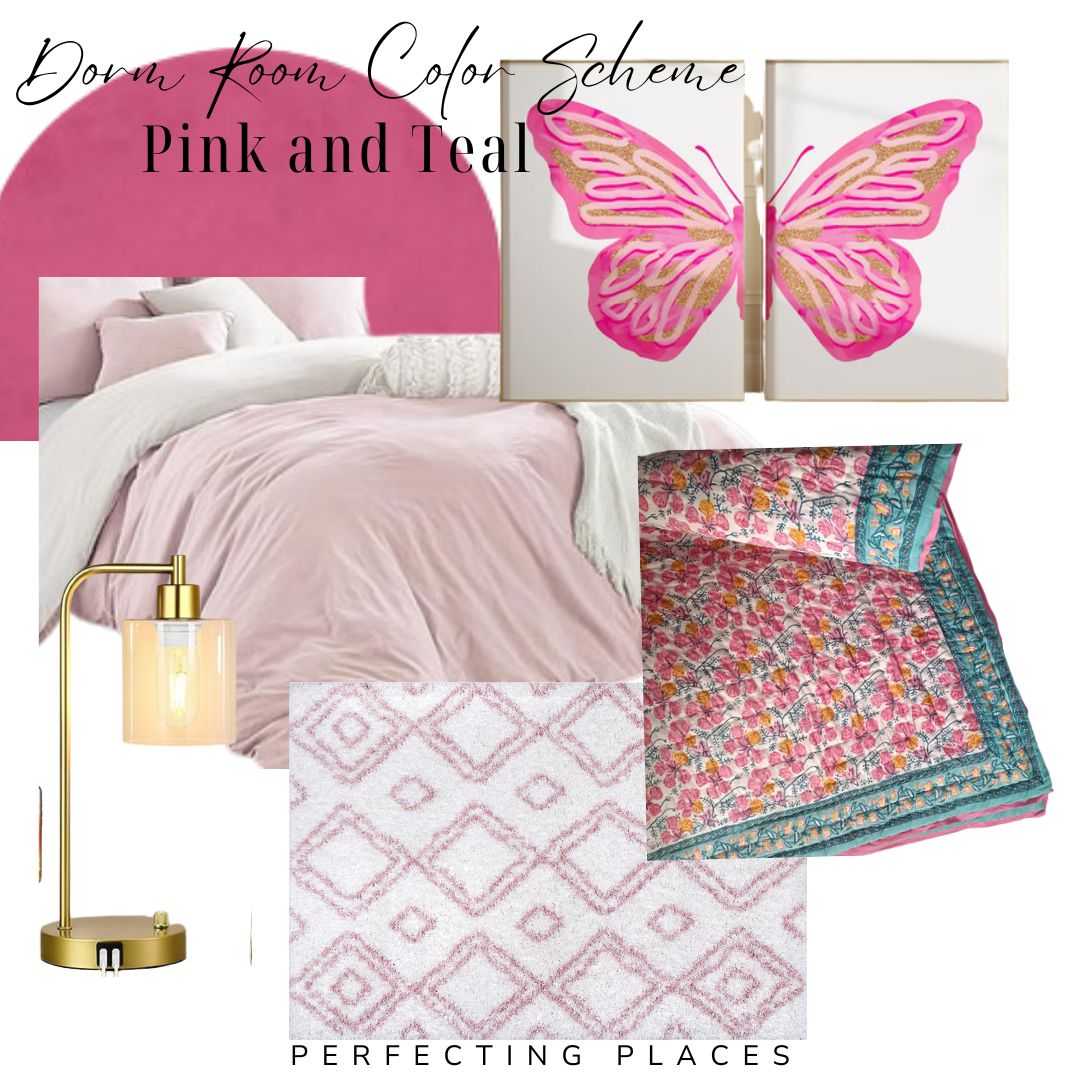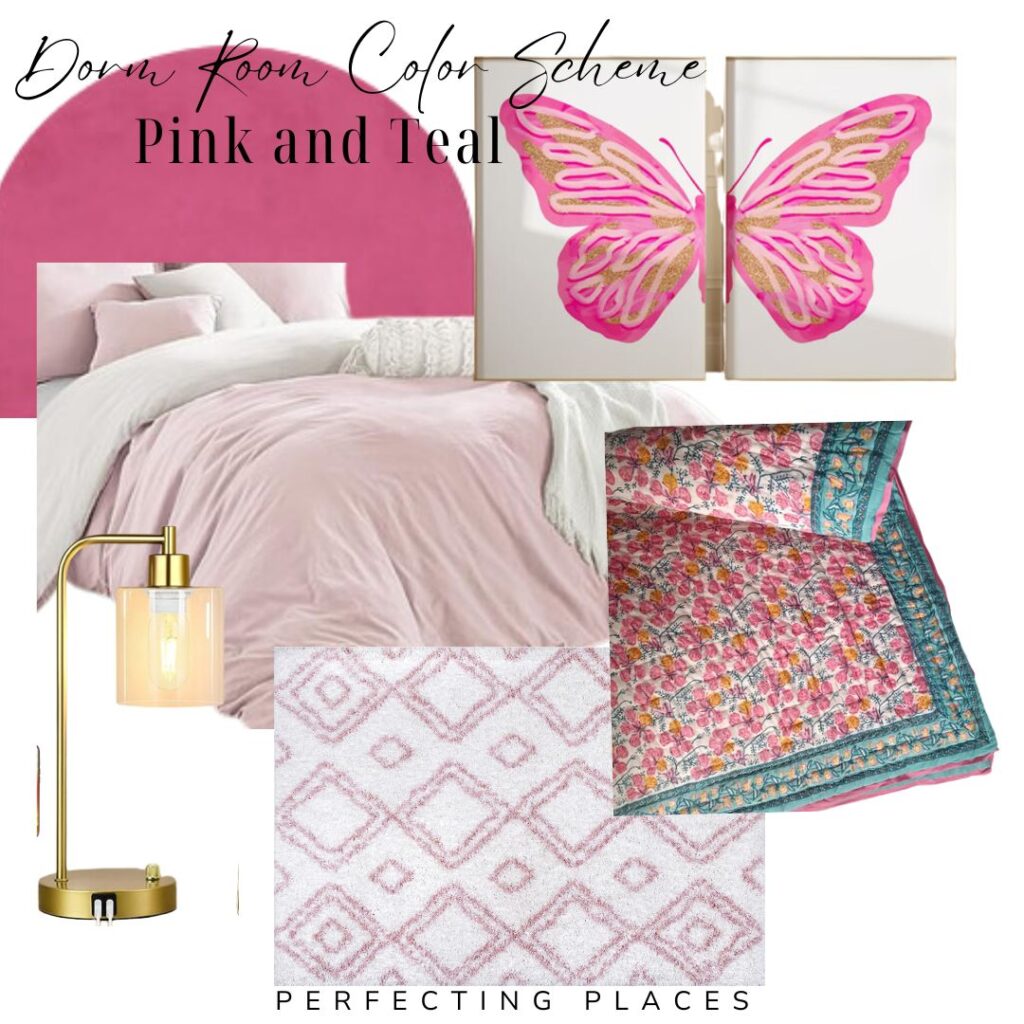 Elevate the look of your dorm room bed with this hot pink upholstered headboard!
This pink and gold butterfly art print set will pop on your dorm room walls.
This cozy pink microfiber duvet cover and sham set adds a calming touch in this vibrant space.
This sweet block print quilt adds charm and color to your room!
Add a little sparkle and light with this gold desk lamp.
Create a pretty and cozy floor space with this pink and white geometric shag rug.
Shop the Look for this Preppy Pink and Teal Dorm Room

A Funky Mid-Century Modern Door Room:
Don't be afraid to add fresh and fun color pairings to your door space! This look combines vibrant oranges with pretty pinks and purples for a colorful and exciting look. It's a little bit boho and a little bit mid-century modern, and it exudes personality!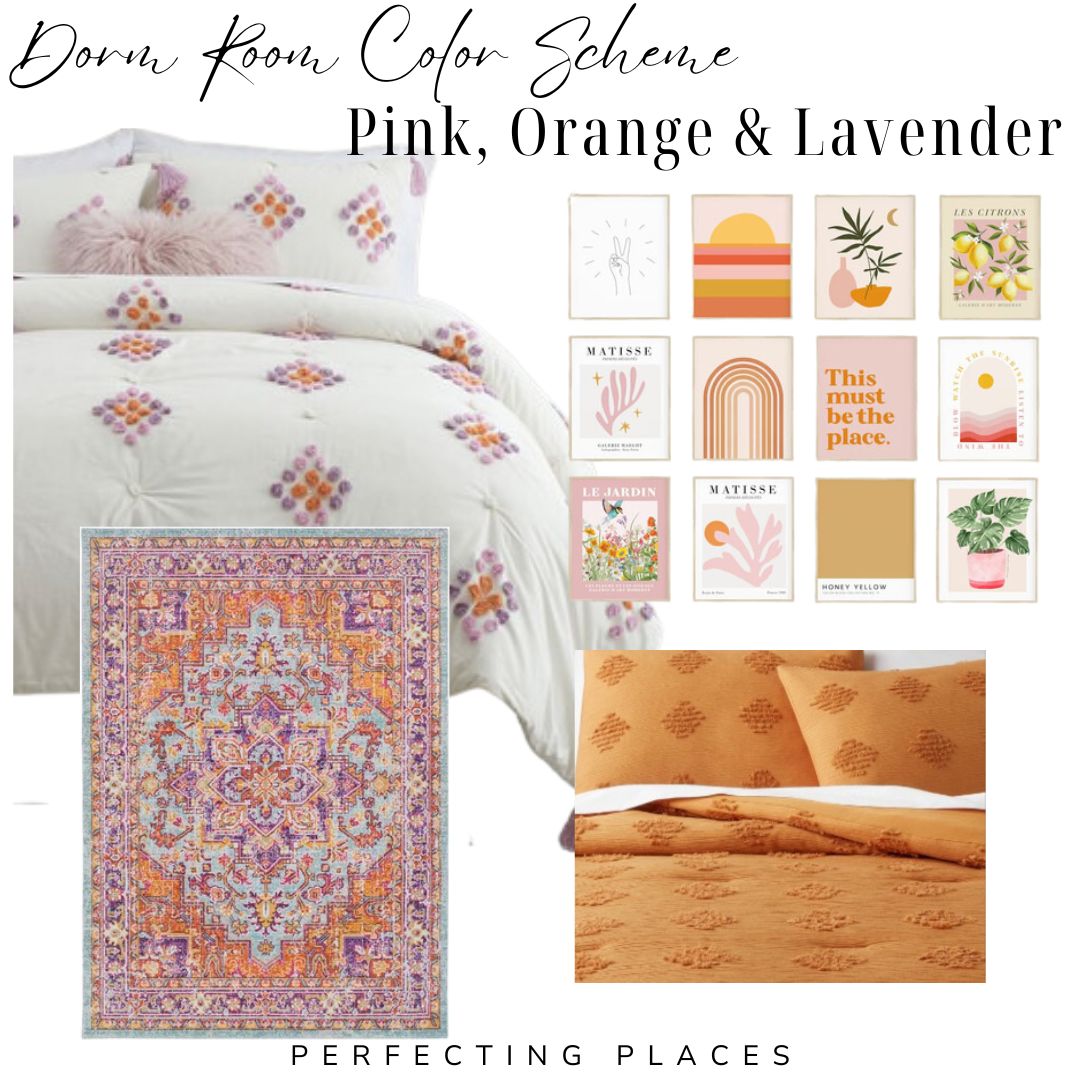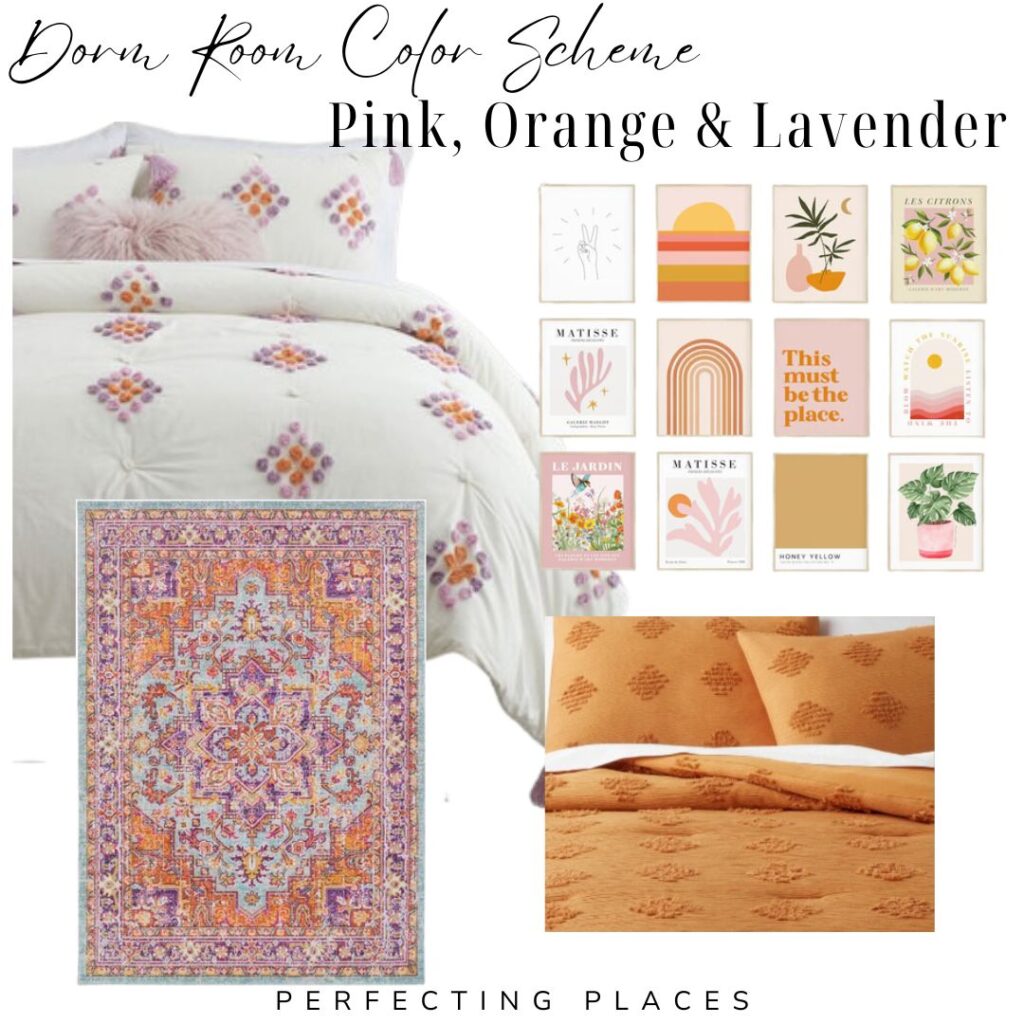 This tufted diamond quilt adds cozy charm!
Deck out your walls with a gallery of fresh art prints!
This area rug explodes with orange, purple, pink, and blue color!
This tufted gold duvet set can also serve as a layered coverlet on your bed.
Shop this Colorful Mid-Century Modern Look

My Top 10 Dorm Room Essentials for a Cozy and Inviting Look:
1. Cozy Layered Bedding — Whether you choose crisp white, neutral, or colorful printed bedding, you can add cozy layers with soft duvets, decorative pillows, and throw blankets in your favorite colors to create a cozy dorm room feel.
2. Wall Art and Wall Hangings — Infuse personality into your college dorm room with carefully curated wall art and hangings that reflect your style and complement your dorm room design.
3. Area Rugs — Elevate the comfort level of your living space with soft and stylish area rugs that fit into your chosen color palette and add a pop of color to the dorm room design.
4. DIY Decor — Personalize your dorm room with special DIY decor ideas. A photo wall or handmade wall hangings make your home-away-from-home uniquely yours.
5. Functional Desk Space — Create an organized and functional desk area with a comfy desk chair, bulletin board, and decorative items that motivate and inspire you during those long study sessions.
6. Ambient Lighting — Set the mood and create a cozy atmosphere with ambient lighting options like string lights, decorative lamps, and fairy lights that make your dorm room feel warm and inviting.
7. Comfy Seating — Optimize your limited space with a loft bed or raised platform. Create a cozy seating area using floor cushions, throw blankets, and decorative pillows to maximize comfort.
8. Pops of Your Favorite Colors — Introduce your favorite colors through decorative items, curtains, or a statement area rug to add visual interest and a touch of your personality.
9. Greenery — Incorporate indoor plants or succulents to bring a touch of nature into your college dorm room, making it feel fresh and tranquil even amidst the bustling campus life.
10. Personal Touches — Display cherished decorative items, sentimental photos, or artwork that speaks to your personality and makes your dorm room feel like a cozy extension of yourself in the limited space available.
Be sure to visit my Amazon Store for even more college dorm room essentials!
Incorporating these dorm room essentials will help you create a welcoming and inviting living space that exudes coziness and style and reflects your amazing personality!
Happy Decorating!