A Simple Patio Table Makeover for Summer
Do you love to dine al fresco during the summer? Spruce up your outdoor dining area with this simple patio table makeover for summer! I'm sharing our newly painted table and a pretty summer tablescape to inspire casual summer dinners.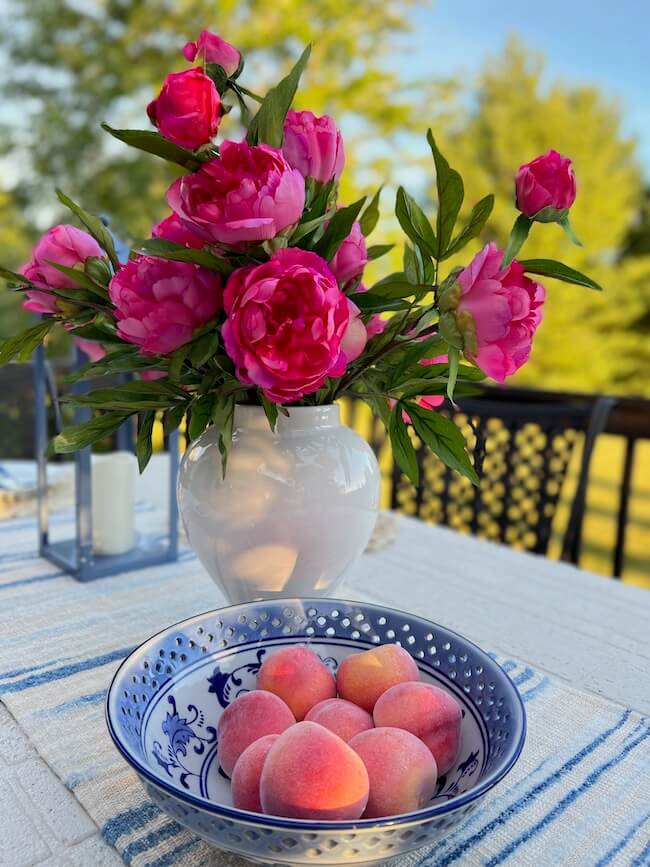 Have you ever vacuumed your yard?? 
I know it sounds kind of crazy, but I have!
It all started the day our  glass table shattered!! Nothing motivates you to find the biggest, heaviest outdoor dining table more than vacuuming millions of tiny shards of glass from your yard!!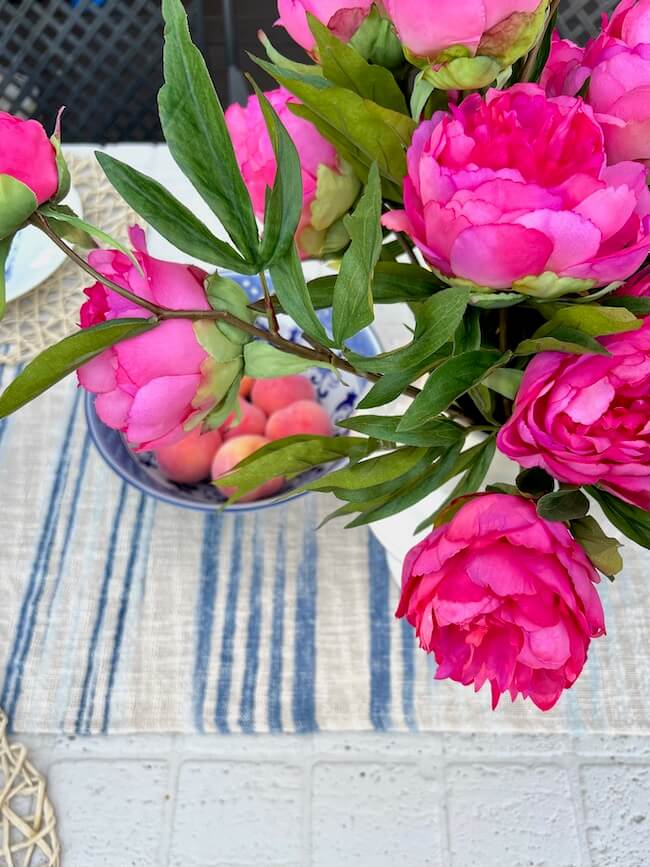 One sunny summer day many years ago, I was quietly going about my business in our home, probably diligently folding laundry or cleaning toilets or some other household task to lovingly care for my family;) 
It had seemed like a good idea to open our patio umbrella earlier that morning to keep the deck a little cooler in the heat of the summer day. And, it was a grand idea until a sudden wind gust came out of nowhere and lifted our sweet little glass top patio table over our deck railing and onto the concrete landing below. 
Sigh…
Vacuuming up millions of pieces of glass from  your yard is NOT fun!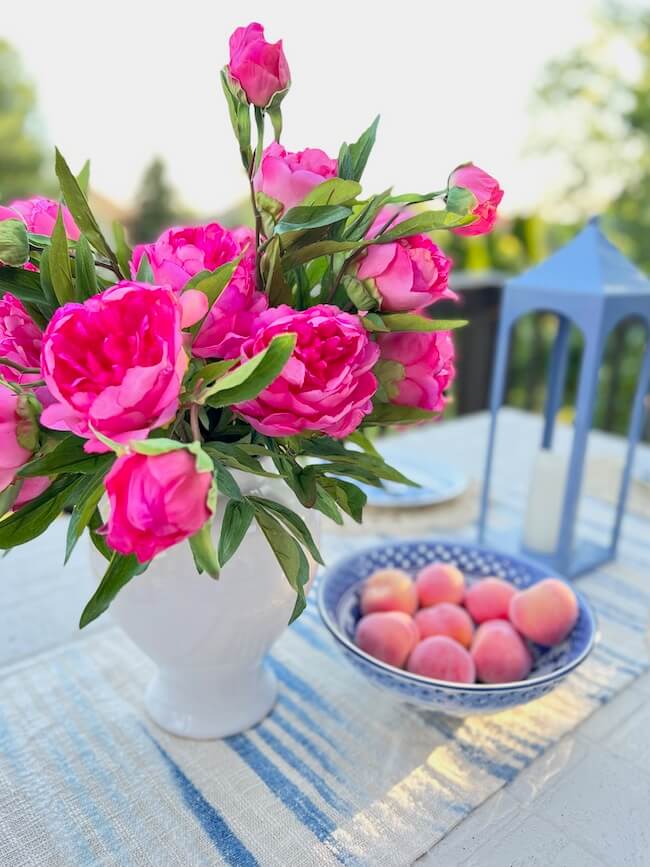 So began the hunt for the heaviest outdoor dining table we could find, and boy did we find it! We spotted our large tile top patio table sitting by its lonely self in the clearance aisle at Home Depot. We soon would learn why the Home Depot employee was less than enthusiastic about helping us purchase and load said table.
I think it was the heaviest table in the world, but no gust of wind was carrying this bad boy away, so it came home with us and has served us well ever since!
The tile surface probably should have been sealed years ago, but we never managed to do that, so each year it required a thorough power washing to get rid of all the lovely algae and grungy buildup.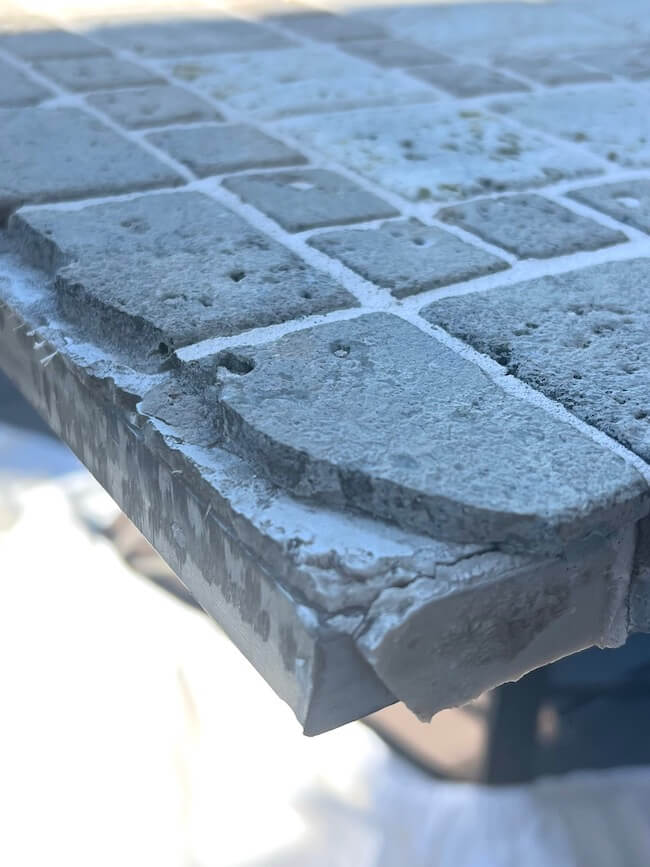 The tile has now started to fall off around the edges, and it's probably time to replace the table, but we've decided to save that for another summer.
My goal this summer is to get another year out of our table by giving it a little DIY patio table makeover through the amazing, transforming power of paint. And we are amazed at the transformation!!
(This post contains affiliate links, so I may earn a small commission when you make a purchase through links on my site at no additional cost to you. As an Amazon Associate I earn from qualifying purchases.)
Our DIY Patio Table Makeover:
The before shot is not a pretty one! We failed to power wash the table last summer and just used a tablecloth all summer long to cover it when we ate on the deck. There was a lot of grime to remove!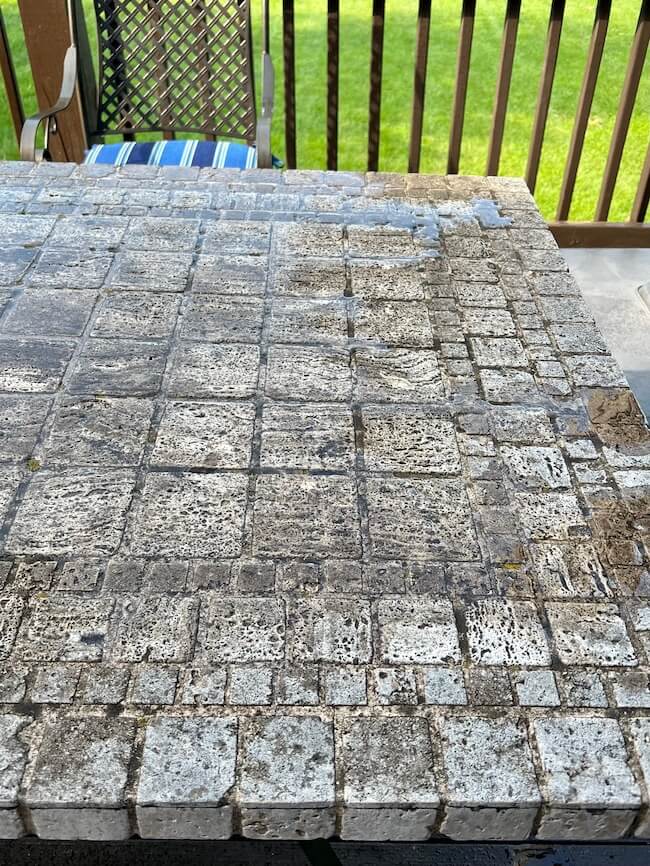 To be fair, the picture above is after the table was already wet, so it didn't look quite this bad when dry — but it was still gross!!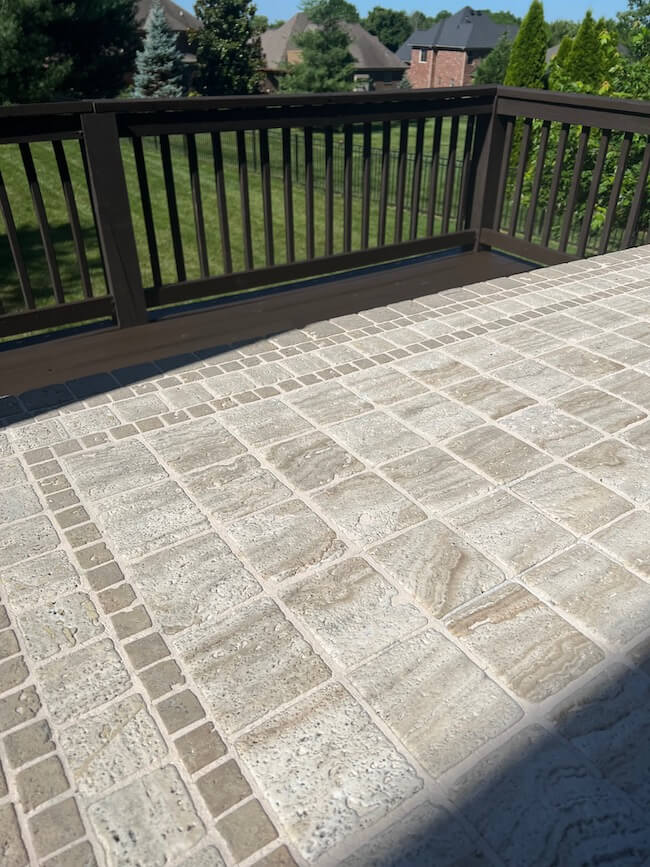 The fresh clean table was a huge improvement, but I still wanted a fresher look for the table and hoped that by painting the table we could also preserve it a little better.
I used this Weathershield product by the HGTV Home Sherwin-Williams line at Lowe's. It's formulated for masonry, so it works well to cover the tile and grout. It provides a mildew and algae-resistant coating for the table, so hopefully it will be a little easier to maintain.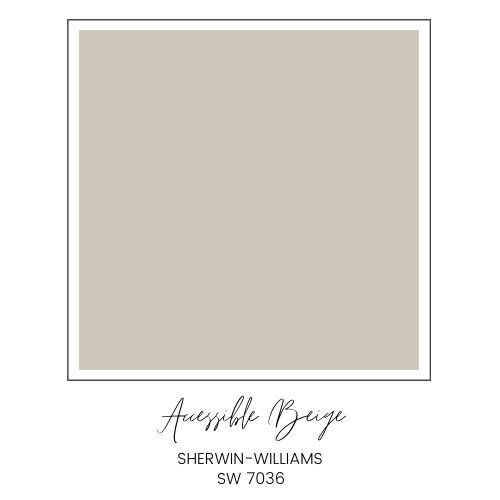 The color I chose is Sherwin-Williams Accessible Beige (SW 7036), and I absolutely love it!! We're so pleased with the finish of the paint. I chose a Satin finish, and it keeps the tile from feeling chalky without looking too glossy. The table, painted in this finish, has a much nicer feel to it than the bare tile did before. The color is much lighter in the outdoor sunlight than it appears on this swatch. Natural light almost always makes paint color appear lighter.
Our Painted Tile Table Now: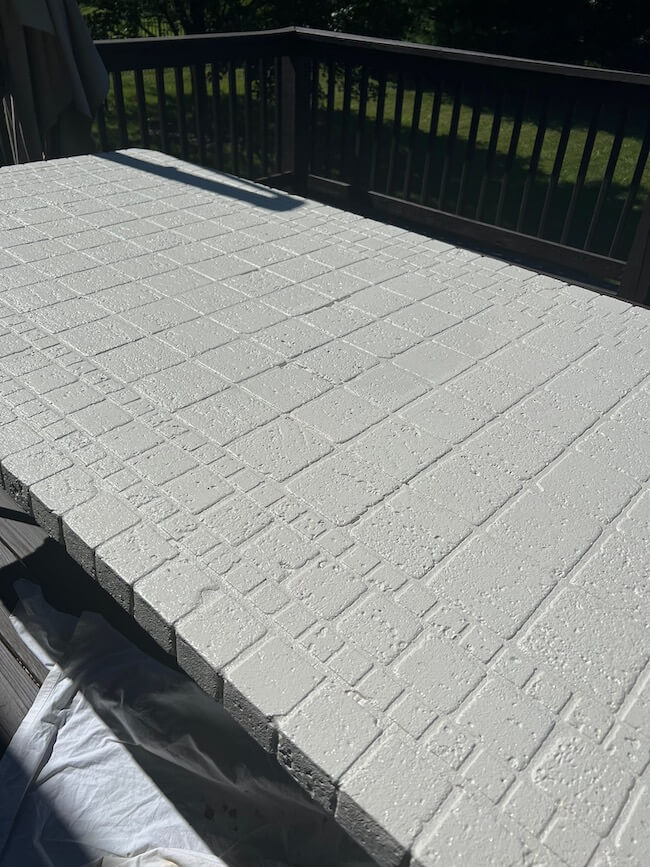 I love how the table looks now! The color is a fresh, updated look, and the painted tile feels so much cleaner! We're so excited to start using the table again. It's a favorite place to wind down at the end of the day with a summer meal together!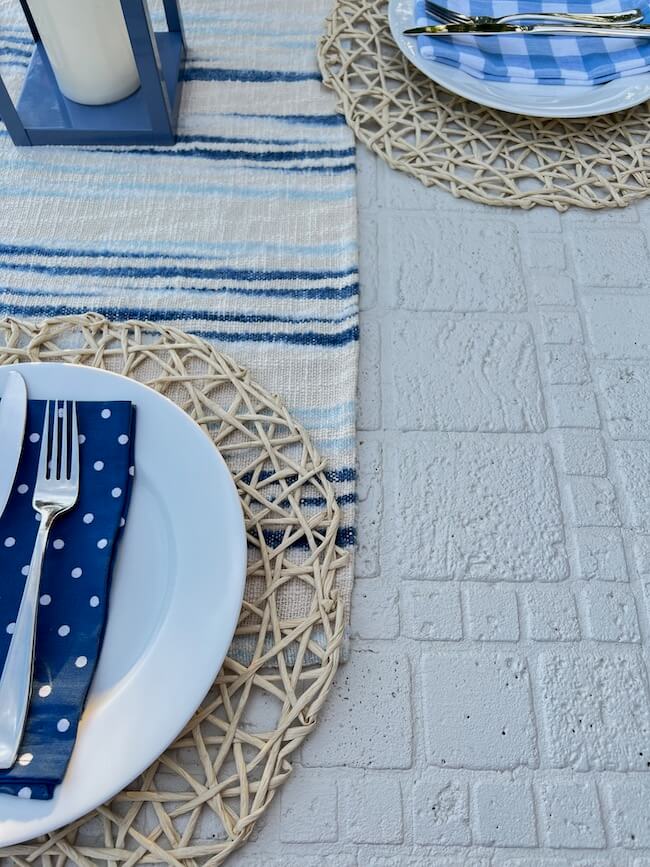 Create an Easy and Pretty Summer Tablescape
A fresh new patio table makeover calls for a pretty summer tablescape! I love to stick with simple and easy decor for summer, and this tablescape is just that!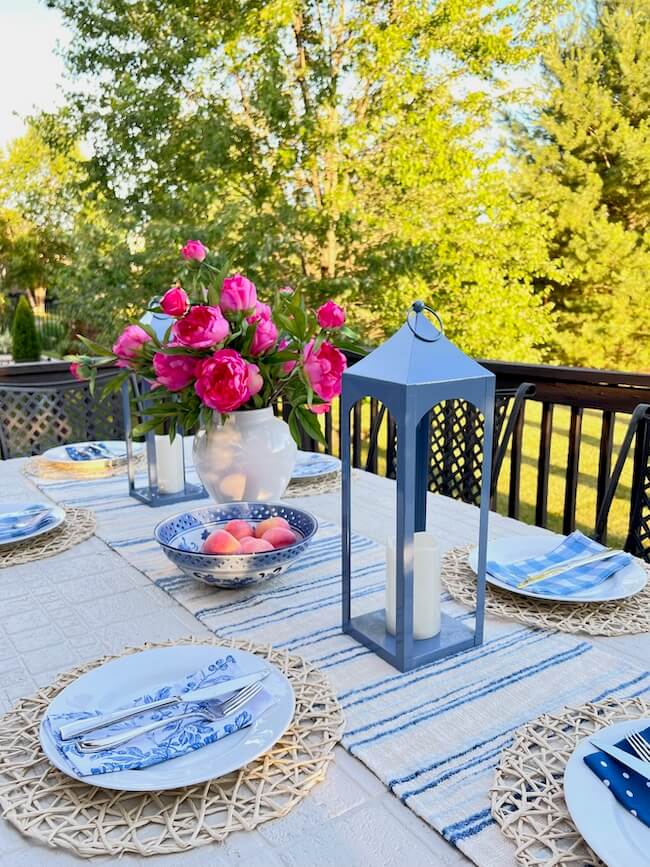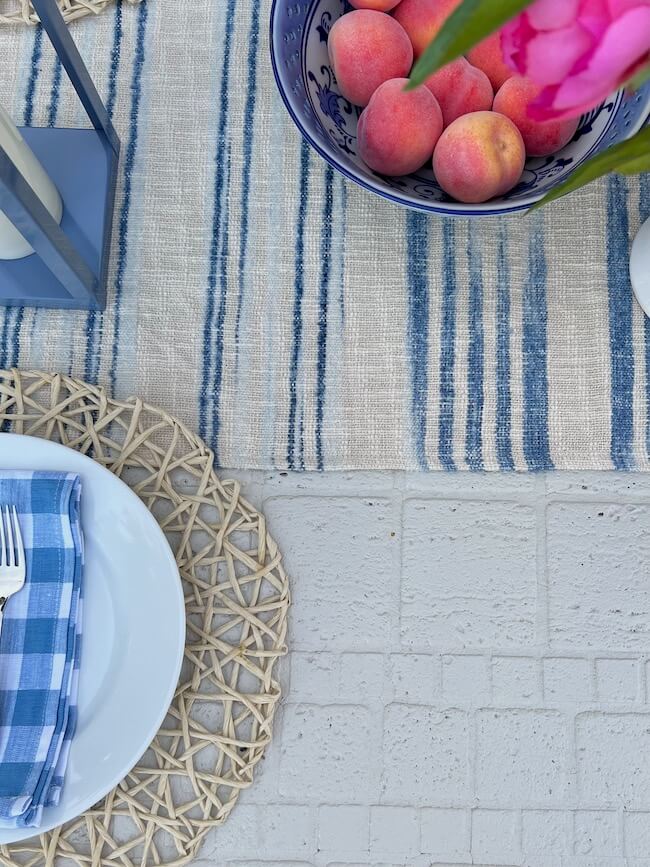 I added a blue and white table runner for a little blue and white color. This one was from At Home last fall.
I added some simple woven place mats. We use these a lot! These were purchased from Homegoods a couple of years ago, but I get so much use out of them from season to season. I love the texture they add to a table.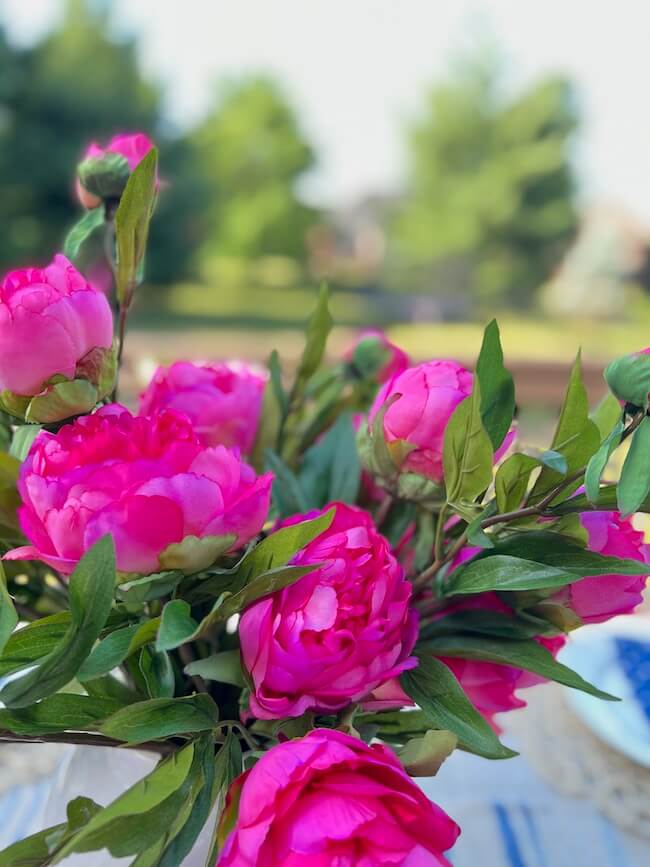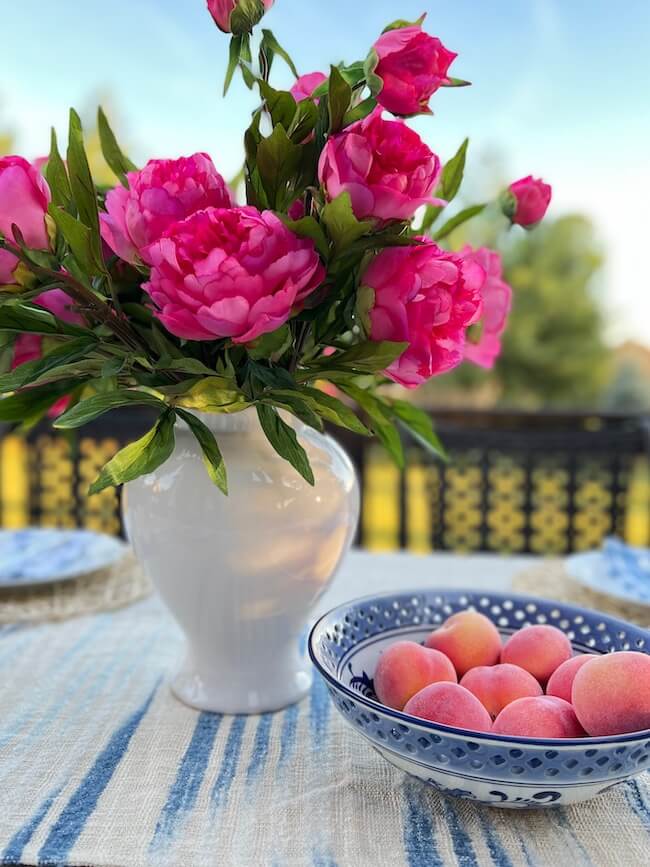 Can you believe these peonies are faux? I purchased bunches of these from TJ Maxx this week. I was so excited to find them, especially since real peonies are at the end of their season. I added them to a white vase for a simple look!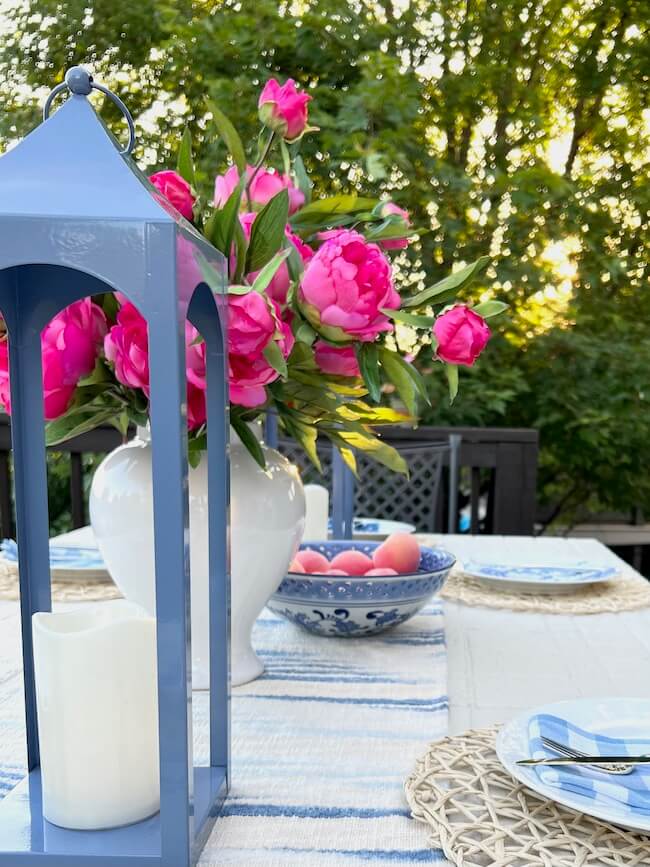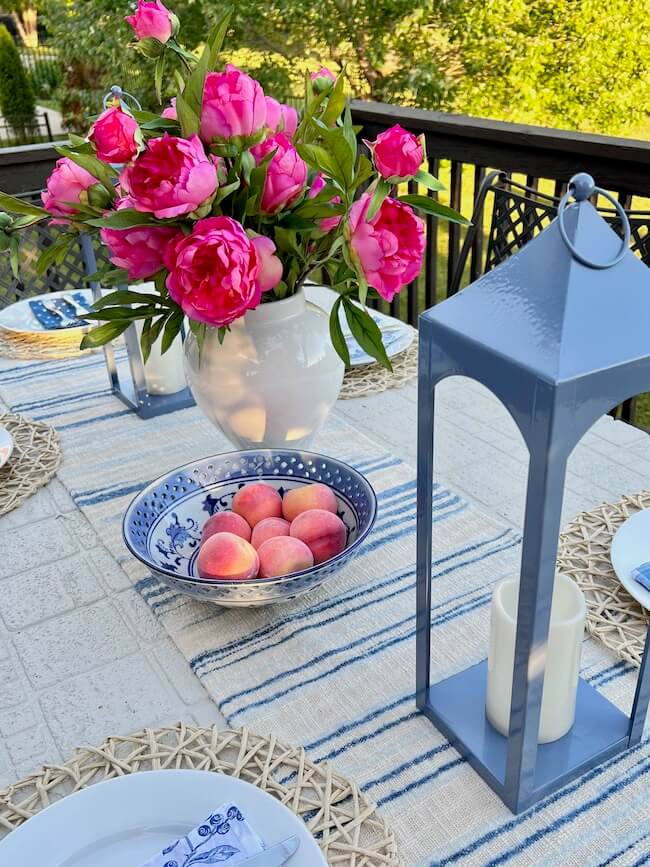 I purchased the blue lanterns from At Home this week, and love them. I even went back to get a third one to have on hand. They also come in dark gray (which I also purchased). They were marked down 40%, and since I use lanterns in lots of my designs I like to have a variety on hand!
I like that the lanterns are battery operated and add a nice soft touch of light in the evenings.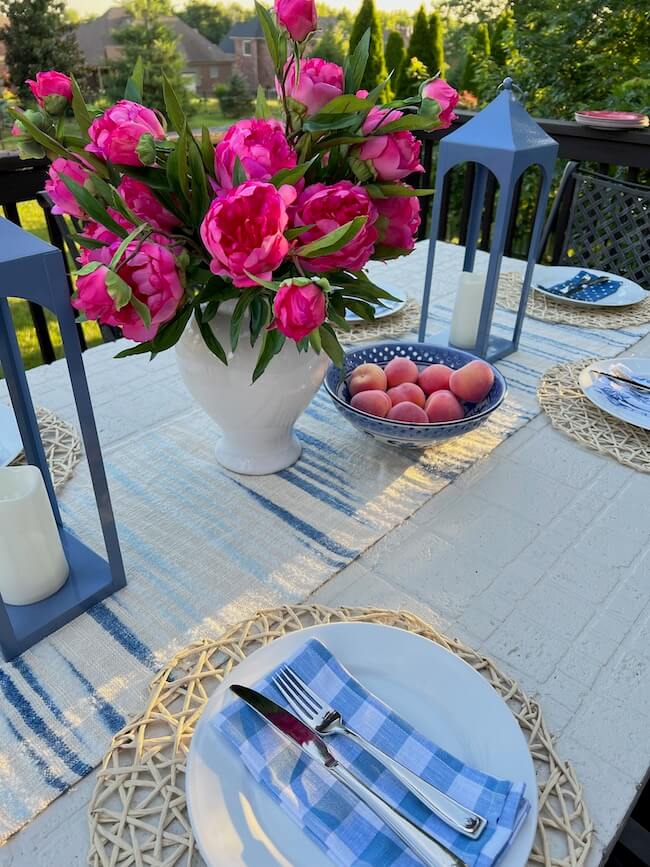 I'm using my white Aspen porcelain dinnerware from Crate and Barrel and added a mix of blue and white patterned napkins. I've collected these patterns over time, but these are similar from Amazon.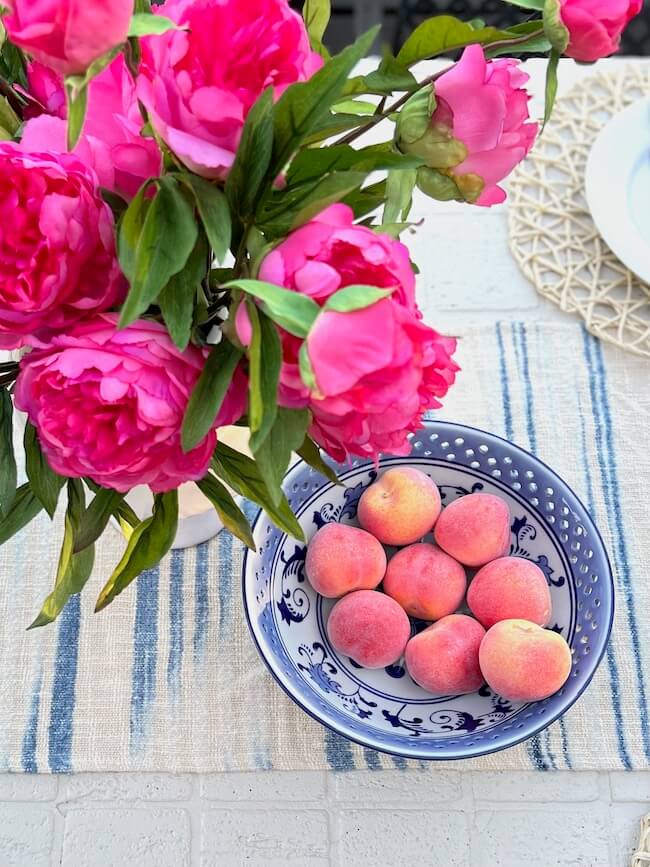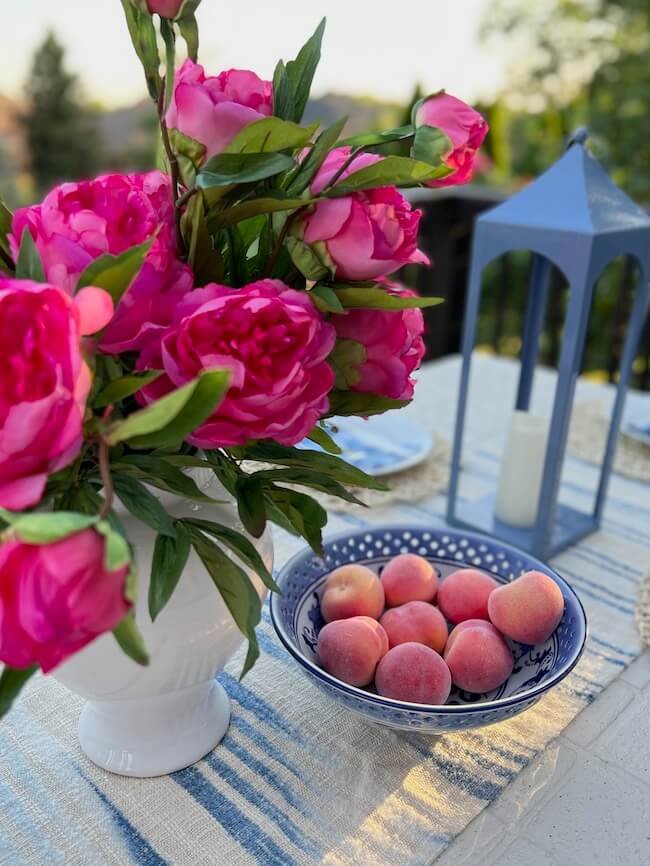 I finished the centerpiece off with this pretty blue and white bowl full of faux peaches!! You certainly can use real peaches, especially with the abundance of fresh peaches at the grocery store during summer. I just had these faux beauties left over from my home staging inventory, so they periodically make an appearance.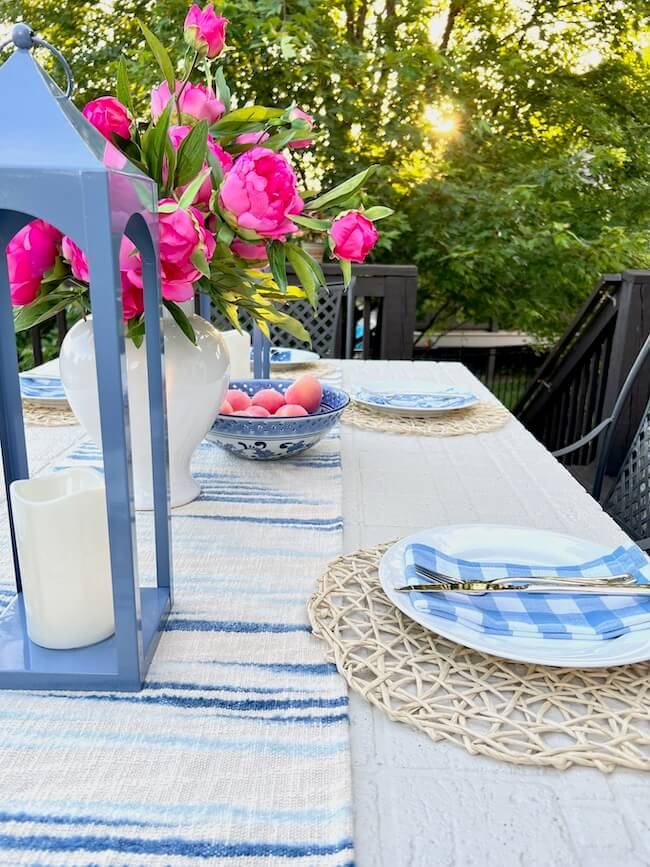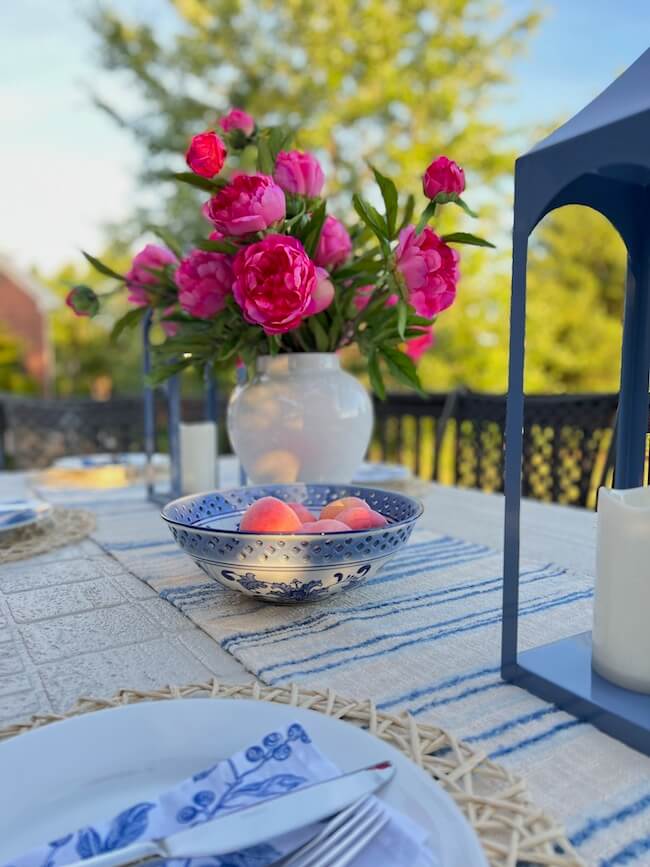 The finished look is an easy, colorful summer look for our freshly updated table!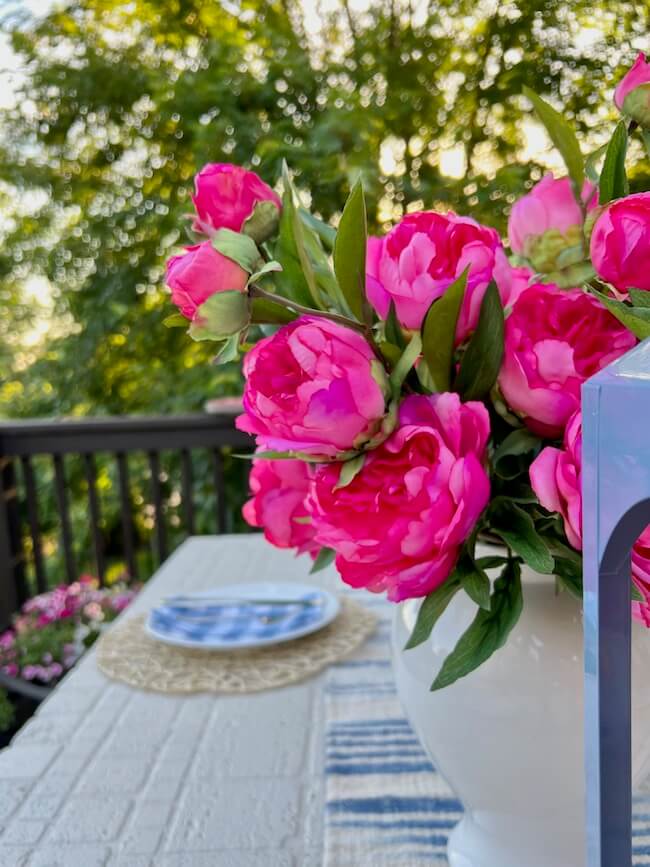 Now it's time to enjoy lots of summer meals outdoors!
Get the Look:
---
---
If you're looking for more inspiration for updating your summer decor, you might also enjoy reading:
Easy Breezy Ideas for Patio Decor
Summer Ideas for Small Porch Decor – Summer Porch Blog Hop
Sophisticated Coastal Decor for Your Home
Our Home's Favorite White Paint – Sherwin-Williams Alabaster SW 7008
Thanks so much for stopping by!
Happy Summer Dining!!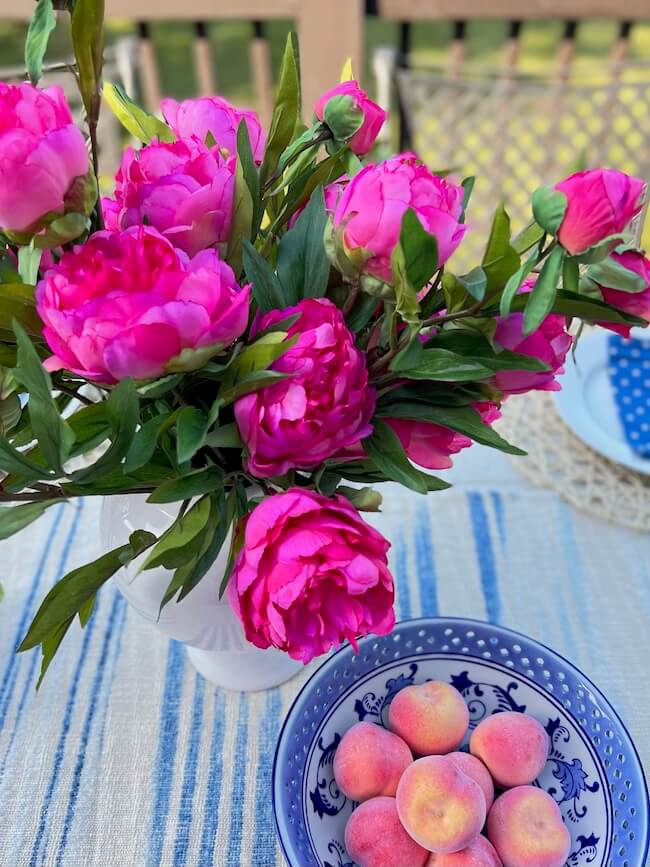 Pin It for Later