How to Make an Easy DIY Rose Gold Leaf Candle Holder
Do you like to add simple metallic finishes to your decor. You'll love this easy DIY rose gold leaf candle holder project for your fall table!
Every room needs something metallic, and this easy metal leaf project is the perfect way to transform a piece of decor!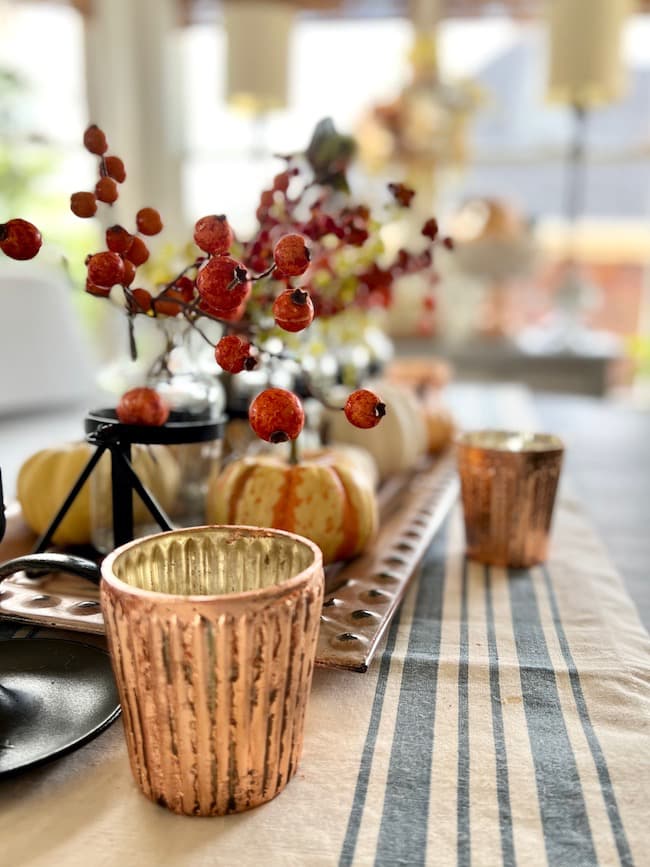 (This post contains affiliate links, so I may earn a small commission when you make a purchase through links on my site at no additional cost to you. As an Amazon Associate I earn from qualifying purchases.)
I have a new favorite hobby!
Don't get me wrong – I enjoy creating and making LOTS of things around our home.
But I have been having so much fun applying metal leaf to all the things lately!!
There's just something relaxing and so satisfying about applying metal leaf to something.
Have you tried it? It's so simple and so much fun!
Until recently, I've only used gold leaf, but I just discovered rose gold leaf, so now I can add just a hint of pink to all the pretty metal objects!!
I often like to use metallic votives on our dinner table, our mantel, our bathroom vanity – pretty much any horizontal surface. They reflect light and create a pretty ambiance in the room.
These little mercury glass votive holders have been around our home in various vignettes for many years.
But, today's the day for a little DIY rose gold candle holder makeover!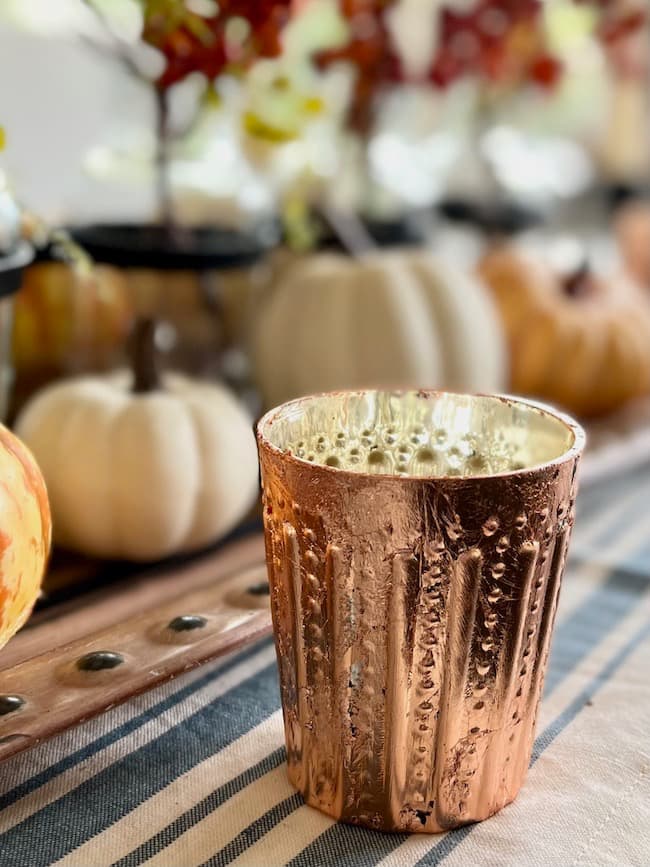 What is metal leafing or gilding?
Gilding (or metal leafing) is a very thin sheet of composite metal that can be applied to create a metallic finish on an object. The most common color is gold, but you can also find silver, copper, rose gold, and even brighter metallic colors.
Metal leaf, also known as gilding, is a decorative technique that involves applying thin sheets of metallic material, usually gold, silver, or copper, onto various surfaces to create a luxurious ey-catching effect. This technique has been used for centuries to enhance the appearance of furniture, picture frames, and other decorative objects.
It's a great way to update a piece of decor for a new elegant look.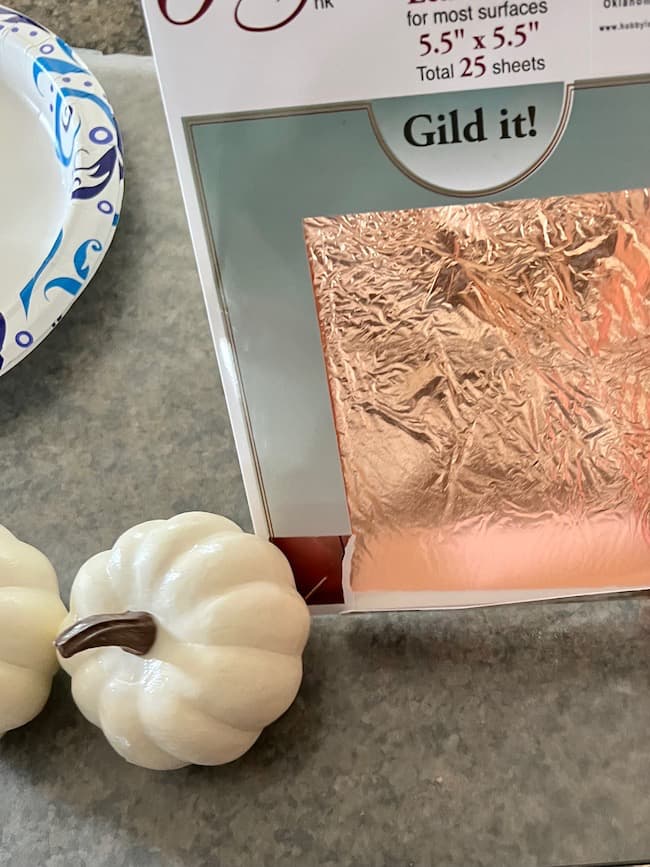 How do you make a DIY gold leaf candle holder?
Applying rose gold leaf to a small votive candle holder is a very simple process, but can be a little messy so I advise donning a pair of gloves.
First, you need a votive holder. You can use a clear glass holder, or a mercury glass like I'm using. I love the raised features on these votive holders. They created a lovely texture when the metal leaf was applied.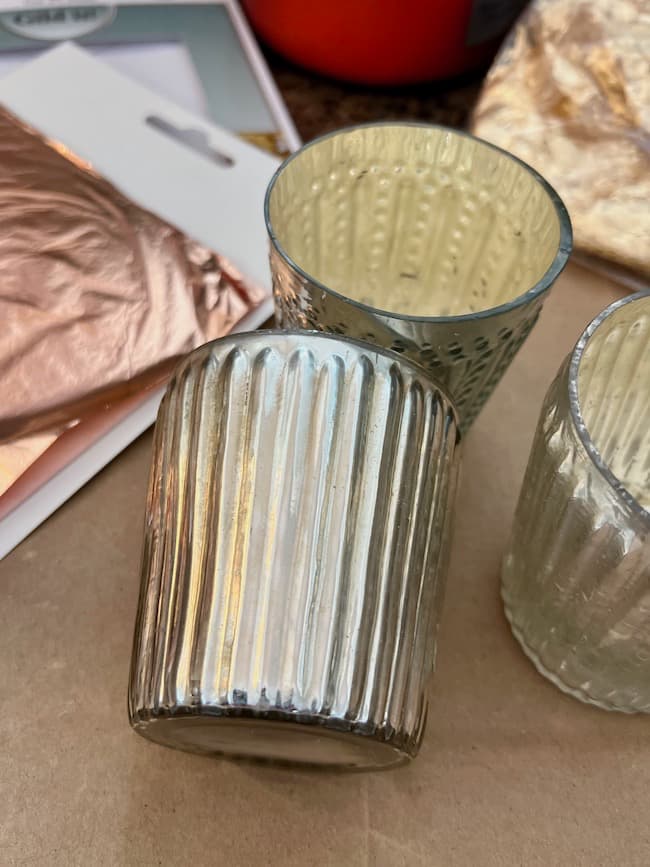 I chose to use the mercury glass because I wanted some of the mercury glass to show through the gaps in the metal leaf. The combination of the metallic rose gold leaf and the reflective properties of the mercury glass creates such a pretty effect.
You could certainly cover the candle holder with a solid sheet of the metal leaf, but I wanted a more distressed look, and the silver mercury glass looks lovely peeking through the layer of rose gold.
Supplies to Use for Metal Leafing a Votive Candle Holder
How do you apply metal leaf?
You first need to apply a thin coating of metal leaf adhesive to your object.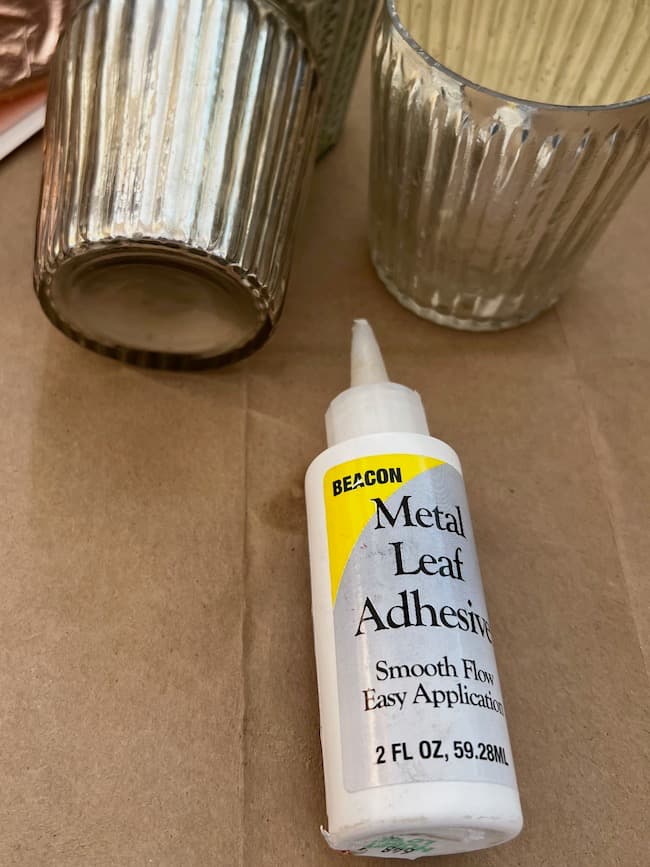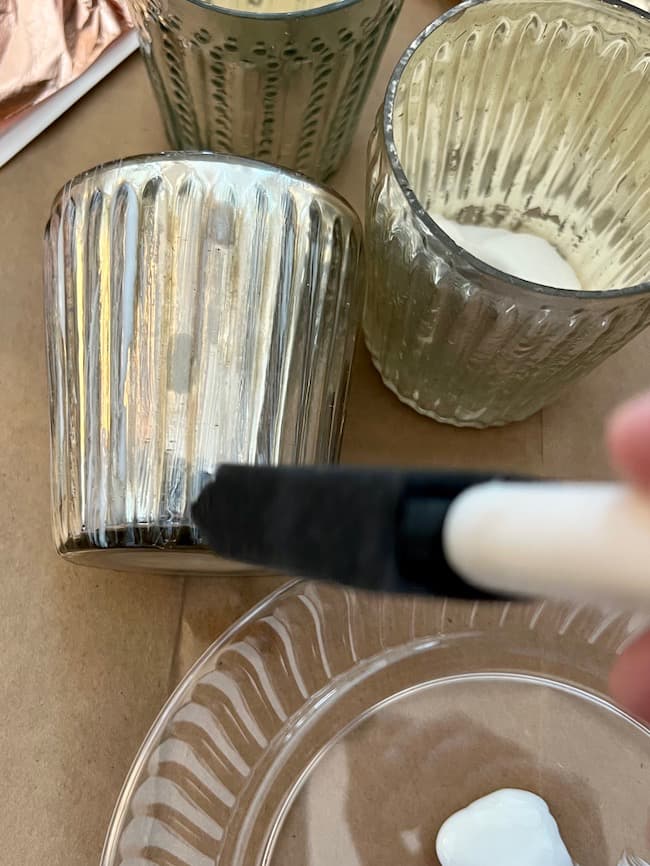 It just takes a very thin coat, and it needs to dry 15-20 minutes or so to a "tacky" finish. I usually use a narrow sponge brush to apply the adhesive.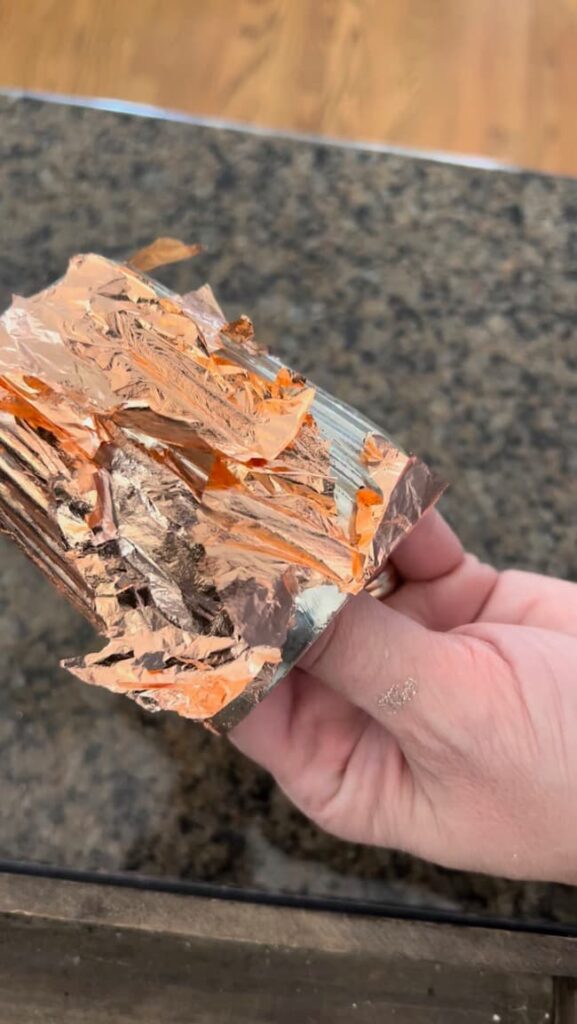 Once the adhesive feels tacky, add a sheet of metal leaf to the surface. You can apply the entire sheet or tear it into smaller sections.
I wanted a distressed finish on these votive holders so the mercury glass would show through. I worked with smaller sections of the leaf.
Don't worry if the leaf tears. When you brush it down, it will lay down nicely and blend together to create a nice finish.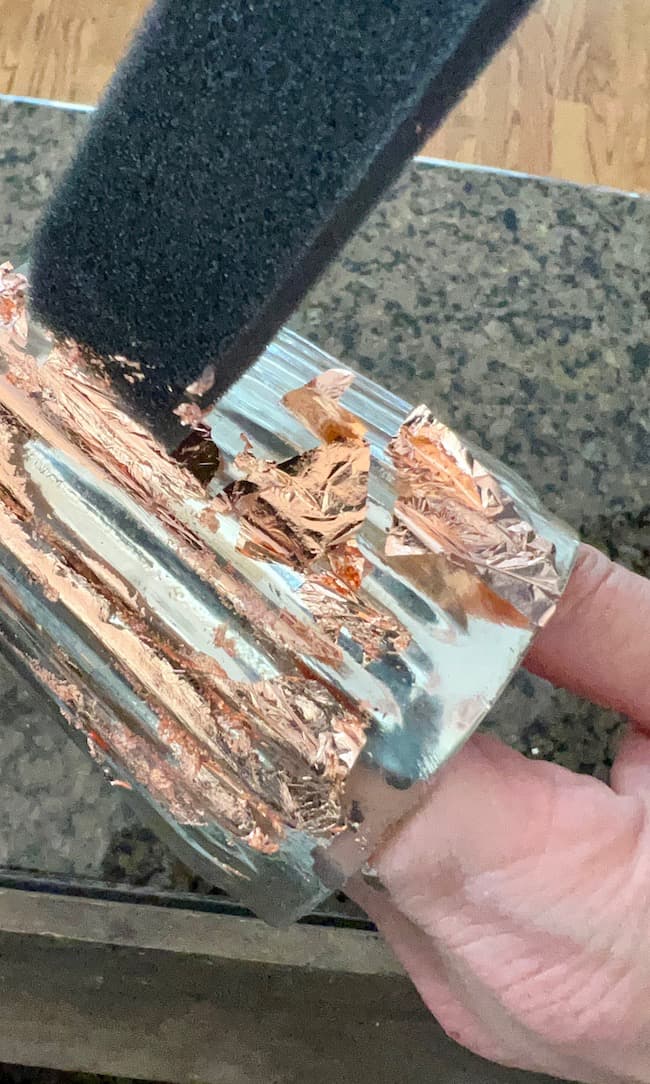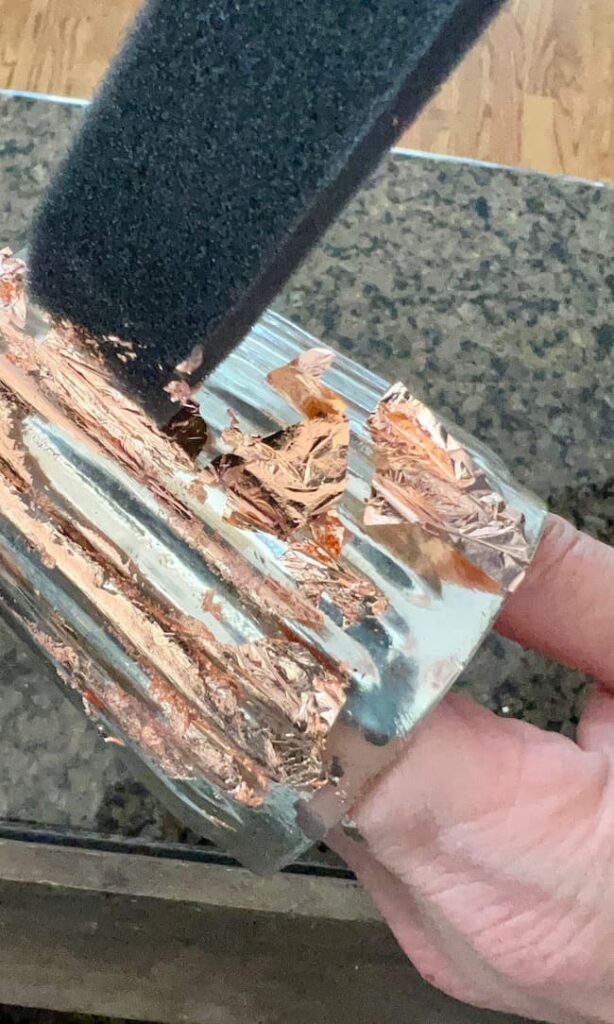 After you apply the leaf, use a sponge brush to smooth (or burnish) the gold leaf. Brush off any excess and smooth it to the desired finish. This is the satisfying part for me!
If you missed any spots you would like covered with the leaf, just add a bit more gilding adhesive, wait a few minutes until tacky, and then add the gold leaf.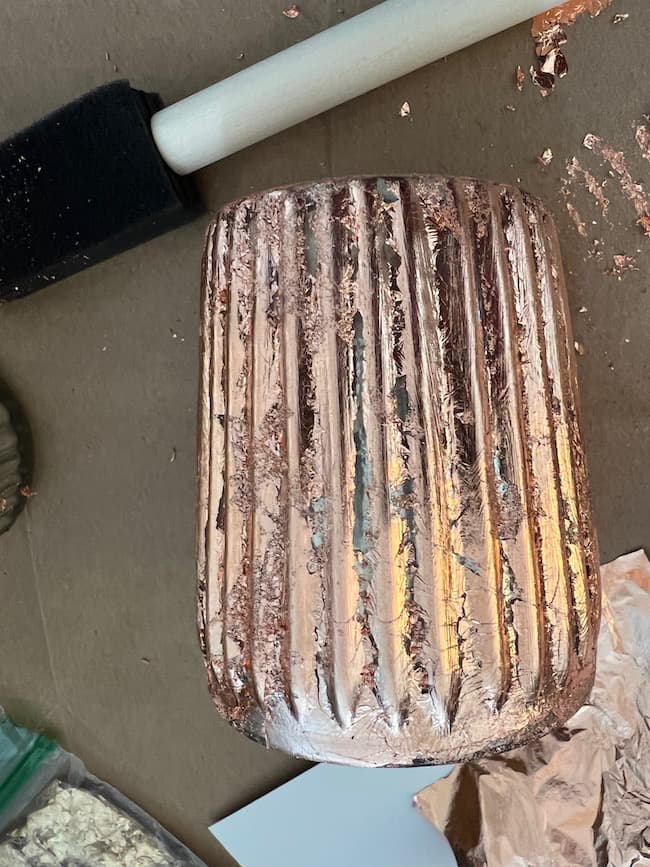 It's such an easy project, and really transforms a piece. Just add tea lights or votive candles and enjoy!
I love how our "new" rose gold votive candle holders cast a warm glow on our table!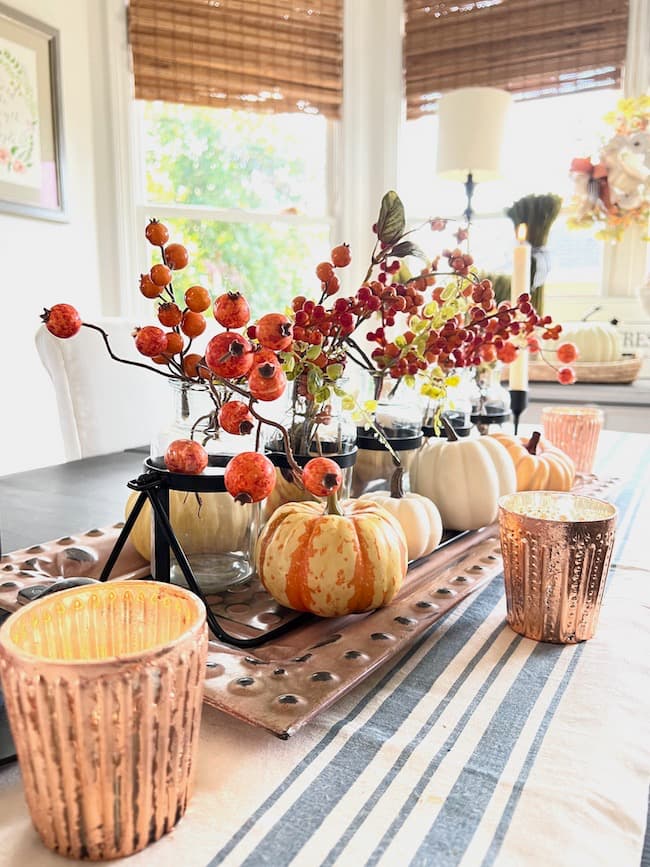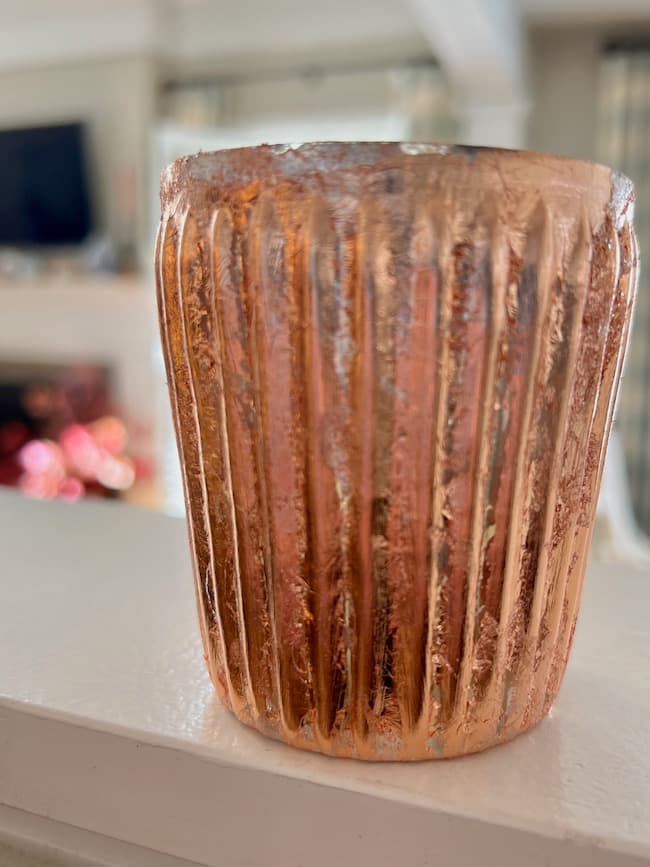 What can you apply metal leaf to?
Just think of all the creative ways to can enhance or transform decorative pieces in your home. The metal leaf works on glass, wood, canvas, plastic – just about any surface.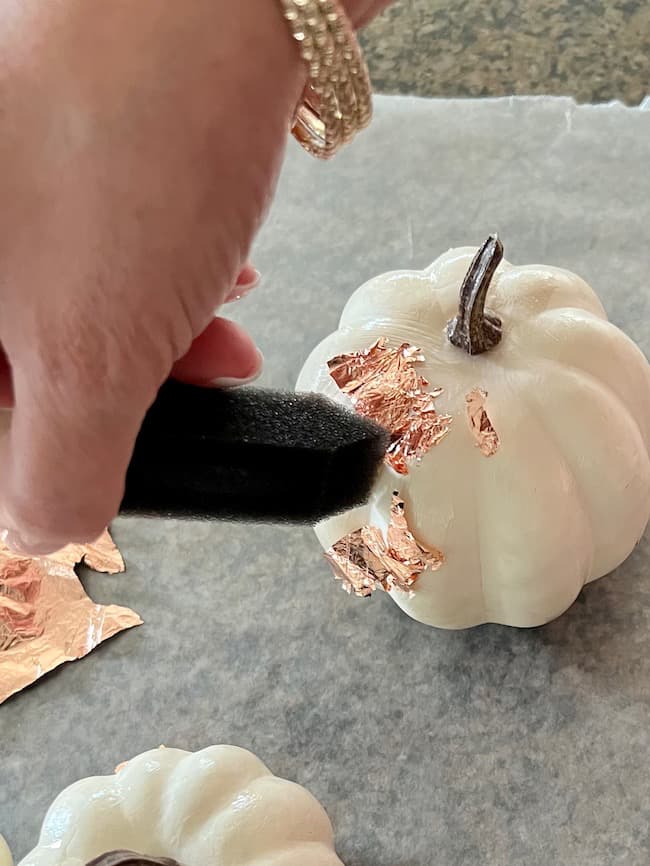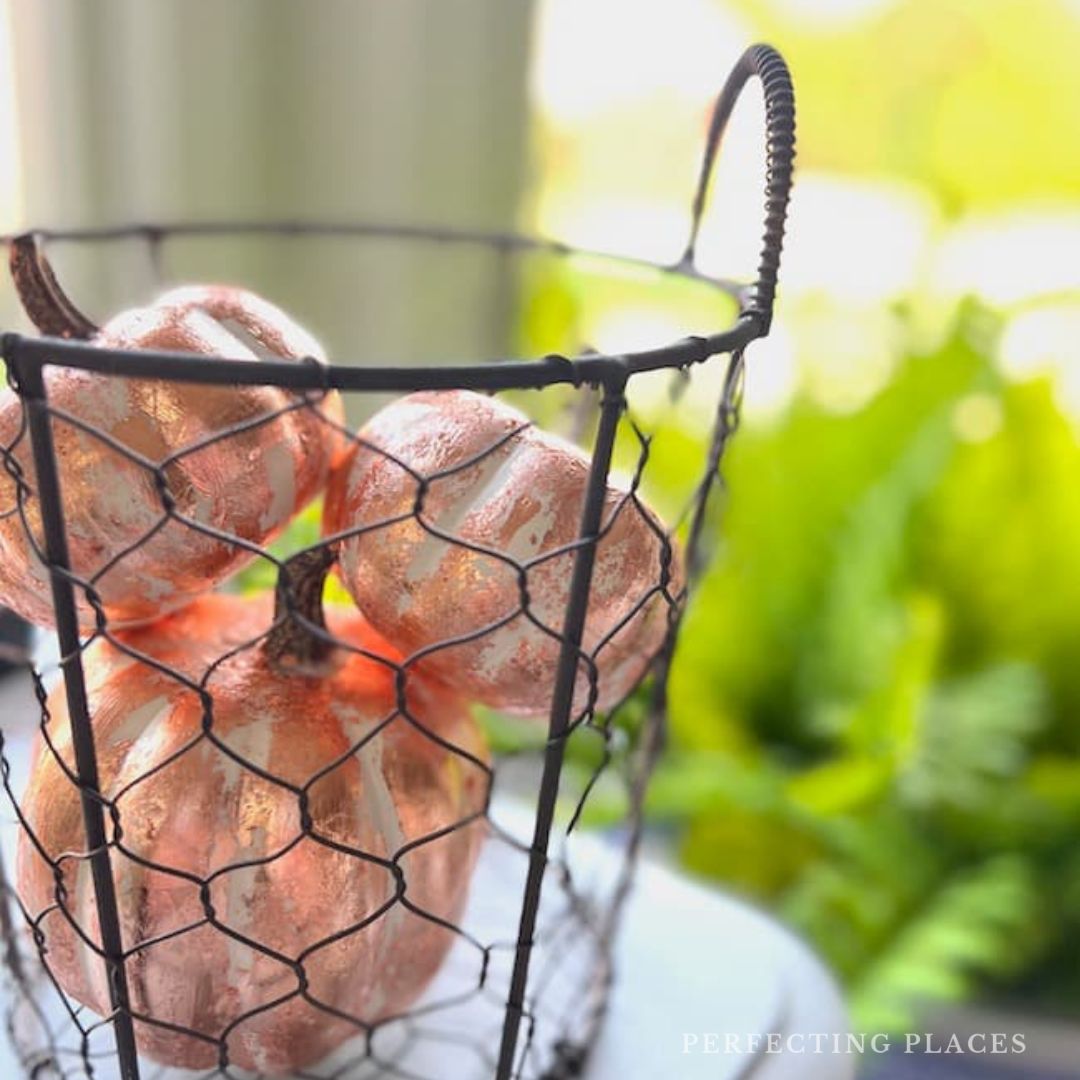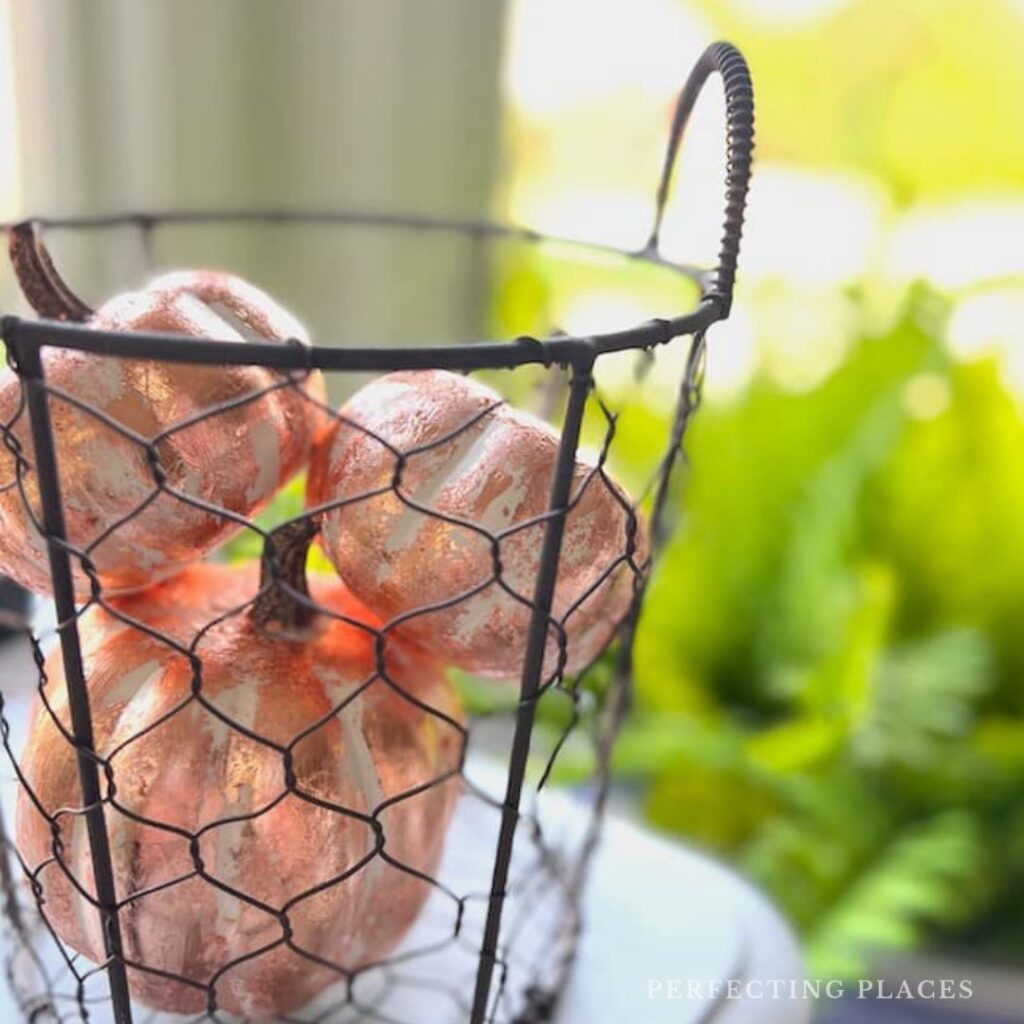 I updated some faux pumpkins this fall with rose gold leafing and absolutely love adding them to our fall decor! They warm up any fall centerpiece or display. You can read about them here in this pumpkin post.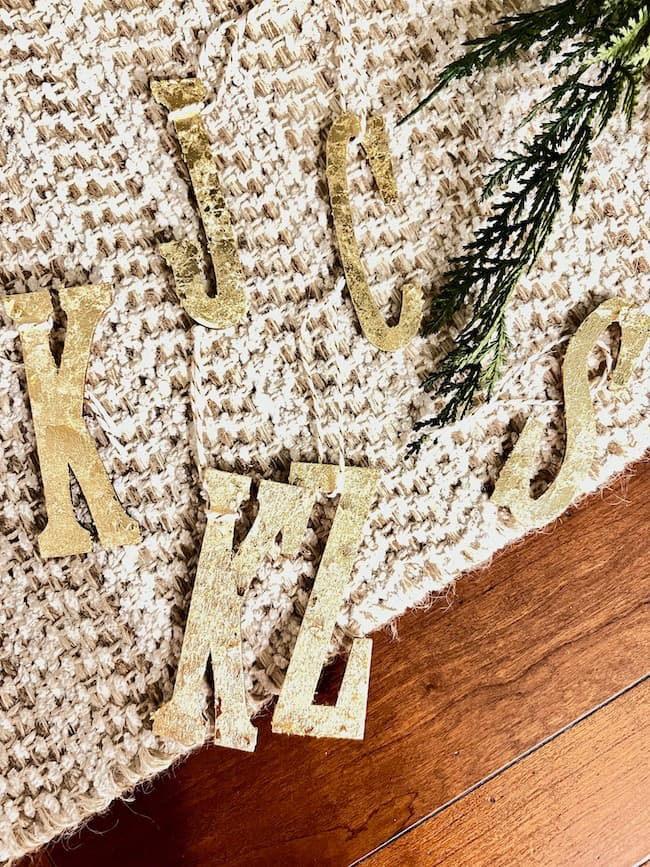 Think creatively and apply metal leaf to small wooden letters. These gold leaf letter Christmas ornaments were a fun Christmas craft project and a pretty addition to our Christmas tree. You can see how I made them here. They would be a perfect addition to a fall tablesetting as place cards.
Shop the Post

Have you used metal leaf before? I hope this DIY rose gold leaf candle holder project inspires you to try something new and add a little extra sparkle to your home decor.
It's such a fun and easy way to get a new look in your home, and it's perfect for any season!
Happy gilding!!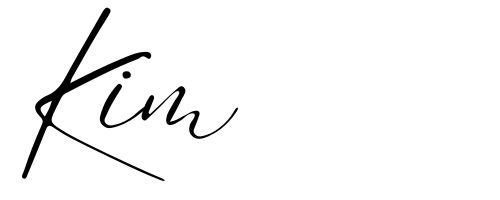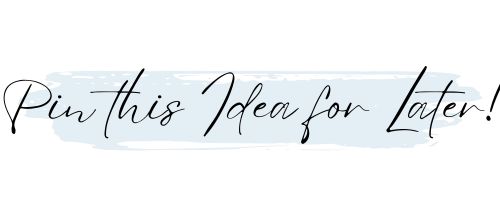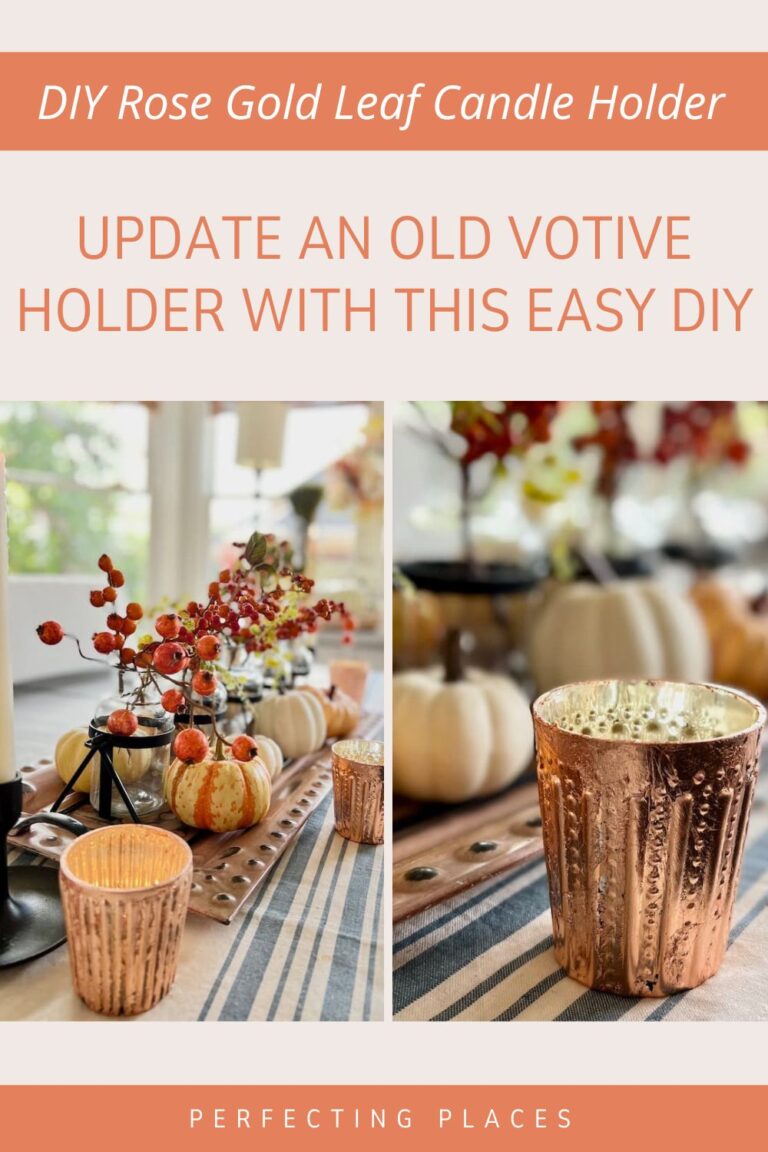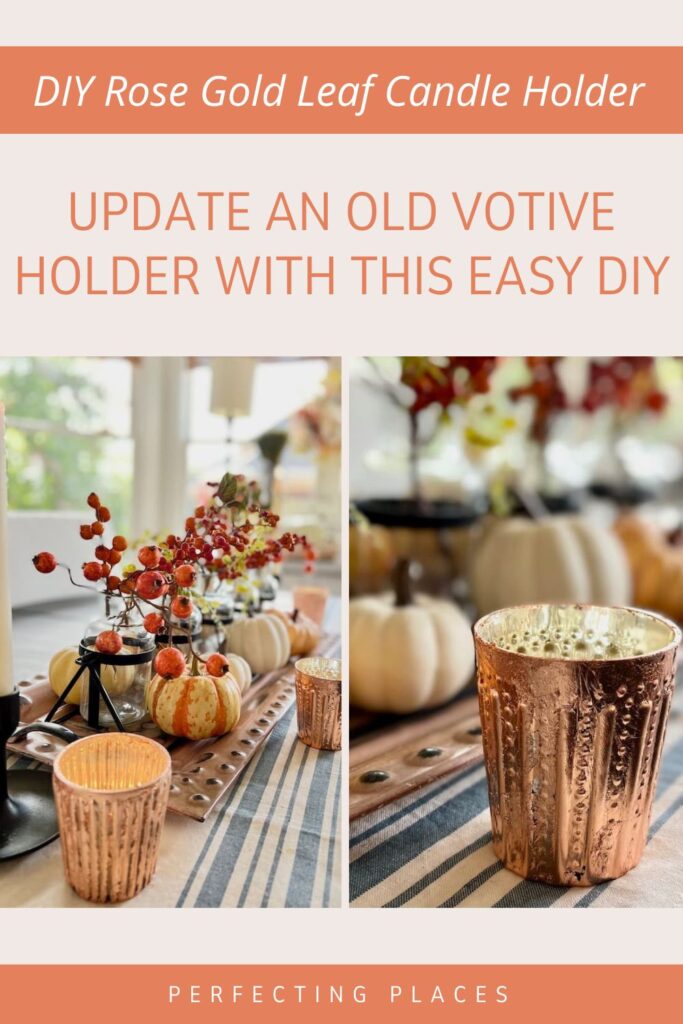 By the way, do you follow me on all the socials?? If not, check out my Pinterest, Instagram, and Facebook and be sure to follow me on all the socials so you don't miss out on any of my decorating and DIY ideas!