Choosing Colors for Fall Decor for Home
Do you love to decorate with neutrals or colors in your fall decor? I'm sharing colorful fall decorating ideas to help you choose a color palette for fall decor for home.
Fall is a perfect time to inject warm color into your home's color palette! When the outside landscape is painted in brilliant colors set against a clear blue sky backdrop, it's a great time to warm up your home's interiors with vibrant fall colors. Even if you're a fan of neutral color schemes, some muted shades of fall color can really warm up your home.
(This post contains affiliate links, so I may earn a small commission when you make a purchase through links on my site at no additional cost to you. As an Amazon Associate I earn from qualifying purchases.)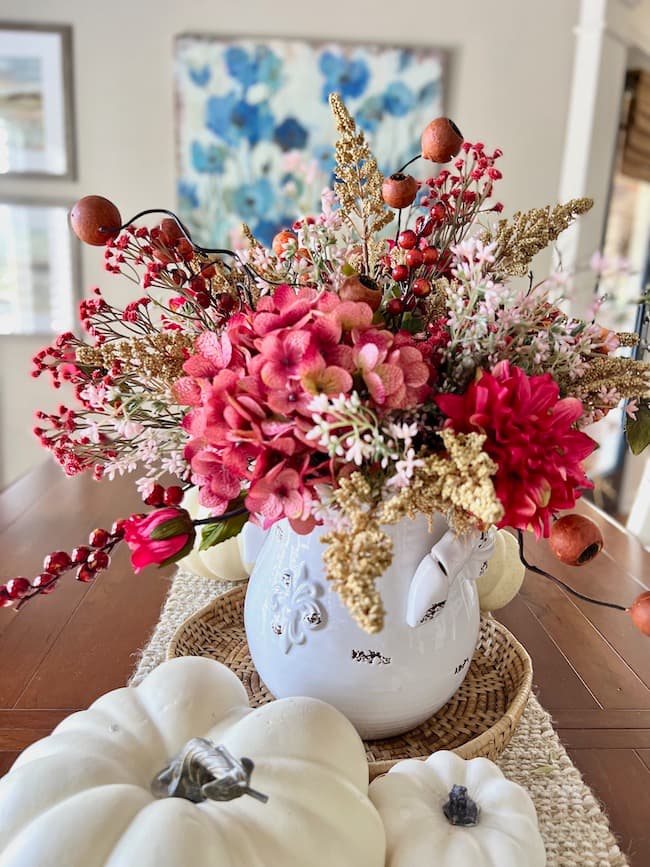 Can you feel it? Fall is just around the corner. 
It's almost time for football games and bonfires … 
… hayrides and trips to the pumpkins patch …
… apple cider and pumpkin muffins (although you just might find pumpkins muffins any time of the year in our home)!
I'm starting to feel all the warm and cozy fall feelings and getting ready for time to snuggle up to a cozy autumn fire.
Soon, the summer heat of August will start to fade into cool September evenings, and I've been cozying up our living room and dining room spaces with pretty warm colors of fall.
Today, I'm sharing the color palette I'm using in the fall decor for our home, and also thought it would be fun to explore some other pretty color palettes for fall decor to help you decide what's perfect for your home!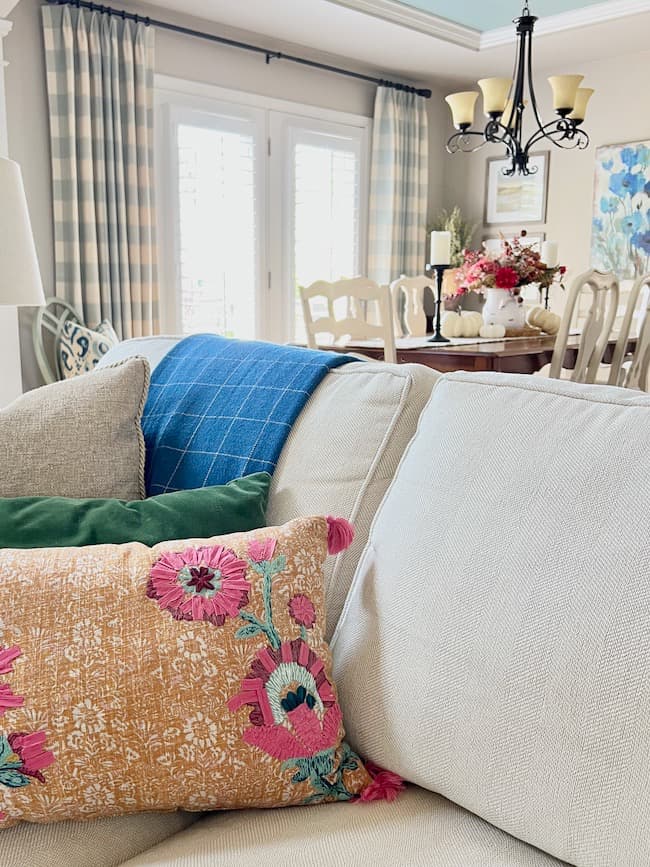 How to Choose a Color Scheme for Your Fall Decor:
Decide if you want a more neutral color scheme or if you want color. If you're like me, you like to switch things up a bit each fall. But, I almost always tend to land on color throughout each season over sticking with neutrals. Neutrals are pretty and soft and soothing, but I'm a pretty traditional girl at heart, and I usually enjoy incorporating some traditional seasonal colors into our home from season to season.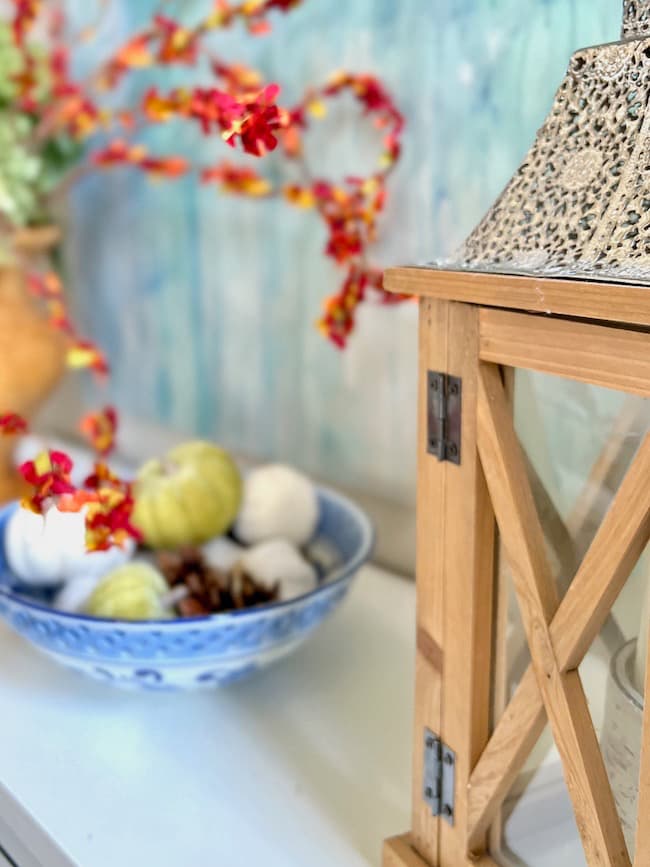 That being said, all of the fixed elements and main wall colors in our home are pretty neutral (at least for the time being – wink, wink). So, the beauty of a mostly neutral color scheme is that it makes it easy to introduce and change out our accessory colors with each season.
If you want some fresh color ideas for fall, scroll through Pinterest or Instagram to get ideas for fall decor color schemes that inspire you. Visit a local store and notice which colors you're drawn to. 
If you have a neutral palette to begin with, you really have the option of going in lots of different directions with your fall decor. 
You can read about my favorite warm neutral paint colors here!
The main thing is once you've decided on the colors you want to use, repeat those colors in several places around your room to add balance and move the eye around the room. If you've suddenly injected the color orange on your mantel only, and haven't used it anywhere else in your room, the mantel color will feel out of place. 

So, add a small arrangement incorporating that color choice on a coffee table, or a bit of the color in a throw pillow on your sofa. The idea is to repeat it enough that it becomes an element of your room's design and it will make the room feel more balanced with the newly added color.
Using Traditional Fall Colors in Your Fall Decor:
I'm loving traditional fall colors this season. Our living room normally includes a lot of blue throughout the year, so I'm choosing colors that complement the color blue. 
I also love rich greens for fall, and since green is so hot this year (especially sage green), I've added a few green touches to our living room in the throw pillows, greenery, and even some green pumpkins. 
If you're looking for a great sage green paint color, check out this post about how to decorate with sage green!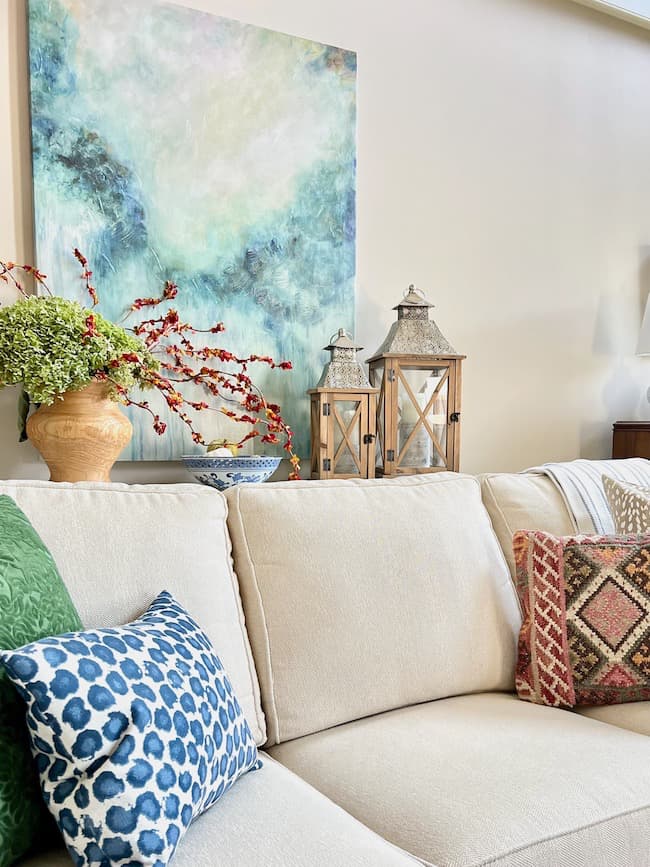 I'm also loving cranberry and orangey-reds with hints of muted blush and rose, so I'm adding patterned pillows which include those colors.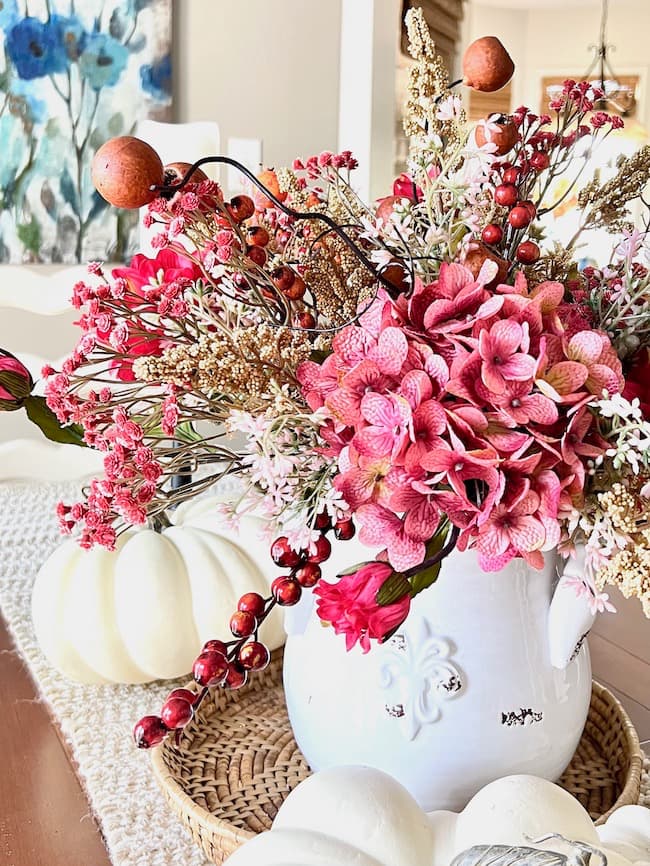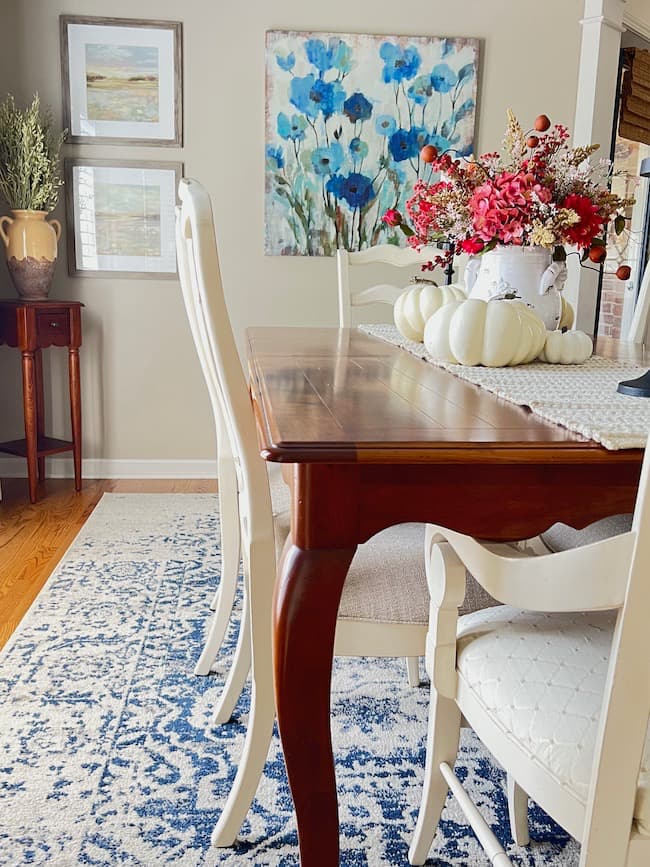 I've also created a colorful centerpiece for our dining room table with those gorgeous fall flowers in cranberry, blush, and terracotta in a fresh white vase. White pumpkins complete the look and make the fall reds pop! I love how these pretty colors look in our dining room with our blue and white rug!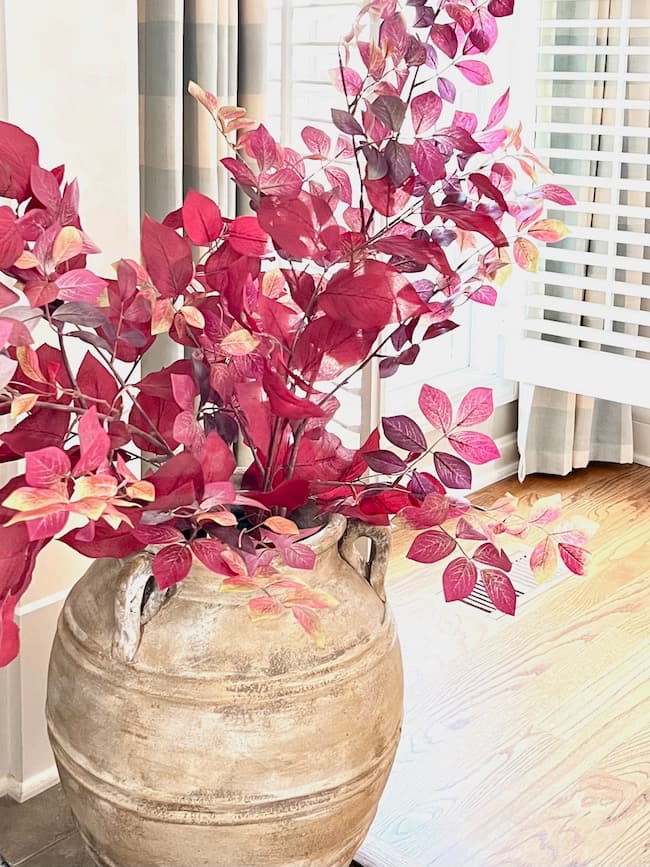 I made over this large vase for fall and added some gorgeous cranberry and red fall branches. You should see the before of the vase! I'm so thrilled with how this vase makeover turned out, and it was so easy to do! You just might be surprised by what I used to achieve this "aged" look!. It's the perfect rustic neutral vase to use with all of our fall colors!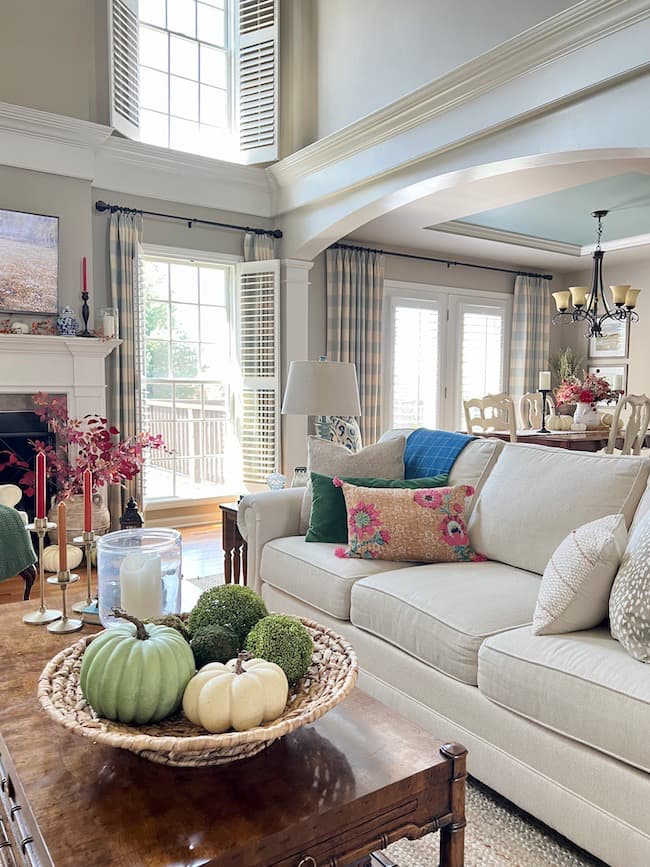 I added colorful fall taper candles in pretty shades of warm red, terracotta, and gold to our coffee table, and on our mantel. I just love pairing these warm colors with our blue and white. The orange bittersweet branches woven into our blue and white accessories on the mantel blend the colors of fall with our blue and white decor.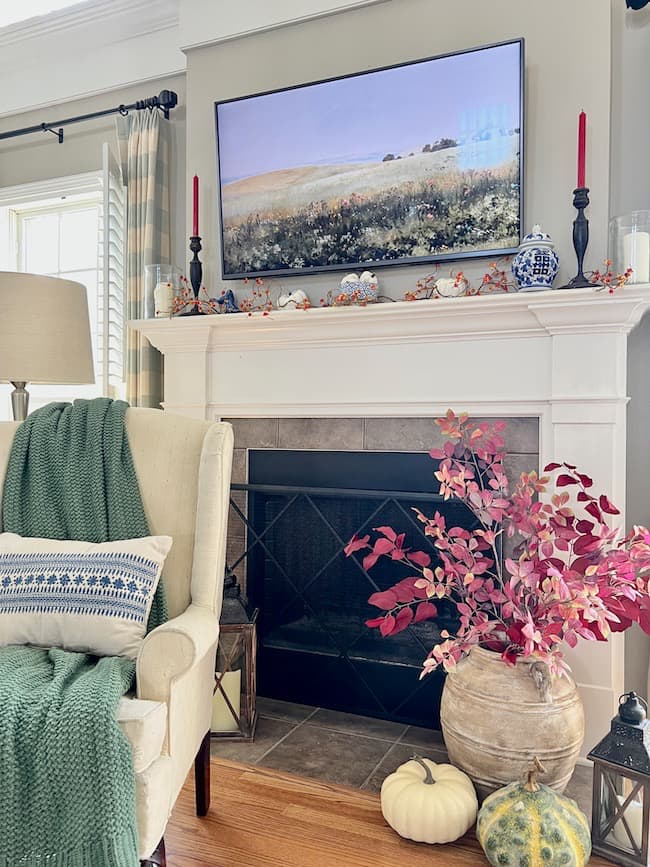 … and the touches of velvety green just feel rich and cozy.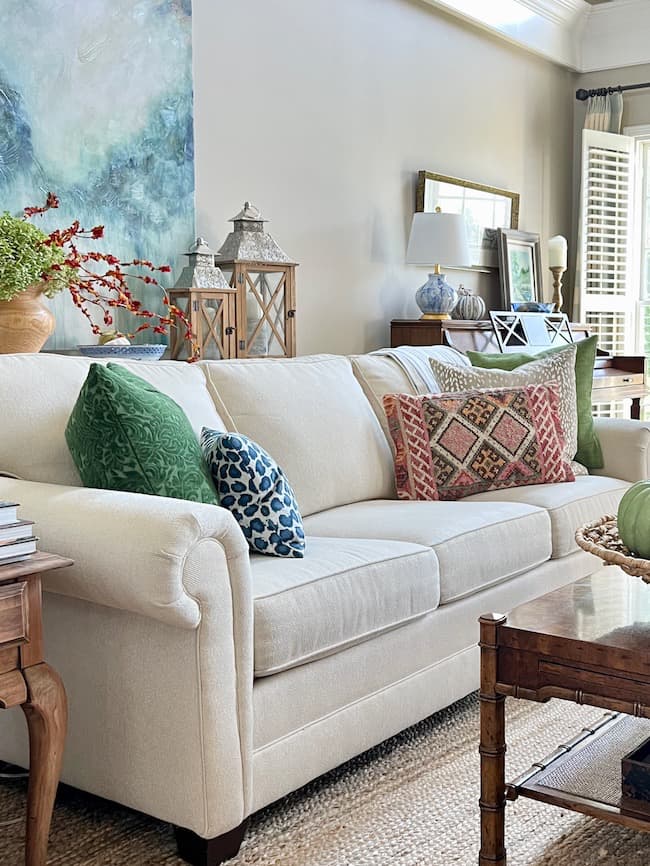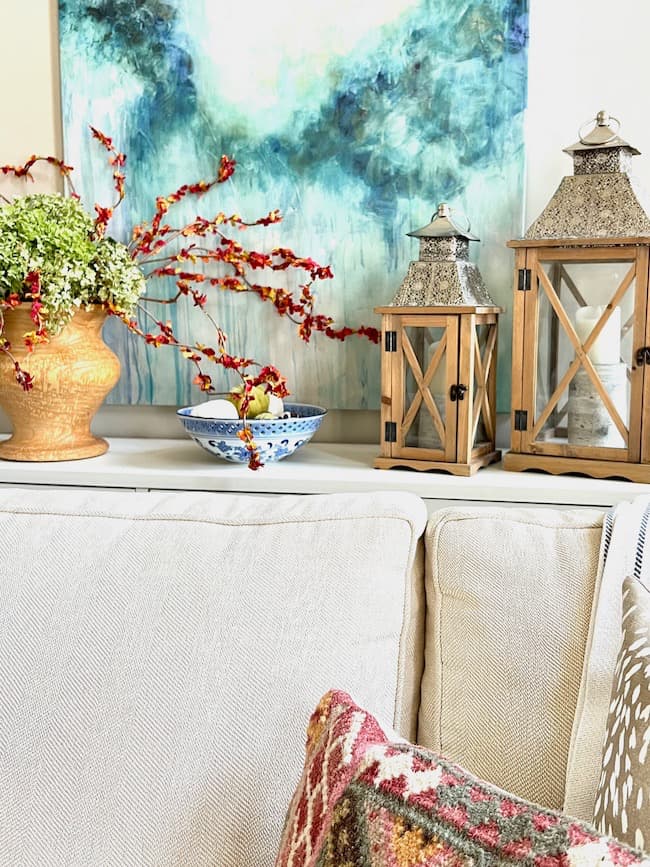 Fall Finds for a Rich Colorful Fall Color Scheme:
If you love the rich color scheme I'm using in our home this fall, the following items will help you achieve similar look in your home.
Other Fall Color Schemes to Try:
If a vibrant fall color scheme isn't for you, you might enjoy some of the other color palettes I've put together! Check out all of the options below. Whether you love neutrals, hints of muted fall colors, or blue and white with pops of fall orange, you're sure to find a fall color scheme that's perfect for your home!
Neutrals with Muted Terracotta :
I'm loving the soft shades of terracotta against a neutral backdrop! Add some pretty real or faux white or peach-colored pumpkins into the mix and you're ready to go!!
Blue and Orange Color Scheme for Fall:
Does blue and white decor make your heart sing? I love blue and white all year round for a classic traditional look! Since blue and orange are complementary colors, orange is a perfect fall color to use in your blue and white color scheme. It's such a fresh and happy look for fall!
Greens and Browns for Fall Decor:
Sage green is all the rage right now, and fall is the perfecting time to add a little sage green to your home. I love the toned-down look of green paired with shades of brown for fall. It's a classic, comfortable look that feels warm and cozy.
All Neutral Fall Color Scheme:
And, of course, no matter the style of your home, a neutral color scheme is peaceful and serene. It's so pretty to add natural elements and textures for a cozy fall home!
Hopefully these color ideas will help you put together the perfect fall color scheme for your fall decor this year! There are so many possibilities to choose from, but start with your home's existing color palette and go from there.
You'll have a beautiful home all decked out for fall in no time!!
Happy Fall Decorating!
For more fall decorating inspiration you might enjoy:
An Easy Early Fall Wreath for Front Door Decor
Our Colorful Fall Decor Home Tour
Fall Front Porch Ideas to Transition from Summer to Fall
Be sure to Pin this idea for later!!