Set a Beautiful Table with these Thanksgiving Table Runner Ideas
Are you hosting Thanksgiving dinner this year? Create a beautiful tablescape with these Thanksgiving table runner ideas.
The table is the heart of the Thanksgiving holiday with family and friends gathered around in wonderful conversation and laughter. Treat your guests to a lovely thanksgiving table setting with these easy, but gorgeous ideas!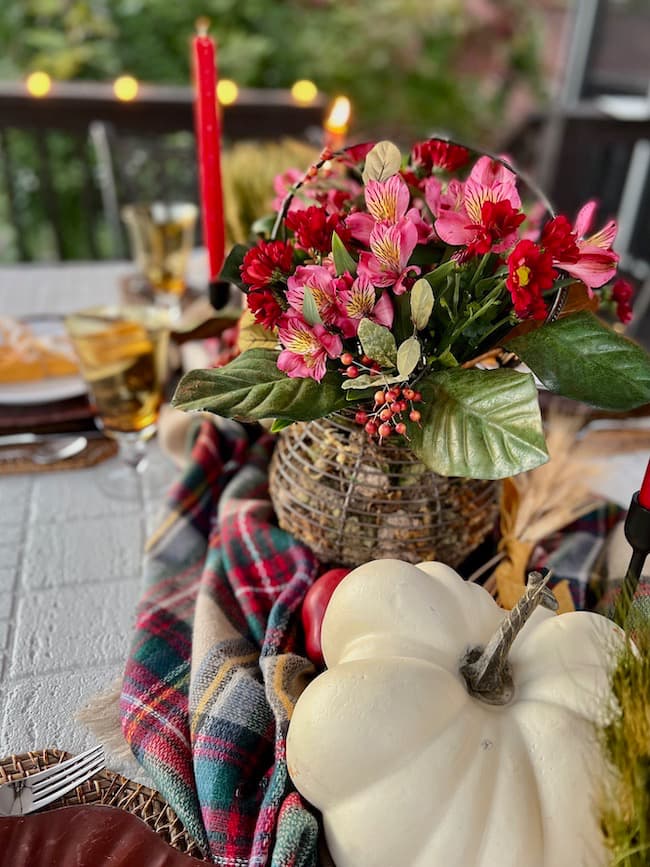 (This post contains affiliate links, so I may earn a small commission when you make a purchase through links on my site at no additional cost to you. As an Amazon Associate I earn from qualifying purchases.)
Ah, Thanksgiving!
It's actually one of my favorite holidays.
I love the simplicity of gathering with family and friends around the table full of delicious food to give thanks for the good gifts from the Father.
A time to stop and reflect and be joyful and give thanks for the abundant blessings in our lives.
Sometimes it's easy (especially in the busyness of blogging and influencing and shopping and recommending) to rush past this simple holiday of gratitude straight to the excitement of Christmas, and that's unfortunate.
Because in this world full of all the stuff we collect and display and create and concoct, to rush past it all without stopping to give thanks to the One who endows us with these amazing gifts and all the goodness of life would be a shame.
So, today I'm sharing a way to celebrate this sweet holiday by creating a simple "unfussy" Thanksgiving table set outside in the natural beauty of the outdoors.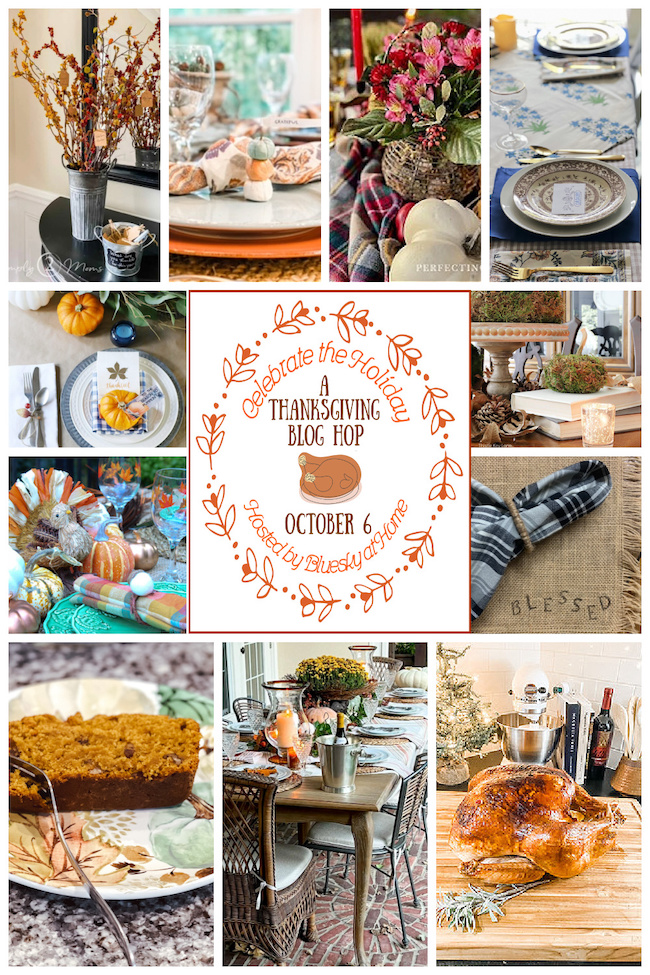 And the best thing – I get to share in this celebration with 10 other very sweet and talented blogger friends!!
We're sharing lots of wonderful Thanksgiving ideas in our Celebrate the Holiday Thanksgiving Blog Hop!! You can see photos and links to all the blogs on the tour at the end of the post.
In the spirit of Thanksgiving, I'm so grateful to Carol from Bluesky at Home who is the very gracious host of our blog hop!!
And, if you are joining me from my very talented friend, Lynn, from Living Large in a Small House, then I know you're already full of gratitude for the wonderful tips she shared for a stress-free Thanksgiving!!
If you're new here, I'm Kim, and I love sharing lots of great decorating and DIY ideas for your home! I'm so thankful you're here!! Welcome to Perfecting Places!!
I'm so excited to share some simple and creative Thanksgiving table decor ideas with you!
Thanksgiving Table Runner Ideas for a Beautiful Outdoor Table: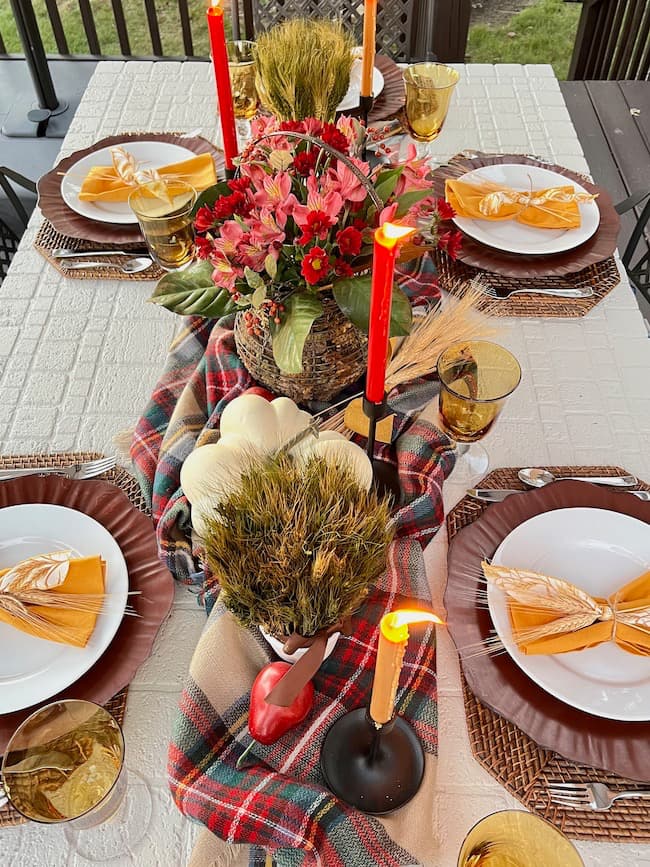 Set the scene for your beautiful holiday table with an outdoor dining room on the deck!
Don't you just love to eat outdoors? The beauty of the great outdoors is the perfect setting for a pretty Thanksgiving table. If your weather allows for it, add a fresh new twist this Thanksgiving by setting an outdoor table.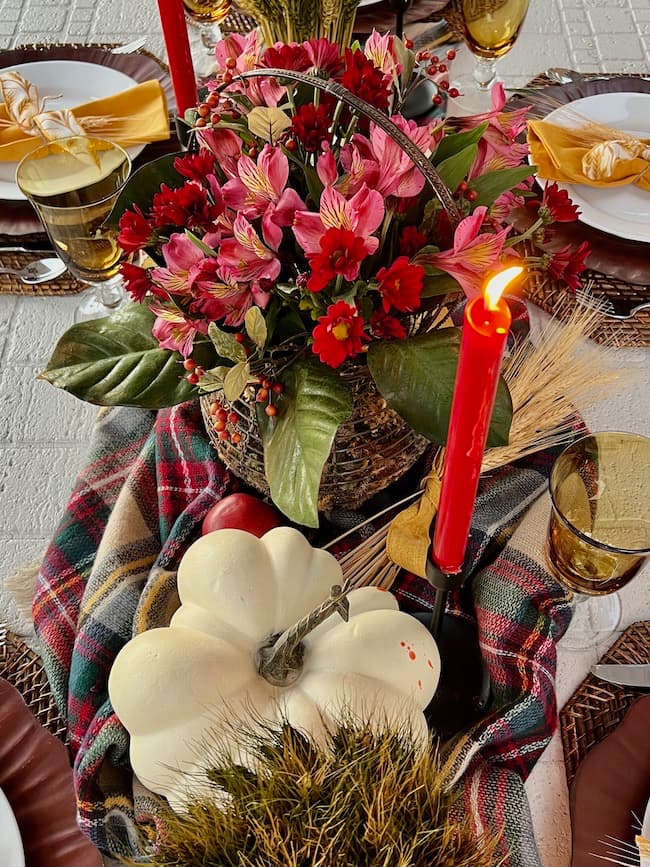 I created a cozy and relaxed, yet elegant tablescape on our deck table. This summer our deck table received a little makeover, so I thought it would be fun to set the Thanksgiving table outdoors.
If you're hosting a more intimate gathering of close family, an outdoor dining area is a simple, more casual place to gather together. If you have a larger family or friend group, it's a great way to extend your seating to accommodate a large gathering.
Of course, the weather will determine if an outdoor Thanksgiving table is a possibility for you. In Kentucky it's a toss up. But, if your holiday is warm, it's a pretty place to celebrate together.
A Great Idea for a Creative Table Runner: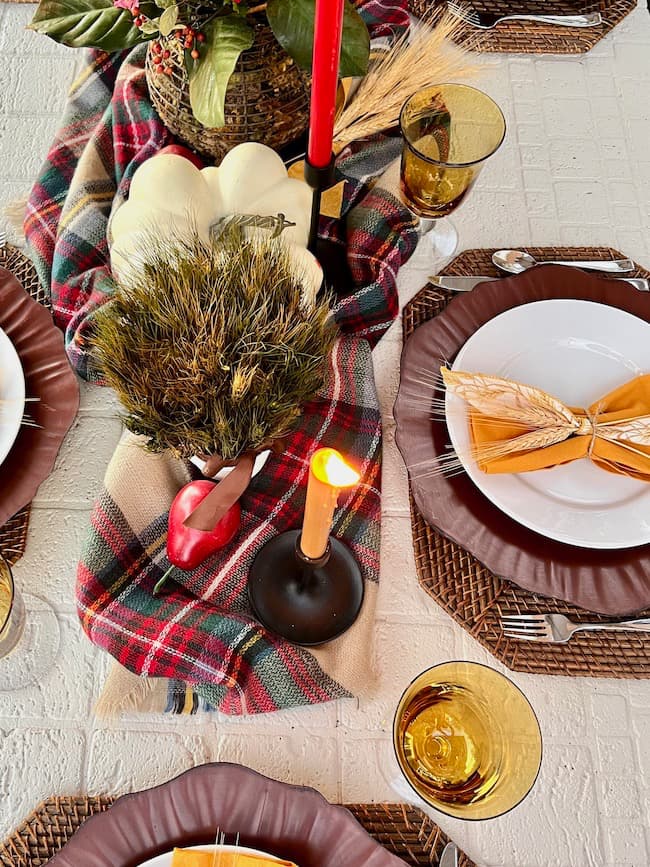 I must confess that my table runner idea was born out of a need to blend a little Thanksgiving with a little Christmas.
It's not at all uncommon for bloggers to have Christmas decorations on display before Thanksgiving, and that's certainly the case for me!
However, Thanksgiving deserves its own table decor.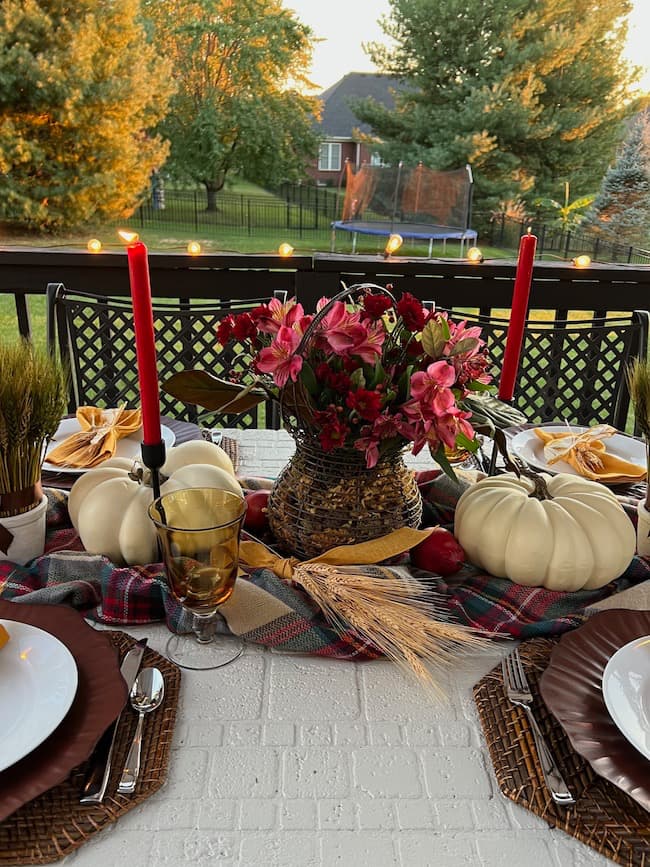 Our Christmas tree stands near our dining table since our living and dining space is an open concept area.
This idea for a plaid "tablecloth" came to mind when trying to blend the Thanksgiving and Christmas themes together. The plaid "runner" actually isn't a tablecloth or table runner at all! It's a fashion blanket scarf!
The colors of the scarf are a perfect blend of Thanksgiving and Christmas, yet still feels fallish. They're perfect for the color palette of our Thanksgiving table!
I thought the plaid scarf would be the perfect addition to this outdoor Thanksgiving table, so I decided to use it once again!
I gathered the blanket scarf down the center of the table to serve as the table runner for the tablescape.
The gathered scarf adds more dimension to the table than a traditional flat table runner, so it adds a lot of visual interest to the table.
Other table runner options for a similar look:
It's fun to think out of the box for table decor ideas. If you don't have a blanket scarf on hand, you could also use a colorful blanket, an actual fall tablecloth, a piece of fabric, or even a pretty bed sheet to achieve this casual table runner look.
And best of all, if you get chilly from eating outdoors you can wrap up in your blanket scarf after dinner!
(insert affiliates here – blanket scarf, plaid tablecloth or runner, etc.)
Shop the Look

Add a colorful floral centerpiece to the table runner to serve as the focal point of your Thanksgiving tablescape.
I love the rich color and rustic nature of the fall centerpiece. It's perfect for this outdoor table, and is the star of the show!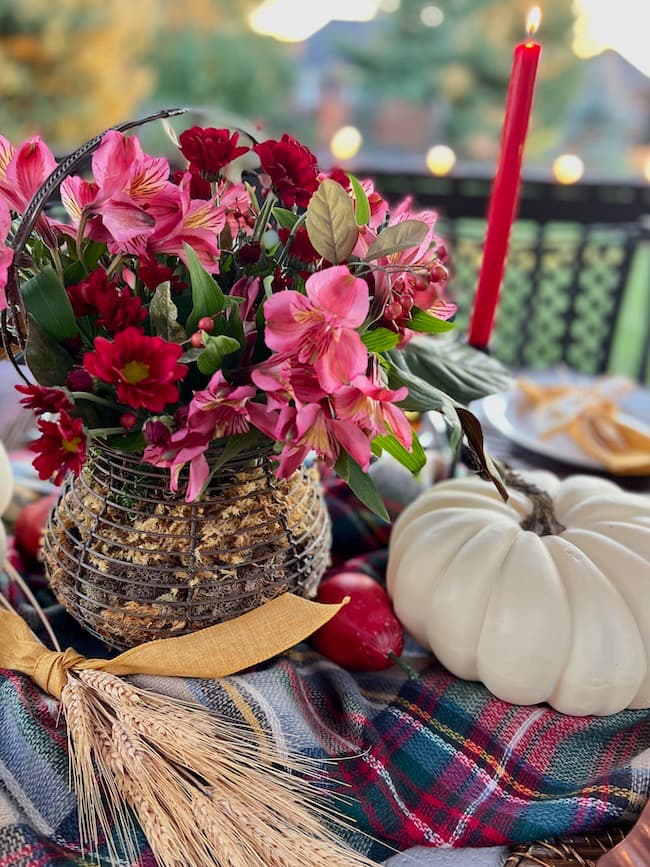 This wire basket has been in our home for years – way back when I sold Southern Living at Home products. Show of hands – who remembers those?
To create this centerpiece, I added a glass of water to the center of the wire basket.
I inserted moss between the glass and the basket to hide the glass. The moss adds another pretty natural element to the flower arrangement.
I'm loving the rich fall color scheme of these flowers! They're perfect with the fall colors of the plaid scarf. I'm really leaning into shades of red this fall, and I love the addition of the pink!
The pink alstromeria and dark crimson mums are a favorite color combination this year, and I love how pretty they look with the scarf.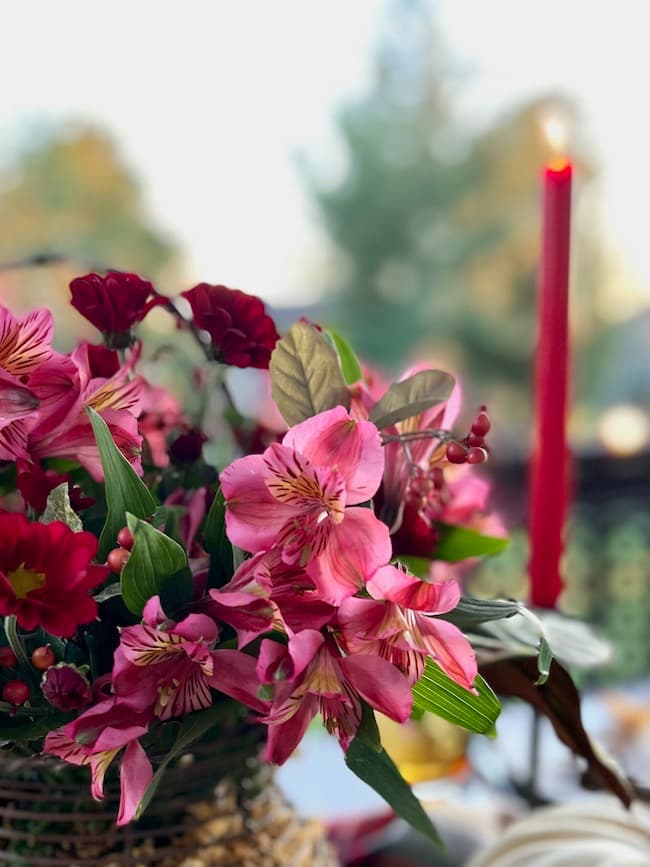 It's a really simple centerpiece using just two types of flowers, but I love how the colors look together. These flowers are common inexpensive grocery store varieties, so anyone can creative this arrangement!
A Handy Tip for Creating Floral Arrangements:
One thing I love to do is combine real floral and natural elements with faux stems and florals in a centerpiece, and I did just that in this arrangement.
Don't tell anyone, but the magnolia stems in the arrangement are faux, and so are the small berries. (Shhhhhh ….)
Combining real and faux florals stretches your decorating dollar because you can use the faux stems year after year. Adding fresh flowers into the mix, tricks the eye and makes the faux stems look real.
Shop the Look

Add other Thanksgiving decorations to the table runner to create this easy Thanksgiving centerpiece!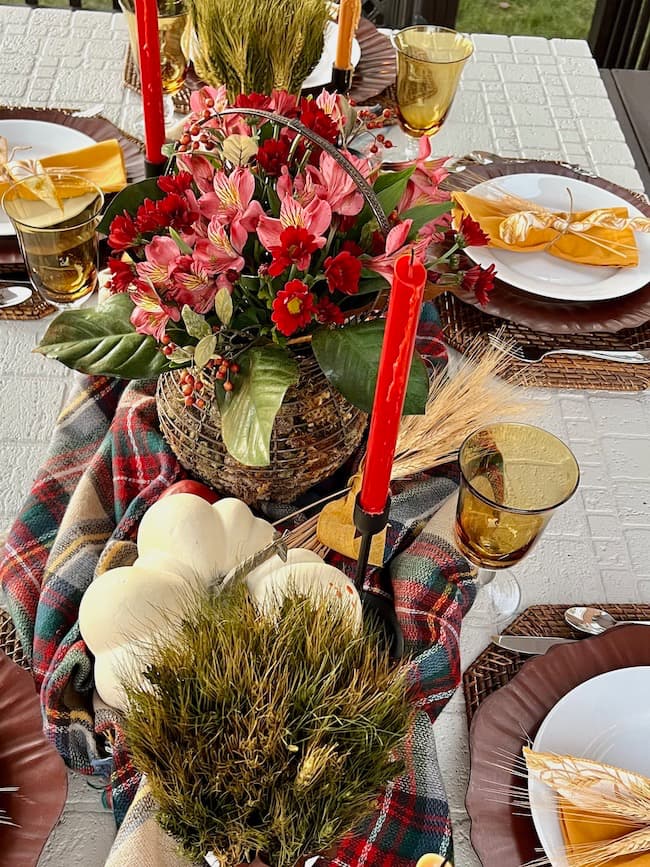 1. I added faux white pumpkins to the table. The white pumpkins add beautiful contrast to the rich reds, pinks, and greens of the centerpiece.
As with the floral stems, you can combine real pumpkins with faux pumpkins to create this look.
2. Faux red pears are scattered along the table runner to add more natural elements. You could also use fresh pears in a variety of fall colors.
3. The potted wheat bundles are a perfect fall decoration for the table. Small wheat bundles are some of my favorites to use around our home.
4. These cranberry red and gold candles are perfect colors for this tablescape, and the black candle holders add a more casual feel to the table.
5. The wheat spray tied with gold ribbon is another way to add natural fall elements to the table runner.
If you don't have these particular fall decorations on hand, you could also scatter pine cones, faux leaves, cinnamon sticks, or mini pumpkins down the center of your table to add pretty natural elements to the table runner.
Shop the Look

Creating the Thanksgiving Place Settings: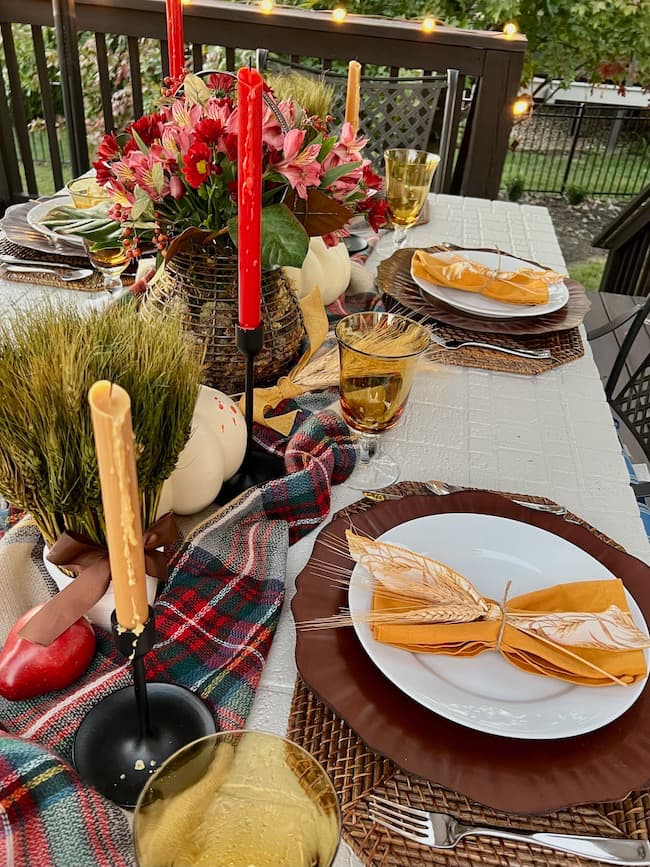 Create gorgeous place settings by starting with a foundation of dark brown woven placemats and then add brown metal chargers.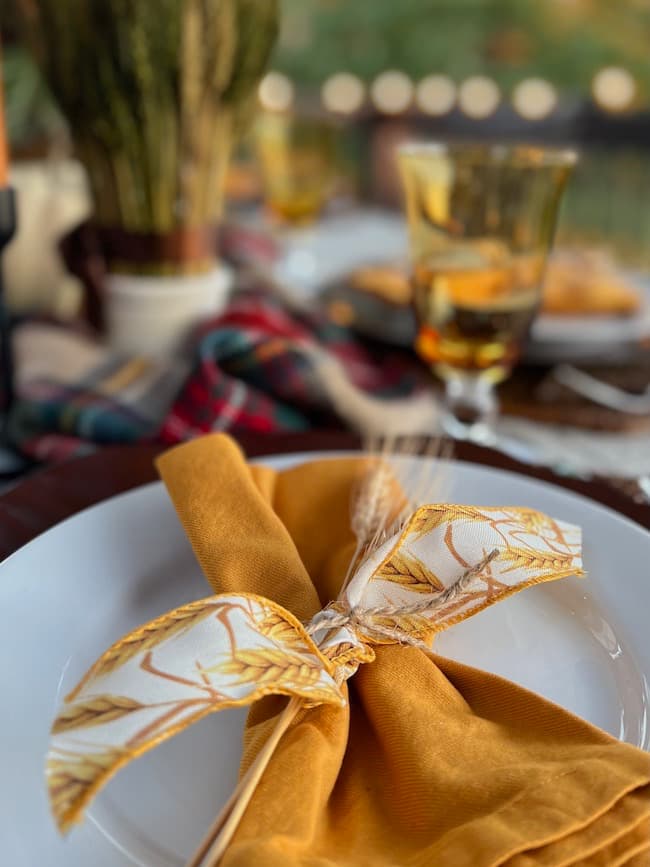 Simple white dinner plates add contrast to the rich colors and repeat the white of the pumpkins.
Gold linen napkins add a vibrant splash of color.
A sprig of wheat tied with gold and white "wheat" printed ribbon serve as "napkin rings" at each place setting.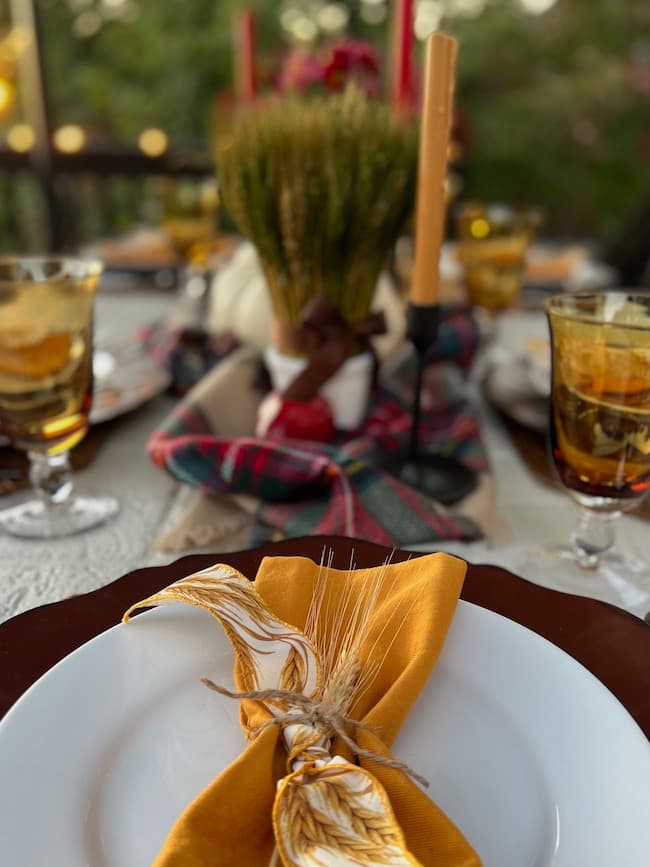 I'm using our stainless flatware, but gold flatware would be lovely!
I added amber stemware to complete the fall look.
Shop the Look

Create ambiance for your outdoor dining area with a strand or two of lights around the deck.
The lights, combined with the gorgeous early evening sky, fall leaves, and the golden glow of the sun reflecting off the pine trees, create the perfect backdrop for a memorable meal with those you love around the dinner table.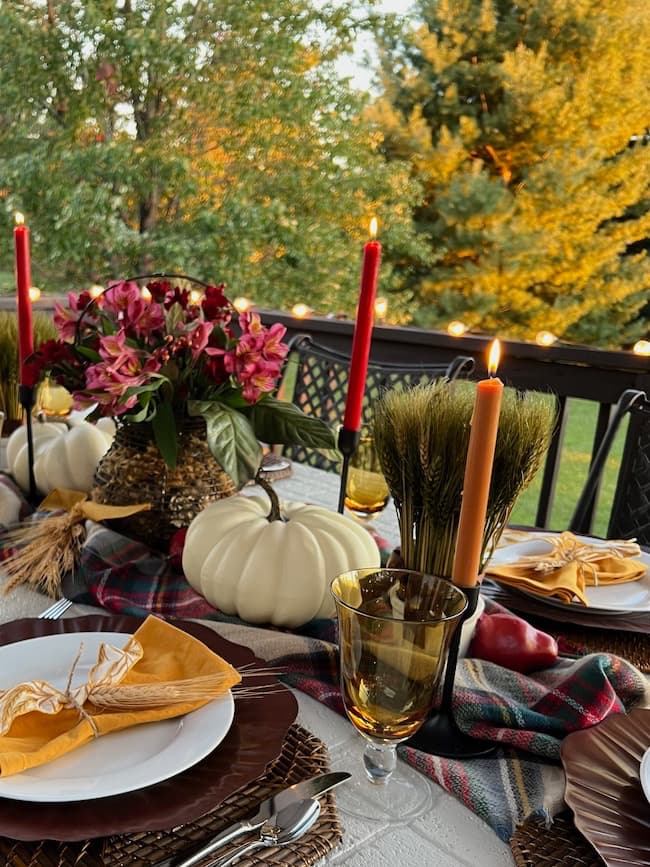 I'm so thankful that you stopped by today! I hope these simple Thanksgiving table runner ideas inspire you to use your creativity as expression of your own gratitude as you celebrate this special occasion!
The next stop on our Celebrate the Season Thanksgiving Blog Hop tour is the very creative Regina of Saved from Salvage! She's sharing some wonderful Thanksgiving DIY ideas you won't want to miss!!
Be sure to visit all of the other amazingly talented bloggers in our Thanksgiving Blog Hop! There are so many great ideas to use for the holiday!
Celebrate the Season Thanksgiving Blog Hop
Happy Thanksgiving, friend!! I'm so thankful for you!!
If you love these Thanksgiving table runner ideas be sure to save this post for later!