Colorful Thanksgiving Table Decor Ideas
Don't you just love the colors of fall? Try these colorful Thanksgiving table decor ideas to add a splash of color to your fall tablescape!
I think turkey and dressing just taste better when surrounded by a beautiful Thanksgiving tablescape — especially one overflowing with color! With November just around the corner, it's time to start thinking about ideas for Thanksgiving table decorations!
And speaking of color, if you ever need a little color inspiration for your table, just head to Trader Joe's! Don't you just love Trader Joes's flowers? All those beautiful flowers at such great prices!! It's so hard to settle on just one bunch!
A trip to Trader Joe's on a day when they were fully stocked with beautiful vibrant colors resulted in this idea for a Thanksgiving table scape overflowing with color —which seems to be a theme for me this fall!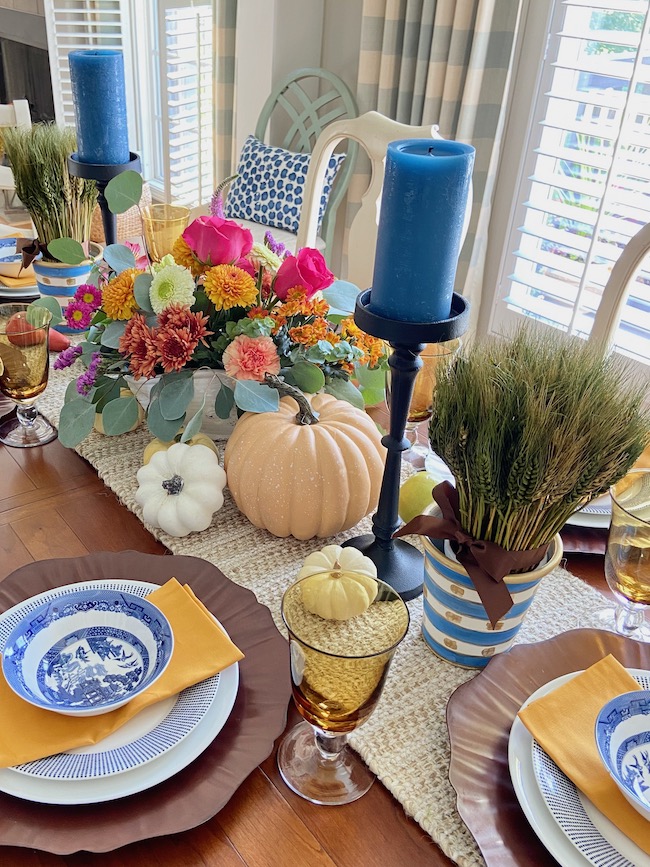 I created an arrangement using beautiful hot pinks, purples, oranges, golds. And of course, the Trader Joe's flowers are the star of the show! 
(This post contains affiliate links, so I may earn a small commission when you make a purchase through links on my site at no additional cost to you. As an Amazon Associate I earn from qualifying purchases.)
First Create the Thanksgiving Table Centerpiece: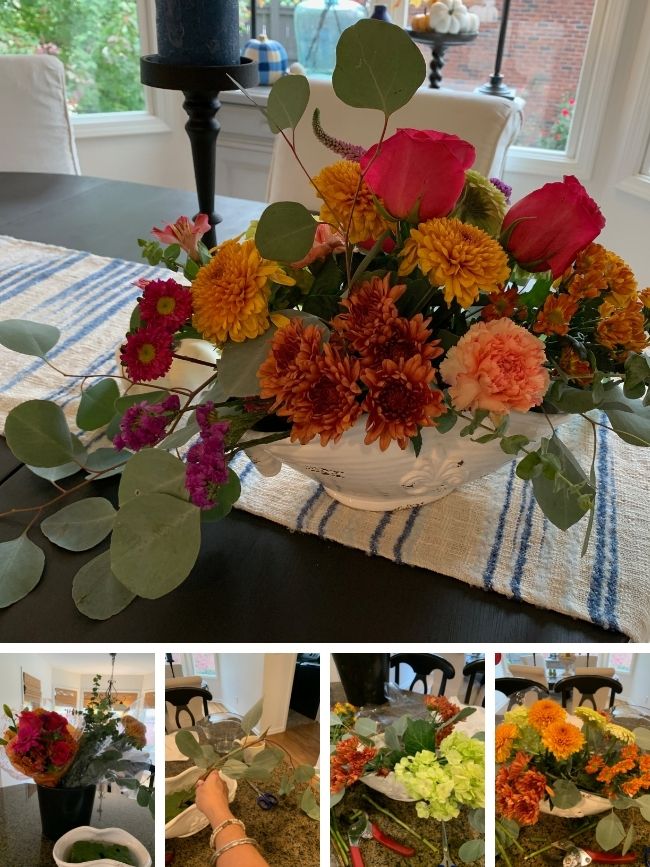 I started with a selection of flowers and greenery, including bright pink roses, gold chrysanthemums, white zinnias, purple statice, green hydrangeas, and eucalyptus. Special thanks to the sweet Trader Joe's clerk who fetched a flower bucket for all my flowers!
I used a small oval bowl and soaked oasis foam for securing the flowers in the arrangements. When creating a fresh floral arrangement like this, you want to use the wet oasis foam, not the dry kind.
I started by adding the fresh eucalyptus around the base and then anchored the arrangement with the large hydrangea bloom.
Next, I grouped bunches of the different yellow and gold mums around the bowl, making sure the arrangement looked balanced on all sides — which is important since this is a table centerpiece. I added the white zinnias and finished with the pink and purple blooms for surprising fall color.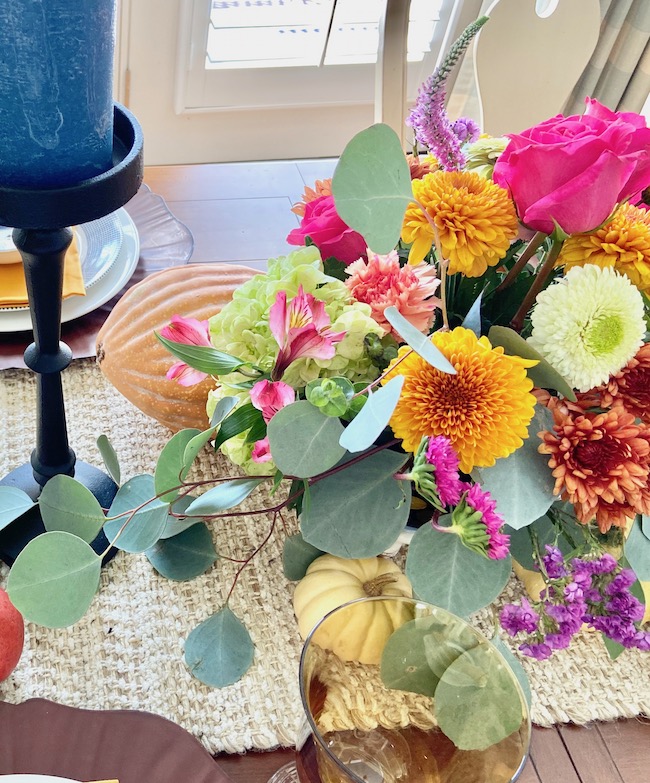 Add a textured table runner to your Thanksgiving table scape:
I used this favorite jute runner on the dining room table to serve as a neutral base for all of the color. It not only provides a neutral backdrop to all of the color, but it adds pretty texture to the tablescape as well.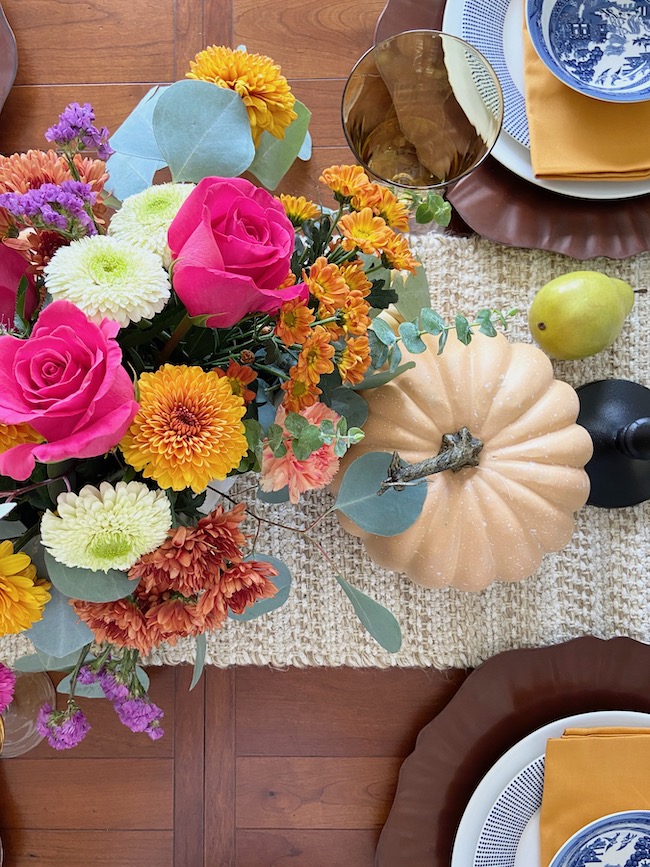 The hot pink and fushsia flowers just pop against the natural jute runner! I added faux pumpkins and gourds in shades of peach and pale orange, small white pumpkins, and red and green faux pears scattered along the table runner.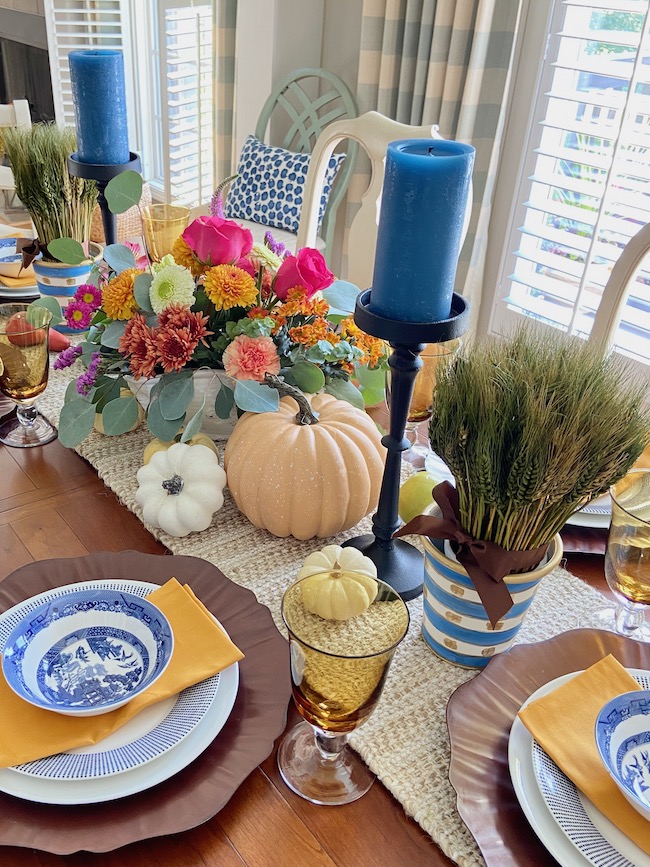 I love the pinks and purples combined with traditional fall oranges and yellows. It's fun to think outside the box when it comes to fall color, don't you think?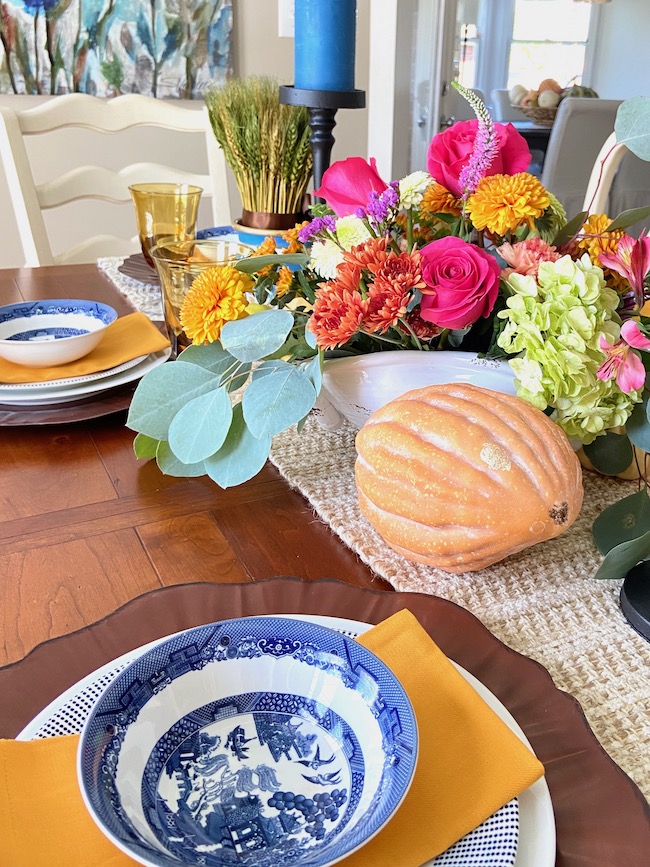 Create the blue and white and gold place settings:
My blue and white Blue Willow fruit bowls add even more vibrant color — and you know, I love my blue and white! I added them to  blue dotted luncheon plates and out white porcelain dinner plates.
The golden yellow dinner napkins add even more pops of bright fall color!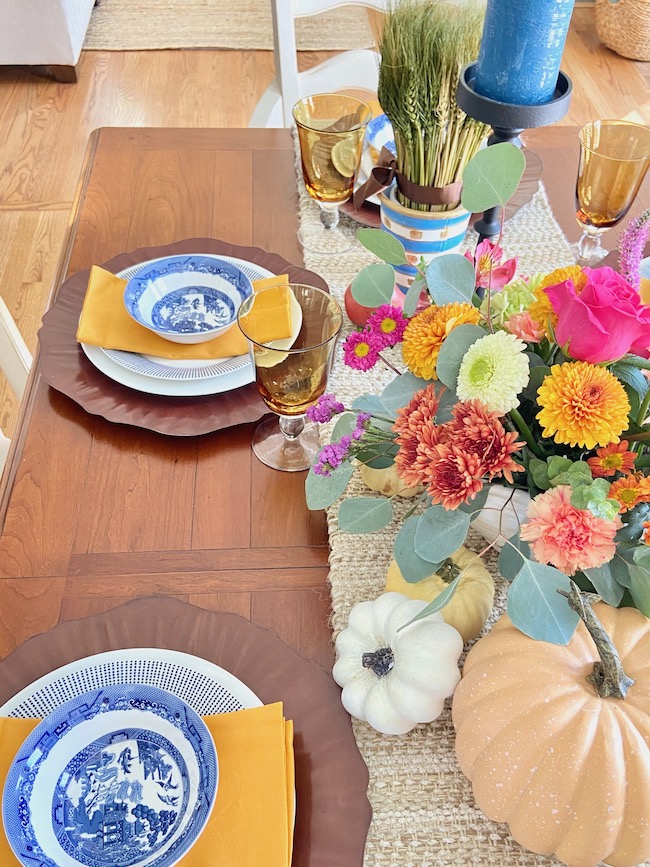 The amber stemware and brown chargers add more traditional fall colors to remind you that this IS a fall table scape even with all those bright hot pink flowers!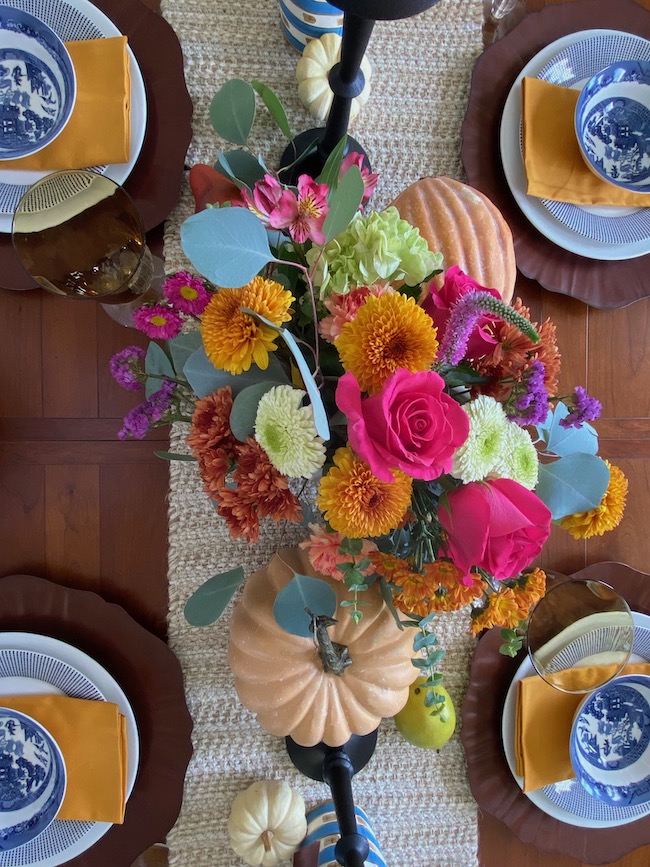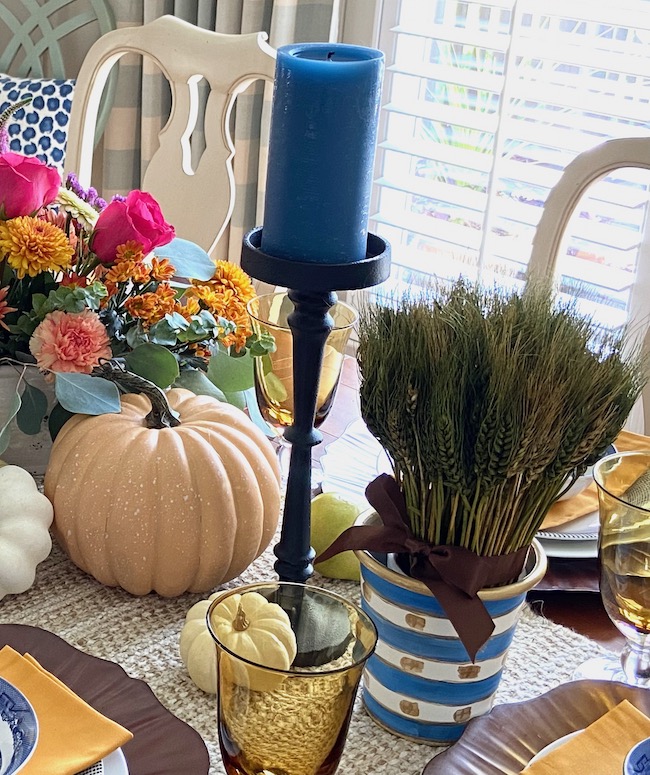 Add additional touches of fall decor.
Create little wheat topiaries for the fall table scape. I hand-painted these little DIY cachepot planters. I used small galvanized metal pots, and painted them in a blue and white striped pattern with touches of gold trim. Then, I added the small wheat topiaries to them for pretty fall texture.
Blue pillar candles in black iron candleholders add height and repeat the blue color theme on the table.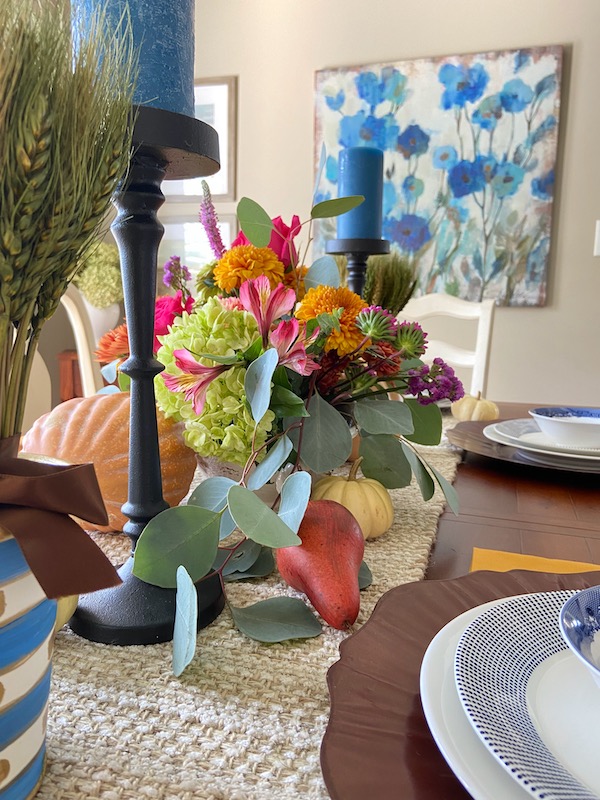 It's a colorful table just perfect for all the colorful conversations that will happen here between family and friends over the Thanksgiving holiday.
Decorate the Kitchen Table for Thanksgiving Dinner:
Don't forget the kitchen table!! If you have lots of guests, you're sure to need to seat guests in your kitchen, so your kitchen table needs a little Thanksgiving love, too!!
On the kitchen table, this large round basket (one of my favorite TJMaxx finds) overflows with colorful gourds, pumpkins, and fruit — a mix of real and faux. I love the colorful mixture of orange, peach, white, and green! Mixing real and faux pumpkins is a great way to extend your decorating dollars. You just have to remember to toss the real ones at the end of the season!! I love the little red berries added to the mix!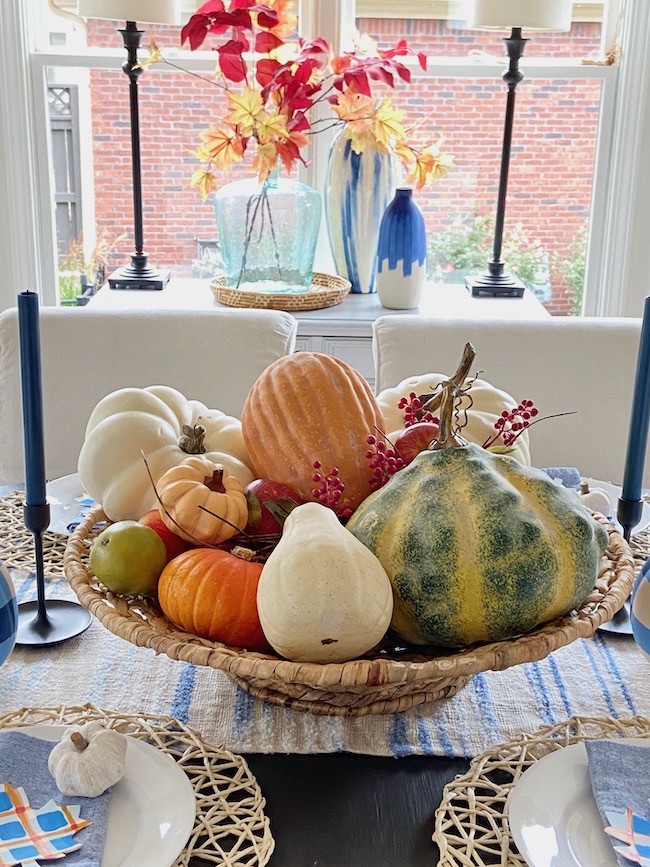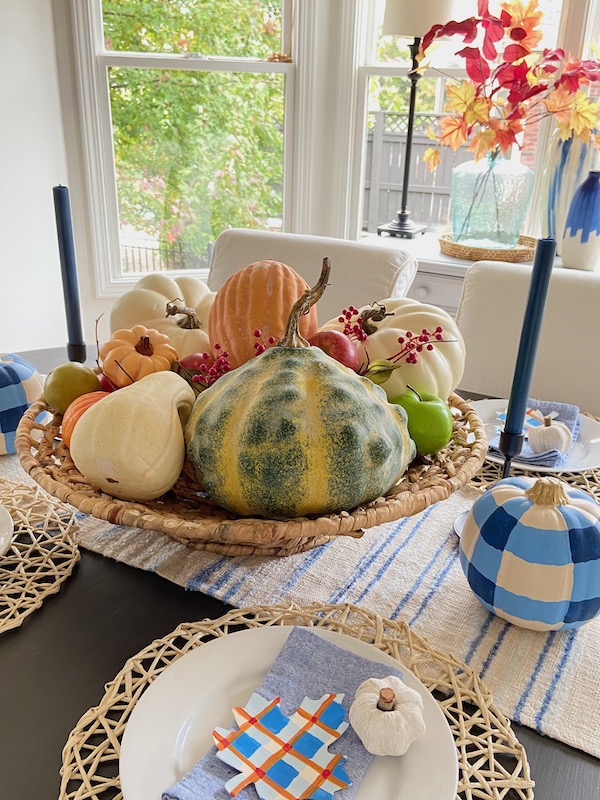 I added a few DIY touches of plaid to the kitchen table. These DIY blue and white plaid pumpkins and painted plaid leaves t add color and fun to the kitchen table. You can even add names to the leaves and use them as place cards.
A striped blue and cream table runner anchors the kitchen table scape and adds more pretty blue color!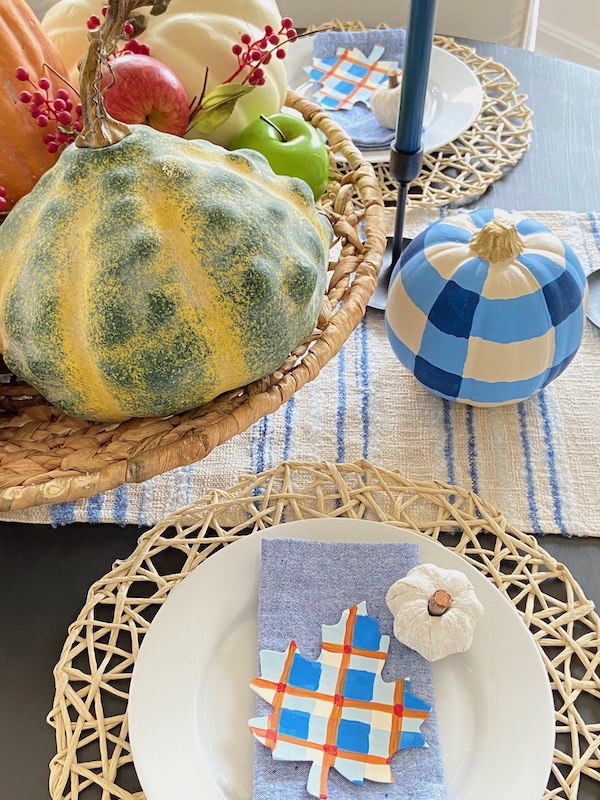 ---
SHOP THE LOOK
You can click on the pictures below to shop for similar items to create the look of this colorful Thanksgiving table scape!
---
Have you started planning your fall table scape yet? I hope these colorful Thanksgiving table decor ideas inspire you to add a little extra color to your Thanksgiving table scapes this year — in your dining room and your kitchen, or anywhere you seat guests on the special day.
What colors are you planning to use this year in your Thanksgiving tablescape? You might just make a trip to your local Trader Joe's for a little inspiration.
Thanks so much for stopping by!
Happy Table Decorating!!
Be sure to Pin these Thanksgiving Table Decoration Ideas for Later!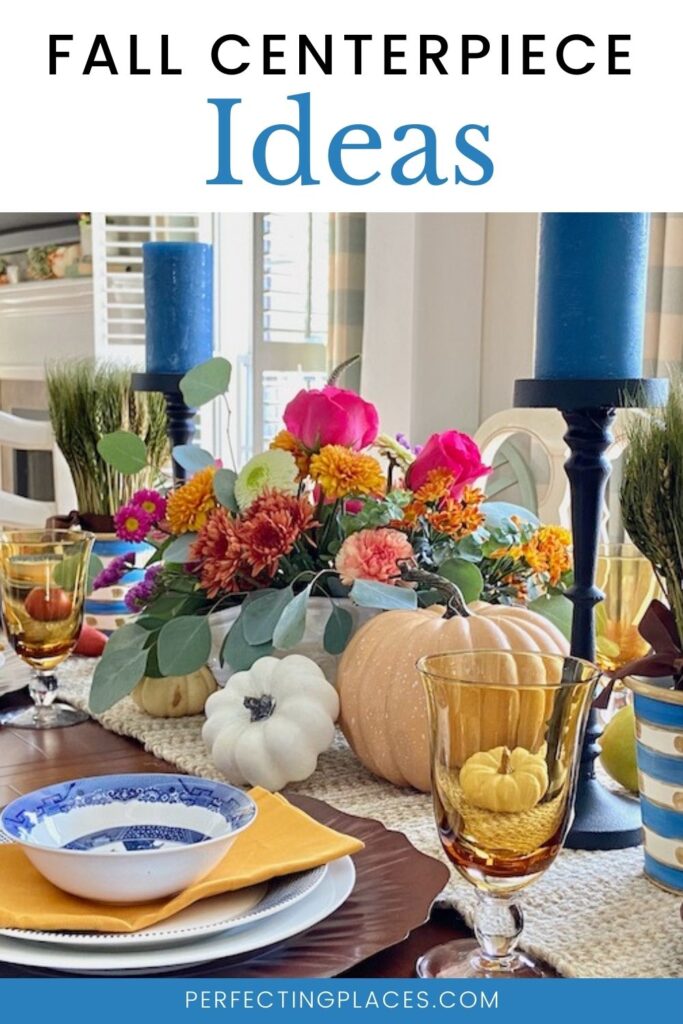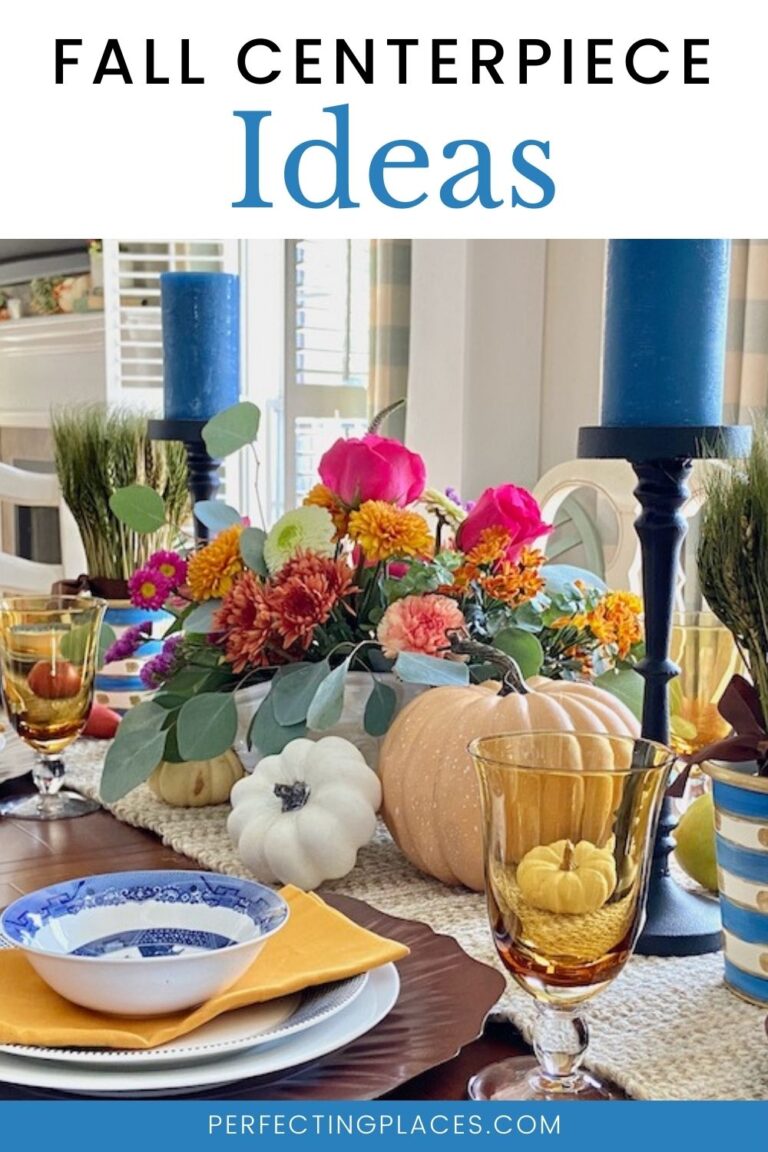 Do you follow me on all the socials??
Be sure to follow me on Pinterest, Instagram, and Facebook  so you don't miss out on any of my fall and holiday decorating ideas!!
For more Fall Decorating Ideas you might also enjoy:
Choosing Colors for Fall Decor for Home
Paint a Vase for a Fall DIY Makeover
Our Colorful Fall Decor Home Tour