The Best Fall Pillow Ideas for a Classic Home (2023)
Want to make your home look cozy for fall? These fall pillow ideas will create a warm inviting ambiance in your home this season.
Decorating with throw pillows is one of my favorite ways to transform our living room room for fall.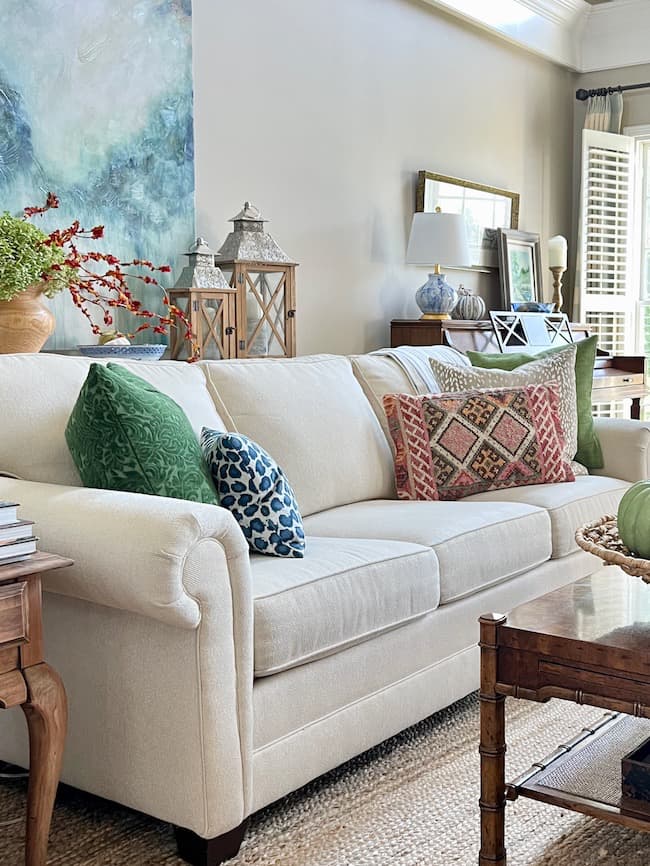 (This post contains affiliate links, so I may earn a small commission when you make a purchase through links on my site at no additional cost to you. As an Amazon Associate I earn from qualifying purchases.)
Oh, how I love throw pillows!
I love the cozy textures, the printed designs, the fun stripes, the cozy plaid pillows — the list goes on and on. When each new season arrives, throw pillows do the heavy lifting of establishing the color scheme for the seasonal decor in our living room.
I love to let the textures and colors of the fabrics speak to the season without being overtly fall-themed, particularly in our living room.
Today, I'm sharing some of my favorite fall throw pillows and pillow covers.
With the autumn season just around the corner, there's no better time to add warmth and coziness to your living space — both inside and out. Everything just feels a little cozier in the fall, and it's the perfect time to give your home decor a little refresh to embrace the beauty of the season.
One of the easiest and least expensive ways to achieve a new cozy look for autumn is by incorporating fall throw pillows. These decorative pillows not only add lots of texture and comfort but also bring in the vibrant colors of the season however you choose to express them — whether in subtle neutrals, vivid jewel tones, or vibrant warm hues.
Adding new throw pillows or pillow covers is one of the best ways to create a welcoming and inviting atmosphere in your home for the season, and as my family will attest, as far as I'm concerned you can never have too many throw pillows!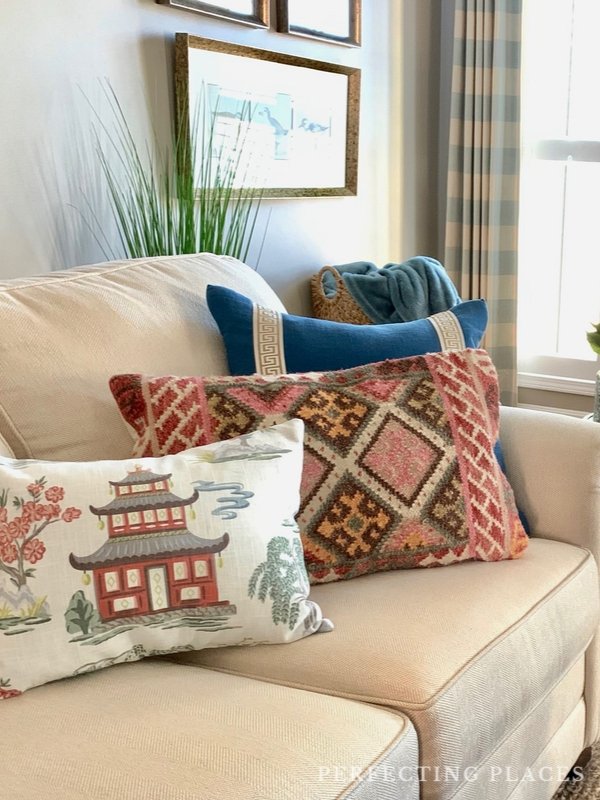 Embrace the Fall Colors that Speak to You
Fall comes alive with its amazing color palette of warm and earthy hues. While the traditional fall colors like deep reds, burnt oranges, and rich browns are reminiscent of leaves changing and the crisp fall breeze, there are also alternative color palettes that can capture the essence of the season in a fresh way. Consider muted purples, olive greens, rustic yellows, and even shades of blue or pink for a unique twist.
Shop Traditional Colors of Fall:

Golden shades of honey are all the rage this fall, and these pillows will add a touch of golden warmth to your living room with their velvety textures, embroidered details, and jacquard designs. Click the photos to shop.

From muted orange textures to red boho designs and classic dahlia prints, these pillows will add classic warm fall color to your living room.

Green is perfect all year long, and fall is no exception! These rich green pillows speak life into any fall decor scheme.
Shop Fall Neutrals:
If traditional fall color isn't your cup of tea, a predominantly neutral color scheme of tans, grays, and creamy whites can still evoke a cozy fall ambiance in a more subtle manner by using lots of texture in your throw pillows.

Adding decorative pillows in these variations on traditional fall colors can bring a unique touch to your home decor to your living room or even your front porch for fall. Choose colors you love — make it you, and make it beautiful!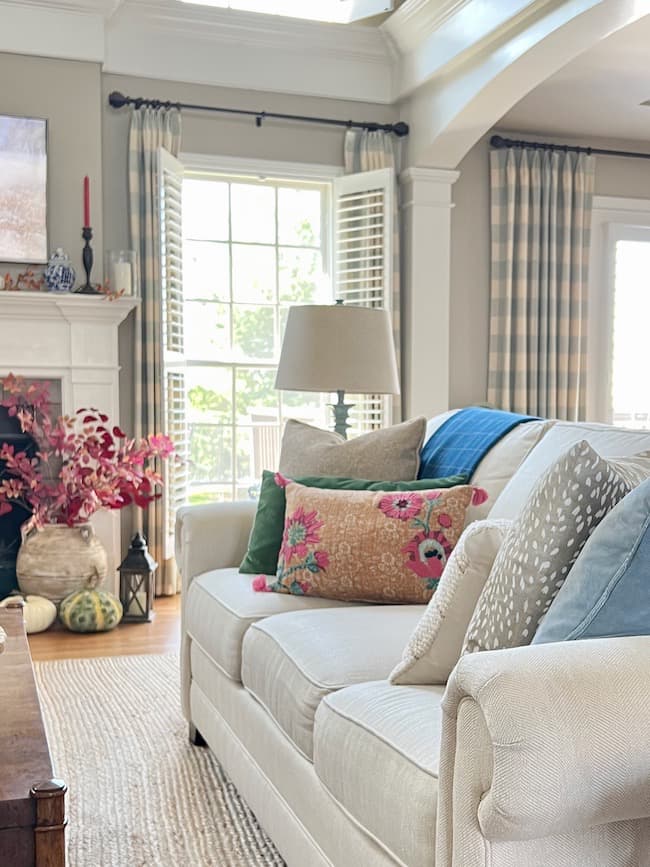 Incorporate Classic Patterns in Your Pillows
If you're like me, and love a fresh traditional home decor style, fall presents the perfect opportunity to blend traditional patterns into your room with throw pillows. Florals, paisleys, and toiles are go-to choices for beautifully patterned pillows in your fall pillowscape. The autumn season is the perfect season to feature these classic motifs that exude a touch of nostalgia and charm.
Shop Fall Prints

Nature-Inspired Accents
Nature plays a significant role in fall decorations, and incorporating nature-inspired designs in your decorative throw pillows is a great way to bring the outdoors in. Pillows adorned with leaves, pumpkins, acorns, and other autumnal motifs capture the essence of the season, connecting your interior decor with the changing landscape outside.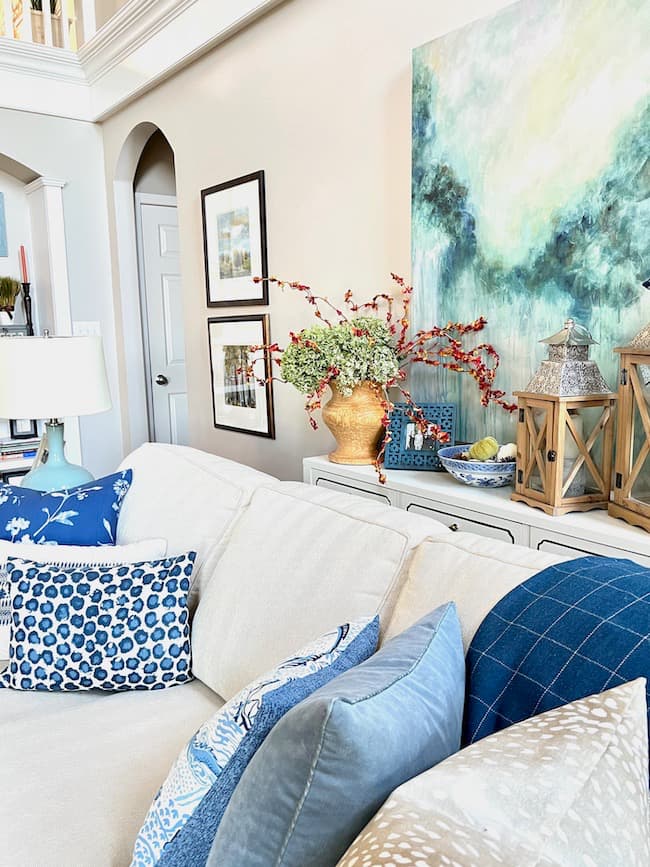 Mixing and Matching Patterns
Mix patterns, plaids, stripes, textures, and solids to create the perfect fall pillow combinations. Start with a textured or rich velvety solid color pillow as your base. Layer on patterned pillows featuring the designs and woven patterns you love.
Don't be afraid to mix different colors and patterns, as long as they stay within your chosen color palette. The key is to achieve a harmonious and layered look that reflects your unique style while embracing the spirit of the season. Have fun and be creative!
Shop Gorgeous Blues for Fall:
Blue is my favorite, and these rich shades of blue add depth all on their own or paired with more traditional fall colors.

Using Pillow Covers is an Affordable Way to Add Fall Color
Decorating your home for fall doesn't have to break the bank. Not everyone has an abundance of storage space to keep a large supply of seasonal pillows. Purchasing pillow covers instead of pillows is great way to save money and take up less off-season storage space.
You can even get creative and make your own DIY pillow covers using fall-themed fabrics to give your existing pillows a fresh look. By investing a little time and effort, you can achieve a new season's vibe without overspending.
What Size Pillows and Pillow Covers are the Best?
I always recommend using at least 20″ pillows on your sofa for a nice substantial look. Always use an insert that is a couple inches larger than the pillow cover. So, for 20″ pillow covers you need 22″ inserts for the perfect fullness.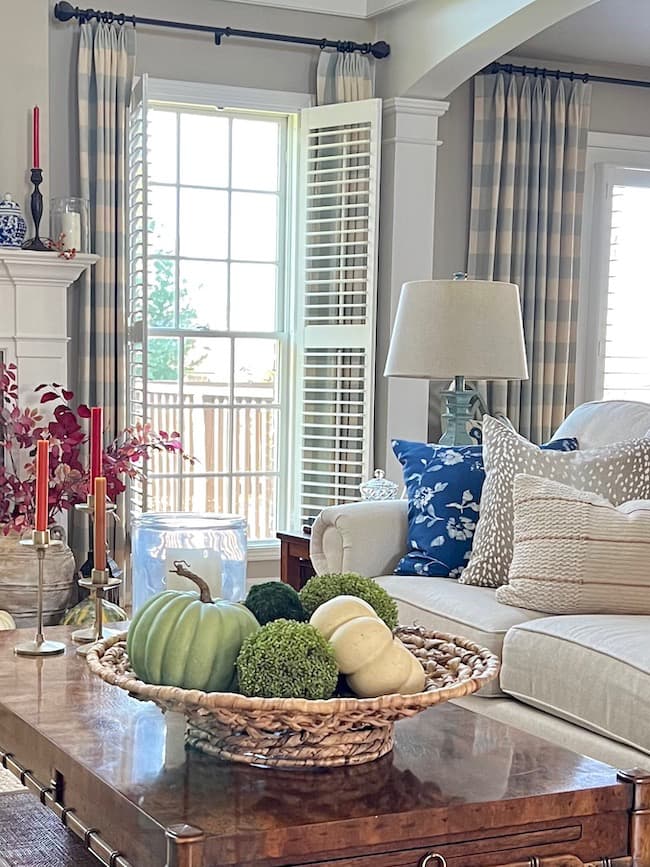 Layering and Arrangement
Achieving the perfect look with fall throw pillows involves more than just selecting the right pillows; it's also about arranging them thoughtfully.
Start by placing larger pillows at the back, followed by medium-sized ones, and finish with smaller lumbar or accent pillows at the front. This layering technique adds depth and visual interest to your seating areas.
Arrange them on sofas, armchairs, or even outdoor furniture on the front porch to create inviting spaces that beckon you to relax and unwind.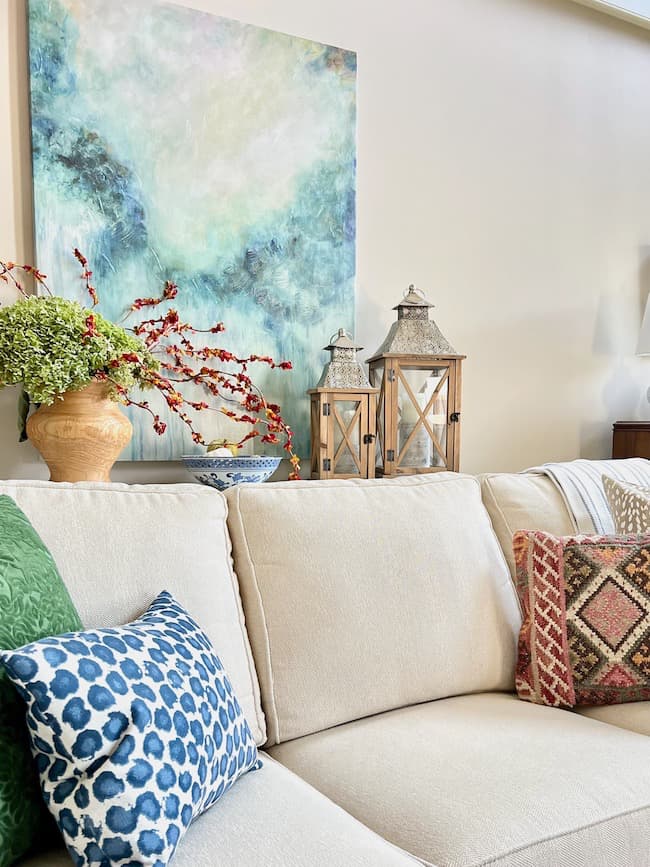 As the upcoming fall season approaches, there's no better time of year to refresh your living space. These fall pillow ideas, combined with their affordable charm, offer an inexpensive way to transform your home's ambiance and embrace the cozy spirit of autumn. So, get ready to welcome the changing season with open arms and a beautifully revamped living space!
Happy Fall Decorating!