Colorful Fall Front Porch Decor Ideas for 2022
Fall is the best time to welcome guests into your home! I'm sharing colorful fall front porch decor ideas that I'm using this fall with our pretty blue front door!
Colorful mums and pumpkins are the perfect fall decorations to create a warm welcome on your porch this fall season!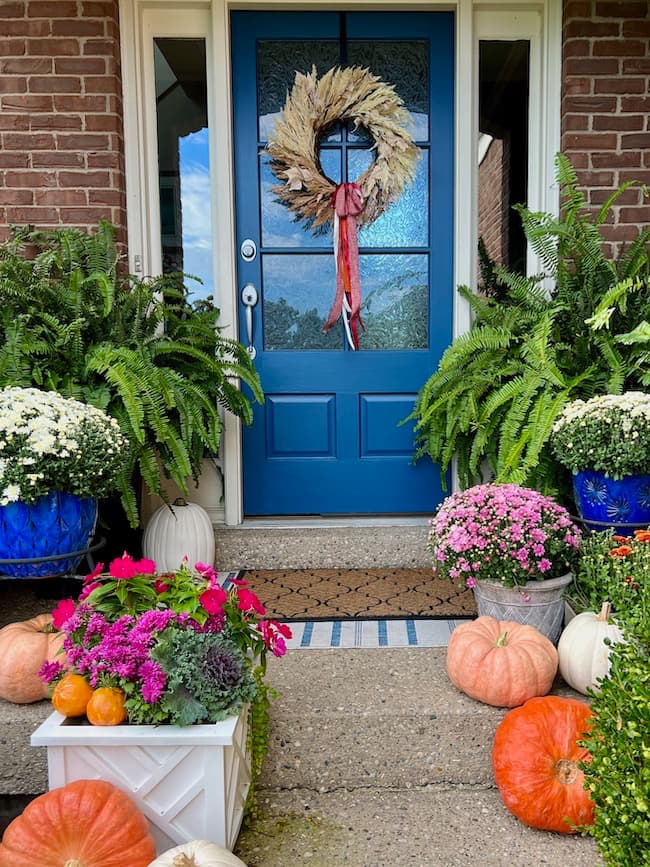 (This post contains affiliate links, so I may earn a small commission when you make a purchase through links on my site at no additional cost to you. As an Amazon Associate I earn from qualifying purchases.)
Oh, hello fall!
Today, as I'm typing this, it's officially fall on the calendar! But not just that, it actually finally feels like fall!
The sky is gorgeous blue and full of fluffy white clouds, and the temperature has dropped about 20 degrees since yesterday.
It's as if, after weeks and weeks of hot, hot weather, we've been blessed with all the best fall has to offer in one glorious day!
And what better thing to do on a glorious fall day than decorate your front porch full of gorgeous fall color!
And when I say color I'm talking orange, purple, pink, blue, and white! Our front porch is definitely a happy place this fall with all this fun fall color.
I'm combining traditional fall colors like orange and purple with some vibrant new colors like pink and royal blue to create a beautiful porch that creates a cozy welcome for family and friends.
A New Blue Front Door
I also am the kind of gal who really loves the color blue, and there's nothing like a fresh coat of paint to give new life to your front porch!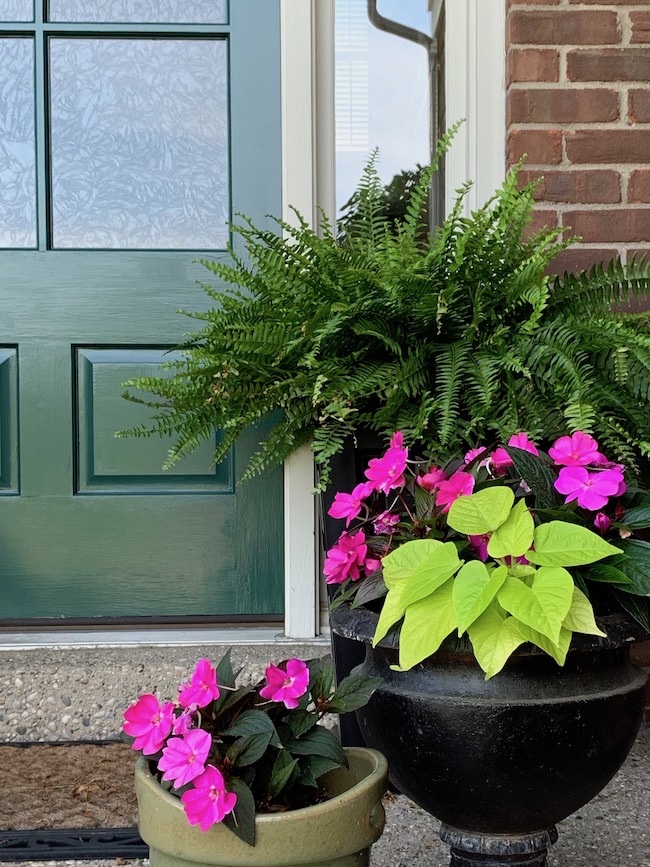 I repainted our front door last spring. It was originally a pretty green color, Sherwin-Williams Billiard Green (SW 0016) which I thoroughly enjoyed, but I'm the kind of gal who likes to change things up.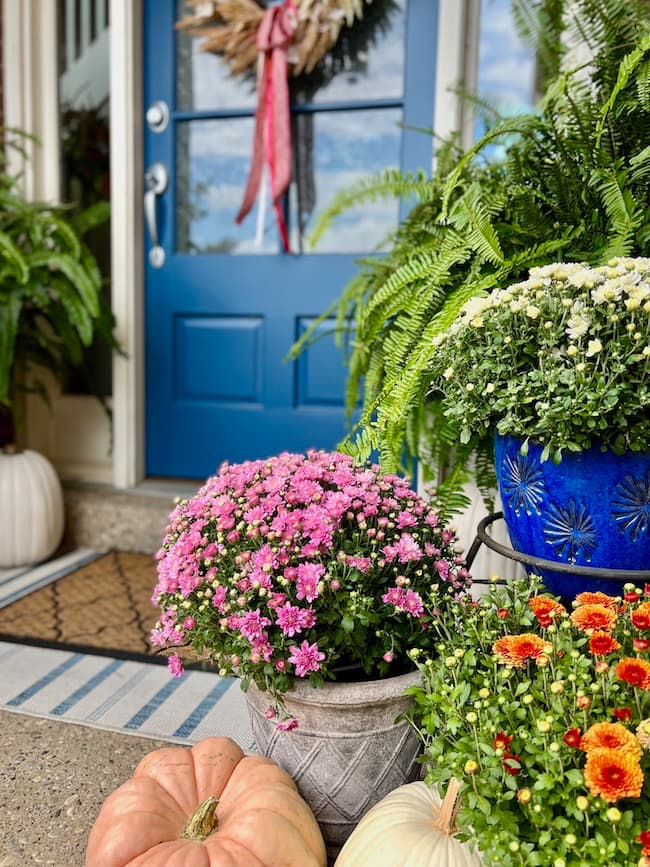 So, naturally the perfect new front door color for me was this gorgeous shade of blue by Sherwin-Williams called Endless Sea (SW 9150). I have thoroughly enjoyed this color all summer long. It's been so fun to decorate each season in new ways using this pretty blue.
I was especially excited to decorate our front porch for fall to coordinate with our blue front door.
Bright Colors for Fall Front Porch Decor
I'm not afraid to use color in our home or outside of our home. Fall is the perfect time to add gorgeous color, so I've gone a little color crazy on our front porch this year.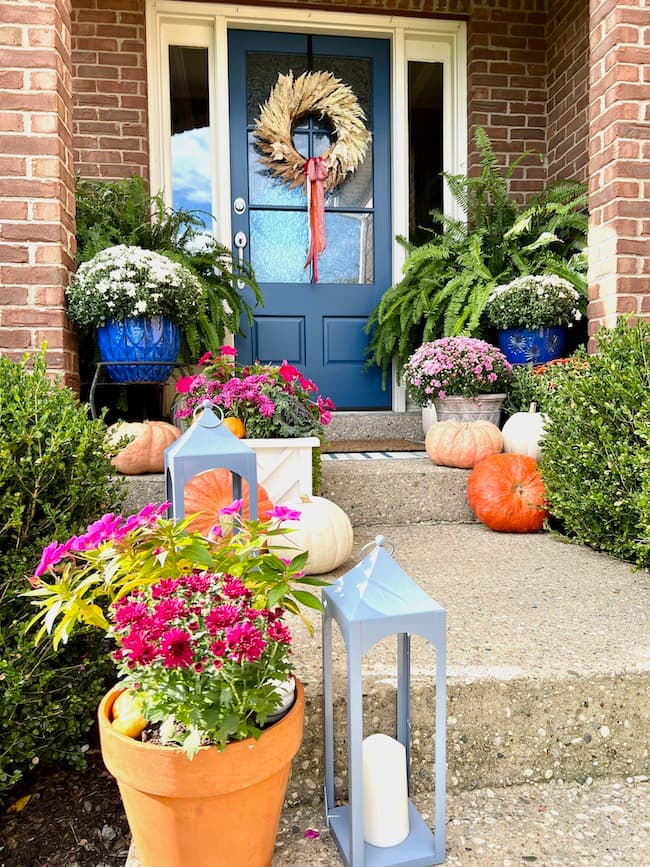 I love different shades of orange for fall. So I'm combining pumpkins in a variety of shades ranging from light peach to bright orange pumpkins. These vibrant shades of orange are gorgeous with purple and white mums and bright pink flowers left from summer.
Our bright pink New Guinea impatiens are still going pretty strong. In our white planter box, I planted two shades of pink impatiens this summer. I love this shade of bright pink for fall, but it can be a little difficult to find fall flowers in this shade.
So, I decided to separate the impatiens into two different containers and add other fall mums with them.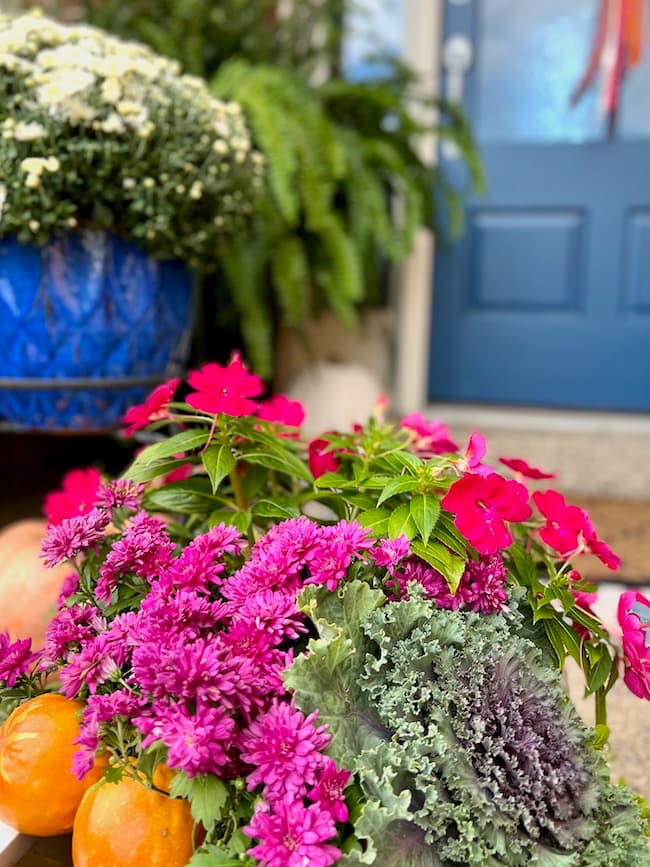 In the white planter, I kept the darker shade of pink and added some bright purple mums, some pretty ornamental kale cabbage, and some orange gourds. I think the combination of the various colors and elements make the white planter so pretty for fall.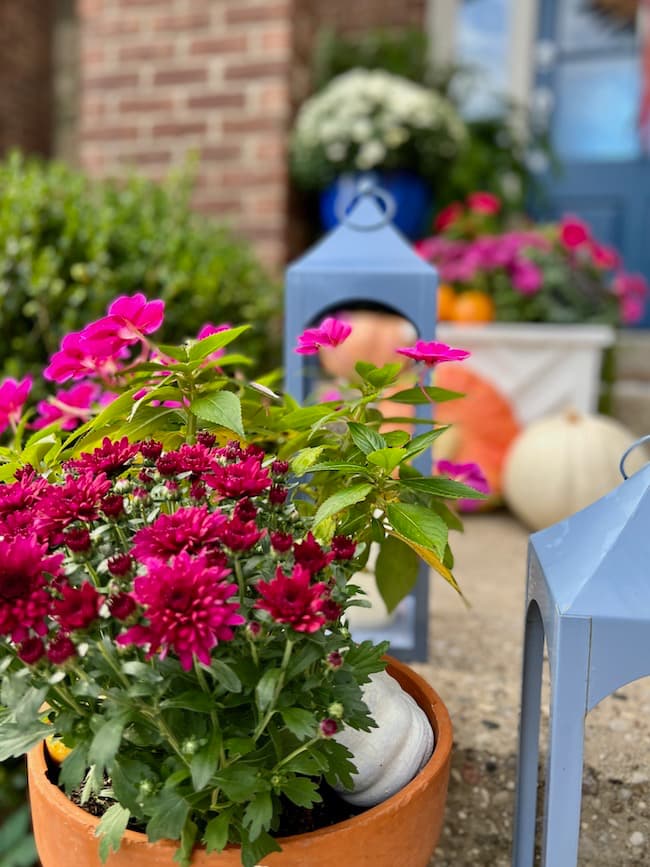 I added the other pink impatiens to a small terracotta pot and added a darker red mum with some small pumpkins.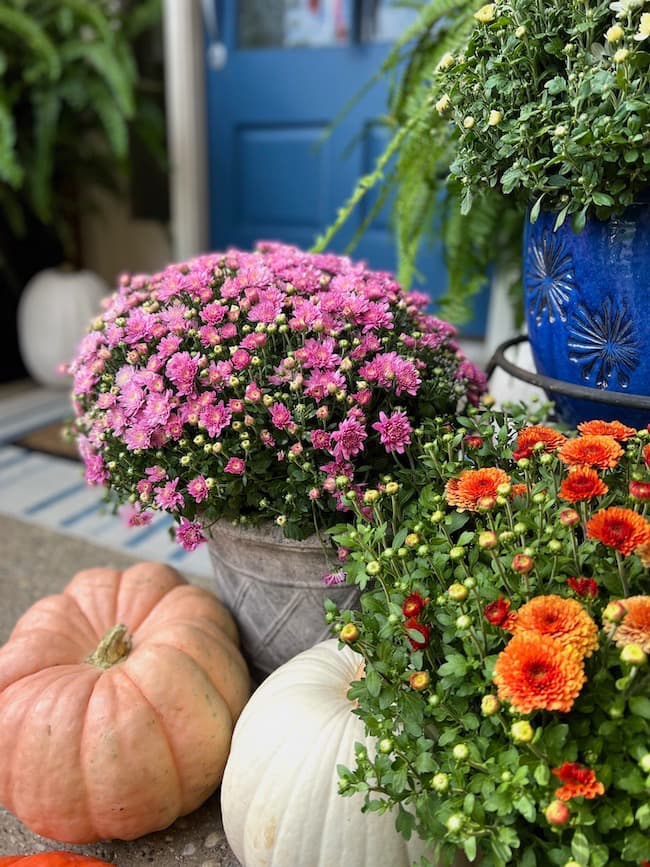 The addition of the mums to the impatiens helps to transition the flowers from summer into fall. As the weeks progress, I will probably need to replace the impatiens with some other fall plants. But for now as long as they are going strong I plan to use them, because I love the bright pink color with the fall orange, white, and purple!
Add Blue Decor Elements to the Porch
Since our front door color is such a strong shade of blue, I decided to repeat this color in other decor on the porch.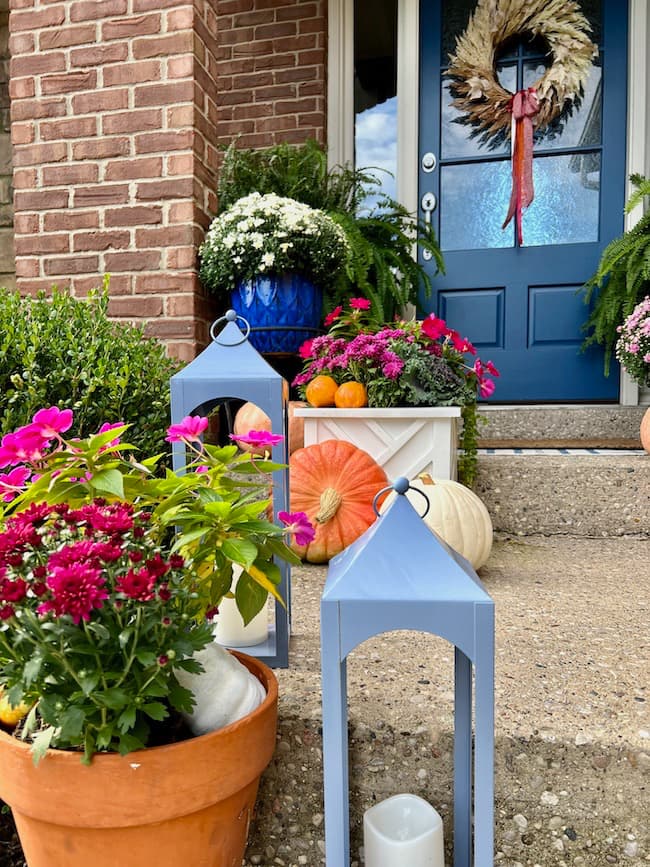 I'm using these blue lanterns that I purchased this summer from At Home. They have battery operated candles that add a nice ambience for fall evenings. The color is such a pretty shade of blue, and looks great with the front door and the fall flowers.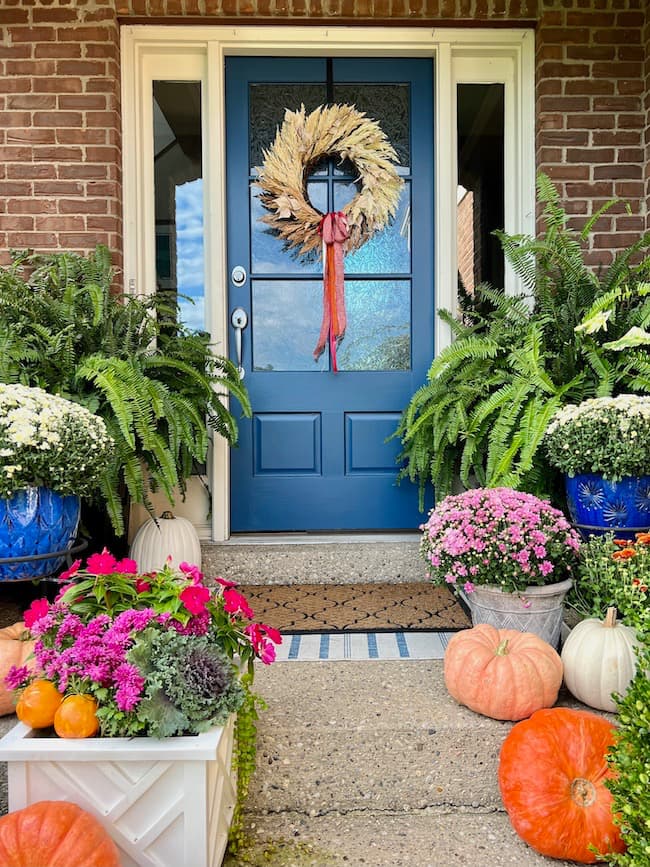 I'm also continuing to use our cobalt blue flower pots with the fall flowers. I added white mums to the blue pots to make them pop. As the season progresses and the mums open up even more, the white will be so pretty in the bright blue pots.
The blue and white striped rug under our welcome mat also continues the blue color theme.
Add Lots of Pumpkins to the Fall Front Porch Decor.
You just can't have a fall front porch without pumpkins. I added lots of real and faux pumpkins in different shapes to our front porch along the front steps.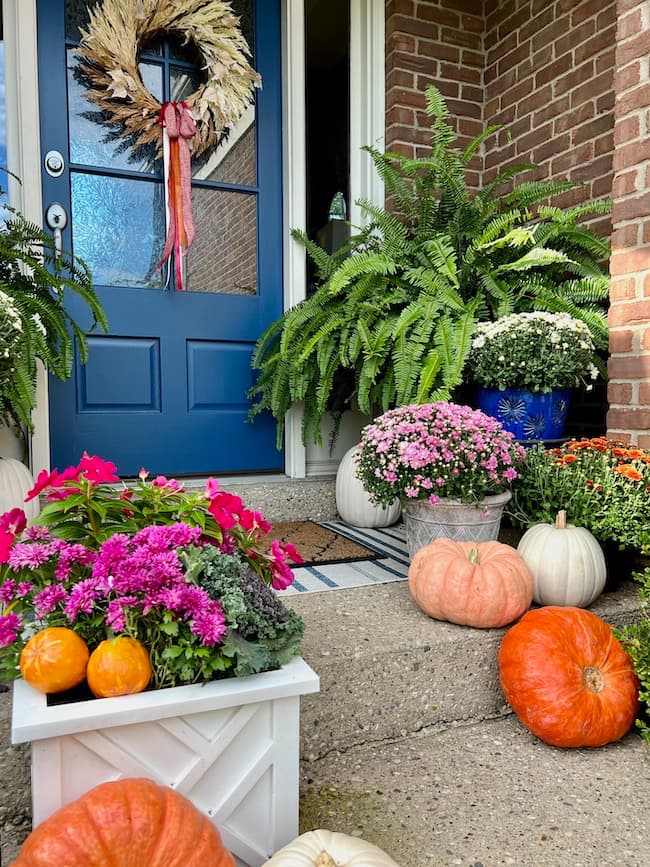 I love the peachy colored shade of orange in these heirloom pumpkins! They have become my favorite color of pumpkin for fall. I love the subtle orange color they add.
I also added some brighter shades of orange pumpkins, and of course included white pumpkins to the mix. The white pumpkins brighten the porch and tie in with the white mums and the white planter box.
Keep the ferns for fall.
Our Kimberly ferns are still looking so pretty and lush. We planted them in these large planters last spring, and they are just about ready to overtake our small front porch!
I pushed them as far as they would go into the corners of the porch at each side of the door, but still wanted to use them because they are still just so pretty.
Since they're protected by the porch, as long as we continue to water them they should be just fine throughout fall. And nothing is more welcoming than a pretty fern on your front porch even in the fall.
A Simple Fall Wreath with Ribbon.
The finishing touch to our fall front porch is a wreath on the door. Since we are using so many bright fall colors on the porch in the mums and the pumpkins, I decided to keep our front door wreath pretty simple.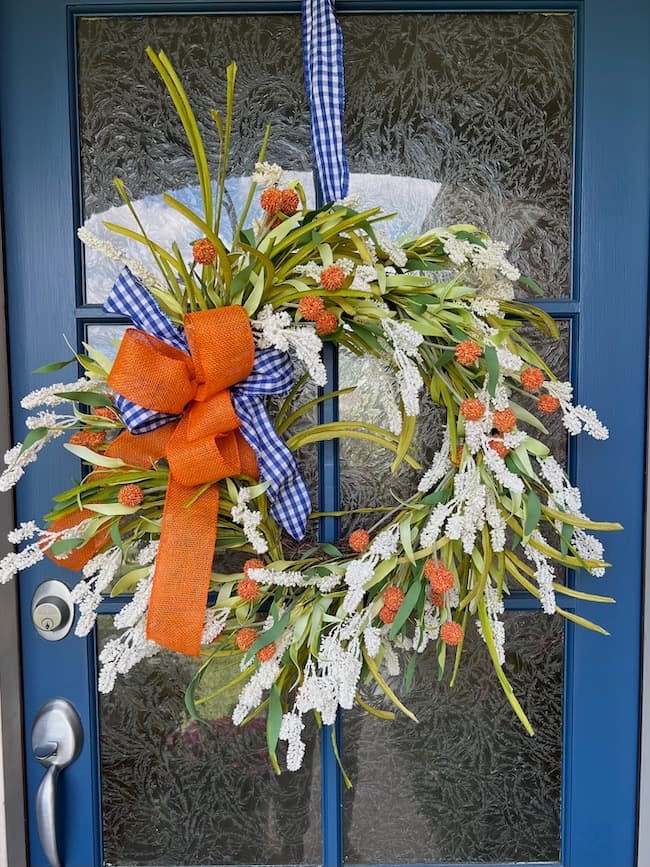 I had originally planned to use this summer wreath and add some orange ribbon and stems. I decided I needed a simpler look for our wreath with all of the colorful fall flowers and pumpkins.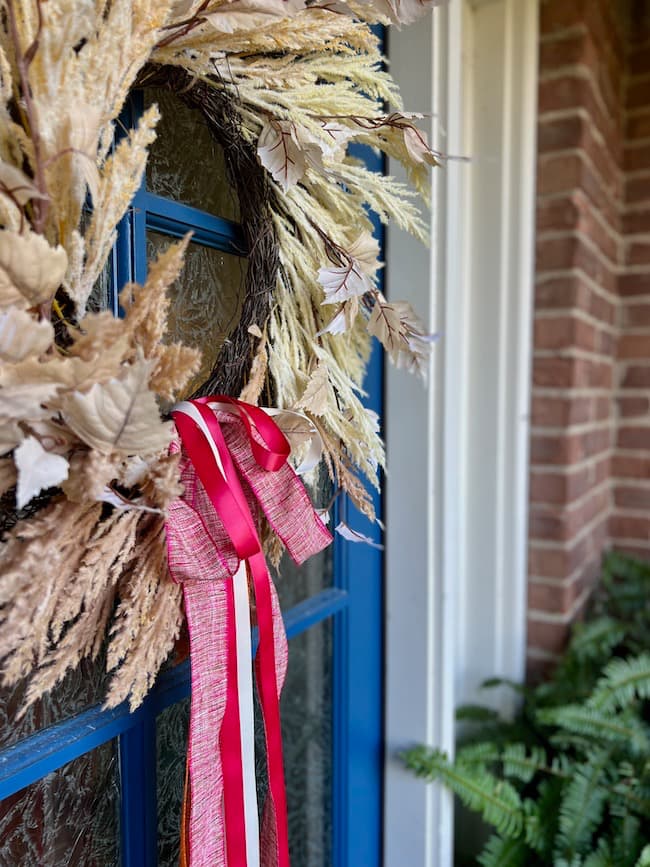 I found this pretty faux Pampas wreath from Michaels and added some colorful ribbons in the shades of the flowers and pumpkins. It adds just enough color to the front door but is still simple enough that it doesn't compete with all of the other colors.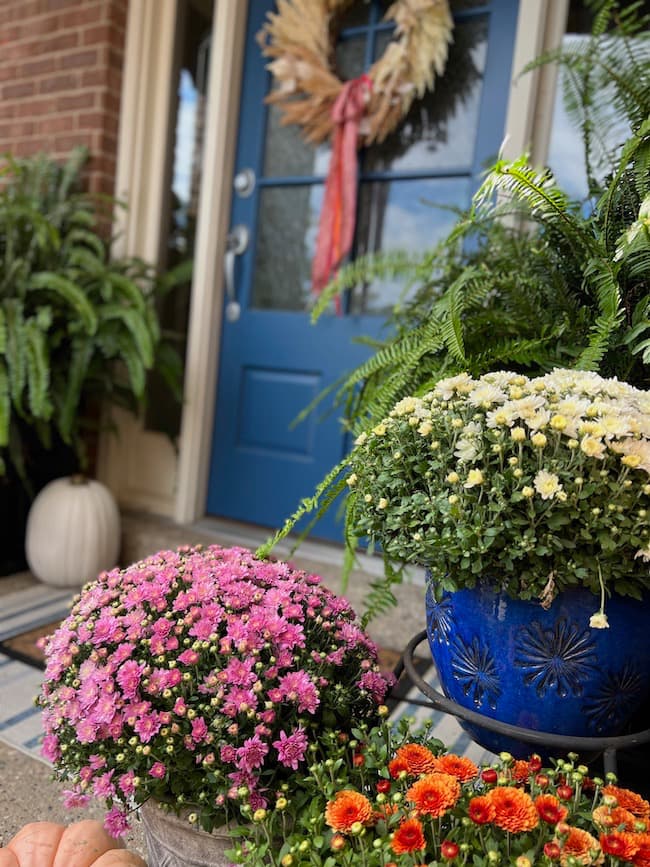 ---
Shop the Post

For more ideas for fall wreaths and fall front porch ideas you might enjoy these fall posts:
AN EASY EARLY FALL WREATH FOR FRONT DOOR DECOR
FALL DECORATING IDEAS IN MY FALL HOME TOUR
Take a fabulous fall porch decor tour of our previous front porches!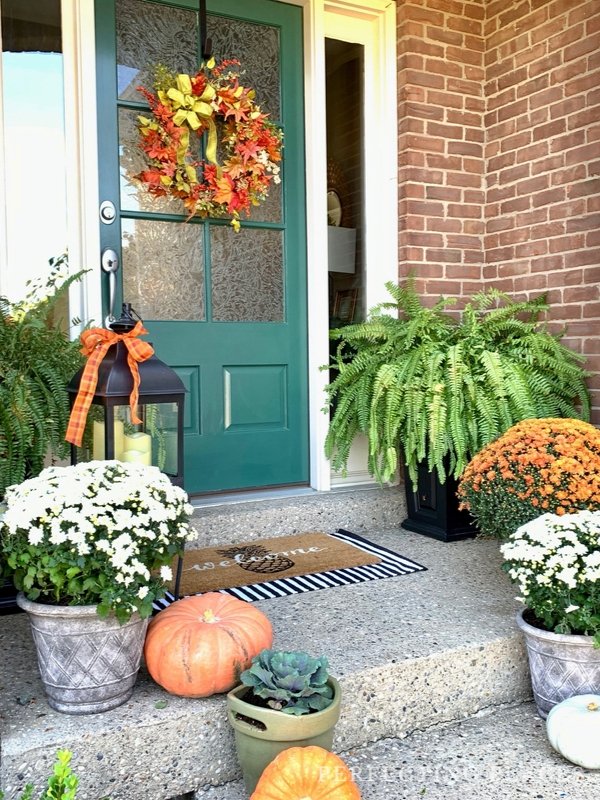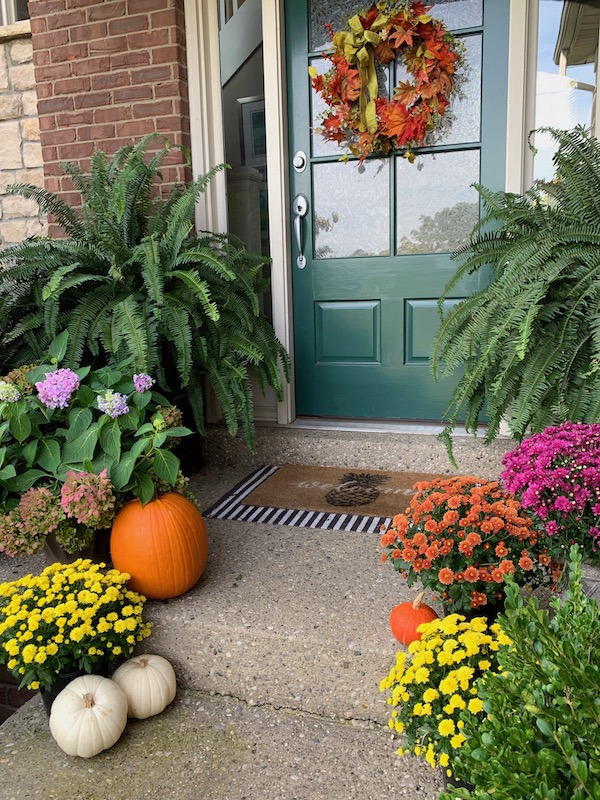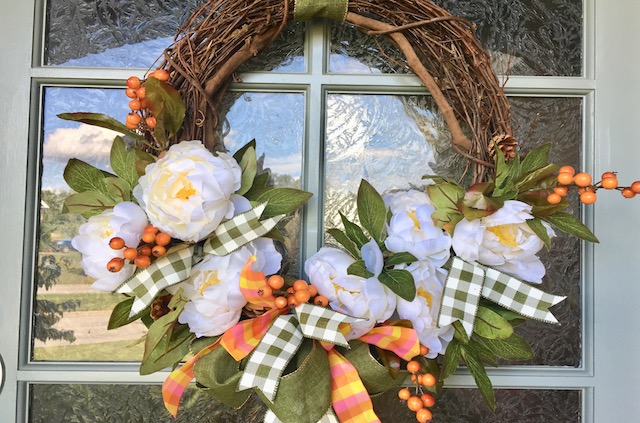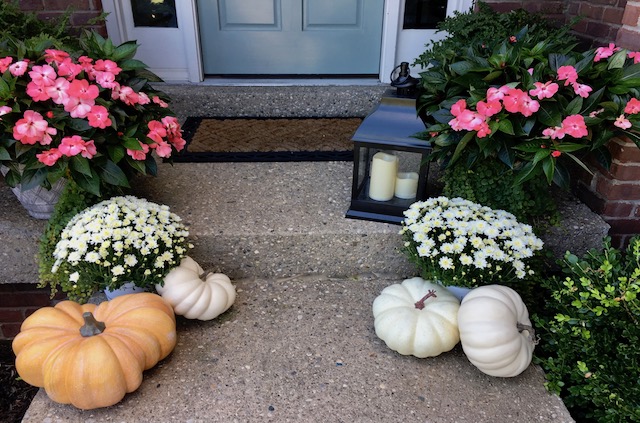 Now, are you all ready to decorate for fall?
I hope you're feeling inspired by all the pink and blue to add a colorful twist to a classic fall color scheme. Try these great fall porch decor ideas to create an inviting fall porch for your home!
Be sure to pin this post to Pinterest so you can save it for later!!
By the way, do you follow me on all the socials?? If not, check out my Pinterest, Instagram, and Facebook and be sure to follow me so you don't miss out on any of my decorating and DIY ideas!!
Pin It!