How to Set an Easter Table — Our Easter Table Decor
Spring has sprung and Easter is just a few weeks away! Today, I'm sharing our Easter table decor and ideas for how to set an Easter table!
(This post contains affiliate links, so I may earn a small commission when you make a purchase through links on my site at no additional cost to you. As an Amazon Associate I earn from qualifying purchases.)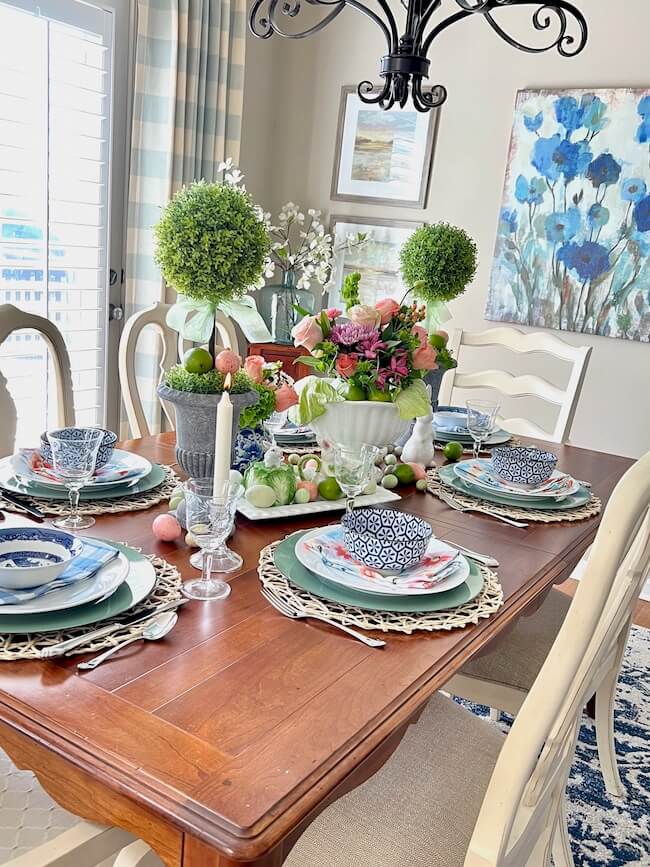 Don't you just love spring? The days are starting to get a little longer. The sun starts to shine a little more. The temperature  warms, the grass turns green again, and spring blooms start popping in the yard.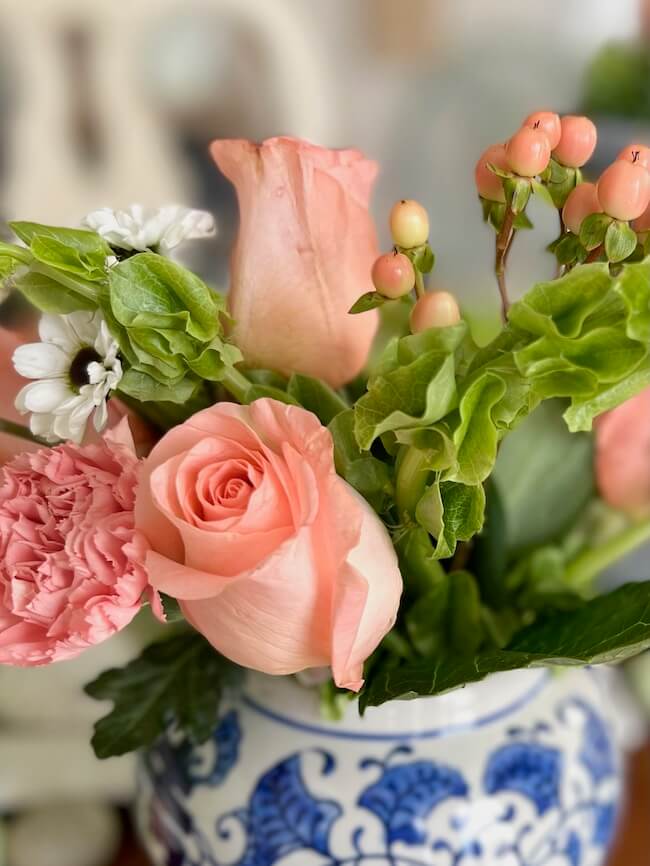 Easter is just a few weeks away, and it will be here before we know it!
I love setting a pretty table for any occasion, and Easter is the perfect time for going all in with beautiful spring color!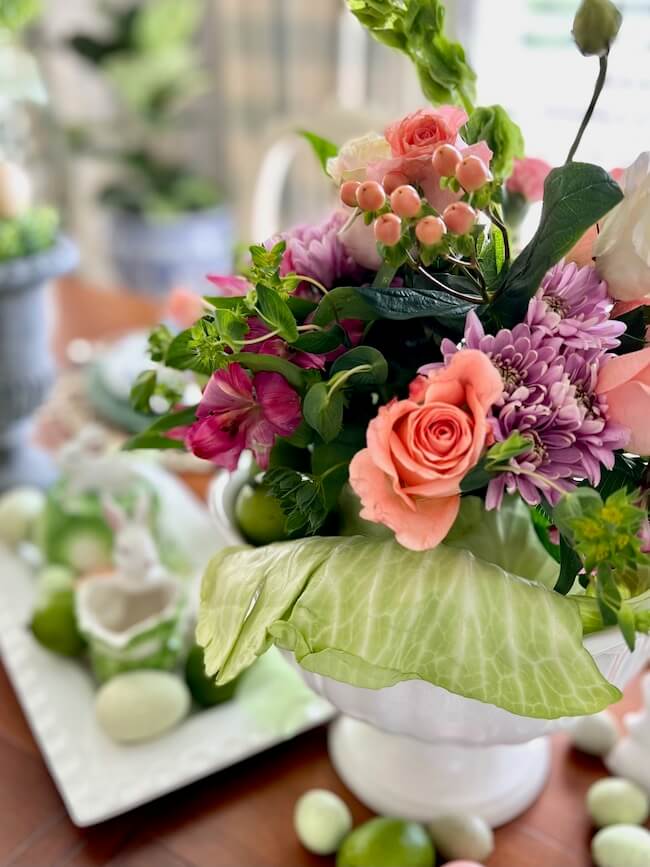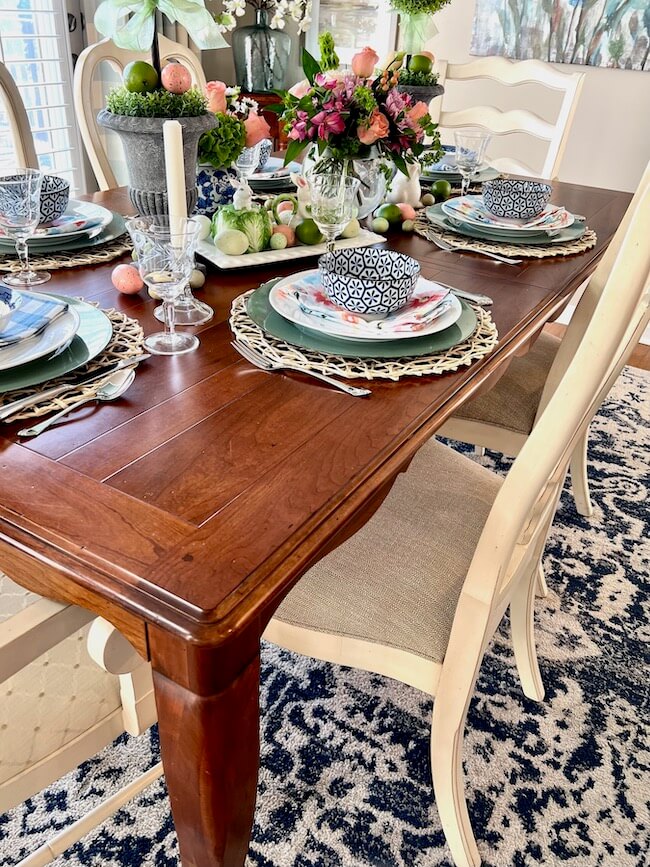 I'm all about spring florals, and bunnies, and pretty colored Easter eggs!
I love gorgeous table linens, and pretty blue and white dishes, and all things coral and lilac and blue and green!!
I'm a color kind of gal, and I love to set an Easter table full of beautiful color to celebrate this special day!!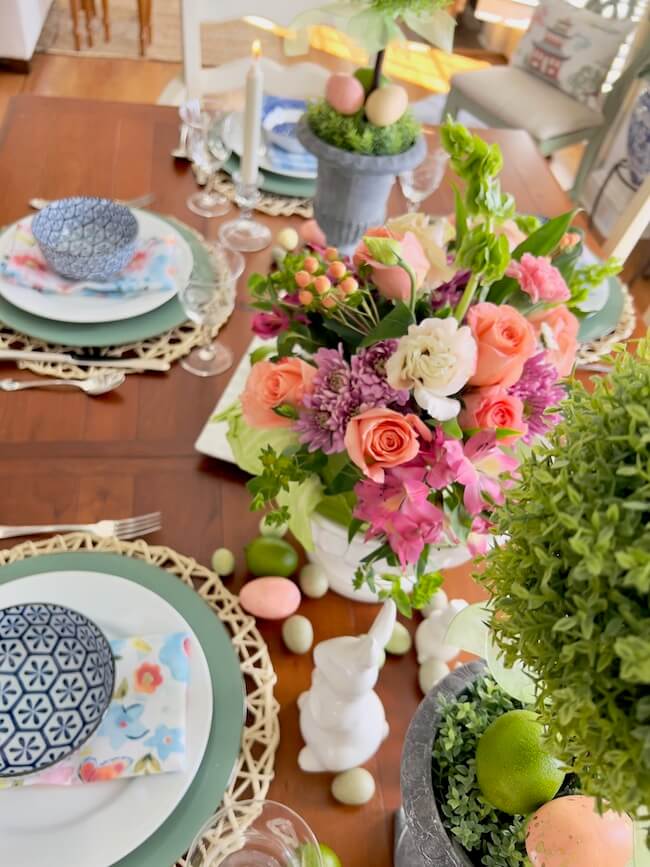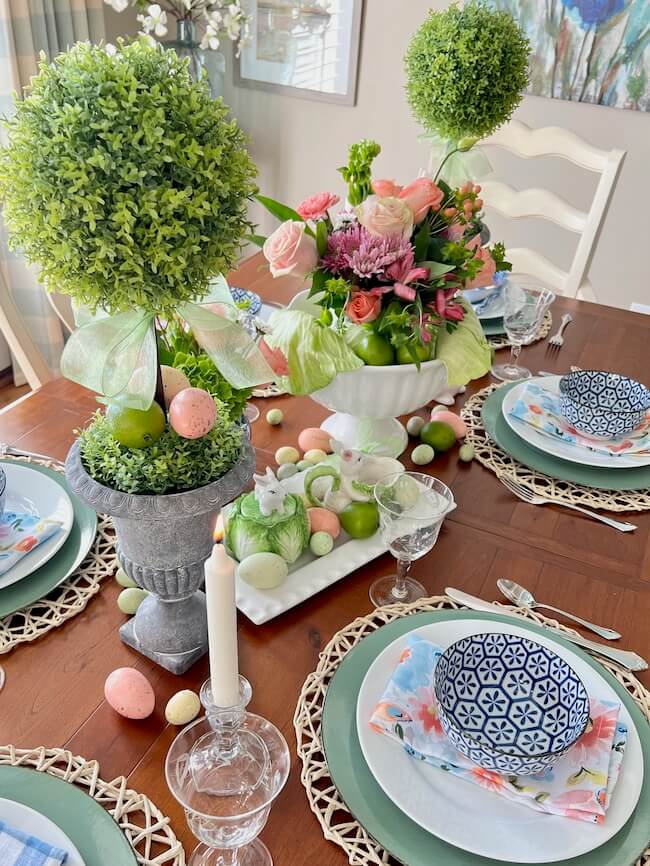 How do you decorate an Easter table?
I add several different elements and layers to our Easter tablescape. I like to "gather and scatter" lots of decor along our table to create a pretty centerpiece for our table.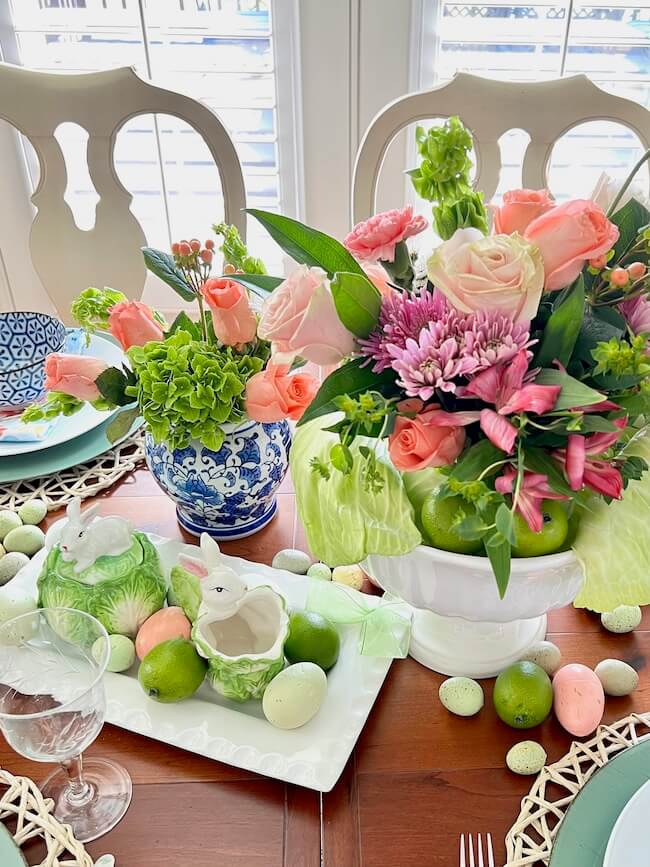 1. The first thing I always do is decide on the color scheme for our Easter table.
This actually can sometimes be hard for me to decide on, because I love LOTS of different color possibilities!! I often let the flowers that are available in our local grocery store help determine the color scheme.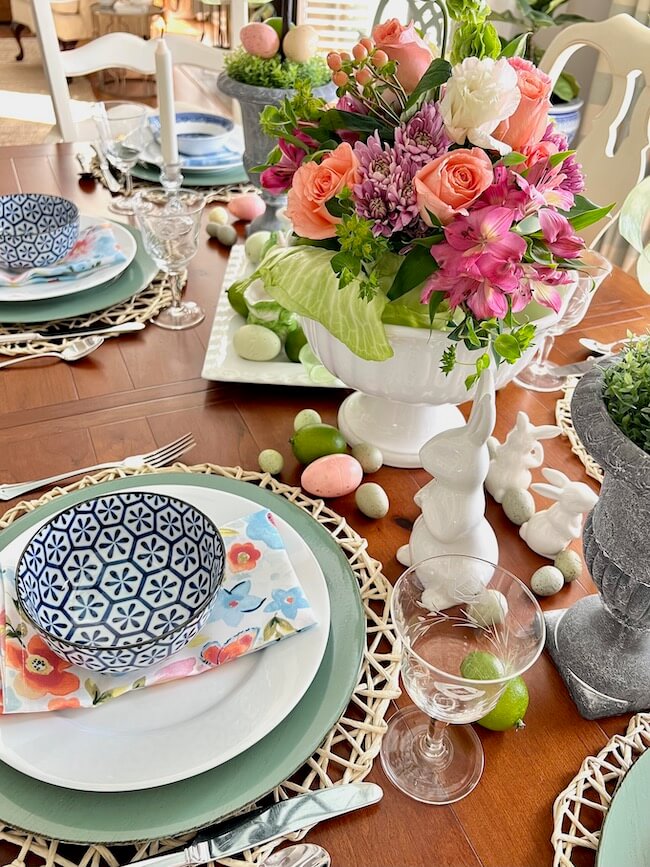 These pretty flowers from Trader Joe's were full of soft, peachy corals, lilac, and vibrant greens, and I fell in love with them!
I always include some blue and white in my color scheme. One — I love blue and white! And two — it blends the tablescape with our dining room color scheme.
2. Create a cabbage Easter Centerpiece for your table.
For a focal point of our tablescape, I created a centerpiece using cabbage as the vase for our flowers. It's a fun way to add a little fresh spring green to your table decor.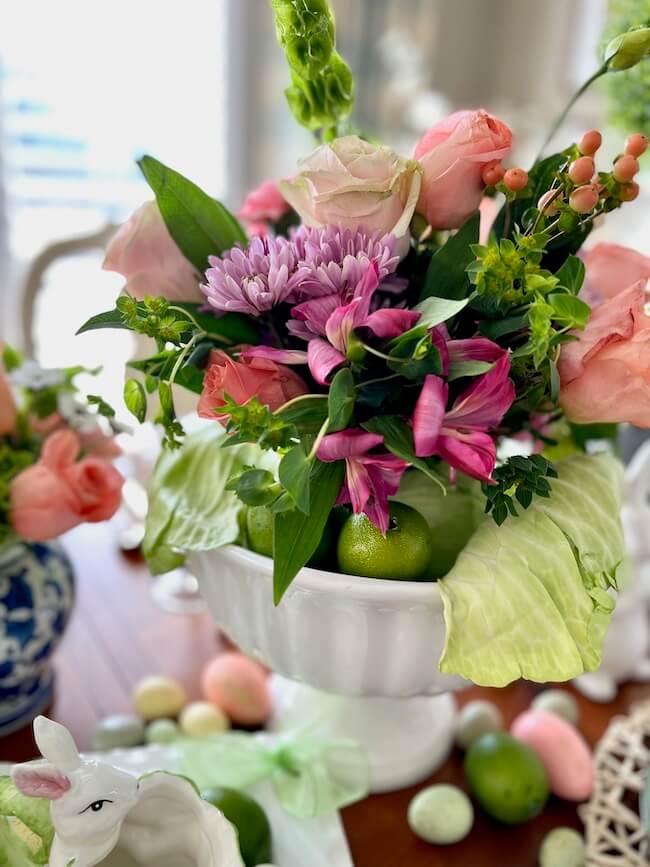 To create the cabbage centerpiece, tear off a 2 or 3 of the outer cabbage leaves and set aside.
Then, use a glass (the one you will actually place the water and flowers in) to mark off the size of the hole you need to cut in your cabbage.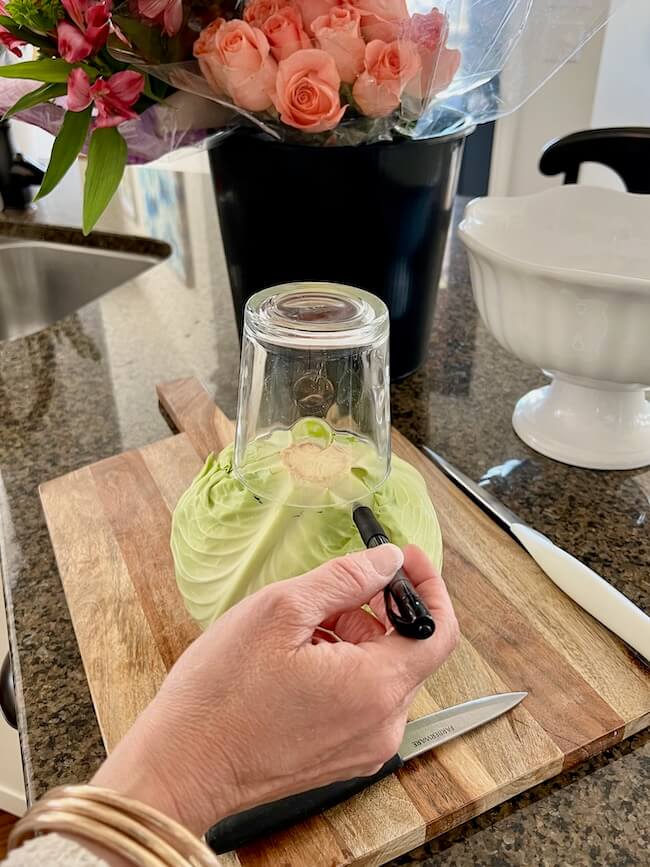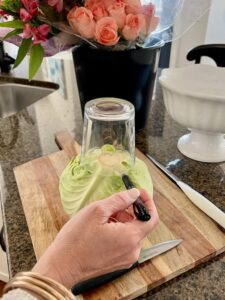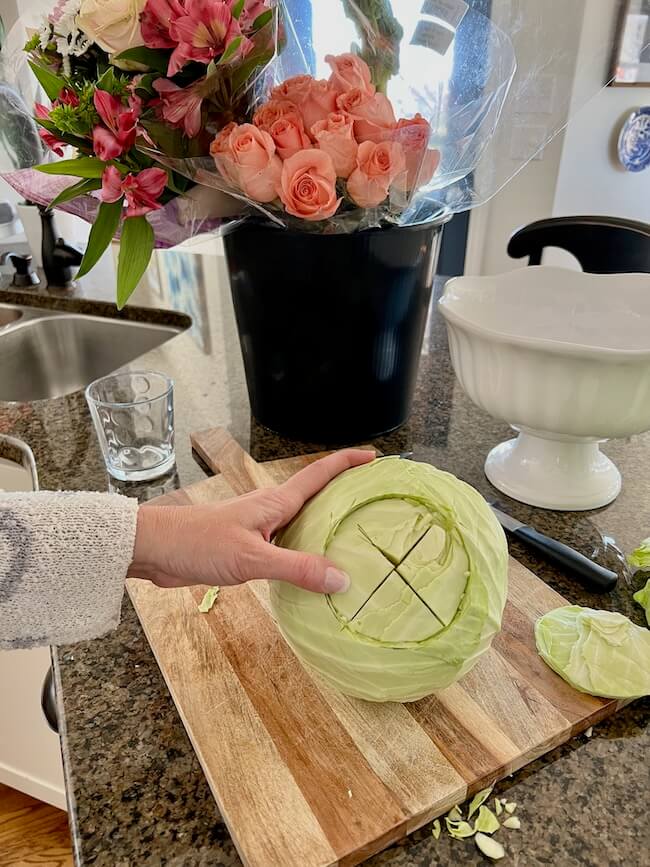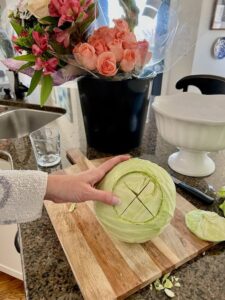 Carefully, cut away the cabbage from the inner hole, and then insert your glass. Fill it with water and floral preservative, and then arrange your flowers.
I always start with the green filler to create a base.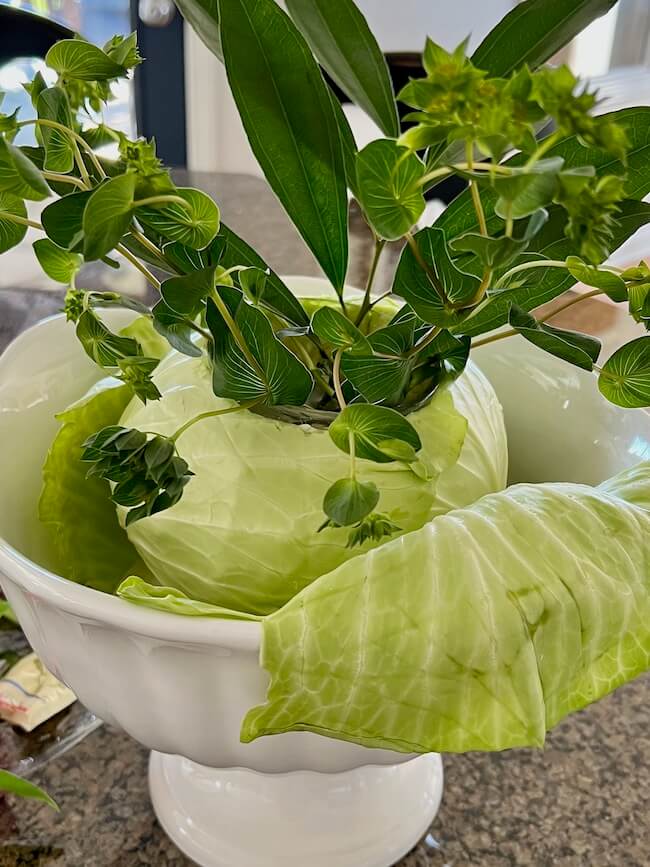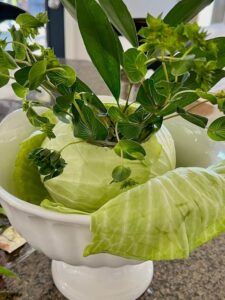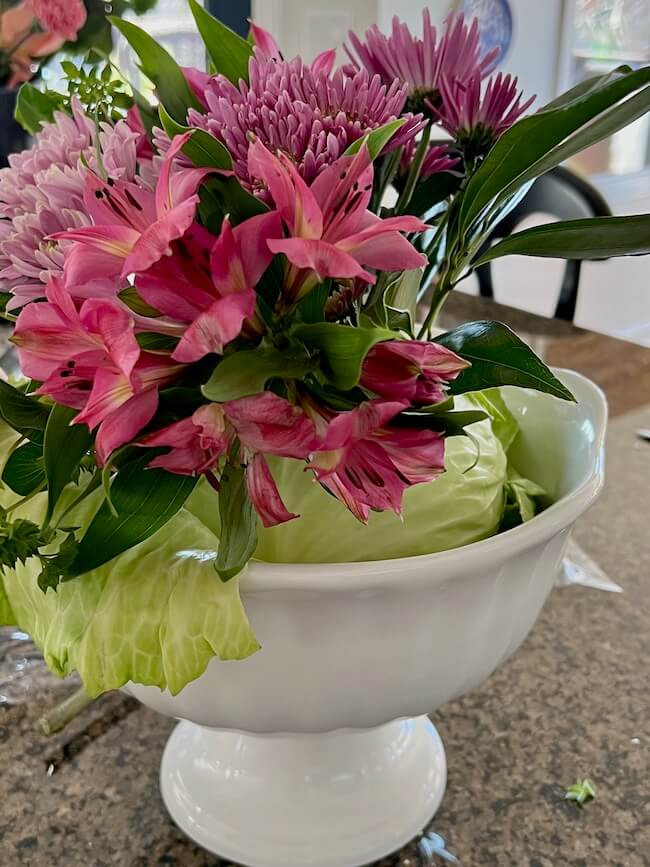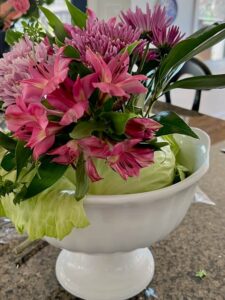 Then, begin adding the flowers.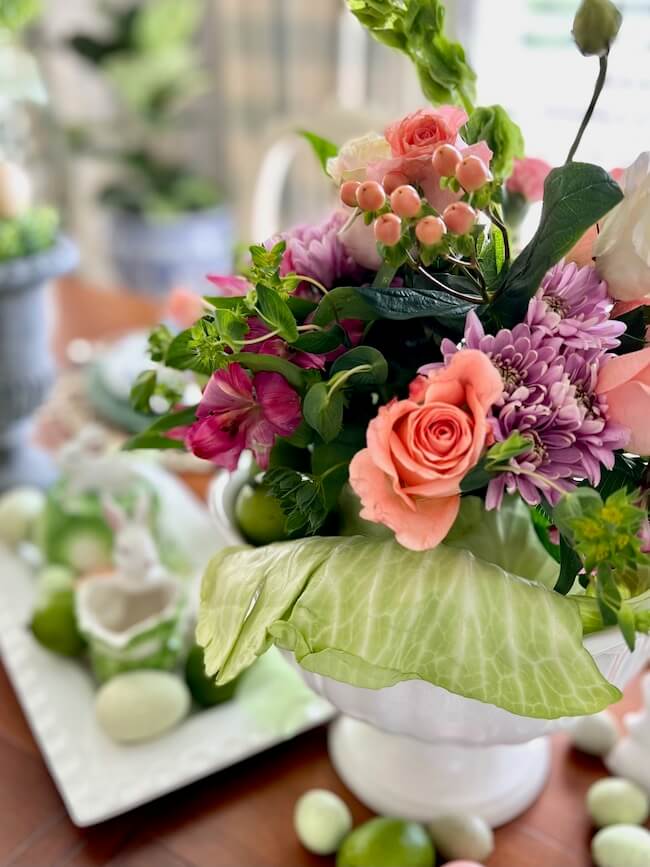 I love how these colors look in the cabbage.
I placed the cabbage centerpiece in a white pedestal bowl to add height to our Easter tablescape.
3. Add topiaries for height and interest.
I added a couple of spring topiaries in urns to the table decor. One important tip when buying topiaries for your decor is to always by two. You will be so happy you have two matching topiaries to use around your home. They're perfect for dining tables, mantels, buffets, and sofa tables.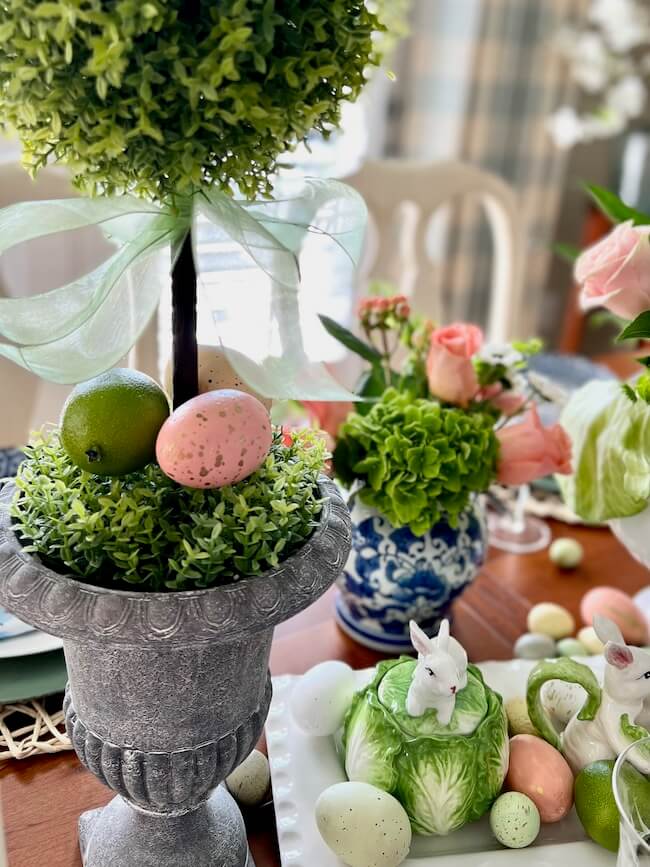 I added some pretty green ribbon to the topiaries and placed some Easter eggs and faux limes at the base to carry out the Easter theme and color scheme. It's just another simple way to add some touches of color to your table decor.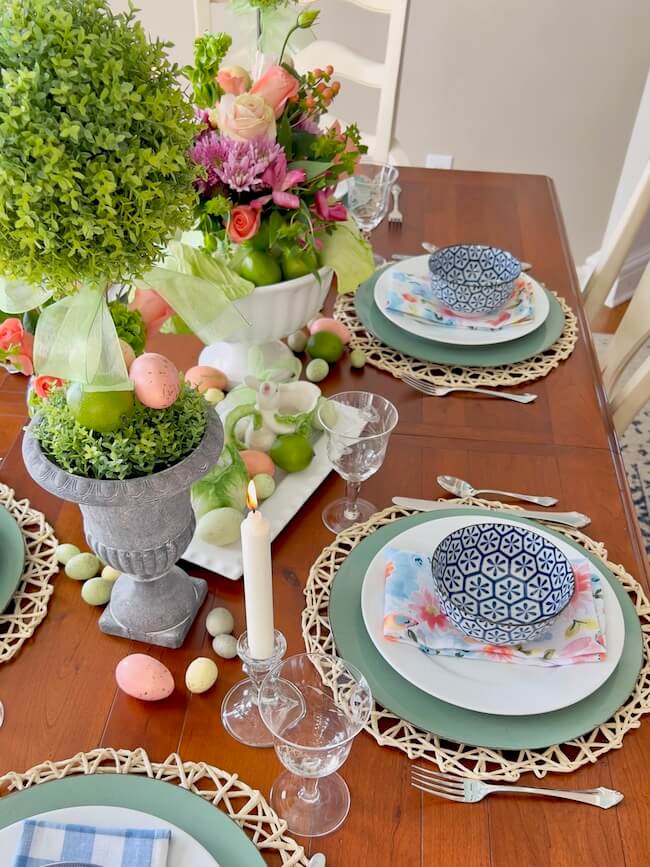 4. Gather and scatter!!
I gathered up Easter eggs and scattered them along our Easter tablescape.  I'm using coral, green, and cream eggs to compliment the flowers. I have a stash of eggs I use from season to season, and just pull out the ones that work with my Easter color scheme.
I also added some faux limes to the mix. I love the fresh green that the faux limes add to the color scheme.

5. Break out the bunnies!
I found the best little white ceramic bunnies in the Target dollar section! I found one in a larger size, along with the two small bunnies, and added them to the decor.

I love this little bunny and cabbage sugar and creamer that I scored from T.J. Maxx! Again, I love the fresh green of the cabbage, and they look perfect on my little white tray.
6. Select your table linens.
I found the best napkins at T.J. Maxx this year. (Can you tell where I've been shopping lately?) In the case of table linens, you may not always be able to find all that you need for all of your table settings at T.J. Maxx. This was the case for me this time, so I combined a couple of different patterns on our table.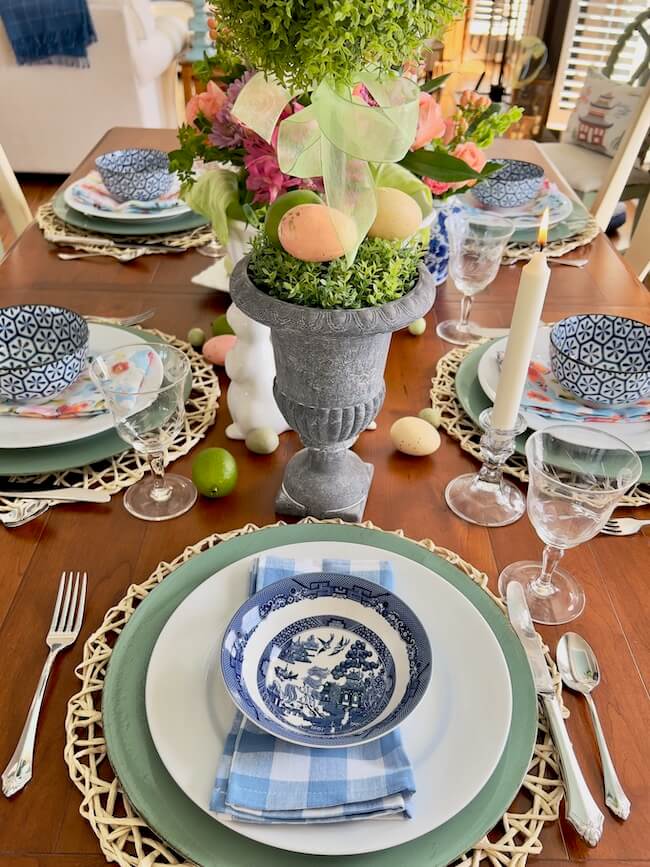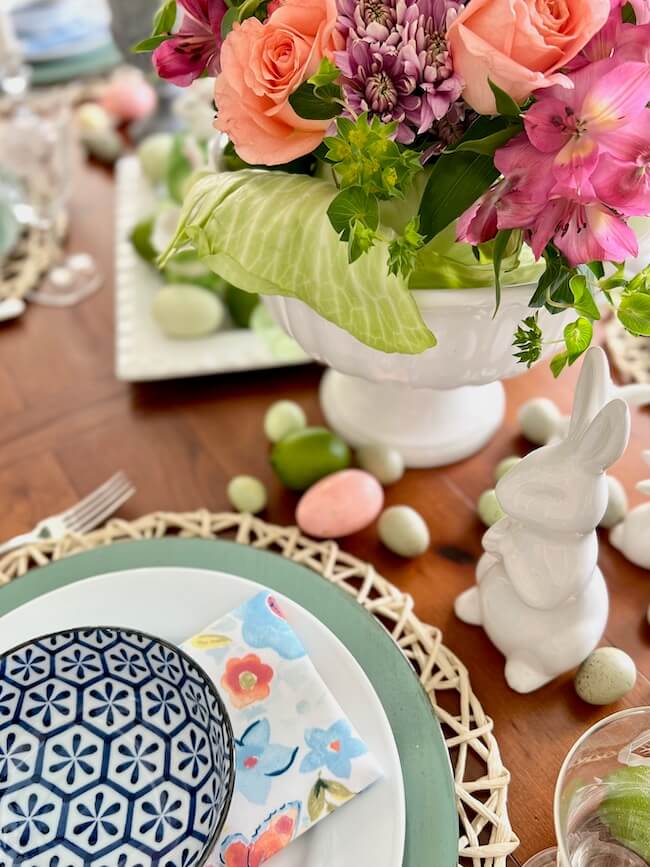 I'm using a cute blue and white check paired with these pretty floral napkins, and I just love how pretty they look together.
Don't be afraid to mix and match your table linens if you don't have complete sets. It just makes for a more colorful and creative table!
7. Create your place settings.
You can apply that same mix and match principle to your place settings of dishes and chargers as well! I didn't have six of these pretty blue and white floral bowls, so I used four of them and then used a couple of Blue Willow fruit bowls in the two remaining place settings.
I used the blue and white bowls with my white dishes, green chargers, and woven placemats to complete the Easter place settings and added my grandmother's stemware.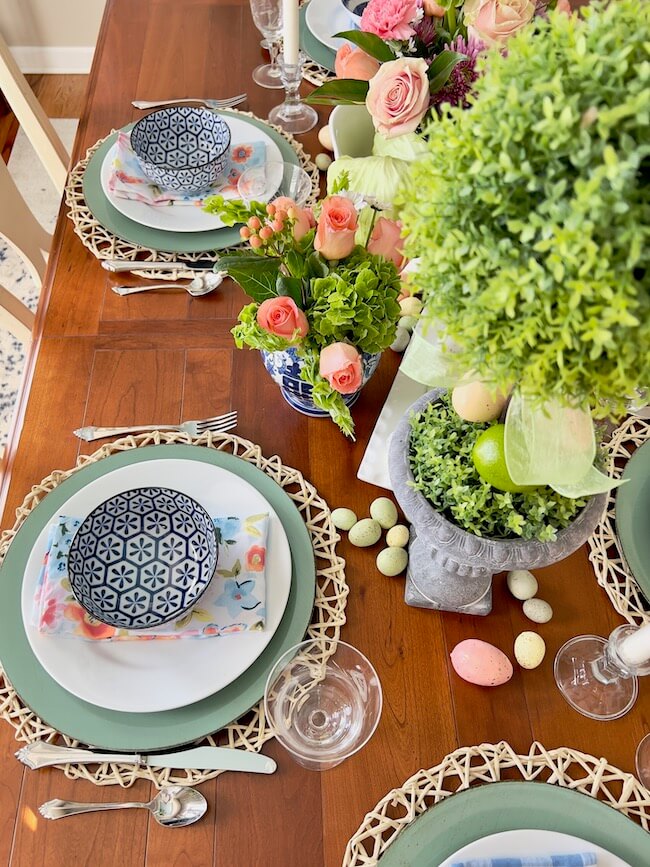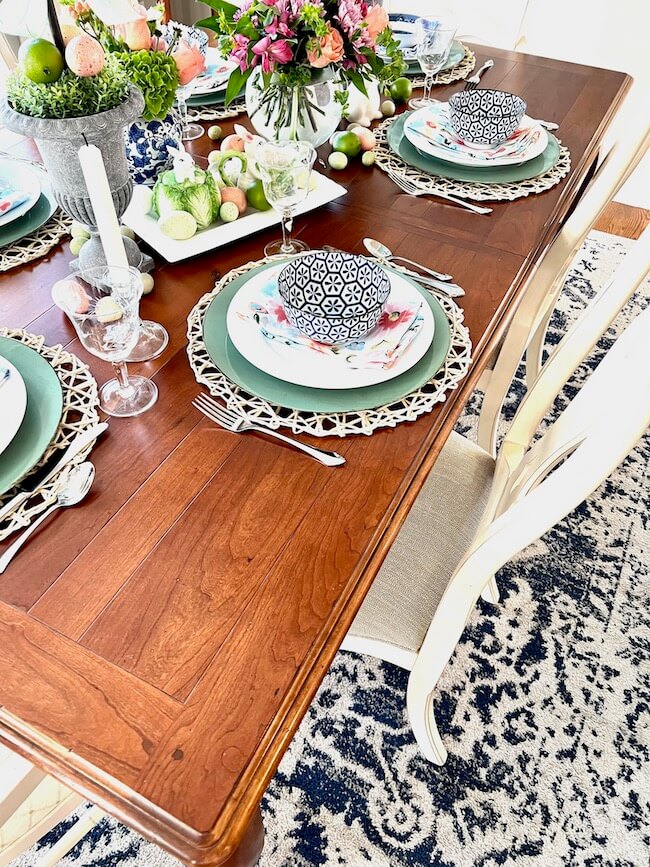 I love the way our Easter tablescape came together!  I hope one thing you take away is that you shouldn't be afraid to mix and match and gather what you have to create a beautiful Easter centerpiece.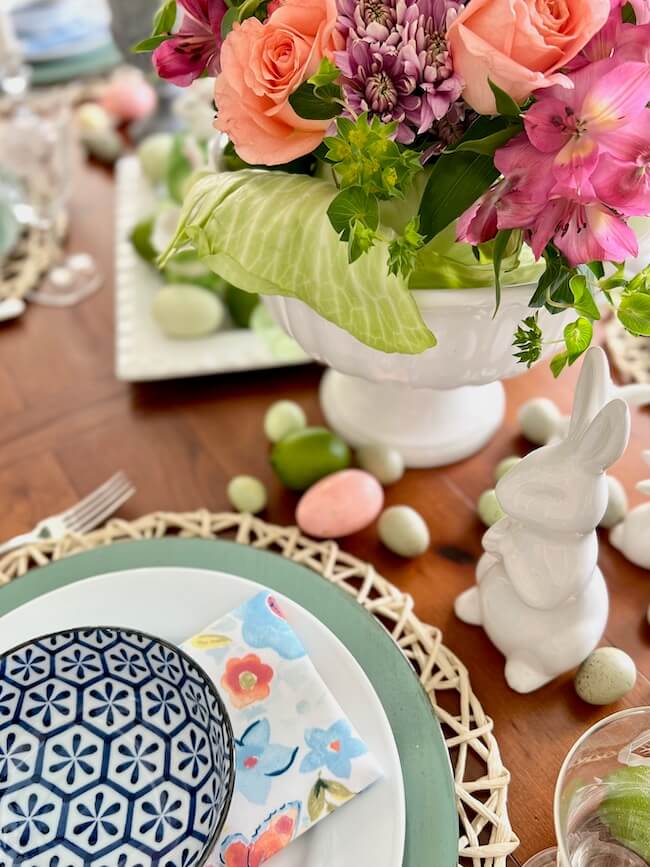 I hope this post inspires you to head to your local grocery, gather some pretty flowers and use these table decorating tips to set an Easter table that your family and friends will enjoy!
---
Shop the Look
---