Easy DIY Table Centerpiece with a Thrifted Tole Tray
I love an easy centerpiece idea! This DIY table centerpiece was so easy to create with a thrifted tole tray and leftover flowers from Valentine's Day.
A DIY centerpiece for your dining table doesn't have to be complicated. A pretty tray, a simple floral arrangement in a glass vase, and colorful candles combine to create a simple centerpiece for spring.
(This post contains affiliate links, so I may earn a small commission when you make a purchase through links on my site at no additional cost to you. As an Amazon Associate I earn from qualifying purchases.)
Sometimes it's hard to name a post — take this one for example. It could be all about a beautiful thrifted tray. It could be about salvaging fading Valentine's flowers. It could be about transitioning from winter into spring.
So, when all of those events converge it results in a beautiful DIY spring centerpiece that features a beautiful thrifted tray holding a lovely, but simple, floral arrangement.
This weekend I removed all traces of winter in our home! The unseasonably warm weather and beautiful sunshine was my signal to pack up the pinecones, gather the greenery, and replace the poinsettia centerpiece to herald the arrival of spring in our home!
A few Saturdays ago, Mr. Perfect and I had a lovely late afternoon date perusing a favorite local vintage thrift store followed by an early dinner.
Lots of lovely things caught my eye, but the one that stood out was a tole tray painted in beautiful spring colors. I loved the fresh spring color palette and pattern in the design as well as the tray's shape, and just knew it would be perfect in a variety of places around our home.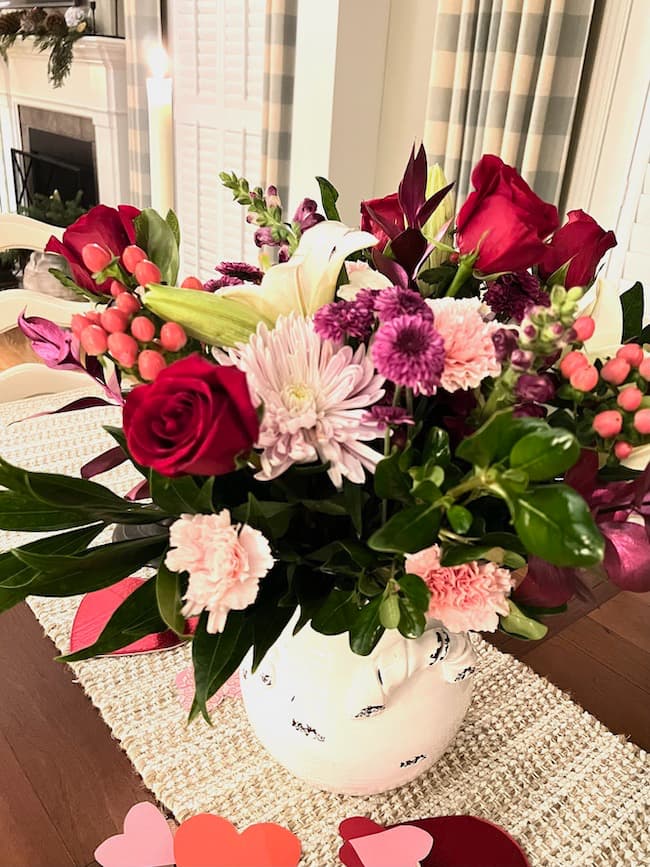 Last week, I received these beautiful flowers from my sweet husband for Valentine's Day. After a week, some of the flowers had faded, but many blooms and all of the greenery still looked perfect. I tossed the faded blooms and created a simple arrangement in a pretty blue glass vase that was perfect with the thrifted tray.
What is Tole Painting?
My tray features a vintage folk art technique called tole painting. This technique often features a colorful floral design painted on tin or wood . The word tole comes from the French "tole peinte de lac" which refers to painted sheet metal. This technique originated in Europe in the 1600s and has remained popular for 100s of years. It's often applied to trays, flower pots, candlesticks, teapots, and other household items.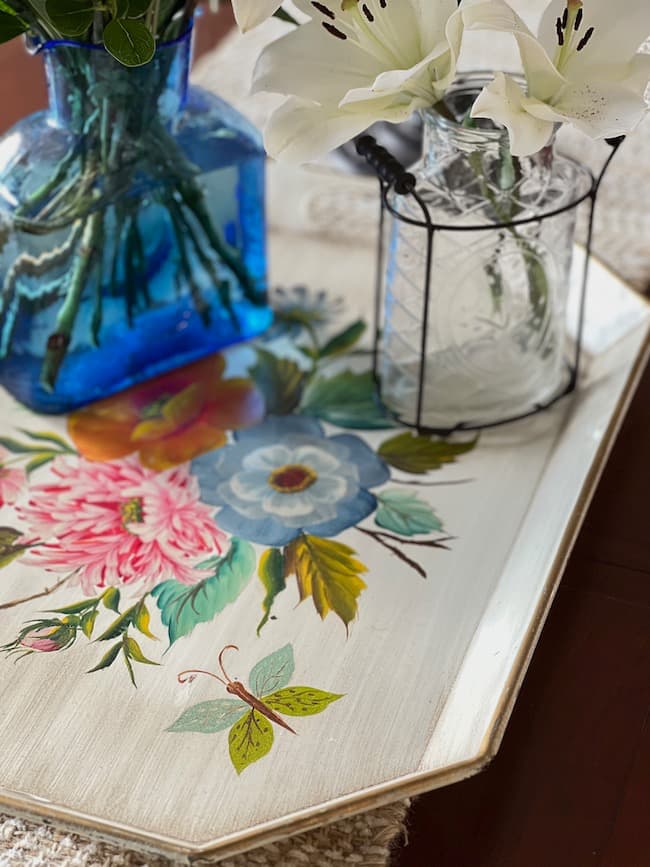 It's common to find tole painted designs on a black or dark background, but I love the cream background on my tray. It's such a bright and fresh look for spring!
How to Create Simple DIY Centerpieces for Your Dining Room Table:
1. Start with a neutral table runner down the center of the table as the base.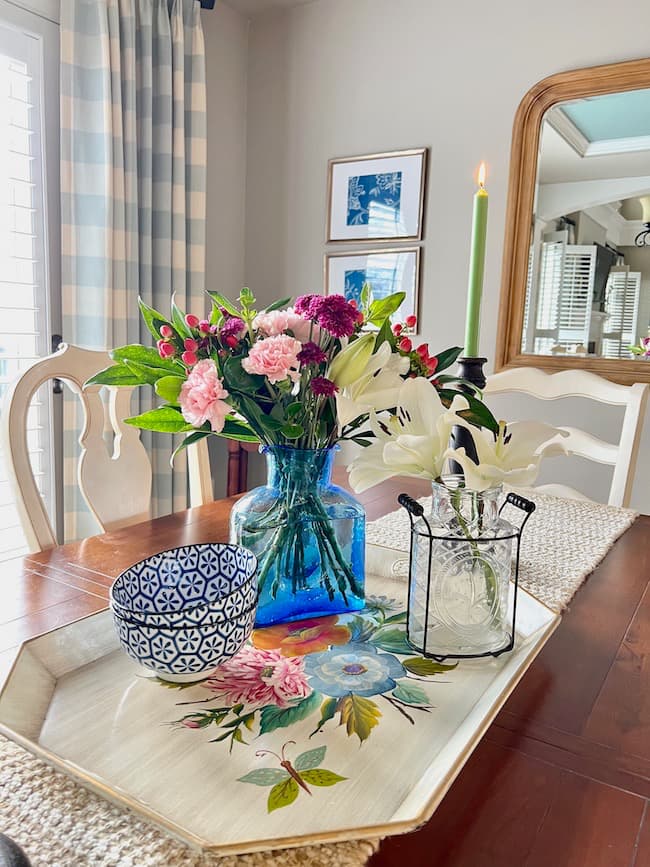 The natural fiber in a jute table runner makes it the perfect simple backdrop for any tablescape or centerpiece I create. It's perfect no matter the season, and I especially love the natural texture for this simple spring centerpiece.
2. Add a pretty tray to your centerpiece.
I love to add a tray to our dining table to anchor the elements in my centerpiece. A tray can add weight to smaller arrangements of fresh flowers and serve to corral smaller items together for a more unified look.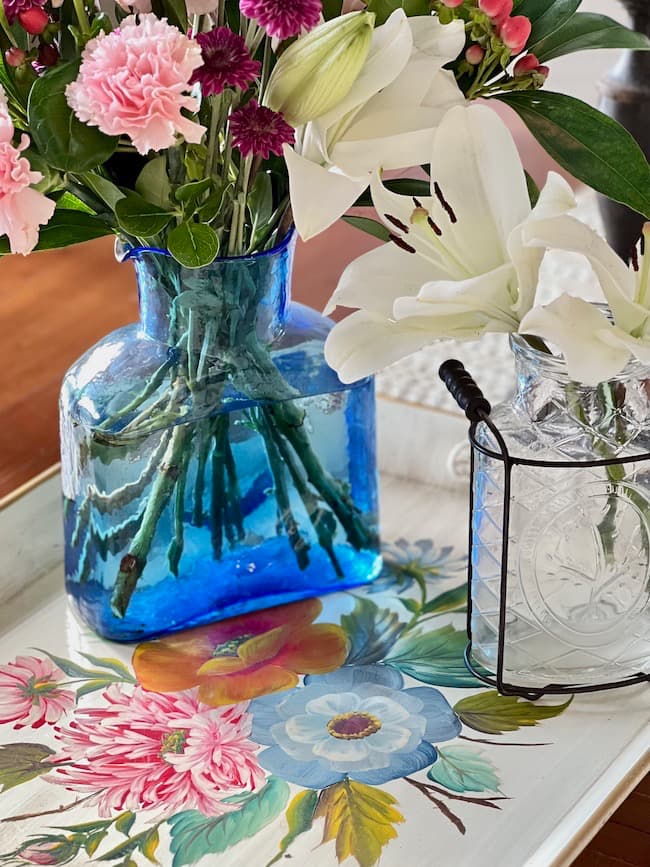 Sometimes I choose a simple, more neutral tray in a wood or metallic finish; however, this pretty tole tray deserves to be the main focal point of our centerpiece!
3. Create a simple flower arrangement (or two).
When you use a tray, you can either create one larger floral centerpiece or a grouping of smaller ones. If your tray is the star of the show such as the case in this tablescape, keep the flowers simple and pull from the colors in your tray.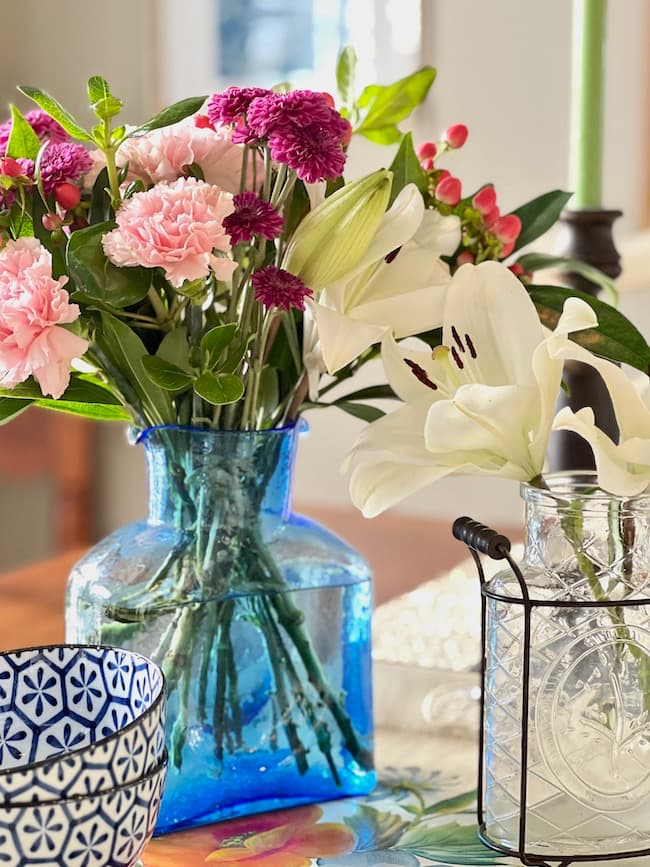 The remaining blooms from my Valentine's Day flowers were the perfect colors to use with the tole tray. I arranged the flowers in this pretty blue glass vase that was gifted from a friend. The blue vase is just lovely with the blue flowers in the tray, and I love how the light shines through the blue glass.
I had a couple of lily blooms left from the arrangement and decided to highlight them in their own separate vase.
Tip: Don't be afraid to pull apart, separate, or rearrange flowers in a bouquet. Sometimes grouping like flowers together in smaller vases will make more of an impact!
How to Extend the Life of a Fading Arrangement: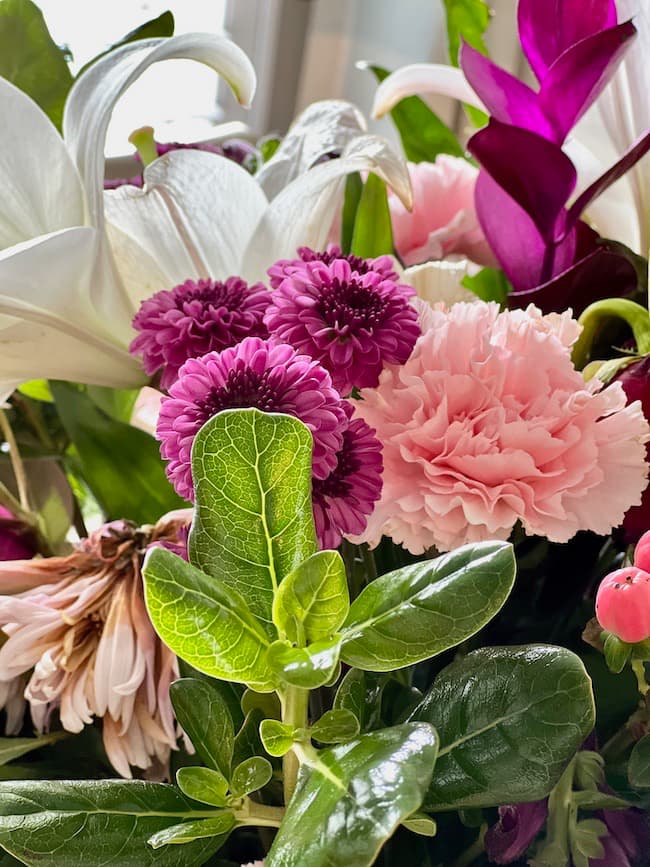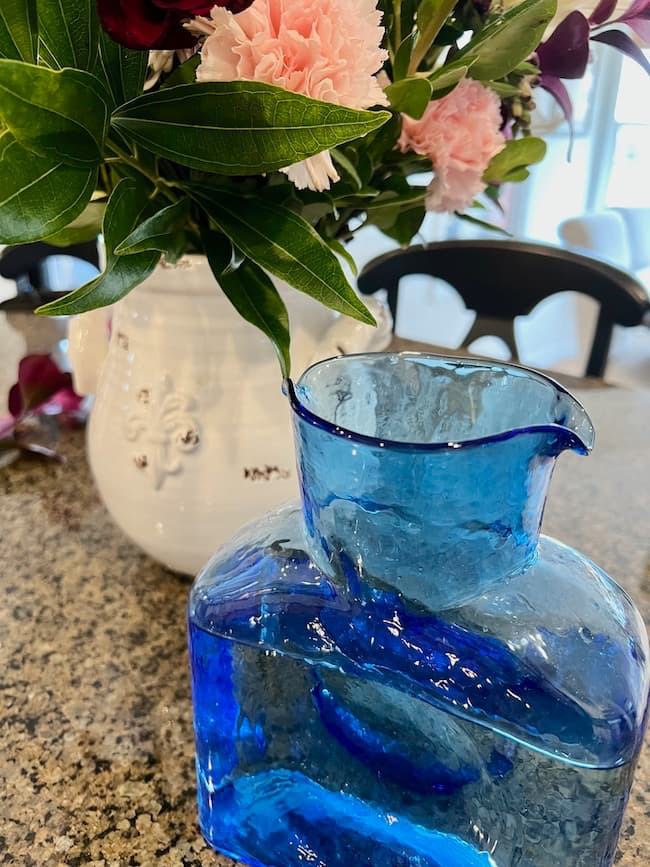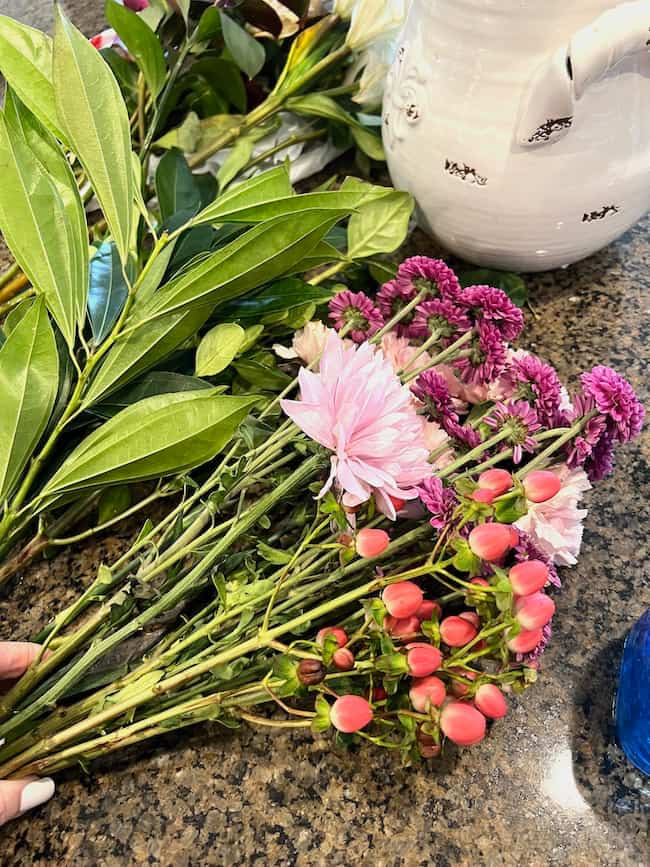 Gather a smaller vase or vases to make a smaller flower arrangement or grouping of arrangements.
Pull out all of the flowers from your old arrangement.
Toss the faded and spent blooms.
Sort your remaining flowers and group like flowers and greenery together.
Start by adding the greenery in your smaller vase, and fill in with the flowers.
4. Add some colorful taper candles to your tablescape.
I remembered I had these pretty green candles that I purchased a while back, but hadn't used yet. Nothing says spring like a pretty spring green, and these candles are perfect with the thrifted tray! You can also use pillar candles or votive candles in votive holders, but I like the simplicity of the two taper candles for this centerpiece.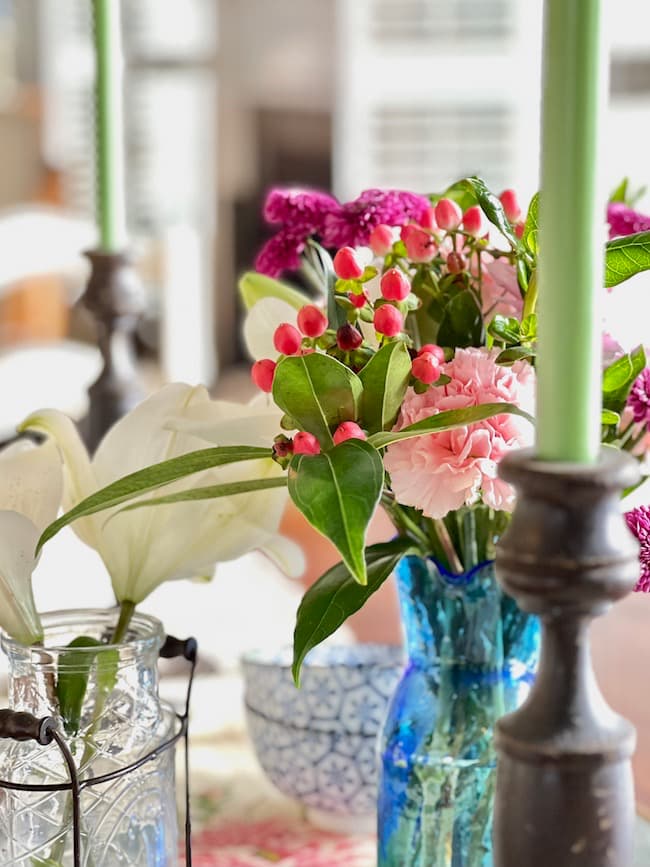 In the spirit of using thrifted items, I added the green candles to a pair of favorited thrifted candle holders.
5. Add smaller bowls or decorative items to your tray for interest.
My tray is a large tray, and while I didn't want to cover the painted floral design, I felt it needed a little something extra to complete the look. I added a couple of blue and white soup bowls to the arrangement, and love how well the small geometric design in the decorative bowls compliments the design of the tray.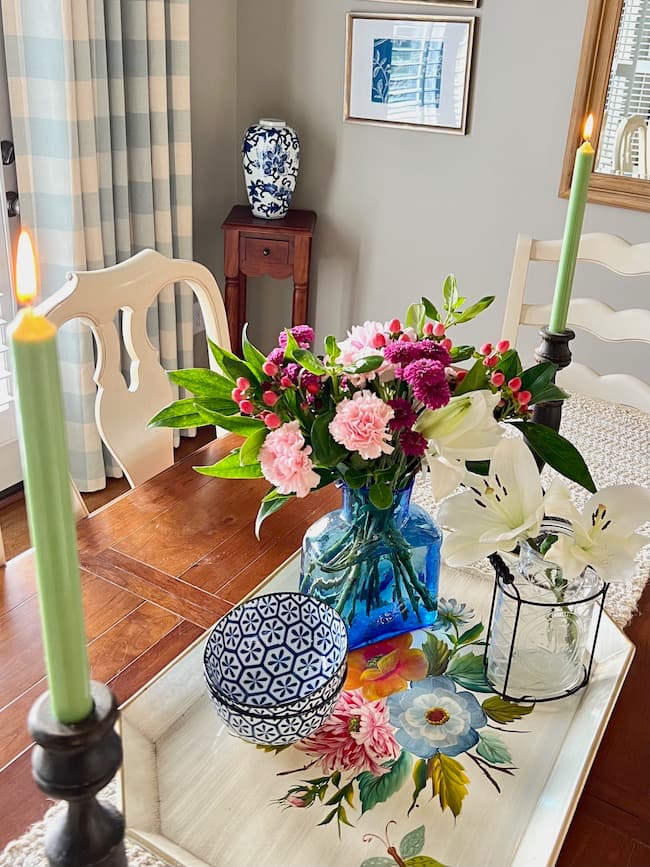 The best part of this simple DIY table centerpiece was searching for the items I already had on hand to pull together for a refreshing spring display!
Shop the Look

As you can see, it doesn't take a lot to create a pretty spring centerpiece for your table. Just a few simple items can create a beautiful look. It doesn't have to be expensive either. Visit your local thrift store and pick up some unique staple decor pieces that you can use around your home. It's a great source for trays, baskets, candle holders, bowls, and other decorative items, and a great way to stretch your decorating dollar!

If you need other colorful spring table ideas, you might also enjoy this colorful spring tablescape.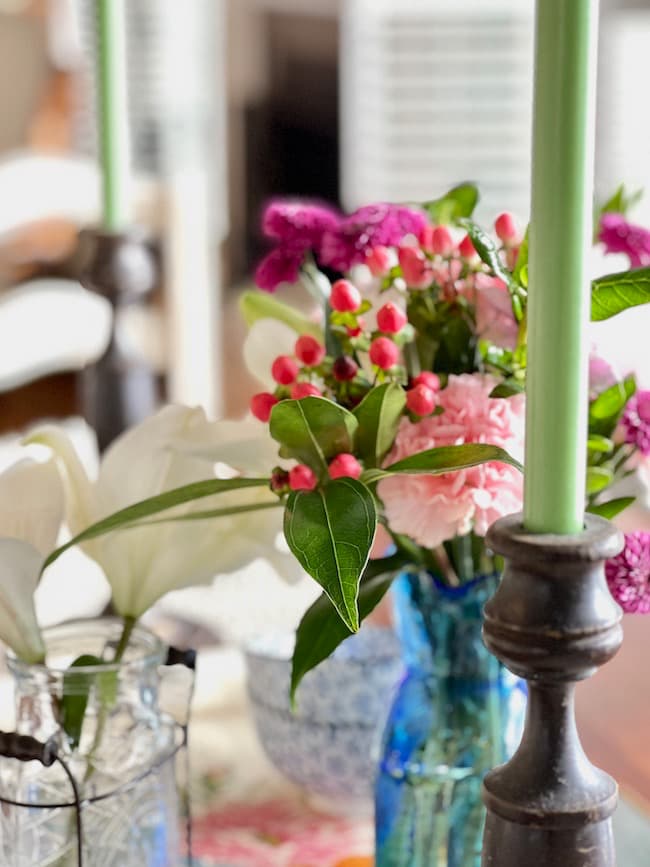 So, grab a pretty tray, some simple grocery store flowers, and colorful candles and create your own beautiful centerpiece for a fresh spring look!
Do you have a favorite thrifted item you love to use in your home? I'd love to hear in the comments!
Pin This Idea for Later!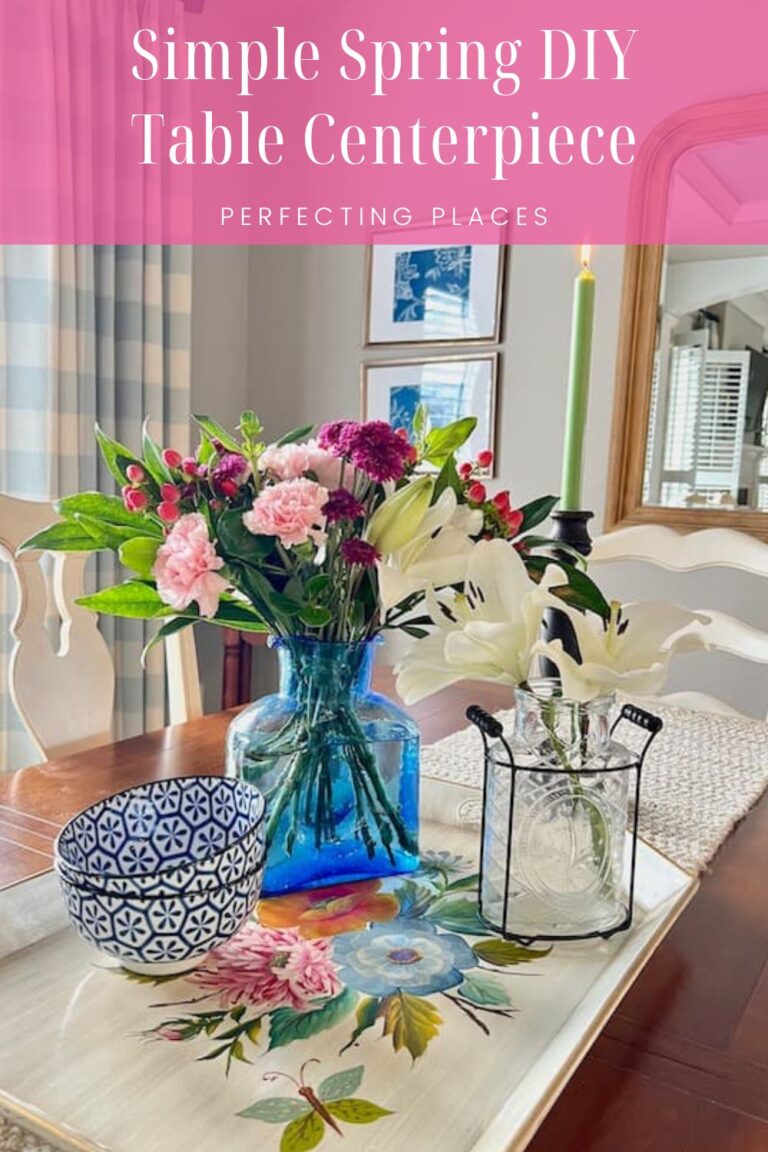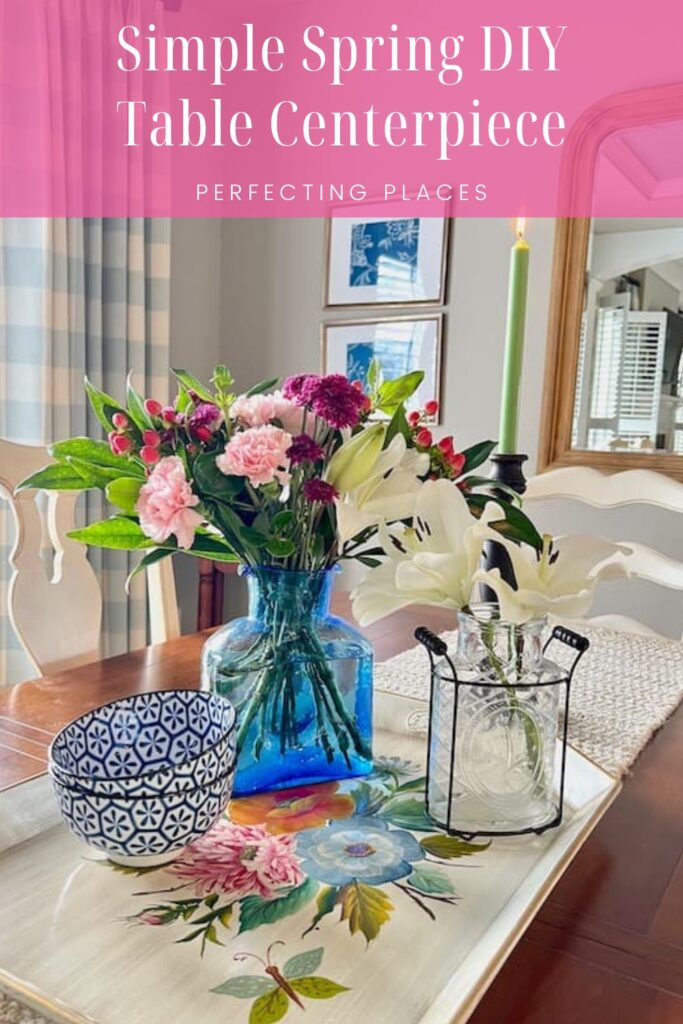 By the way, do you follow me on all the socials? If not, check out my Pinterest, Instagram, and Facebook and be sure to follow along so you don't miss out on any of my decorating and DIY ideas.