Easy Breezy Ideas for Patio Decor
Are you ready for a patio or porch update? I'm sharing amazing ideas for patio decor to get an easy breezy summer look for less!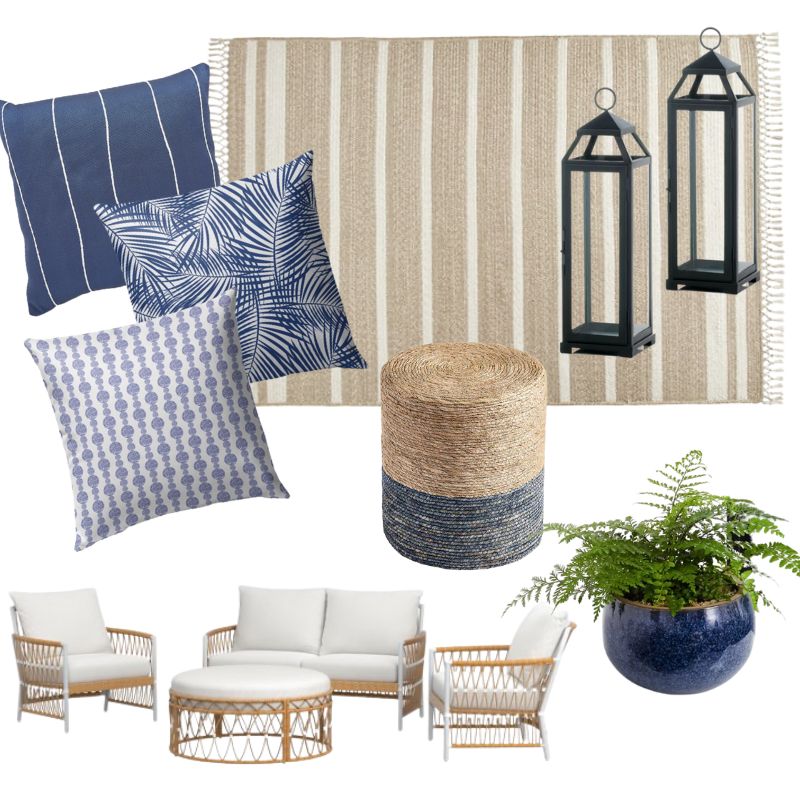 This post contains affiliate links, so I may earn a small commission when you make a purchase through links on my site at no additional cost to you.
My favorite room in our home during the summer time is actually not in our home at all! It's actually just outside the kitchen door on our screened-in porch! 
And my favorite way to spend a summer morning is with a cup of coffee on our screened-in porch. When the weather is just right, I love to do my quiet time out there – just me, our Rosie dog, and the hummingbirds just outside the screen! 
And, the perfect summer day is when I get to end the day in that same place with the sun setting!
Summertime outdoor living just calls for a relaxed, effortless look – reminiscent of days near the water somewhere, whether it's a lake or the beach. I love to pair blue with neutrals, and it's the perfect color combination for creating a relaxed, easy breezy summer look for your outdoor living space. 
I also love all things Serena & Lily – well, all things except the price! So, I pulled together some less expensive Walmart finds to help create this relaxed summer look at a fraction of the cost. Today, I'm sharing these "look for less" patio decor ideas on a budget!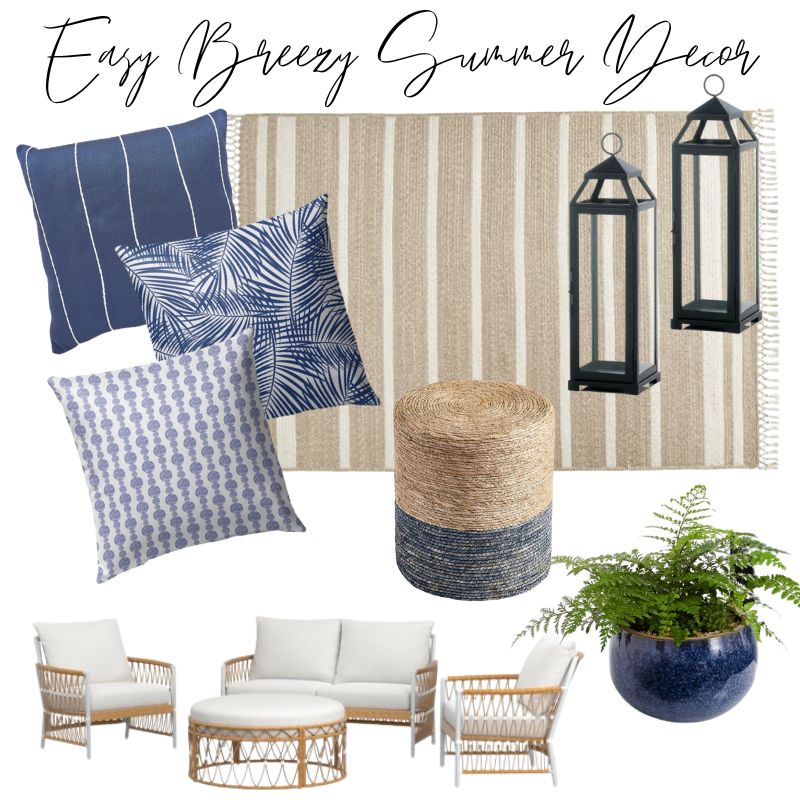 Easy Ideas for Patio Decor from Walmart:
Create a comfortable seating area.
Stick with neutrals for this easy breezy summer look. This amazing patio seating set from Walmart gets great reviews and it's the perfect "look for less" option for this Serena & Lily set at a fraction of the cost!
Anchor the seating area with a neutral rug.
With so many pretty outdoor rugs available it's easy to anchor your seating area with a little color and texture. I love this neutral white and khaki stripe rug from Walmart. Using a neutral creates a more relaxed coastal feel.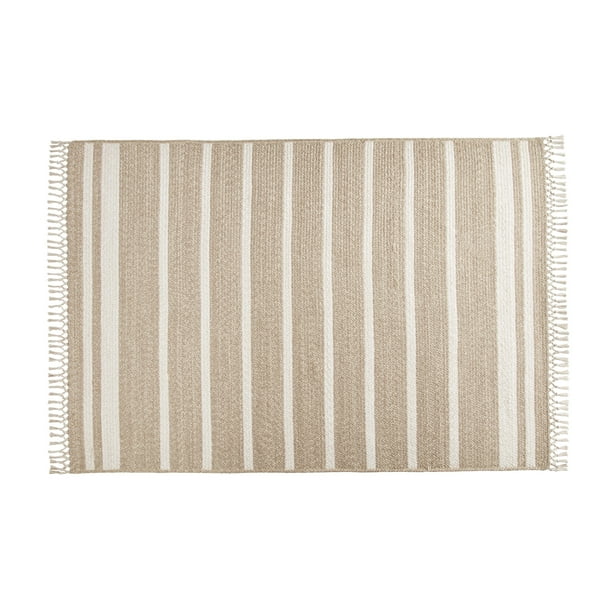 Add a place to rest your feet.
Every relaxing outdoor space needs a place to prop your feet, and this pouf adds just enough color and fun texture for your outdoor seating area.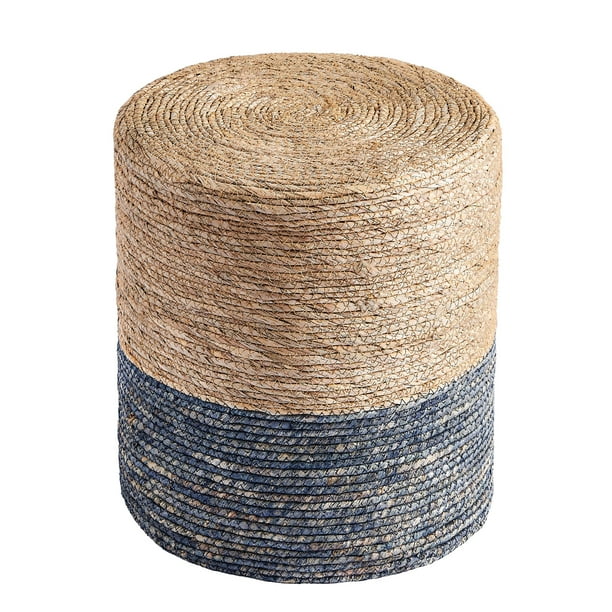 Lantern lighting is perfect for summer evenings.
If you linger after the sun goes down, lantern lighting creates the perfect ambiance for your outdoor living space! I love to use lanterns and candles around our outdoor areas, and these lanterns from Walmart are a great classic look!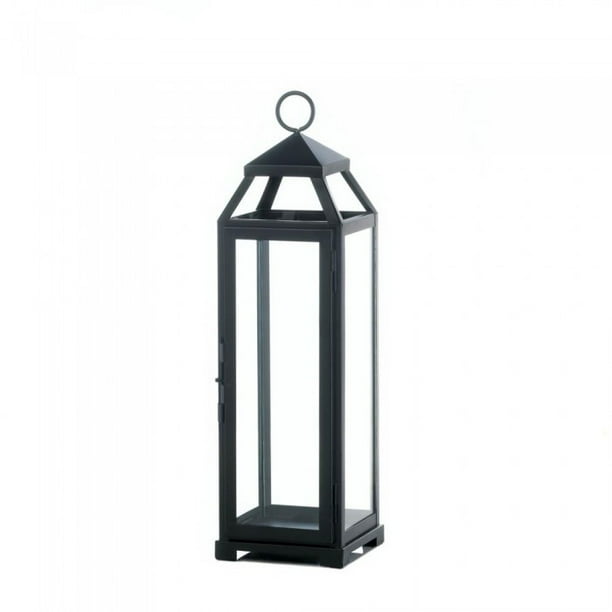 Add blue and white pillows.
Add a little color to your neutral furniture with pretty blue and white pillows. I love the casual vibe of these pillows, and you can never go wrong with blue and white!!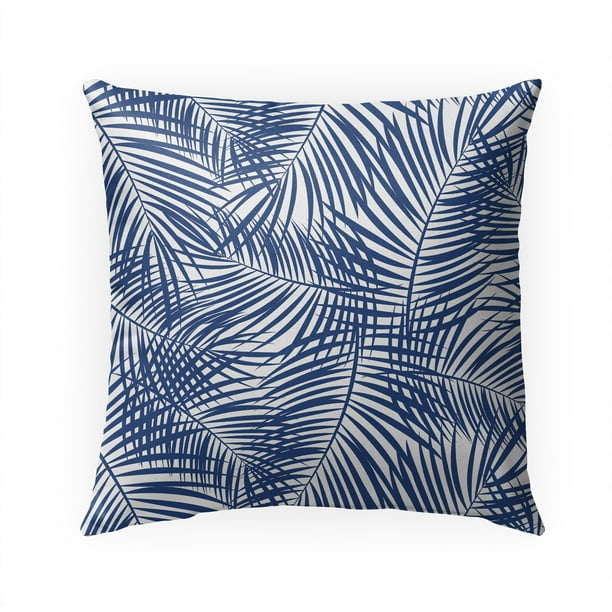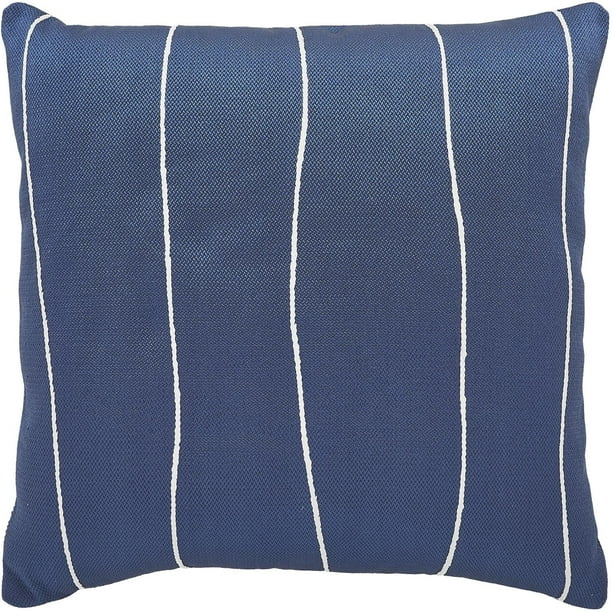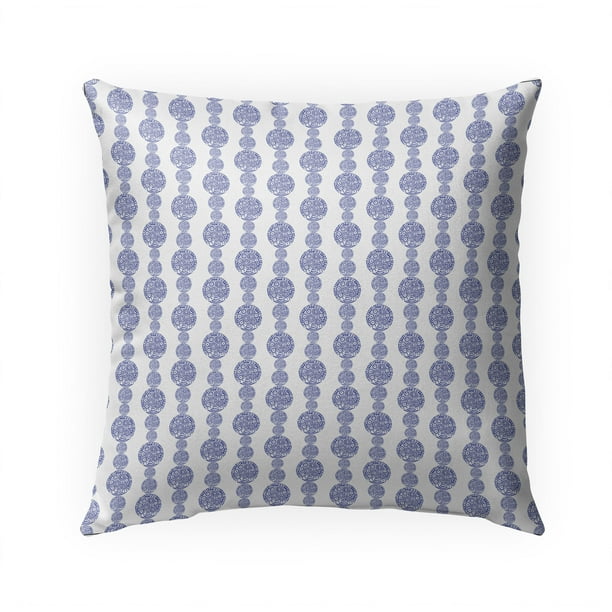 Add some pretty blue flower pots.
These pretty blue flower pots add a pretty pop of blue in to your patio or porch. Fill with your favorite flowers to finish of the look!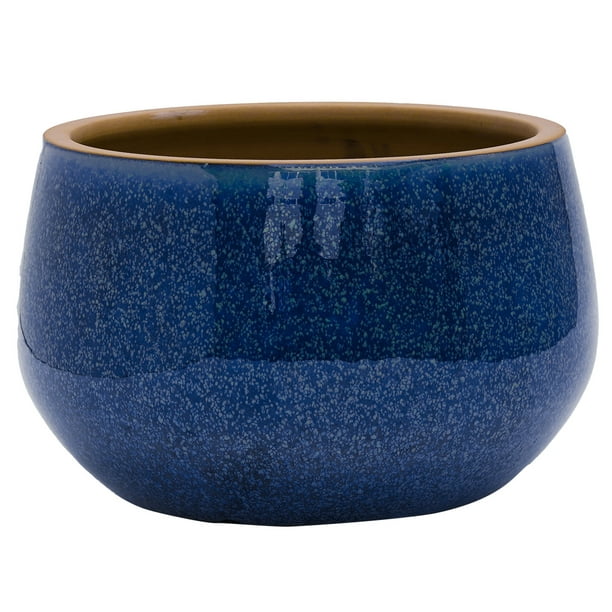 If you're looking to update your outdoor space, I hope this design board and sources give you some inspiration for an easy outdoor look for summer!
Pin It for Later!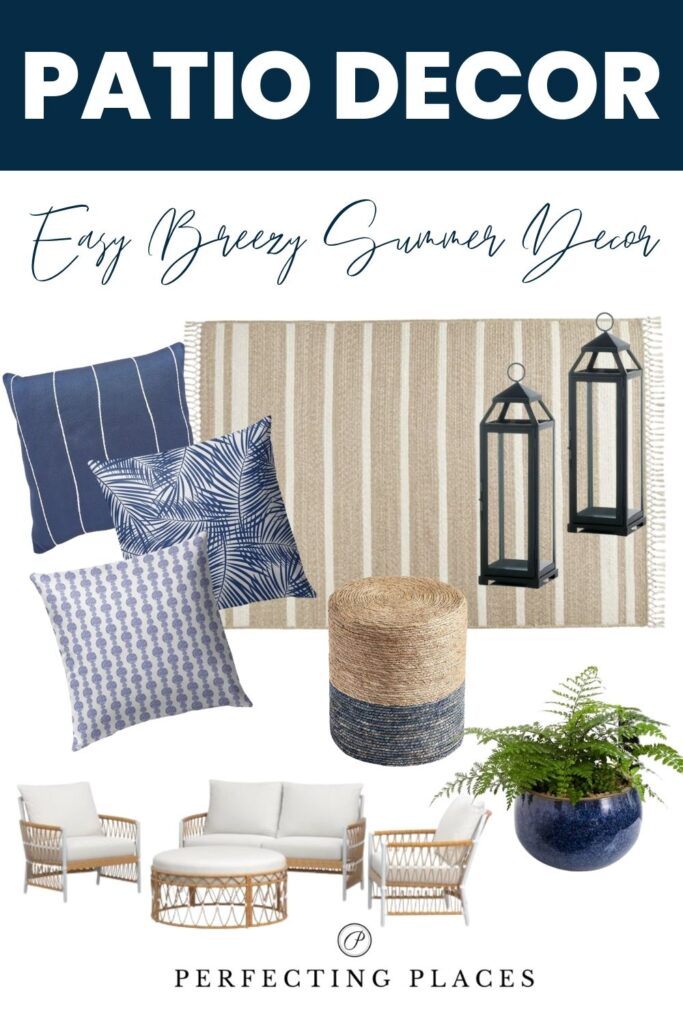 You might also love:
For more ideas and sources for creating a coastal look in your home, you might also enjoy reading this post about Sophisticated Coastal Decor for Your Home.
Be sure to check out other favorite home decor sources on my Shop My Favorites page!!
Happy Outdoor Summer Living!!