Decorations for Spring — Ideas from My Spring Home Tour
Do you need a little spring decor inspiration around your home? Today, I'm sharing great decorations for spring with ideas from our Spring Home Tour.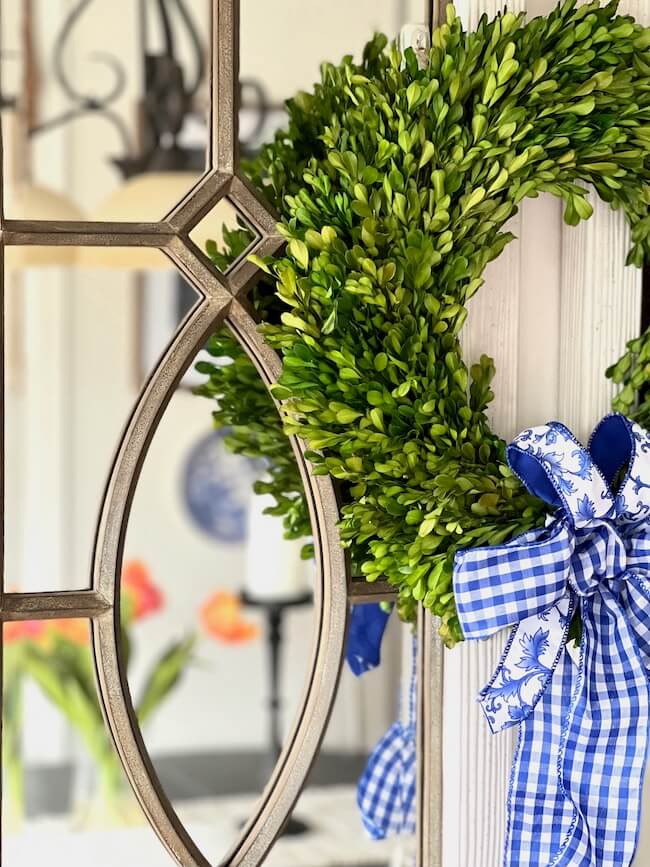 Early spring has certainly brought some crazy weather here to Kentucky! We've had such temperature and weather extremes lately. I'm certainly looking forward to when the warm weather is finally here to stay.
But, for now I'm relying on some pretty florals around our home to brighten up and warm up the spaces.
Decorations for Spring — Ideas for the Foyer:
The entry is the place to greet guests and make a welcoming first impression. I've created a spring arrangement with hydrangea blooms and spring greenery in a tall turquoise vase.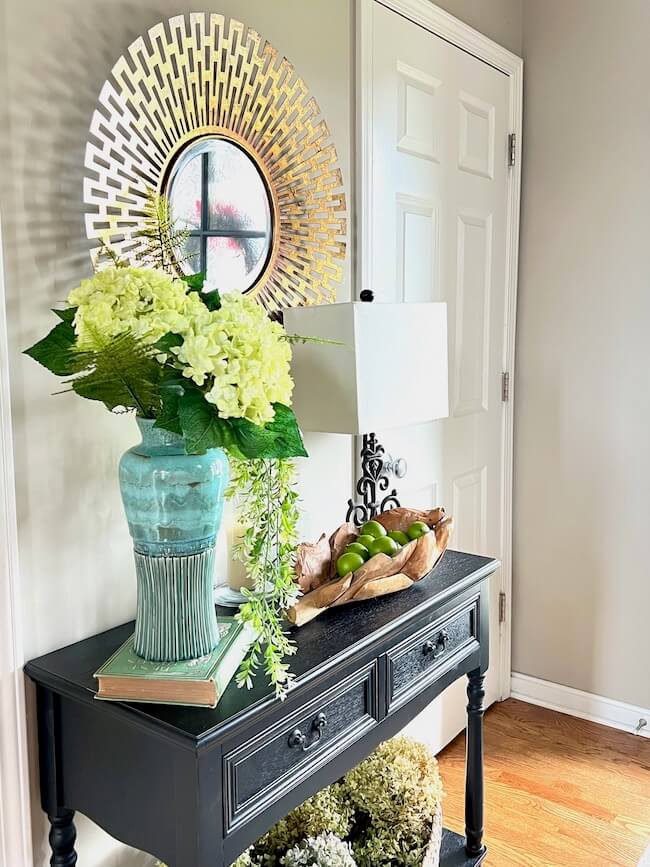 I've paired in with my carved wooden bowl filled with limes to add more fresh green color. The blues and greens paired together certainly feel like spring.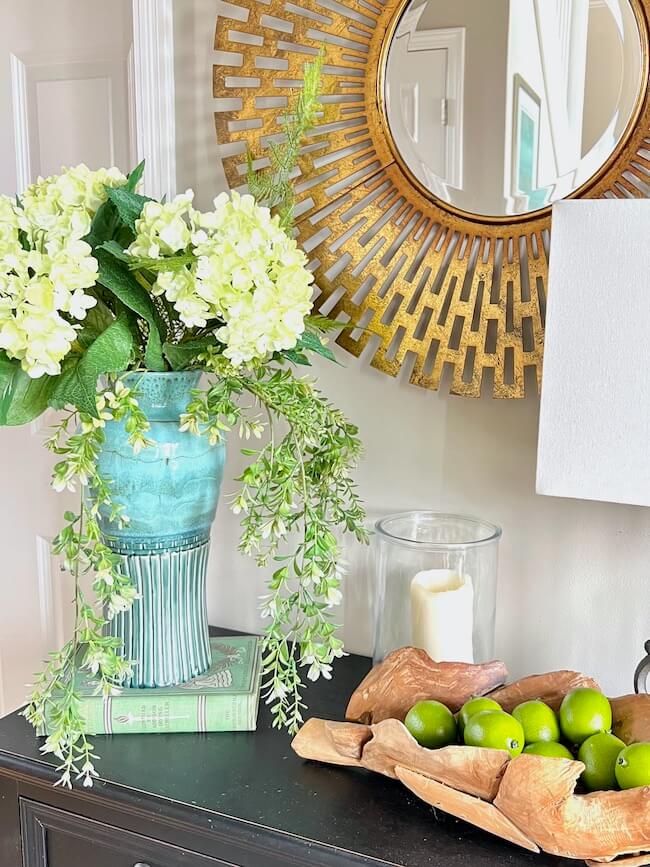 Spring Decor Ideas for the Living Room:
I've carried the blue and green color theme into our living room in our coffee table decor, our sofa table decorations, and on our mantel.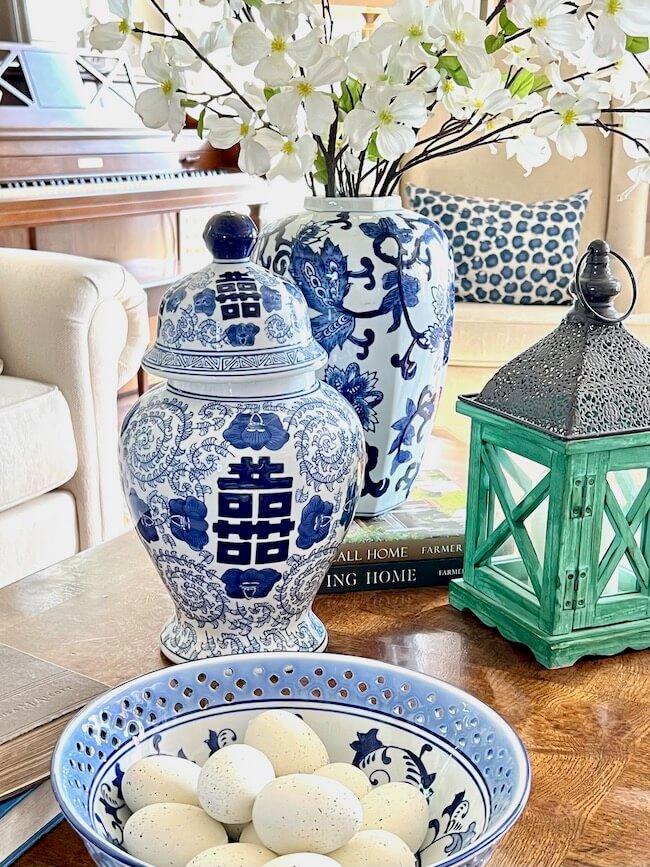 Our vintage coffee table is all decked out in Chinoiserie style for spring with blue and white porcelain pieces combined with my favorite green lantern and pretty white dogwood stems!  I loved putting this table together for spring!
I added speckled white eggs to a blue and white bowl and filled our tray with a mix of antique and favorite design books.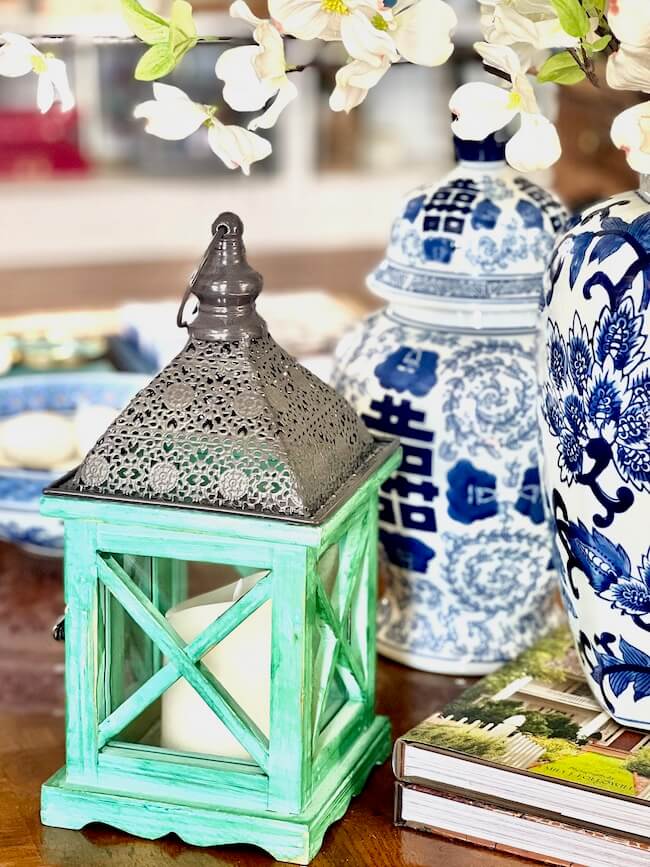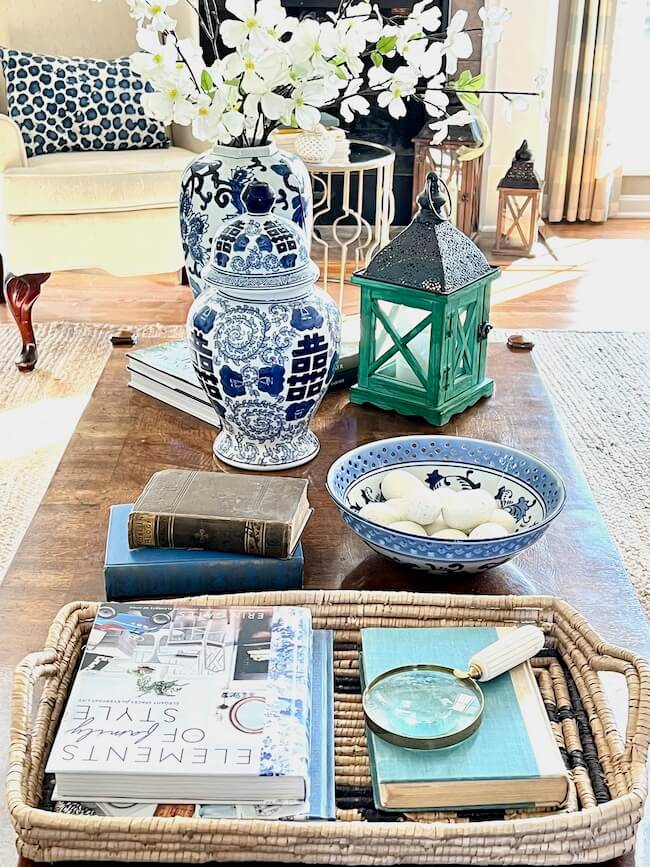 Behind our sofa, I added my carved wooden vase (a favorite thrifted find) and filled it with these beautiful cherry blossom stems and greenery I found at Walmart! I love how pretty they look in the wooden vase!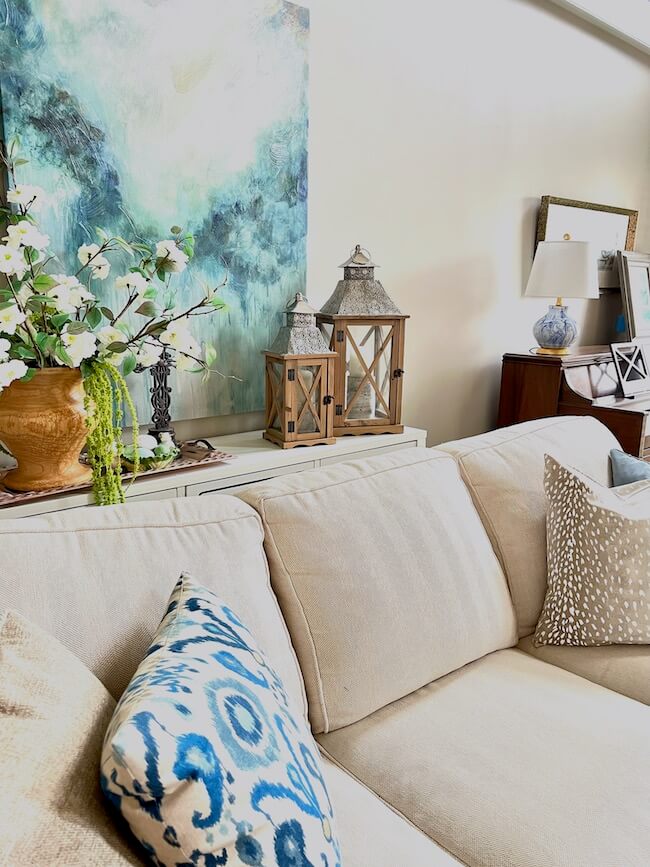 As a general rule, I like to keep my faux blooms consistent with what's actually blooming in season. I just might have to make an exception to that rule with this arrangement. I love how it looks behind the sofa with the artwork and lanterns. It just may have to stick around a while!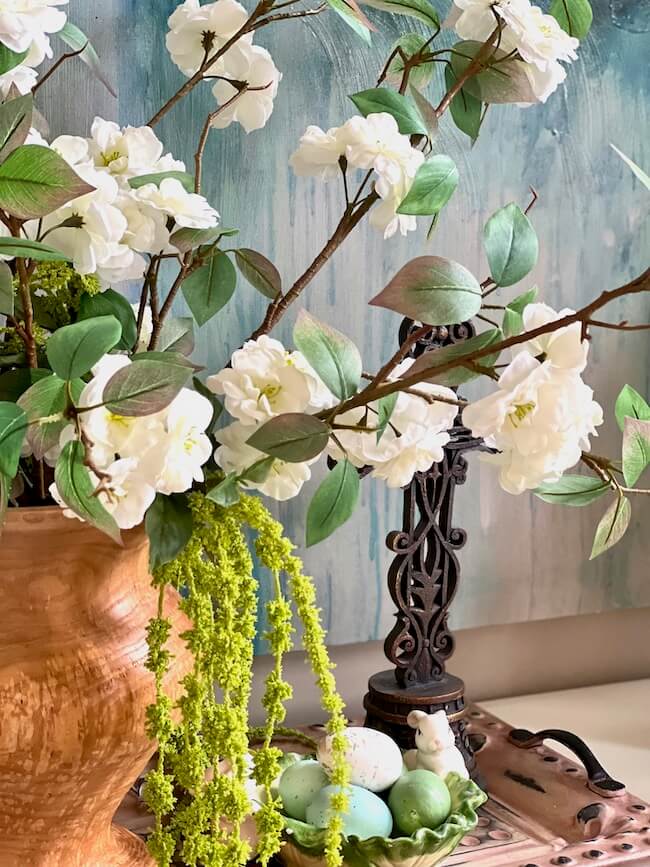 I added a cross and some pretty blue and green speckled Easter eggs in a little bunny bowl to the sofa table, and corralled it all on a tray. I've had this Southern Living French Quarter Tray from way back in my Southern Living at Home party days. I still have lots of pieces from that line that I use to this day.
I continue to use these wonderful faux candles on timers in the evenings in our lanterns throughout the entire year. They add such a warm and cozy feeling to the living room at night all year long!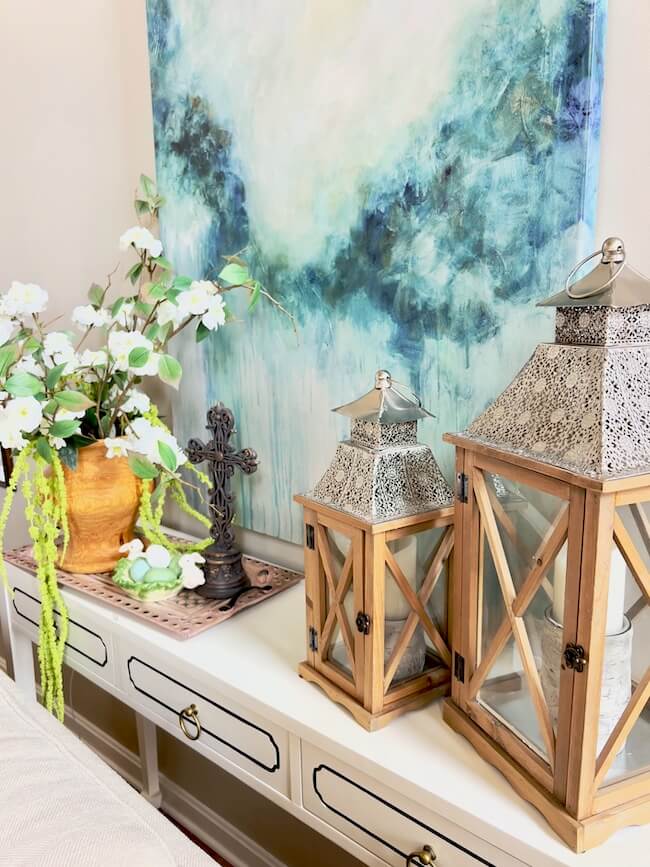 I'm using two magnolia topiaries that I made in the blue and white hand-painted tole cachepots on the mantel on each side of the TV. You can see how I created the topiaries and painted pots in this post. I've filled in the mantel with bunnies, Easter eggs, and moss balls to add touches of spring.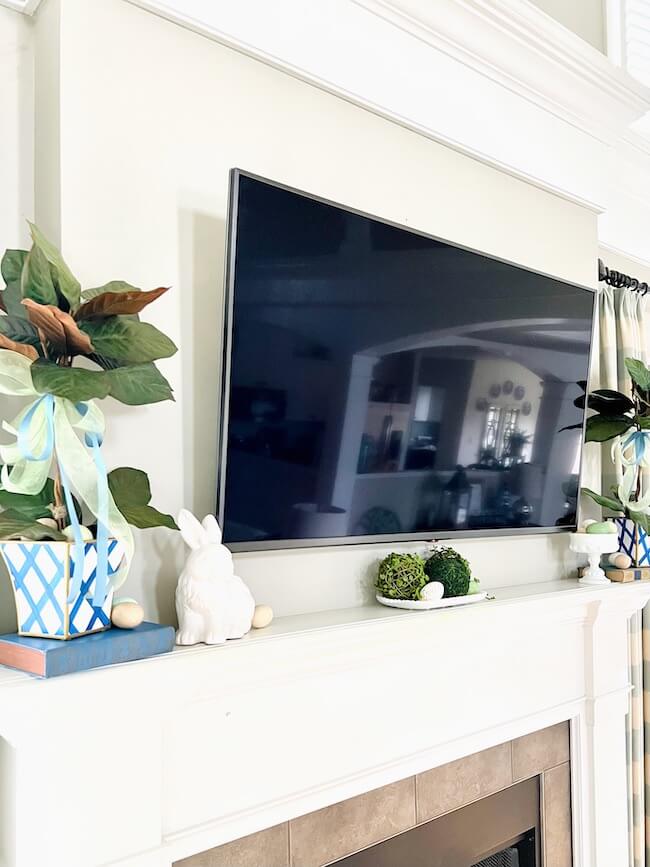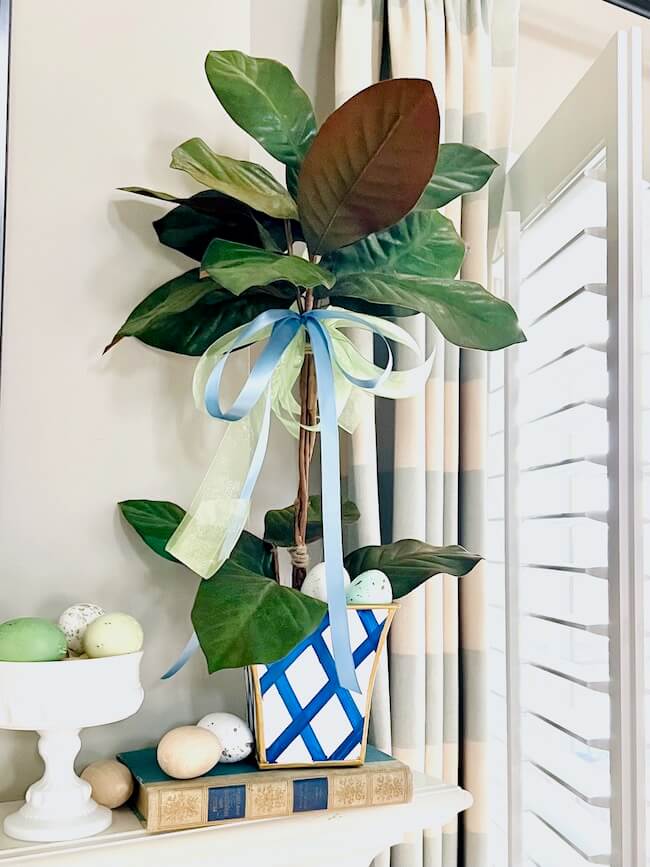 Decorations for Spring — Ideas for the Kitchen:
I added a little coral to our kitchen to compliment all the blue and white! Coral is one of my favorite colors, and it's fun to add touches of this pretty color in our kitchen in flowers, dish towels, and mugs. Coral is so pretty paired with our Benjamin Moore Hale Navy kitchen doors.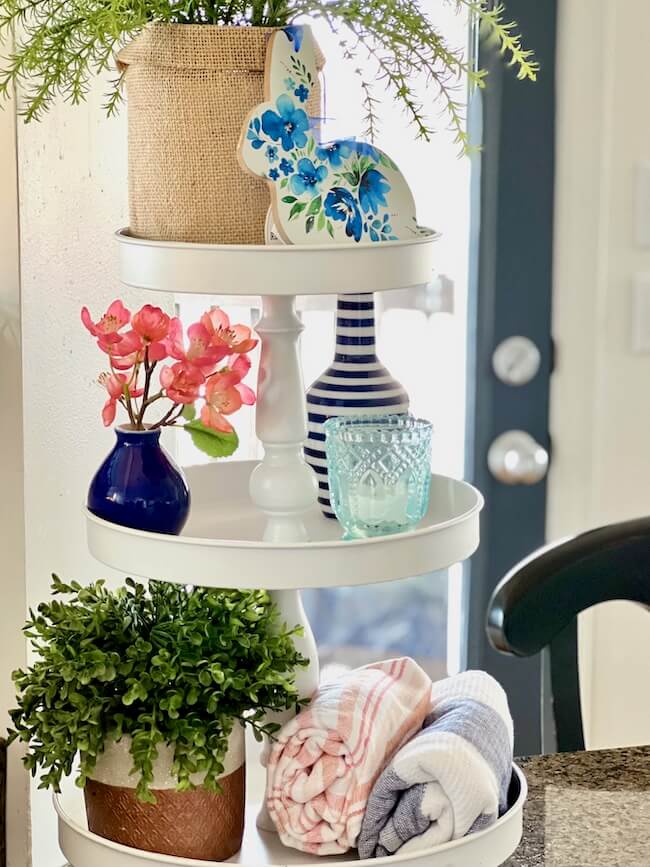 I added some coral flowers to the blue and white vases on our white three-tiered tray and rolled some coral dish towels to pair with the navy and white.
I love the little wooden bunny painted in the blue and white floral print.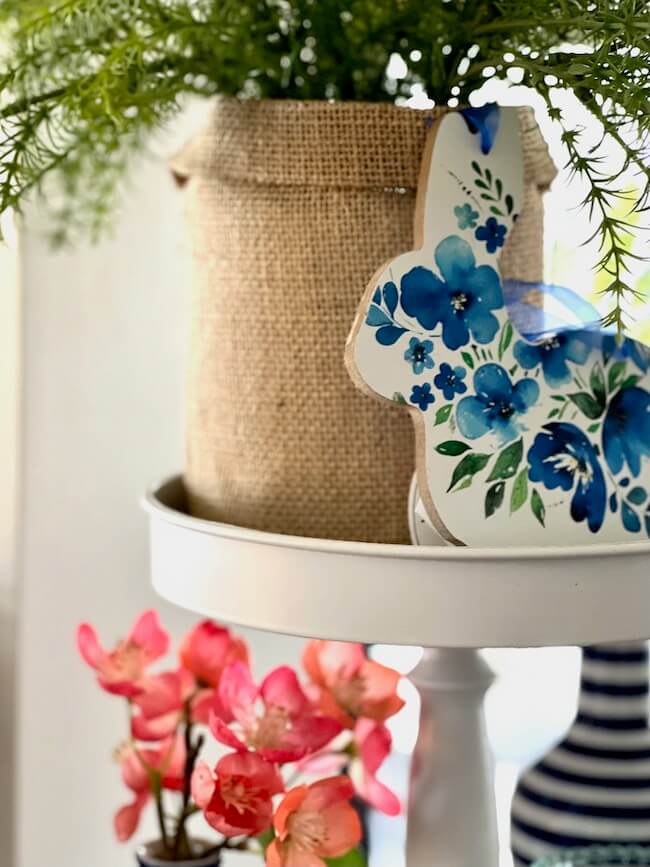 Some fresh blue and white gingham ribbon adds a fresh touch to our kitchen and looks pretty with the coral splashes.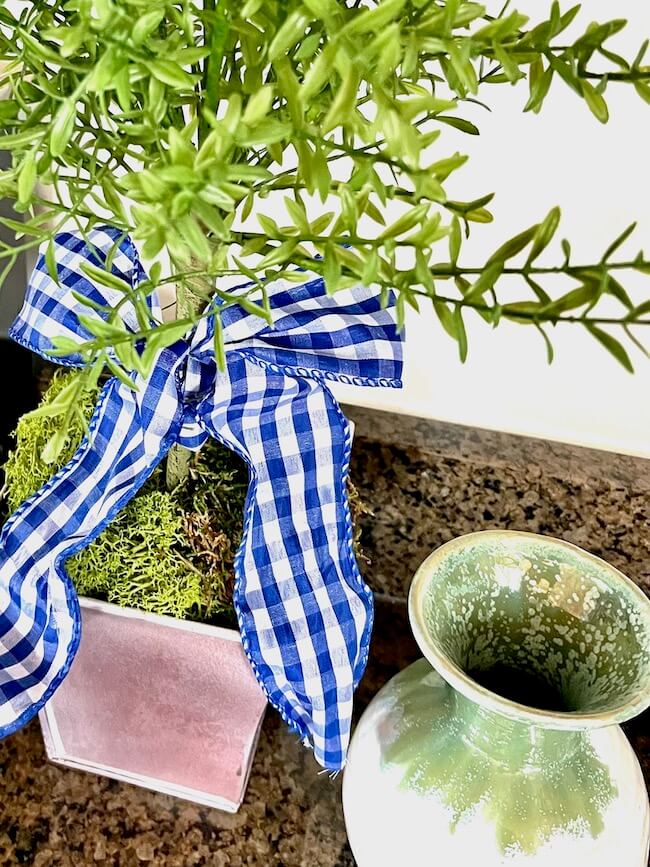 I added a bow to this rosemary topiary that sits beside our range.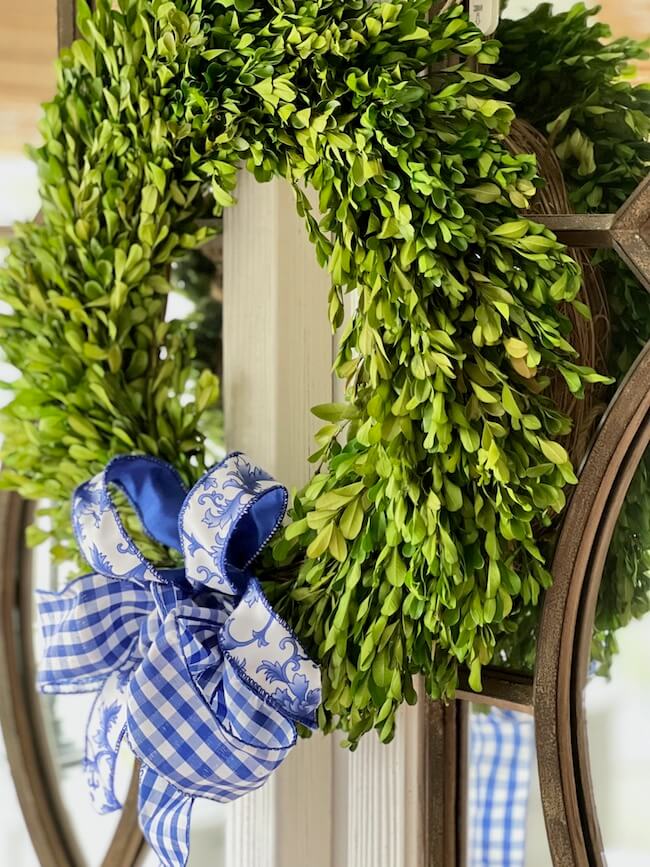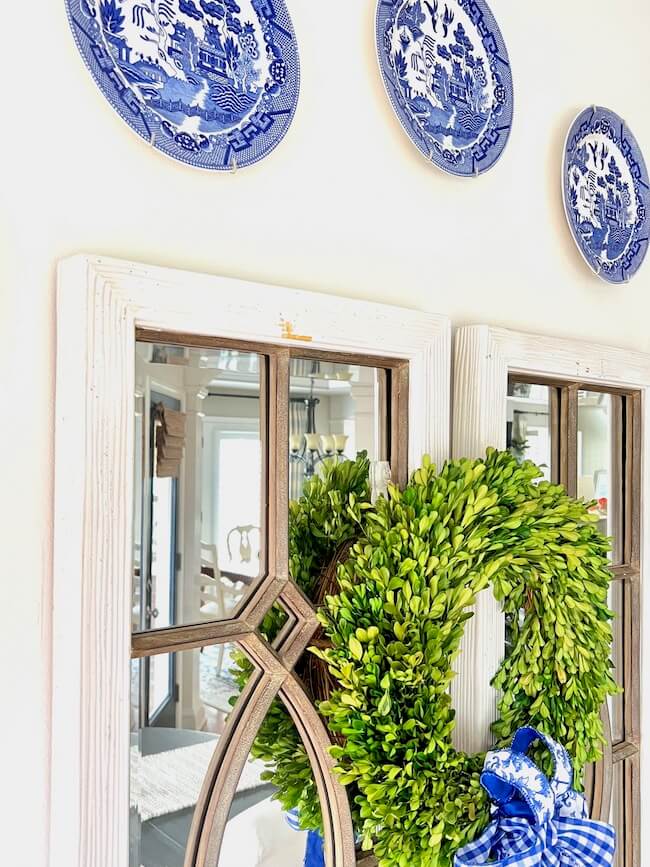 I also added some blue and white ribbon to this boxwood wreath and hung it on our pair of  Garden District mirrors from Ballard Designs. I love the fresh, springy look of the ribbon with our Blue Willow plate display on the wall.
The orangey-coral tulips just pop against all the blue and white!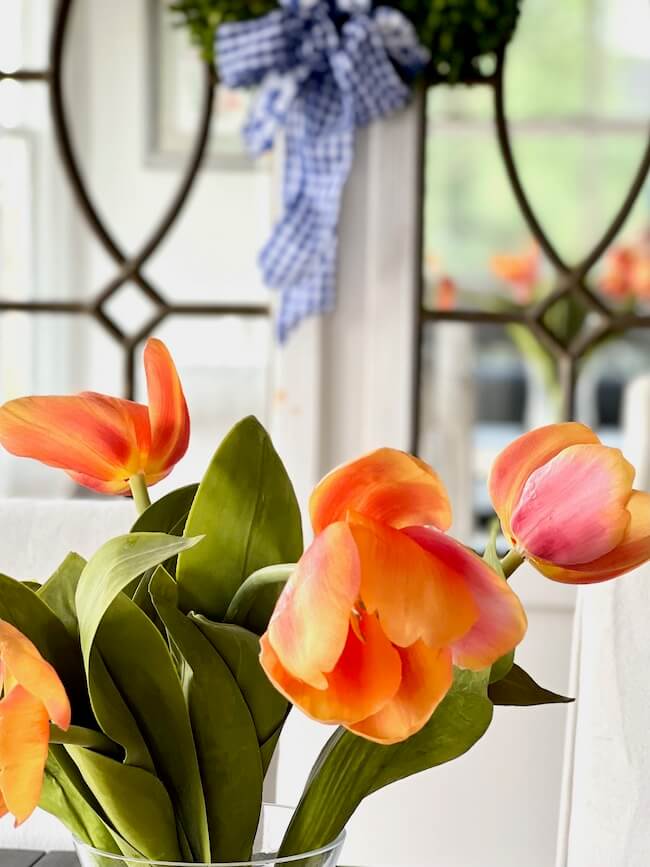 These coral tulips have definitely stood the test of time in our house! If you use faux florals, try to make sure they look as real as possible. The acrylic "faux water" in the vase makes them look even more realistic!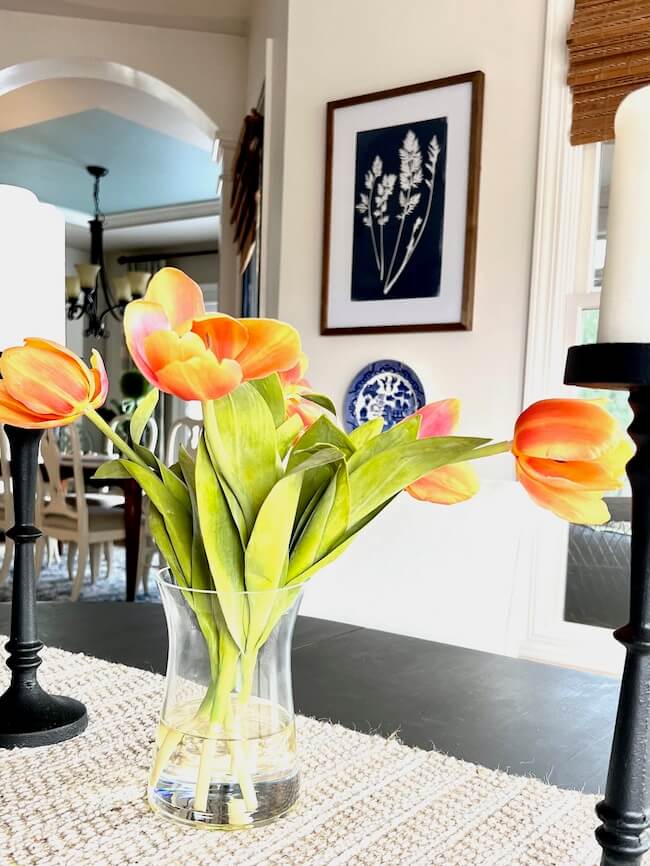 On our kitchen buffet, I filled a pretty green Easter basket full of plants and these adorable cloth carrots from Hobby Lobby! I also added a round woven basket with wooden eggs in a moss vase paired with some blue and white vases.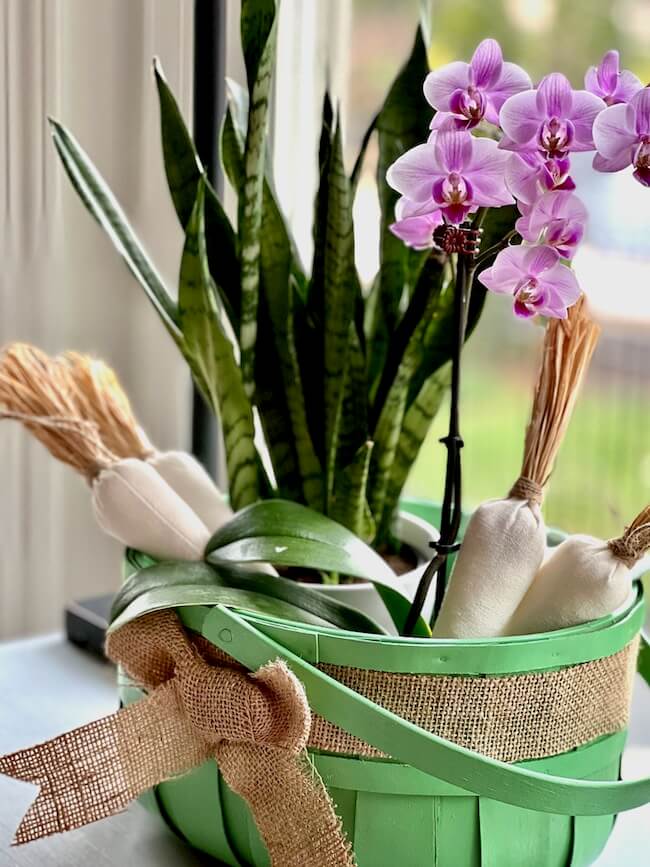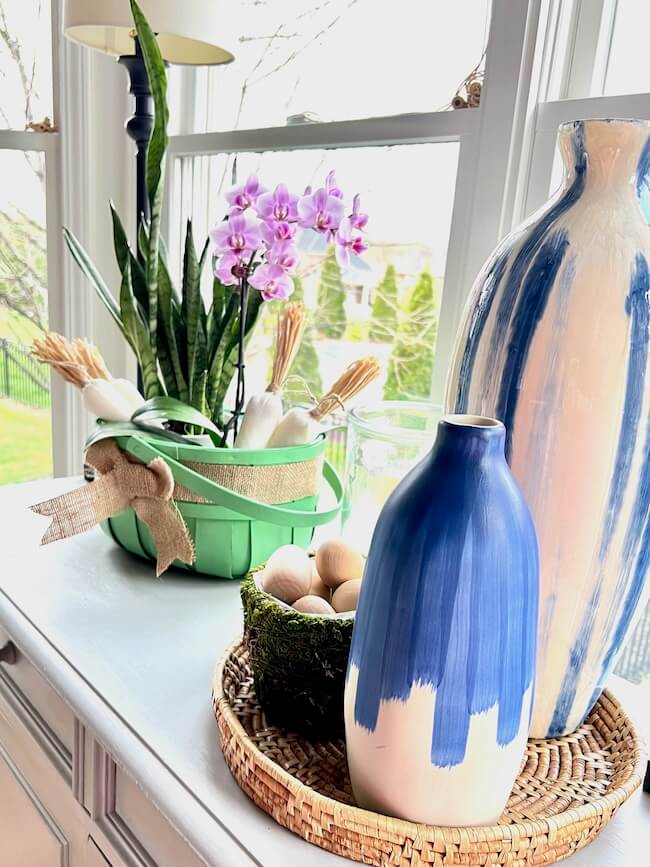 Spring Decor Ideas in Our Dining Room:
I carried the coral color theme into our dining room as well, with our dining table all decked out for Easter. The table centerpiece, with it's cabbage centerpiece focal point tied all the blues and greens and corals and lilacs together.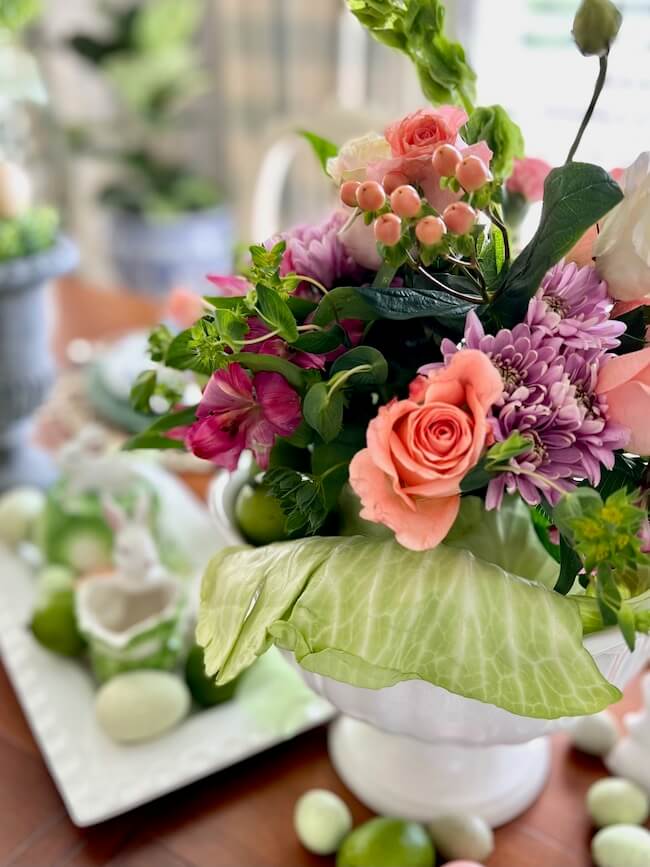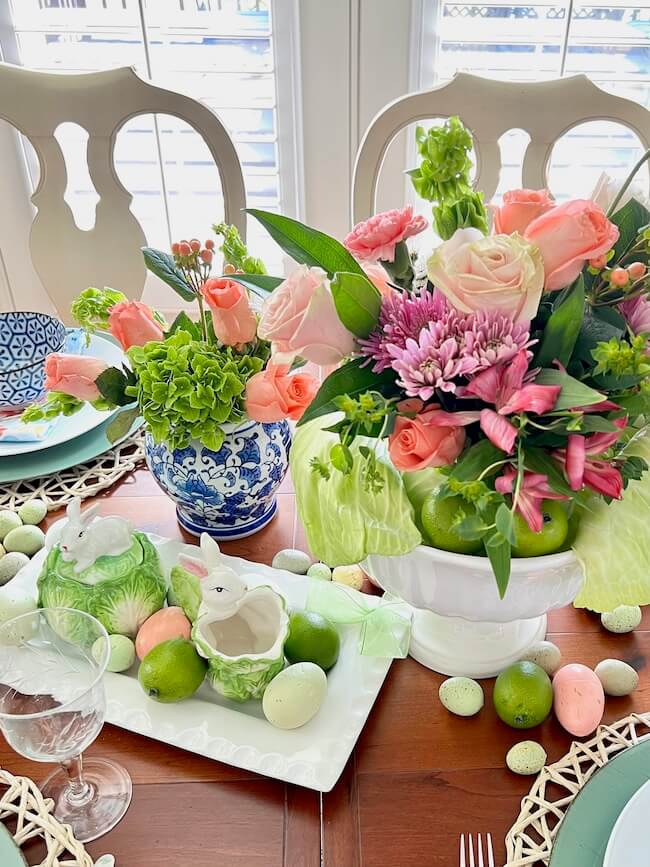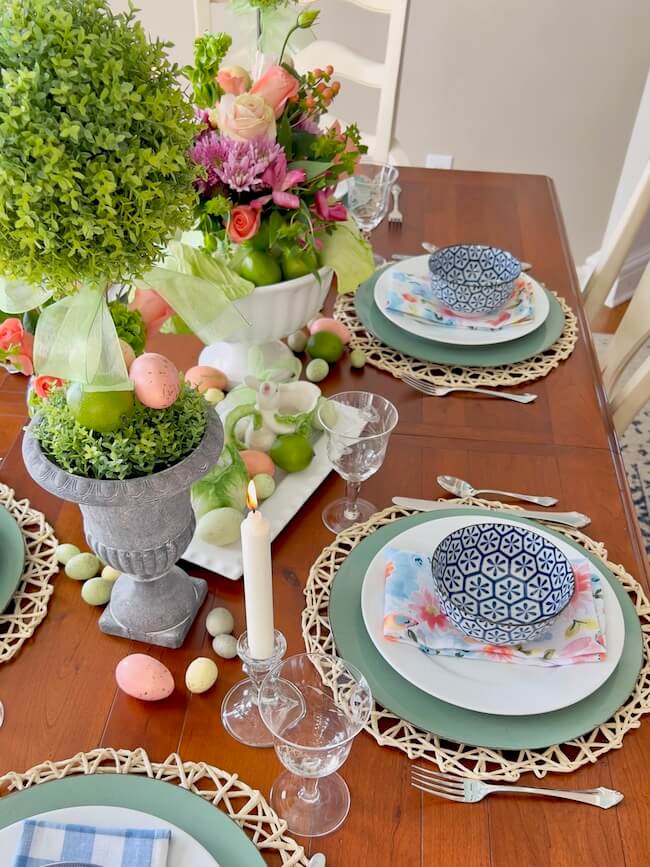 ---
Shop the Look
---
I hope you enjoyed my little Spring Tour of our home.
Now, I'm feeling a little more springy around here. Hopefully, the weather outside will catchup and get on board with Spring-time as well!
Thanks so much for stopping by!
What is your favorite thing about spring?