Easter Kitchen Decor Ideas in Fresh Spring Colors
Easter is the perfect time for fresh colors in your kitchen. These Easter kitchen decor ideas will brighten your room with a fresh spring color palette.
From colorful Easter eggs to vibrant florals, you can add lots of festive Easter decor around your kitchen in a fresh new color scheme. These colorful Easter decor ideas feature a palette of fresh spring greens, soft peach, corals, and oranges to create a colorful and vibrant look in your kitchen for spring.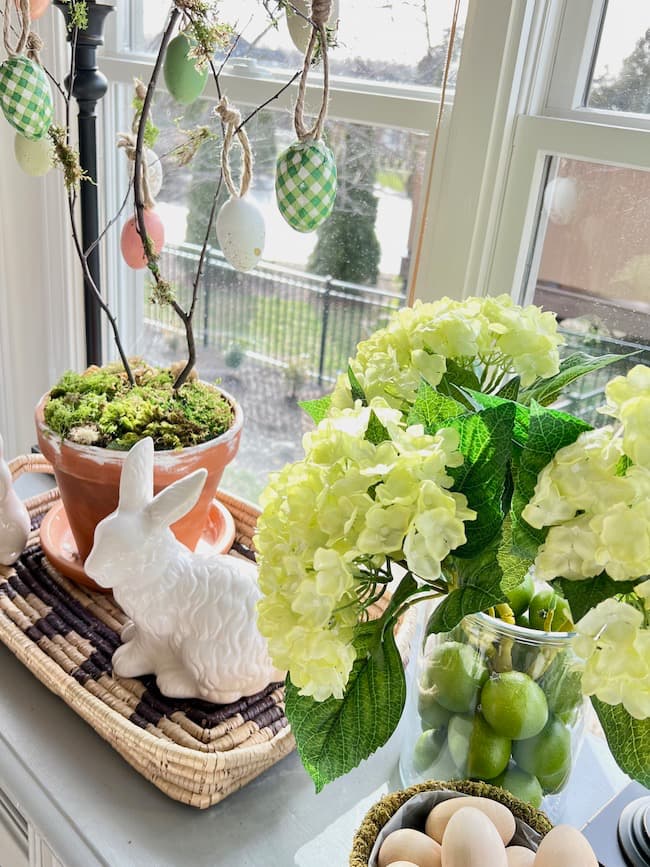 (This post contains affiliate links, so I may earn a small commission when you make a purchase through links on my site at no additional cost to you. As an Amazon Associate I earn from qualifying purchases.)
Are you ready to start decorating for Easter? If so, today is your lucky day!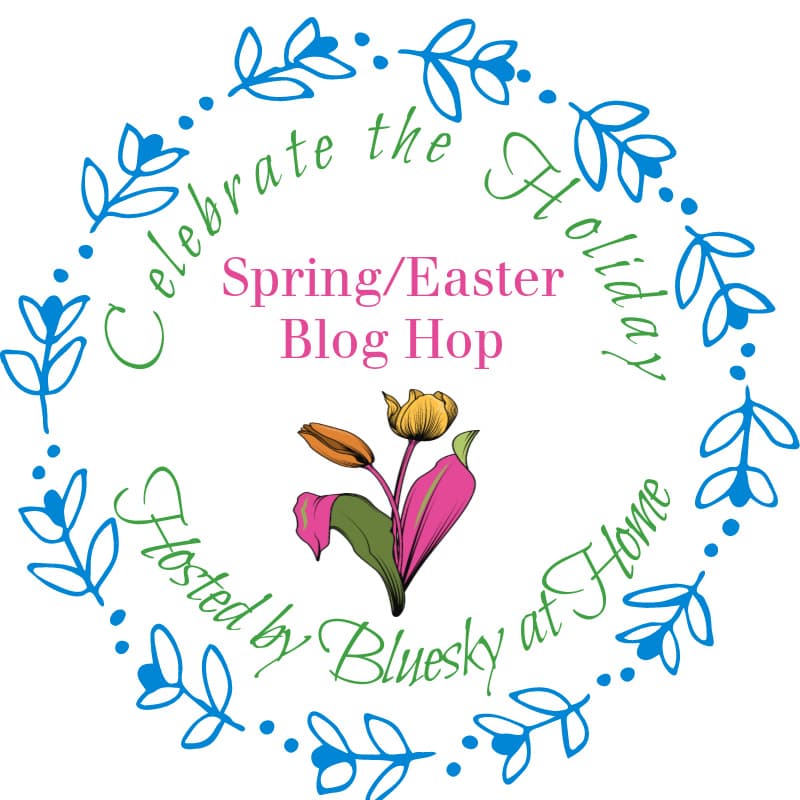 I'm joining my talented blogger friends in the Celebrate the Holiday Easter and Spring Blog Hop hosted by Carol from Bluesky at Home. A special thanks to Carol for putting this amazing blog hop together! Be sure to stop by and visit all of my creative friends at the end of this post for lots of Easter and spring decor ideas! 
If you're stopping by from Southern Home and Hospitality, didn't you just love Kate's gorgeous decoupage flower pots?
Welcome to Perfecting Places! I'm Kim, and I blog all about home decorating and DIY ideas! You'll find lots of ideas for designing and decorating your home including favorite paint color suggestions and palettes, room makeovers, and easy seasonal DIY ideas to help you create a home you love! I'm so glad you are here!
I just love the newness of spring and the hope of the Easter season!
After a long cold winter, it's so refreshing to add color and life to the rooms in our home, and what better place to start than in the kitchen!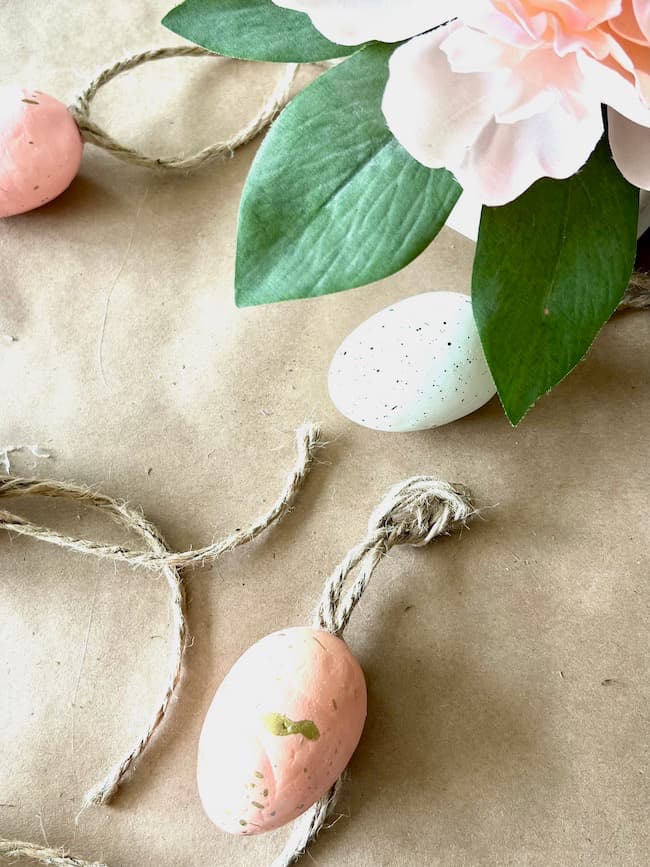 Our kitchen is the center of our home, both figuratively and physically speaking. With our open floor plan, our kitchen is the center of all activity. It's adjacent and open to the living room and dining room, so it definitely needs to be spruced up with each new season. I love adding seasonal decor touches around out kitchen, and it was definitely ready for a little spring refresh!
I'm sharing how I added touches of fresh spring color to our kitchen decor for Easter.
How can I decorate my kitchen for Easter?
If you're hosting an Easter brunch or Easter dinner, your kitchen space will be the center of activity, so adding some festive seasonal decor to your kitchen countertops, kitchen island, table or buffet will create a festive look for your Easter celebration!
You can decorate your kitchen for Easter by adding a few simple details around your room in a fresh spring color scheme. Adding bunny accents, fresh tulips, hand-painted Easter eggs, and other Easter decorations will spruce up your kitchen for the season. Select a color scheme in vibrant spring colors for a fresh look.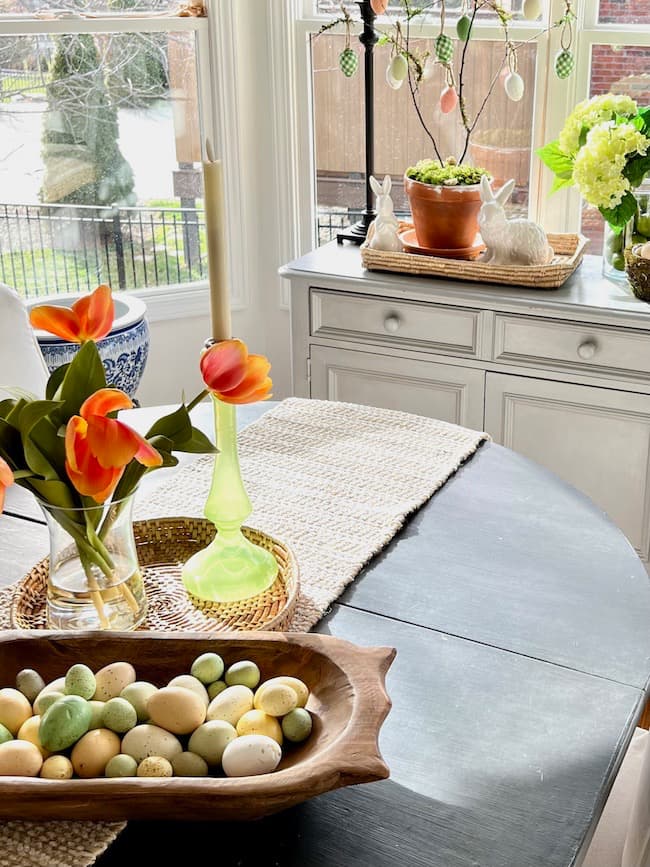 Choose a fresh color palette for your Easter decor.
This year, I'm loving spring greens and soft shades of orange for Easter, so I've created my kitchen Easter color palette around those shades. To be honest, I think it's all the adorable carrot-themed decor that I've been drawn to that's influenced this color scheme. Green is perfect for spring and it's fun and beautiful to pair different shades of green together to create a vibrant spring look — just like they appear in nature!
Soft oranges and corals pair perfectly with green for a pretty spring color scheme.
Decoupage some eggs.
You can cover real, wood, or plastic eggs with pretty printed paper napkins to create pretty patterned eggs in your color scheme. These pretty green and white gingham napkins are so fun with my color scheme, so I decided to decoupage some eggs with them for a fun look.
How to Decoupage Eggs for Easter: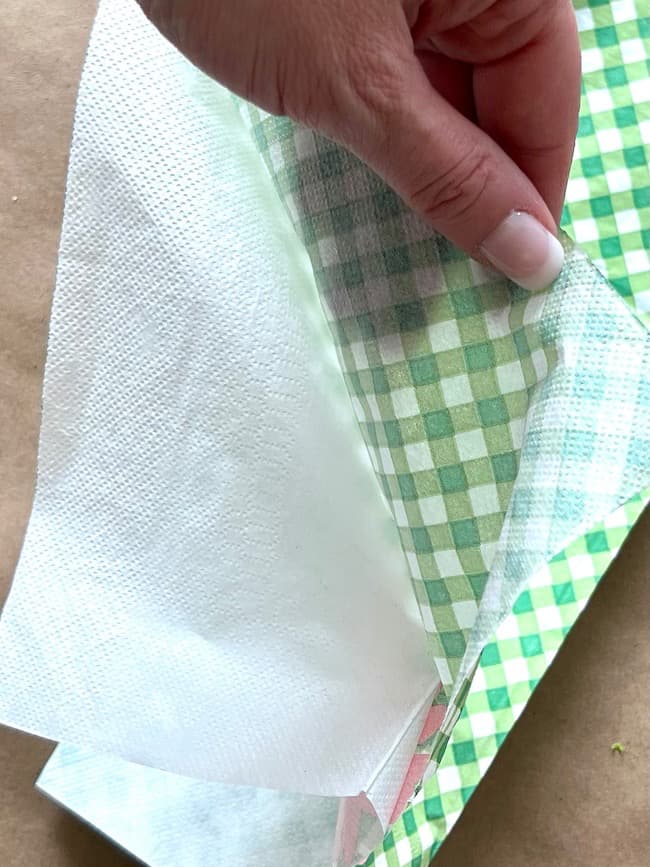 1.Peel apart the layers of your napkins. You'll only use one layer for your eggs.
2.Apply a thin layer of Mod Podge to your egg with a foam brush.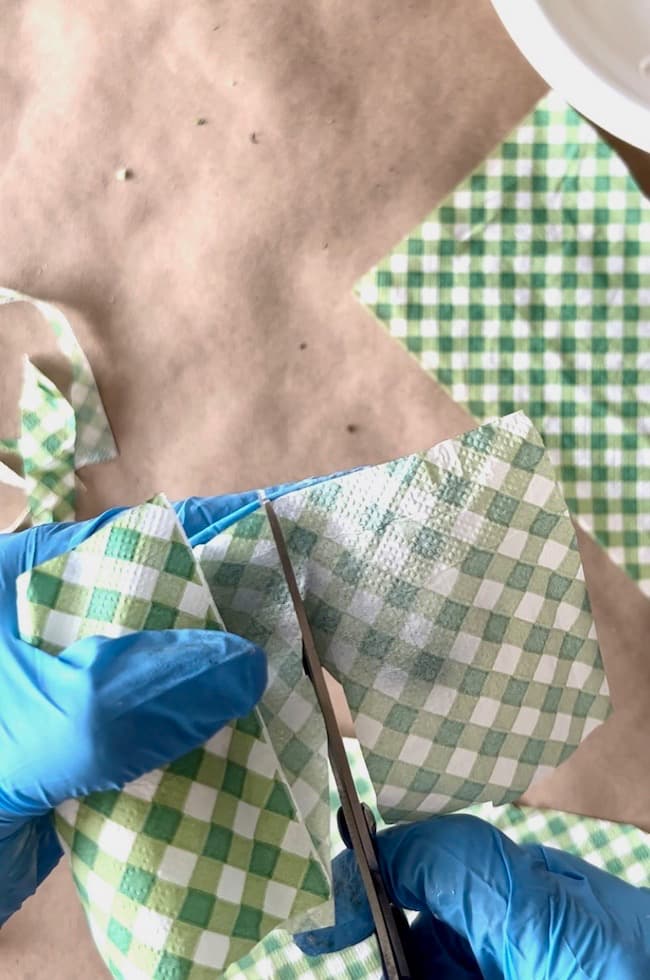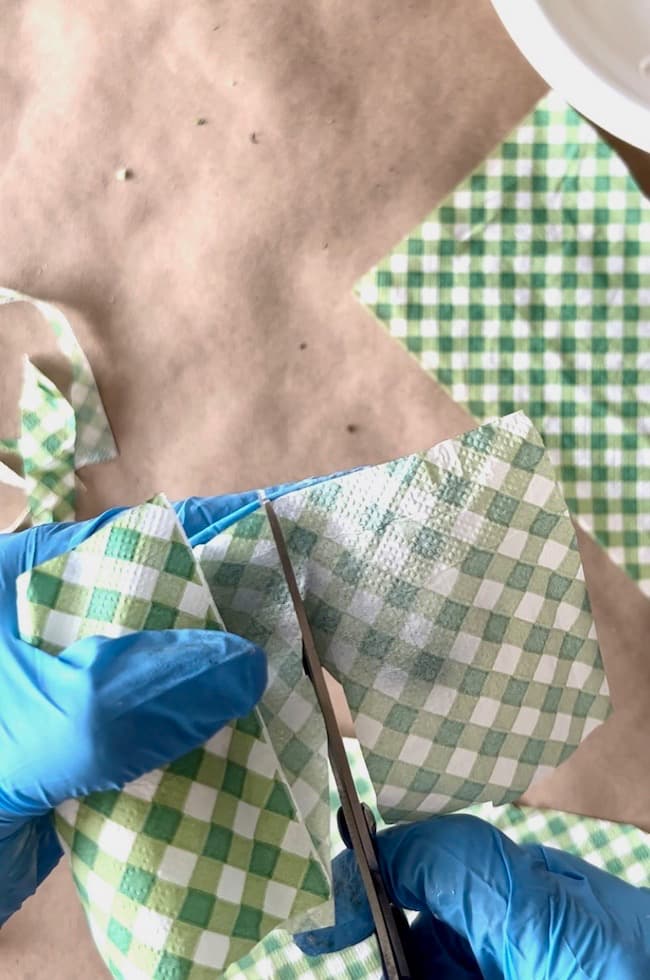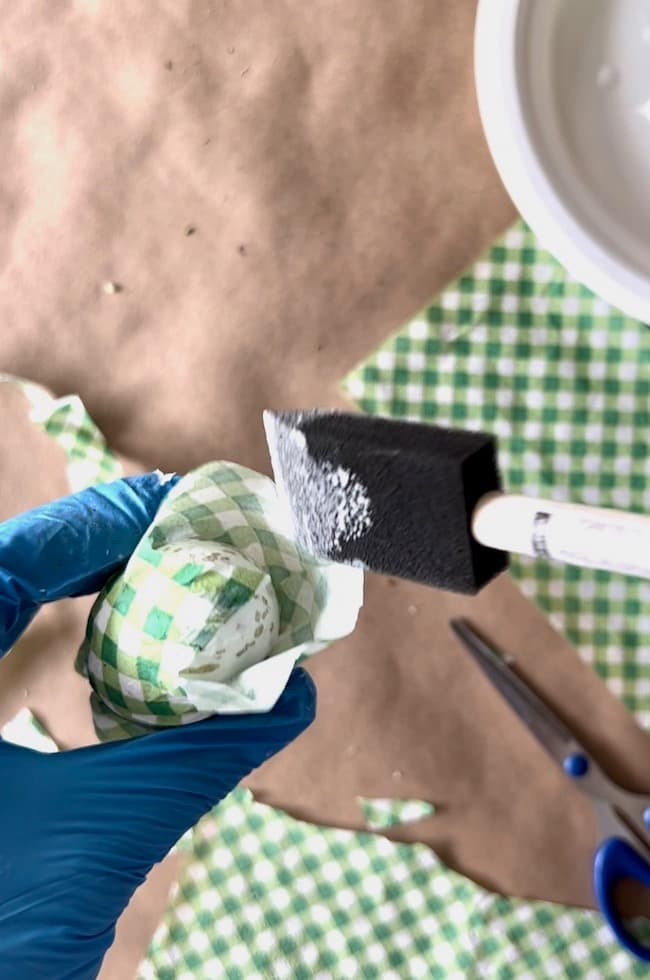 3.Cut your napkin down to a small rectangle and wrap around your egg.
4.Trim the excess napkin from the ends of the egg. Cut slits in the napkin to make it easier to fold the ends over.
5.Apply another thin coat of Mod Podge over the napkin to seal in place.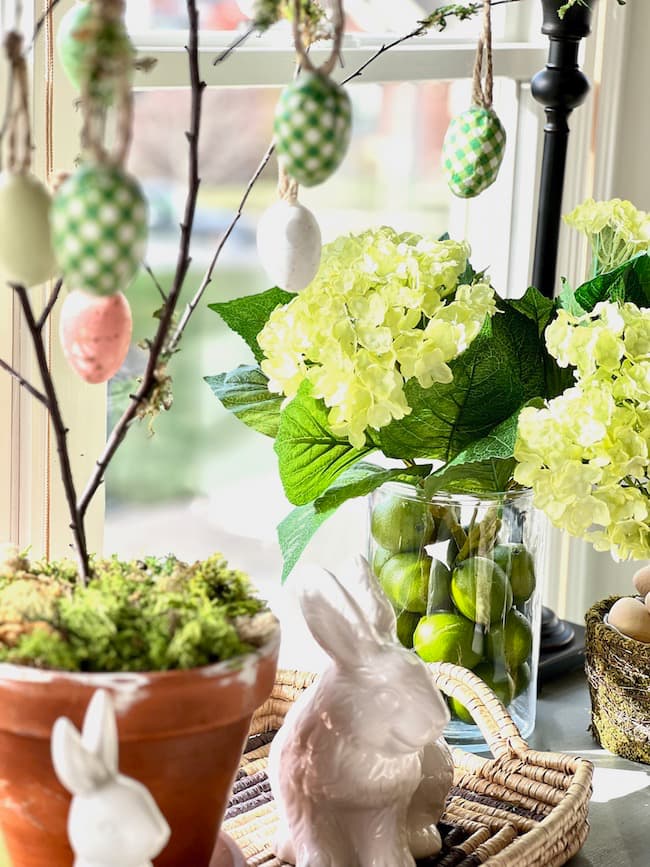 Create an Easter egg tree for a focal point on a buffet.
We have a large river birch tree in our front yard that provides me with plenty of branches to use for DIY projects. It's been a fairly windy season around here, and it's resulted in lots of small broken birch branches. So, I used one of these branches to create an Easter egg tree for our kitchen buffet.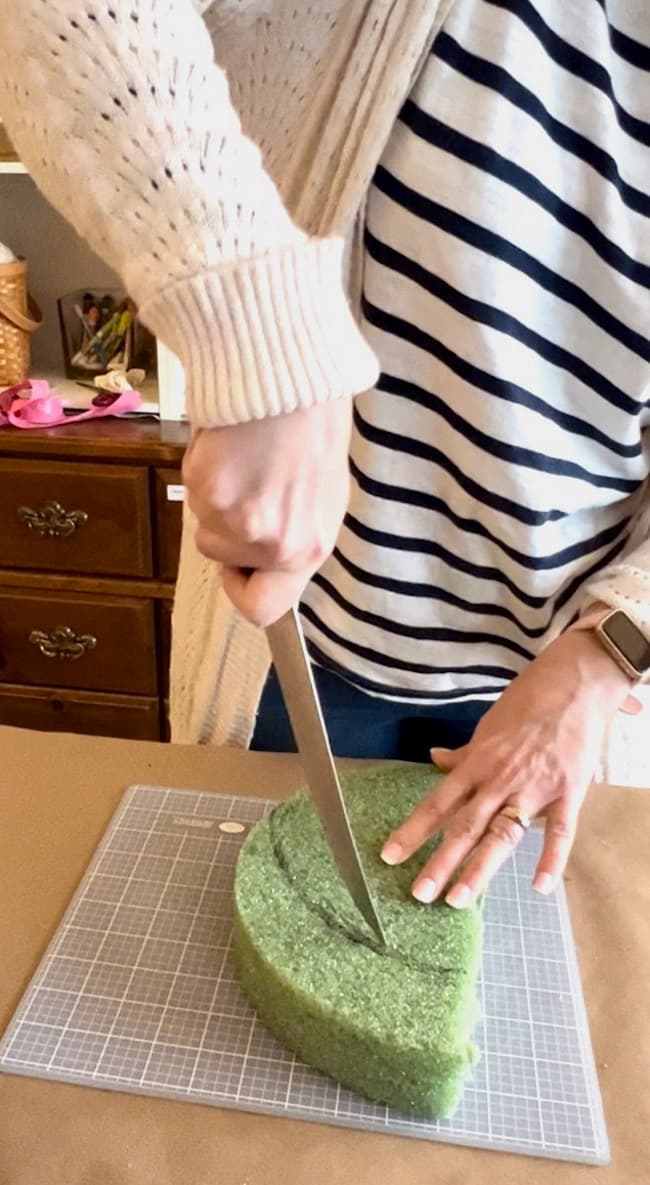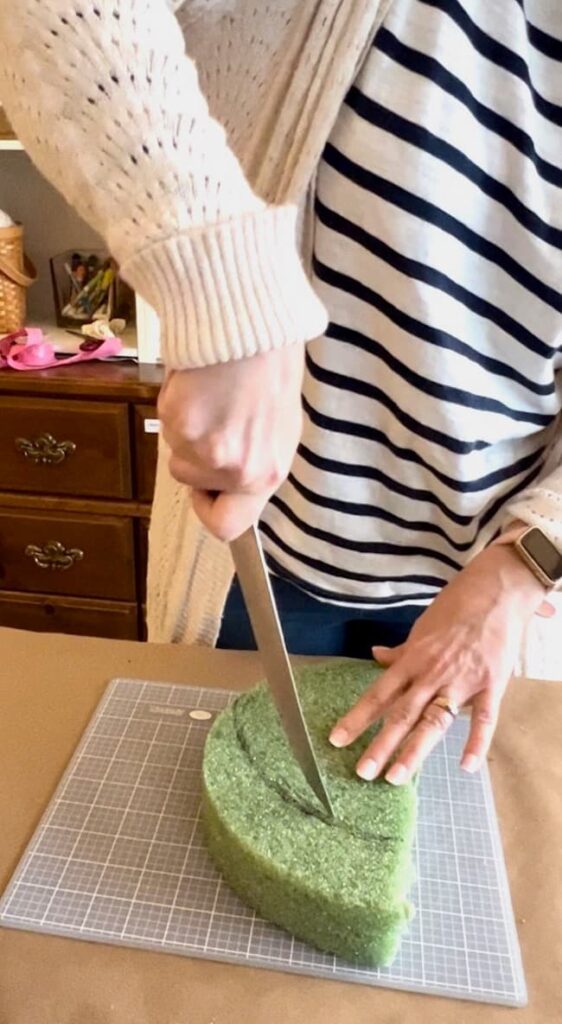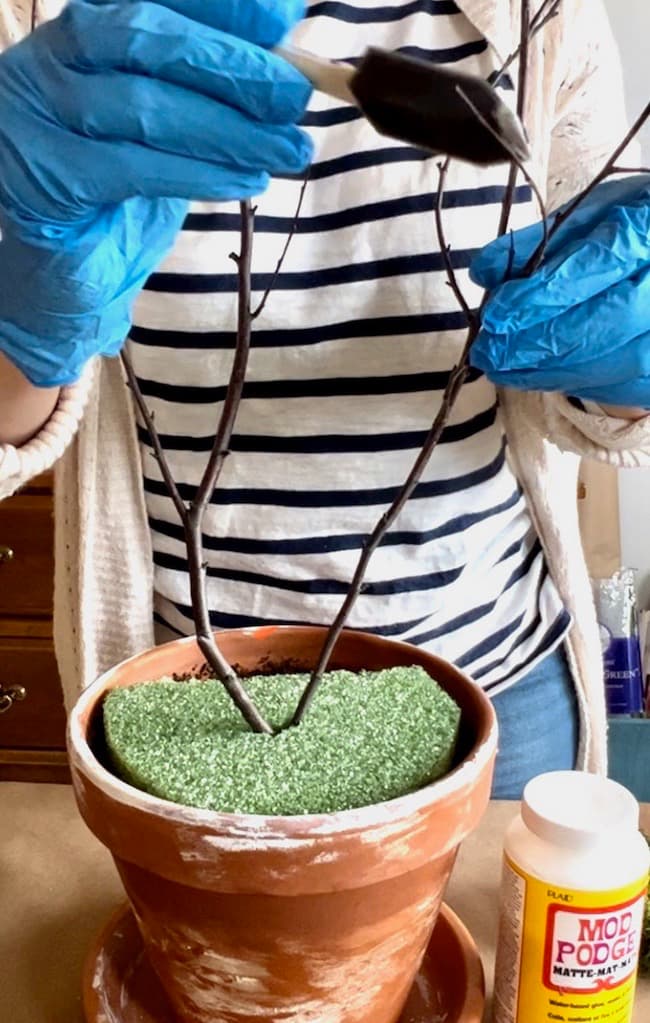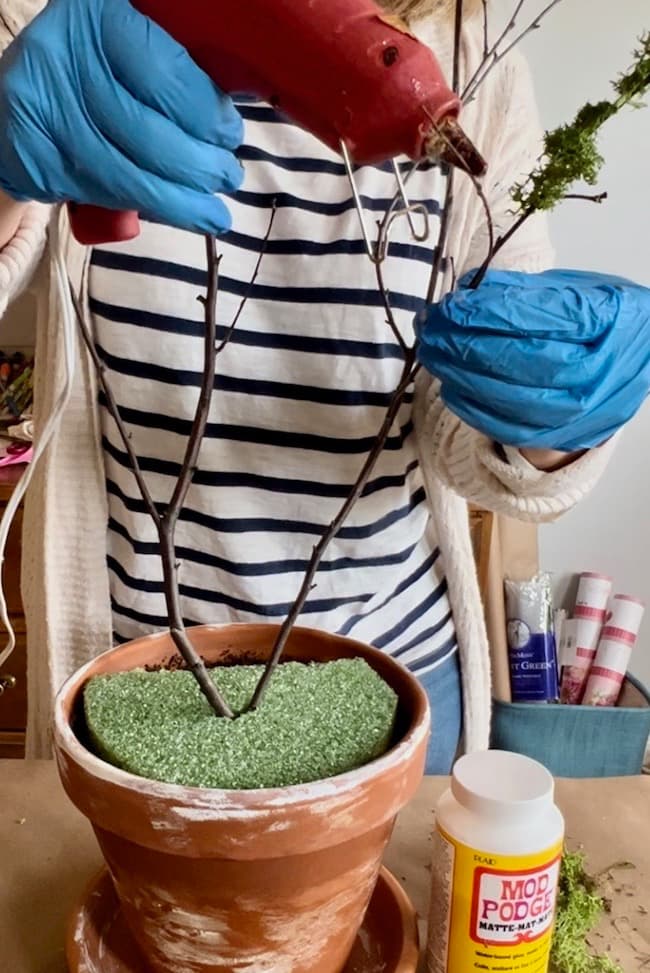 I added a piece of floral foam to a terracotta pot, and inserted the branch into the foam to create my tree.
I was inspired by Jennifer at Cottage on Bunker Hill to add moss to my branches to create a pretty moss-covered look for the egg tree.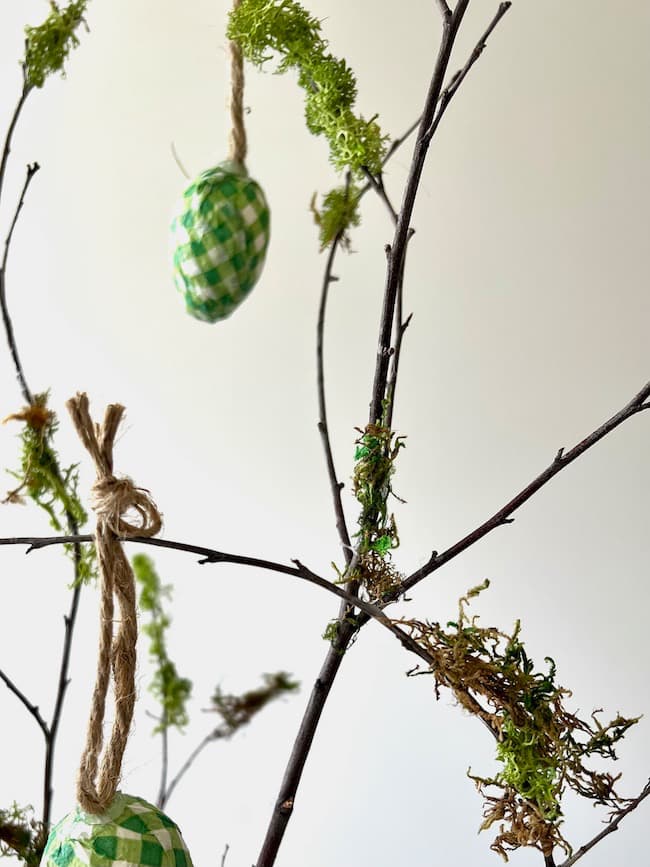 I used a combination of hot glue and Mod Podge to adhere small pieces of moss randomly along the branches.
Select the eggs you want to add to your tree. I'm using the green and white gingham decoupage eggs along with some other shades of green eggs, white speckled eggs, and coral eggs. I attached jute string to each Easter egg with my hot glue gun. Once the glue hardened, I tied the string into loops and added the eggs to the tree.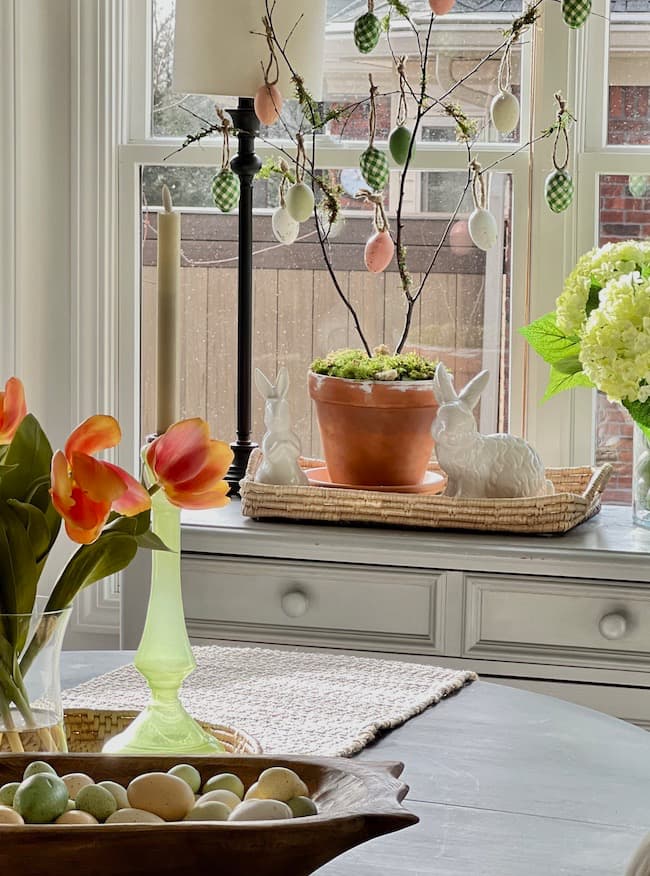 I love this sprawling Easter egg tree sitting on our kitchen buffet in my favorite woven tray. The ceramic bunnies are the perfect accompaniment!
Create a flower arrangement with hydrangeas and a vase full of limes.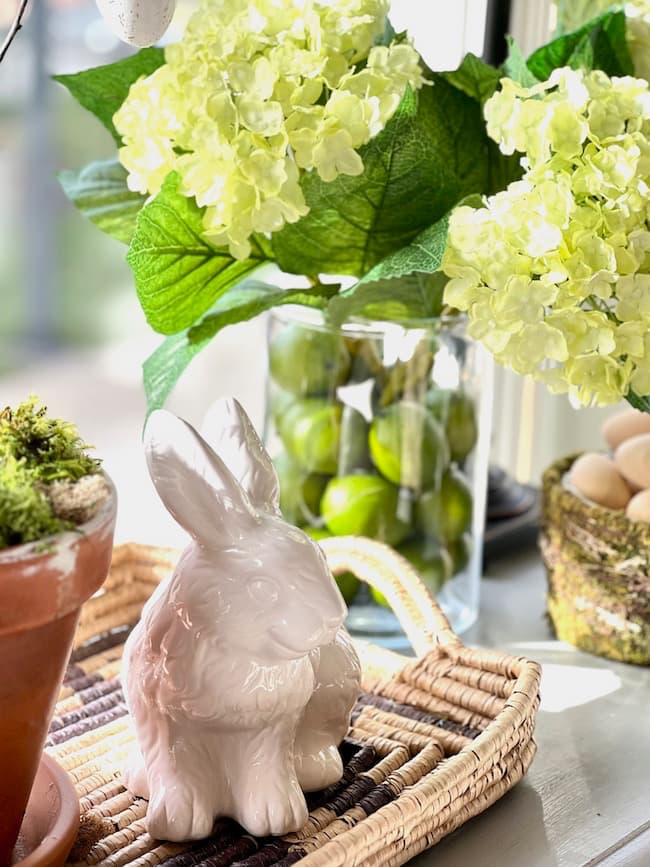 I created an easy spring floral arrangement with some faux hydrangeas and limes. You can certainly do this same idea with fresh flowers and fruit
Add colorful ribbon to a boxwood wreath.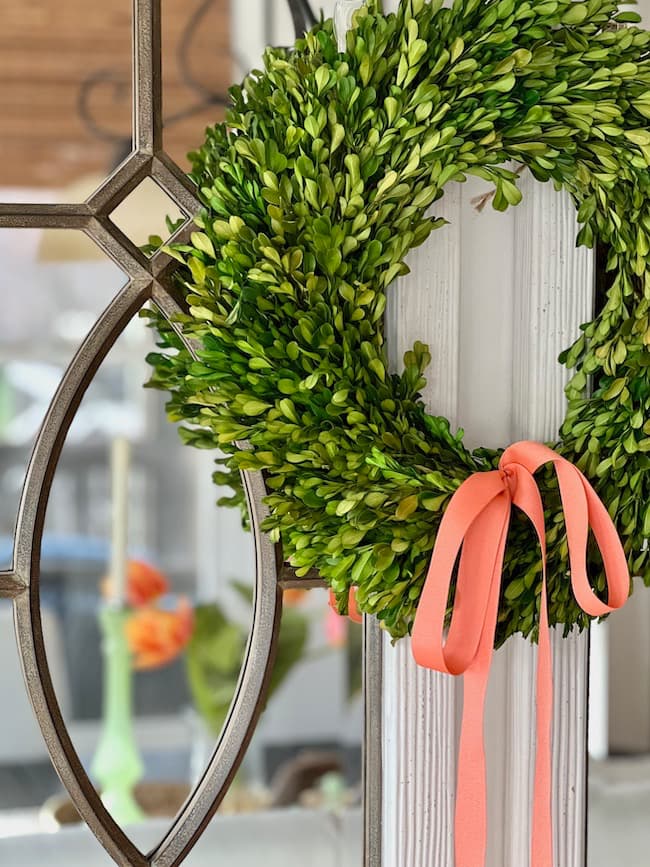 A boxwood wreath is such a versatile decor piece for your home throughout the entire year! Our small boxwood wreath graces the decorative mirrors in our kitchen most of the year, and I can update the look seasonally with a simple ribbon. I added a soft peachy coral grosgrain ribbon to match my color scheme.
Decorate a tiered tray with small Easter home decor items.
A tiered-tray is a fun way to add seasonal decor to your kitchen. It's perfect for displaying small plants, figurines, vases, and other seasonal decor items.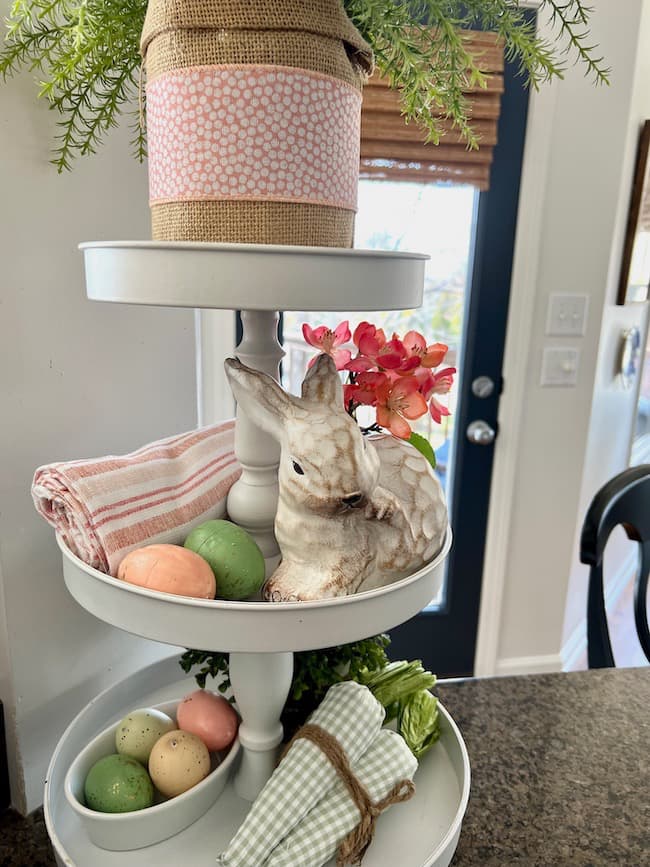 I decorated the white three-tiered tray that sits on the countertop next to our kitchen sink in pretty greens and oranges. I tied a colorful peach ribbon around a burlap-wrapped faux asparagus fern and placed the plant on the top the tiered tray.
Bunny figurines and colorful Easter eggs in a bowl add festive touches along with these adorable green and white gingham fabric carrots from Walmart!
A rolled coral and white striped kitchen towel adds more color to the tray.
Fill a colorful Easter basket with faux flowers on your kitchen counters.
I love this pretty green Easter basket! I actually purchased it last year, but love it filled with these pretty faux flowers. White fabric carrots peak out from the basket which rests on a white tray in the corner of our kitchen counters.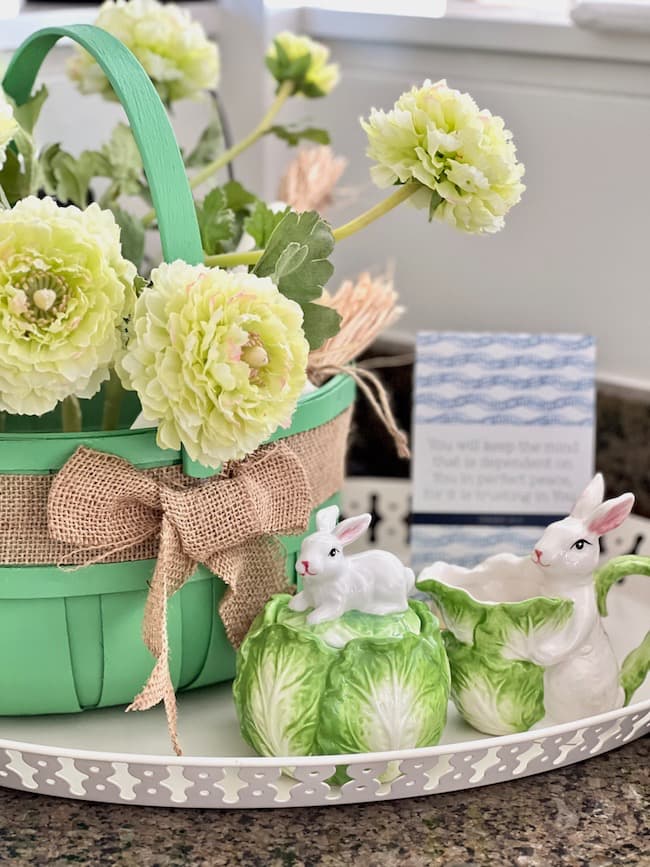 I added the cutest little bunny and cabbage sugar and creamer set to the tray. I love the green cabbage with the green basket!
Add adorable fabric carrots to your Easter vignettes.
The kitchen just seems the perfect place to display carrots for Easter! This year I seem to have a thing for carrot decor! I think fabric carrots are so cute, and love the look of them added to trays, centerpieces, and other vignettes around the room.
You can make your own, or find lots of adorable fabric carrots available to purchase.

Create a beautiful Easter centerpiece with tulips.
Tulips are my favorite spring flowers, and I love adding them to our home.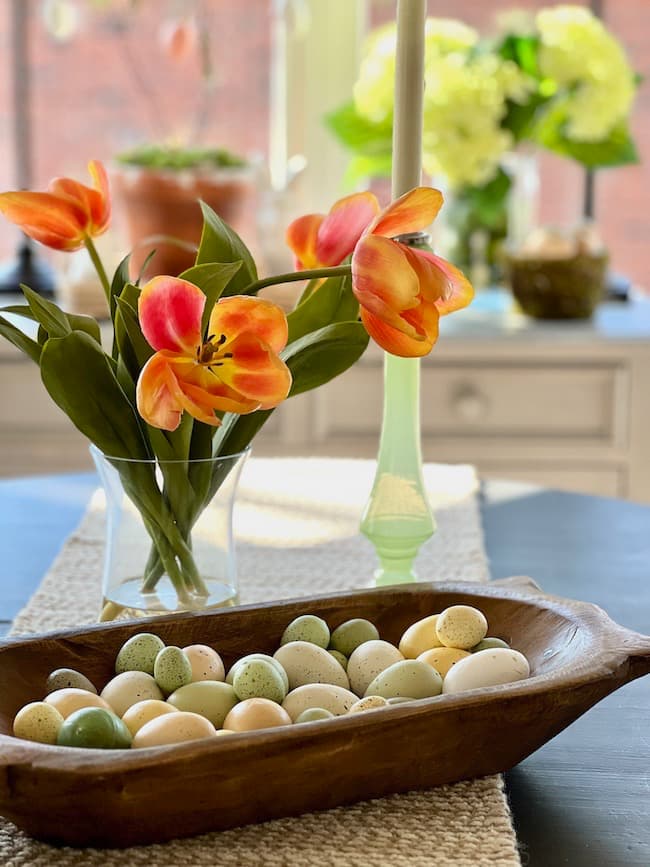 These faux coral tulips are perfect with my fresh spring color scheme and I love how they look on our kitchen table. I added a soft green candlestick and dough bowl to complete the look that sits atop a jute table runner.
While fresh flowers are my favorite, you can find so many gorgeous options of faux tulips that look and feel so real!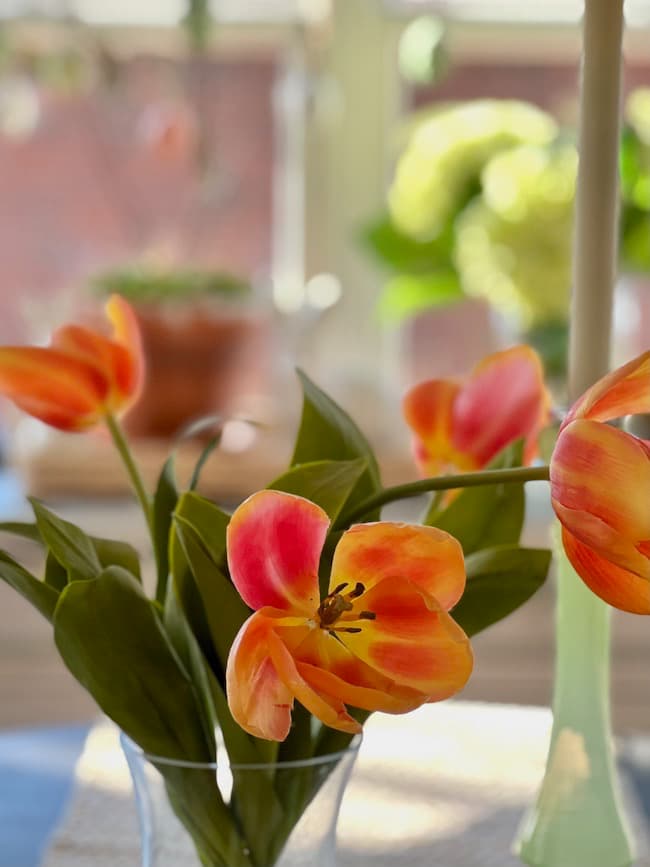 For more Easter centerpiece ideas you might enjoy this Easter tablescape post!
Add colorful ribbon to a grapevine bunny on your door.
I purchased this sweet little grapevine bunny last year, and I thing he's so fun on the kitchen door. I added a little color to him this year with a peach and white ribbon tied in a bow. He looks quite festive now!
Place a cute Easter or spring pillow on a chair.
As I've already mentioned, a lot of my Easter color scheme inspiration came from the Dollar Spot section at Target! They had the cutest carrot-themed spring decor, and I couldn't resist this sweet little carrot pillow. I love it perched on the chair next to our buffet.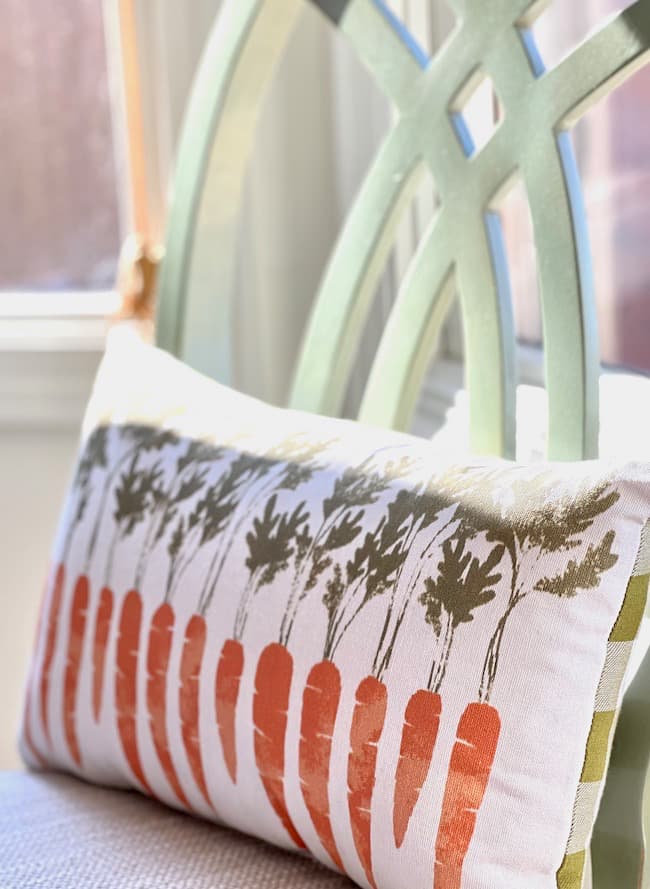 Fill a dough bowl full of Easter eggs.
I have quite a collection of Easter eggs I've collected through the years, so I pulled out several shades of green and added them to a dough bowl on our kitchen table. I love the various shades of green eggs combined in the bowl, and the little speckles on the eggs.
You can use this dough bowl full of colorful eggs as a table centerpiece, on a kitchen buffet, or on a kitchen island.
Add more cute "carrot-themed" decor to your countertops.
Target wasn't my only inspiration this year, Walmart had an abundance of green and soft orange decor and the cutest little wooden carrot sign to coordinate with my "carrot-themed" kitchen. My original plan was to add the little sign to my tiered stand, but it was a little too large to fit. I decided to hang it from my cutting boards, and now it has the perfect home!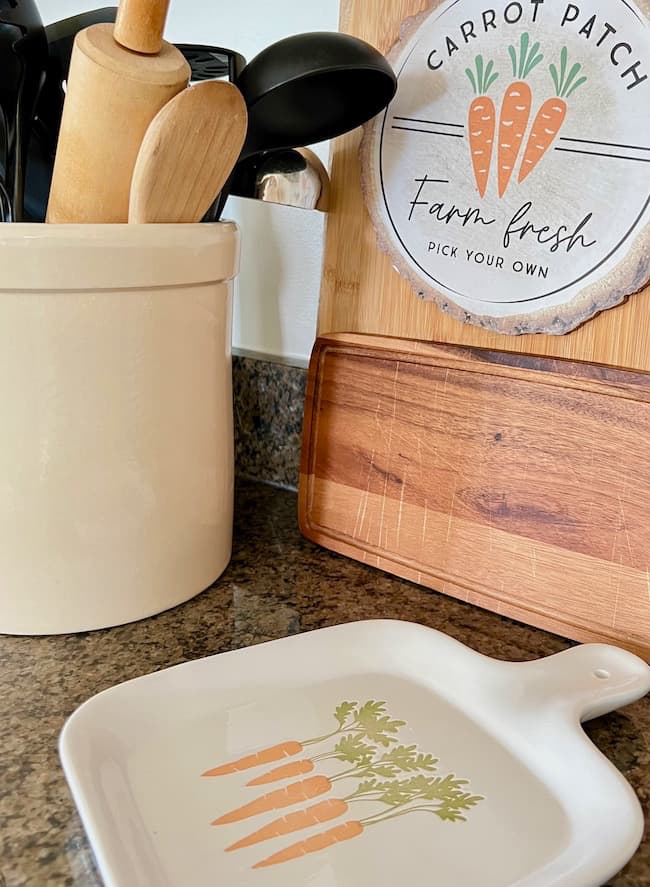 I also found an adorable carrot tray in Target's Dollar Spot, and it makes a great spoon rest next to our stove.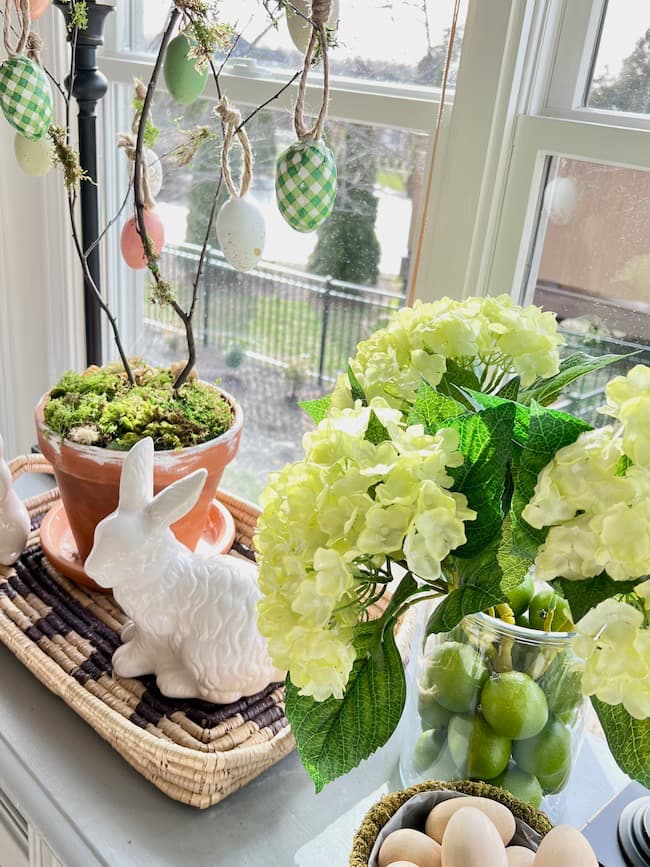 I hope you're feeling inspired to start adding touches of spring to your kitchen. It's a great way to lift your spirits after the cold winter and add some fresh color to your home!
Now be sure to head over to Feet Under My Table to see Leslie's Tea Party Lemon Shortbread Cookie recipe! She's amazing, and you're going to love it!
Shop the Look
---

---
Pin These Ideas for Later!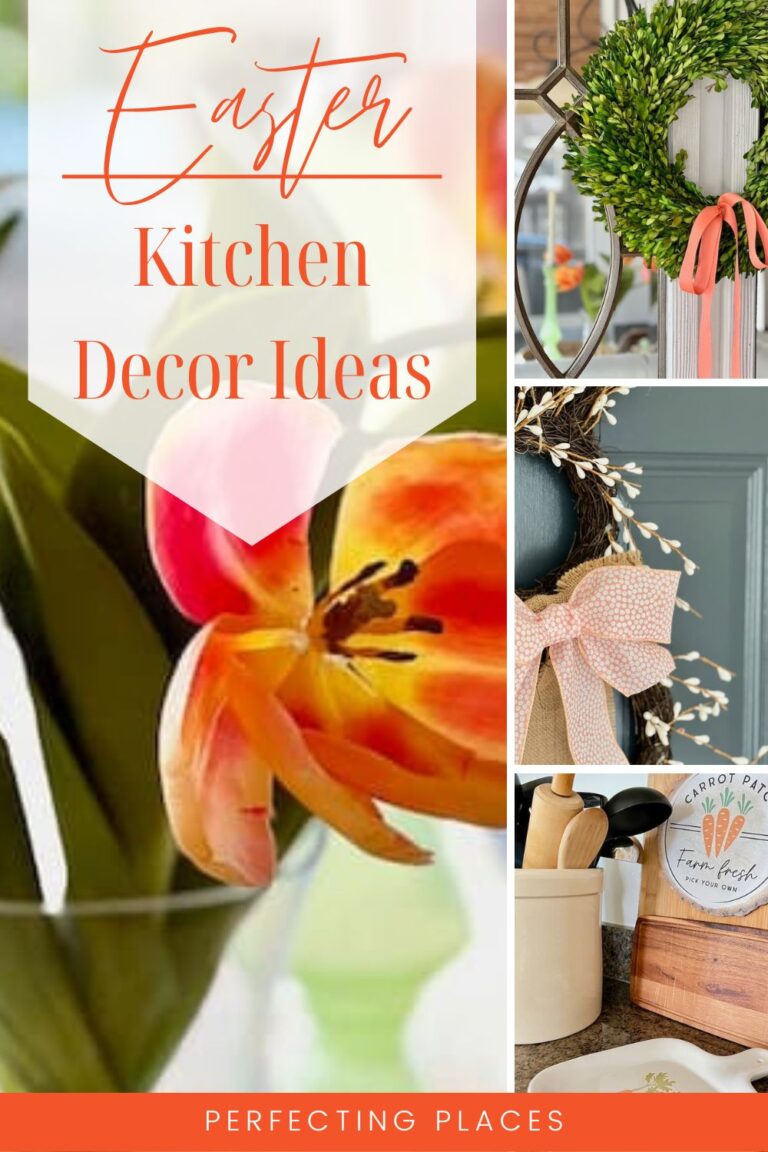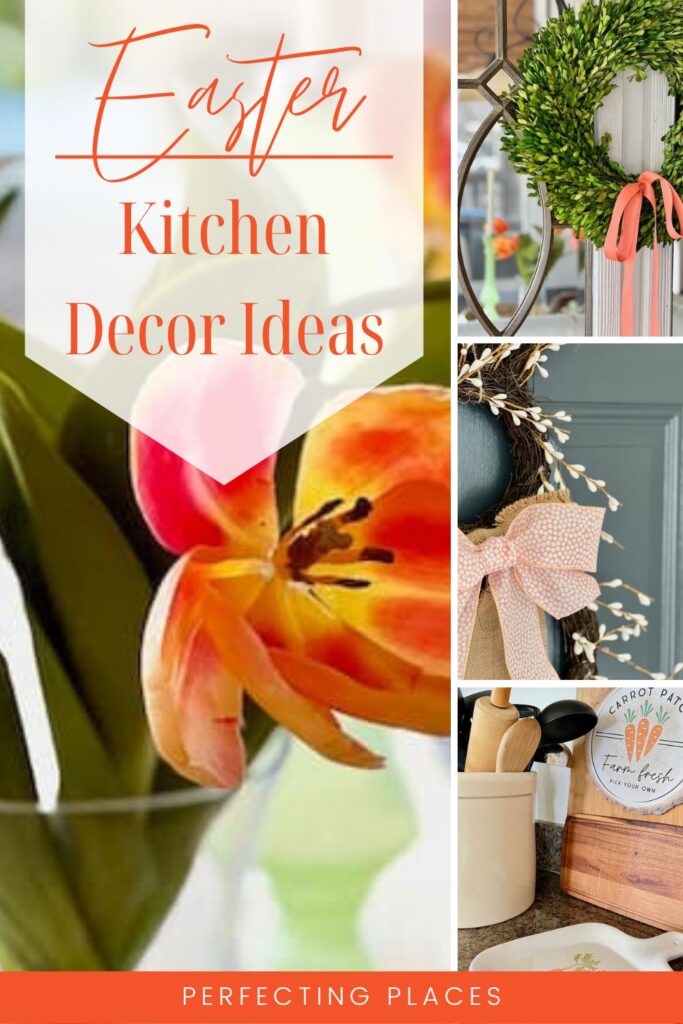 By the way, do you follow me on all the socials? If not, check out my Pinterest, Instagram, and Facebook and be sure to follow along so you don't miss out on any of my decorating and DIY ideas.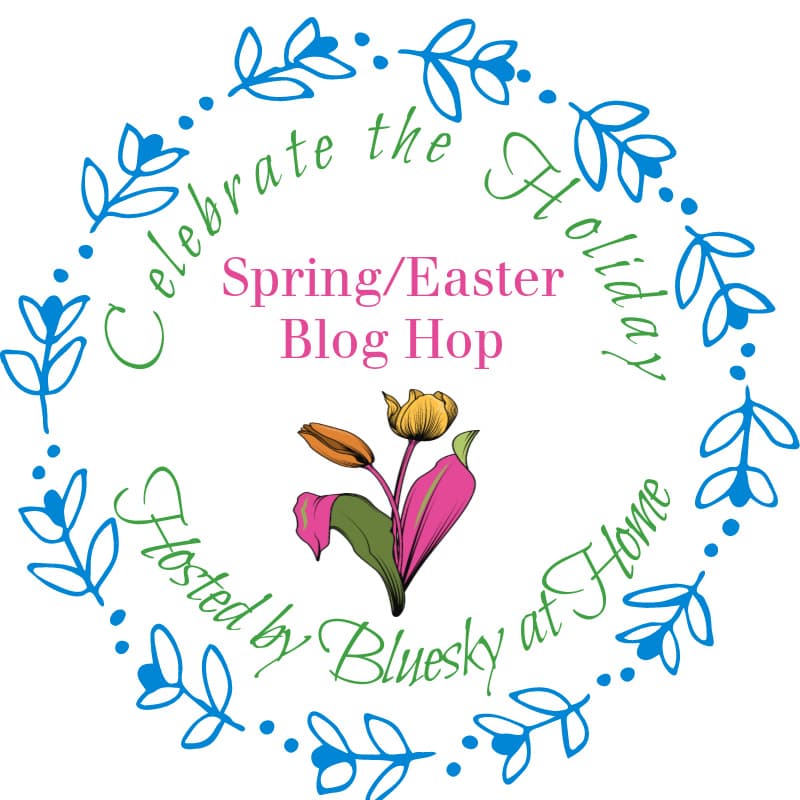 For more creative spring and Easter ideas, check out my talented blogger friends below!