An Easy Tulip Wreath DIY for Spring
Do you love tulips as much as I do? This easy spring tulip wreath DIY is perfect for your front door!
This gorgeous spring wreath is easy to make with bunches of tulips and a grapevine wreath form. It's a great way to brighten your front porch for the season.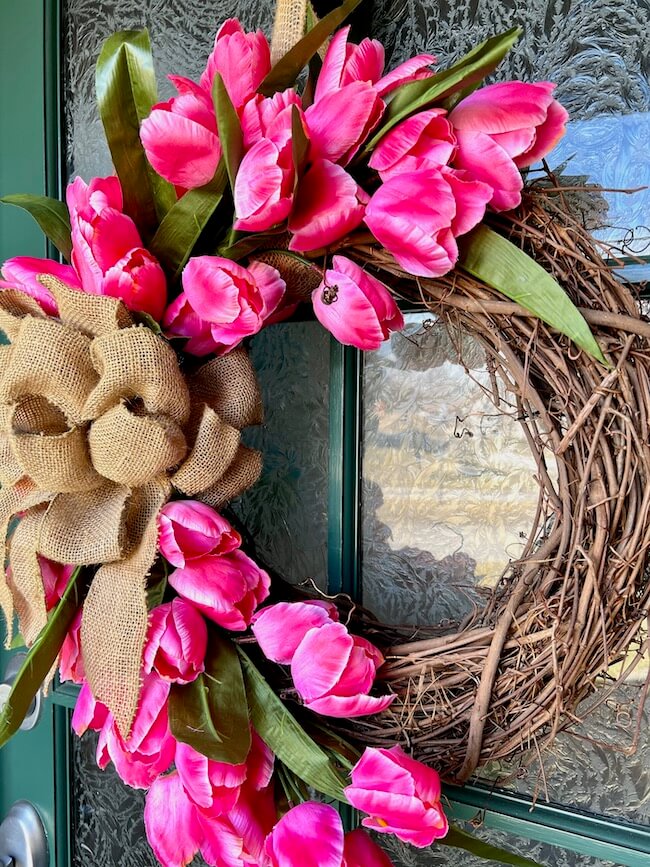 (This post contains affiliate links, so I may earn a small commission when you make a purchase through links on my site at no additional cost to you. As an Amazon Associate I earn from qualifying purchases.)
Ah, it's finally spring! And now that spring has arrived, it's the perfect time to spruce up our front door with a new wreath.
I absolutely love to decorate for spring using tulips, so I decided to make this simple DIY tulip wreath to add a splash of spring color to our front porch.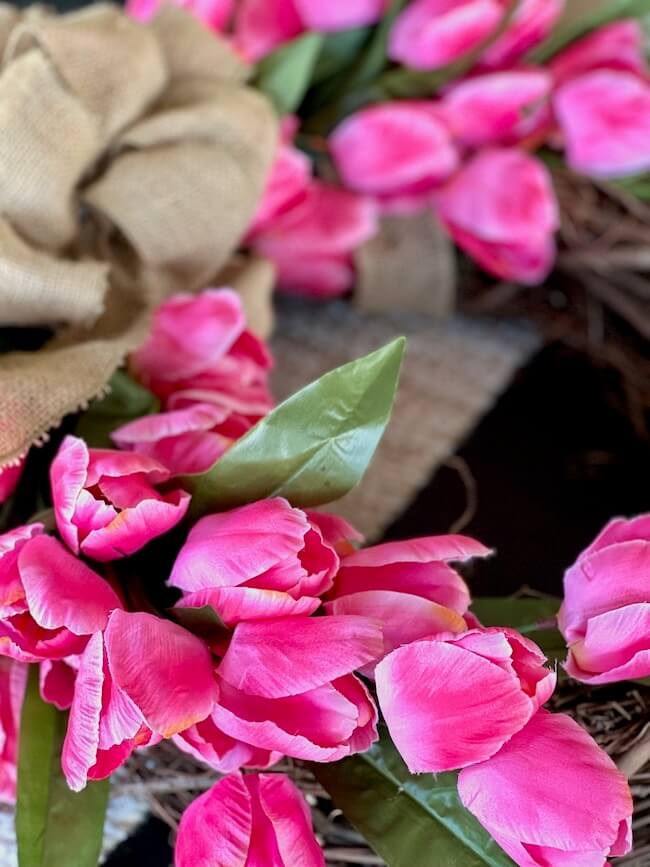 This wreath is super easy to make, if you're up for a little diy spring wreath project. There is very little mess involved — I didn't even use a glue gun for this craft.
Materials for the DIY Spring Wreath:
---
Shop for Supplies

---
I started by zip-tying two grapevine wreaths together. This is not a necessary step. You can use only one, if you prefer, but some grapevine wreaths can be a little skimpy, and I find that combining two grapevine wreaths together just makes a more substantial wreath. (I have to credit Yvonne from StoneGable blog for this tip I discovered a few years ago!)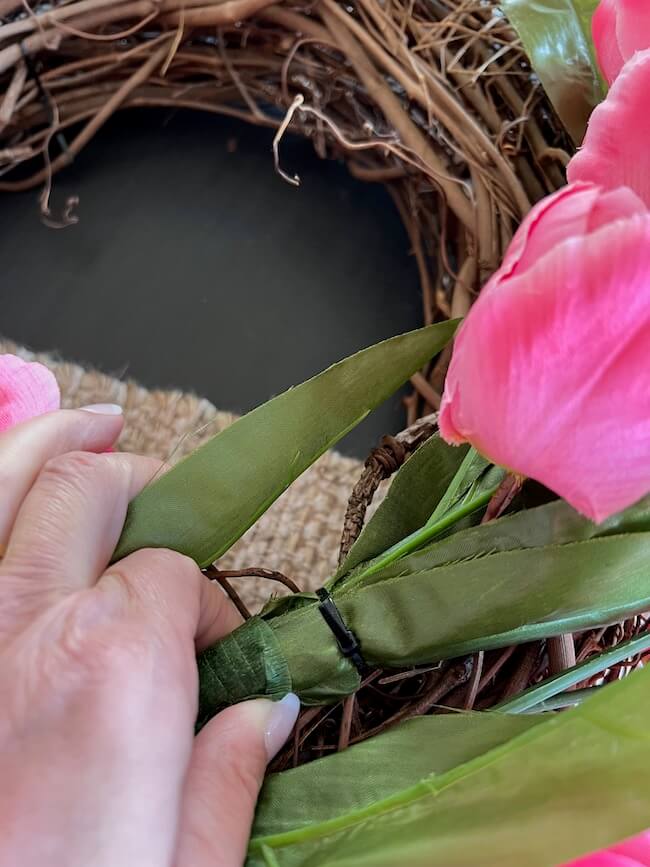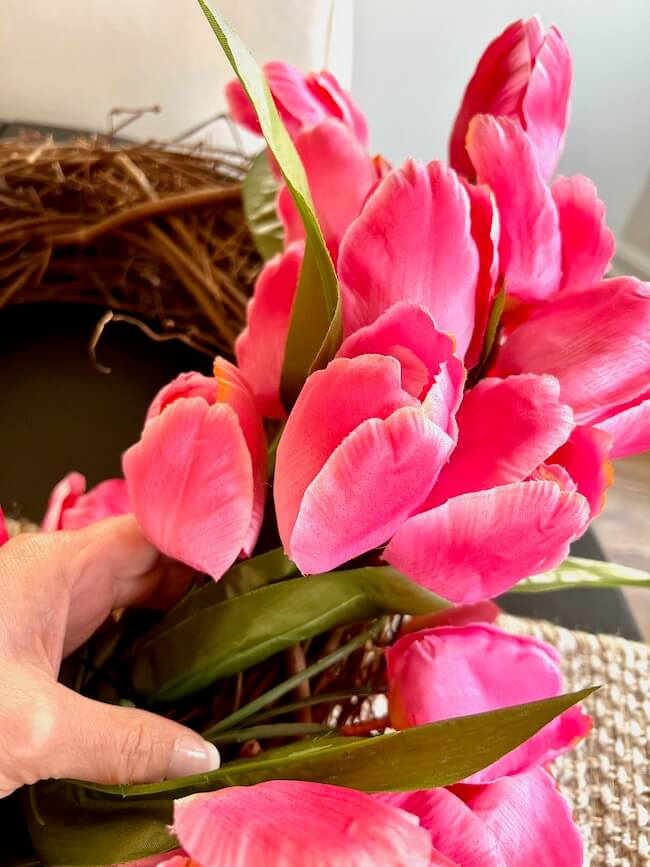 First, gather your tulips into bunches. I made bunches of 8 – 10 tulips and wrapped the stems in floral tape. I positioned the bunches along the wreath and then used the zip ties to secure them to the grapevine wreath.
My wreath is asymmetric, so I placed a few tulip bunches in one direction, and then some in the opposite direction along one side of the wreath, wrapping around to cover about 2/3's of the wreath.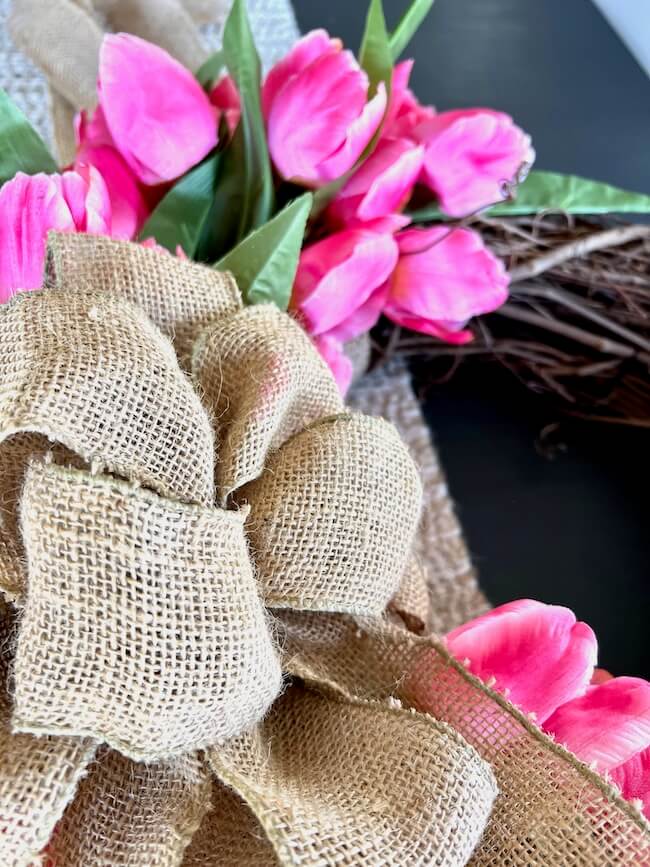 I made a large burlap bow with some burlap ribbon I had on hand and placed it in the center of the tulip bunches. Use the zip ties to secure the bow to the wreath. You can also use floral wire to attach the bow. After attaching the bow, I added a few more tulips sporadically to fill in some gaps.
TIP: I have a metal door hanger, but it is shorter than I would like, so the wreath hangs too close to the top of the door. To remedy this, I made an "extender" with a large loop of floral wire and attached it to the top of the grapevine wreath. I used this wire extender loop to hang the wreath on the door hanger so that the wreath is positioned on the door where I like it. I then ran a long ribbon of burlap up and over the door to hide the floral wire "extender" and the metal door hanger as well.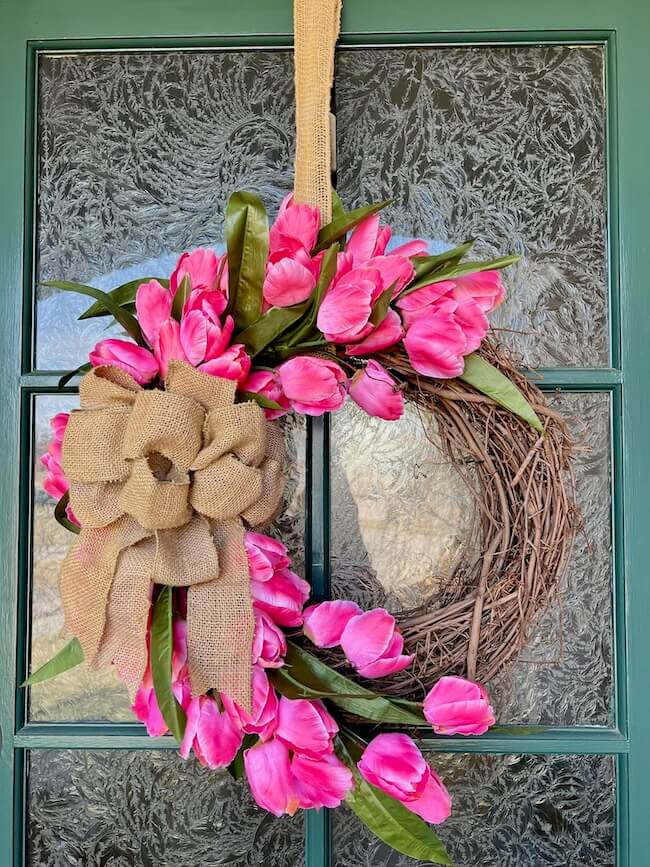 My door is definitely in a spring mood now! (Apparently, so is Rosie! Or maybe that's a "Hey, Mom, please take me for a walk instead of taking pictures" mood.)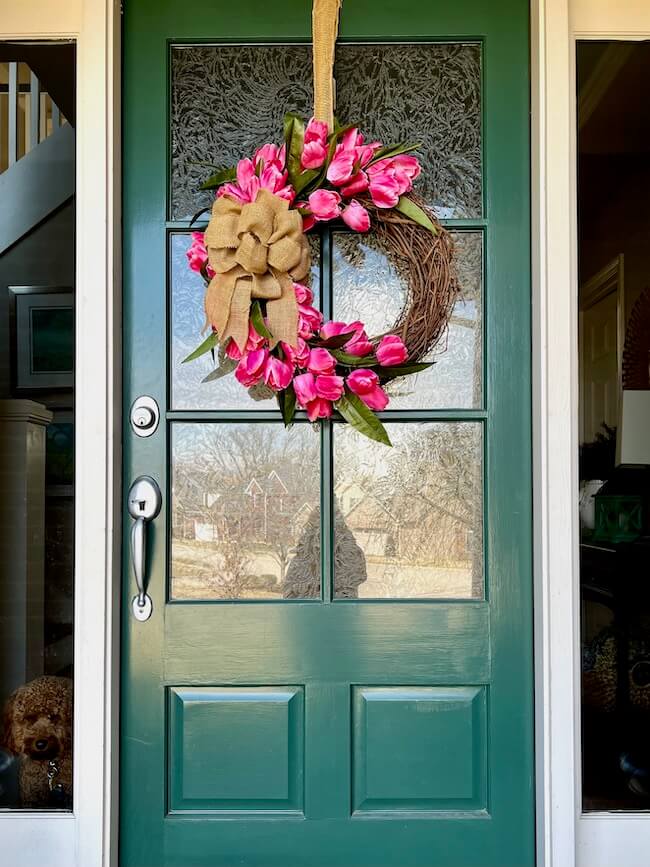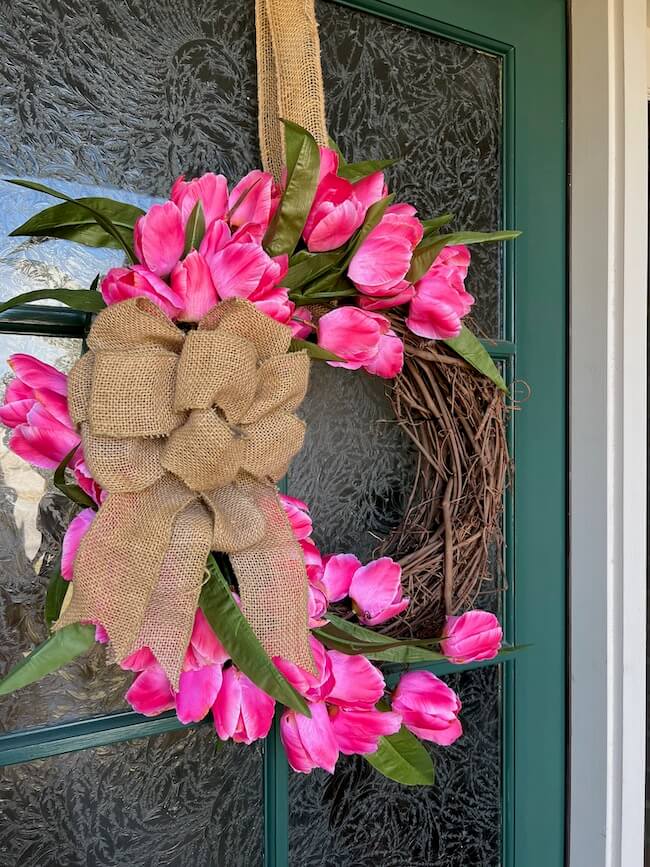 Of course, if you'd rather skip the DIY and just purchase a pretty tulip wreath, I'm sharing some of my favorites below.
---
Shop the Look

---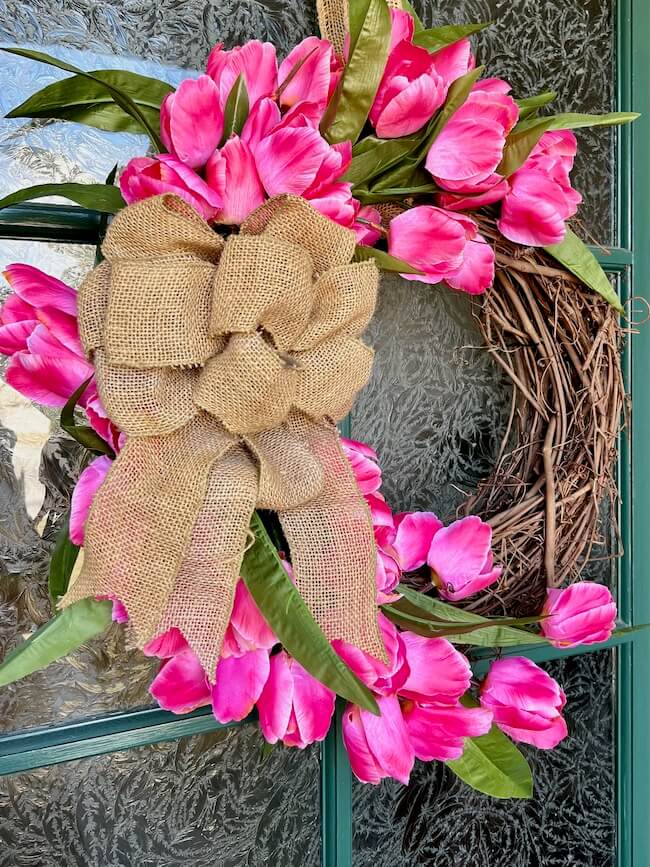 I hope you're feeling inspired to bring on spring by adding a touch of spring to your front door with this easy spring wreath DIY!
If you're looking for more spring flower decorating ideas, I share 15 ways you can decorate with flowers for spring in this post.
Thanks so much for stopping by!
Check out more of my "spring-inspired" posts:
Create a Bright Spring Color Palette in Your Home
9 Spring Decorating Ideas and Inspiration
Easy Kitchen Decor Ideas in Fresh Spring Colors
Decorating with Orchids Three Ways
Pin It for Later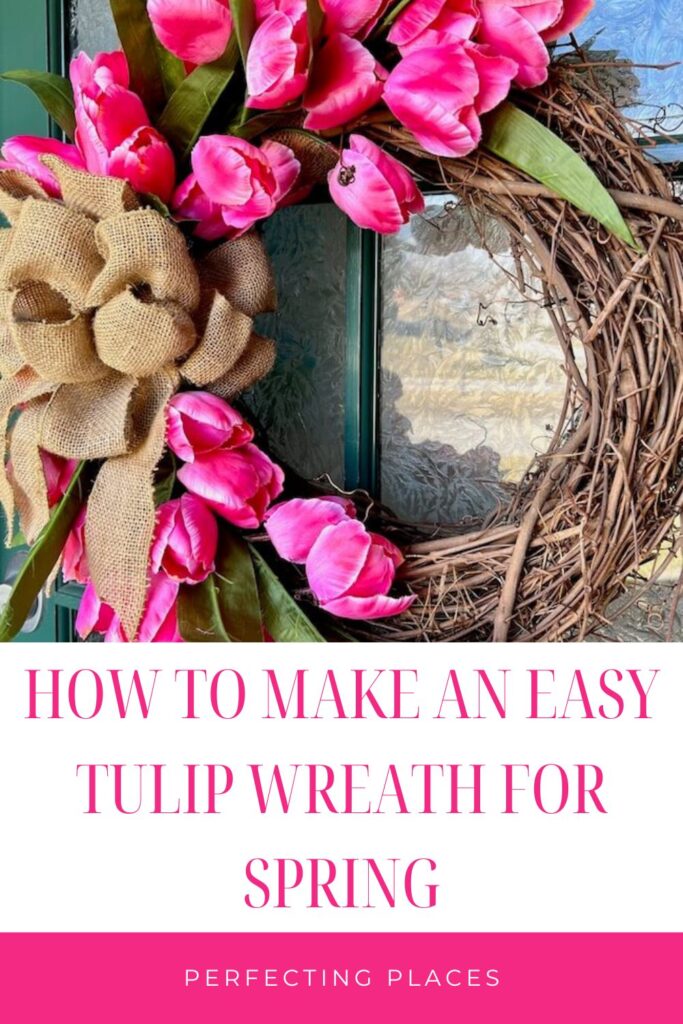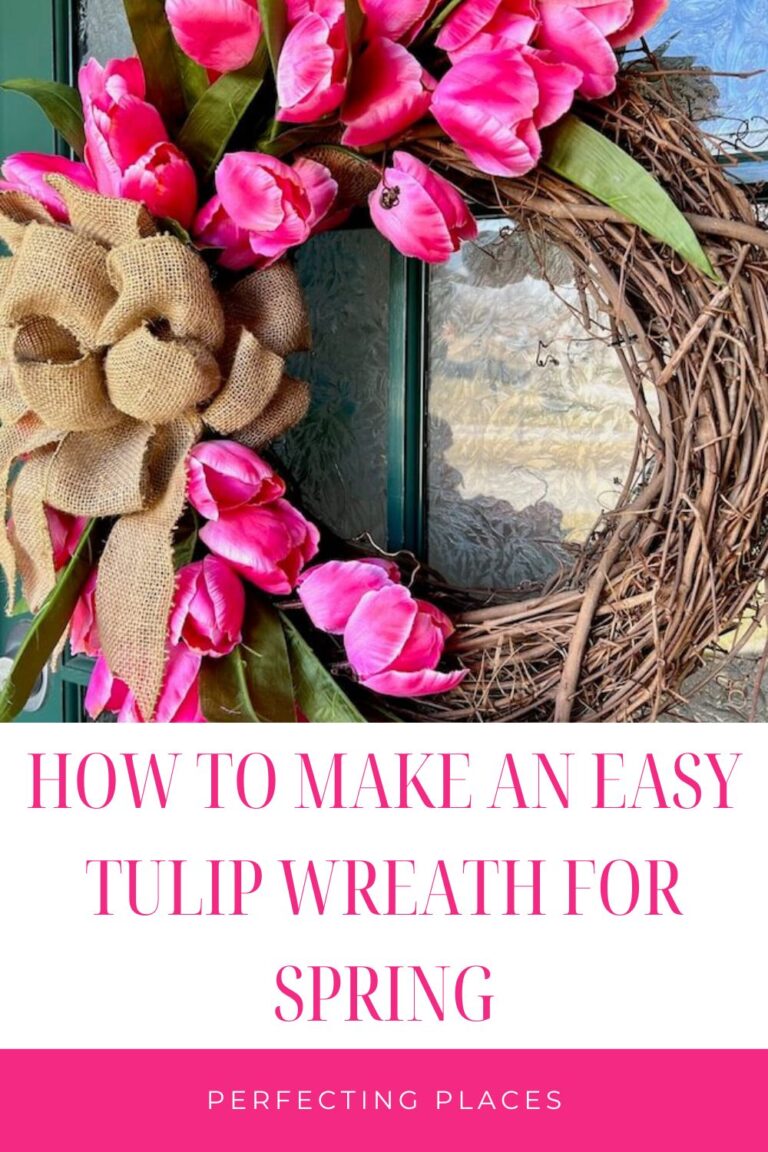 By the way, do you follow me on all the socials? If not, check out my Pinterest, Instagram, and Facebook and be sure to follow along so you don't miss out on any of my decorating and DIY ideas.