Pretty Mantel Decor for Spring
I love a pretty spring mantel! Today I'm sharing our mantel decor for spring and some helpful ideas for decorating a mantel with a TV over it.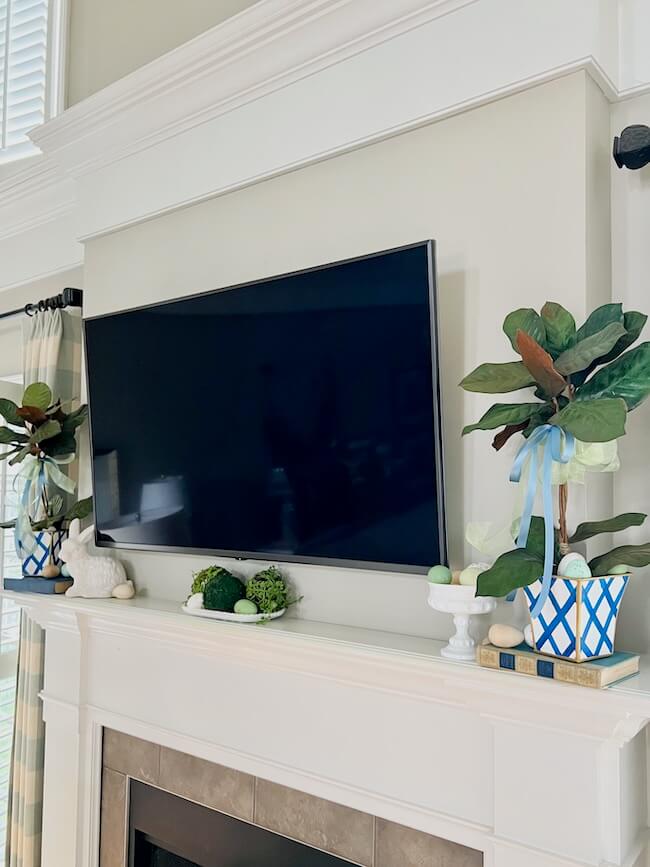 (This post contains affiliate links, so I may earn a small commission when you make a purchase through links on my site at no additional cost to you. As an Amazon Associate I earn from qualifying purchases.)
It happened about three years ago. That's when I caved!
I held out for so long. Artwork is so much prettier and adds so much more color. A decorative mirror adds so much more interest.
I held firm for years.
Even though the wiring was in place when we bought this house 13 years ago.
Even when we purchased two sofas and arranged them facing each other 6 years ago.
I still found a way to avoid it.
But then it happened.
I gave in …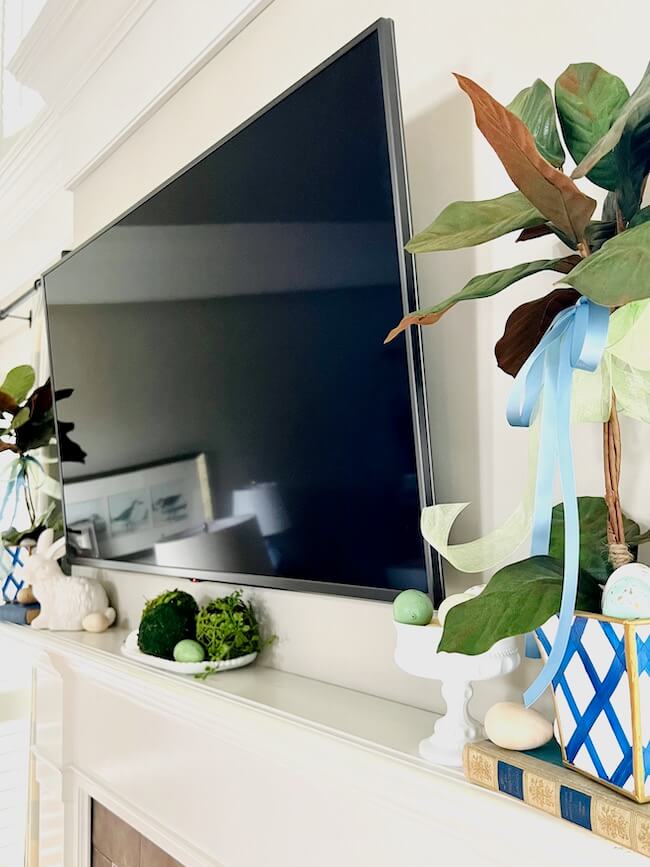 … and we hung the TV over the mantel! (Deep sigh…)
When to Place the TV over the Mantel:
Sometimes placing the TV over the mantel just makes the most sense in many of today's floorplans. It makes it a lot easier to only have one focal point in the living room.
If it's important for your family to make the TV a focal point of your living room, and you also have a fireplace in the room (which is the natural focal point of your living room) placing the TV above the mantel often makes the most sense. You can read more about how to determine the focal point of your room along with other frequently asked decorating questions in this post.
It makes sense in our living room to place the TV over the mantel, particularly since we have two facing sofas. We've tried it before in this sofa configuration with a smaller TV sitting on a dresser off to the side, but it was just too difficult to see the TV from one of the sofas. The size of our room just couldn't accommodate it very well.
But, lessening the impact of a large black rectangle at the center of the main focal point of the living room does present a challenge!
It's especially challenging in the spring.
Mantel Decor for Spring:
It's particularly important to soften the impact of the large black box when adding spring decor to the mantel.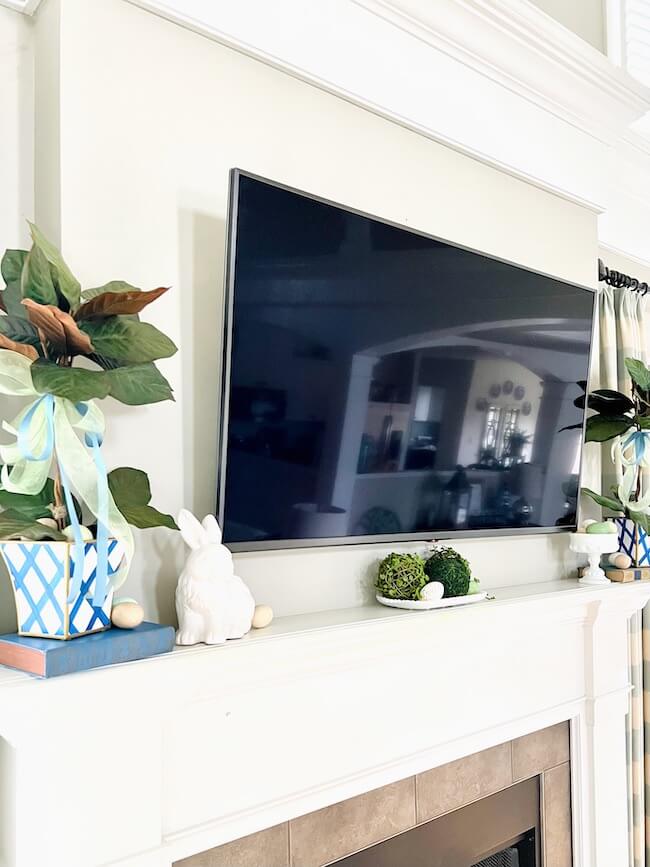 Use white and light colors:
I've added some white ceramic bunnies and white milk glass dishes to brighten the space. The white provides a nice contrast to the black tv and just feels fresh and springy.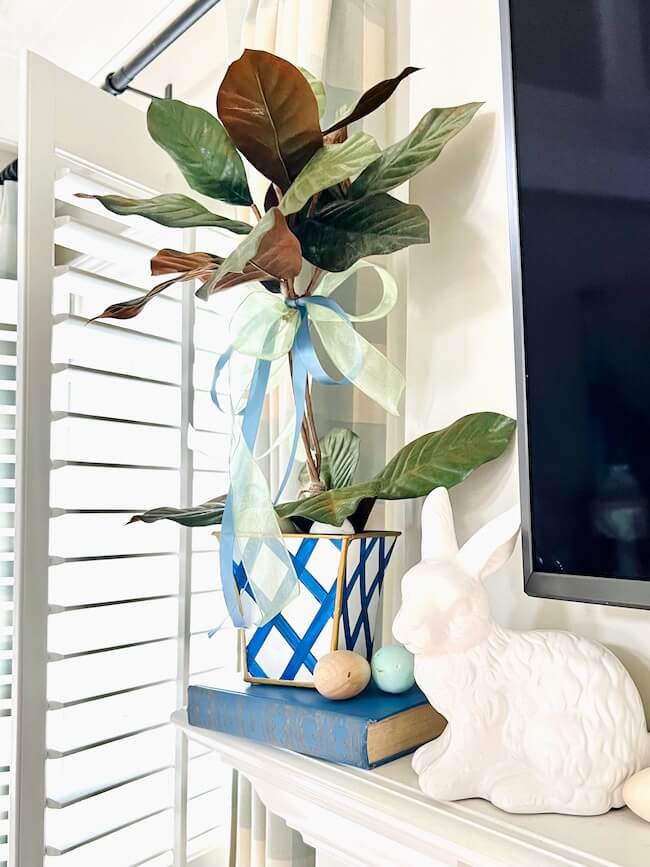 Blue and white spring decor:
You can never go wrong with blue and white, no matter the season! I've added some hand-painted blue and white tole cachepots to the mantel decor. You can read about the tole cachepot DIY here.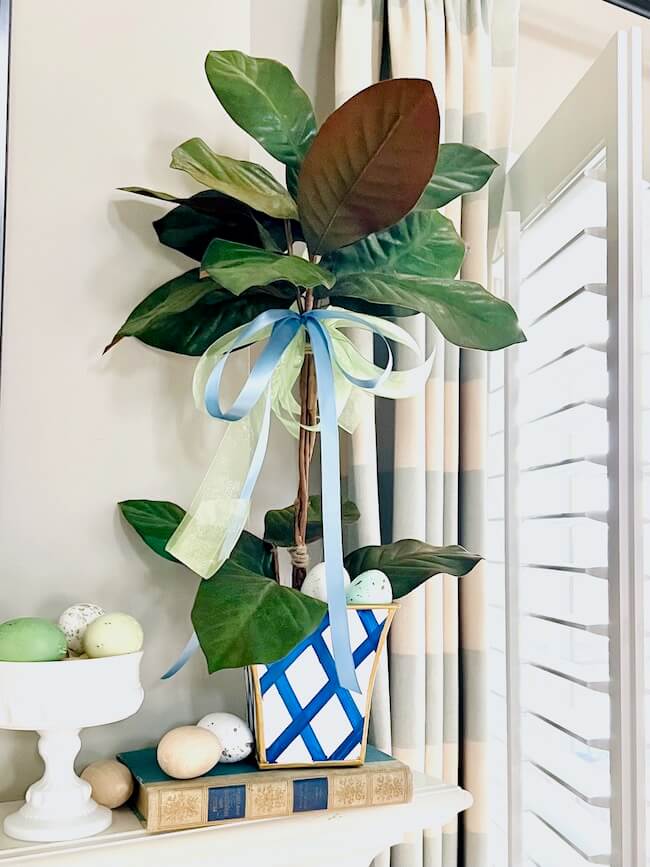 Include touches of greenery in the spring decor:
Moss adds the perfect touch of spring green, and I've added moss-covered balls to the milk glass platter on the mantel.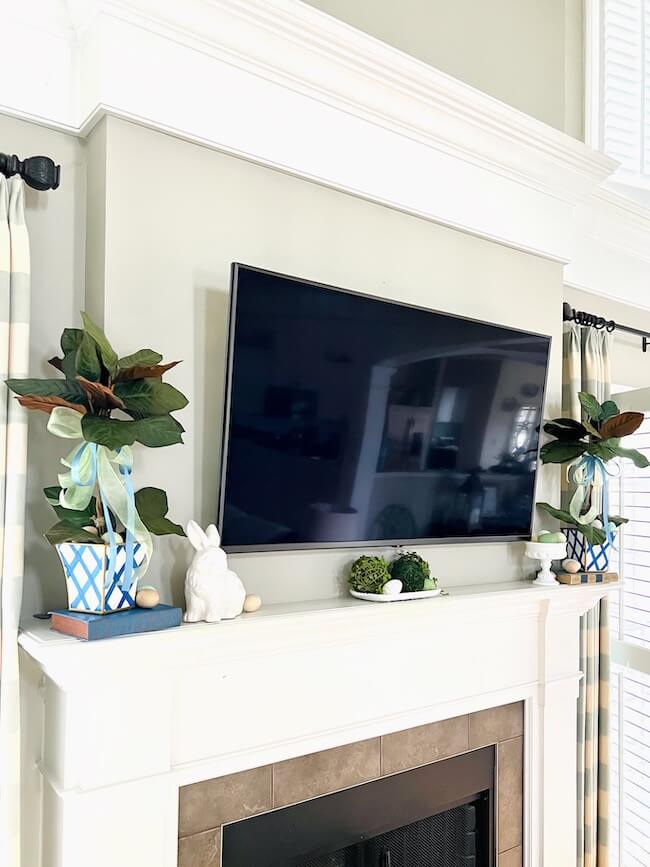 These diy magnolia topiaries not only add greenery, but also add height to the mantel. I think the magnolia leaves fill the space beside the TV nicely, and brighten the space.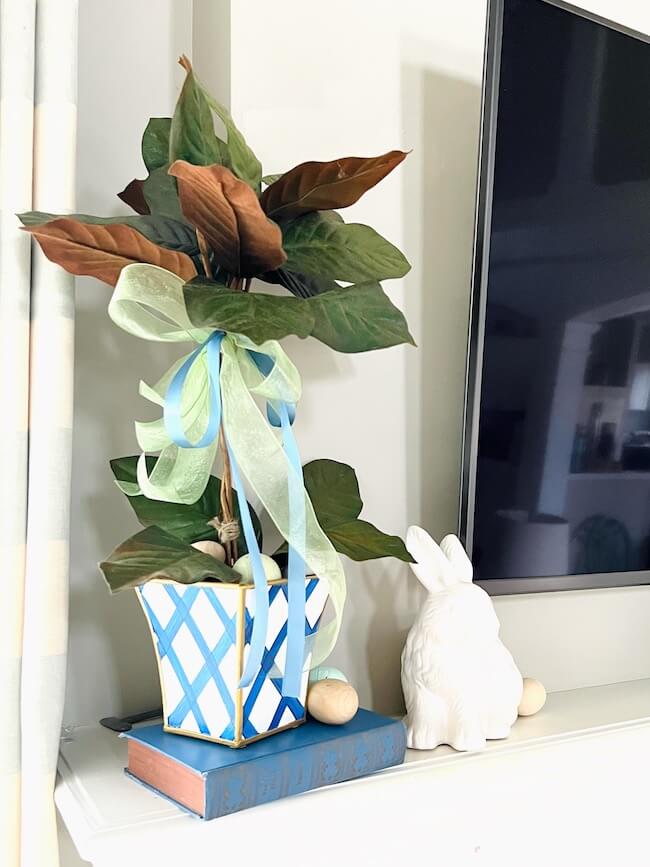 Add color with pretty spring ribbon:
I 've added blue and green spring ribbon to the magnolia topiaries for the perfect touch of color for spring. The ribbon just makes them feel a little more festive.
Add some soft green and blue Easter eggs to your spring mantel:
I added Easter eggs in shades of blue, green, and white to add more fresh spring color. I also found these cute wooden Easter eggs for natural texture.
Use stacks of books on the mantel:
I like to use pretty books to adjust the height of various objects on the mantel. Books also add pretty color and texture. If you don't like the color of your book bindings you can always display the books backwards with the pages exposed for a neutral look.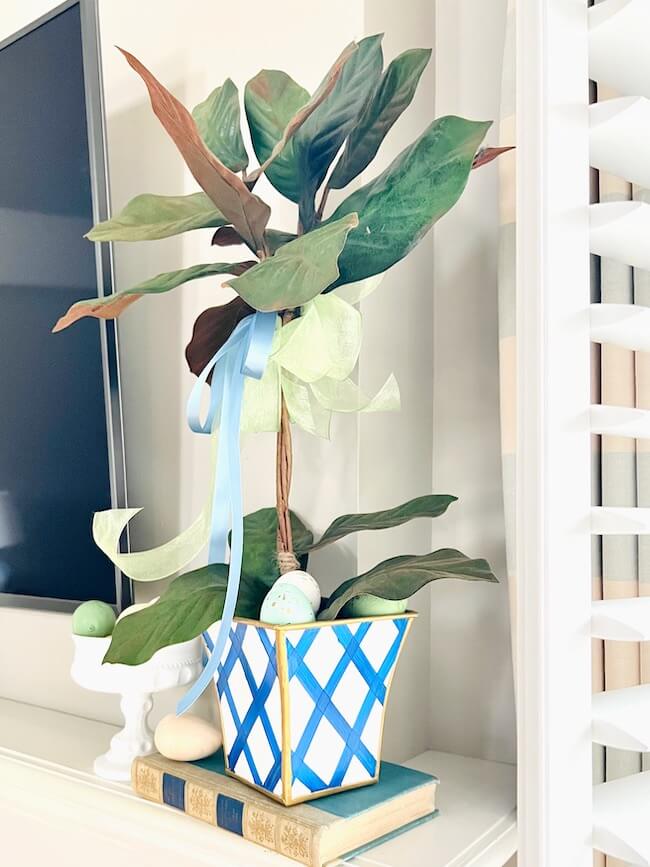 Spring Mantel Decor

I'm still hard at work decorating the rest of our home for spring, so look for our new spring home tour soon. In the mean time, you might enjoy this previous Spring Home Tour with a fresh color palette.
I hope this gives you some great tips for pretty spring mantel decor, and some ideas for decorating your mantel with a TV above it.
Thanks so much for stopping by!