Easy Mother's Day Centerpiece with Annuals
Are you hosting a Mother's Day dinner or gathering? Create a beautiful Mother's Day centerpiece with potted annuals from your garden center.
Mother's Day is just around the corner, and our mothers deserve a special table to honor them on their special day. I'm sharing an easy and cost-effective way to use fresh flowers in your Mother's Day centerpieces.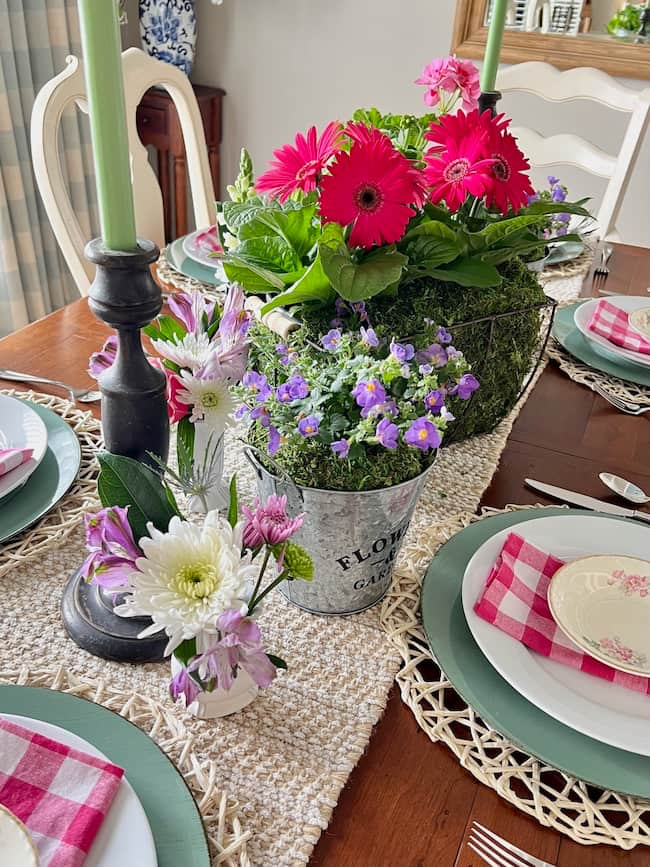 (This post contains affiliate links, so I may earn a small commission when you make a purchase through links on my site at no additional cost to you. As an Amazon Associate I earn from qualifying purchases.)
May is full of so many wonderful celebrations – May Day, Derby Day, Mother's Day and Memorial Day. It's a month of graduations and weddings and showers for brides and babies.
Today, I'm joining seven other blogger friends for the Celebrate the Holiday "Celebrate the Month of May" Blog Hop, and we're definitely celebrating all month long! With so many special holidays and events we decided to celebrate them all! A very special thanks to Carol at Bluesky at Home for hosting our blog hop! 
If you're coming from Everyday Edits, doesn't Laura's Cheese and Jalapeño Appetizer look amazing!
If this is your first time to Perfecting Places, welcome! I'm so glad you stopped by! I'm Kim, and I blog about all things home decor! I love to share easy DIYs for your home as well as paint colors, design sources, and favorite decorating tips and tricks to help you make your house a home!
May is a wonderful month when the warmer weather becomes a little more consistent (at least here in Kentucky), and with that comes planting season!
This handy little Mother's Day tablescape idea is super easy, and best of all, I'm using annual flowers from the garden center to create it, so it can be enjoyed all summer long!
You can use this same easy tablescape idea for any of May's special occasions.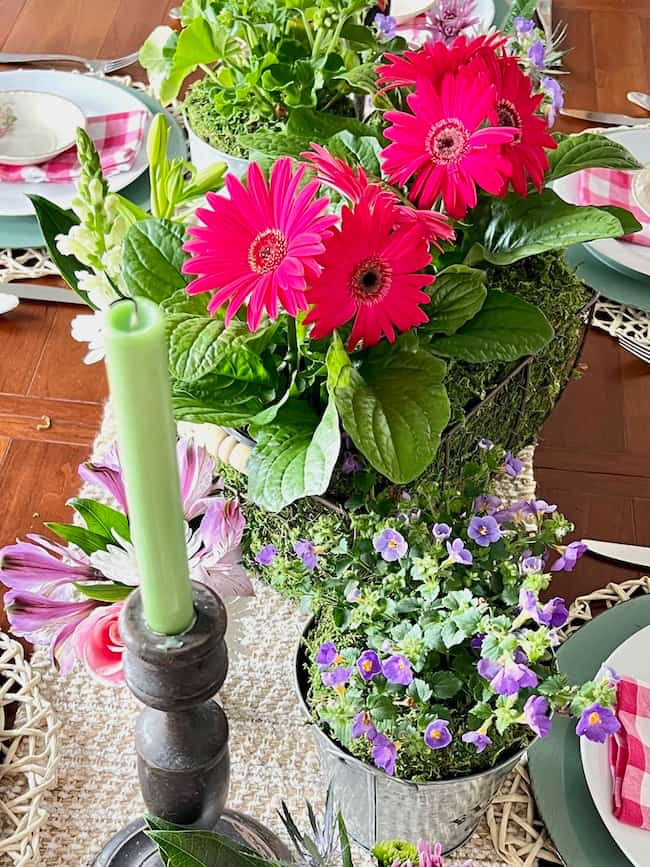 How to Make a Simple Floral Centerpiece for Mother's Day with Annual Flowers:
Since May is the beginning of flower season here in Kentucky, I used some beautiful annual flowers as the foundation of this Mother's Day tablescape.
This is the perfect time of year to find an abundance of gorgeous flowers in your garden center. It's a creative and cost effective way to create a lovely centerpiece for any spring occasion.
The best part is you can pot the annuals for the summer after Mother's Day.
What annual flowers did I use in the Mother's Day Centerpiece?
A quick visit to Lowe's yielded gorgeous flowers to use in my centerpiece! I found the most beautiful bright pink Gerbera daisies at Lowe's, and I purchased two of these pretty flowers for the tablescape.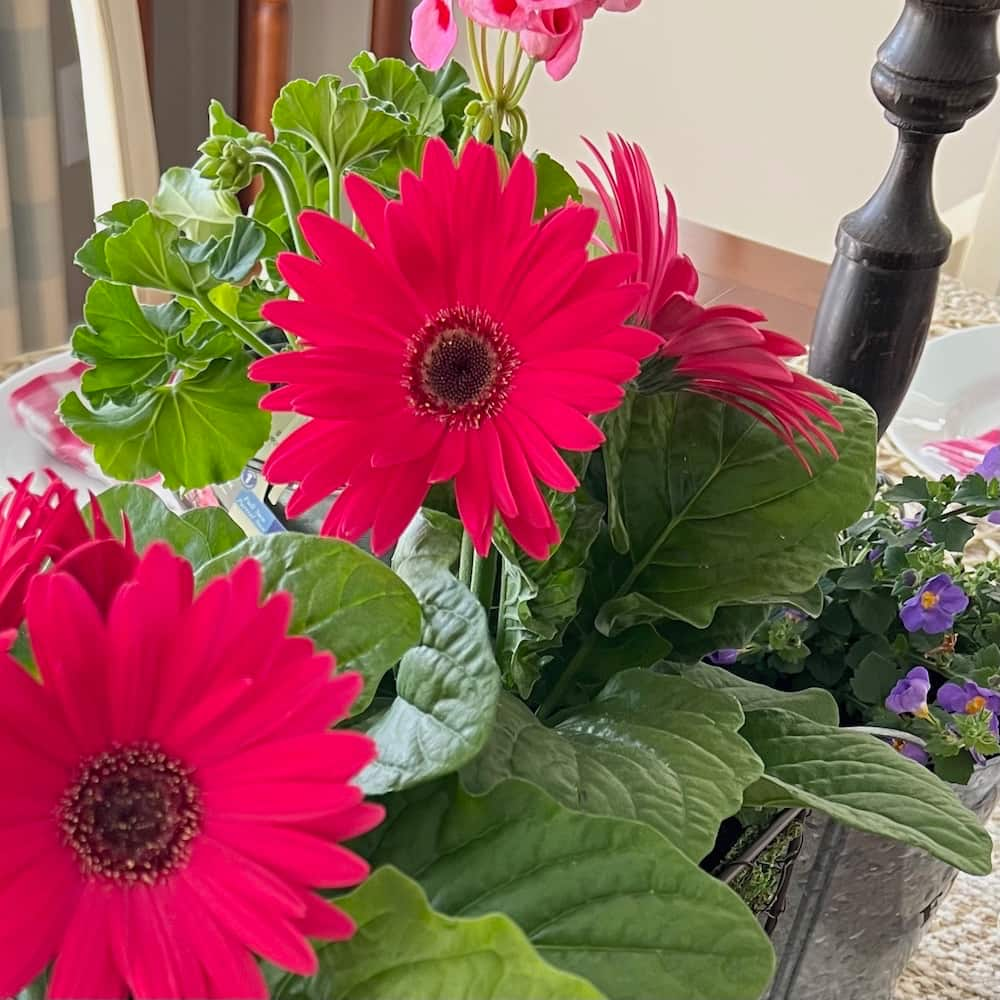 I also purchased 2 pots of purple "Betty Blue" bacopa plants. These petite purple flowers compliment the vibrant color of the Gerbera daisies.
I rounded out my selection of annual flowers with a pretty pink variegated geranium. This variety is one of my favorite geraniums.
If you're creating this centerpiece for your mother, you might even select Mom's favorite flowers to create this tablescape.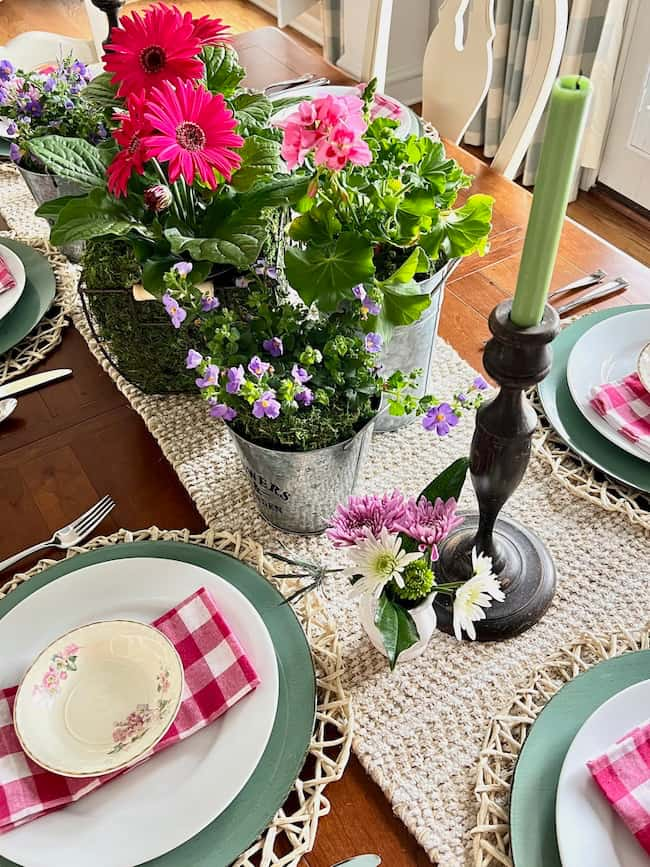 How to Arrange the Annuals in the Dining Table Centerpiece:
Gather a collection of wire baskets and galvanized flower pots to use with the annual plants. You can find these at Michaels or Hobby Lobby. I found the smaller flower buckets at the Dollar Tree and the larger bucket and wire basket at Walmart.
I added the two bright pink Gerbera daisies to the wire basket to create a simple floral arrangement in the center of the table.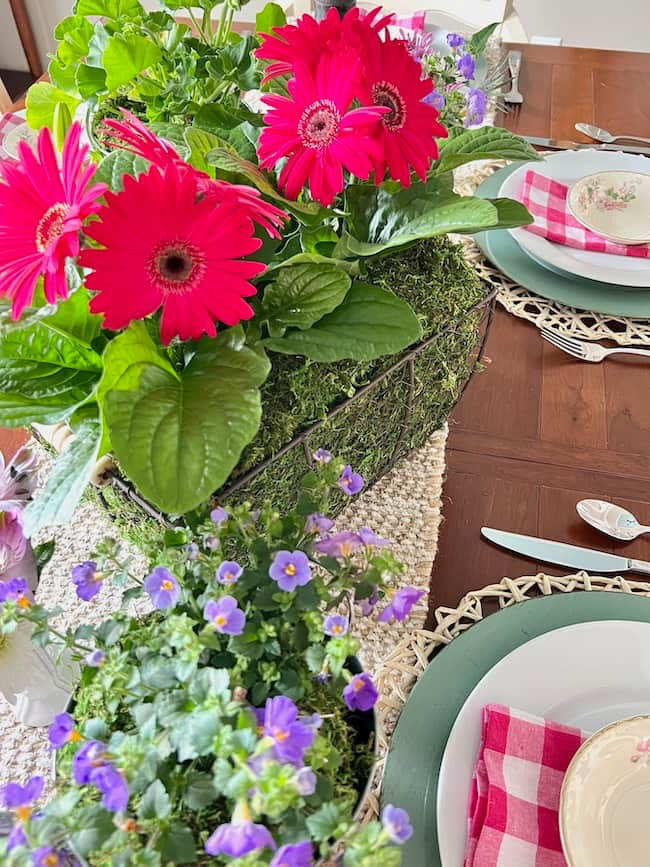 The 2 purple purple bacopa plants and the pink variegated geranium look perfect in the galvanized flower buckets. I love the combination of bright colors for the table.
The flower buckets were a little deeper than the flower pots, so I added some cups to the bottom of the buckets to elevate the annual plants.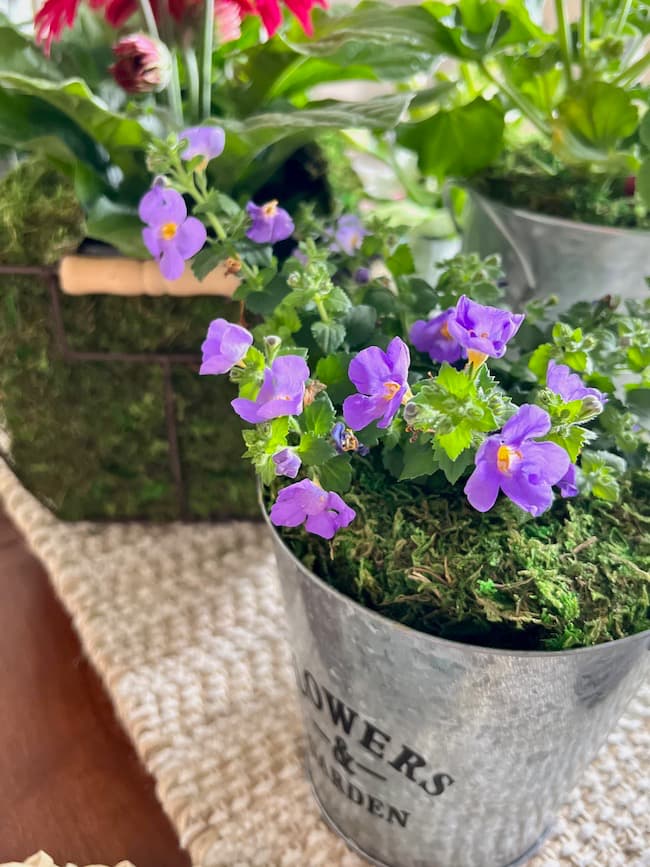 I used moss to cover the base of the plants and to fill in the sides of the wire basket. A roll of preserved moss is perfect for this job. You can cut the moss into small squares to fit around the base of the plants and tuck into the buckets.
I added the larger wire basket of Gerbera daisies to the center of the table and then added the smaller flower buckets containing purple "Betty Blue" bacopa and pink geranium to the mix down the middle of the table.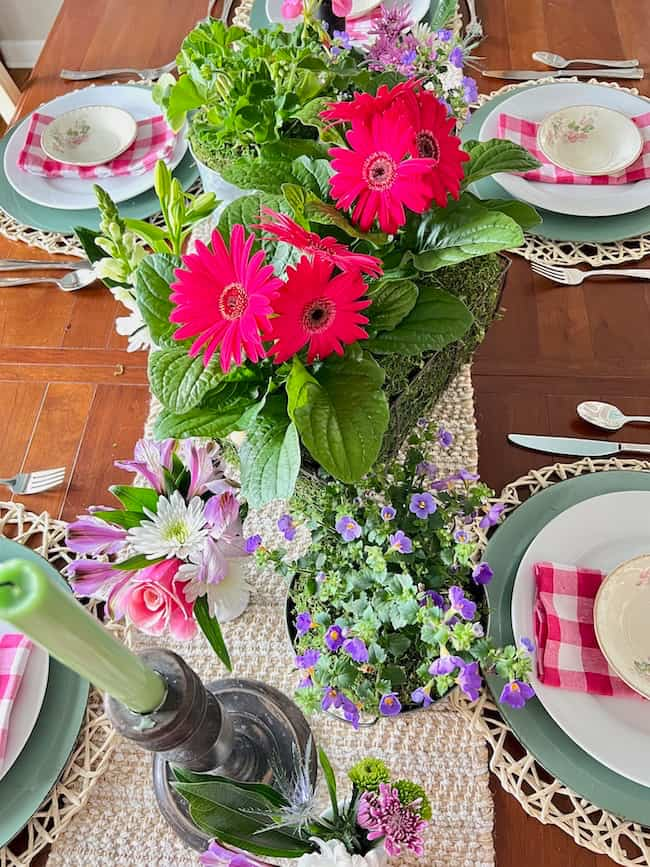 Add small arrangements of grocery store flowers along the tablescape.
I wanted just a little more variety in the tablescape so I created small bouquets of flowers in coordinating colors in petite white bud vases. I placed these small arrangements around the other potted annual plants for added interest.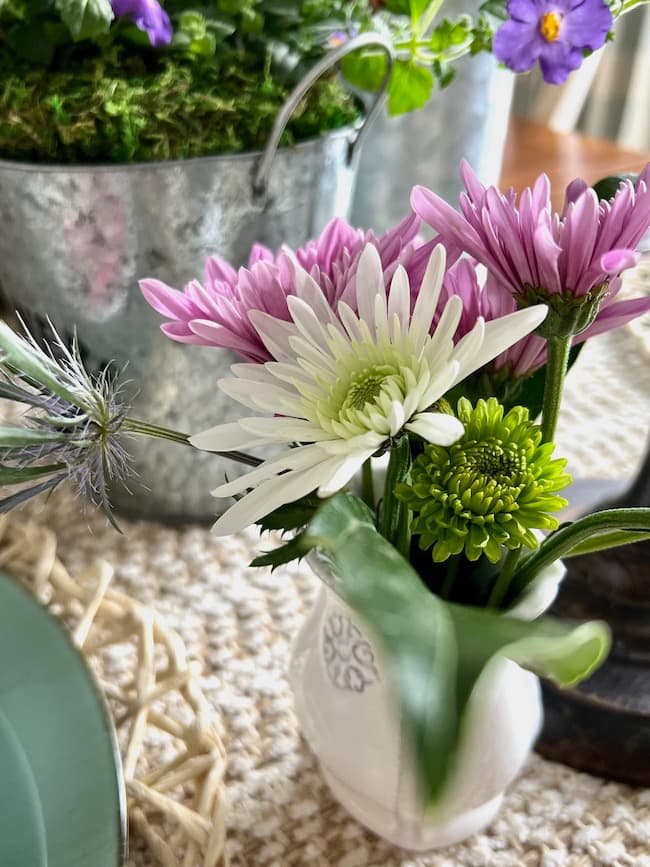 I love to create several smaller arrangements in petite vases from a larger grocery store bouquet. Sometimes the bouquets can feel a little sparse. Cutting the flower stems down and making smaller arrangements in bud vases is one of the best ways to make the grocery store flowers feel more substantial.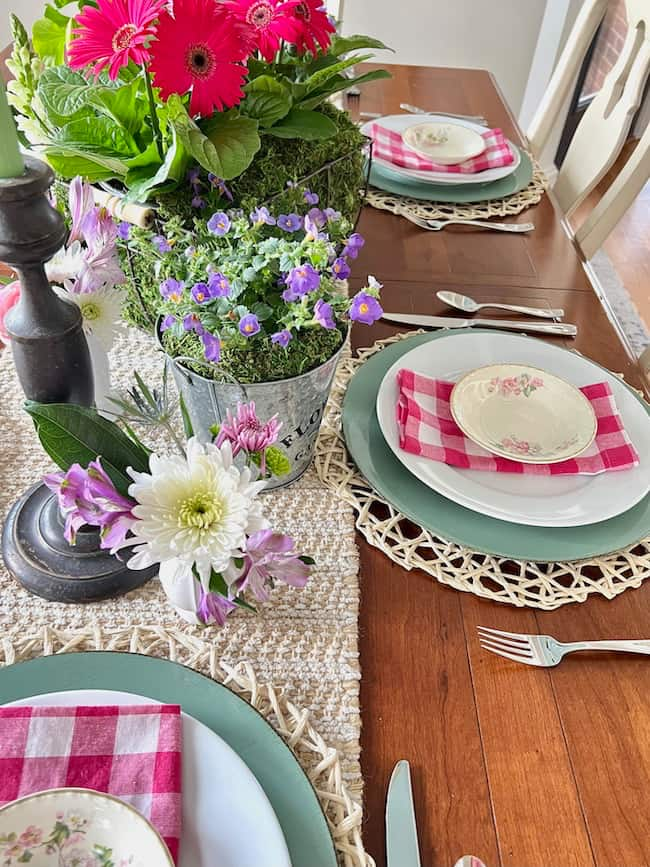 If you love to create beautiful tablescapes for special occasions you might also enjoy these creative centerpiece ideas:
Easy DIY Table Centerpiece With A Thrifted Tole Tray
Outdoor Summer Table Centerpiece Ideas
15 Ways To Decorate For Spring With Flowers
Pink and Green Place Settings for Mother's Day:
To create the place settings for the table I used a combination of pink, white, and green items.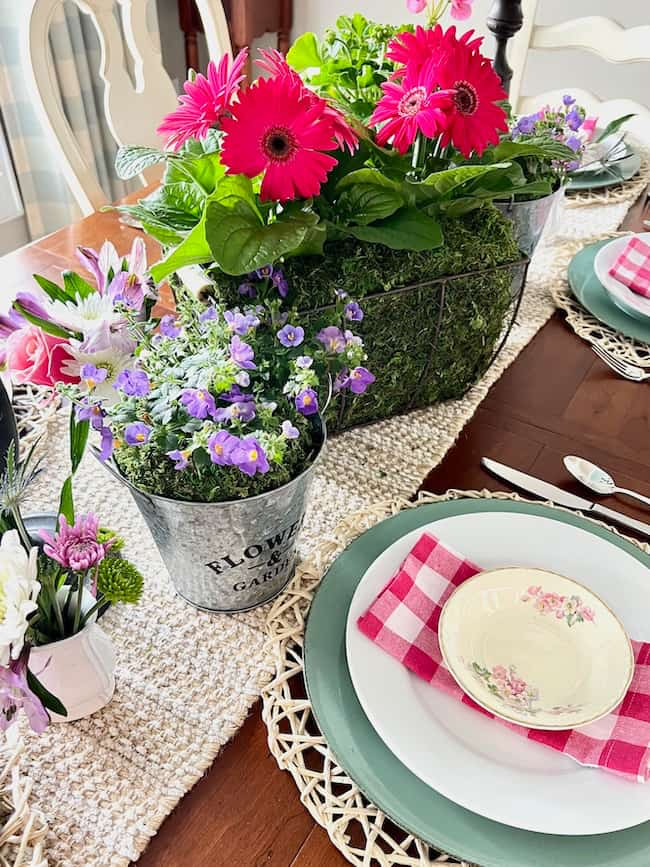 These pink and white gingham plaid napkins are perfect with the bright pink flowers. I added the napkins to simple white dinner plates on green chargers. Woven placemats add natural texture to the place settings.
I'm also using some delicate fruit bowls from my great-grandmother's China in each table setting. I love the sweet pink floral design on the bowls.
The place settings compliment the colors of the flowers and are perfect for serving up Mom's favorite meal!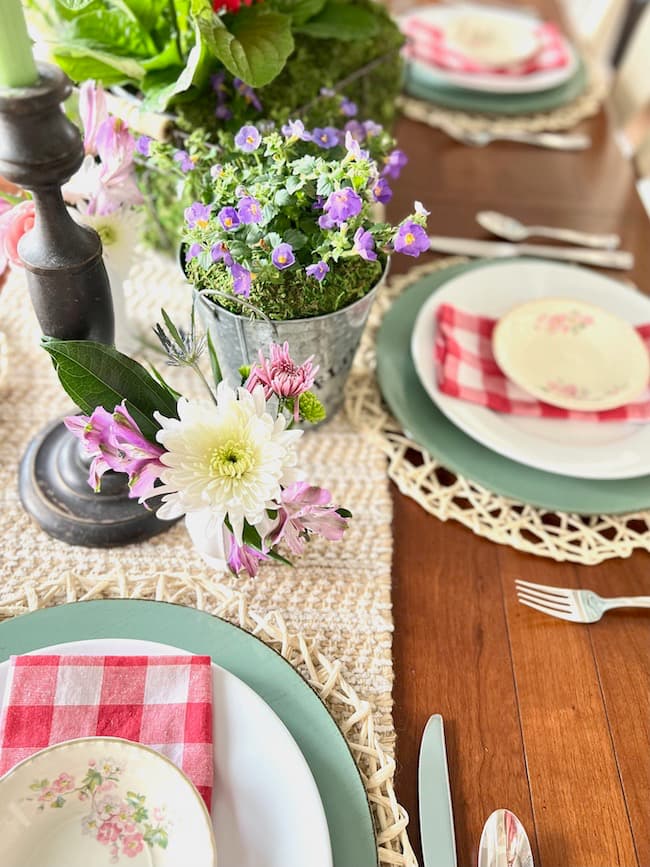 Are you hosting your whole family for a Mother's Day meal this year? I hope these easy ideas for Mother's Day flowers inspire you to create an easy table arrangement for your family to enjoy.
It's simple to create a lovely centerpiece for your Mother's Day table with a stop by your local garden center. The flowers make the perfect Mother's Day table decoration, and provide an added bonus. After your meal you can either plant your annuals in your own pots or landscape or gift them to your guests of honor as take-home favors.
It's an easy, cost-effective way to bless Mom this Mother's Day!
Next up on our blog hop is Kate at Southern Home and Hospitality. Be sure to check out her adorable graduation cap decorating ideasI!
Be sure to check out all of my creative blogger friends in the Celebrate the Holiday blog hop below. You'll find lots of great ideas for your May celebrations!
Shop the Look

---
Pin It for Later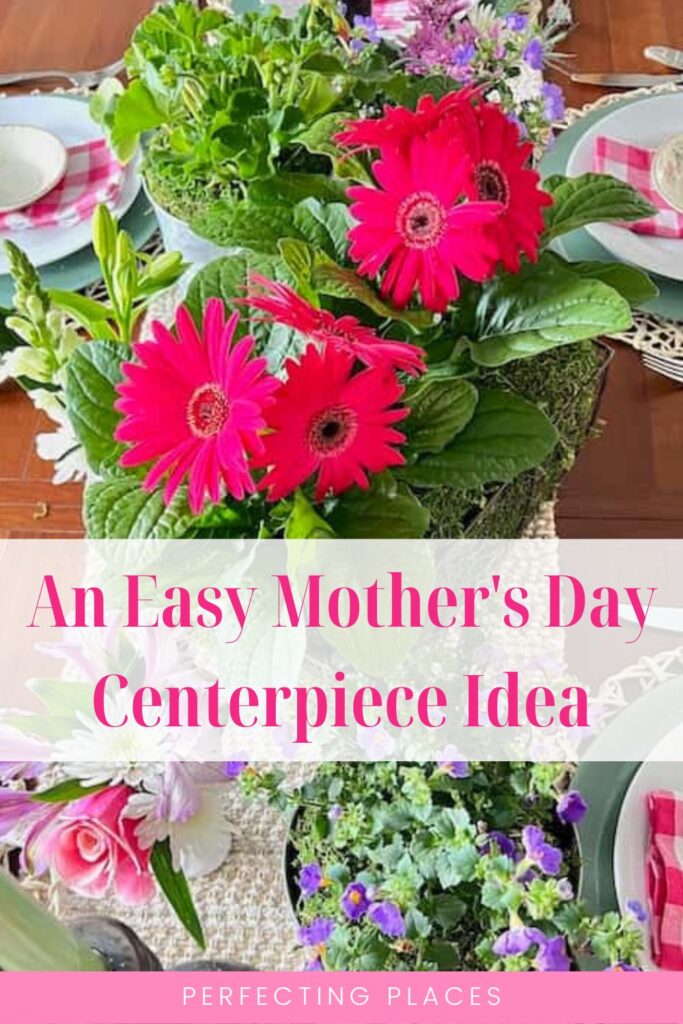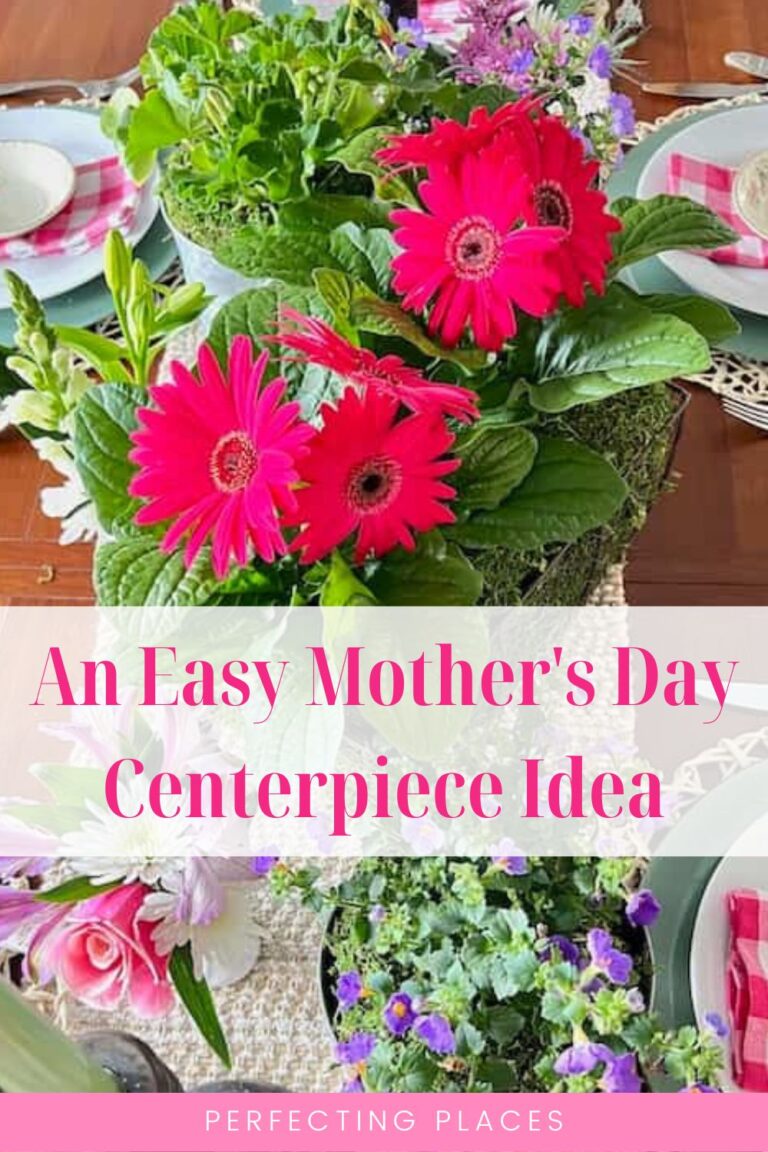 By the way, do you follow me on all the socials? If not, check out my Pinterest, Instagram, and Facebook and be sure to follow along so you don't miss out on any of my decorating and DIY ideas.