The Best Garden Theme Baby Shower Ideas
Spring is the time for showers – baby showers that is! These beautiful garden theme baby shower ideas and decorations are perfect for celebrating your sweet bundle of joy!
If you're planning a garden-themed baby shower to celebrate a special mom-to-be of a baby girl, these adorable ideas will help you create an event to remember for your friends and family.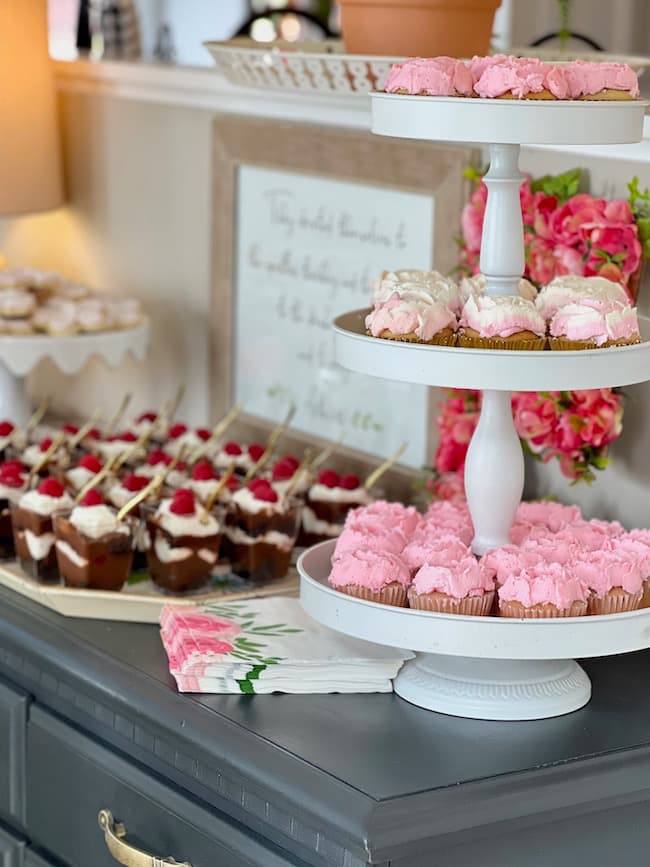 (This post contains affiliate links, so I may earn a small commission when you make a purchase through links on my site at no additional cost to you. As an Amazon Associate I earn from qualifying purchases.)
I can't believe we're about to be grandparents for the first time in about a month. We're counting down the days until our sweet granddaughter is born, and this past weekend I hosted a spring baby shower to celebrate. We chose a garden theme with a color palette of pink, coral, white, and green for our decor, and today I'm sharing all the details for how to create a beautiful garden baby shower theme.

What are the best garden theme shower ideas for baby?
1. Send beautiful garden themed invitations to your guests.
Invite guests to your party with gorgeous floral baby shower invitations. These garden-themed designs are from Etsy, and were the perfect to send to your guest list.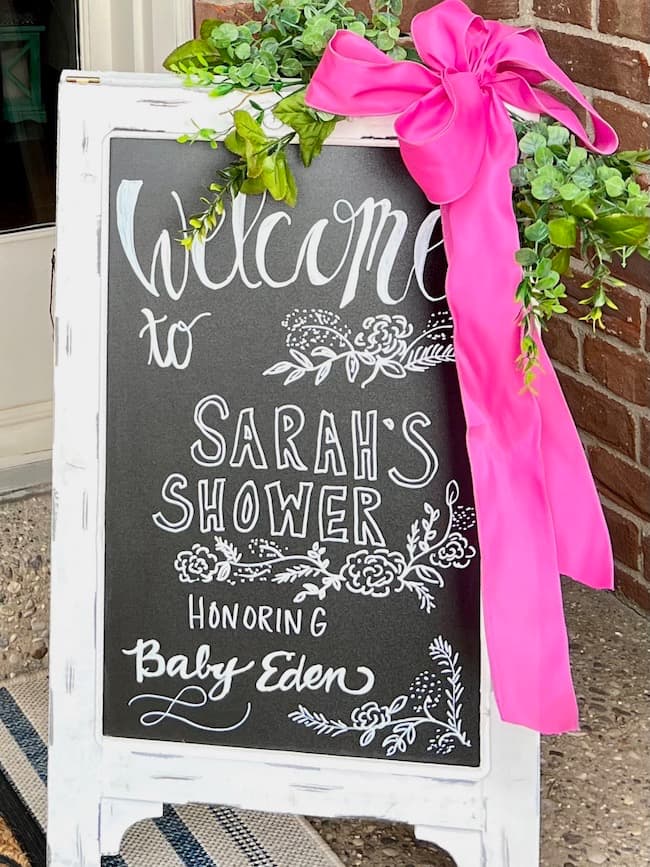 2. Decorate a chalkboard sign to greet your guests.
Welcoming your shower guests with a hand-drawn chalkboard sign is a fun way to bring the shower decor out to your front porch. I added a few simple decorative floral touches to the chalkboard and used a variety of font styles to display my greeting.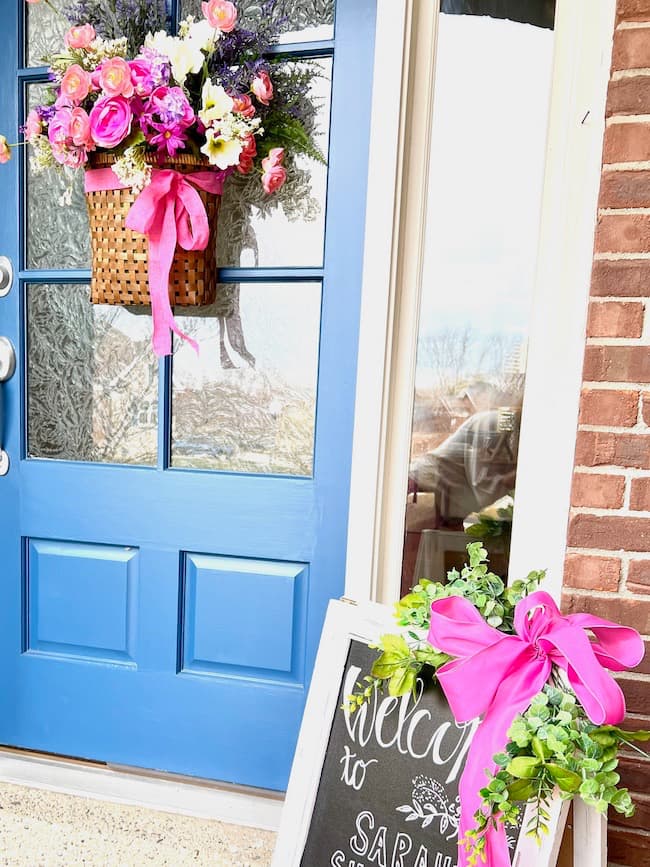 3. Make a great first impression with a wicker flower wall basket full of vibrant faux spring blooms.
Your front door is the first thing your guests will see. You can establish your shower theme here as guest enter your home. I filled a woven wall flower bucket full of colorful pink, coral, white, and lavender spring flowers to greet our shower guests as they entered through our front door.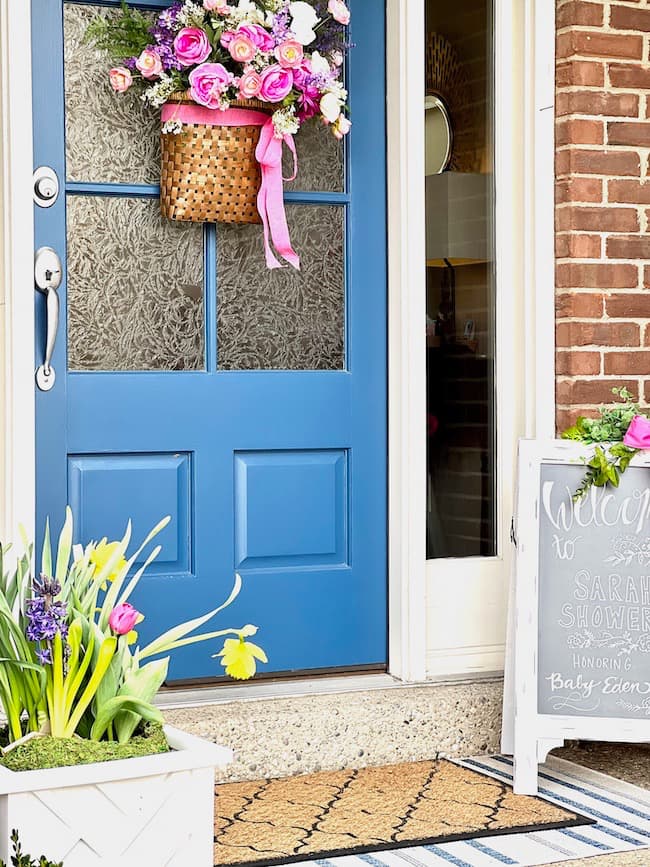 4. Add some potted spring bulbs in bloom to a front porch planter.
It's still a little early to plant flowers outdoors here in Kentucky, so I did the next best thing. I purchased small pots of blooming spring bulbs from Trader Joe's and placed them still in their original containers in this white flower box planter. I added some moss sheeting around them to cover the tops of the pots.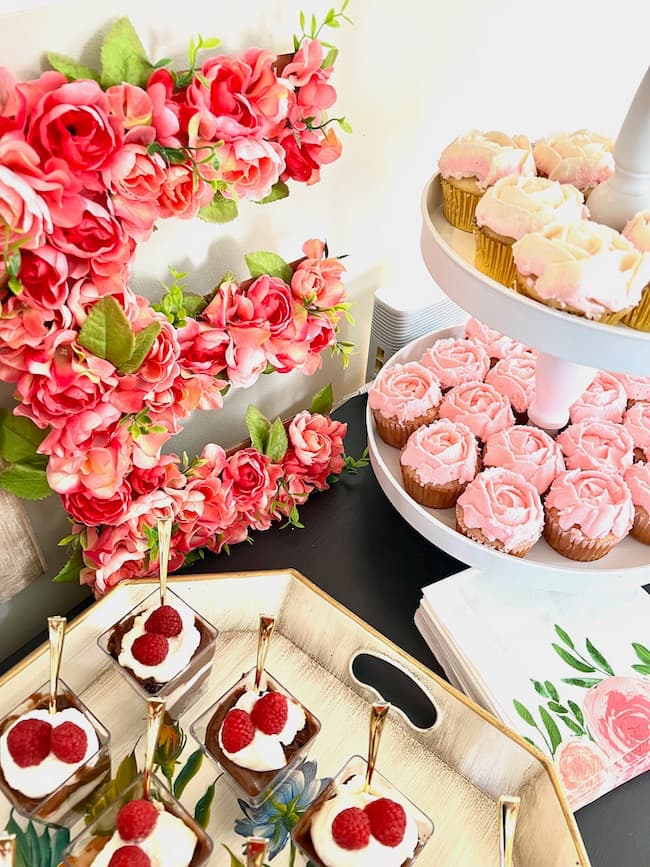 5. Create a DIY floral monogram for the new baby.
I made a floral "E" to celebrate our sweet Eden. I cut an E shape from a piece of cardboard and covered it with blooms in varying shades of pink. I pulled the blooms off of faux stems and hot glued them to the cardboard E. I displayed mine on our dessert buffet, but it would be perfect on your mantel or handing on a mirror.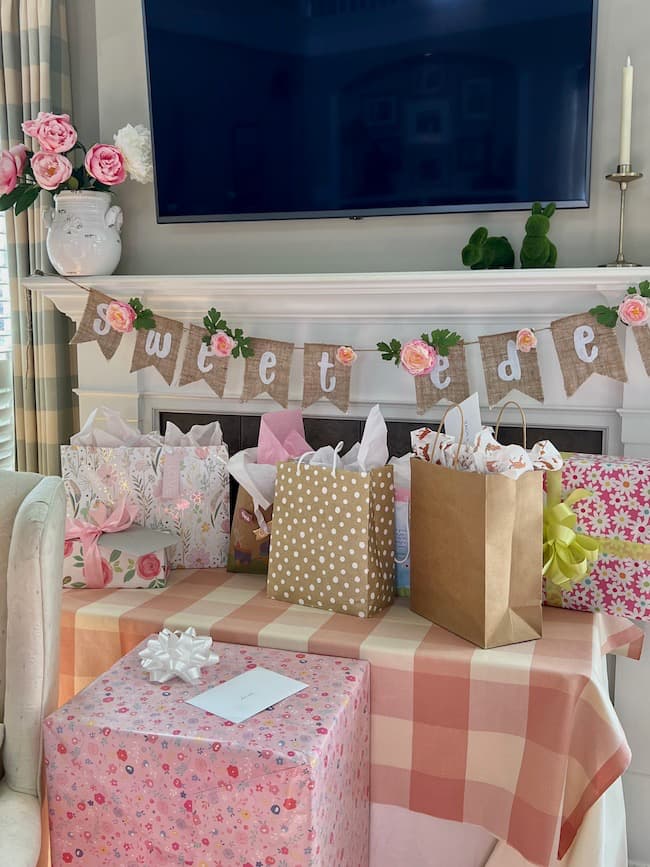 6. Make a DIY garden theme banner for your mantel.
Read all about how I created this DIY garden-themed burlap baby shower banner for Eden in this post which includes a printable template for the letters.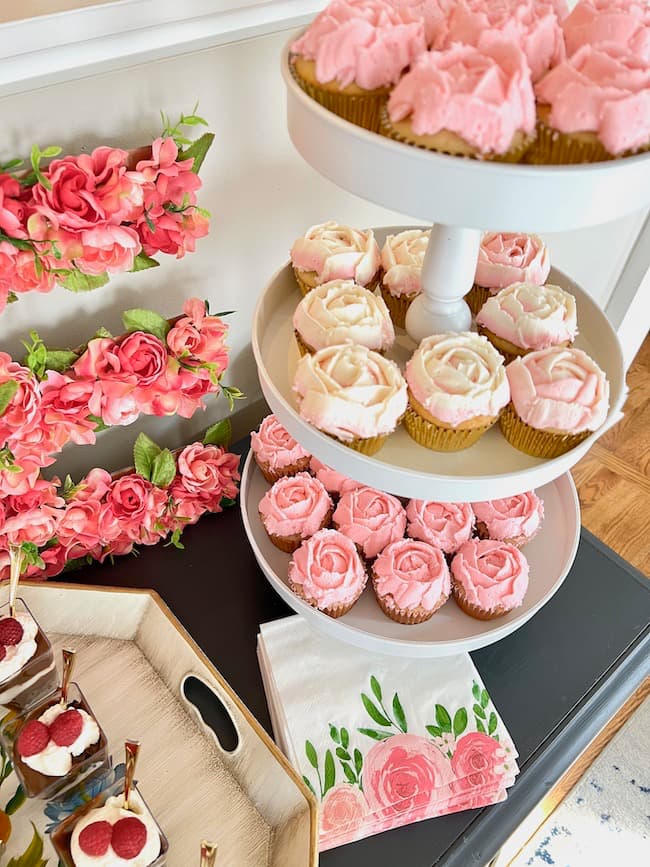 7. Serve gorgeous pink flower cupcakes.
I've wanted to try these gorgeous flower cupcakes shared by Leslie at My 100 Year Old Home for over a year now, and decided the baby shower was the perfect opportunity. I used the original Wilton Buttercream Icing recipe for the icing and a #127 frosting tip to create the design. I found it really quite forgiving and easy to make the cupcakes.
I added the flower cupcakes to a white three-tiered stand and displayed them on the dessert table.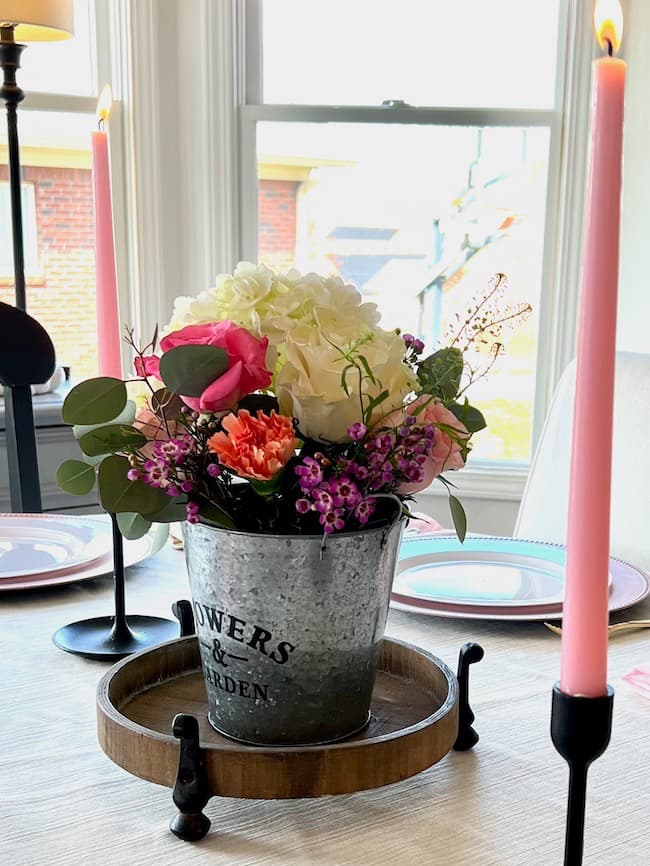 8. Create centerpieces in galvanized metal flower buckets for your tables.
I found inexpensive galvanized flower buckets and milk cans at Walmart to hold the flower arrangements for the shower. I added small arrangements in these Dollar Tree flower buckets for the additional card tables.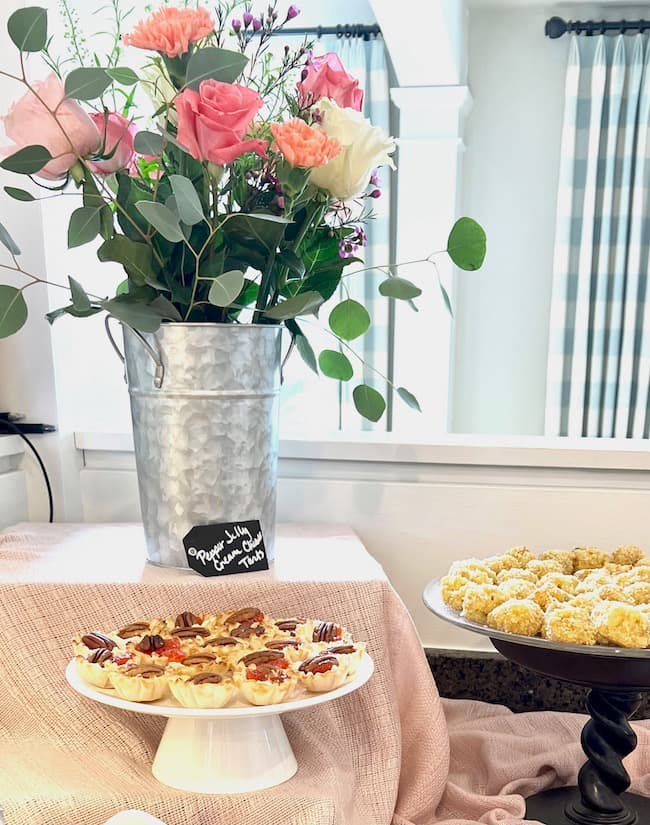 A larger arrangement in a galvanized flower bucket was the perfect decor item for the buffet.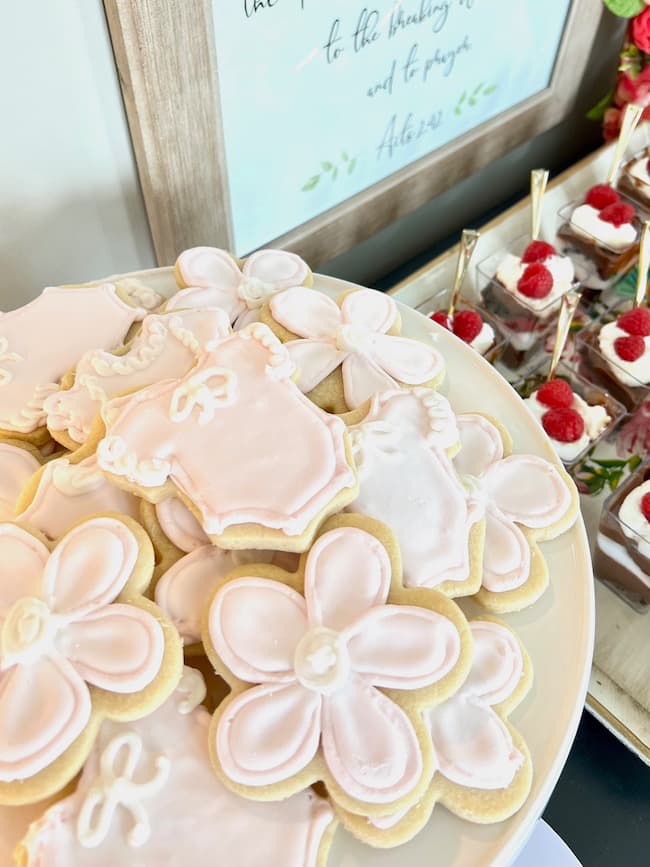 9. Make pink baby onesie and flower sugar cookies.
Some of my favorite things I made for the shower are these sugar cookies. I love the little onesie cookie cutouts. I used a very pale pink royal icing to pipe and decorate the cookies.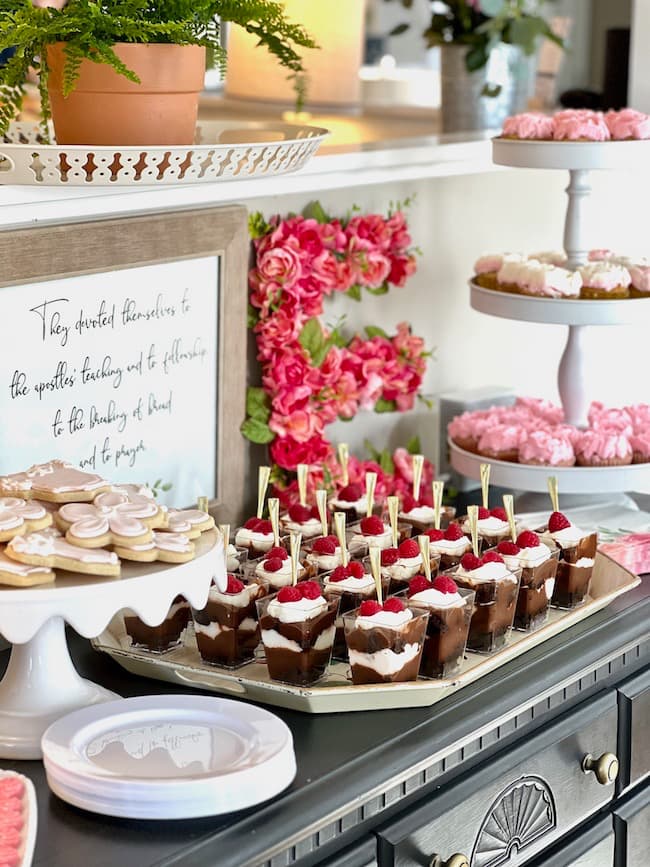 10. Satisfy chocolate cravings with these yummy brownie pudding trifles.
Of course, I had to offer a chocolate dessert for the shower dessert table, and these Chocolate Brownie Pudding Trifles did not disappoint! Layers of fudge brownies, chocolate pudding, fresh raspberries, and homemade cream were perfect in these mini trifle cups.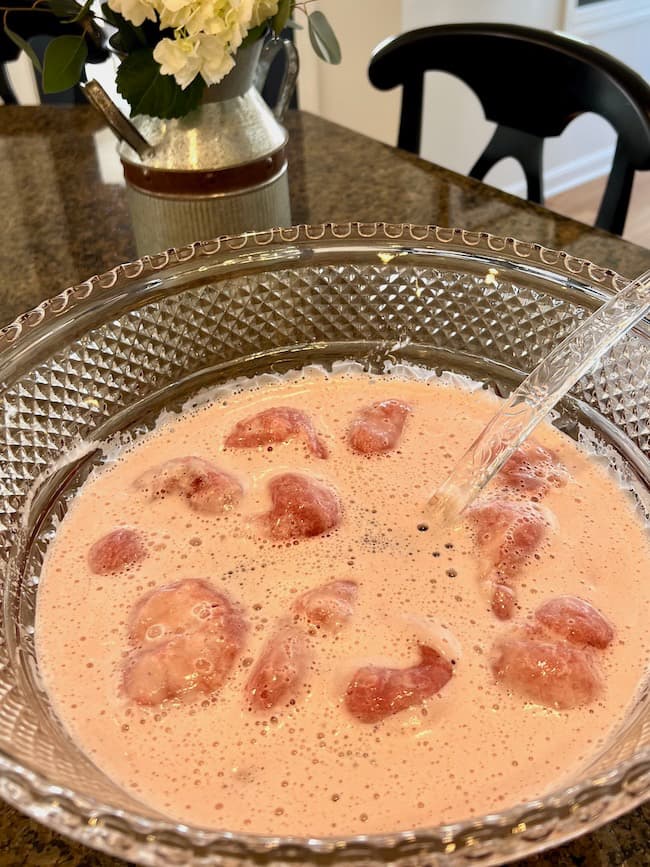 11. Serve pink raspberry pineapple punch.
I think this punch was the most delicious shower punch I've ever had. Caroline and my mother used a combination of fruit punch, Sprite, frozen pineapple juice concentrate, and raspberry sorbet to create this wonderful concoction. Honestly, they didn't really follow a recipe, but just added until we had the flavor we loved.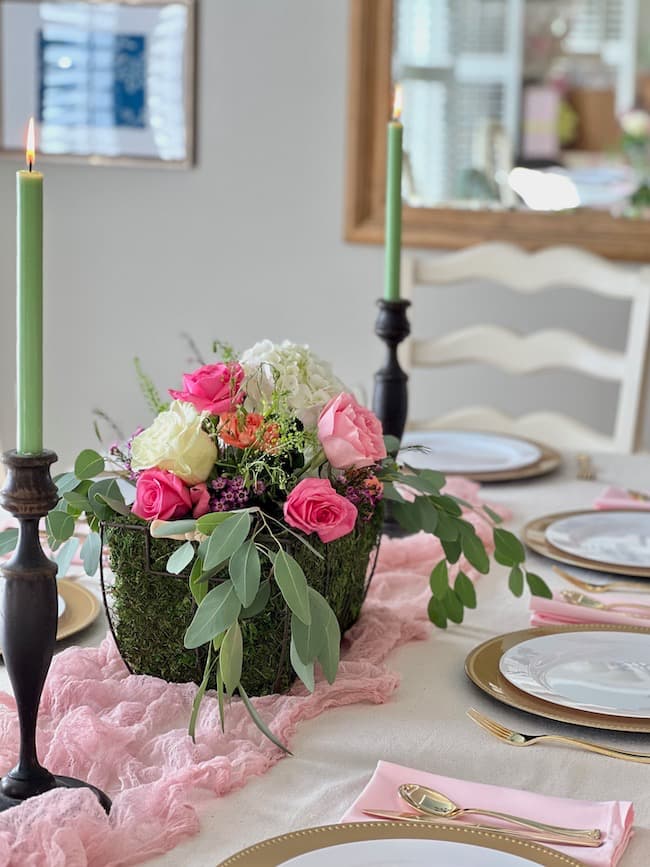 12. Use pink dyed cheesecloth for a table runner.
Cheesecloth is so easy to dye to coordinate with any color scheme for a special event. The relaxed texture of the cloth was the perfect complement for the garden party theme. I added the cheesecloth runners to the dining and kitchen tables around the centerpieces.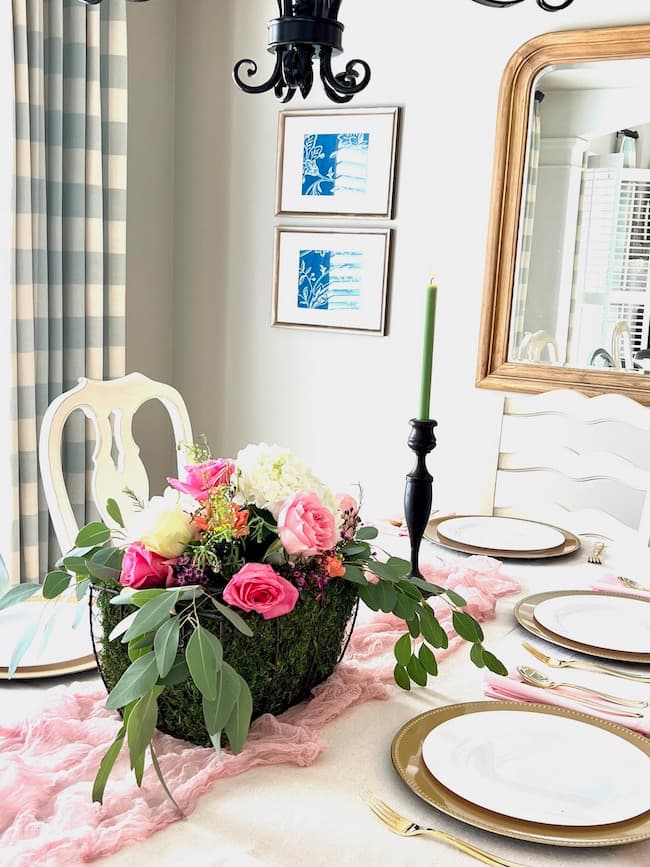 13. Create a centerpiece in a wire basket lined with moss.
To create this centerpiece for our dining room table, I found the cutest chicken wire basket from Walmart. I added a Tupperware container to the bottom of the basket to hold the water, and then lined the baskets with sheets of moss.
It's the perfect centerpiece for the table with simple table settings of gold chargers and white plates. These pink napkins are the perfect touch.
I filled the basket with gorgeous pink, coral, and white blooms as well as trailing eucalyptus.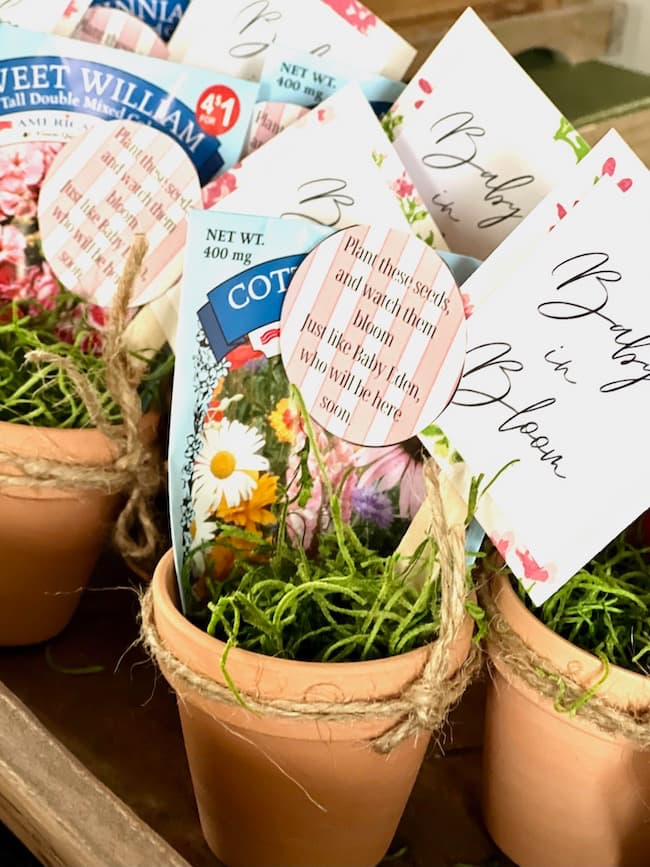 14. Create "Baby in Bloom" flower seed favors in tiny terracotta pots.
Tiny little terracotta pots and inexpensive flower seed packs from the Dollar Tree made the perfect baby shower favors for the party! I made little Baby in Bloom signs attached to Popsicle sticks for the pots.
15. Serve a delicious pasta salad full of garden veggies.
A veggie-filled pasta salad is the perfect side dish for a garden-themed event, and this pasta salad was full of delicious flavor! It was a perfect compliment to the Hot Chicken Salad casserole, Honey Baked Ham sandwiches, and spinach/strawberry salad on the menu.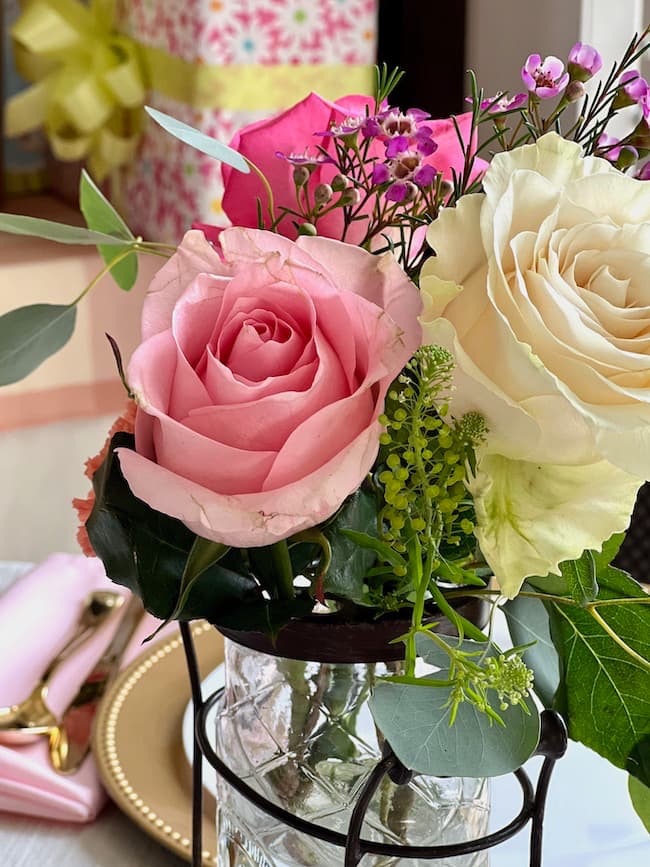 We had a perfectly lovely day for the shower with beautiful sunshine streaming through the windows, and it was so lovely visiting with cherished friends and family. Sarah received the loveliest gifts for our sweet Eden, and our son, Zach, even joined in the fun towards the end.
Whether you're hosting a beautiful garden party baby shower, bridal shower, Easter dinner, or Mother's Day brunch, these floral ideas and garden party details are the perfect way to delight your guests and celebrate your guest of honor!
Happy Celebrating!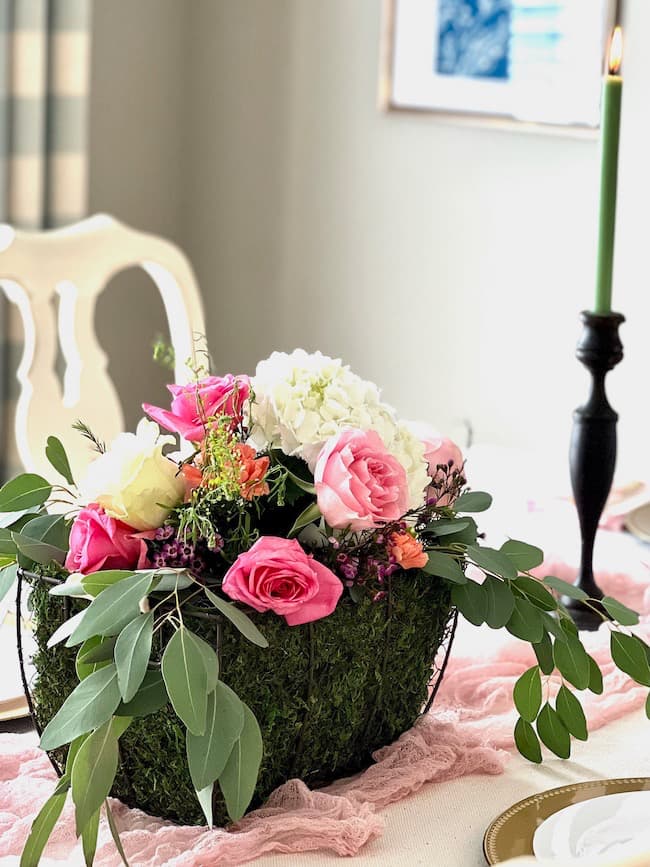 ---
Shop the Look

Pin It for Later