The Best Tips for Buying Curtains You'll Love
New curtains can really update your room! I'm sharing the best tips for buying curtains that will give your windows a custom look for less!
These tips will help you know what to look for and how to hang your curtains so you can find the perfect ready-made curtains for your home!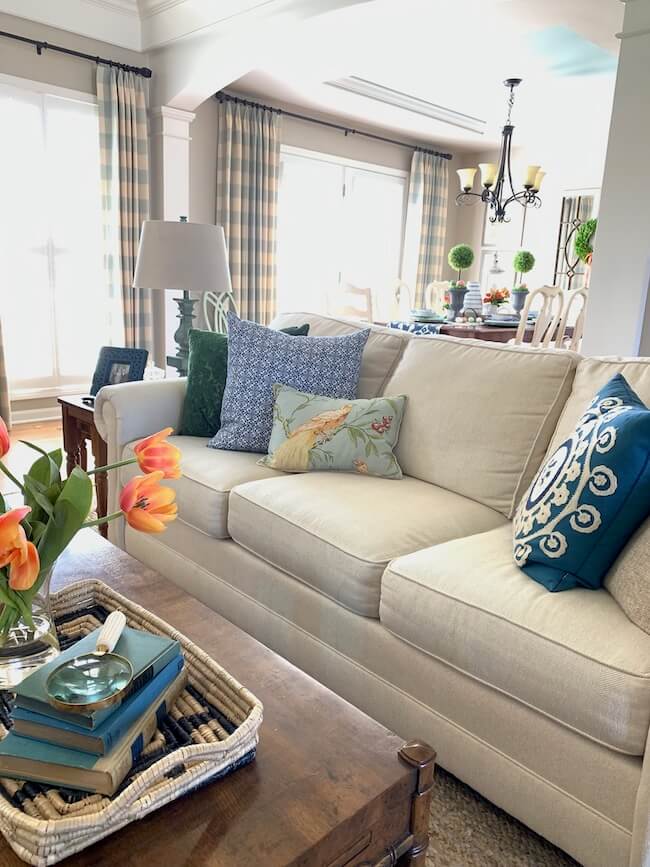 (This post contains affiliate links, so I may earn a small commission when you make a purchase through links on my site at no additional cost to you. As an Amazon Associate I earn from qualifying purchases.)
My, oh my! I do love a great fabric store!
I've been known to drag less-than-thrilled children through a fabric store or two looking for the perfect fabric for the perfect window treatments for our home. My daughter used to love collecting all of the fabric threads from the store floor. She had quite a collection!
While I love to make my own custom window treatments, sometimes there just isn't enough time. And even though I save lots of money by making my own, drapery fabric certainly isn't cheap!
Sometimes the best option is to buy great-looking and affordable ready-made curtain options.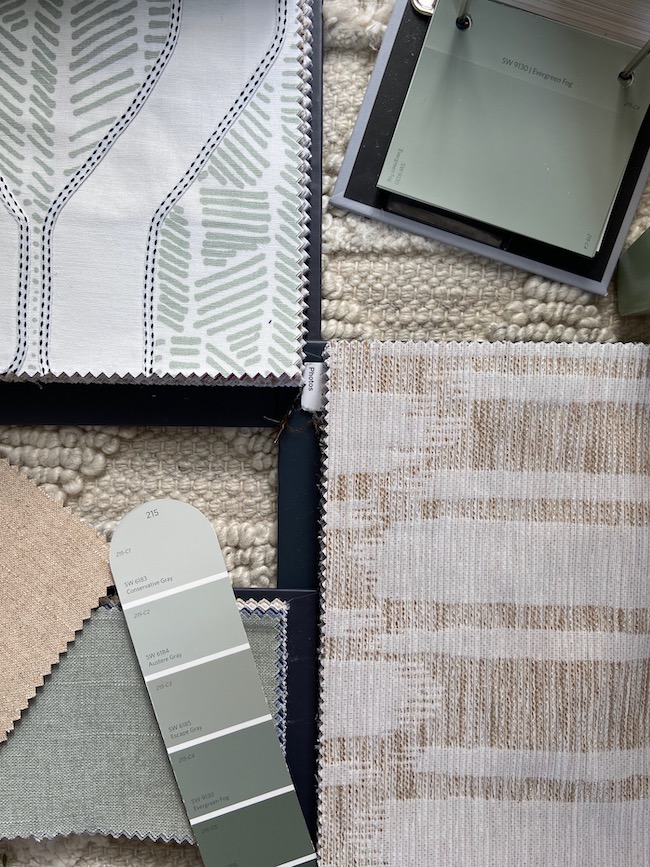 I adore fabric, so beautiful window treatments make my heart sing! Curtains can really soften your room, and add warmth, color and pattern. Custom drapery panels are absolutely fabulous, but the price of custom is not!
Fortunately, you can get some really pretty ready-made curtains you love, at a price you love, too! If custom curtains aren't in your budget, follow these handy tips for buying curtains and hanging them to get a higher end look at a fraction of the cost.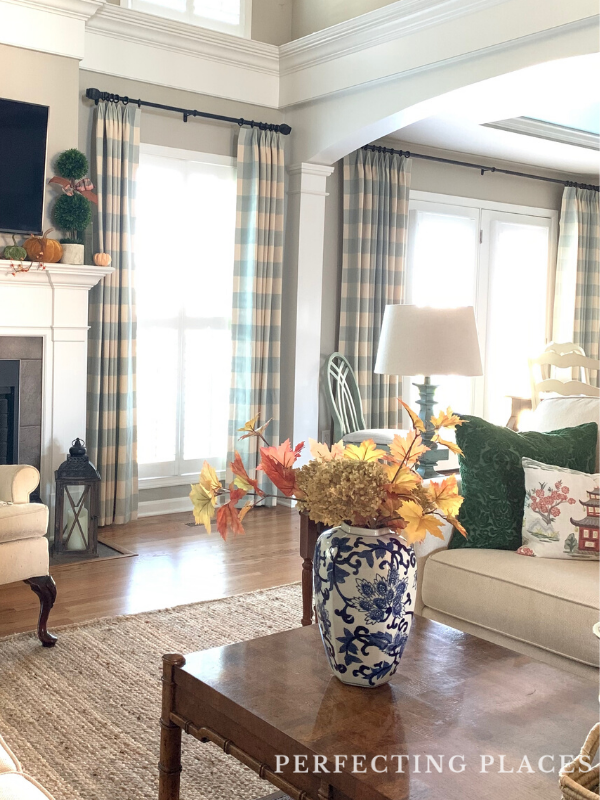 Tips for Buying and Hanging Ready-Made Curtains:
1. Hang your curtains high.
Drapery panels don't have to go ALL the way to the ceiling or crown, but should be close. Buy panels long enough so they reach from just a few inches below the ceiling (or crown molding) all the way to the floor — like shown here.
Hanging your drapery panels high draws your eye upward and makes your ceiling feel taller. Most rooms are at least 8 feet tall, so you would need to buy at least 96" panels. Sorry, Mr. 84 Inch Curtain, you're never really going to work!
2. Hang your curtains wider than your windows.
Allow as much of your window to show as possible. Natural light is king! Allow as much of it into your room as possible by hanging rods wide enough so that your panels sit completely outside the window, just covering the window frame.
It's a design trick to make your windows feel larger, which in turn, will make your room feel larger. When buying rods, make sure they are wide enough to extend beyond the windows 6-10 inches on each side.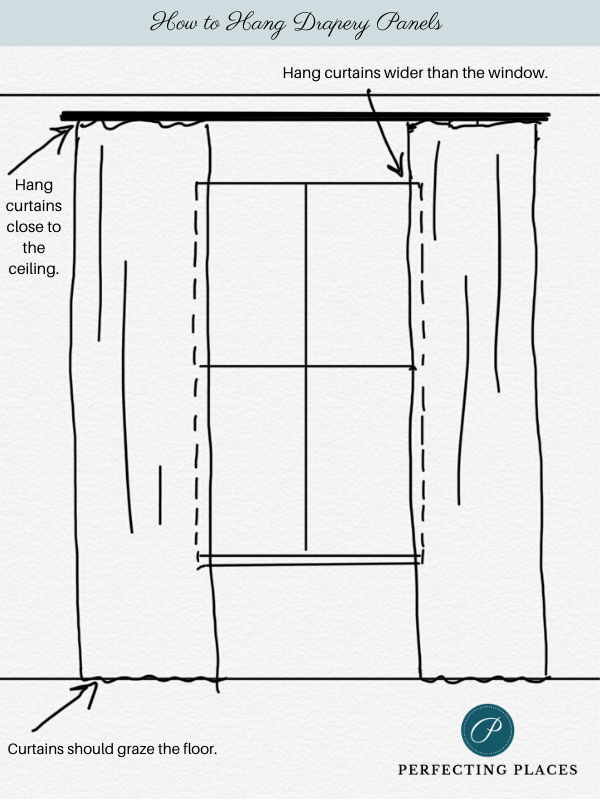 3. Make sure the drapery panels go all the way to the floor.
No high-water curtains allowed!!
Curtain length is important for a custom look, and homeowners often purchase curtains that are too short.
Drapery panels should reach the floor, ideally just grazing the floor for the perfect custom look.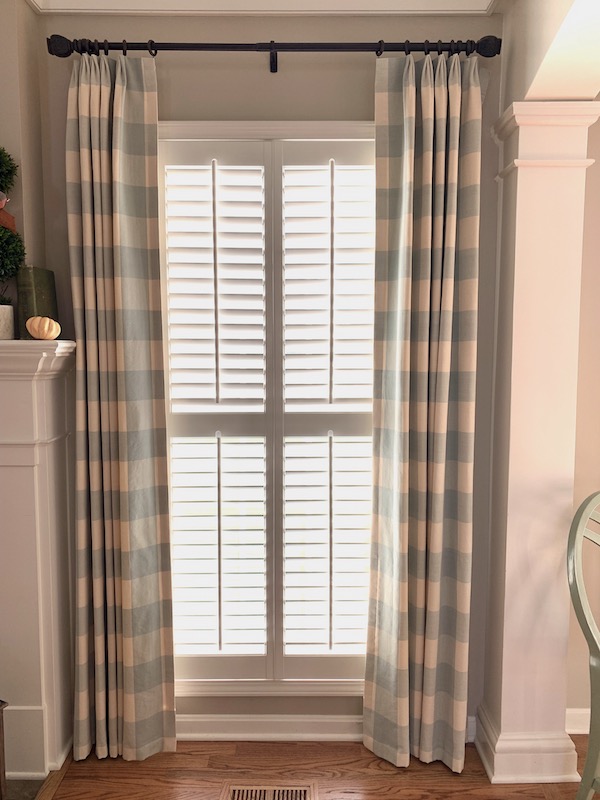 If your room has short windows, as is often the case in a basement or upstairs bedroom, follow the same principle.
Hang panels close to the ceiling and make sure the panels go all the way to the floor.
Place a dresser, small chest, or credenza to "fill in" the space below the window. It tricks the eye, and makes it feel like the window occupies that space. See this window by Centered by Design for example.
4. Don't skimp on the fullness of the panels when buying curtains.
For a custom look, the width of your panels should be at least double the width of your window. Actually, 3 times the width of your window is considered luxury fullness.
Most ready-made panels are around 50 inches wide, but you can find several wider panel options online, such as this one.
Of course, if the curtain you love only comes in 50 inch width, you can always buy an extra panel per side to give you the fullness you need.
If your curtains are going to be functioning, meaning you will open and close them, lean toward a fullness closer to 3 times the width of the window so they look full even when the draperies are drawn.
5. Choose lined curtains.
Linings add privacy, structure and substance to your panels.
Lined curtains not only add privacy, but also add weight and volume to the curtain fabric. Look for ready-made options that have linings for a nice finished look.
Plus, lined curtains offer better curb appeal. Curtains with white or off-white lining create a nice uniform look for the exterior of your home.
It's better exterior curb appeal if you keep the lining color of your curtains consistent on all of the window treatments across the front of your home.
Blackout curtains made with blackout lining are a great option for extra light control in bedrooms where privacy is important. They also block light if you need to sleep during daylight hours.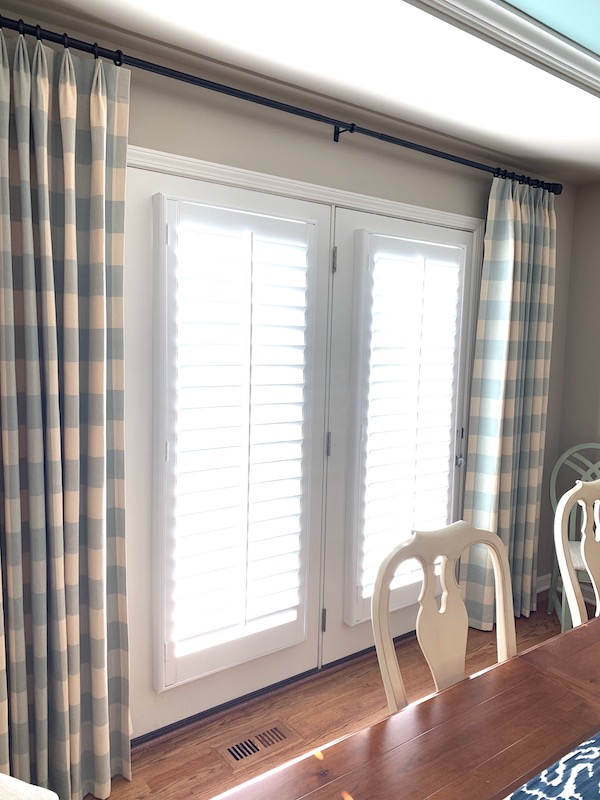 6. Decide what you want your window treatments to do for the design of your room.
Are they the main show of your room with big, bold pattern? Are they a subtle backdrop to the other decor in your room? Do you want them to add texture, or to soften the overall look of the space?
Make sure the fabric coordinates and plays well with the other patterns in the room.
If budget is a factor when buying ready-made panels, you'll typically have more solid options available in longer lengths and widths at a lower price point. You can always bring in pattern through pillows or other fabrics in the room.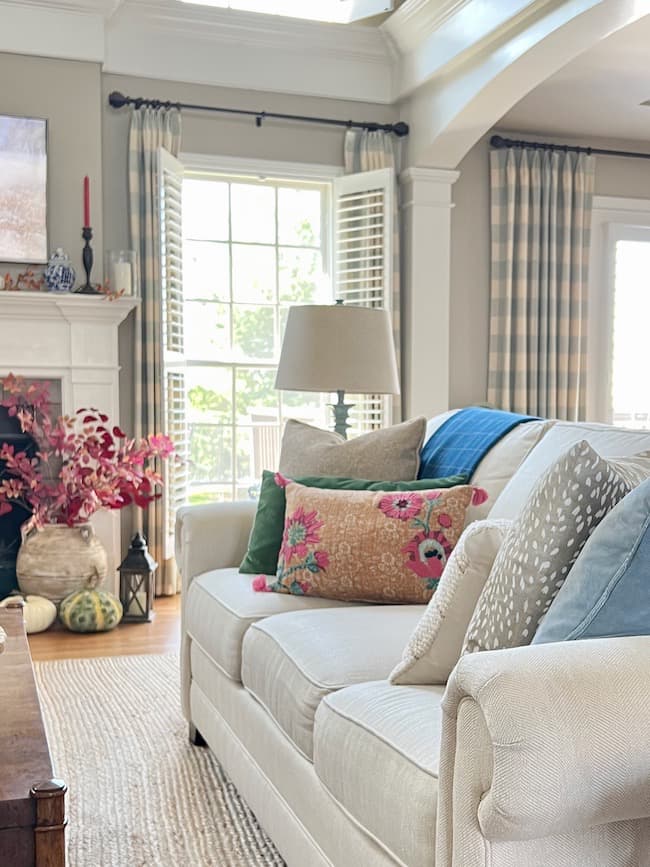 7. When buying window treatments, choose a drapery header style that looks custom.
When buying curtains, I usually avoid grommet top or tab top drapery panels when striving for a more custom look. If possible, try to find panels with Euro or inverted pleats for a classic look.
Most ready-made panels are flat tops with rod pockets on the back side used for gathering the panels on a curtain rod.
Instead of gathering the curtains on a rod, you could use drapery hooks or clips and hang them from rings on a rod.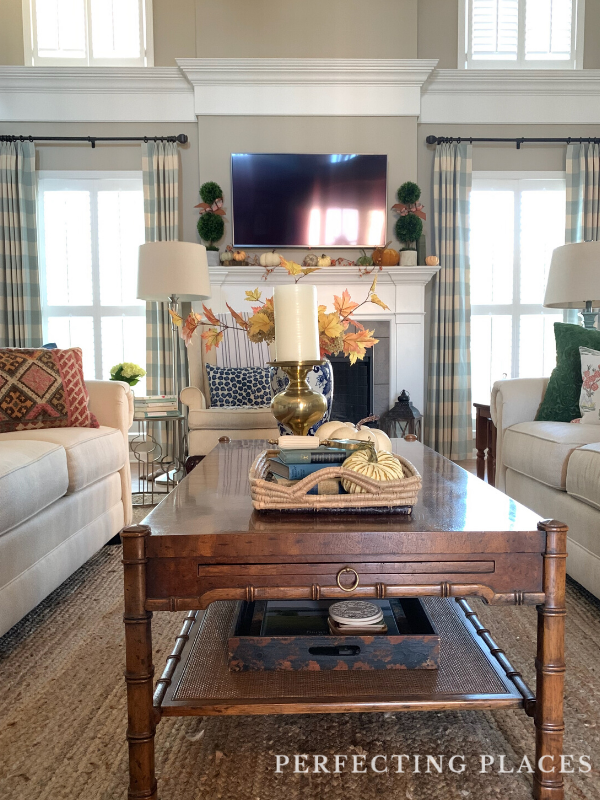 8. Sometimes no window treatment at all is the best option.
If you have gorgeous windows, a beautiful view, and no need for privacy, sometimes a bare window is the most beautiful option for your room.
When trying to sell your home, removing drapery panels is often the best way to showcase your room for real estate photos. I've often coached my staging clients to remove window treatments to showcase a window or a view. It also allows more natural light in the home which is a very important feature when showing a home.
How to Make Ready Made Curtains Look Like Custom-Made Curtains:
Did you know you can make ready made curtains look custom? Whether you can sew or not, it's a good idea to add a few simple adjustments to purchased curtains to give them a custom look at an affordable price!
Most curtains can be purchased as single panels that are hemmed at the bottom and the sides.
Most have a simple rod pocket at the top that allows you curtain rod to slide through.
You can treat this simple curtain as a large piece of fabric and add the following custom features.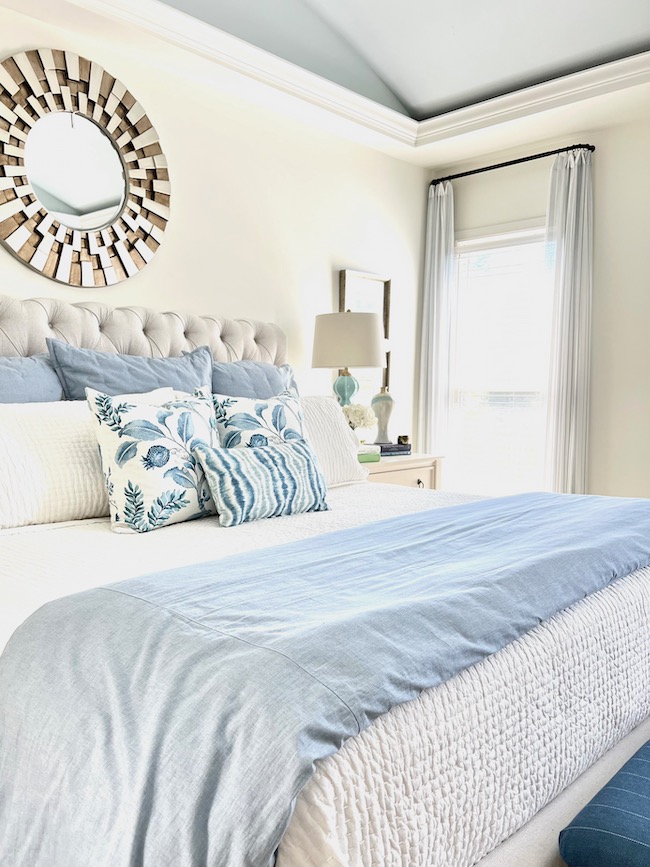 Add pinched pleats across the top of the curtain panels.
Pinch pleat curtains have a more custom look. Most ready-made curtains are rod pocket panels across the top. As long as curtain panel is flat across the top, you can gather it into pleats for a more custom look.
Simply gather the fabric panel into folded pleats evenly spaced across the top and stitch together with a needle and thread.
My favorite pleated look is a Euro pleat with the pleats sewn together at the very top of the pleat. It's a nice fresh updated look to more traditional pinch pleats which are sewn together 4-5 inches below the top of the pleat.
Sew multiple ready-made curtain panels together for a fuller look on wide windows.
Sometimes the curtain fabric you love only comes in a smaller panel width. If your window is extra wide, and the curtains you love only come in smaller widths, you can sew multiple panels together to achieve the fullness you need for your window. This can be particularly helpful if you need an extra wide panel for a patio door.
If you prefer a no-sew method, you can simply hang multiple panels on a rod to achieve the look.
Add a liner to your ready-made curtains.
A lot of curtains come fully-lined, and you can certainly shop for this feature. However, if you find an inexpensive curtain option that is not already lined simply make your own lining! A bed sheet is a great option to attach as a curtain liner.
Create a leading edge on your curtain by adding trim to one side.
I love drapery trim, and wow, can you ever find some gorgeous options to add to your curtains. Adding a decorative trim down the inside edge of each panel creates a beautiful custom look and a fun pop of color that can coordinate with your room.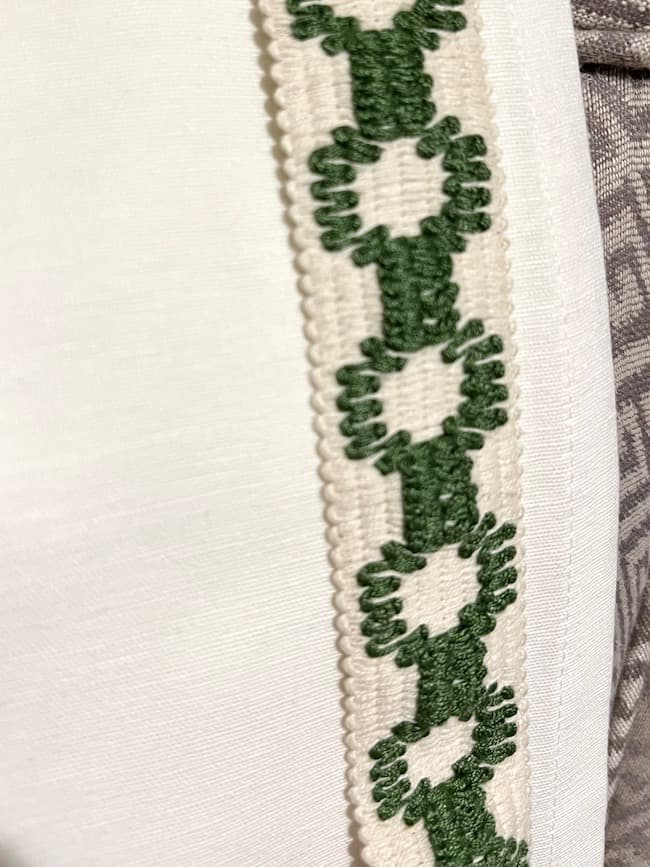 Beautiful Leading Edge Trim Tape Options
---

---
Some of My Favorite Inexpensive Ready-Made Curtains:
You can never go wrong with one of my favorite color schemes — blue and white. I love the gorgeous blue and white patterned curtains below, as well as the gorgeous green solids and patterns.
And whether you prefer a more casual look, a more formal look, or somewhere in between, you can never go wrong with a gorgeous neutral curtain.

Now, you're all set to go buy some beautiful window curtains for your home! I hope these tips for buying curtains makes the process a lot easier!!
By the way, do you follow me on all the socials?? If not, check out my Pinterest, Instagram, and Facebook and be sure to follow me so you don't miss out on any of my decorating and DIY ideas!!
For more inexpensive curtain options and other home decor and seasonal items, be sure to check out my Amazon store!!
Be sure to pin these tips for buying curtains for later!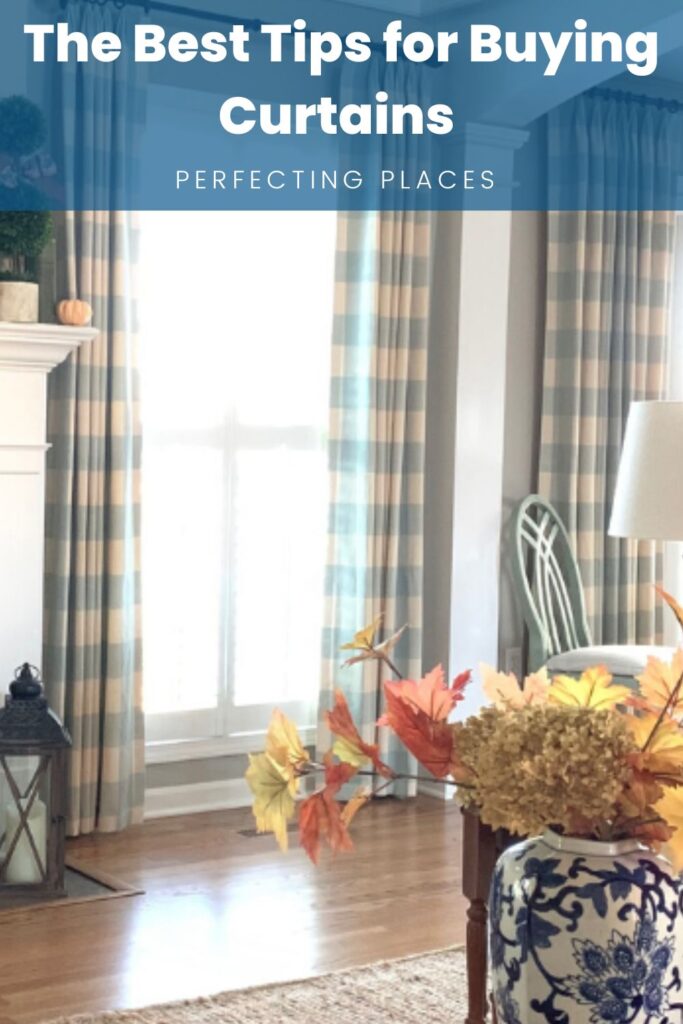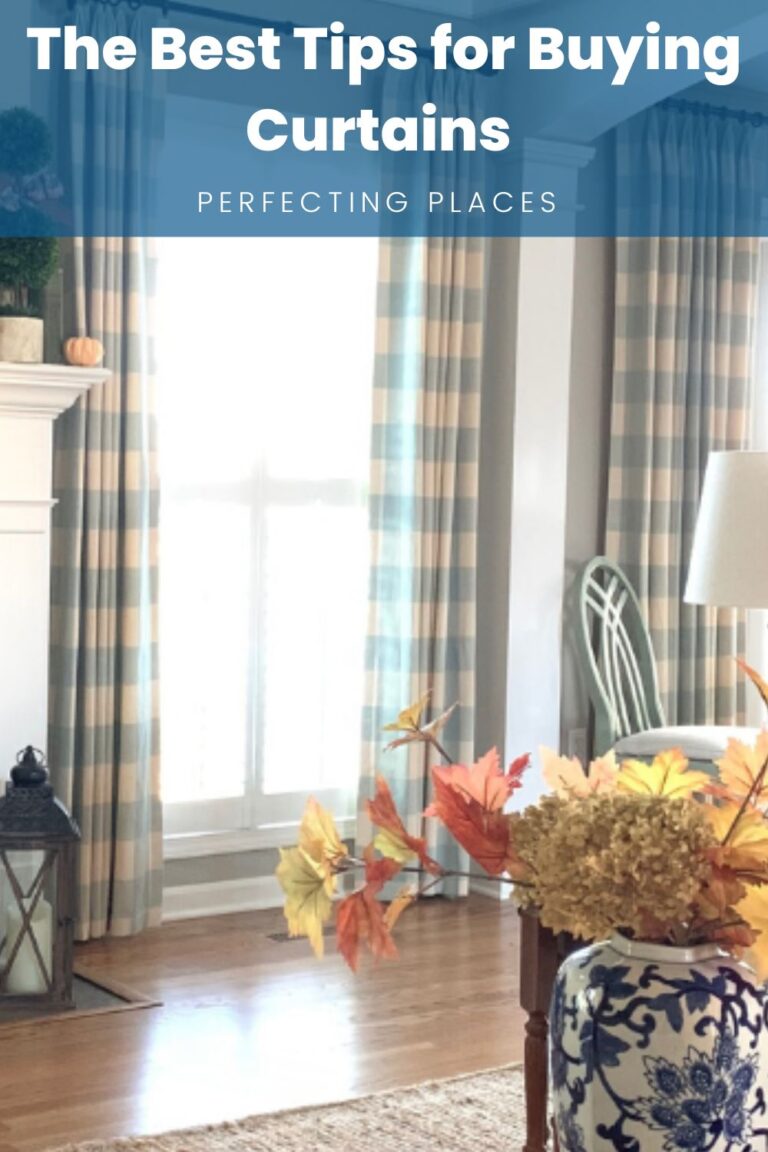 * This post was originally posted in November of 2019, but has been updated with current sources and information.