Fall Entryway Table Decor Ideas for a Warm Welcome
Want to create an inviting entrance this fall? Greet your guests in seasonal style with these inspiring fall entryway table decor ideas.
Add autumn charm to your home by transforming your foyer into a warm and welcoming space, blending classic elegance and timeless accents.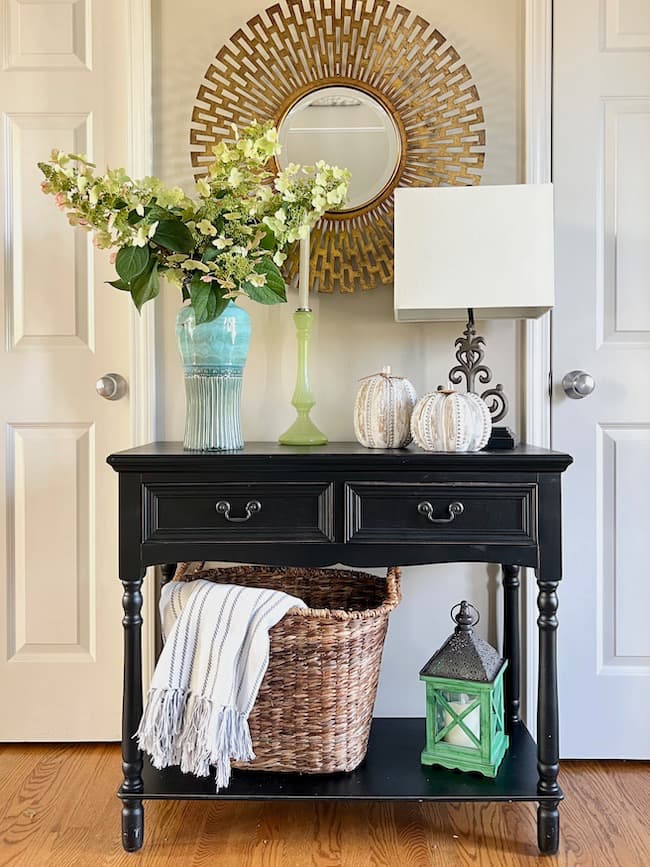 (This post contains affiliate links, so I may earn a small commission when you make a purchase through links on my site at no additional cost to you. As an Amazon Associate I earn from qualifying purchases.)
You know what they say — you never get a second chance to make a great first impression!
Fall is full of so many opportunities to open our homes and welcome friends and family into them, so today is all about creating a lovely entrance to greet them.
I've made it super simple — from clipped blooms from your garden to gathered items from around your home, you can create a cozy fall vignette with seasonal decor that will set the tone for the rest of your home this autumn.
Fall Entryway Decor Ideas for Your Console Table:
Our entryway table is a black console with a lower shelf, so that means double the horizontal space for adding fall table decor.
One of the easiest ways to decorate any space in your home for the seasons, is to start with foundational pieces that can transition from season to season, and then layer in seasonal decor with your staple pieces.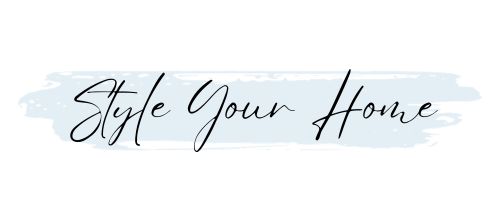 Style your foyer with a pretty console table. Click console images for details.

1. Add a Tall Vase of Fall Flowers
Creating a warm welcome right at the front door is so important in the fall season, and what better way to do so than with a tall vase of vibrant fall flowers?
Seasonal flowers can introduce pretty autumnal hues to your entry table, becoming a focal point that captivates anyone who enters.
Choose fresh pumpkins or beautiful faux pumpkins to complement the fall colors in the vase, weaving a tapestry of fall foliage that symbolizes the beauty of the autumn season.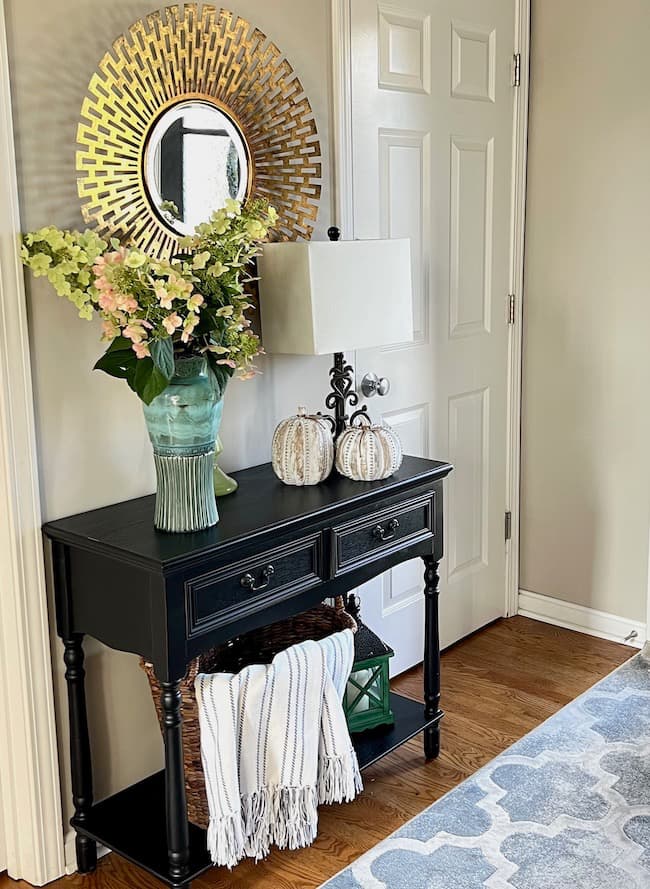 I tried something new this year! We've had this variety of hydrangea growing in our landscape since we moved into our home 15 years ago. We actually moved this bush from the from of our home to its current spot next to our side entrance just a few months after we moved in. 
Honestly, I'm not sure what this variety is called, (If you know, I'd love to hear in the comments!) but every summer it produces an abundance of large white conical-shaped blooms which fade to a lovely blush color in autumn. The coloring is similar to a limelight hydrangea but it's a combination of a lace cap and conical bloom, and it's much larger in size.
This is the first time I've cut and attempted to dry these blooms, but think they look lovely on our foyer table and make a grand statement in this turquoise vase. I love welcoming guests with this subtle blush fall color!
2. Include a Lamp for Cozy Lighting
Table lamps are a simple way to infuse warmth and coziness into your fall entryway decor ideas. The gentle glow of a lamp can accentuate the rich color palette of your fall table decor, creating an inviting ambiance. Place it strategically on your entryway console table to illuminate your fall vignette and highlight the textures and tones of your seasonal decor.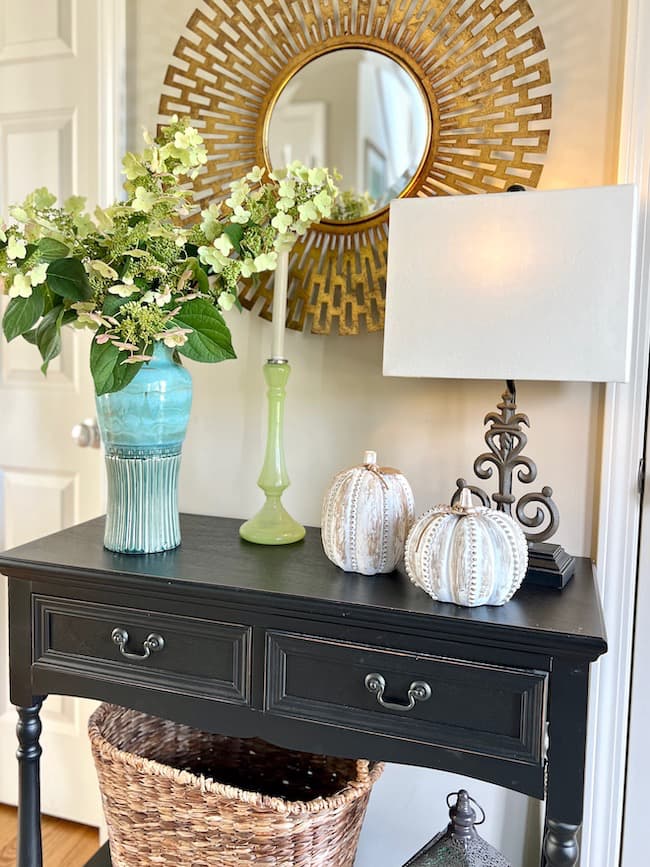 You've heard me say it many times, but you can never have too many table lamps! Your foyer table is the perfect place for a lamp — or two, if your console is large enough. This is the perfect spot for a pretty statement lamp. You can read more about the importance of cozy ambient lighting in this post.
3. Don't Forget the Pumpkins
Real or faux pumpkins are quintessential fall decor. Scatter them around your entry table for an easy way to invoke the spirit of the fall season. Combine different sizes and colors to make the display more visually interesting, blending both fresh and faux pumpkins to create a balanced and lively fall table.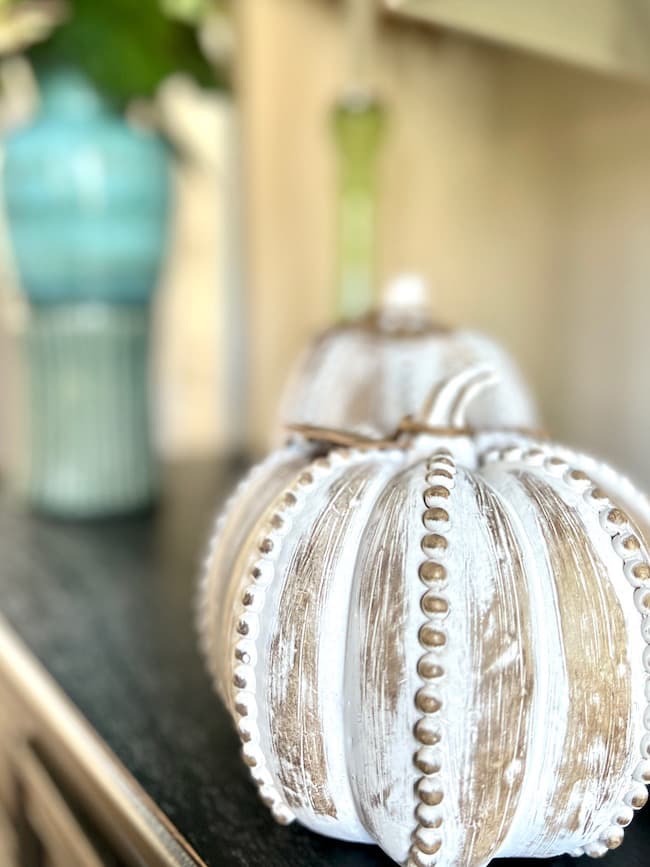 Since my foyer color scheme is a bit more subdued this year, I chose to keep it simple and add this pair of white-washed beaded trim wood pumpkins to complement our vase of fall flowers.
4. A Gold Mirror Adds Warmth
Including a gold mirror above your entry table can reflect the soft light and fall colors around the room, amplifying the warm welcome. It's a favorite way to add elegance and expand the visual space, making it a perfect place for greeting guests. It's also a great time to play with shapes and sizes to find the perfect mirror that complements your fall entryway table decor.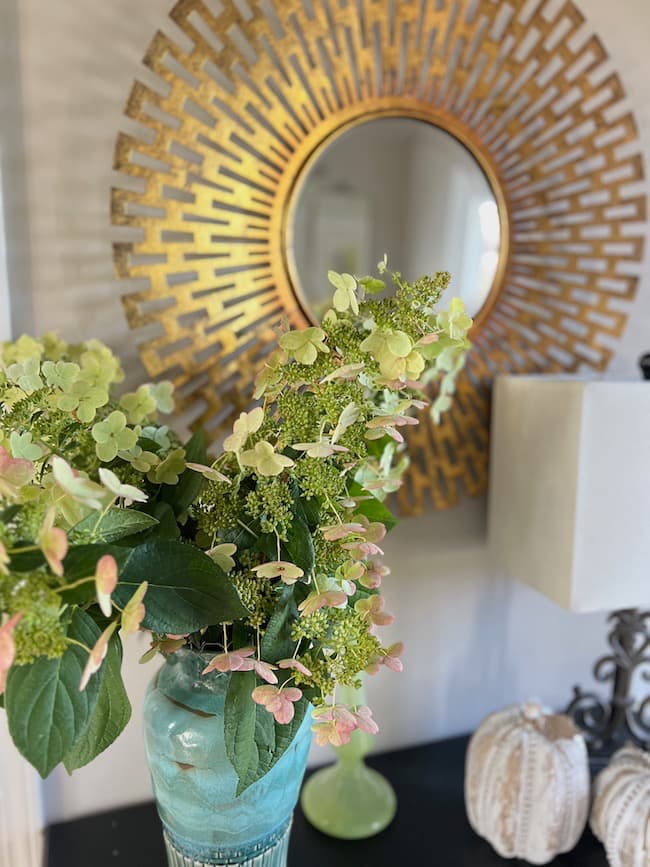 Our round gold mirror is such a statement piece above our foyer table, and it's certainly in all its glory during the fall months! The shimmery gold metallic features reflect light and add warm, glowing tones to our entryway as the weather begins to cool.
5. Add Decorative Elements to Your Foyer Table
Candlesticks and lanterns are timeless decorative elements that bring sophistication and a cozy feel. Their soft light can accentuate the details of your fall table decor, providing depth to your setup. Place pillar candles inside lanterns or atop candlesticks to intensify the warm, cozy atmosphere.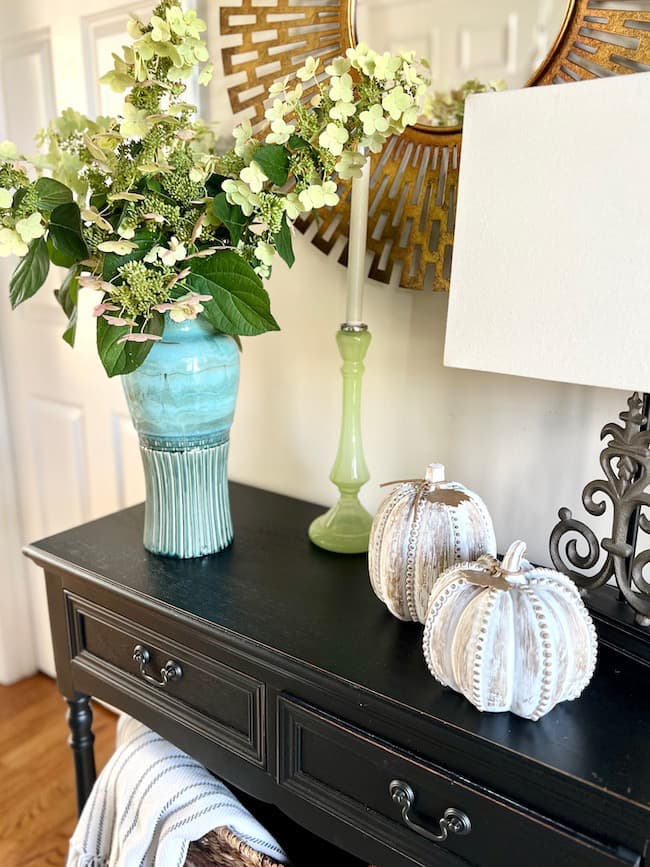 It's always so much easier when you include statement pieces that work from season to season in your home decor. This tall green glass candlestick works year-round, and since its height positions the "flame" near the flowers, I opted for a faux moving wick candle for an extra measure of safety!
I love the color green! It's lovely all year long, and pairs perfectly with all of the blue accents in our home!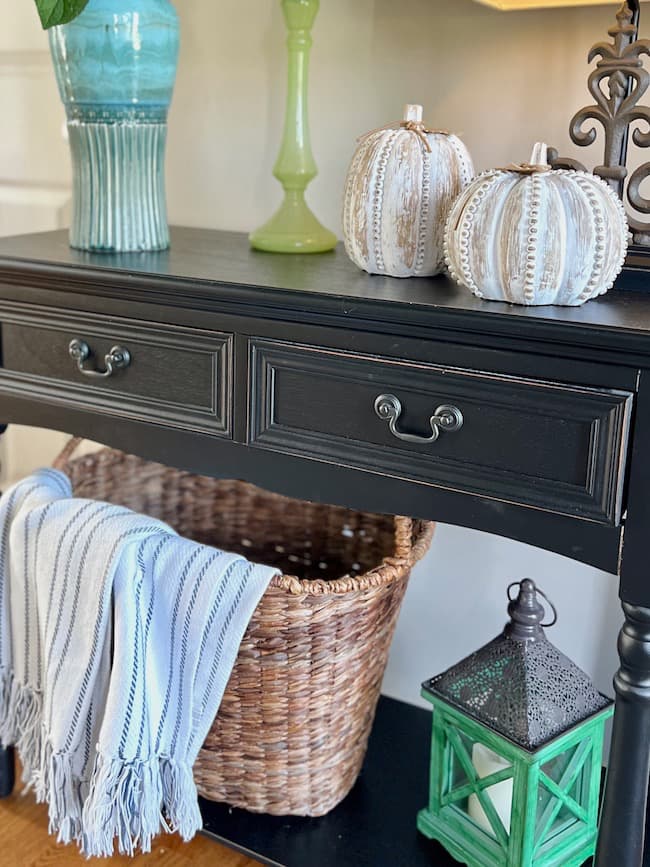 This vibrant green lantern is one of my favorite decor pieces, and it looks perfect for fall sitting next to a large basket on the lower shelf of the console. For added appeal, add a battery-operated moving wick candle on a timer for a soft warm glow night after night!
6. Include a Large Basket for Cozy Texture
And speaking of baskets — a wicker basket is not only practical but also adds cozy texture to your entryway. It's also the perfect place to store seasonal items, keeping your entryway tidy and inviting.
7. Add Blankets and Throws to Your Basket
Placing plaid blankets or soft throw blankets in your wicker basket is one of the simple ways to enhance the coziness of your entryway. They introduce comforting textures and autumnal colors, enriching the overall appeal of your entryway console table, and are easily accessible for those chilly early September evenings.
8. Add Height with a Stack of Vintage Books
Vintage books can add height and interest to your fall entryway table decor. Stack them under fall stems or seasonal flowers to create levels in your fall vignette. The aged appearance of the books can complement the rich, warm tones of fall, contributing to a refined, nostalgic atmosphere.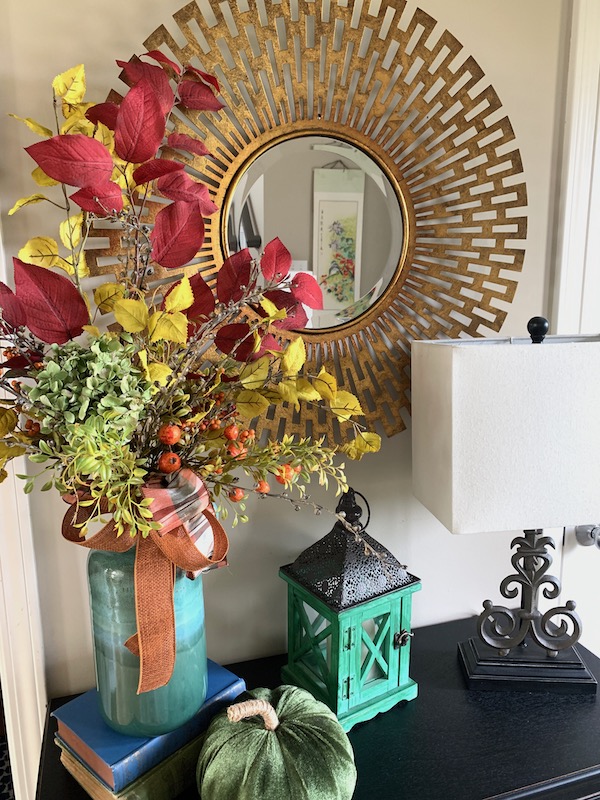 Choose book covers that complement your fall color scheme for a beautiful addition to your table.
9. Use a Wooden Tray or Dough Bowl
A wooden tray or dough bowl is a versatile piece, ideal for holding a variety of fall decorating items. Fill them with pine cones, wheat stalks, or fall leaves to incorporate natural elements. These containers can ground your fall decor, organizing the various elements into a cohesive, harmonious display.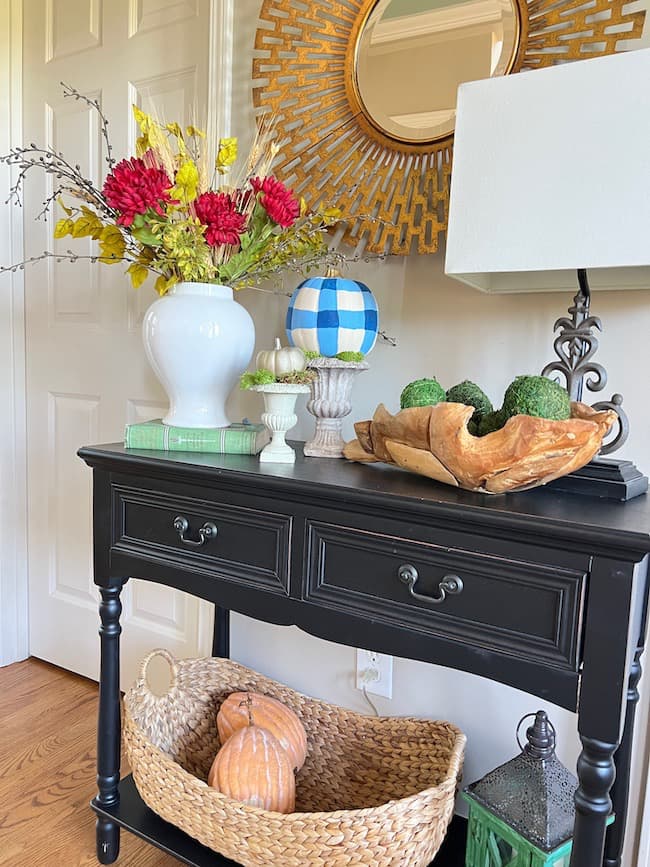 This funky little wooden bowl is another favorite piece that adds so much texture and warmth to any vignette in our home. It's the perfect fall bowl.
10. Fill a Basket with Dried Hydrangeas
Dried hydrangeas are a lovely, long-lasting option for fall entryway decor. When placed in a basket, they can create an eye-catching arrangement that brings a touch of nature indoors. Complement them with other seasonal decor like fall foliage or natural elements to complete the look and enhance the overall aesthetic of your fall entryway.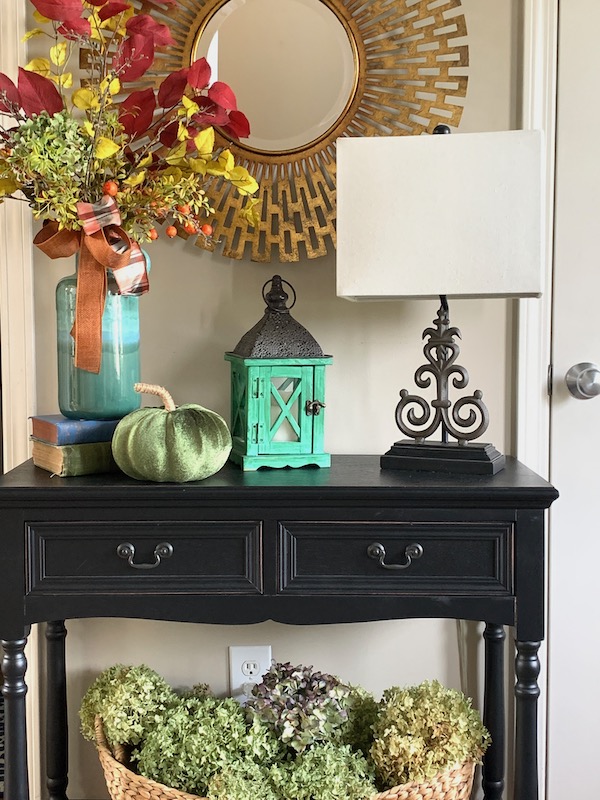 Most years, we have an abundance of hydrangeas to dry for arrangements throughout the fall and winter months. I love this basket overflowing with dried hydrangeas from our fall home tour a couple of years ago.
Rosie makes it a little difficult to do this now. She loves to "revenge redecorate" and sometimes will pull the dried blooms out of the basket if she isn't happy with me — so while I love this look, it's not very practical for us now. If your pup is better behaved, you might be able to get away with it!
Transforming your entryway with these enchanting fall decor ideas can create a welcoming and warm atmosphere for everyone who steps through your front door. Each piece, whether it's the soft glow of a lamp or the rich hues of fall flowers, contributes to a harmonious blend of classic elegance and modern freshness. I hope these ideas inspire you to explore and create your own unique fall entryway sanctuary.
For more inspiration and creative fall decor ideas, be sure to explore my other fall decorating posts: 
Happy decorating!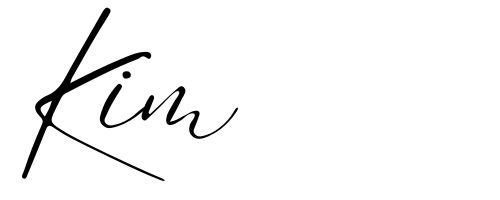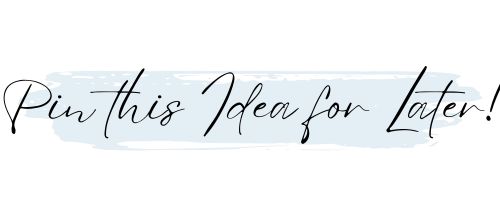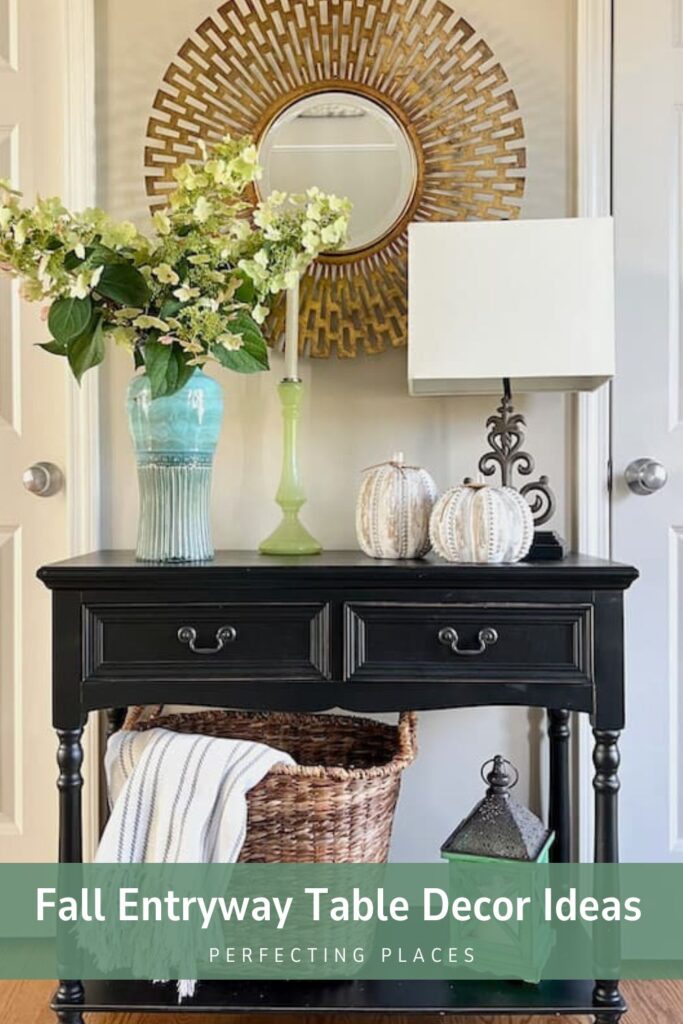 By the way, do you follow me on all the socials? If not, check out my Pinterest, Instagram, and Facebook and be sure to follow along so you don't miss out on any of my decorating and DIY ideas.