The Best Sherwin Williams Paint Colors for Kitchen Spaces
Are you looking for great paint color ideas for your kitchen? Read on for the best Sherwin Williams paint colors for kitchen walls and cabinets.
A fresh coat of paint can completely transform the look of your kitchen. There are so many great colors to choose from when trying to select the perfect colors for your kitchen. Today I'm sharing some of my favorite paint colors from Sherwin-Williams to help you select the perfect color for your next kitchen paint project.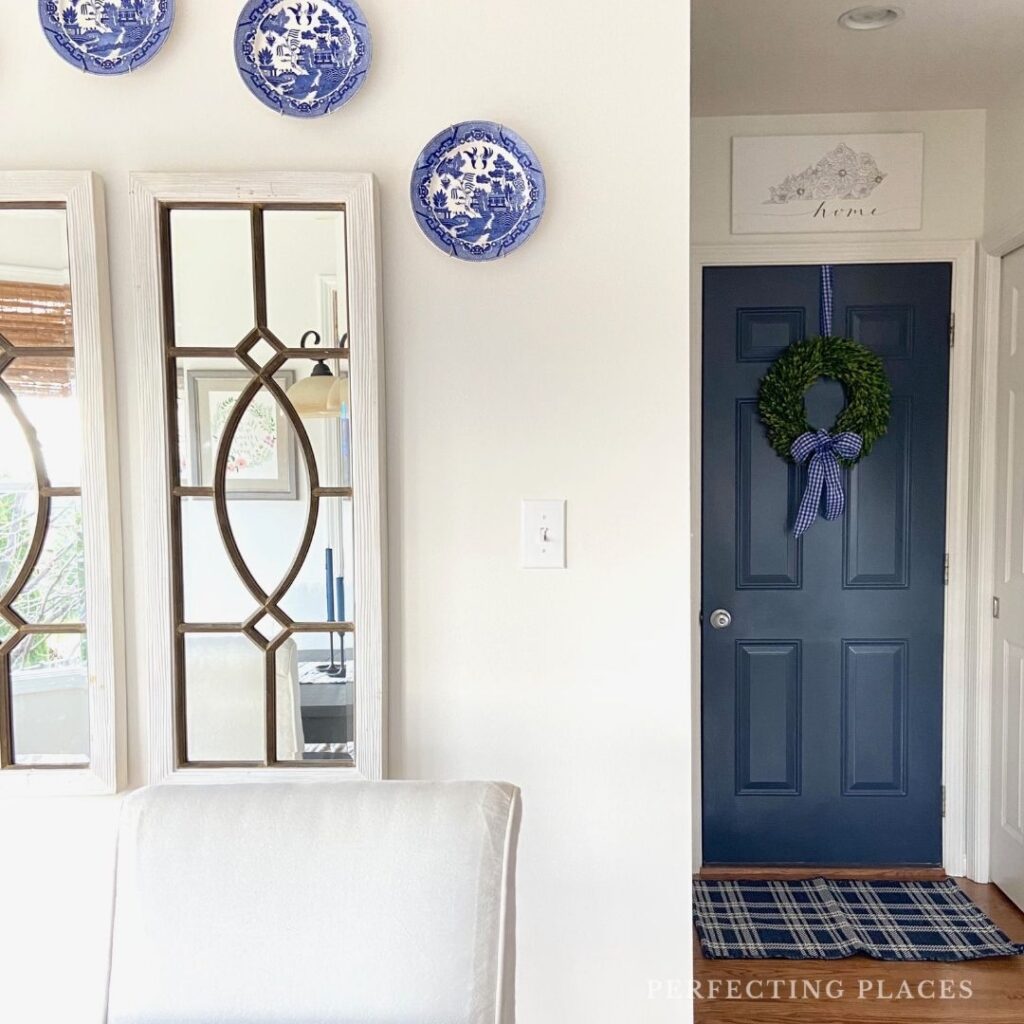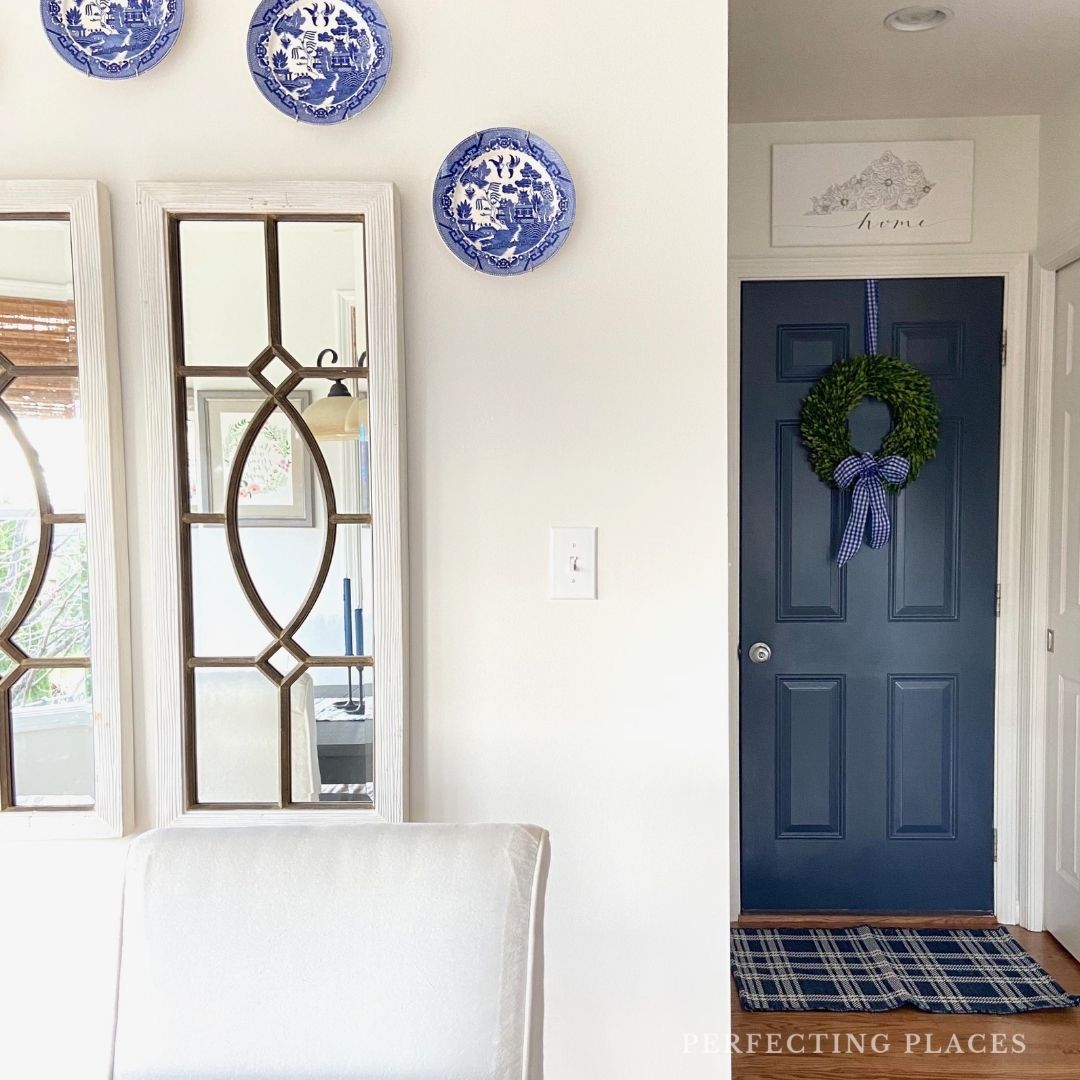 (This post contains affiliate links, so I may earn a small commission when you make a purchase through links on my site at no additional cost to you. As an Amazon Associate I earn from qualifying purchases.)
Hello lovely white painted kitchen cabinets, you have always had my heart!
You had it way back when magazines and design books were my only source of ideas and inspiration. Way before Pinterest, and Instagram and blogs. Even then I instinctively knew you were a classic.
I loved you before you were popular. I loved you when you were everyone's favorite. And I still love you best of all, even as gorgeous blues and greens take the starring roles in the kitchen cabinet lineup.
While I love a beautiful white kitchen, I also love color. I'm loving cabinets painted in rich blues and greens for a dramatic splash of color.
Today, we're diving into some beautiful kitchen color combinations, and I'm sharing some of my favorite Sherwin Williams paint colors for your kitchen.
How do you pick the perfect paint color for your kitchen?
There are three important things to consider to help you select the perfect paint color for your kitchen.
1. Start with the fixed elements in your kitchen when selecting paint color.
First, when choosing the paint colors for your kitchen you need to evaluate the fixed elements in your room. If your current countertops, backsplash, and flooring will remain, it's very important that you consider their colors and undertones and pick paint colors that play well with them rather than fight against them.
Of course, if those elements are changing, then you'll have greater flexibility with your paint color choices.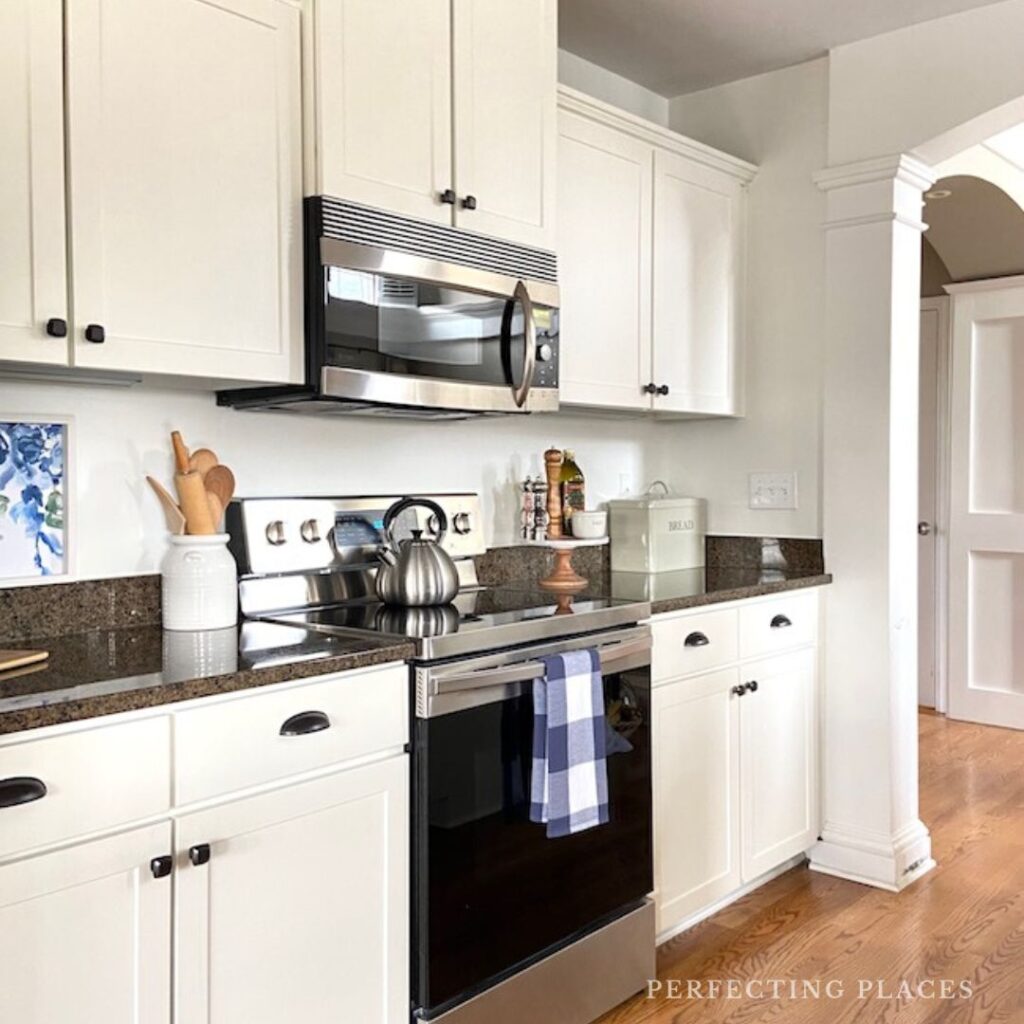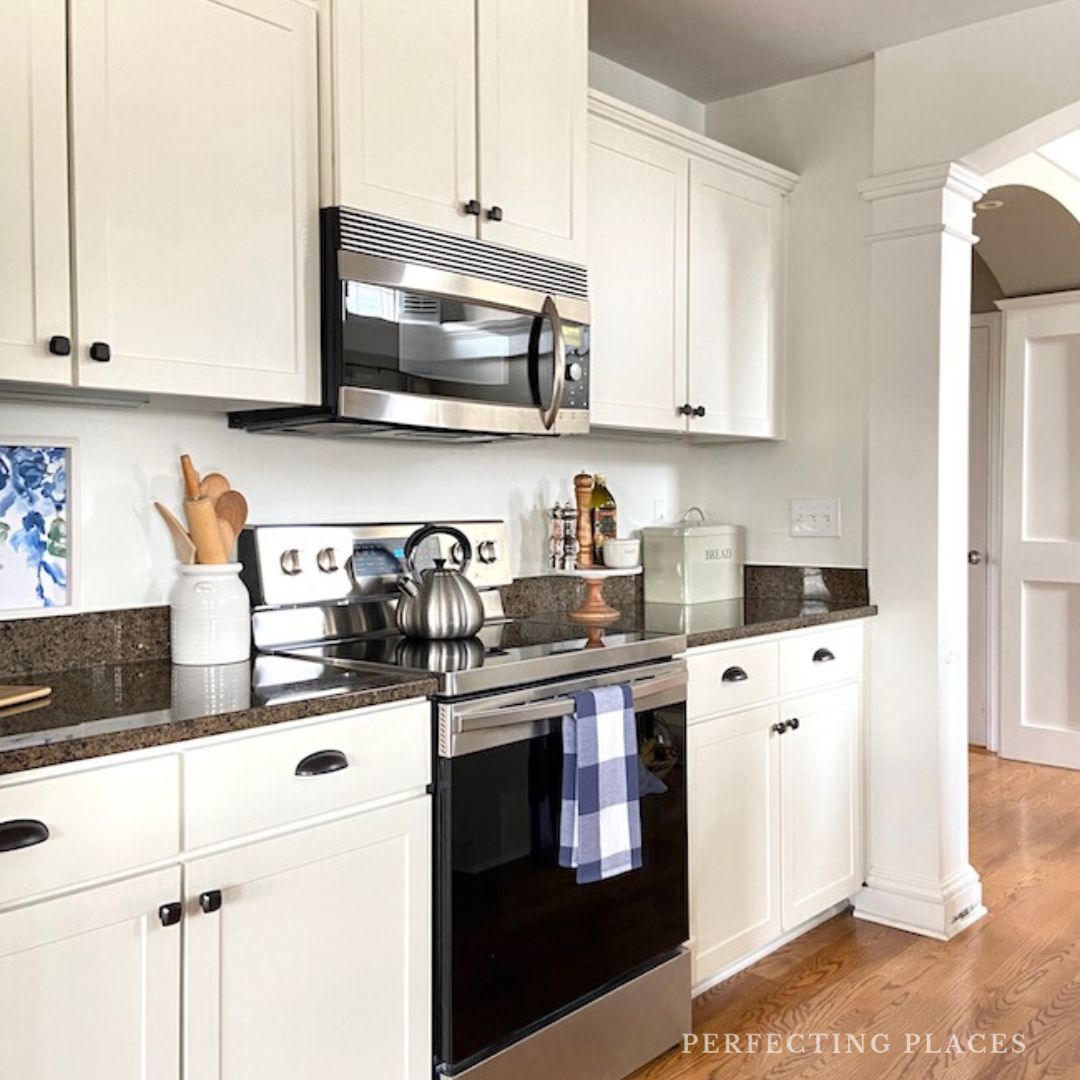 2. Decide the feeling you want your kitchen to have.
Do you want a serene and peaceful feeling, a fresh look, or a bold, vibrant feeling? Do you love a classic and timeless look or do you want a fun new color scheme?
The feeling you want your kitchen to have will help guide your color choices.
3. Know the purpose of your paint color update?
Is this your long-term home? You plan to stay in it for several years, and you want to create a lovely space that truly reflects your own style and the personality of your family. If this is the case, you have all the freedom in the world to select colors and create a look that you and your family love.
Or, are you updating with the intent to sell your home within a year or two? Preparing your home for resale certainly dictates a much more neutral color scheme. Your intent in this case is to appeal to a wider audience of potential buyers.
The Best Paint Colors for Each Area of Your Kitchen:
When selecting paint colors for your kitchen, the most obvious color choice will be for your walls. However, you also need to consider the colors of your cabinets, the trim, as well as the ceiling of the room to create the look you want in your kitchen. While white kitchens are a classic look, beautiful painted cabinets in shades of blue or green are increasing in popularity.
Don't forget that stand-alone furniture pieces like hutches, buffets, tables, and chairs are also items that can be painted to add colorful accents to the room.
What are the Best Sherwin Williams Paint Colors for Kitchen Walls?
I love a fresh and clean look and feel for the kitchen. To achieve this look, keep your wall color light. Light color on the kitchen walls allows for richer, darker, or bolder accent colors in cabinets or other areas of the room.
I like to stick with either off-white walls, a light warm neutral, or a neutral with a subtle hint of soft undertone color such as blue or green. Below, I'm sharing some of my favorite wall colors in each of these categories.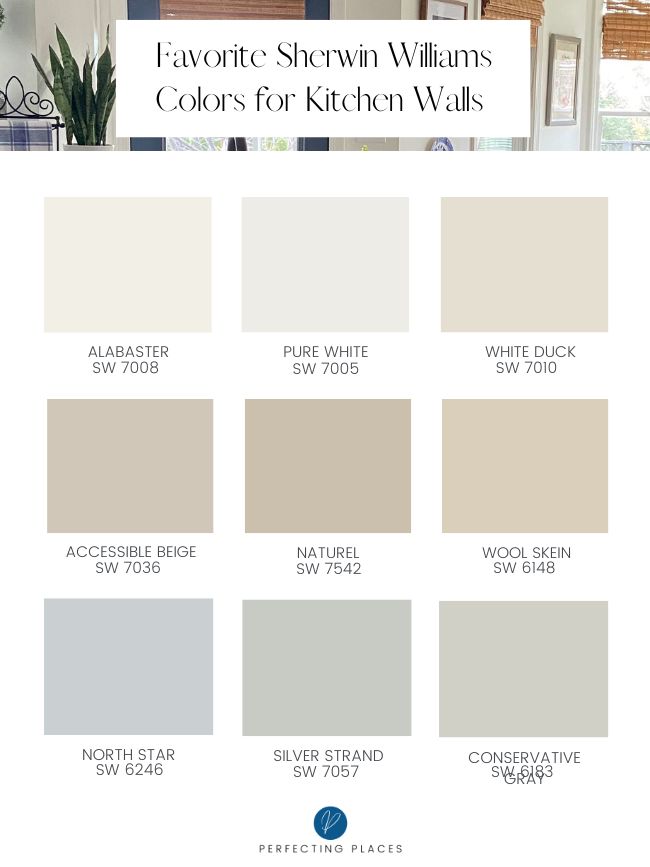 White Paint Colors for Kitchen Walls:
With so many shades of white it can be tricky to pick the perfect shade for your kitchen. Don't forget to focus on the fixed elements in your kitchen when selecting the perfect shade of white for your home.
I've included some of my favorite off-whites from Sherwin-Williams below.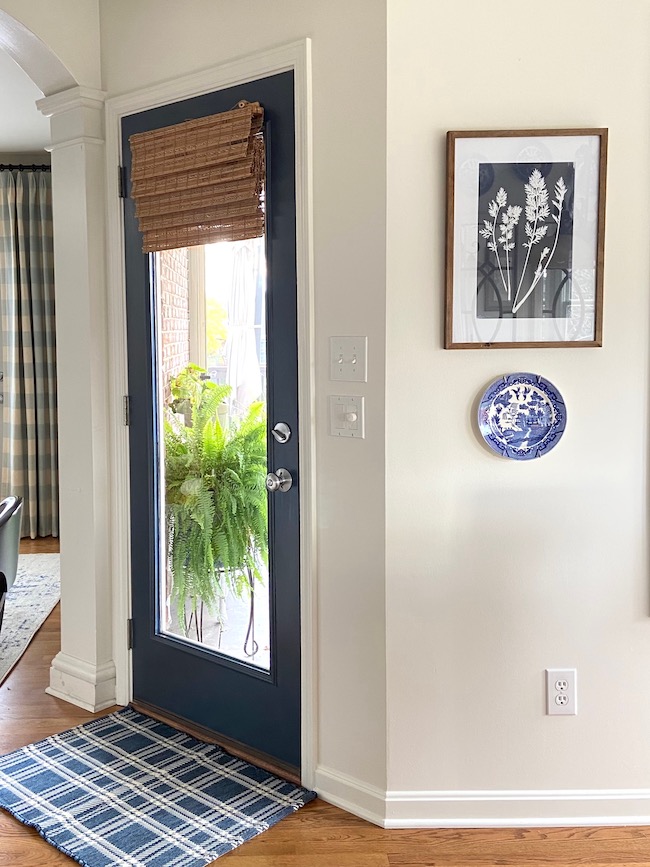 Sherwin-Williams Alabaster (SW 7008)
Our kitchen walls are painted SW Alabaster, which is a favorite in our home. It's a warm white that keeps your space from feeling too stark. It's a great choice if your fixed elements tend to be on the warmer side. Our kitchen features a blue and white color scheme with Alabaster walls and Hale Navy doors.
Sherwin Williams Pure White (SW 7005)
Pure White is a very versatile off-white color. It's a little bit cooler than Alabaster, yet still warm enough to pair well with most other colors.
Sherwin-Williams White Duck (SW 7010)
I love SW White Duck for walls. While it reads as a white paint color on your walls, it's really a very pale greige that creates a lovely warm, but fresh look. If you want white walls and white cabinets in your kitchen, but want a slight distinction between the color on your walls and the color on your cabinets and trim, this is a great color option for your kitchen walls.
Warm Neutrals for Kitchen Walls:
Warm neutral paint colors are certainly trending right now. You can read about some of my favorite warm neutral paint colors in this post. Select lighter neutrals for the walls in your kitchen to keep the space feeling nice and fresh. the following are some of my favorite fresh warm neutrals for your kitchen.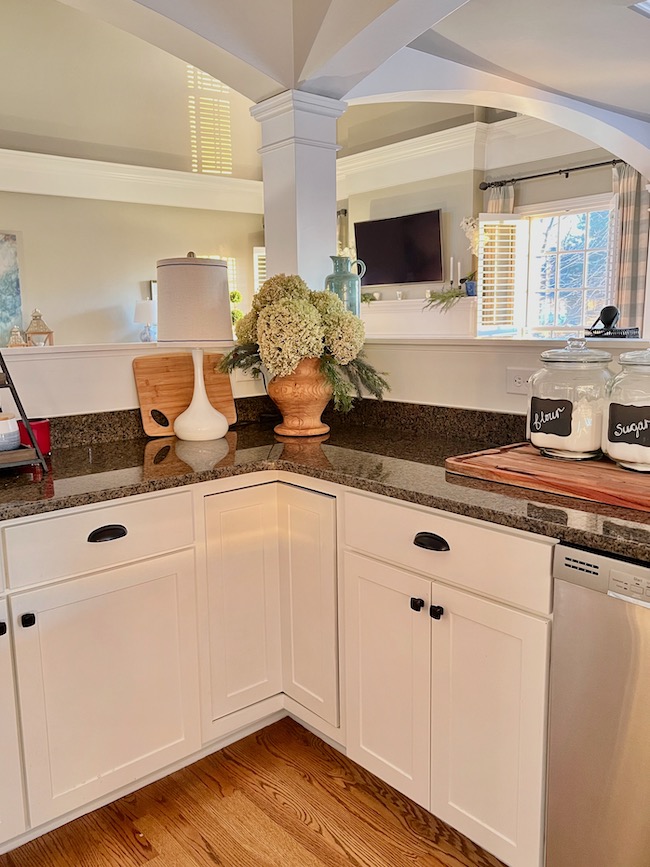 Sherwin-Williams Accessible Beige (SW 7036)
Accessible Beige is lovely in your kitchen whether you have white cabinets or painted. It's a subtle hint of color on your walls.
Sherwin-Williams Naturel (SW 7542)
Naturel is another fresh warm neutral shade for the kitchen.
Sherwin-Williams Wool Skein (SW 6148)
A slightly warmer shade than the ones mentioned above, Wool Skein is a fresh beige with slight green undertones.
Subtle Colors for Kitchen Walls:
If you'd like a hint of color on your kitchen walls, consider one of the colors below.
Sherwin-Williams North Star (SW 6246)
This subtle blue gray color will provide just a hint of blue on your walls.
Sherwin-Williams Silver Strand (SW 7057)
This light gray paint color has a blue-green undertone so it will read like a soft color on your walls, especially if it is paired with white cabinets.
Sherwin-Williams Conservative Gray (SW 6183)
The subtle green undertone of this light gray paint reads like a light sage green.
Great Kitchen Cabinet Colors from Sherwin Williams:
What kitchen cabinet paint color is best for your kitchen? It depends on the look you're going for. If your walls are white then you can choose most any of these color options. Painted white cabinetry is always a timeless look. Or, if you love pops of color, adding a gorgeous green or blue to your counters or kitchen island is a fabulous look. White walls paired with cabinets in a warm neutral shade creates a warm yet sophisticated look in your kitchen.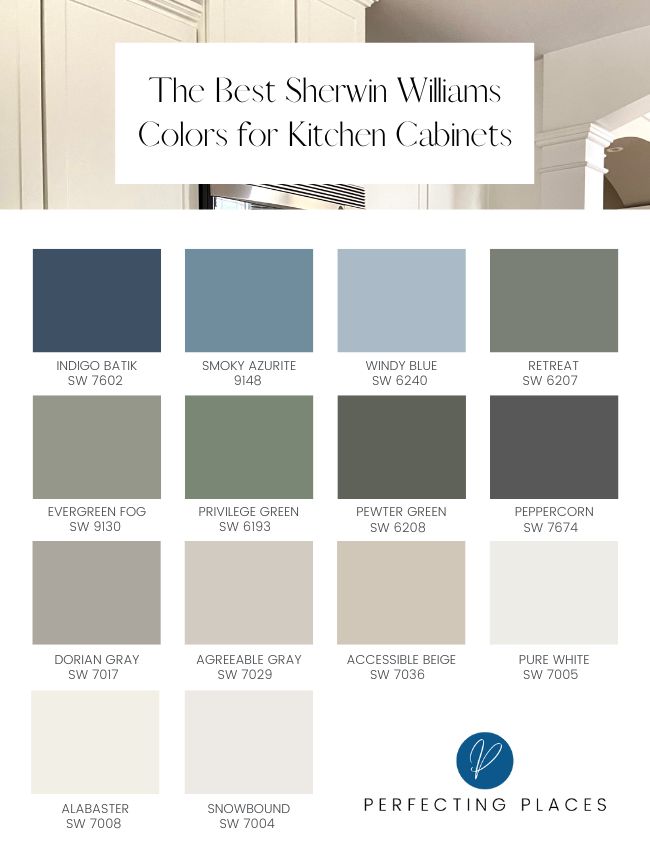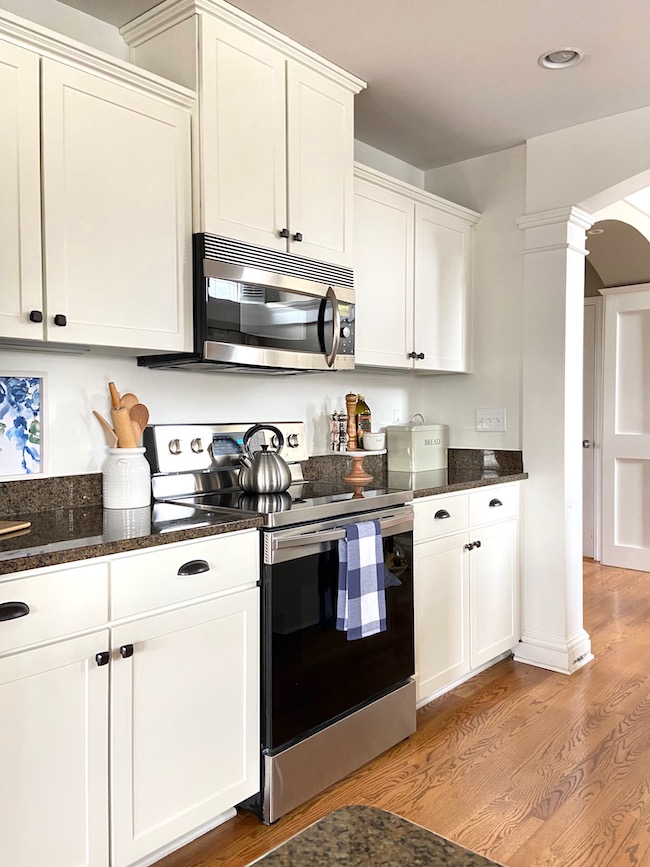 Favorite Colors for White Cabinets:
White kitchen cabinets are classic and timeless. If you want a look for your kitchen that will stand the test of time, white painted cabinets are an excellent choice! The following colors are three of my favorite off-white paint colors from Sherwin Williams for kitchen cabinets.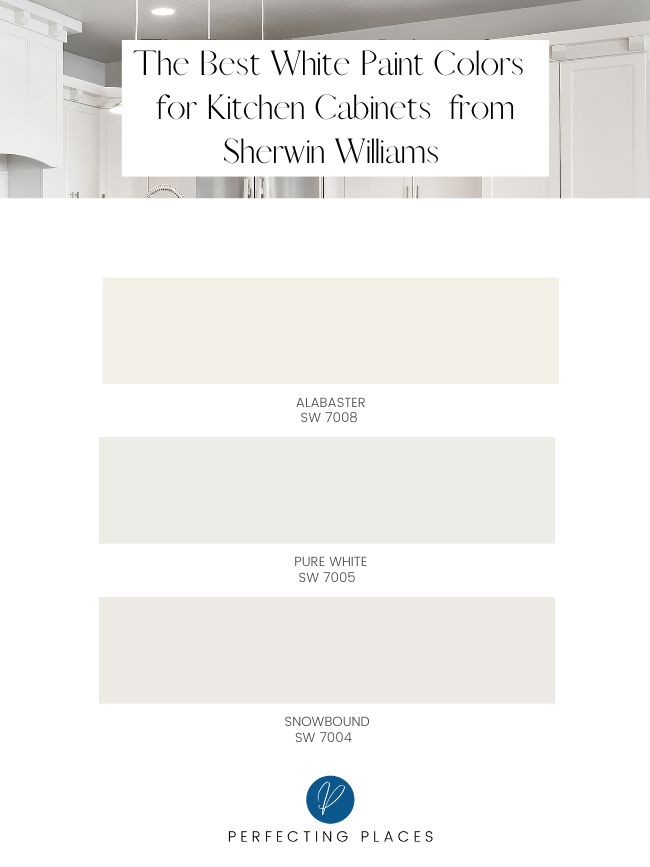 SW Alabaster
As I mentioned above, Alabaster is a warm off-white that's a beautiful color for your cabinets. We painted our kitchen cabinets Alabaster, and you can read all about our kitchen cabinet makeover in this post.
SW Pure White
Pure White is such a versatile off-white that pairs well with so many colors. When comparing Pure White to Alabaster, you'll find Pure White to be slightly cooler, while Alabaster has more warm tones.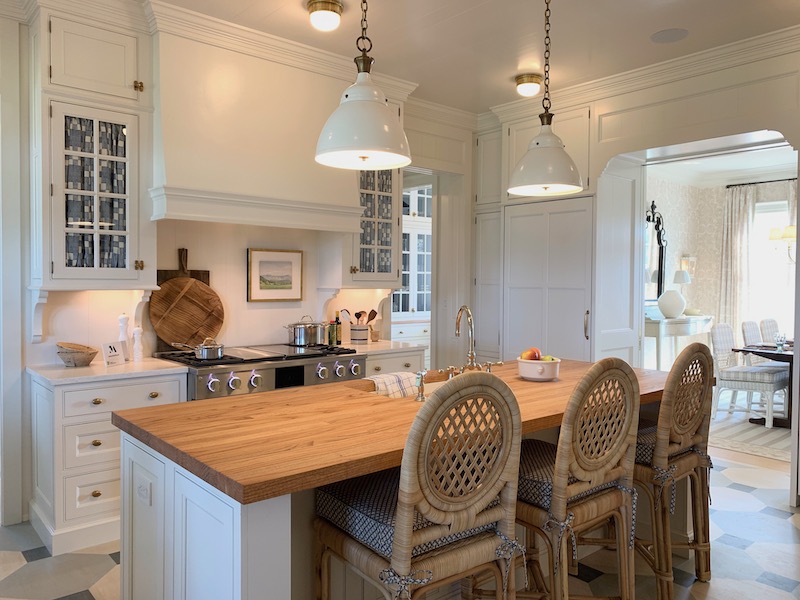 SW Snowbound
Snowbound is another great off-white paint color for cabinets. Here it's shown in the kitchen of the 2021 Southern Living Idea House which was built here in Louisville.
Pretty Neutrals for Cabinets:
Painting your kitchen cabinets a neutral color against a backdrop of white walls creates a cozy, yet classic look in your kitchen. Whether you stick to a neutral color scheme or incorporate more color in your room, these favorite paint colors create a perfect neutral color palette.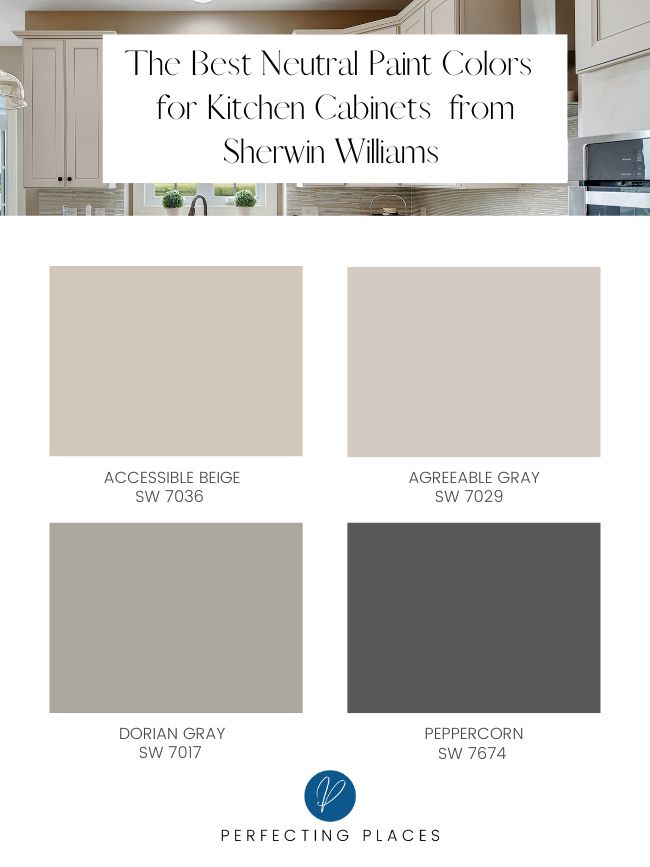 SW Accessible Beige
Accessible Beige is one of my favorite warm neutrals from Sherwin-Williams. It's such a fresh color that still has plenty of warmth to it. It's a great option for a hint of neutral color paired with off-white walls.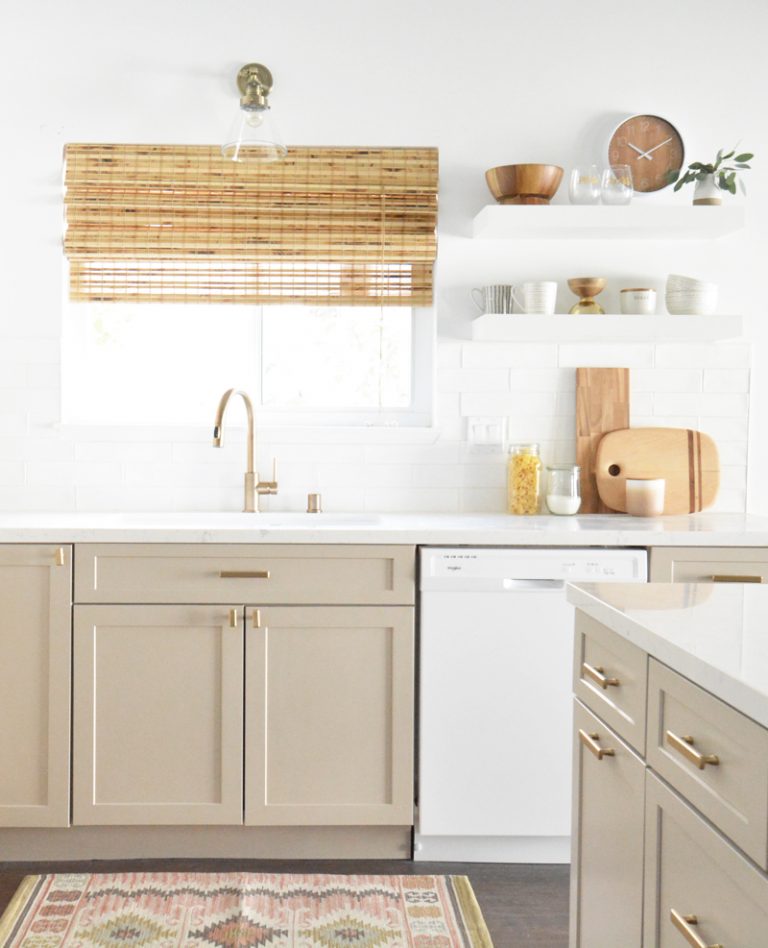 SW Agreeable Gray
Compared to Accessible Beige, Agreeable Gray is slightly cooler, as the gray in its name implies. However, it still has plenty of warmth to it.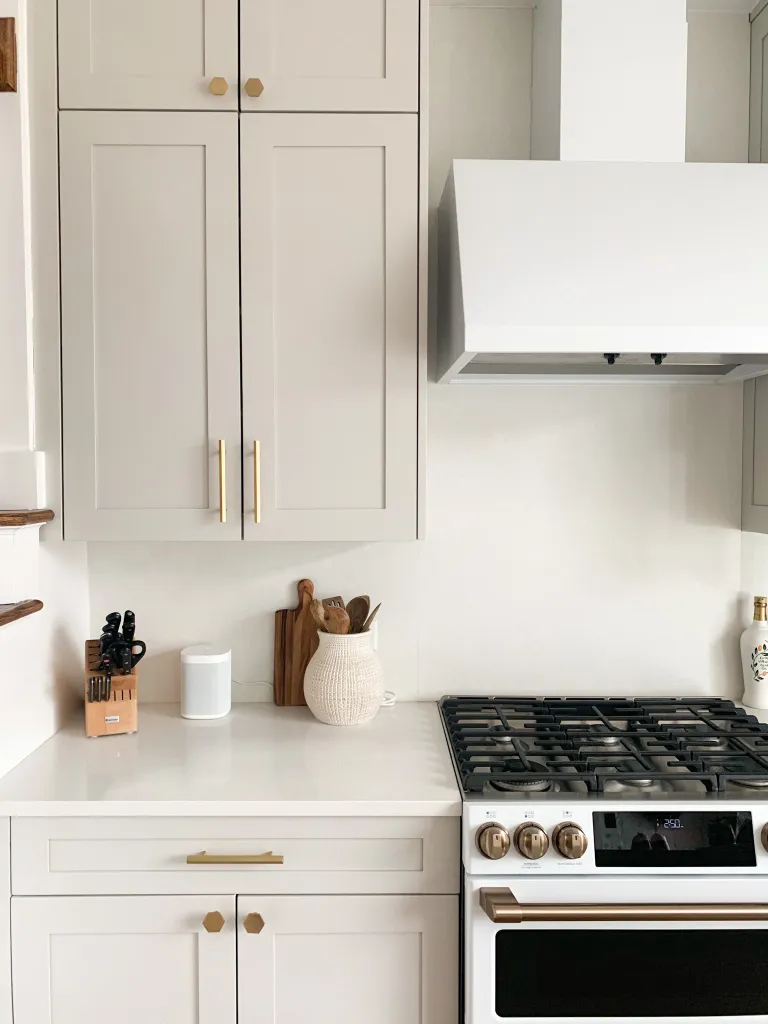 SW Dorian Gray
This mid-tone warm neutral is lovely on kitchen cabinets, particularly paired with off-white wall color.
SW Peppercorn
For a dramatic look, try Peppercorn on your cabinets or kitchen island. It's a dark charcoal with a slightly blue undertone and is lovely on cabinets.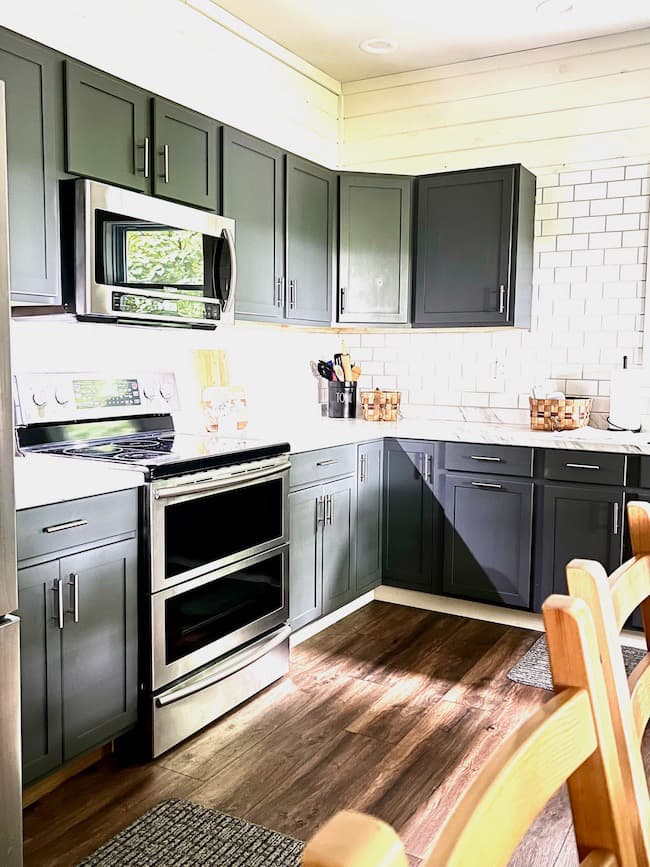 Gorgeous Greens for Cabinets:
Green painted cabinets ranging in colors from subtle sage greens to dark murky greens are becoming a popular choice for cabinets. The green shades below are some of my favorites.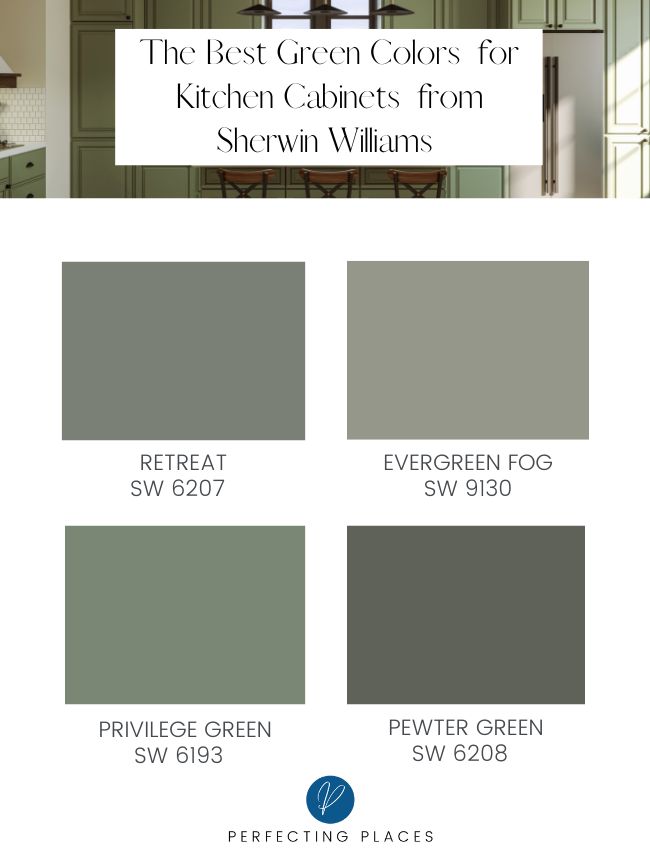 Retreat
This mid-tone green on the same color strip as the popular Sherwin Williams Sea Salt has a bit of blue mixed in for a lovely muted blue-green look.
Evergreen Fog
This 2022 Sherwin Williams Color of the Year is a lovely sage green kitchen cabinet color.
Privilege Green
Add rich color in your kitchen with this lovely shade of green. It's a little bit brighter shade, yet still grayed down enough to be a very livable color for your cabinets.
Pewter Green
On the same color strip as SW Retreat, Pewter Green is a rich and sophisticated green.
Beautiful Blues for Cabinets:
The blue and white decor trend is still alive and well. Blue and white continues to be a popular color combination in our homes, and it makes perfect sense since blue is a favorite color of so many. Blue cabinets are still very much on trend. Whether you prefer lighter or darker colors, these blue paint colors are great choices for your kitchen.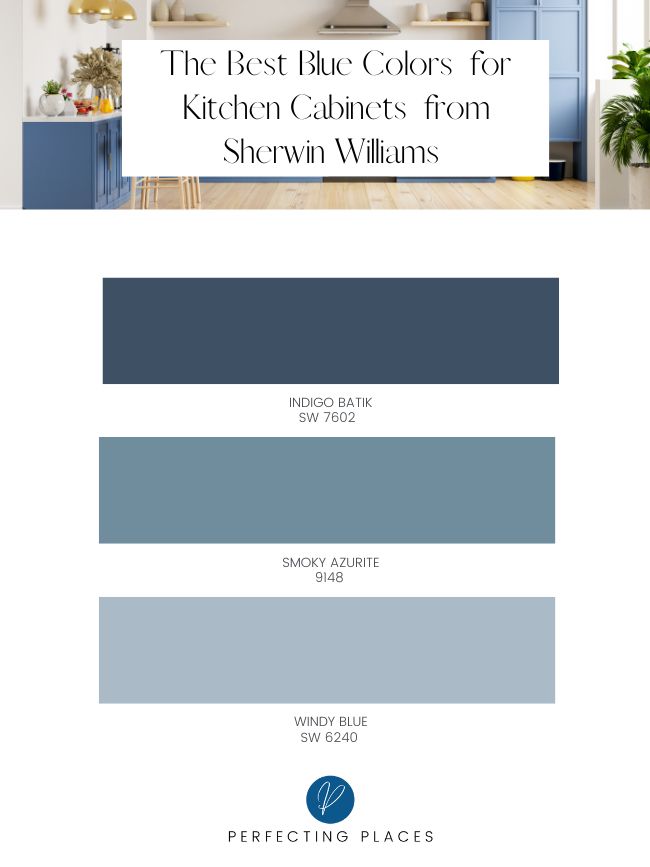 Indigo Batik (SW 7602)
SW Indigo Batik is a gorgeous navy for kitchen cabinets or islands.
Smoky Azurite (SW 9148)
SW Smoky Azurite is a pretty murky blue.
Windy Blue (SW 6240)
This is a pretty mid-tone blue gray that will read like a blue on your cabinets.
What paint finishes are best for kitchen surfaces?
I always recommend the following paint sheens for kitchen surfaces.
Choose an eggshell finish for kitchen walls. An eggshell finish still feels subtle and smooth like a flat paint, but has just enough sheen to make it wipeable, which is so important for messy kitchen areas. It's easy to clean by wiping down, but is minimally reflective for a nice designer finish on your walls.
For kitchen cabinets, I love a satin finish. It's not quite as glossy as semi-gloss, but has a rich, smooth finish.
No matter which color you lean toward, be sure to test the actual paint color before making your final decision. The best way to test paint color is by painting the sample color onto a poster board for you to move around your room in different locations at different times of day to test with various types of light.
I hope the information in this kitchen paint color blog post helps you make the perfect choice of color for your kitchen. No matter what color trends come and go, it's important to create a look in your own home that truly works for your family.
Happy Painting!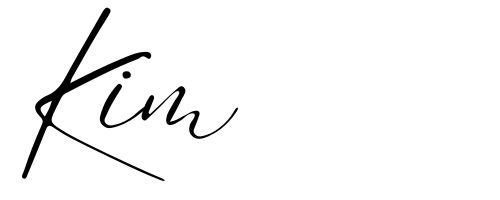 Pin this post now to remember it later!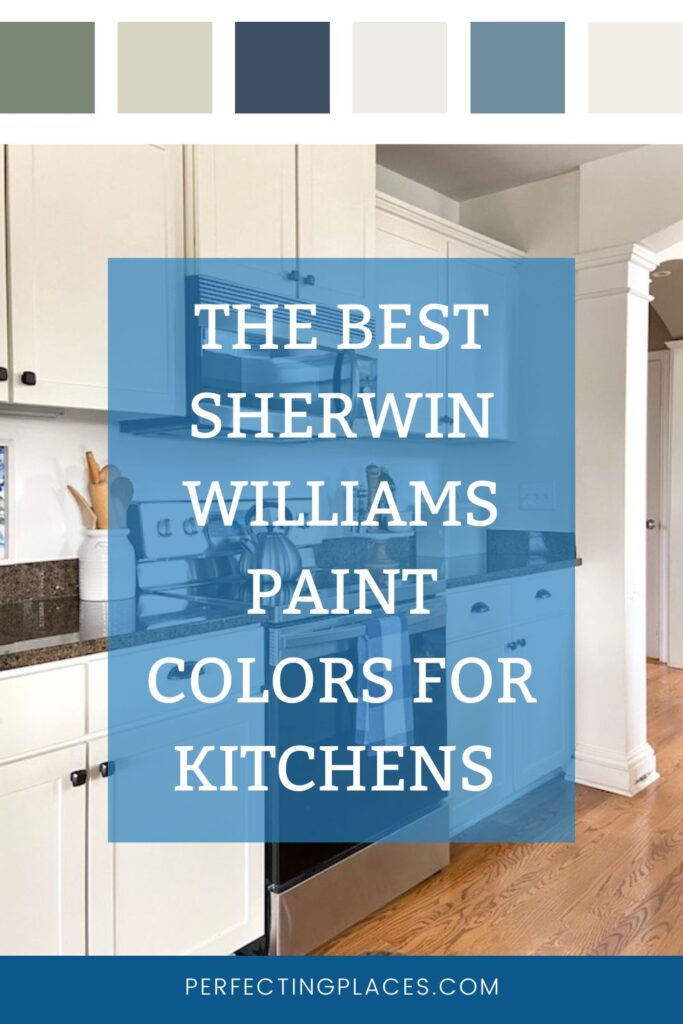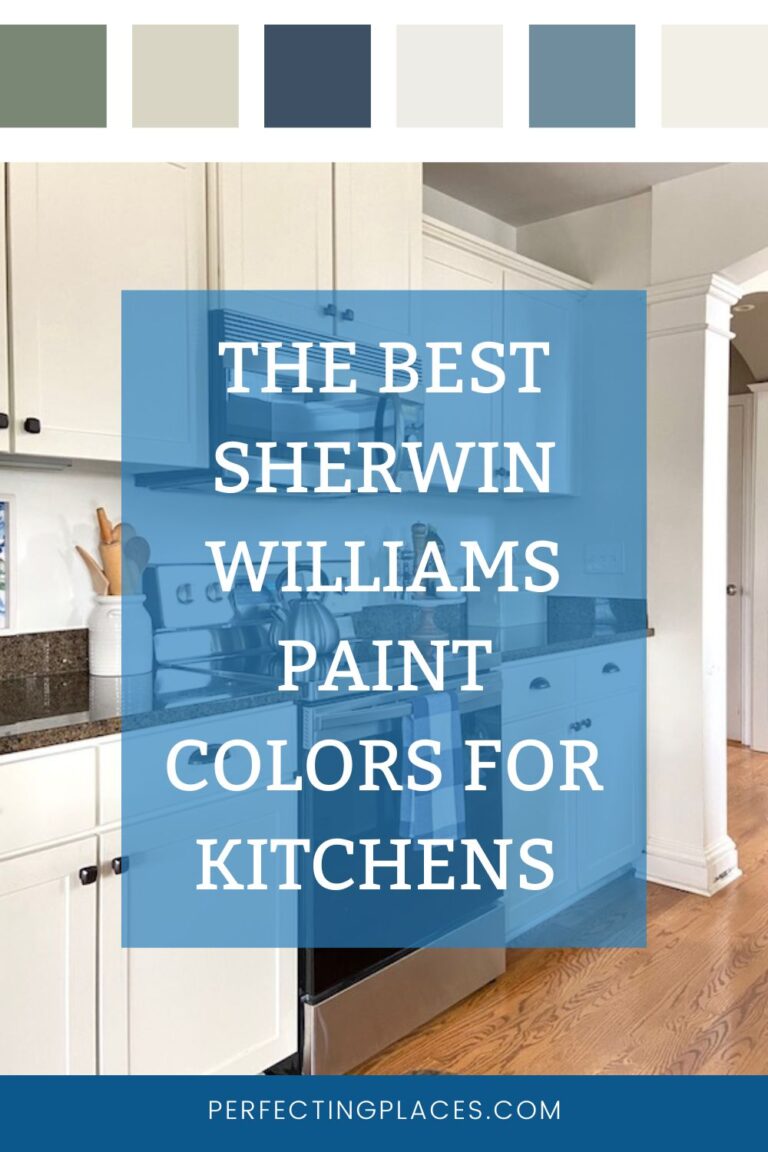 By the way, do you follow me on all the socials? If not, check out my Pinterest, Instagram, and Facebook and be sure to follow along so you don't miss out on any of my decorating and DIY ideas.