How to Choose the Best Trim Color for White Walls
Do you love the look of white walls in your home? Selecting the perfect trim color for your white walls is a breeze with these easy tips!
White paint color can be one of the trickiest colors to use in your home. While there are lots of nuances to consider, I'm often asked what color paint to use for the trim in a room with white walls. The answer is really quite simple, so read on for the details!
(This post contains affiliate links, so I may earn a small commission when you make a purchase through links on my site at no additional cost to you. As an Amazon Associate I earn from qualifying purchases.)
Sometimes we make things harder than they need to be, and that certainly applies when decorating our homes! We fret and worry and second guess ourselves over many details, and put off making decisions because we're afraid of making a mistake? Does this ring a bell with you?
I'm trying to become a better decision maker myself, and I'm amazed at how much relief comes from simply making a decision and moving forward! It's really quite empowering!
When it comes to decorating our homes, one of the areas that creates the greatest analysis paralysis for many is in the area of selecting paint colors. I admit, it can be quite tricky, and I do advise a careful consideration of undertones, lighting, and fixed elements in your room before landing on a particular color.
And when it comes to paint color, one of the trickiest colors to get right in your home is white! Seems crazy, right? But, white can quickly read like a color, and the wrong color at that, when paired with other elements and colors in your space.
White walls have been trending for some time, and I'll dig into the merits of white walls a little later in this post along with some of my favorite white paint colors to consider.
Whenever I share a particular white paint color in a post, I'm often asked the question: What is the best white paint color for trim if the walls are painted white (insert any particular white paint color name)?
So, today we're going to tackle that often asked question, and you'll find that the answer is really quite simple!!
What white trim colors are best with white walls?
The answer to the question of what's the best trim color for white walls is really quite simple. Use the same white paint color for the trim and the walls!
Is it really that simple? Yes, I think it is! It's the most seamless, serene, and classic look for a white room!
There are so many options for color combinations in the world of interior decorating! You'll find lots of contrasting colors ranging from more subtle to bold color combinations. However, sometimes the most powerful color statement you can make in a room is to keep it simple.
Sometimes, the most striking elegance in a room comes from its simplicity. Using the same white paint color for walls and trim is the perfect embodiment of this principle. The seamless transition between walls and trim creates a sense of fluidity and quiet comfort that creates a sense effortless sophistication.
In the world of design, where trends come and go, it's refreshing to find an option that stands the test of time. Using the same white paint color for walls and trim allows you to create a space that exudes classic elegance, regardless of the current fads.
White provides a serene and neutral foundation. It's like a blank canvas just waiting for your personal touch. It's the perfect backdrop for adding pops of color and experimenting with textures and patterns. The possibilities are endless, ensuring that your space remains fresh and relevant for years to come.
When a color client or reader questions which trim color they should use for a white wall, I almost always specify the same color as the wall. This classic approach to color creates such a clean and cohesive look for the space. The simplicity and cohesive look of using the same white paint color for both walls and trim has made this approach to color a favorite among homeowners and designers alike.
Using the same white on the walls and trim helps to avoid clashing undertones.
One of the key advantages of using the same white paint color for both walls and trim is the elimination of clashing undertones. White paints often have subtle undertones that can vary, such as cool blue, warm yellow, or neutral gray. When different white paints with varying undertones are used on walls and trim, they can clash or create an undesirable effect — making the whites feel a little "off" or yellowy.
However, by using the same white paint throughout, you ensure a seamless and cohesive look, where the undertones complement each other rather than compete. This creates a visually pleasing and unified space where the whites work together harmoniously, enhancing the overall classic and timeless style of your home.
Using the same white wall color and white trim paint makes a room feel larger.
One of the key advantages of using the same white paint color for walls and trim is the illusion of a larger space. By eliminating the visual separation between walls and trim, the room appears more expansive and open. A continuous flow is created that eliminates distractions and allows the eye to effortlessly move around the space. This effect is particularly beneficial for smaller rooms or spaces with low ceilings, as it helps maximize the available area and creates a more open and airy atmosphere.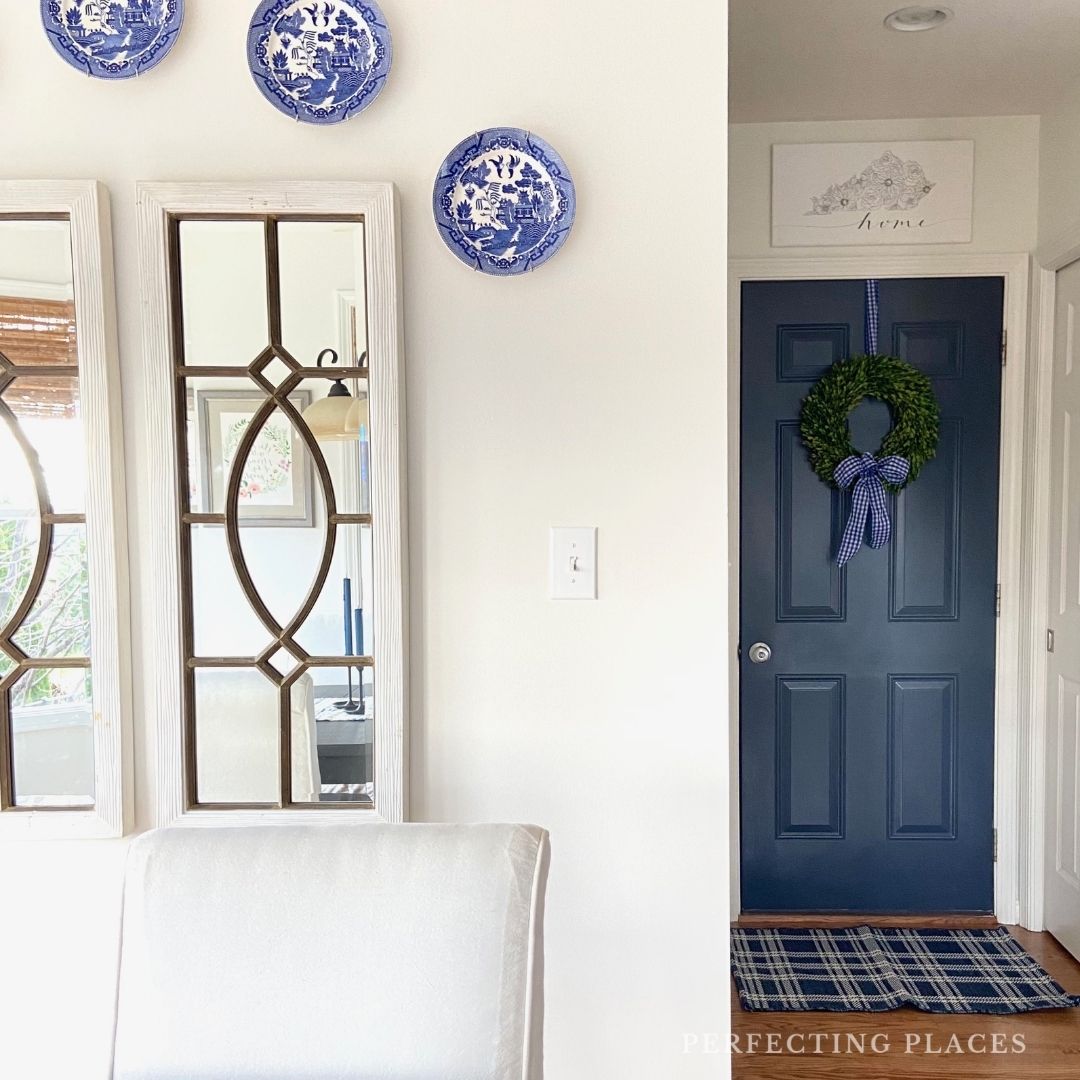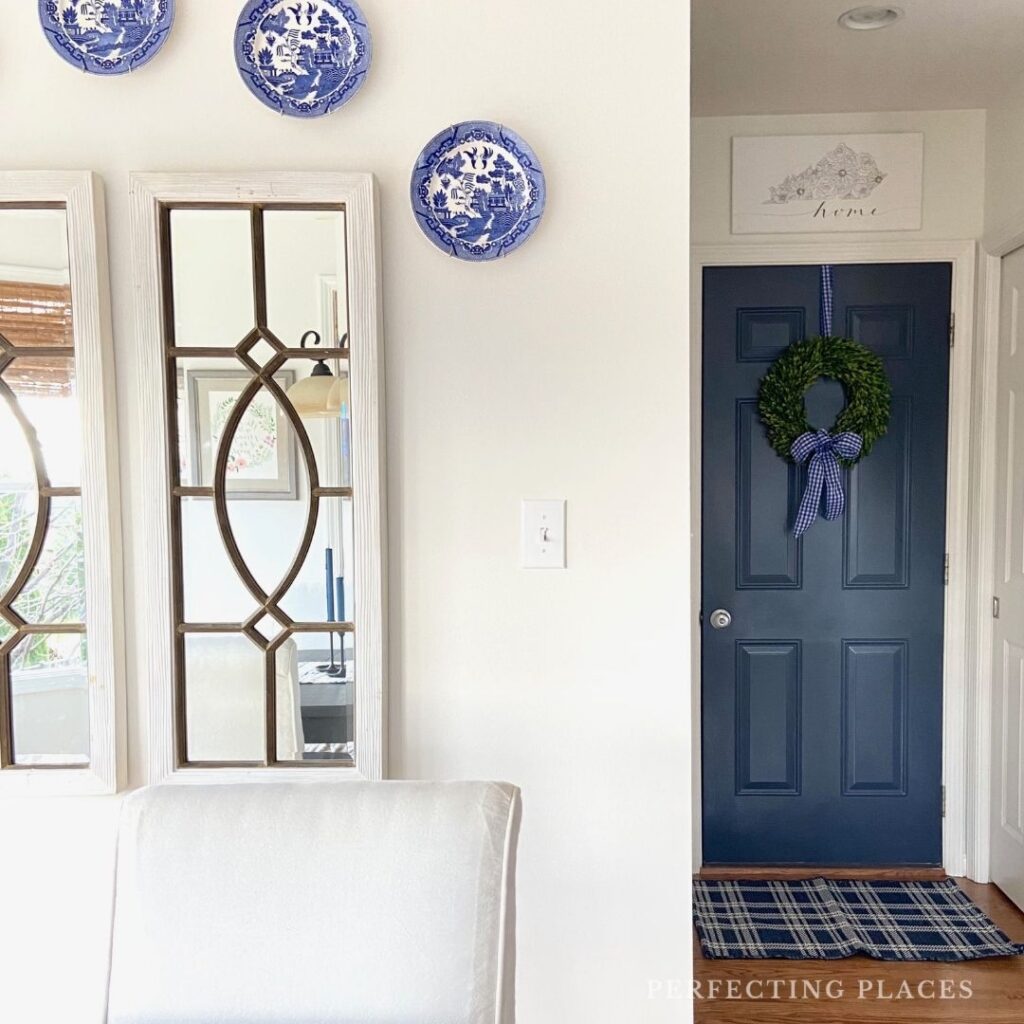 Emphasize the architectural details of a room in a subtle way by using the same color for walls and trim.
When walls and trim are painted the same white, the architectural details of the space become a seamless element of the room. Crown molding, baseboards, door frames, and window casings lend interest and texture in a room. Painting these features the same white color as the adjoining walls is a more subtle and nuanced way to draw attention to their craftsmanship and intricate design.
The lack of color contrast allows these elements to shine while retaining a touch of elegance and sophistication in the room. This approach is particularly effective in spaces with ornate architectural features or historic homes where preserving the original character is a priority. By harmonizing these features with the surrounding walls, they become elegant focal points that add depth and character to your interior. Suddenly, the craftsmanship and intricate design shine through, becoming the stars of the show. This subtle emphasis on architectural details creates a sense of refined sophistication.
Allow for greater versatility and easy updates to your room.
Using the same white paint color for walls and trim allows for more versatility and adaptability of your space. White is a timeless and neutral color that effortlessly complements any decor style, from contemporary to traditional, rustic to minimalist. Whether you choose a warm white or a cool white, the simplicity of this color palette allows you to easily update and change the room's look by introducing new furnishings, accessories, or artwork without worrying about clashing colors. It provides a blank canvas for your creativity and allows you to evolve your space as your tastes change over time.
Effortless Maintenance:
White paint has a practical advantage when it comes to maintenance. By using the same white color for walls and trim, touch-ups and maintenance become a breeze. Unlike contrasting colors that require precision and careful blending, a matching white paint color simplifies the process. Minor scuffs or imperfections can be easily covered without the need for color matching, taping off, or repainting entire sections. This convenience saves time, effort, and resources, making it an appealing choice for those seeking a low-maintenance yet visually appealing interior.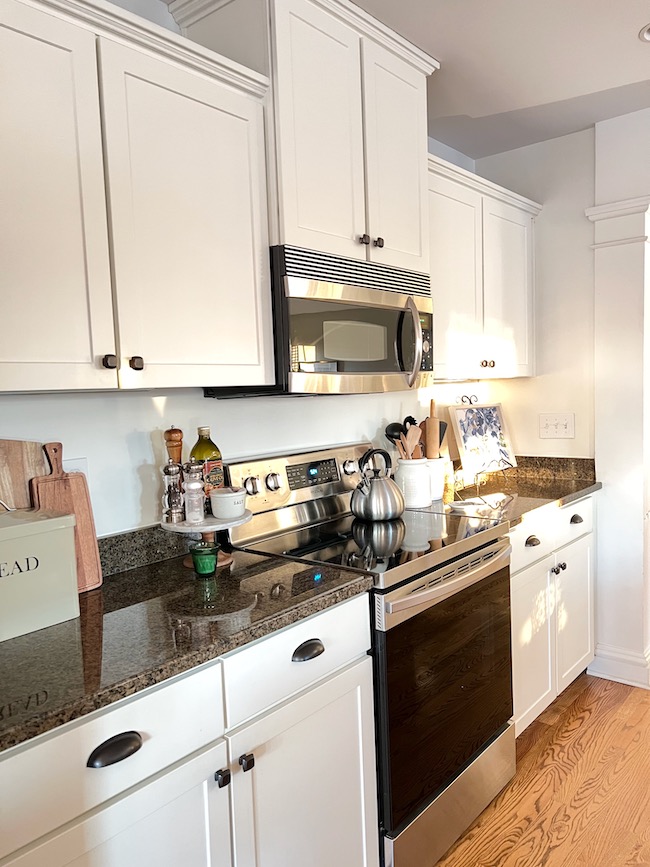 The same white for walls and trim creates a more serene and tranquil atmosphere in your room.
Amidst the chaos of everyday life, our homes are our sanctuaries. We want peaceful and calm retreats.
Using the same white paint color for walls and trim can help you create a more serene and peaceful look that stands the test of time. The monochromatic palette promotes relaxation and serves as a backdrop for your personal style to shine through.
If your room exists of a lot of trim and molding, keeping the color palette of walls and trim the same creates a calming effect in the room. It allows the eye to glide across the space without any jarring contrasts, providing a visual experience that feels natural and soothing, and allowing you to create a unified canvas that allows other design elements to shine.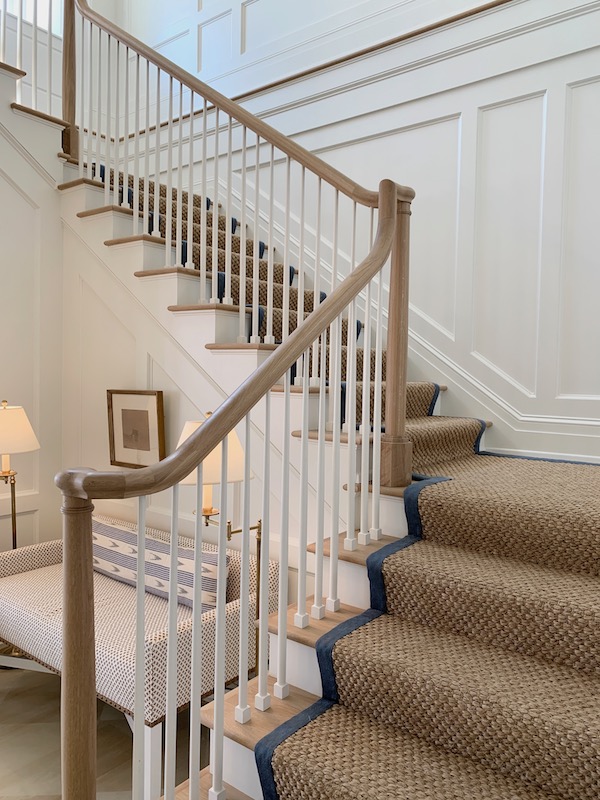 The Best Tips for Using the Same White Paint Color on Walls and Trim in a Room:
You can create a cohesive and timeless look in a beautiful white room by using the same white paint color on both the walls and the trim. There are a few helpful tips for creating this look.
1. Select the right shade of white for your home.
White comes in a variety of shades, each with its own undertones. Consider the lighting in your room and how you want your room to feel when choosing a white paint. Cooler whites with blue or gray undertones work well in rooms with abundant natural light, while warmer whites with yellow or beige undertones can add warmth to spaces.
The most important thing to consider is the undertones of the other features in your room. If the features and fixed elements in your room have warmer brown undertones, you should avoid a cooler stark white. On the other hand, if you love vibrant fresh color in your room, selecting a white with cooler undertones might be best for you.
Read more about my favorite warm neutral paint colors for your home in this post.
My personal preference is to choose whites that are slightly "off white" for our home, and for clients' homes. They tend to be the most versatile and can work well with both cool and warm finishes and furnishings in your space. Some of my favorites are below.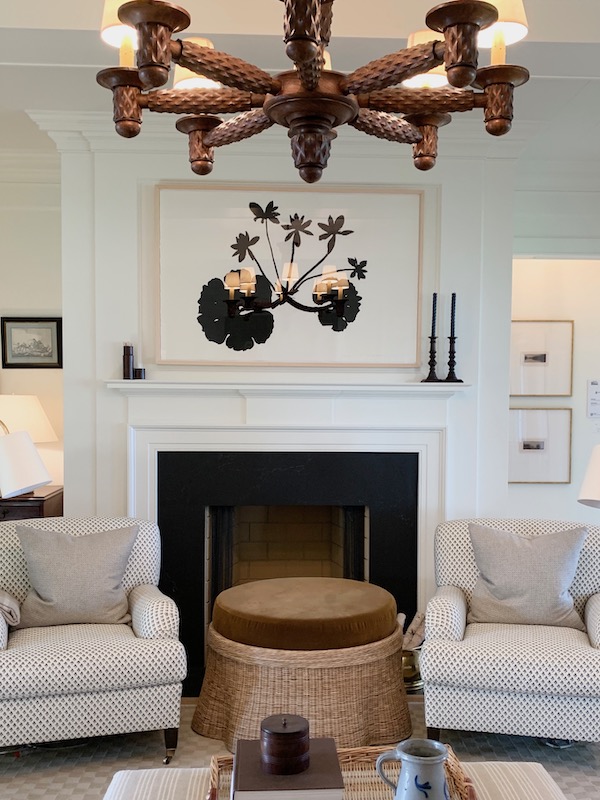 2. Test swatches in different lighting.
Before committing to a particular white paint, test swatches on both walls and trim in different areas of the room. Natural and artificial lighting can affect how the white appears, as well as other colors in the room. Even a large window that opens to a large lush green lawn full of trees can affect the color.
Observe the swatches during different times of the day to determine what works best in your space. This step applies to any color decision for your home, whether you're selecting the perfect white, a neutral, or a color — always test, test, and test again before committing to a color!
The best way to test paint colors is to paint small poster boards that you can move and place around your room at different times of day. You can also use Samplize color samples to adhere to your walls.
3. Pay attention to paint finishes.
Consider using a slightly different paint sheen or finish for the trim to make it stand out subtly. A higher sheen on the trim, such as semi-gloss or satin finish, can add dimension and draw attention to moldings, baseboards, and door frames, mantels, and other architectural details while still maintaining a seamless look in the space.
4. Create contrast in your white room with texture and accents.
To add visual interest and prevent the room from feeling too monotonous, introduce contrast through textures and accent pieces. Incorporate textured elements like woven rugs, patterned fabrics, rattan pieces, and natural wood furniture to create depth, add warmth, and break up the expanse of white. Using colorful artwork, vibrant accessories, and metallic accents also add pops of color and visual interest.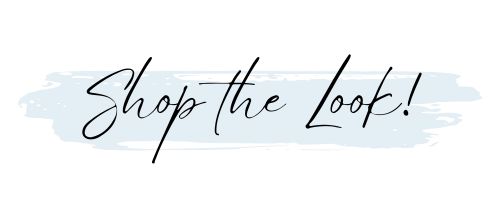 5. Embrace the power of lighting in your all-white room.
Proper lighting is key when using the same white paint on walls and trim. Well-placed lighting can enhance the beauty and dimension of the white surfaces. Use a variety of lighting, including table lamps, floor lamps, recessed lighting, pendant lights, wall sconces, and chandeliers to create varying levels of brightness and highlight specific areas of the room. Read more about lighting for your room in this post.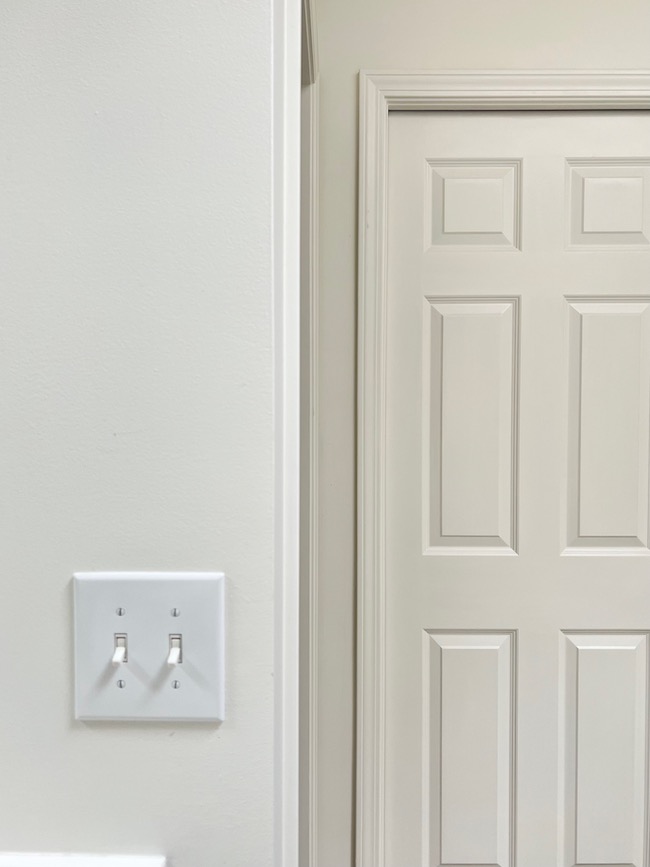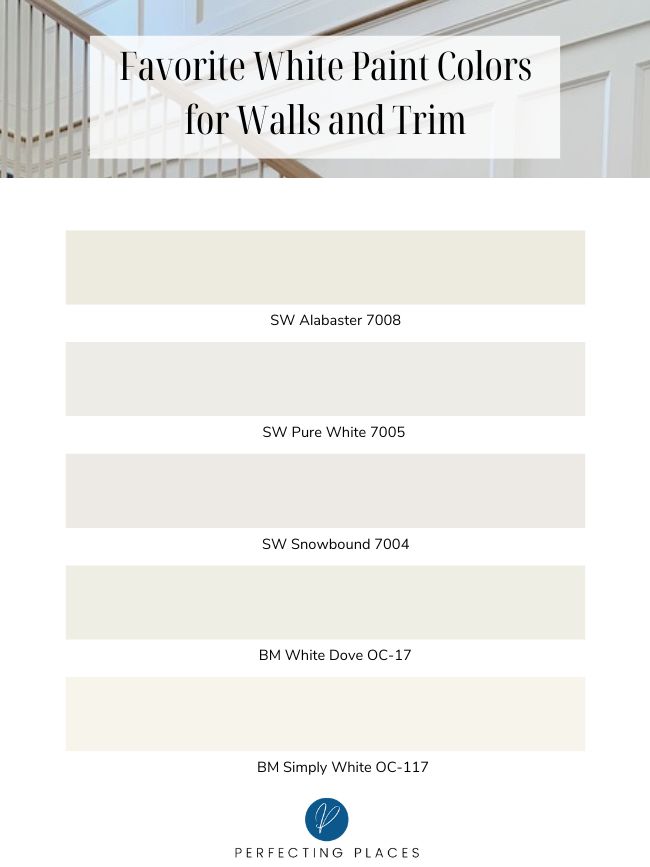 My Favorite Whites for Walls and Trim:
These white paint colors are not only my favorites, but also some of the most popular white paint colors. I tend to prefer soft whites over cooler tones, and these off-white wall and trim colors are pretty versatile for most homes.
Sherwin-Williams Alabaster
Sherwin Williams Alabaster is one of my favorite off-white paint colors. It's our home's favorite off-white. It has warm undertones that pair well with warmer neutrals and fixed elements in our home while still feeling fresh.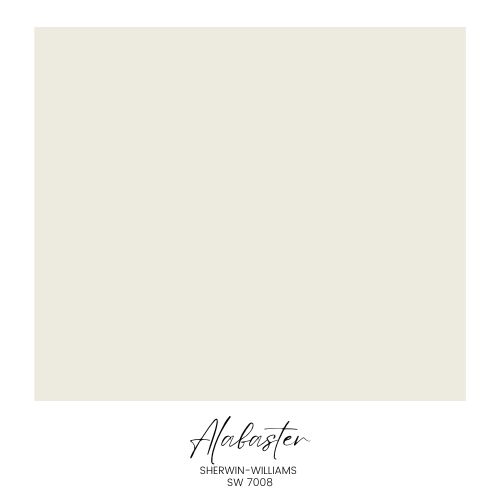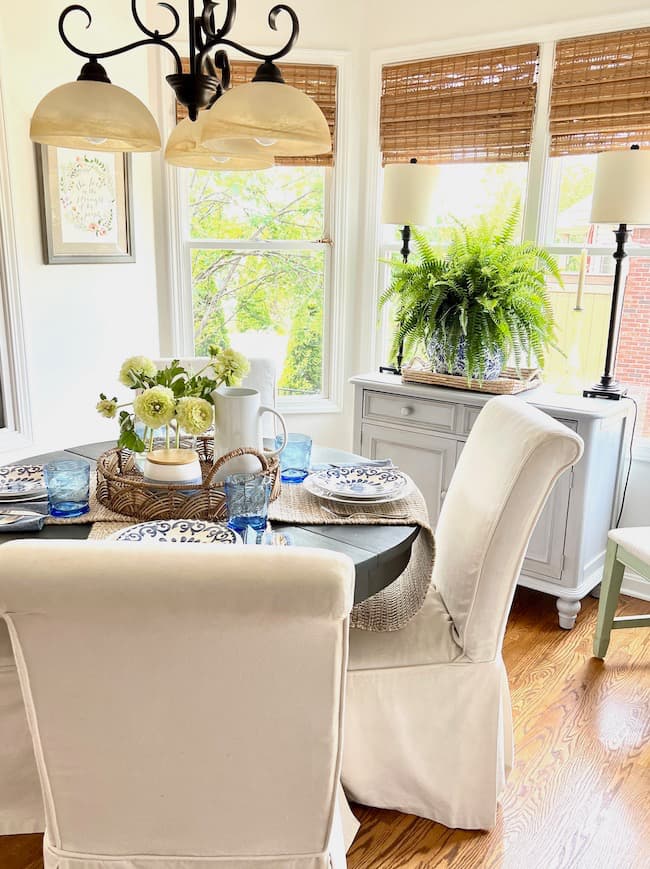 Our kitchen walls and trim painted SW Alabaster
This color is a perfect example of the importance of using the same white color for walls and trim. Color is relative in any space. A brighter white on trimwork would make Alabaster look too creamy on the walls. However, when the trim work, builtins, and kitchen cabinets are painted Alabaster as well, the color becomes the perfect off-white full of warmth in our home, and any yellow undertones are diminished.
Sherwin Williams Pure White
SW Pure White is another great off-white that is slightly cooler than Alabaster, but is still not too stark. It's a very versatile off-white that works in many homes. This crisp and clean white paint color is a versatile choice for both walls and trim and adds a timeless and bright aesthetic to any space.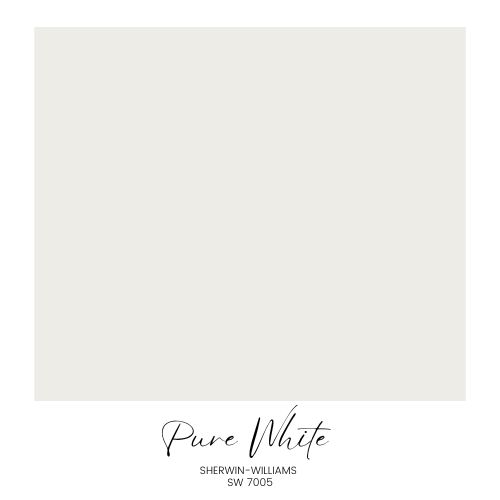 This gorgeous living room transformation by Farmhouse Living features SW Pure White!
Sherwin Williams Snowbound
SW Snowbound is a soft and subtle off-white paint color with a hint of gray undertones, Snowbound is a serene and beautiful white that works well on walls and trim in a variety of design styles.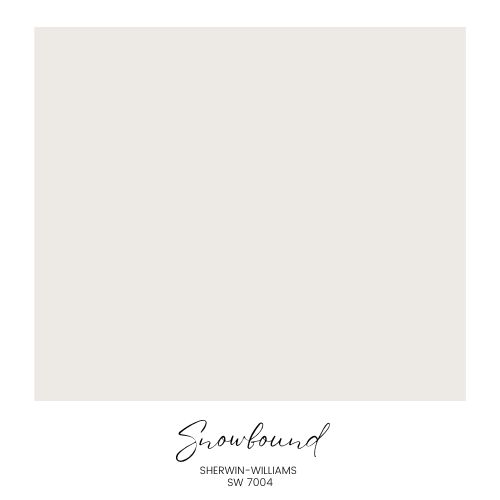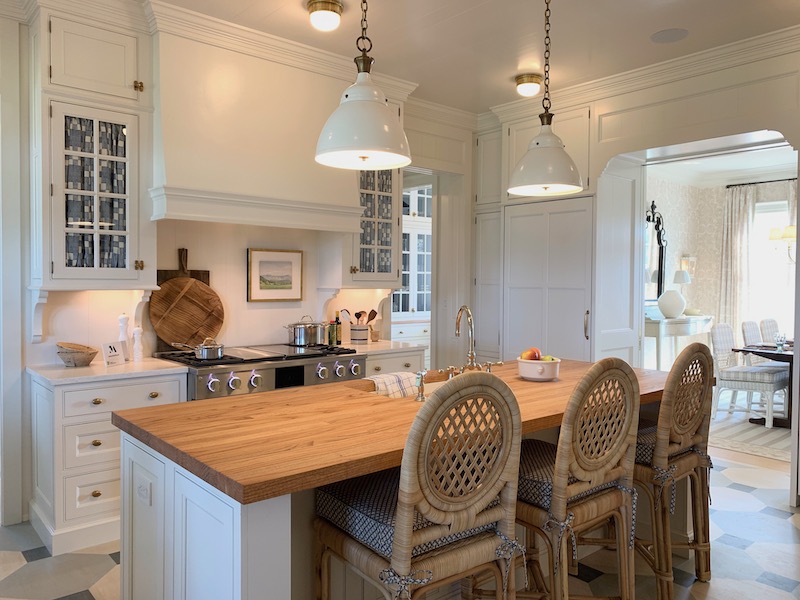 Photo by Perfecting Places. 2021 Southern Living Idea House in Louisville, Kentucky
I love this kitchen designed by Sarah Bartholomew in the 2021 Southern Living Idea House built in Louisville. This gorgeous kitchen, painted BM Snowbound is stunning!
Benjamin Moore White Dove
Benjamin Moore White Dove is another timeless and versatile off-white paint color. This classic warm white paint color looks great in most homes. As with SW Alabaster, using BM White Dove on both the walls and the trim is the easy trick to loving this color in your home!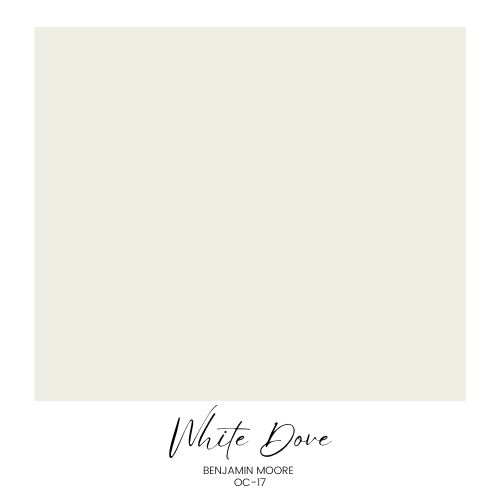 With any of the warmer whites, it's important to avoid pairing them with lighter, brighter whites for trim. This will often cause the warm whites to appear yellow in relation to the brighter white trim.
So, keep it simple and elegant and use the same white on your walls and trim for the perfect look for your home.
Benjamin Moore Simply White
Benjamin Moore Simply White is another very adaptable white paint color. It's a lovely off-white, that's a bit brighter than BM White Dove, so it may be a great alternative for your space if you prefer a slightly brighter white that still retains a bit of warmth.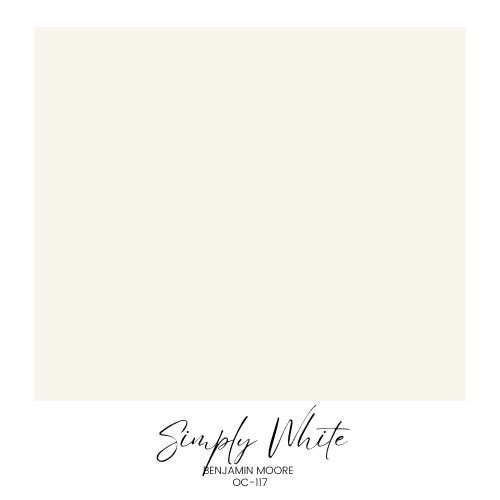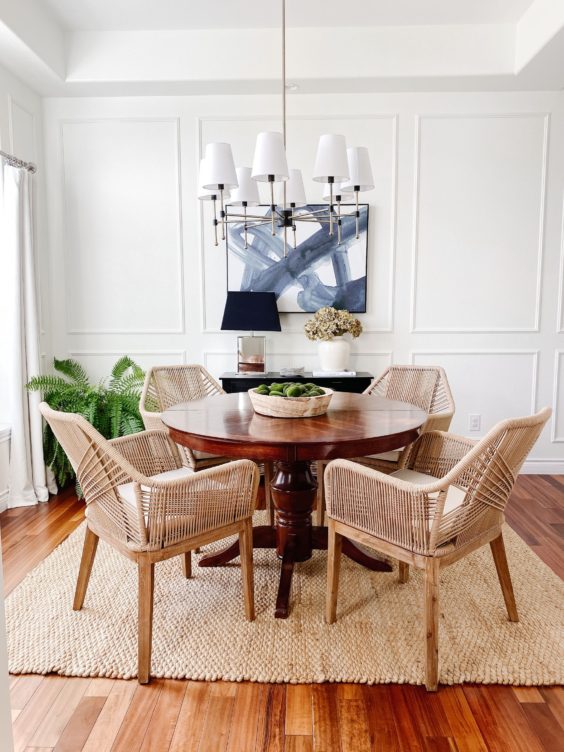 This gorgeous dining room by Jane at Home features BM Simply White! Photo: Jane at Home
This dining room by Jane at Home painted Benjamin Moore Simply White is fresh and lovely and a perfect example of the color!
All of these colors are wonderful considerations for your space if you want a classic and serene white for your walls and interior trim. However, please always test your colors in your own home first before committing to painting the entire space. Every home is different, and colors read differently in different spaces.
And remember, digital photos on screens are helpful for guiding color decisions, but they can by manipulated through editing. Plus, they vary in appearance from screen to screen, so always test the colors in your own home before painting! There really is no one color that fits all spaces!!
For more color ideas you might also enjoy:
The Best Sherwin-Williams Paint Colors for Kitchen Spaces
My Kitchen Paint Color Combination
I hope you now feel a little better equipped to make a color decision for your home! Just remember there is great beauty in simplicity! Whatever the design style of your home — whether contemporary or classic — using the same white paint color on your walls and trim will help you achieve a more sophisticated, seamless designer look!
Happy Painting!