Paint Color Trends (2023 Paint Colors of the Year)
Do you like to follow the latest color trends? Today I'm sharing some of the paint colors of the year for 2023 and how you can use them.
Whether you're a trend follower or not, it's fun to see what colors the major paint companies project as popular trends for the coming year. It's fun to see how they line up with each other and if there's any consistency in the color themes.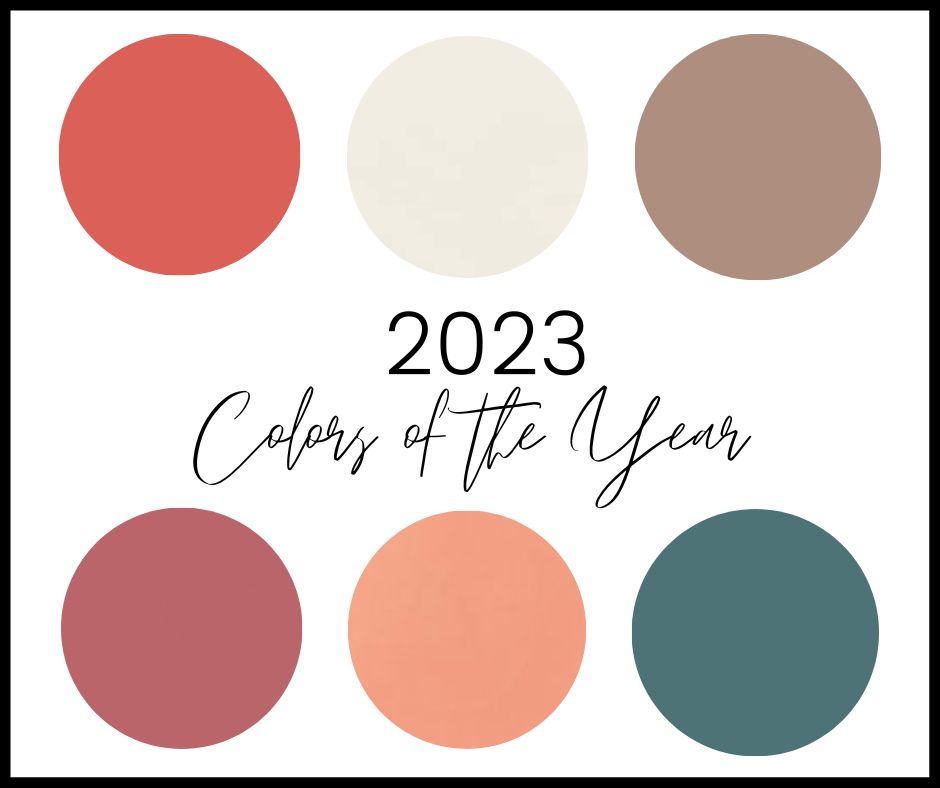 (This post contains affiliate links, so I may earn a small commission when you make a purchase through links on my site at no additional cost to you. As an Amazon Associate I earn from qualifying purchases.)
If you've followed me for very long, you know I love color, and picking paint colors is not only one of my favorite things to do in my own home, it's also one of my favorite things to help clients with!
Color trends come and go, and sometimes the Colors of the Year seem predictable while other years they seem to be pulled out of nowhere.
They always seem to be polarizing! If you read social media comments about each new trending color released, you either seem to absolutely love them or hate them.
I always like to make a guess where I think the colors are heading. I actually enjoy it when the major paint brands land on an actual color, rather than choosing a neutral or white.
You're always going to have a trending neutral color. For years it was everything gray. Now, neutral paint colors are warming up as more and more people are choosing warmer neutrals for their homes. You can read about my favorite warm neutral paint colors here.
I always think it's fun to see color in the forecast. Even if you don't plan on painting an entire room a particular color of the year, it's fun to think about new ways you can inject fun new colors into your home's palette.
In fact, I rarely see a color of the year and think I want it on all the walls in a room.  I'm much more likely to feature the new color trend palettes in the various design elements of my rooms. I'm more likely to inject the new colors by adding accessories or pillows in those new shades.
Last year's color trends:
Last year it was all about green, sage green in particular! Almost every major paint company selected a shade of green as their color of the year for 2022.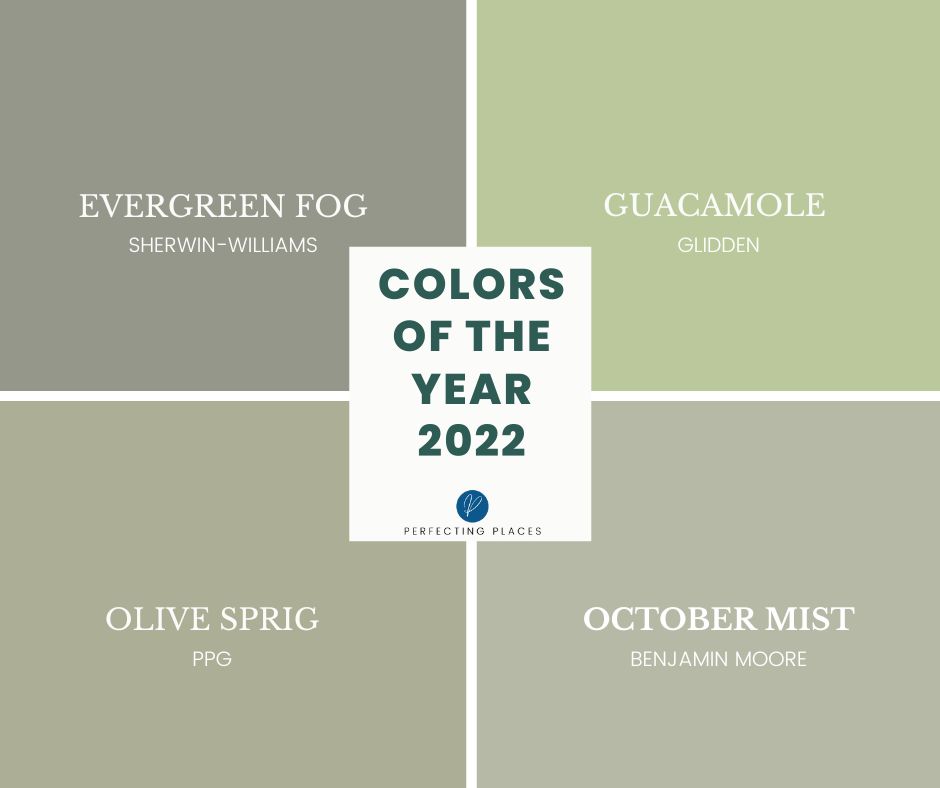 Sherwin-Williams chose Evergreen Fog, Benjamin Moore chose October Mist, PPG selected Olive Sprig, and Guacamole by Glidden rounded out the greens.
Greens are still trending strong, and many of these shades, such as Evergreen Fog and October Mist can even serve as a main neutral in a space. Read more about using sage green as a neutral in this post.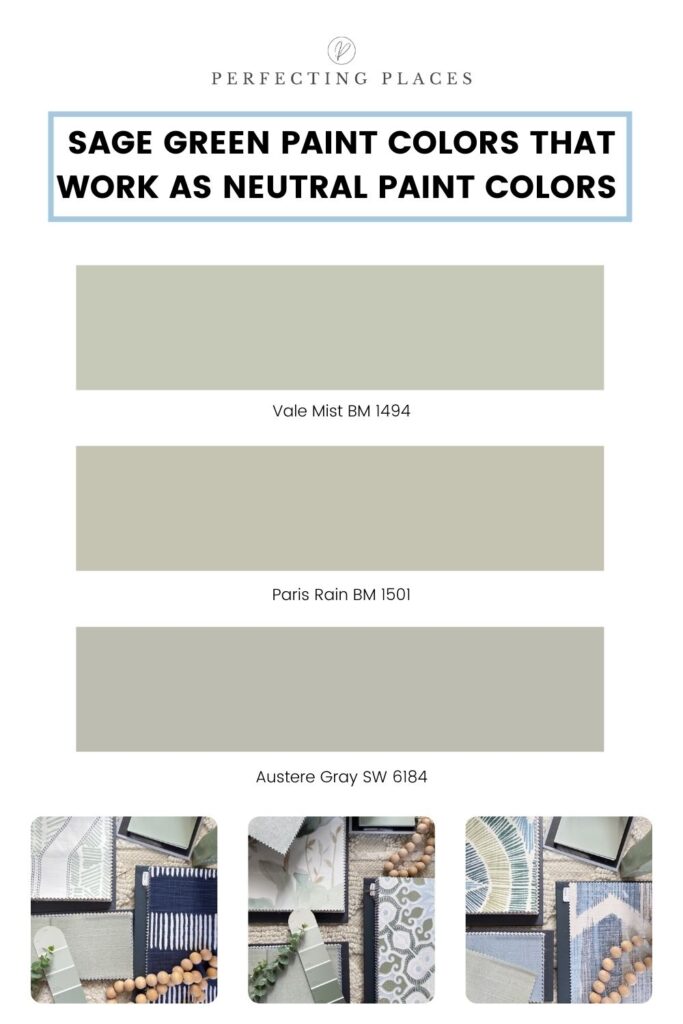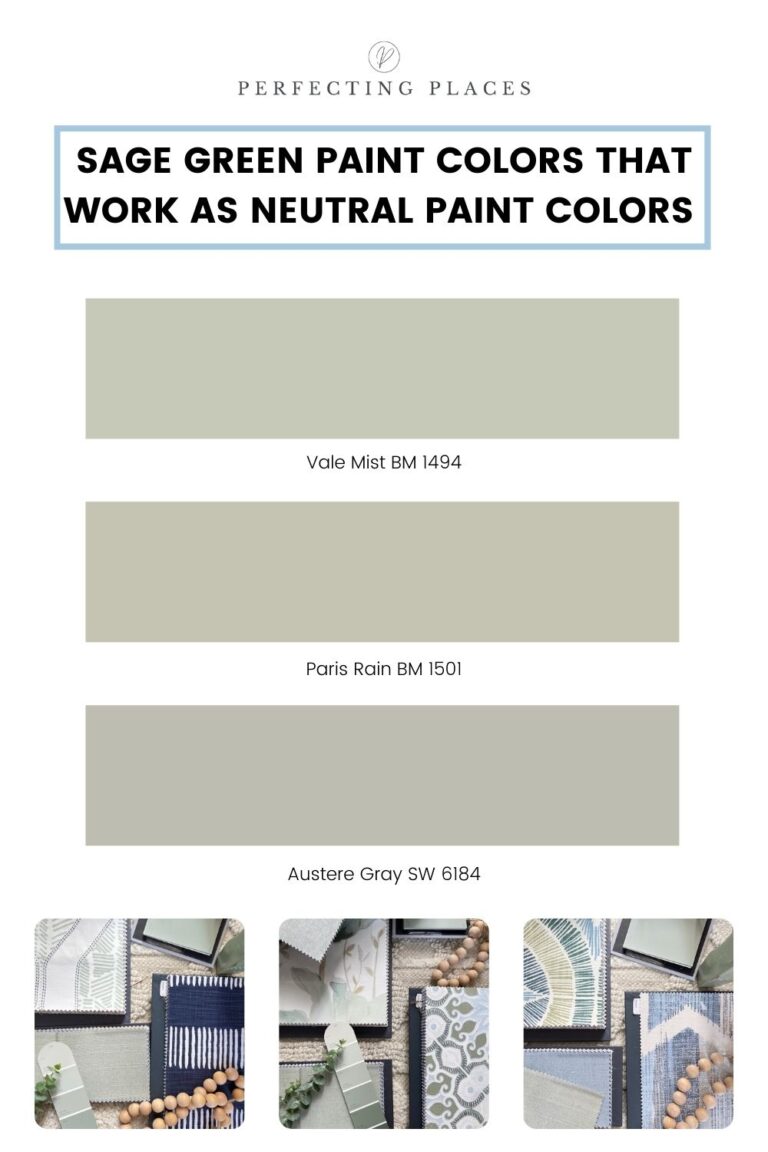 2023 Color Trends:
The color palette of 2023 color trends, with the exception of Behr's Blank Canvas, features some brighter colors, and many include sunset/desert shades such as terracotta, coral and clay.
Sherwin-Williams Redend Point
Sherwin Williams released Redend Point SW 9081 as their 2023 Color of the Year from their Colormix forecast. According to SW, it's the color of connection, care, warmth, and soul – whatever that means. It's also the color of a Bandaid. 
This is one color of the year that's really polarizing. If you're in the 15 – 40 year old range, you might love it as a dark shade of blush or millennial pink. If you're older, it might feel just a little bit too much "1980s pinky beige flesh-tone" for you. (Maybe I'm giving my age away here — and by the way, it's way beyond 40!)
However, I'm a firm believer that you can make just about any color work when styled well with accessories, rugs, fabrics, and other coordinating colors repeated in a room. Redend Point is no exception.
And while I personally wouldn't paint an entire room this color (and certainly not my kitchen cabinets like this example), it could serve as an accent wall, painted on the backs of bookshelves, or as an accent arch in a nursery or child's room.
And check out the super creative way my friend, KariAnne, used this color in a bedroom! Absolutely brilliant!
Redend Point pairs very well with some rich colors in muddy dark corals and greens, so I would absolutely use it in this color scheme below.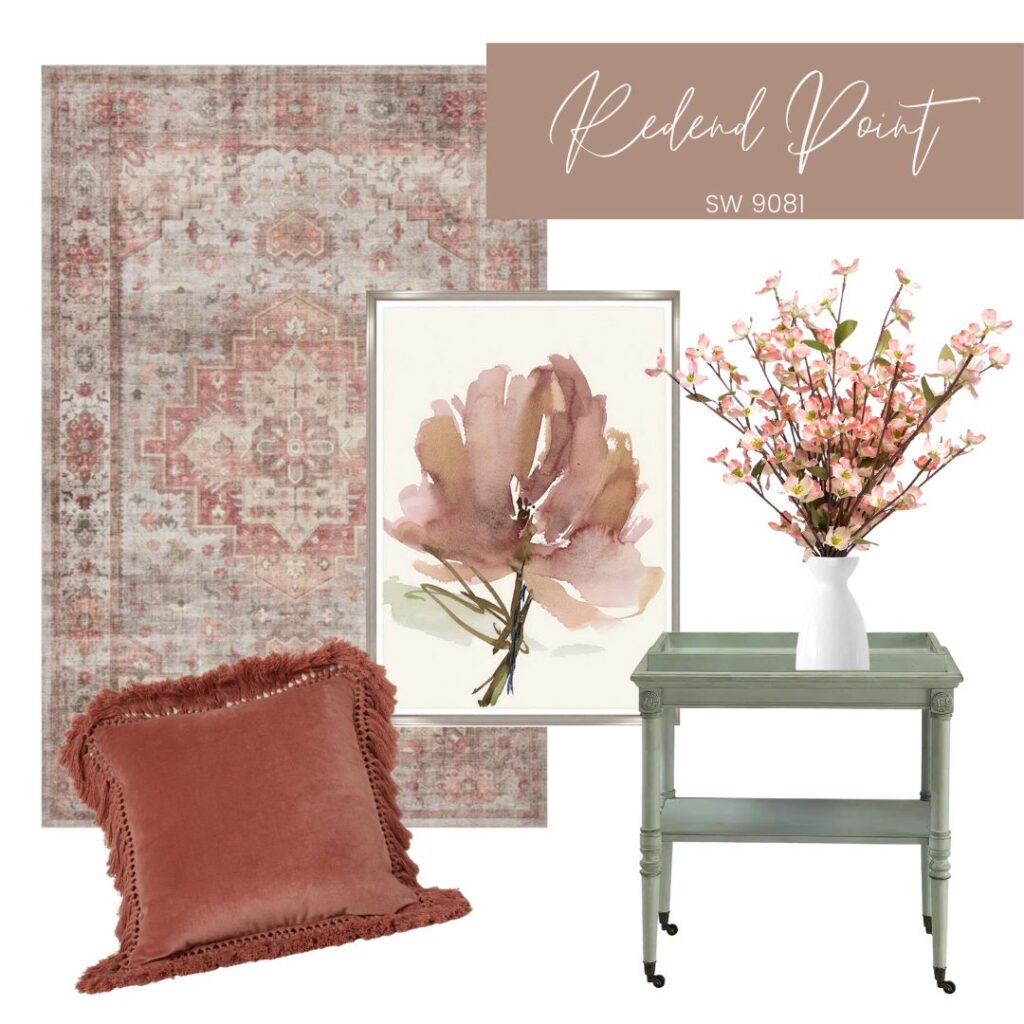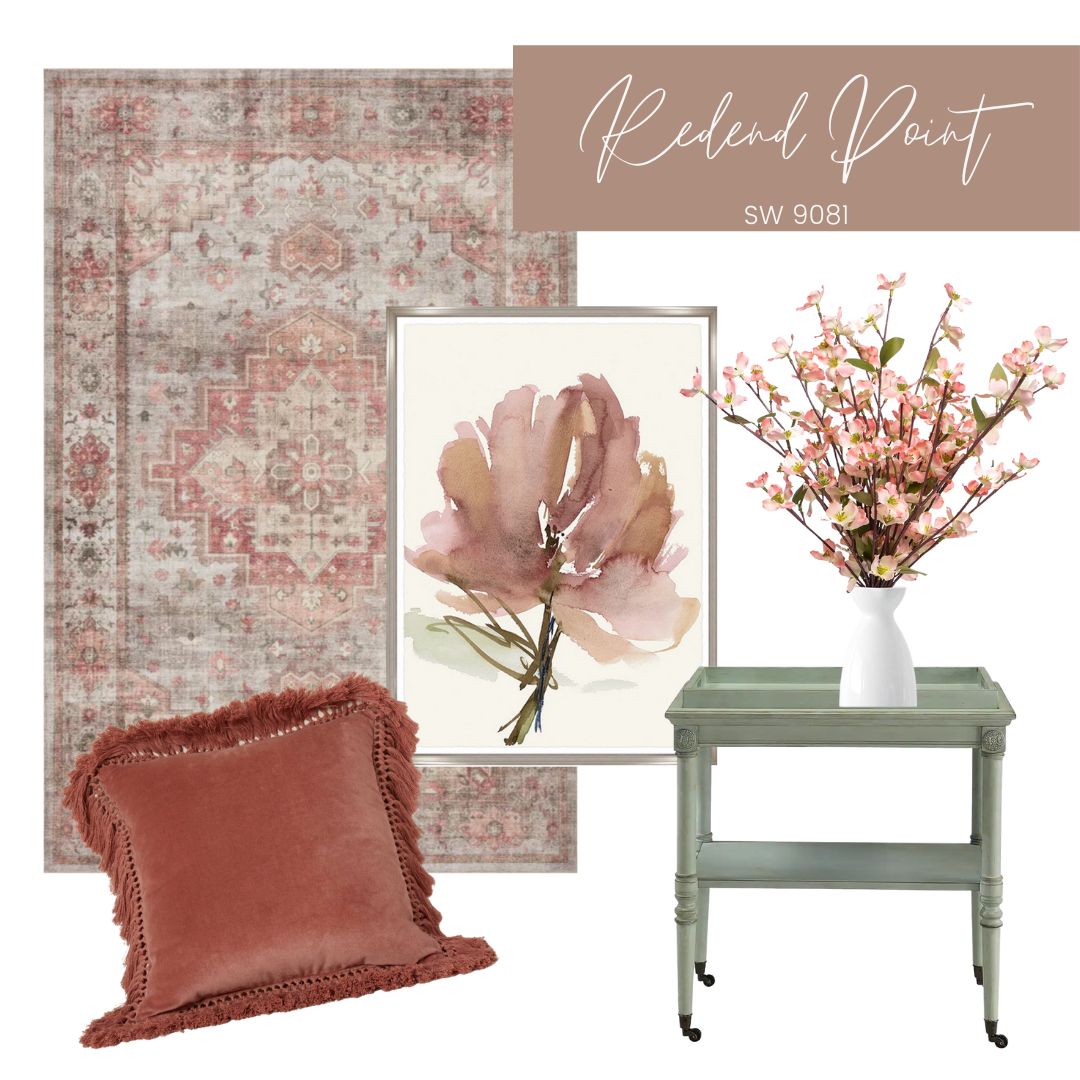 ---
Shop the Look

---
Benjamin Moore's Color of the year — Raspberry Blush
Speaking of polarizing colors, the Benjamin Moore Color of the Year, Raspberry Blush, definitely makes a bold color statement along with other bold colors from their 2023 color trends.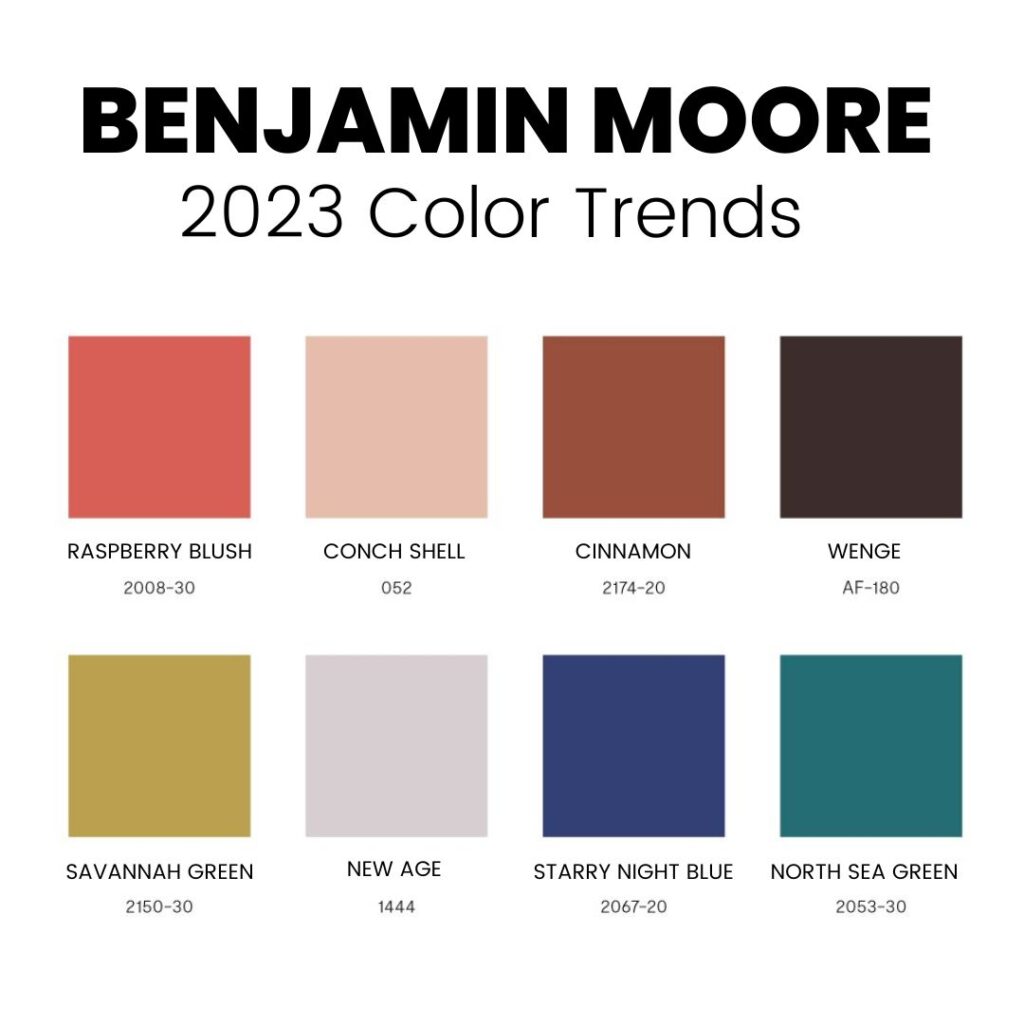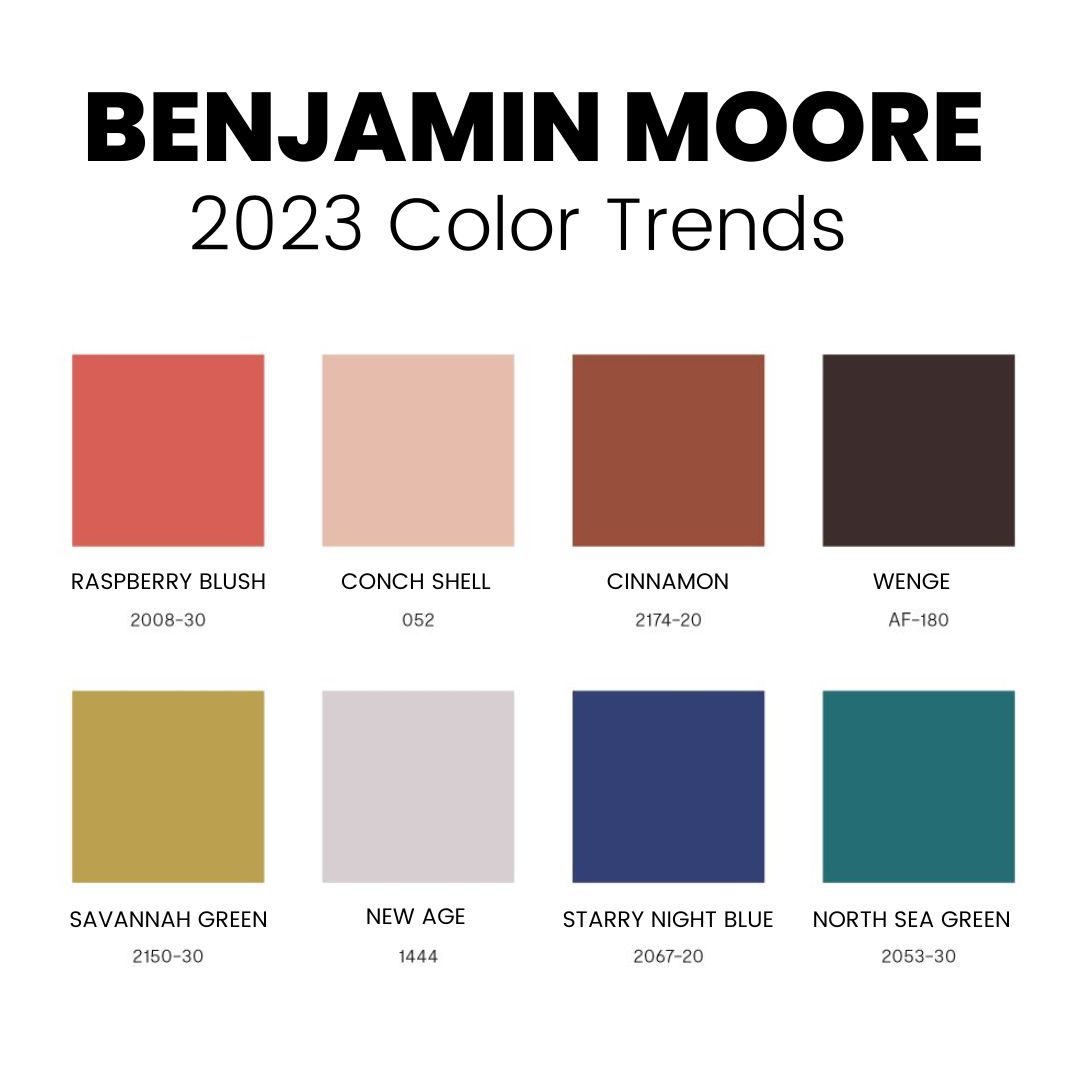 I, however, LOVE this color. Any shade of coral has always had my heart, so I would certainly use this color in my home – mostly in the accessories, or even on a painted piece of furniture. It would make a striking accent wall or focal point in a bedroom. If you have a small enclosed room such as a powder room it would make quite a rich statement, and if you added painted trim molding even better!
I realize this is way too bold for a lot of people, but it can actually be quite an elegant color when styled well. I'm reminded of one of my favorite southern designers, James T. Farmer, whose favorite color is coral, and he so elegantly incorporates this color in many of his designs featuring traditional styles.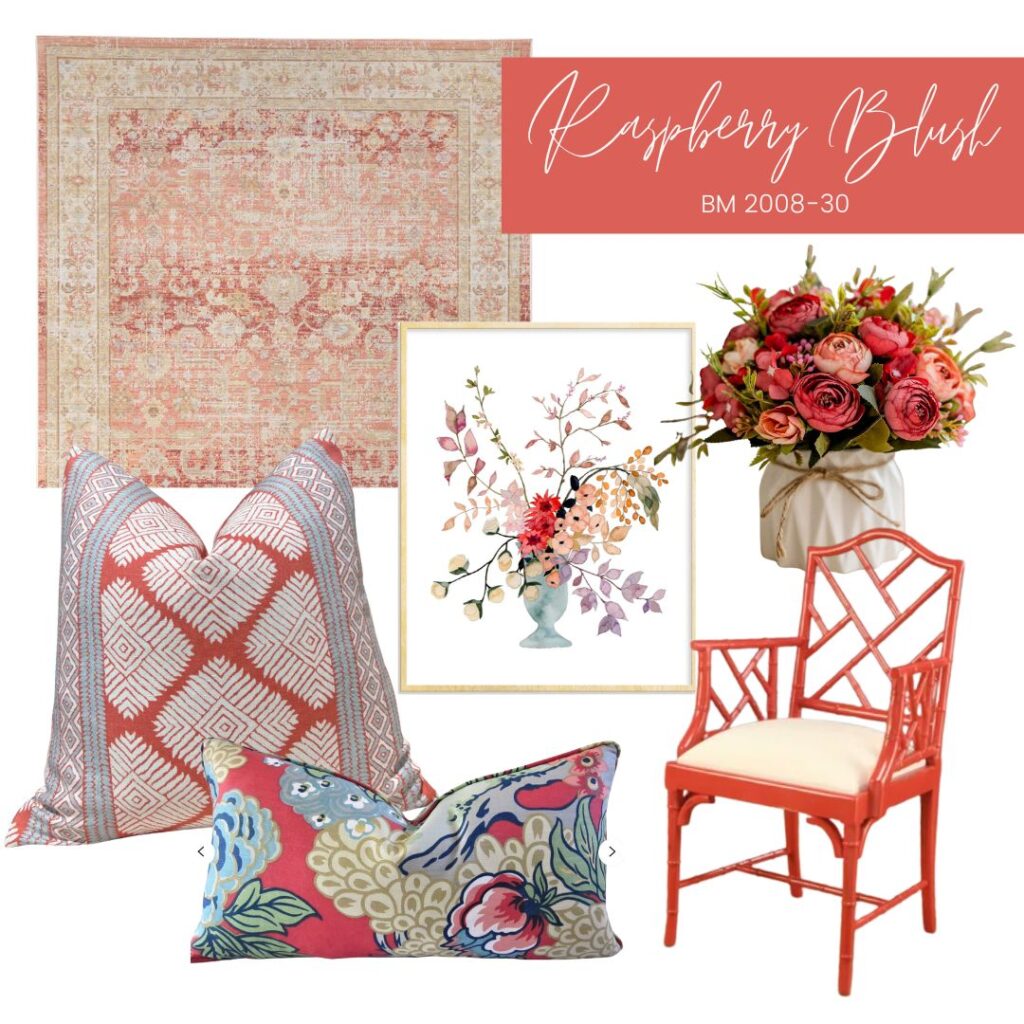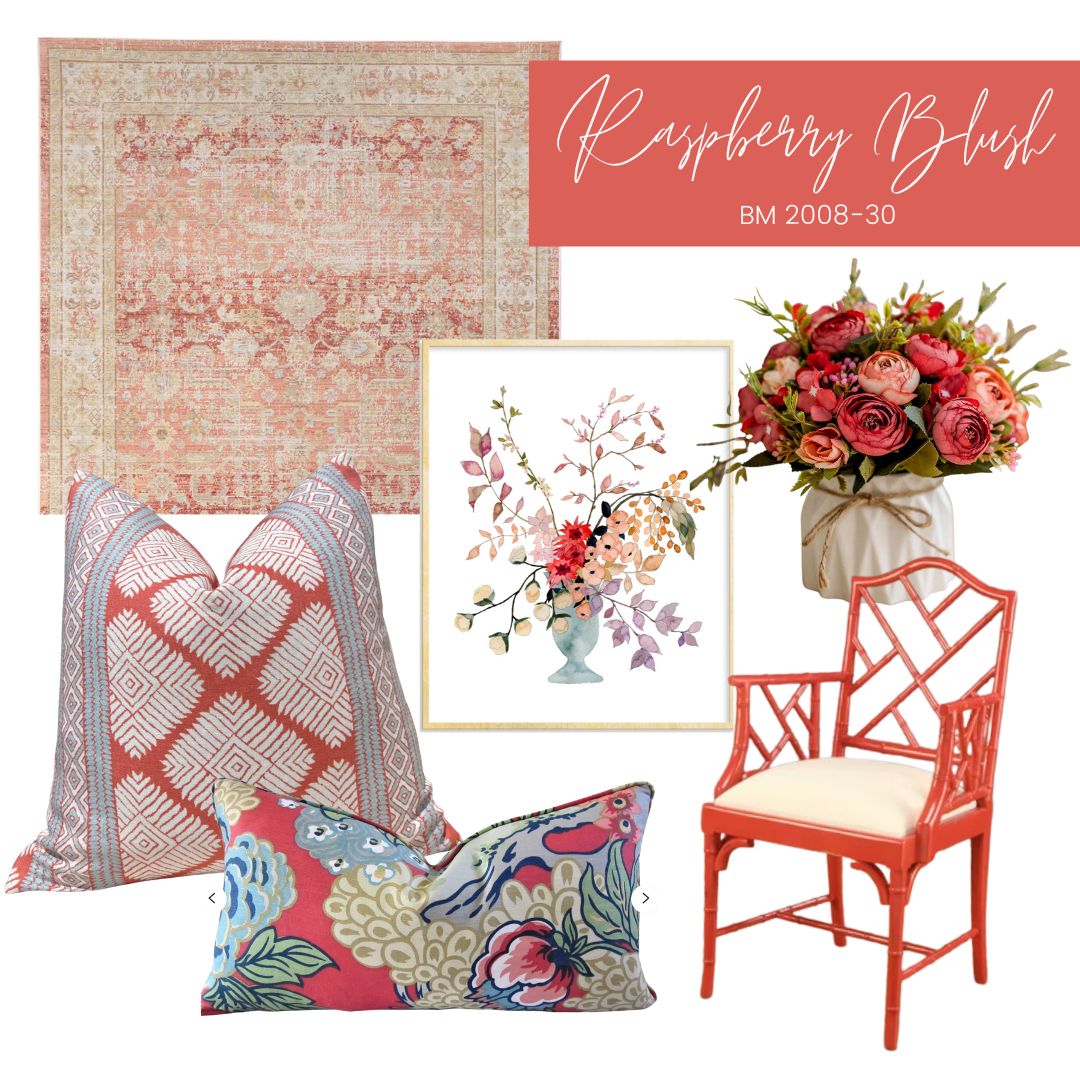 ---
Shop the Look

---
Other 2023 Shades of "Pinky Coral" Colors of the Year: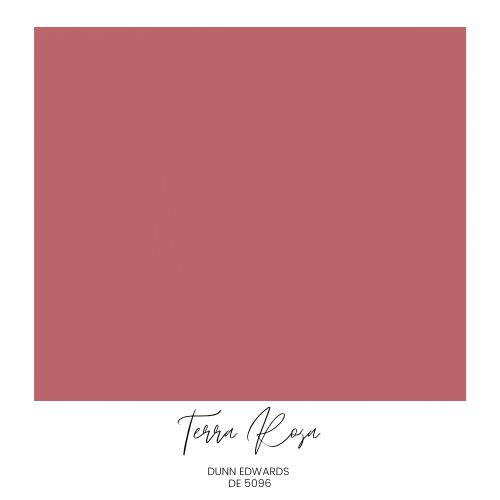 Dunn Edwards Terra Rosa – Is a gorgeous, deep rosy pink with a touch of terracotta to add warm undertones. This color is just stunning!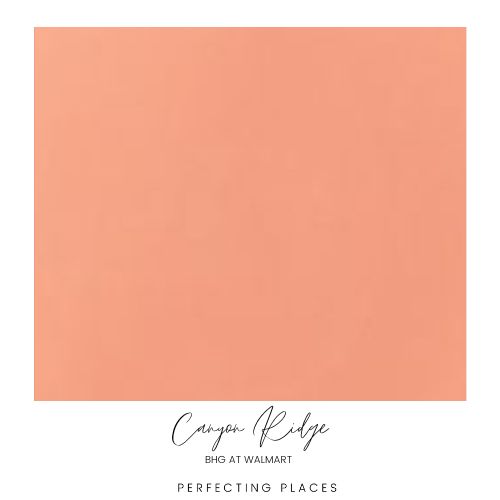 BHG Canyon Ridge (sold exclusively at Walmart) is another coral/terracotta shade.
Behr's Blank Canvas — The Lone Neutral
Blank Canvas by Behr paint is the lone neutral white of this bunch, and it is a pretty, warm off-white paint. It's a warm tone that actually pairs well with the other colors of the year.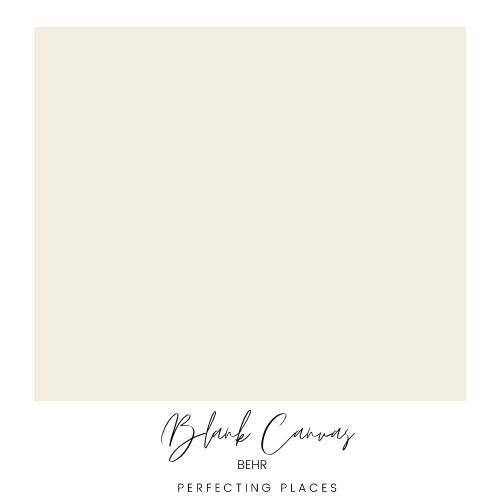 PPG Vining Ivy — A Rich Blue-Green
PPG Industries chose Vining Ivy as the outlier of the bunch with its rich blue-green shade. This lovely color would be a great choice as a pretty accent in a room, or gorgeous on painted millwork. It would make a dramatic statement in a powder room.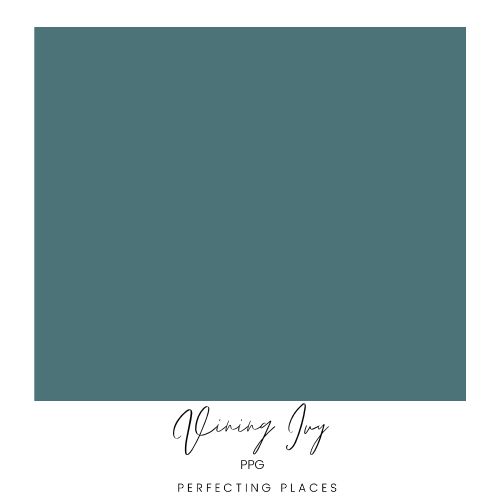 The Best Way to Choose Paint Colors for Your Home:
As I always recommend, when you select paint colors for your home, be sure to test the colors with large samples of the color in your home for the best results. There is so much variation in the colors on digital screens that it's so important to test the actual paint colors to make sure the colors are right instead of relying on pictures on your phone or computer.
And remember, just because a color is popular or trending, it doesn't mean it's right for your home. Your home has its own color profile or complexion that is dictated by the fixed elements in your home. By fixed elements I mean the big ticket items like tile, carpet, countertops, and even larger furniture pieces that aren't changing.
The undertones in the colors of these fixed elements dictate how warm or cool and how vibrant or muted your color choices need to be.
Always, always, always test your colors with large samples!
So, which is your favorite paint color of the Colors of the Year for 2023? Do you plan to use any of these paint shades in your home, either on your walls, or as accessories?
No matter what the paint color trends or interior design trends say, you always want to select colors and decor that you love and that reflect your own individual tastes. As long as that drives your decorating decisions, your home will be timeless for you.
PIN this post for later!!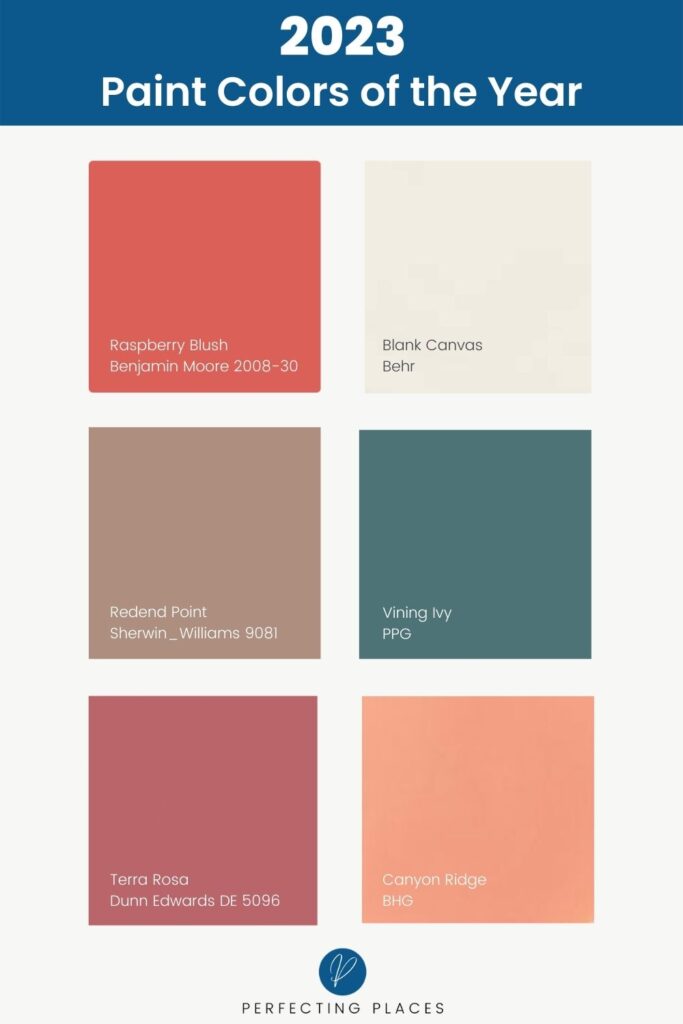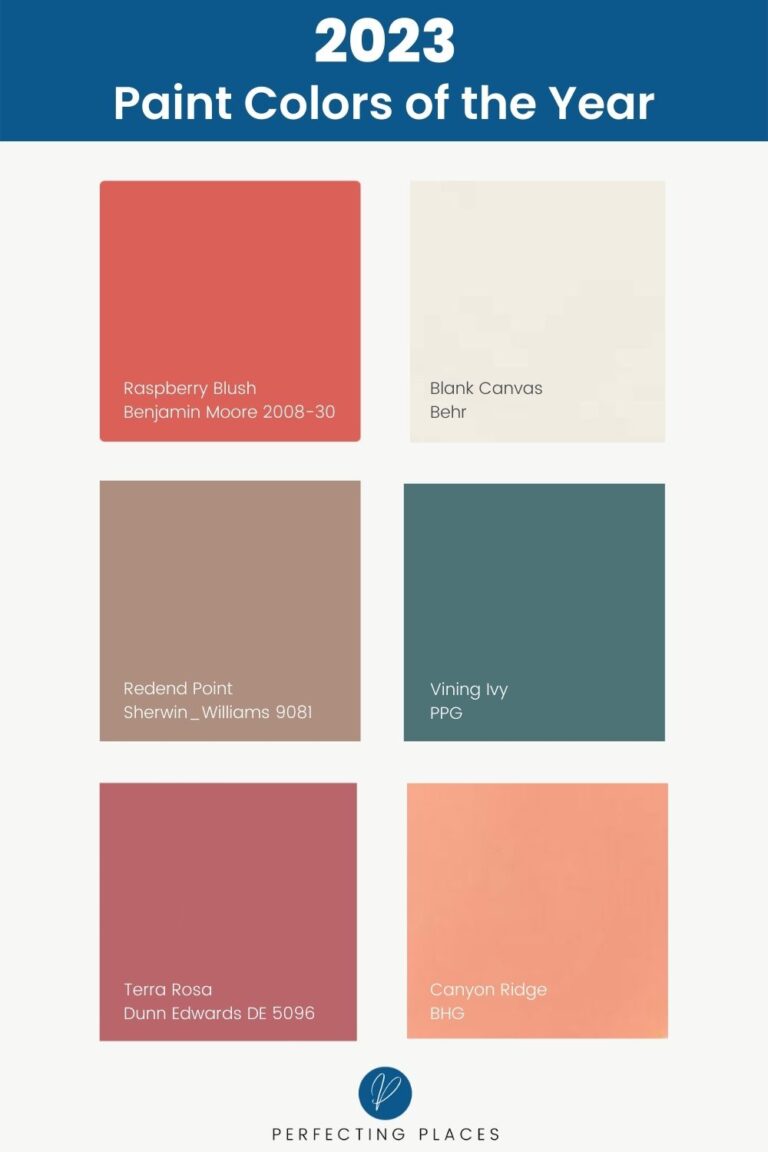 By the way, do you follow me on all the socials?? If not, check out my Pinterest, Instagram, and Facebook and be sure to follow me there so you don't miss out on any of my decorating and DIY ideas!!
For more home decor and seasonal ideas, be sure to check out my Amazon store!!