17 Easy Ideas for a DIY Table Centerpiece for Thanksgiving
Are you hosting Thanksgiving dinner this year? I'm sharing lots of easy DIY table centerpiece ideas for your Thanksgiving table!
Create a gorgeous Thanksgiving tablescape for your family and friends with these creative ways to create a beautiful fall table centerpiece!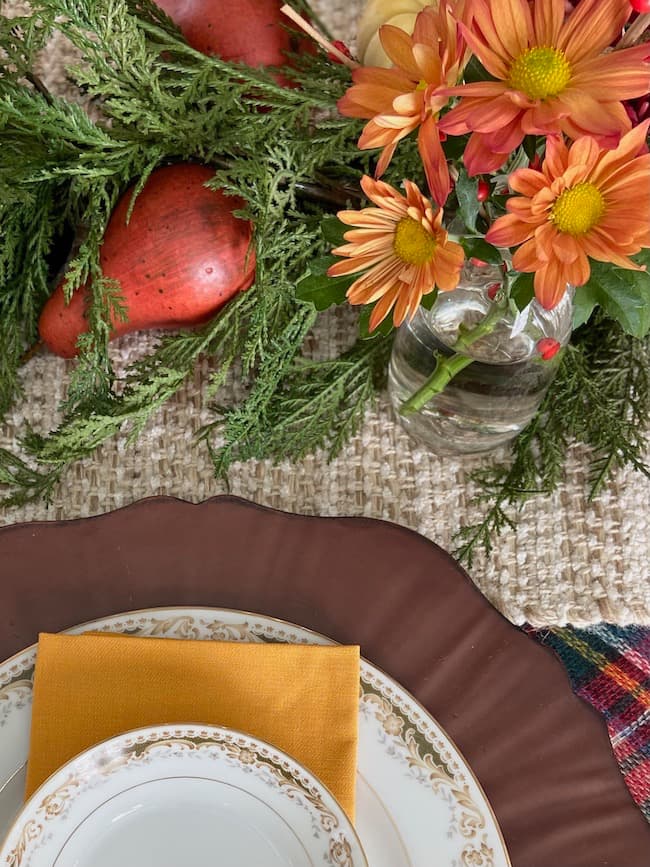 (This post contains affiliate links, so I may earn a small commission when you make a purchase through links on my site at no additional cost to you. As an Amazon Associate I earn from qualifying purchases.)
I just love Thanksgiving!!
And I love gathering family and friends around a beautiful Thanksgiving table!
One of my favorite things to do is create a pretty tablescape with a floral centerpiece as the focal point.
Food just tastes better when served around a pretty table!
Today I'm sharing some super easy tips and creative ways to create your own easy Thanksgiving centerpiece!
Easy Centerpiece Ideas for Your Thanksgiving Table: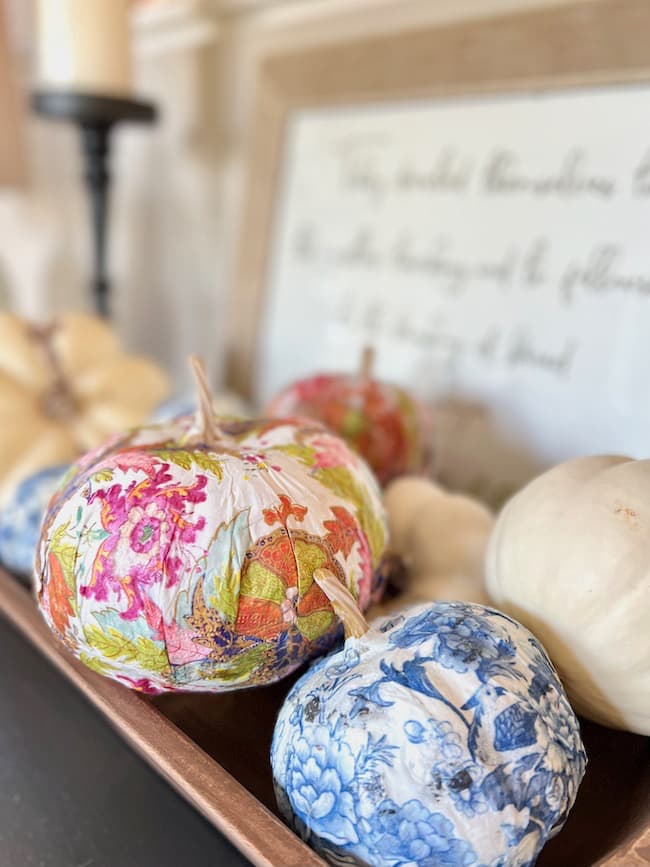 1. Add some decoupage pumpkins to a dough bowl.
There are so many pretty patterned napkins available. Cover some faux pumpkins in a pretty print for a pretty table decoration. Add them to a dough bowl and you have an instant centerpiece!
You can read how I created these decoupage pumpkins here.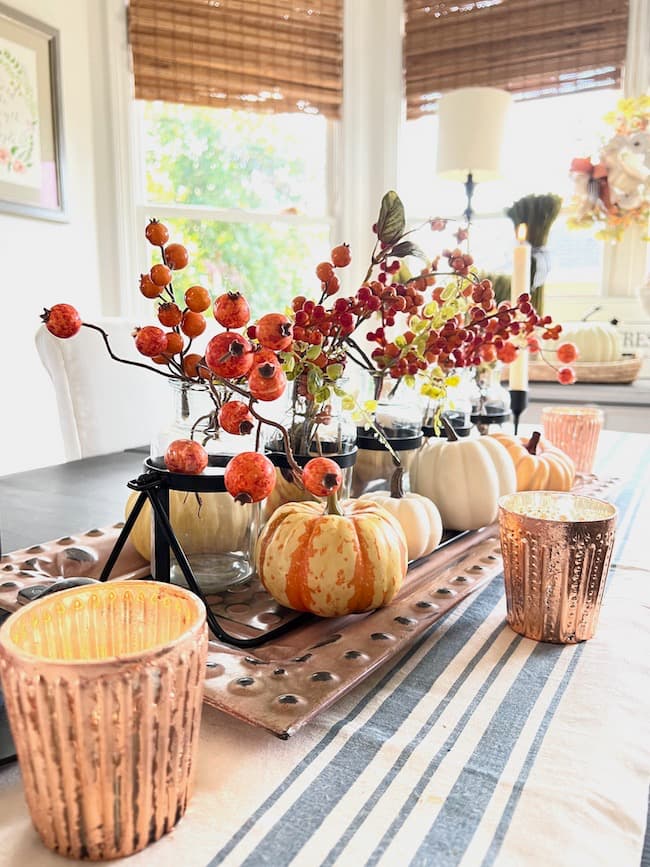 2. Add fall berries to bud vases.
This multi-bud vase stand is one of my favorite decor pieces. It's so easy to create simple arrangements for any season. Add a few pumpkins and some votive candles and you're ready to go.
These DIY rose gold leaf votive candle holders were so easy and fun to make.
3. Fill a lantern with mini pumpkins and add a candle.
A wooden lantern is a great centerpiece idea. Add colorful pumpkins, berries, pinecones or florals for a pretty look.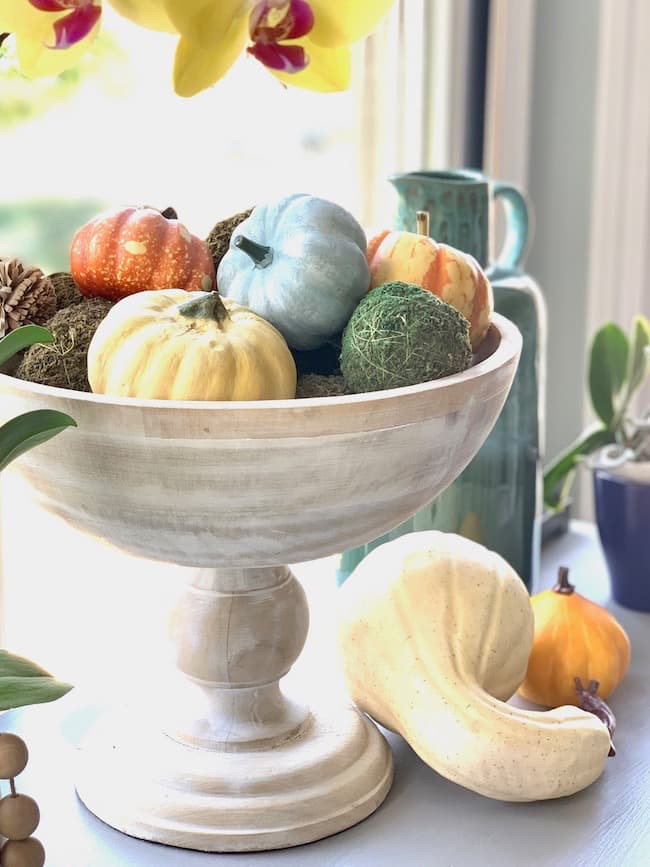 4. Colorful mini pumpkins and moss balls in a wooden pedestal bowl make a pretty DIY table centerpiece for fall.
Whether you use real or faux pumpkins, this is a super simple idea for some last minute table decor.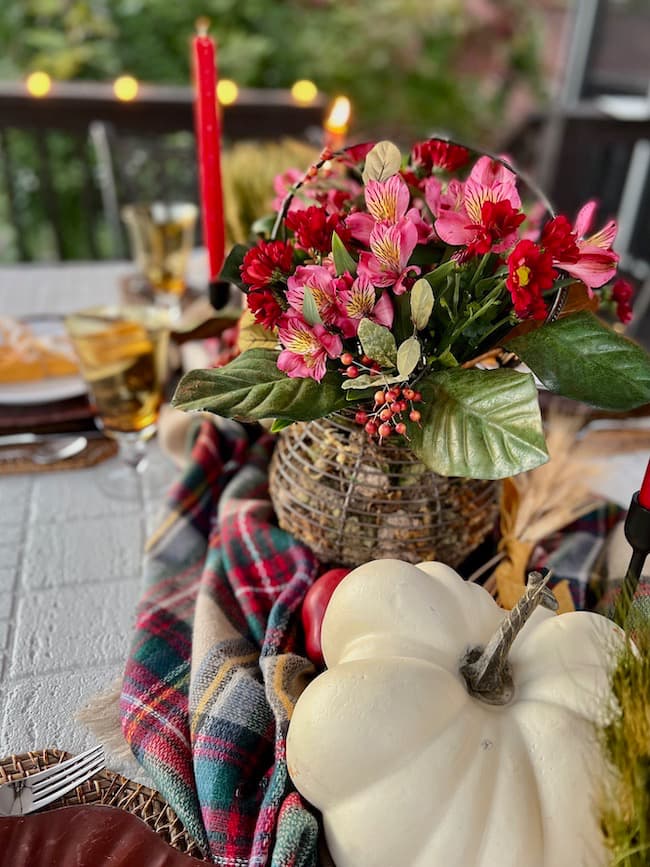 5. Combine red mums, pink alstroemeria (from the grocery store) and magnolia stems in a wire farmhouse basket.
Add a colorful plaid throw to the mix for a gorgeous table runner idea. This look is perfect for indoors or outdoors.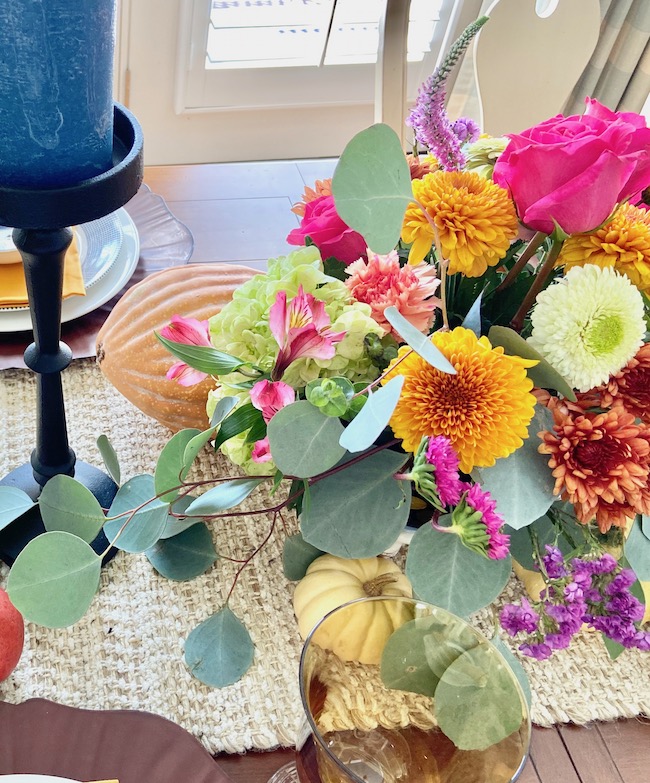 6. Add fresh eucalyptus to a fall arrangement.
The soft sage green leaves of eucalyptus are perfect for fall arrangements and add a pretty organic element to your Thanksgiving table. Allow them to "spill over" your arrangement for a pretty look.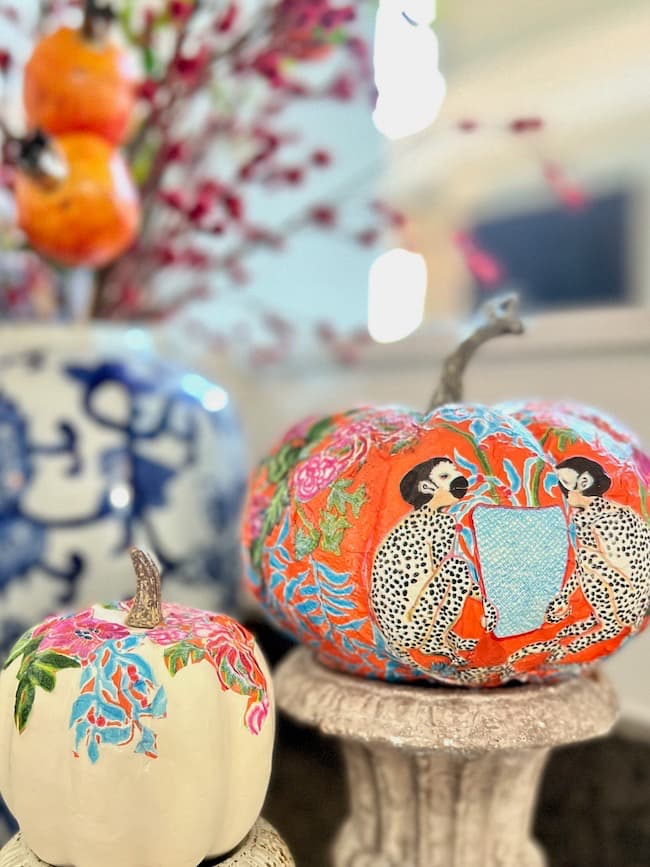 7. Group pumpkins together and perch them on a small urn or pedestal.
It's always a good idea to vary the height of various elements in a tablescape, and perching a pumpkins on a small urn is a creative way to add height and texture.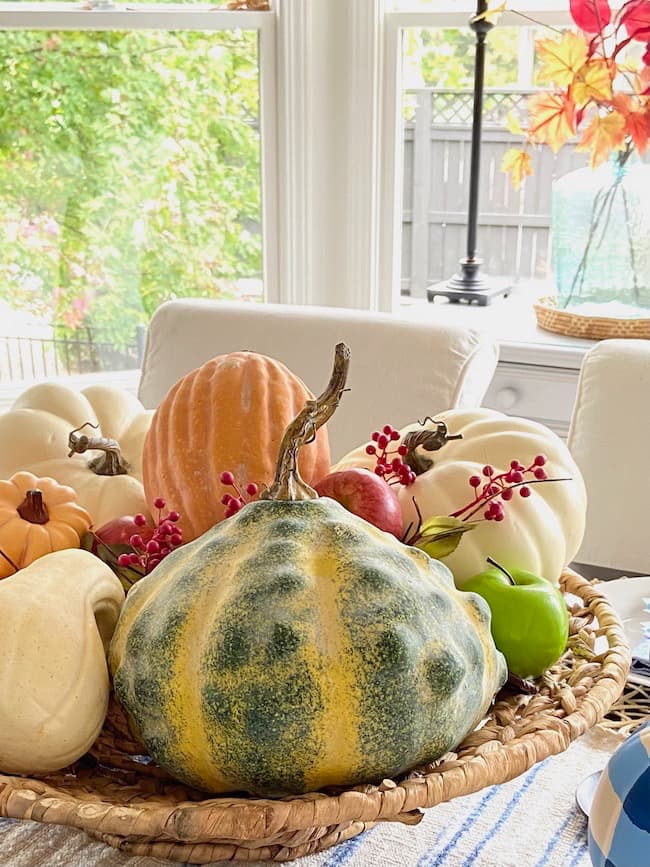 8. Add colorful, oversized pumpkins to a large round basket.
A large basketful of colorful gourds and pumpkins and other fall fruits makes a perfect casual centerpiece for a table.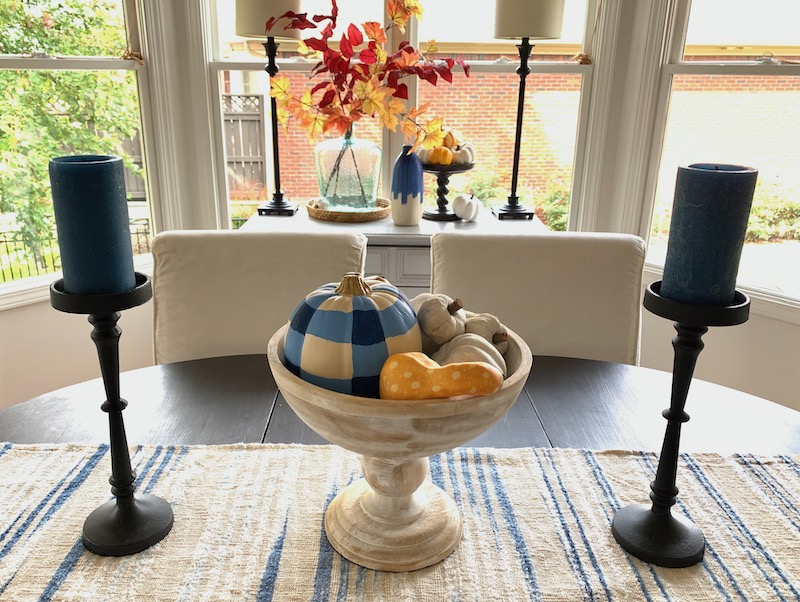 9. Paint a plaid pumpkin and add it to a bowl.
This blue and white buffalo plaid painted pumpkin was easy to do and looks great with our blue and white decor.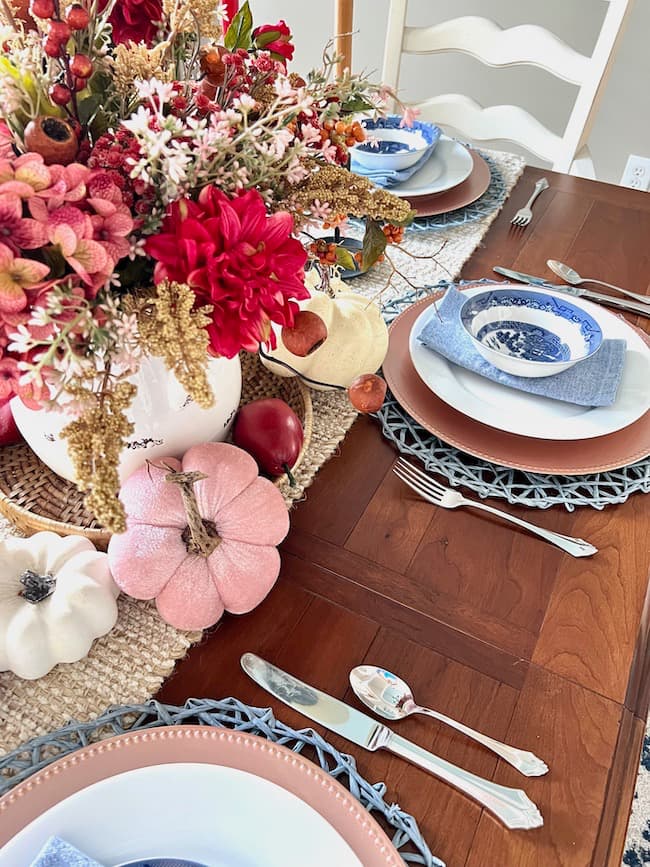 10. Add a touch of blush pink to your Thanksgiving table.
These soft pink velvet pumpkins add a soft touch to your Thanksgiving table. They're perfect with the reds and cranberries in the floral arrangement. Rose gold chargers carry the pink theme to the table settings.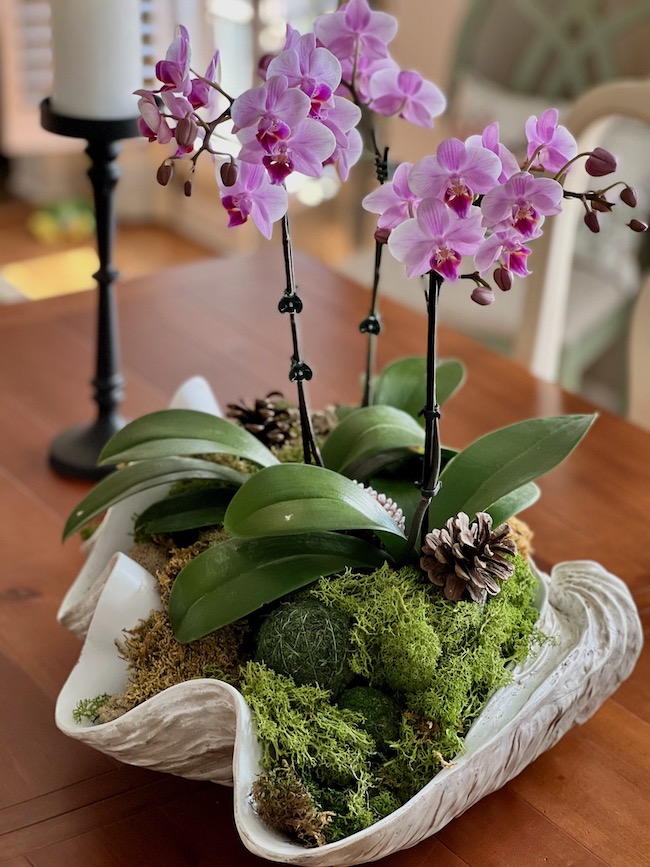 11. Add small orchids to a large bowl.
These purple orchids are perfect for this large clam shell bowl. Fill the base with moss and pine cones to add more natural elements.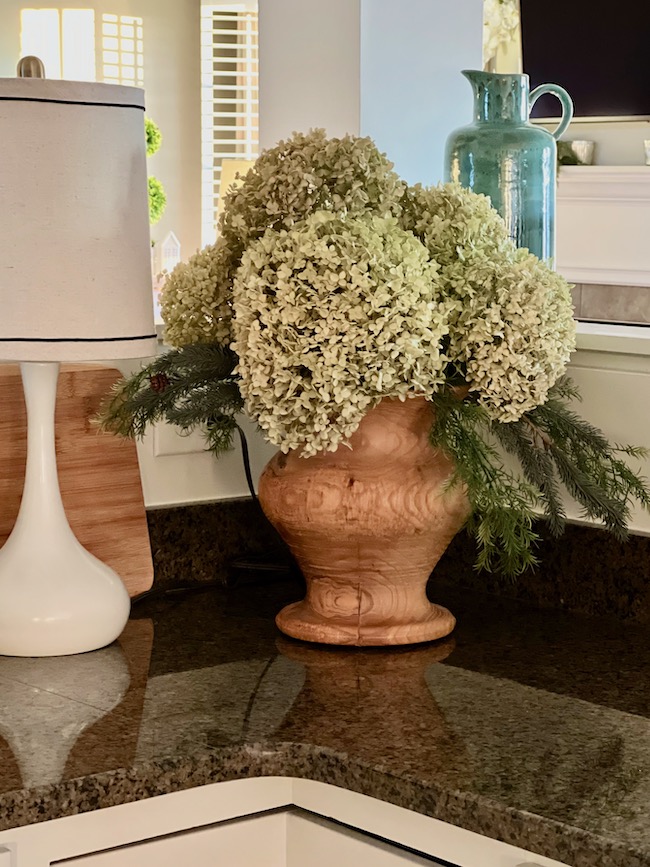 12. Add dried hydrangeas and greenery to a wooden bowl.
Every fall I harvest our hydrangea to use around our home throughout the cooler months. Dried hydrangeas are gorgeous in fall arrangements.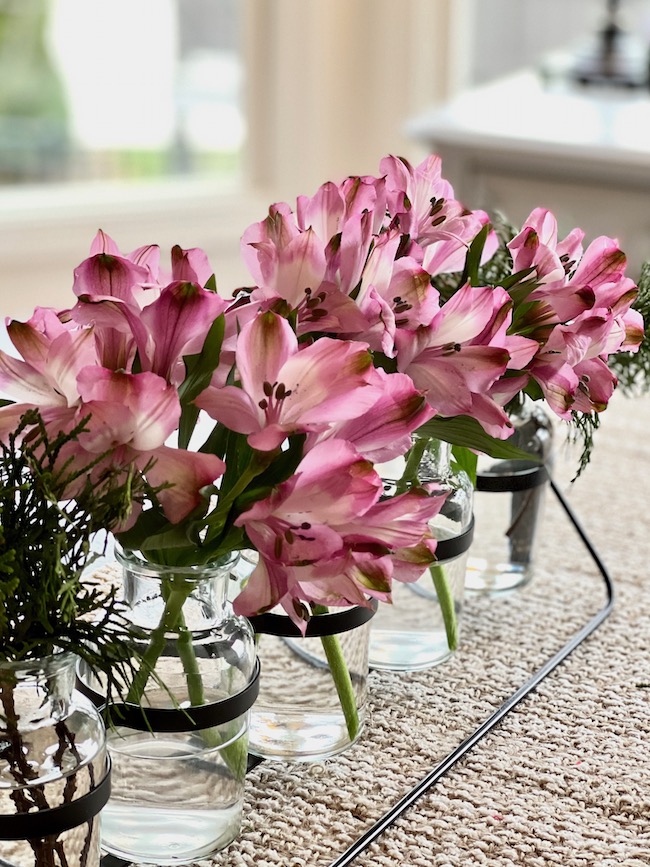 13. Add simple grocery store flowers to bud vases.
Alstromeria are grocery store floral department staples, and a simple centerpiece of a single color flower is simple and beautiful. Add some greenery from your yard for added interest.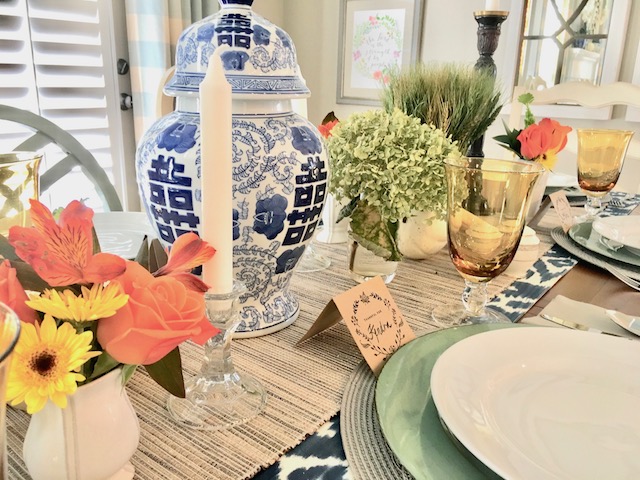 14. Use a grouping of miniature flower arrangements on your table.
These tiny white vases are easy to fill with pretty flowers, and multiples scattered along a table runner make a stunning statement.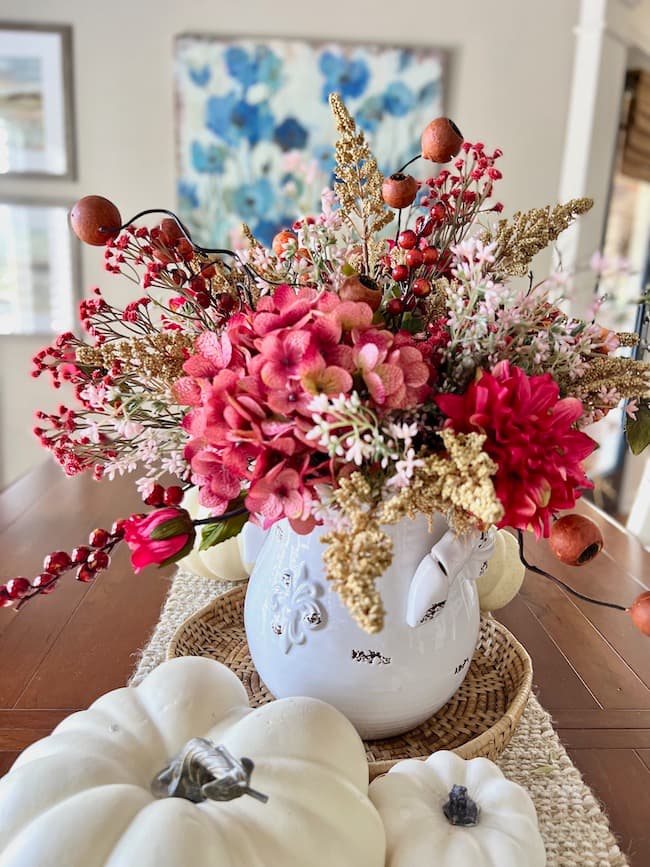 15. Put a tray under your centerpiece arrangement.
Something as simple as placing your floral arrangement on a tray adds more texture and interest to your centerpiece. It also provides a place to add other interesting elements like pine cones or fall fruits.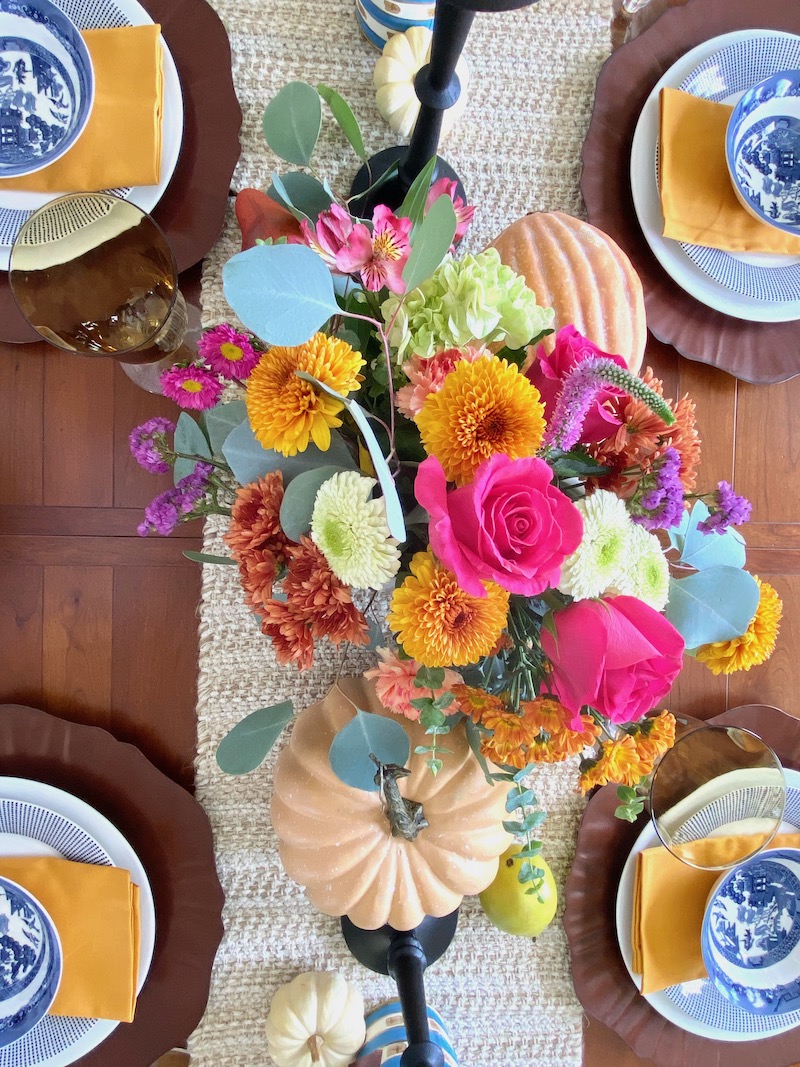 16. Be bold with color in your Thanksgiving centerpiece.
Don't be afraid to brighten things up a bit on your Thanksgiving table. The addition of the bright fuchsia roses and purple statice paired with the bright orange mums and gold cloth napkins makes a cheerful and gorgeous color statement. Find more details about this colorful Thanksgiving tablescape in this post.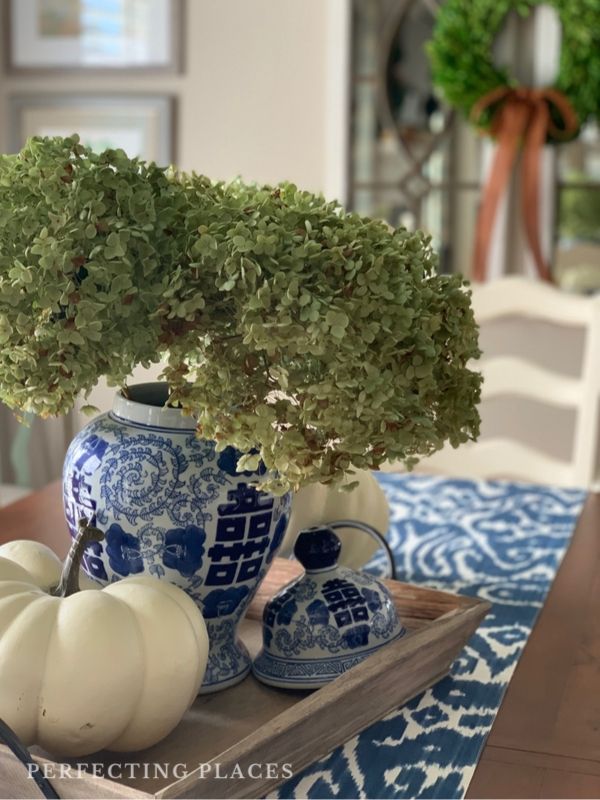 17. Use blue and white ginger jars for your centerpiece.
Whether you simply group a trio of vases together on your table, or use one as a large vase. This blue and white Chinoiserie look elevates your table decor. Add dried hydrangeas and white pumpkins for a simple, yet elegant look.
Create an Easy Thanksgiving Centerpiece with These Favorite Finds:
It's easy to create a DIY table centerpiece when you have the right items on hand. Keeping a supply of basic vases, vessels, baskets, trays, florals and faux pumpkins and gourds makes it super easy to whip up a simple thanksgiving tablescape in no time! These are some of my favorites.
My Favorite Things for Creating Easy Centerpieces
For more fabulous Thanksgiving or seasonal decor ideas and resources visit my Amazon Store and be sure to follow.
If you're hosting Thanksgiving or any fall gathering, I hope these ideas and resources help inspire you to create a beautiful and easy centerpiece for your guests.
Happy hosting!!
Pin this idea for later!!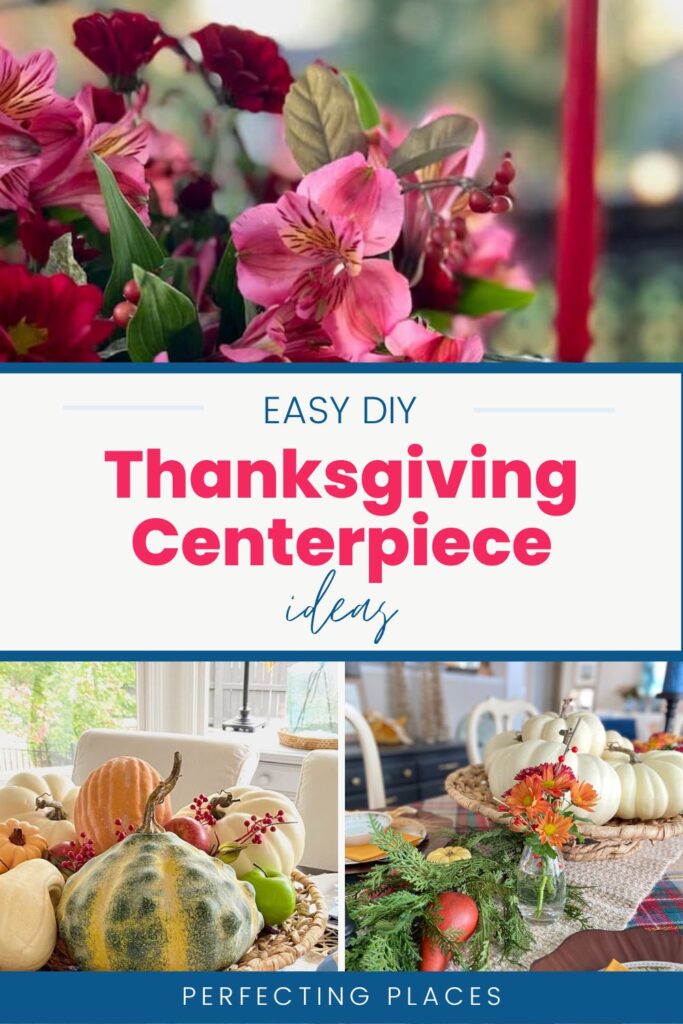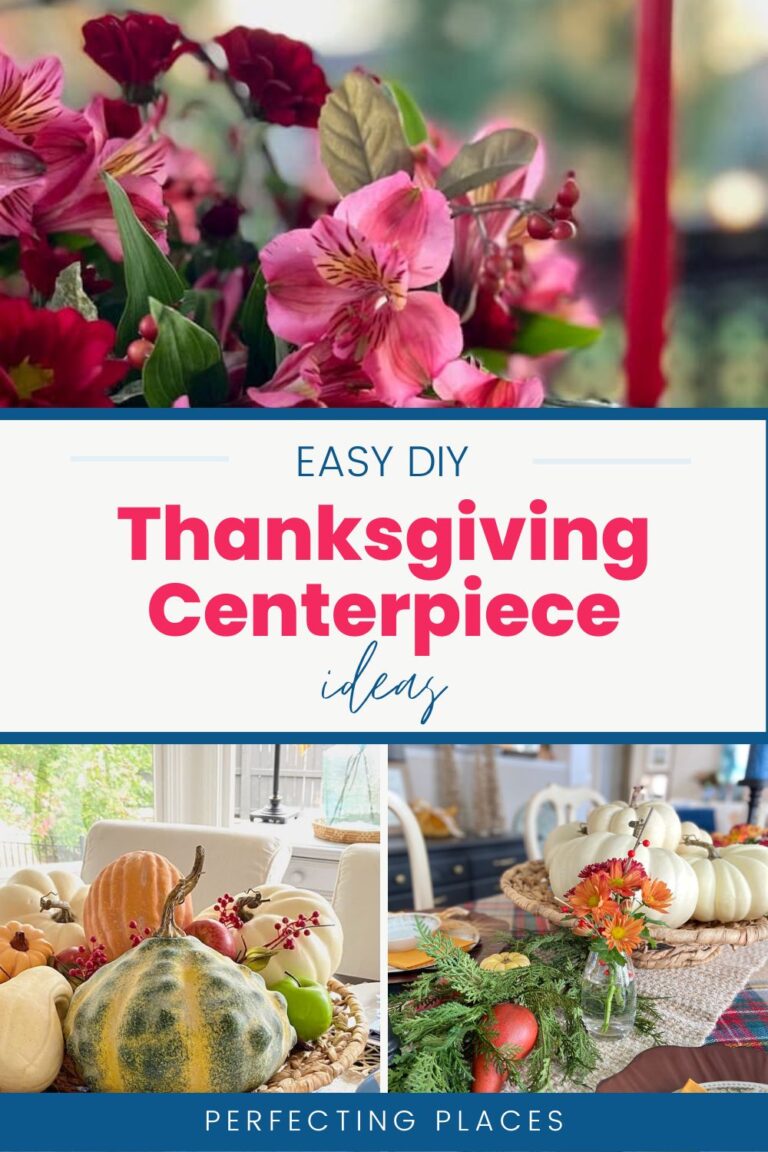 By the way, do you follow me on all the socials?? If not, check out my Pinterest, Instagram, and Facebook and be sure to follow me on all the socials so you don't miss out on any of my decorating and DIY ideas!