The Best Kitchen Rug Runners for Your Color Scheme
A rug is a great place to start when creating a color scheme for your kitchen. I'm sharing the best kitchen rug runners and paint color combos to try in your home.
It can be overwhelming to make decorating decisions about your kitchen when there are so many design options available. Even if you aren't completing an entire kitchen remodel, you can make a big statement by changing the paint color and adding an area rug or runner in your kitchen. These rug runners and paint color combinations are a great starting point if your kitchen needs a quick refresh.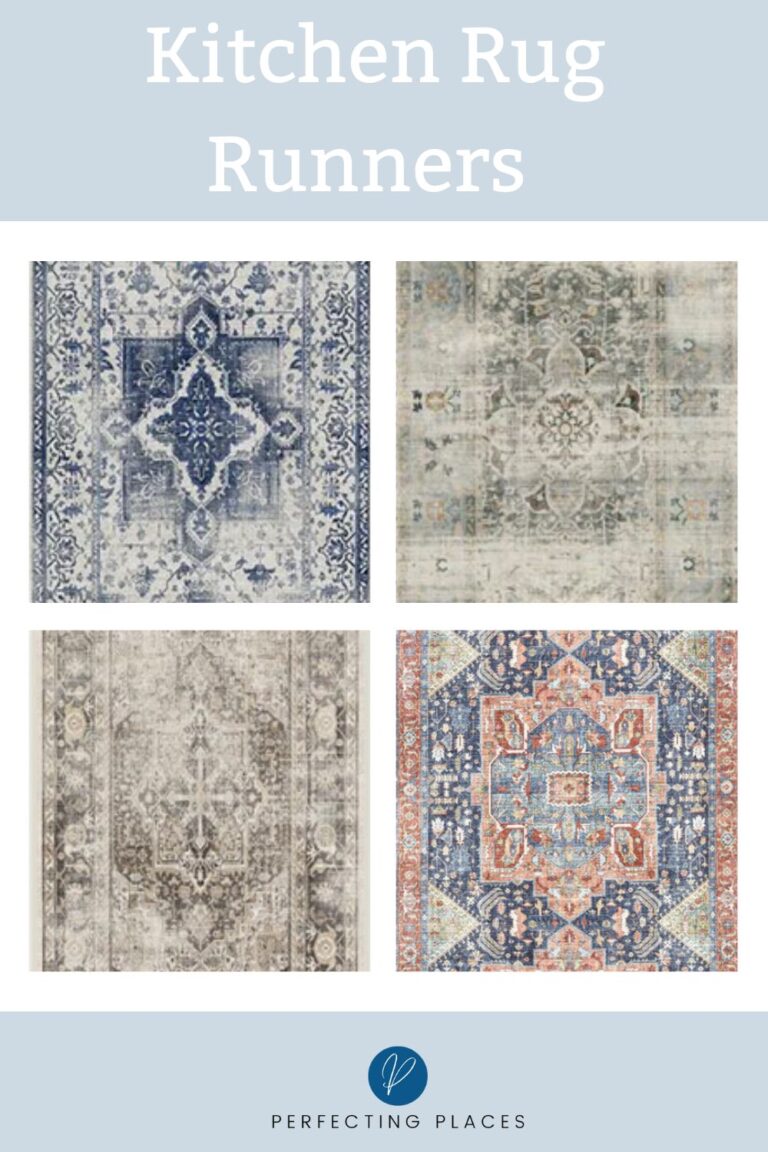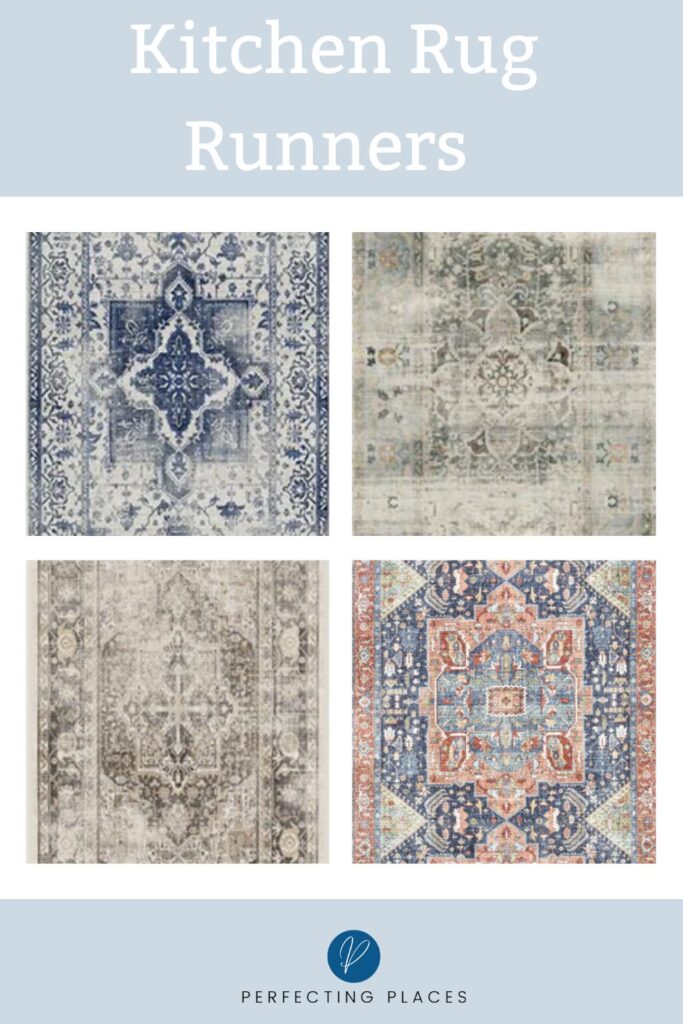 (This post contains affiliate links, so I may earn a small commission when you make a purchase through links on my site at no additional cost to you. As an Amazon Associate I earn from qualifying purchases.)
One of the things I love to do is help clients and readers make simple and inexpensive decor changes that make a big impact.
Sometimes a room just needs a little update. Not every project has to be an all-out whole room renovation. A little paint and a new rug can go a long way toward making a room feel new again.
If you need a good jumping off point for a kitchen refresh, a pretty rug is a great place to start.
A kitchen runner is an inexpensive way to add color, pattern, and texture to your kitchen.
Things to Consider When Purchasing a Runner for Your Kitchen:
There are a few things to consider when deciding on the perfect rug runner for your kitchen. Kitchens are busy work spaces and high-traffic areas so you definitely need a durable kitchen runner that can handle lots of traffic and is easy to care for. You'll also need to consider the size of rug you need as well as the best location in your room.
What is the purpose of a kitchen runner?
Kitchen runners serve several purposes in your room. First and foremost, they add gorgeous color and pattern. A rug can really set the tone and feel you want to achieve in your space.
Runners provide a soft place to stand when preparing meals and cleaning up, especially if paired with a cushioned rug pad underneath. They also can protect your hardwood floors from spills and puddles, particularly around your sink.
What kind of runner is best for kitchen areas?
Rugs with patterns help to hide any spills which might occur in a busy traffic area like your kitchen.
Washable kitchen rugs are a good choice for your kitchen floor because they can easily be cleaned in the washer. There are so many beautiful machine washable runners options available to choose from.
What is a good size for a kitchen runner?
The width of rug runners usually ranges between 24 – 36 inches. Runners come in various lengths ranging from 8 – 14 feet, and many styles offer multiple lengths to choose from.
The size you need depends on the size of the area you're placing the rug. If you're placing the rug in a narrow area, make sure you leave at least a couple of inches of the wood or tile floor showing around the rug.
Where should a runner be placed in a kitchen?
If you have a long run of cabinets, centering a runner along the base of the cabinets is a great look.
If you have a narrow galley style kitchen, you can use a runner between the two sides of cabinets.
It's also a great look to add a runner between a run of cabinets and a kitchen island.
Keep in mind the areas of your floor you would like to protect, such as the area in front of the sink. I think it's handy to have a rug between the sink and dishwasher to catch all of the dripping water from loading the dishwasher.
---
Shop These Great Runner Options

---
Some Great Rug Runner Looks for Your Kitchen
While the function of your runner is very important in your kitchen, you certainly don't want to neglect its form. Adding a rug to your kitchen provides the perfect opportunity to inject some style and flair, brighten up a space, and add pretty color and pattern.
A lot of my readers and decorating clients just need a jumping off point to start decorating a room, and a beautiful rug can certainly serve that purpose!
If you need a little color and design inspiration for a kitchen update, this is your lucky day! I've paired some great runner options with gorgeous coordinating kitchen paint color palettes below. All of these runners are machine washable, which makes them perfect to use in the kitchen!
A Blue Kitchen Color Palette
I love a gorgeous blue and white kitchen, in fact this is the color scheme in our own kitchen.
Jump start your kitchen refresh with this gorgeous Kyra Delft Blue washable runner. It's such a classic look for a kitchen.
I've paired it with the following Sherwin-Williams paint colors: Pure White (SW 7005), Indigo Batik (SW 7602), and North Star (SW 6246).
A Pretty Neutral Kitchen Color Scheme:
If you love a neutral look for your kitchen, the runner below provides a lovely rich look.
This Kamran Hazel rug with it's elegant Persian look is paired with Alabaster (SW 7008), Peppercorn (SW 7674), and Accessible Beige (SW 7036) for a sophisticated neutral look in your kitchen.
A Splash of Color in Your Kitchen:
Spice up your kitchen with a splash of color with this pretty runner and paint color combo.
I'm in love with this gorgeous multicolor Exira washable rug runner! Pair it with Sherwin Williams Pure White (SW 7005), Indigo Batik (SW 7602), and Conservative Gray (SW 6183) for a fresh and fabulous look!
A Sage Green Kitchen is Certainly On-Trend:
Create a cozy and serene feeling in your kitchen with this sage green color palette.
This Sarrah runner in this sage colorway is perfect with Pure White (SW 7005), Indigo Batik (SW 6186), and Conservative Gray (SW 6183).
For more favorite Sherwin-Williams paint colors you might enjoy this post.
I hope this post inspires you to inject some new color and pattern into your kitchen. The runners are a great starting point, and I hope you find the color palettes helpful. Most of these runners some in larger rug sizes as well, so if you like the rug/paint color combo you can apply these designs and colors to any room.
Thanks so much for stopping by, and happy decorating!!
Pin this idea for later!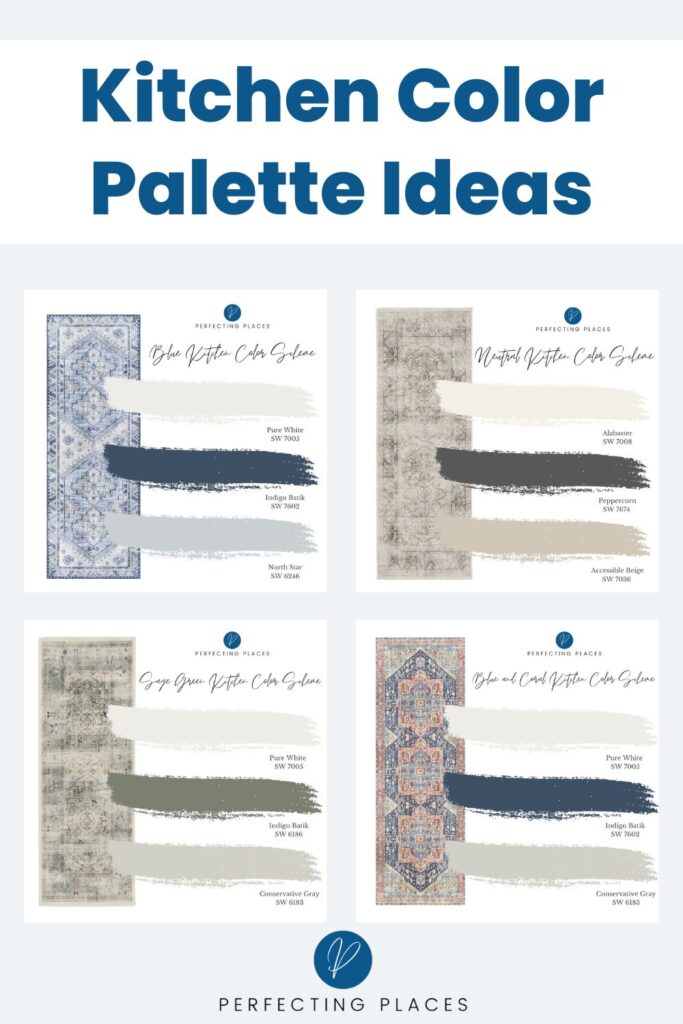 By the way, do you follow me on all the socials? If not, check out my Pinterest, Instagram, and Facebook and be sure to follow along so you don't miss out on any of my decorating and DIY ideas.