My Readers' Top Ten Favorite Blog Posts of 2022
It's hard to believe another year is coming to a close! I am so grateful for all of you who read, follow, comment, support, and help make this blog what it is!! I thought it would be fun to share my reader's top ten favorite blog posts of 2022 — just in case you missed one!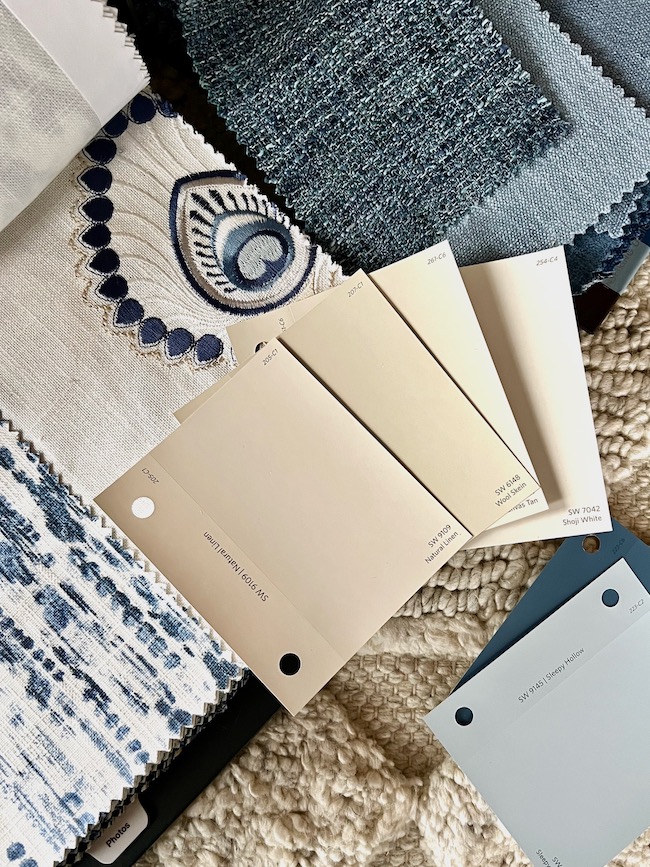 1. My Favorite Fresh Warm Neutral Paint Colors
This post continues to get LOTS of attention! Warmer neutrals continue to trend, and this is a great resource if you have an interior paint job coming up this year!
You can read the post here.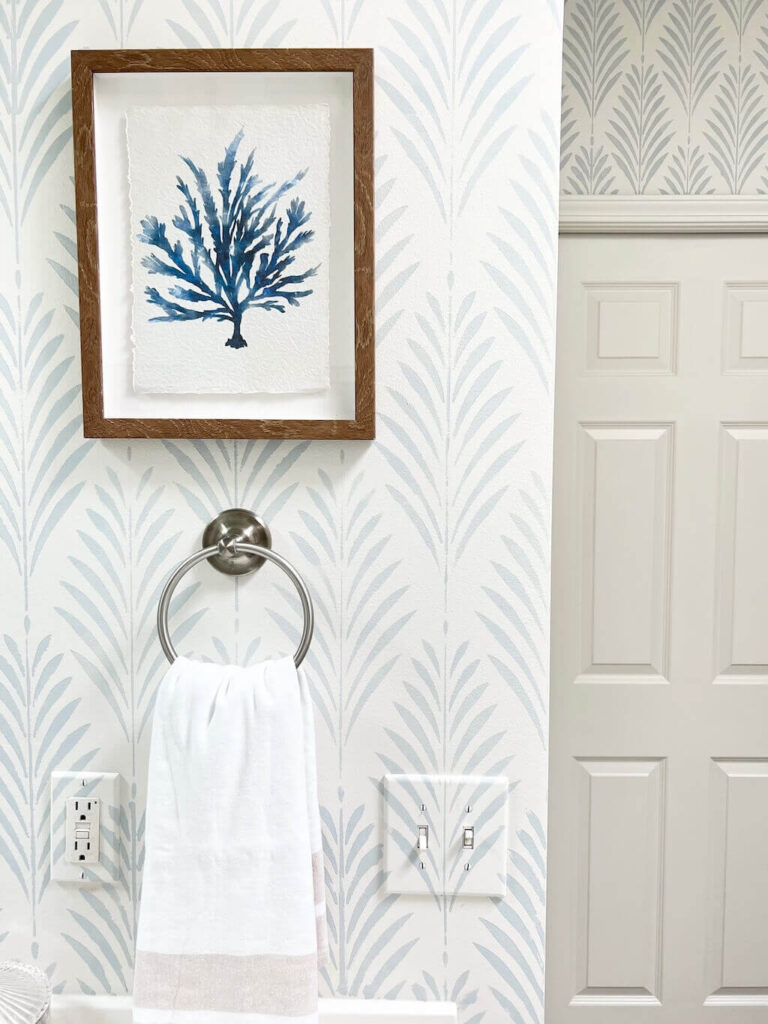 2. Beautiful Bathroom Makeover on a Budget: Our One Room Challenge Reveal!
Our Spring One Room Challenge project was a lot of work, but yielded amazing results on a very small budget. The stenciled walls really transformed the room!
You can see the transformation here.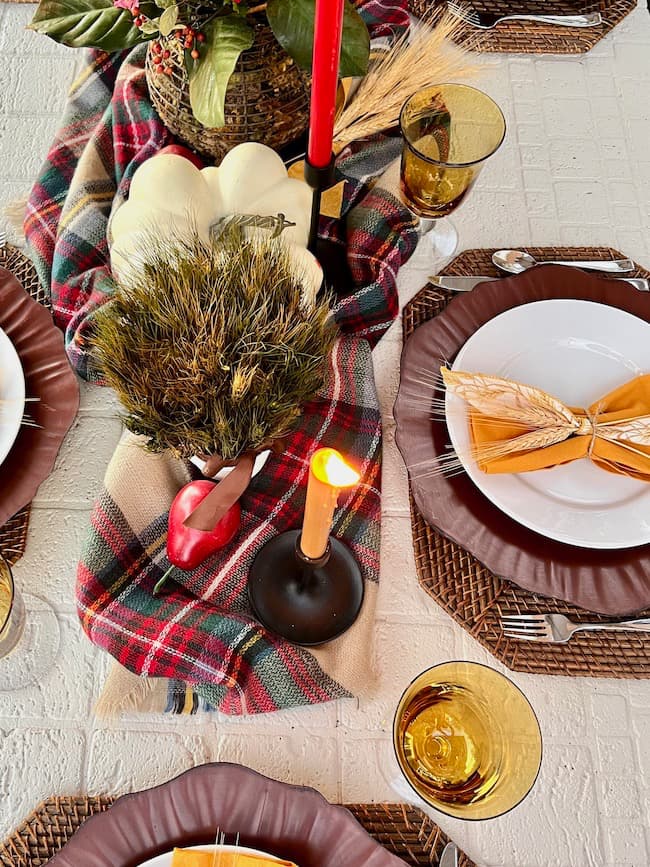 3. Set a Beautiful Table with these Thanksgiving Table Runner Ideas
I loved how this outdoor tablescape turned out on our newly painted patio table! The scarf made a gorgeous centerpiece for fall.
You can read the post here.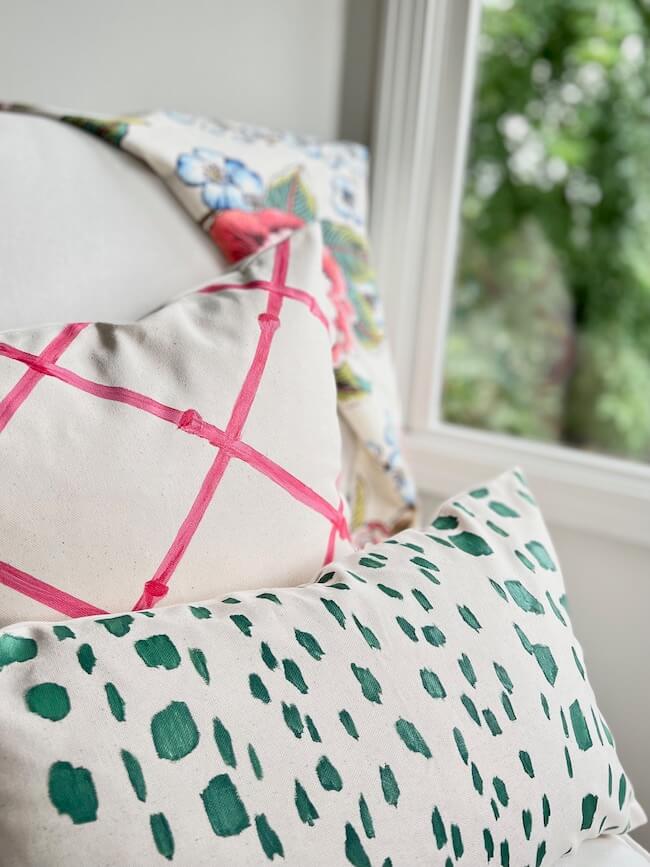 4. A Pretty Summer Throw Pillow DIY
These hand-painted throw pillows were so easy and fun to make! I loved this designer-look-on-a-budget project, and so did my readers!
You can read how I painted them here.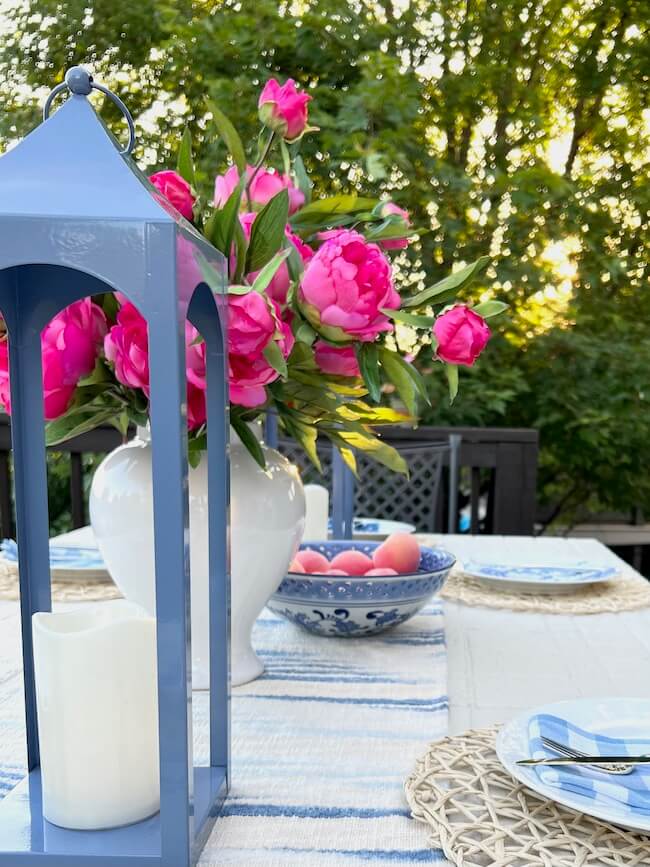 5. A Simple Patio Table Makeover for Summer
You have to see the before of this table in this post! It was quite a transformation, and I just love how it turned out!
You can read the post here.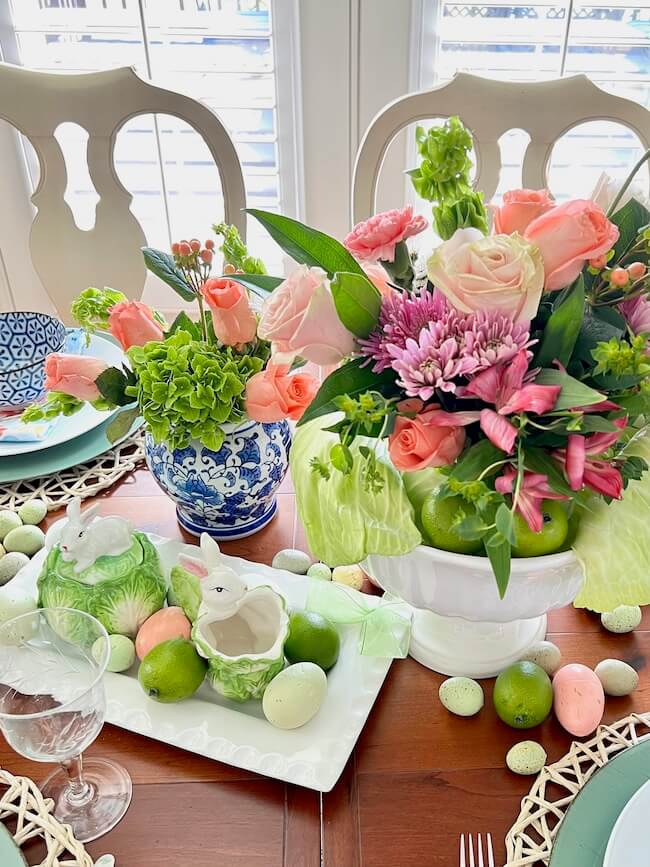 6. How to Set an Easter Table — Our Easter Table Decor
Our Easter table was fresh and full of lots of pink, green, and coral color in a cabbage centerpiece!
You can see the post here.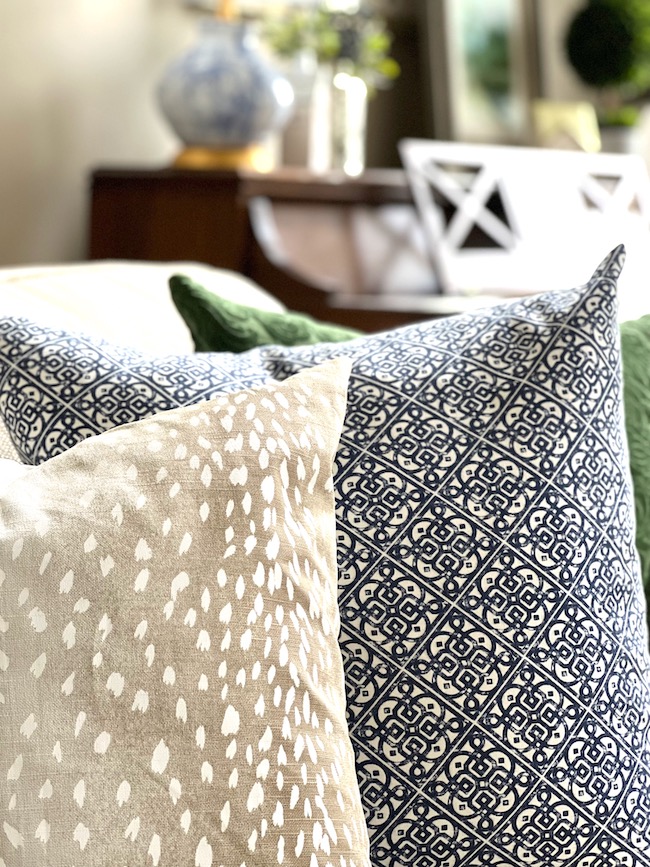 7. DIY Antelope Print Pillows for the Living Room
I love our antelope print pillows, and use them in so many places! The subtle print adds great texture while still acting as a neutral in your space.
You can see how to make them here.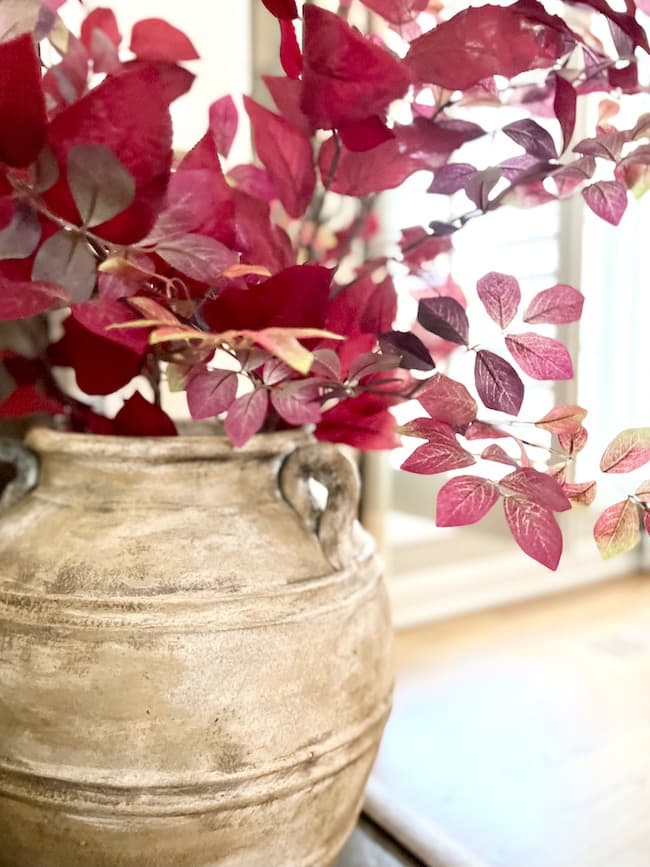 8. Paint a Vase for a Fall DIY Makeover
This is one of my personal favorite DIY projects of the year! A tired old urn was given a "Pottery Barn" look with a little paint and a surprising ingredient!
You can read the post here.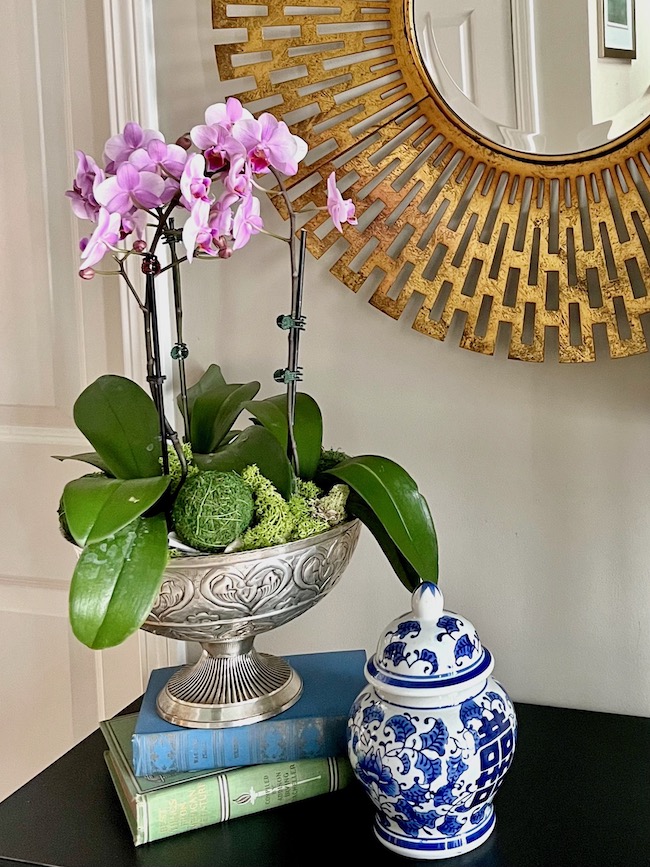 9. Decorating with Orchids Three Ways
I love orchids all year long, and I shared three ways to make easy orchid arrangements in this post.
You can read the post here.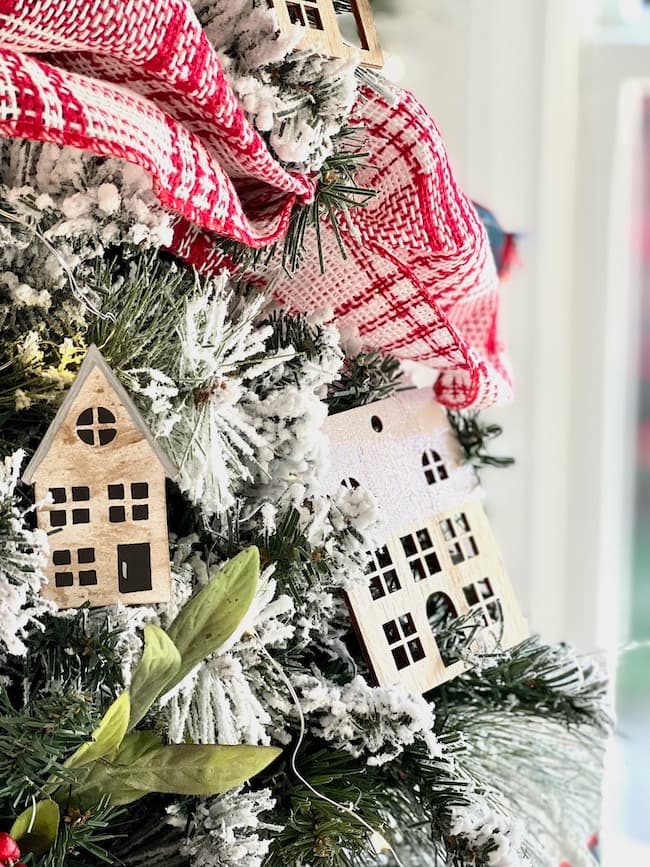 10. DIY House Ornaments for a Kitchen Christmas Tree
This very simple little Christmas ornament DIY was a huge favorite, and they are so easy to make!
You can see how I made them here.
I hope you enjoyed this little journey back through the year! Which was your favorite? I'd love to hear in the comments!
Thanks for being an amazing reader! Here's to lots more fabulous posts and projects in 2023.
Have a very Happy New Year!
By the way, do you follow me on all the socials?? If not, check out my Pinterest, Instagram, and Facebook and be sure to follow me on all the socials so you don't miss out on any of my decorating and DIY ideas!