Elegant Autumn Decor: A Fall Home Tour with Jewel Tones
Add a touch of elegance to your autumn decor. Explore our fall home tour with jewel tones and get inspired to refresh your space with rich color.
Is fall your favorite season? Join me as I walk you through each room, sharing my favorite decor tips, simple ideas, and the special touches that make a house feel like home. Whether you're a seasoned decorator or just looking for some fresh ideas, there's something here for everyone to fall in love with.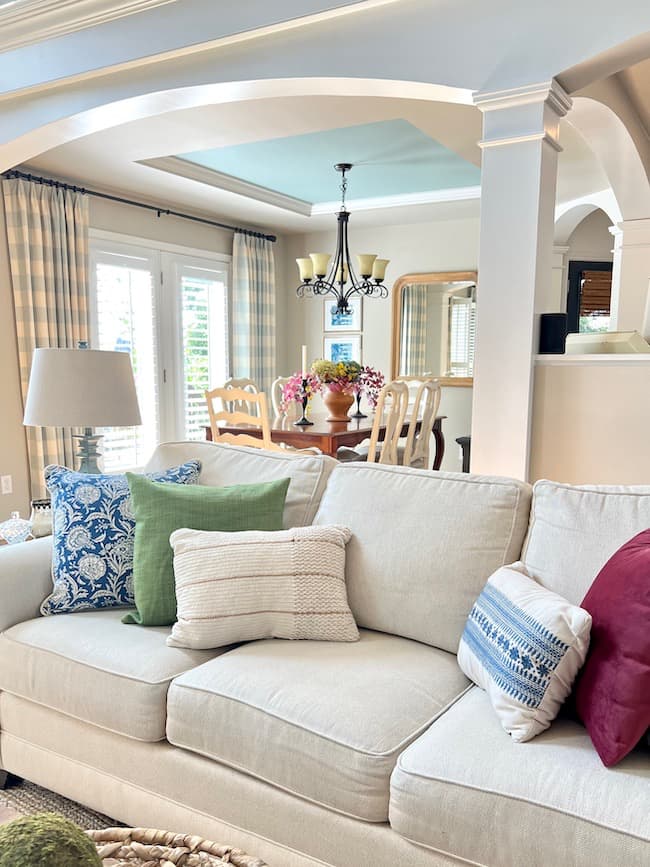 (This post contains affiliate links, so I may earn a small commission when you make a purchase through links on my site at no additional cost to you. As an Amazon Associate I earn from qualifying purchases.)
Welcome to my Fall Home Tour! I feel a little behind this year getting everything decorated for fall, but now that it's finished I'm loving all the gorgeous fall color in our home.
Every year I have a hard time deciding what pretty fall colors I want to incorporate into our home for the season. There are just so many lovely colors to choose from!
This year I've been drawn to rich jewel tones, and love the pretty burgundies, greens, golds, and of course blues!
Jewel tones are enjoying a revival in home decor, so I decided to lean into this rich color scheme for fall.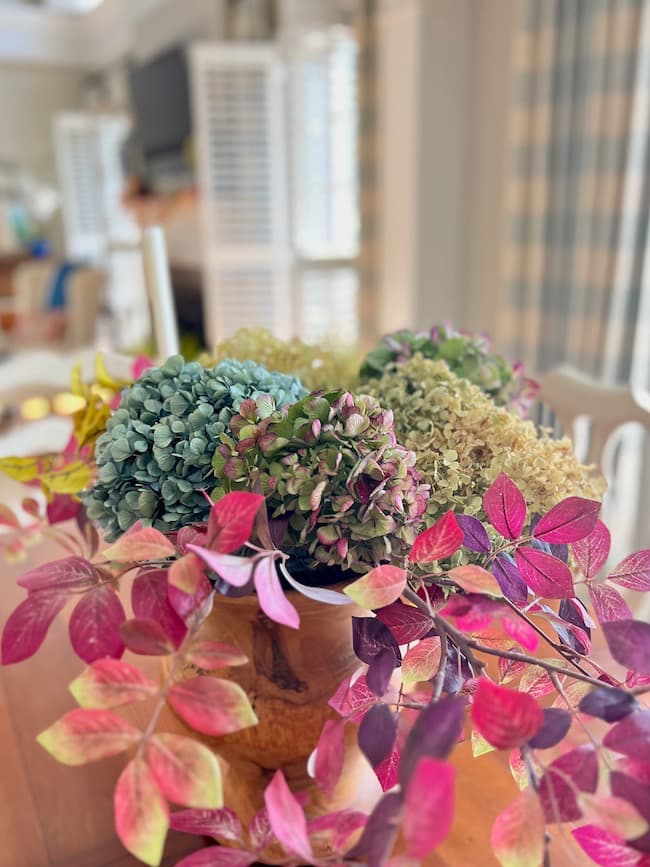 What Are Jewel Tones?
Jewel tones are deeply saturated, rich hues that are inspired by gemstones. Think of radiant emerald green, luxurious sapphire blue, rich ruby red, and opulent amethyst purple. These colors are deep and intense, reminiscent of precious gems, and they can bring a touch of sophistication and elegance to any space. These lovely jewel tones are particularly enchanting when incorporated into fall decor.
Fall is a great time of year to introduce this new color trend into your home.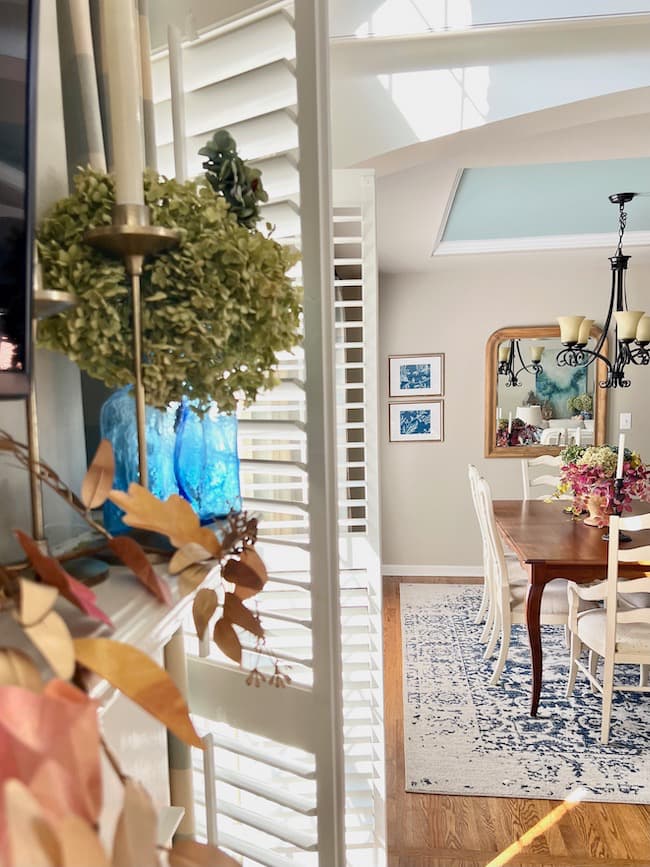 Adding jewel tones into your decor doesn't have to be overwhelming or costly. Accent your space with sapphire blue throw pillows or an emerald green vase filled with fall foliage. Add golden topaz, deep amethyst, or ruby red candles to your dining table. You'll find many fall blooms in these luxurious colors.
It's on trend to wrap a room in one of these deep jewel tone colors for a dramatic and moody look, but you can also inject them into a mostly neutral backdrop like mine. When balanced with neutral tones in your home, and complemented with the right accessories, jewel tones can create a harmonious and inviting living space perfect for the fall season.
This was my exact approach this year for our fall decorating! I love all of the rich colors for fall, but also like a nice balance of neutrals to provide a restful backdrop to the color.
​Our Fall Home Tour:
I'm delighted you're joining me today for this tour of our home. It's so special to create a welcoming space for friends.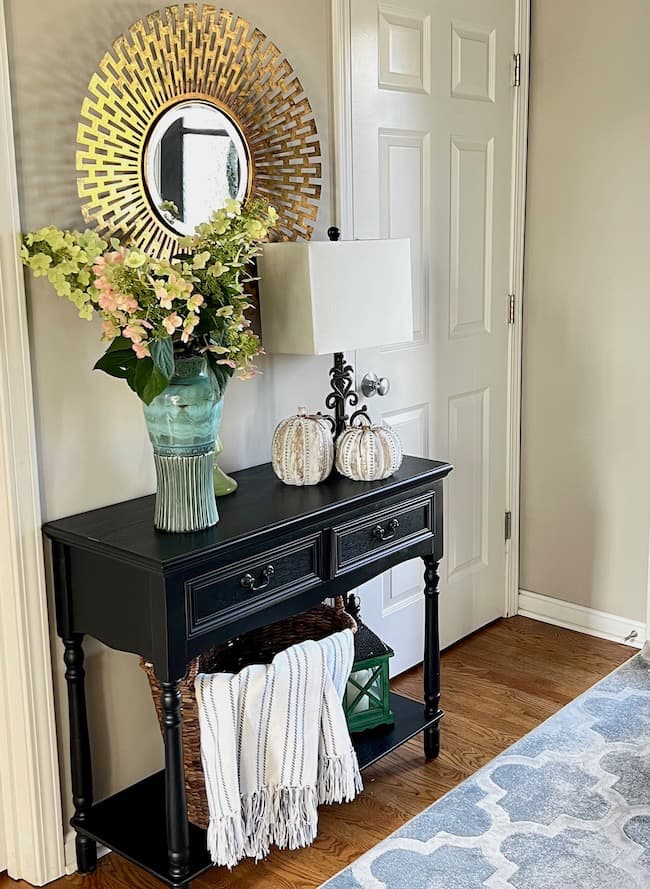 ​Fall in the Foyer
The foyer is the perfect starting point for our tour! It seems appropriate to begin your visit in the entryway of our home! I shared all about how I decorated our entry table for autumn in this post.
This is the first year I've incorporated these blooms from our landscape into our fall decor. These blooms are a variety of hydrangea, although I'm not sure what kind. They're conical in shape, but much larger than Limelights. They also have a bit of a lace cap which is different as well.
​They do, however, have a similar color to limelight hydrangeas as they fade into fall. I love the soft blush color that develops as the white blooms fade, and they're perfect for our fall decor.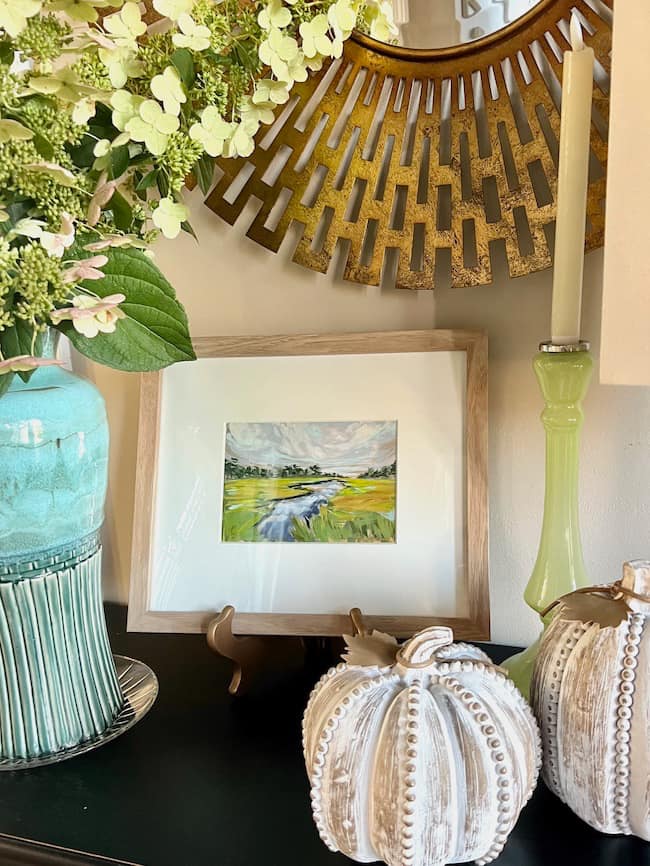 One new addition to our foyer table is this beautiful art print by Candace Carrol Art. I love framed print on the table for a touch of vibrant color.
A tall green candle holder and a pair of wooden pumpkins round out the fall look on the top surface of the table.
On the lower shelf, I added a striped blanket throw to a large basket and added my favorite green lantern.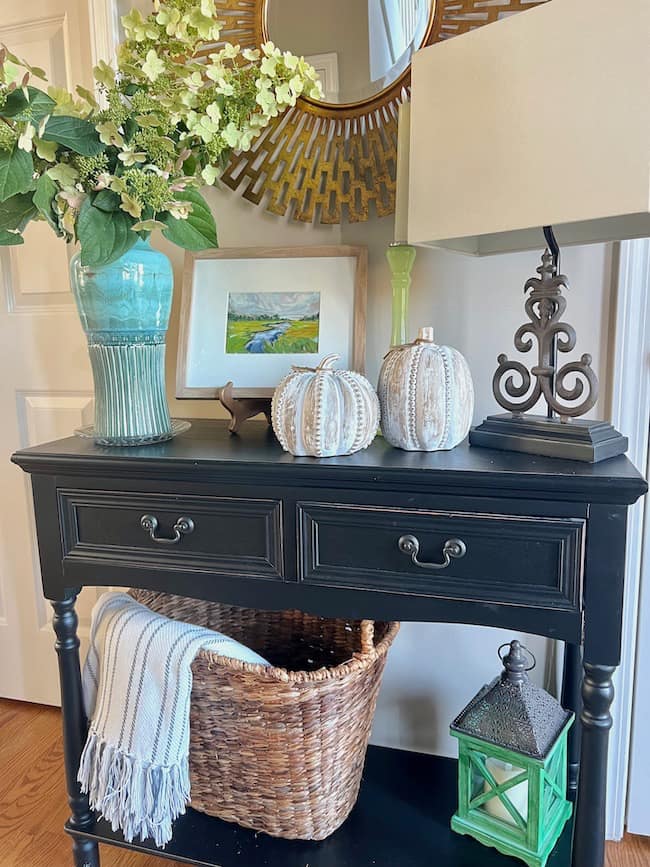 The turquoise vase, deep green lantern, and rich tones of the art print all work together to create an entryway full of vibrant color.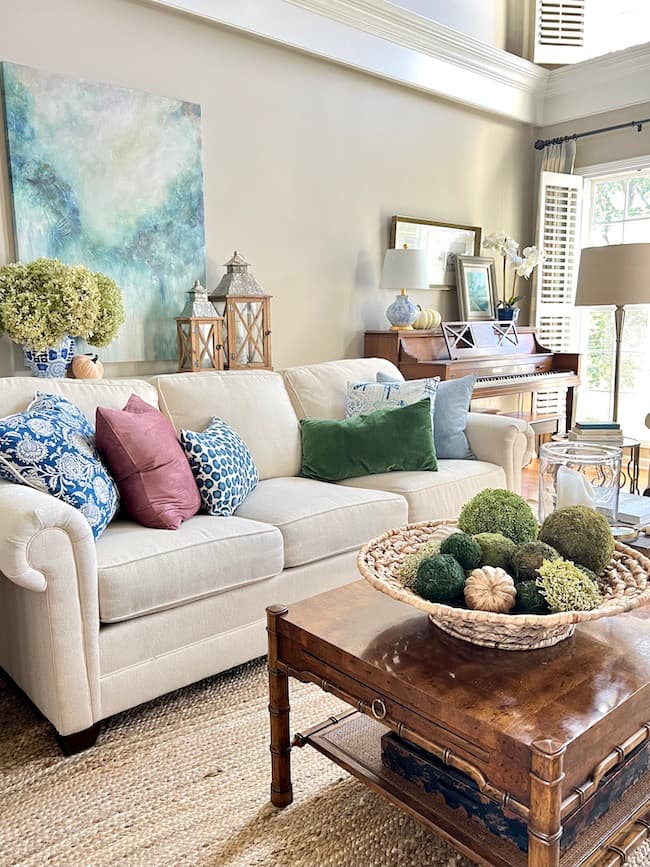 Our Living Room
In our living room, I added velvety texture and rich color with throw pillows in shades of burgundy, deep rose, and green. Our blue printed pillows carry along our blue and white theme amongst all the jewel tones. I also included some nubby woven textures for a cozy fall look.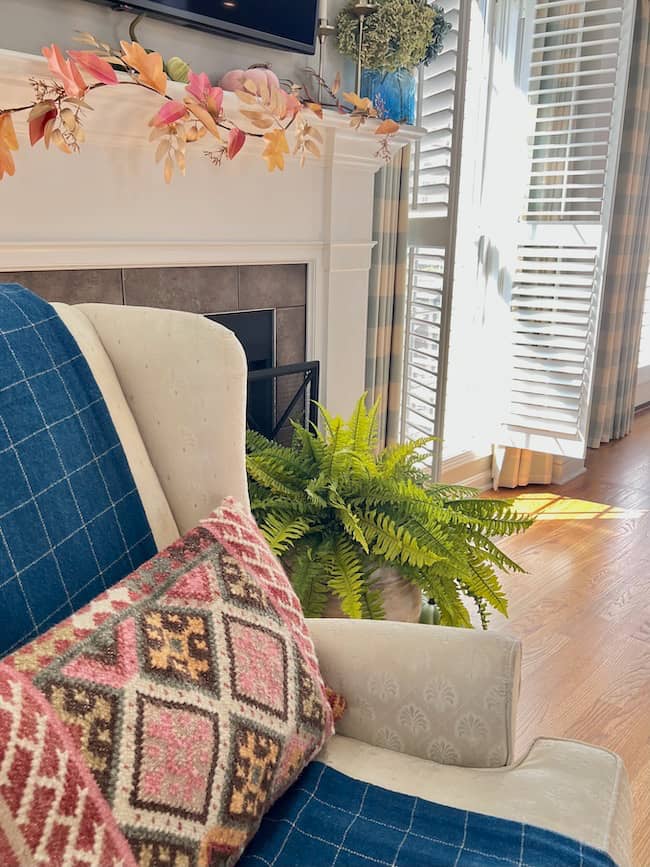 This woven pillow, in a tapestry of fall colors, adds a cozy touch to my favorite spot to read and enjoy a cup of coffee and a little quiet time!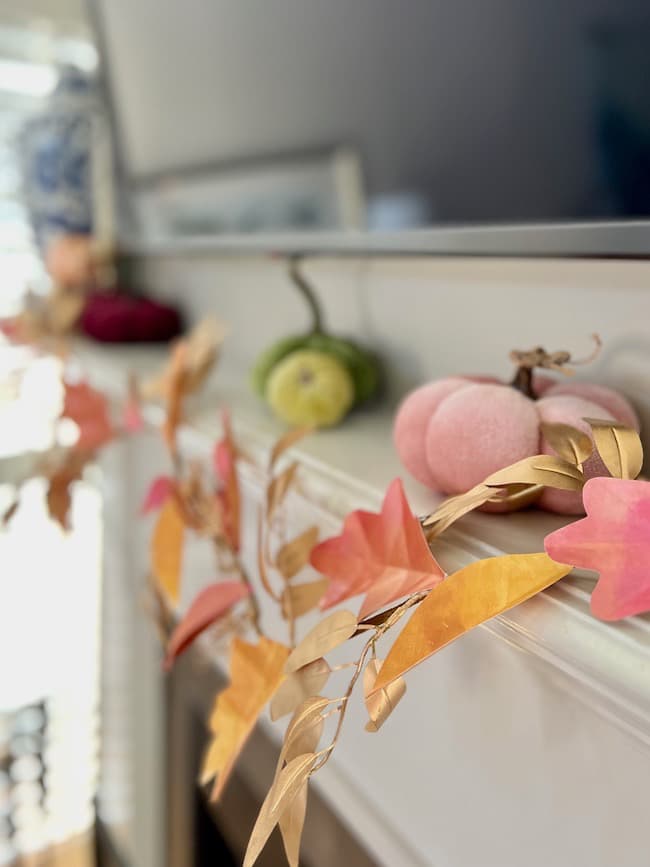 I had so much fun painting and creating the leaves for the colorful fall garland on our mantel. You can read how I created the leaves and added them to an inexpensive Target Dollar Spot garland for a fun fall look.
Velvet pumpkins in shades of burgundy, blush, peach, and green complete the look along with a blue glass vase full of dried hydrangeas from our garden.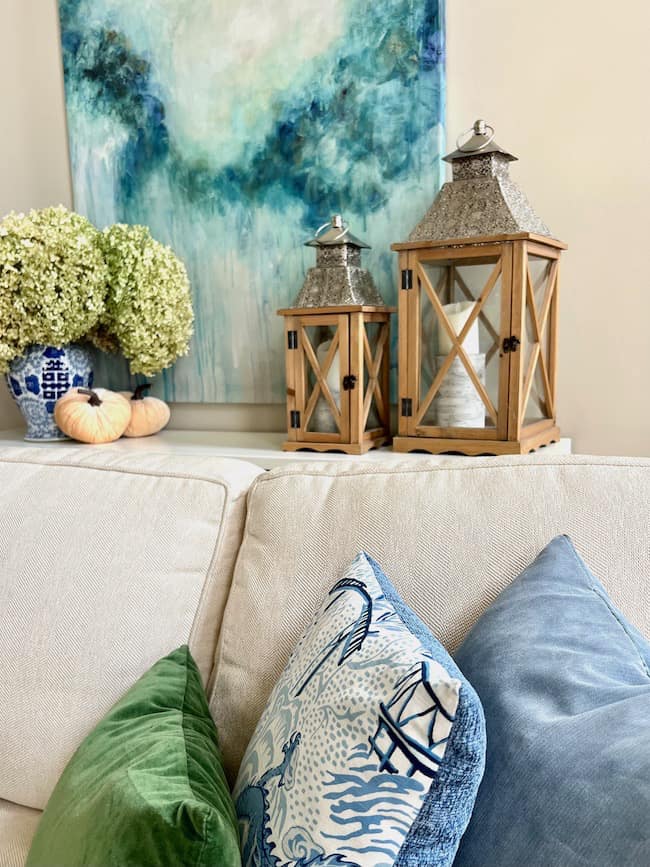 And speaking of dried hydrangeas, an abundance of dried blooms overflows a blue and white ginger jar on our sofa table.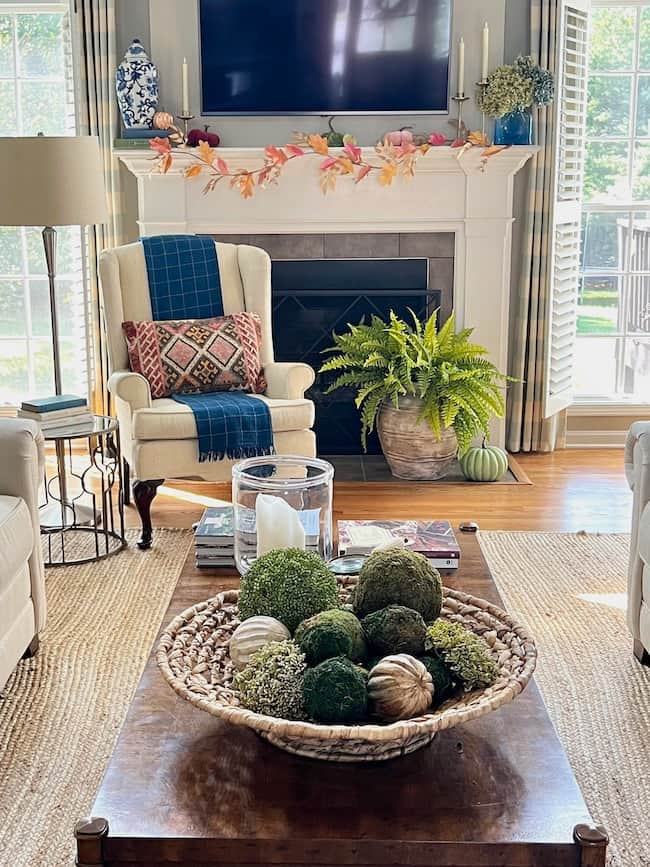 Fall decorating isn't just about creating something pretty to look at. It's also about a creating feeling of fall that invites you into a cozy space to nourish your soul. Our coffee table beckons you to light a candle, put your feet up, and peruse a stack of books from some of my favorite designers for a cozy evening in.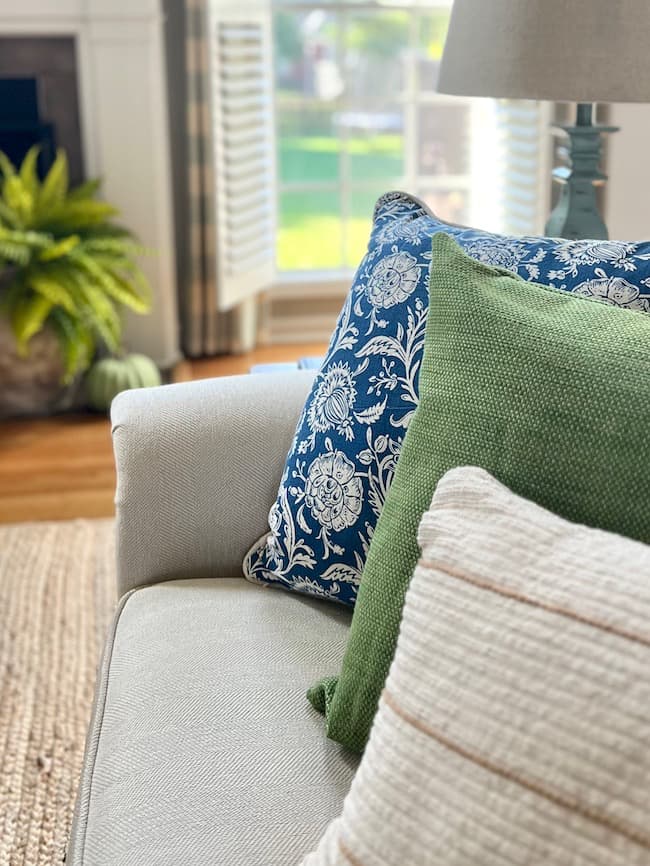 A Cozy Kitchen Tour
In the heart of our home—the kitchen—you'll find a mix of jewel tones and timeless decor to create a space that radiates both warmth and functionality.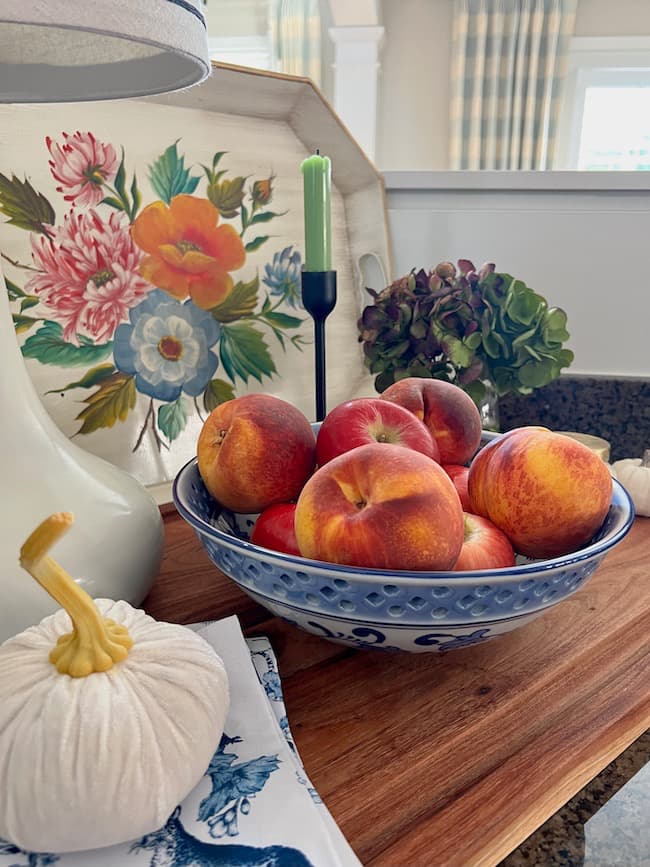 A cozy corner of our counter holds a large cutting board ready for displaying fall charcuteries. A blue and white bowl full of apples and a dried hydrangea in the most gorgeous shades of green and deep purple give off the jewel-tone vibe. My favorite painted tole tray in vibrant orange, deep rose, beautiful blue, and lush green forms a vibrant backdrop for this fall kitchen vignette.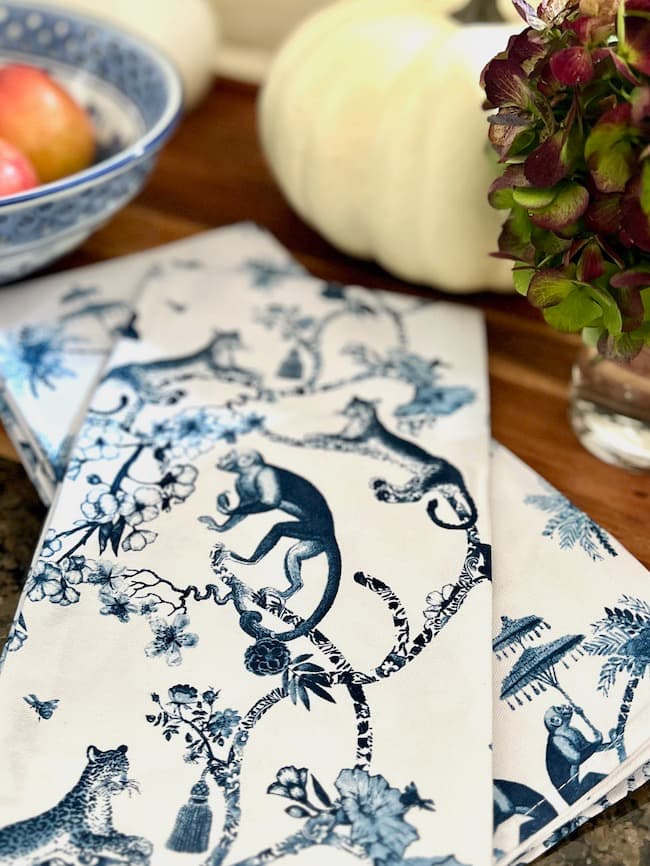 These gorgeous blue and white Chinoiserie napkins add the perfect punch of blue and white to the mix. A blue and white design is always a great choice for injecting a little classic style into your fall decor!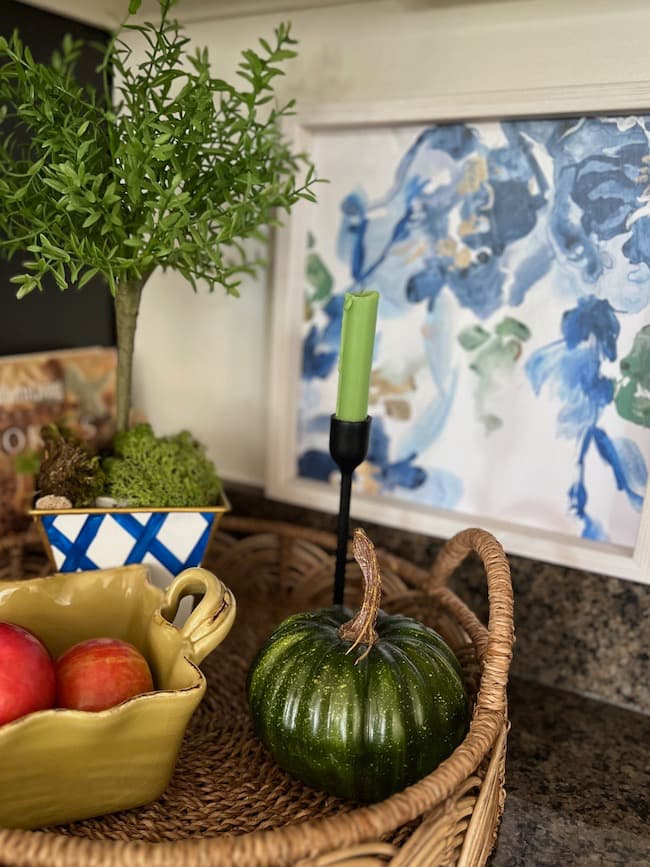 A large round basket corrals seasonal fruits, a cozy candle, and the cutest little faux topiary on our countertop. I painted the blue and white design on the cachepot, and you can read about it here!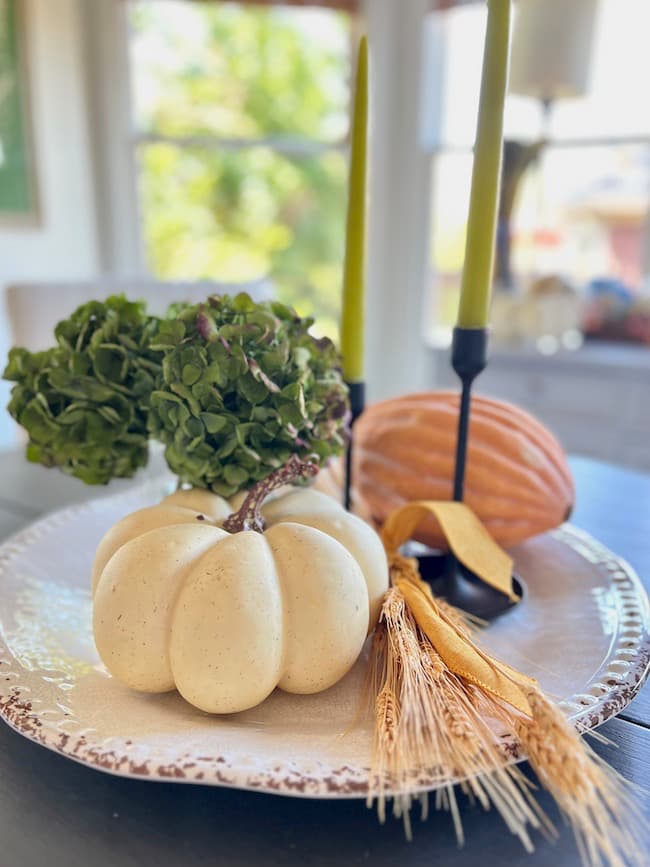 On the kitchen table I added the simplest little centerpiece made up of a large round tray and filled with a vase of drying hydrangeas, faux pumpkins and gourd, and a couple of green taper candles in black iron candlesticks. A sweet little wheat spray wrapped in ribbon provides the finishing touch!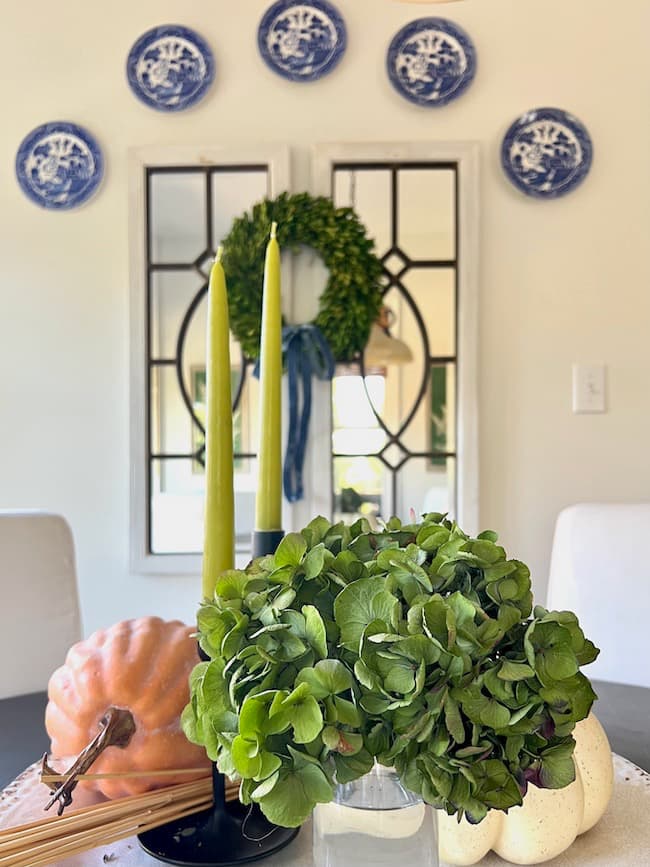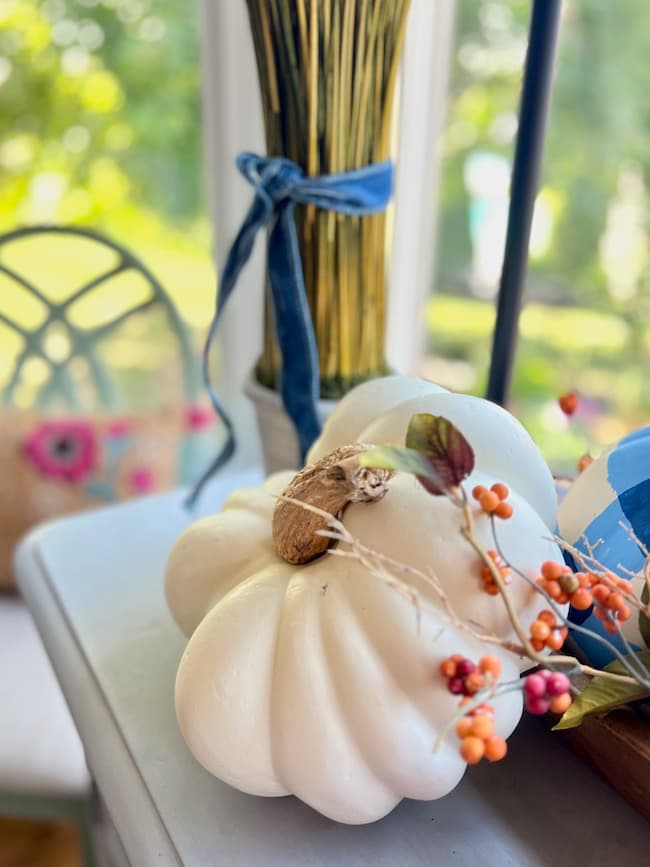 One of the easiest ways to add a touch of fall is to simply add a ribbon — a velvet ribbon to be exact! I added blue velvet ribbons to a boxwood wreath and a pair of wheat topiaries for a festive look. The topiaries flank a dough bowl overflowing with pumpkins and bittersweet.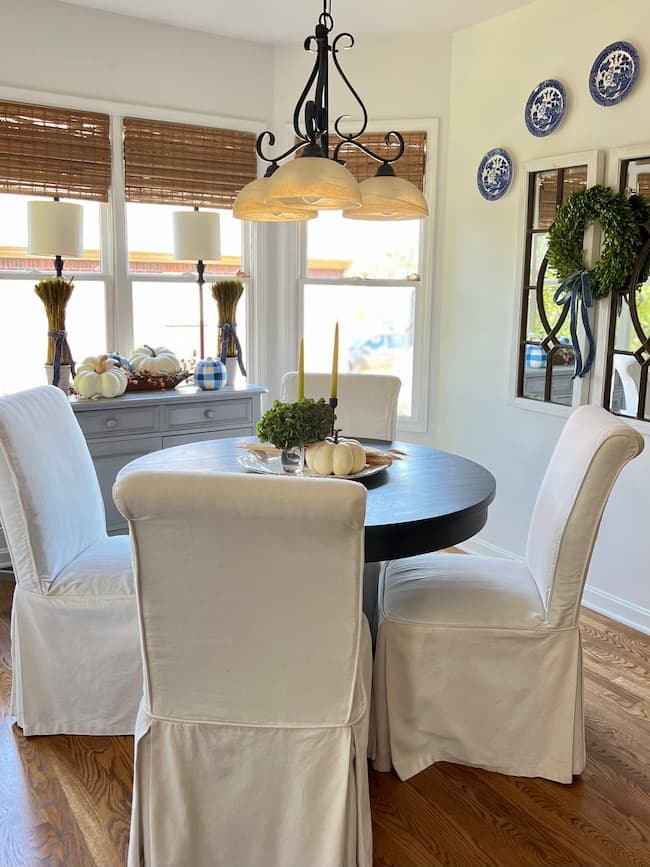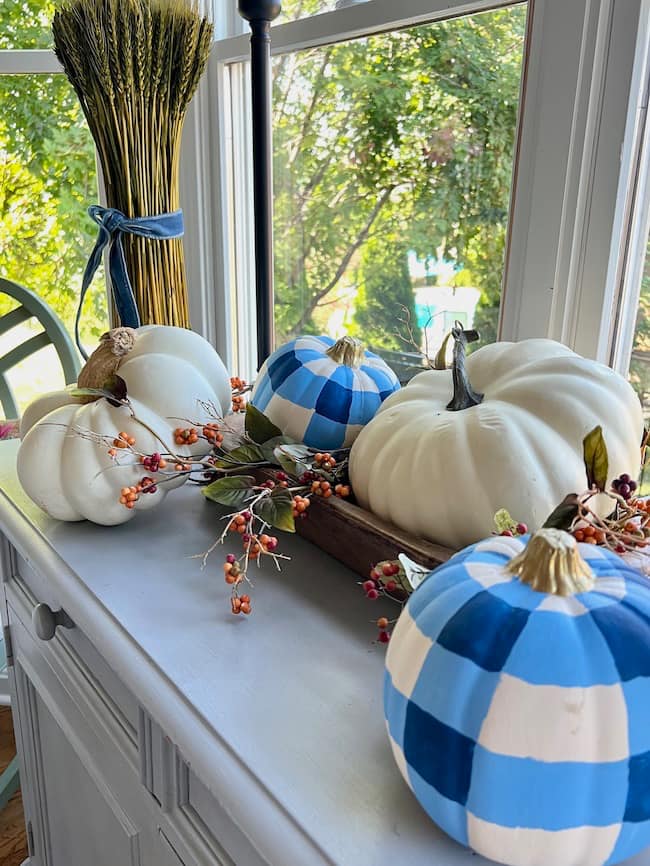 These blue and white buffalo plaid pumpkins are some of my favorite fun decor pieces for the autumn season!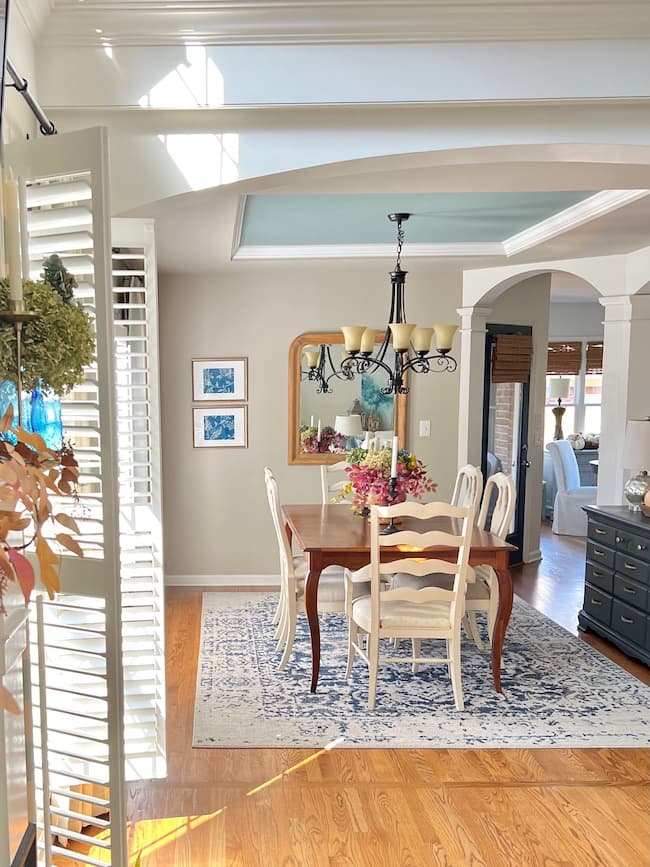 A Dining Room Ready for Fall Feasts
The rich colors of fall are abundant in our dining room.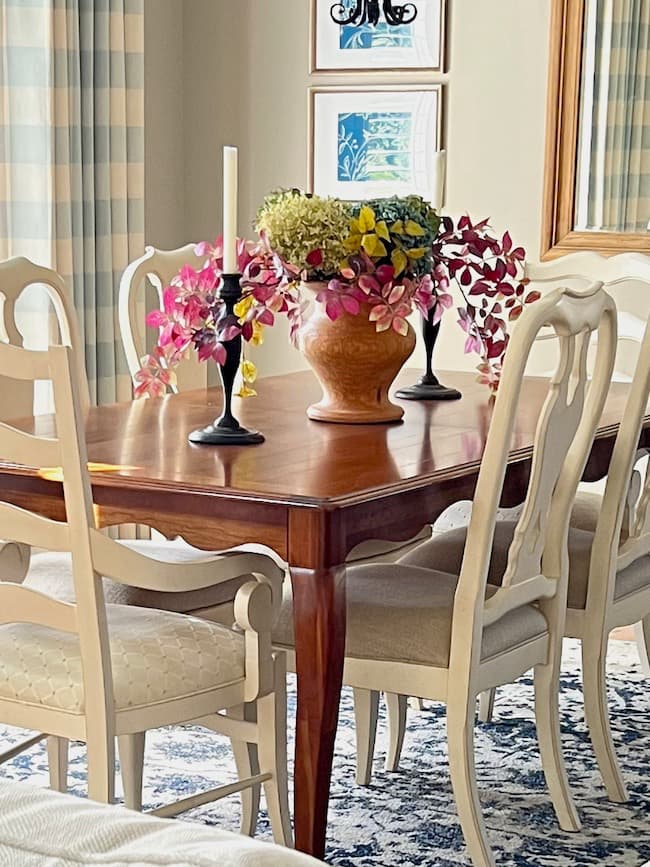 This large wooden turned vase is one of my favorite thrifted finds! Pottery Barn has a vase that's similar in size and shape, but my thrifted version was a fraction of the cost!
I filled my wooden vase with dried hydrangeas in shades of green and blue, and added beautiful faux stems in shades of burgundy and chartreuse. A couple of white taper candles create such a simple yet elegant focal point for our dining room table.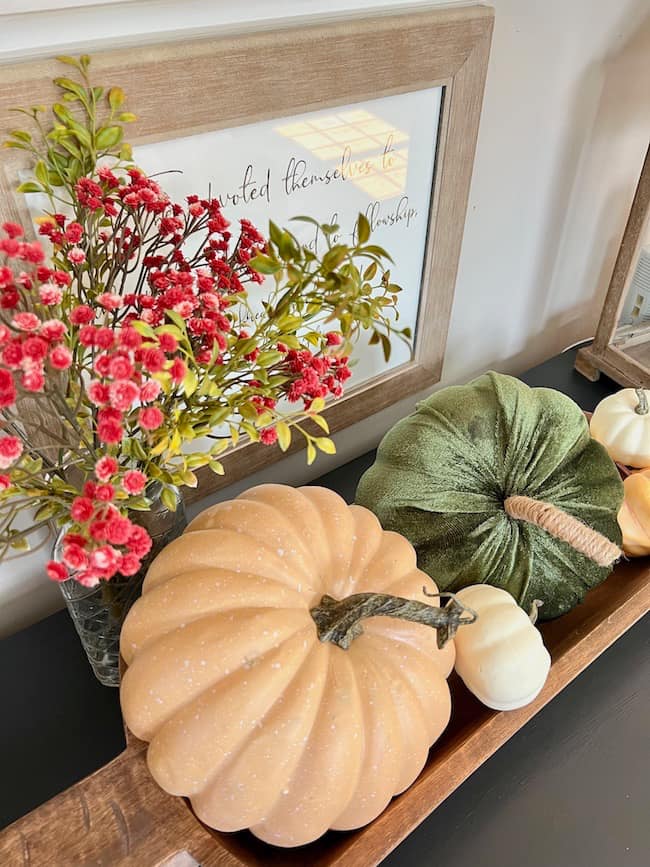 A dough bowl full of pumpkins and a simple arrangement of delicate flowers adds pretty color and fall vibes to the dining room buffet.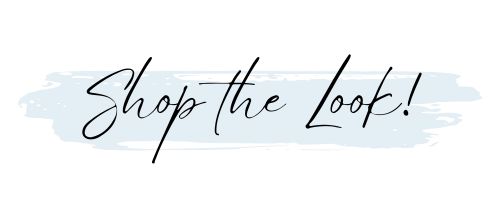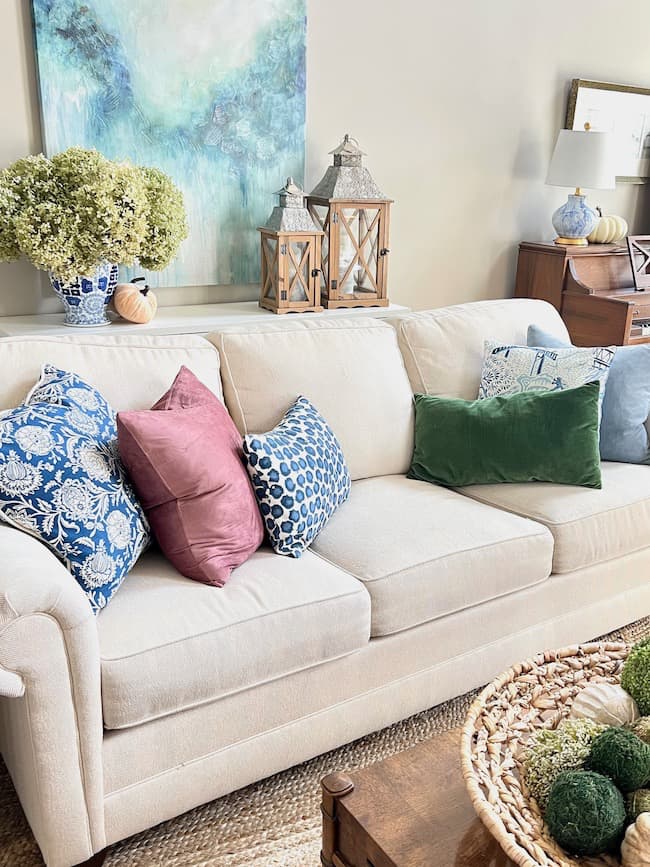 I hope this fall home tour has inspired you to embrace the colors and coziness of fall in your own space.It's heartwarming to see our homes come alive to reflect the cozy charm of autumn. Here's to a season filled with warmth, joy, and memorable moments at home during this favorite time of the year.
Happy Fall!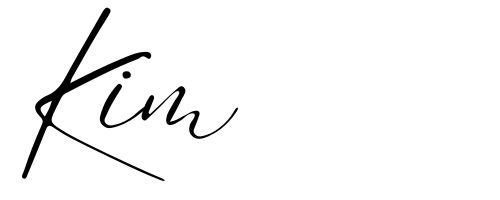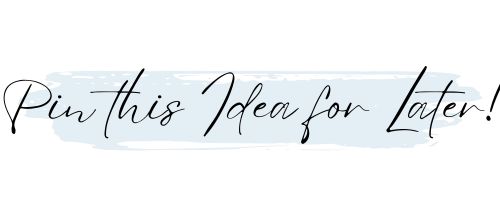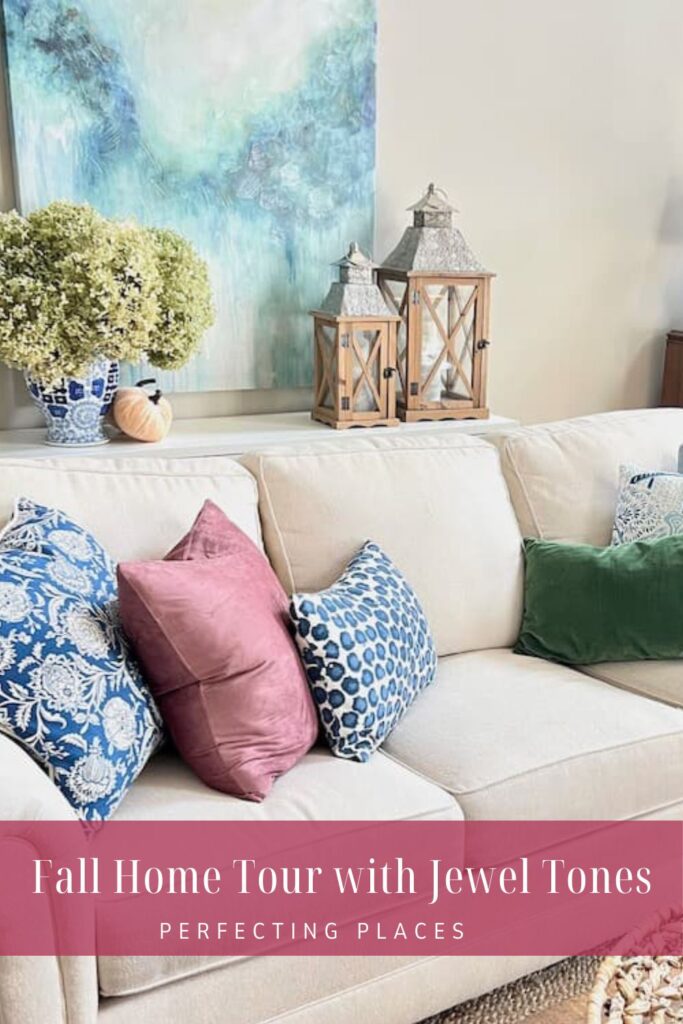 By the way, do you follow me on all the socials? If not, check out my Pinterest, Instagram, and Facebook and be sure to follow along so you don't miss out on any of my decorating and DIY ideas.