An Easy DIY Pinecone Wreath for Thanksgiving       
Would you like an easy fall wreath idea for your front door? This easy DIY Pinecone wreath idea makes a super easy Thanksgiving wreath.
I transformed a simple cream heather wreath from Michael's with pine cones from our backyard for a neutral fall wreath that's perfect for Thanksgiving.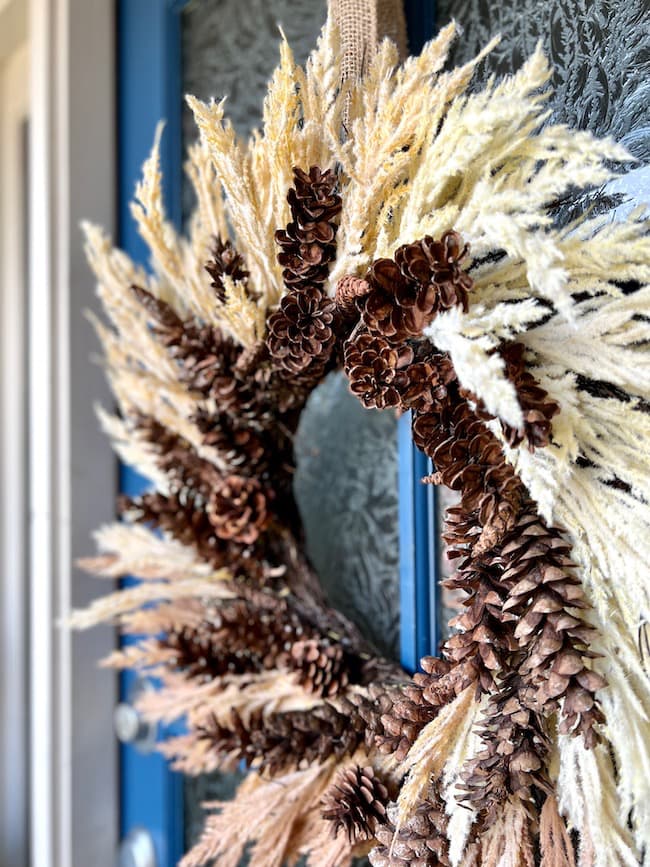 (This post contains affiliate links, so I may earn a small commission when you make a purchase through links on my site at no additional cost to you. As an Amazon Associate I earn from qualifying purchases.)
It seems to me that fall decorating season lasts a long time.
I don't know about you, but our front porch decor sometimes needs a little mid-season refresh to make it through all the fall months.
At the beginning of the season, as we transitioned from summer into fall, I kept some of our bright pink summer impatiens and incorporated them into our fall porch decor. This was our early fall front porch all decked out in vibrant summer colors. Read all about it here!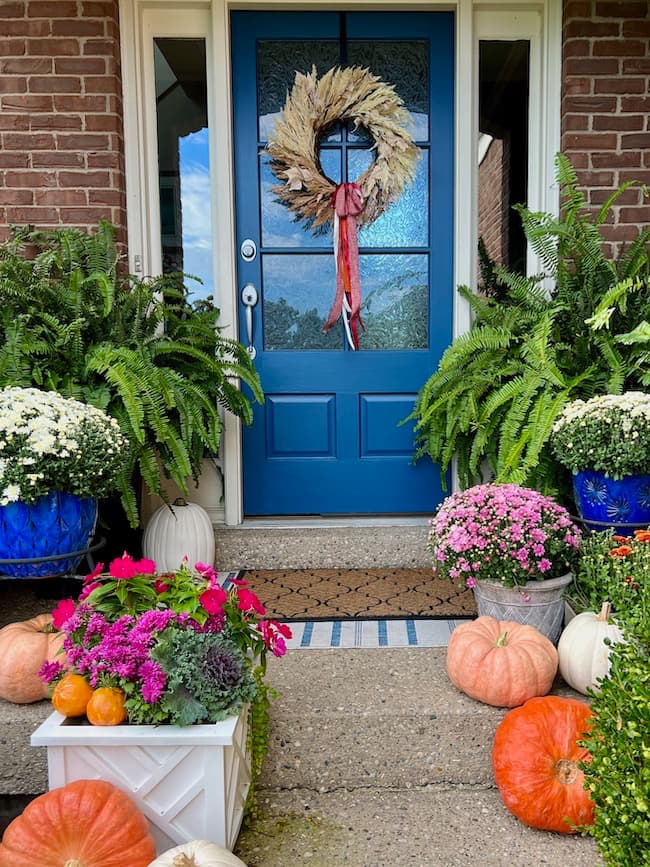 As the season has drawn on, and a few nights with freezy temps have zapped our remaining summer flowers, it's time for a little mid-season fall refresh, and I started with our front door wreath.
I purchased this cream heather wreath from Michaels earlier this fall. At the beginning of fall, I added some colorful ribbon to coordinate with all of our colorful fall mums and bright pink summer flowers.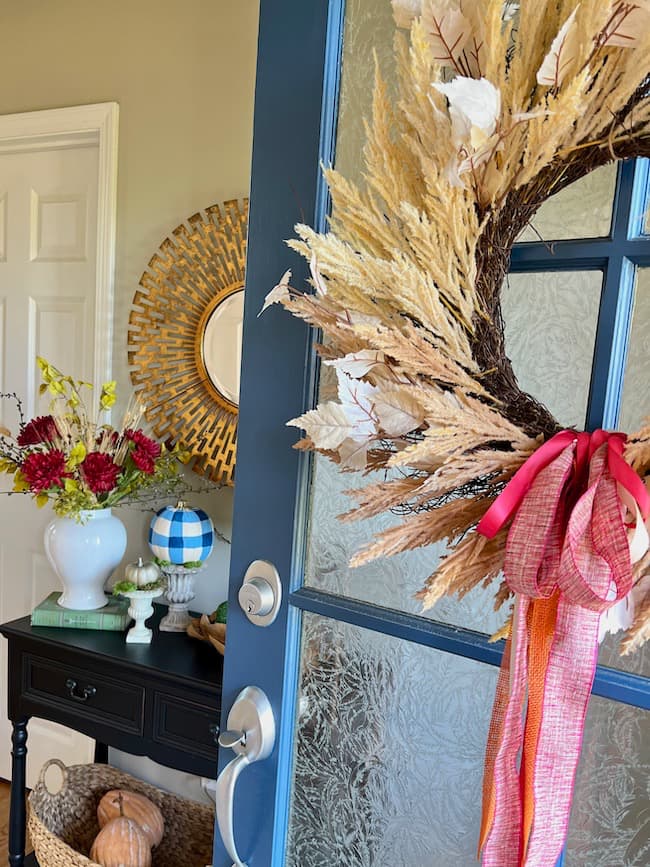 Now that it's almost November, it's time to neutralize the color just a bit outdoors.
I really like this neutral wreath, but wanted to give it a little something extra. The inner edge of the wreath seems a little skimpy.
I decided that some pinecones were just what this pretty little wreath needed.
We have three very large white pines in our backyard, and they produce some long narrow pinecones. I went foraging in the yard and returned with an ample supply of skinny pinecones to add to the wreath.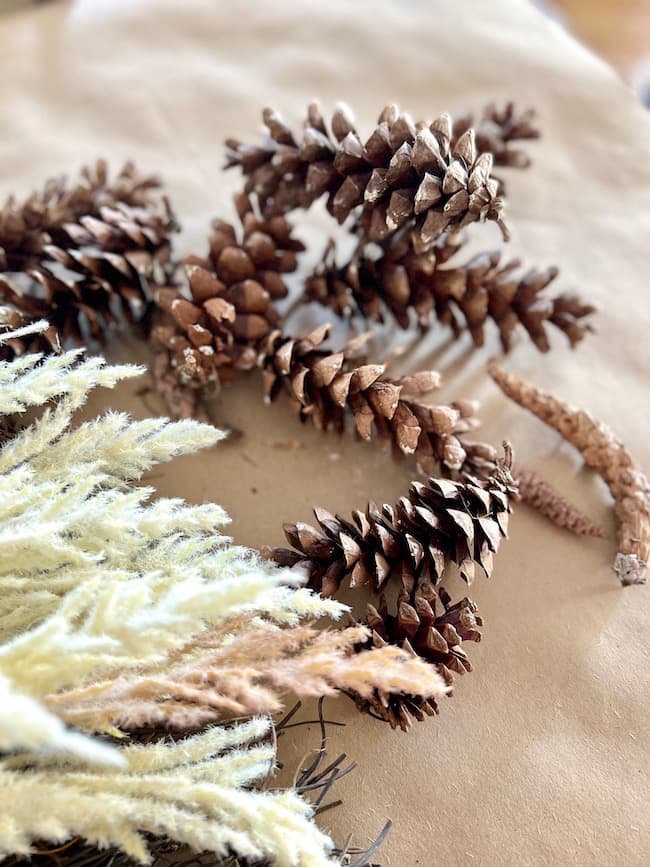 Never fear! If you don't have pine trees in your yard, you can purchase some here to do the trick.
How to Make a Pinecone Wreath the Easy Way:
It's easy to make a pinecone wreath when you have an existing wreath as a starting point. I just needed to add various sizes of pinecones around the wreath.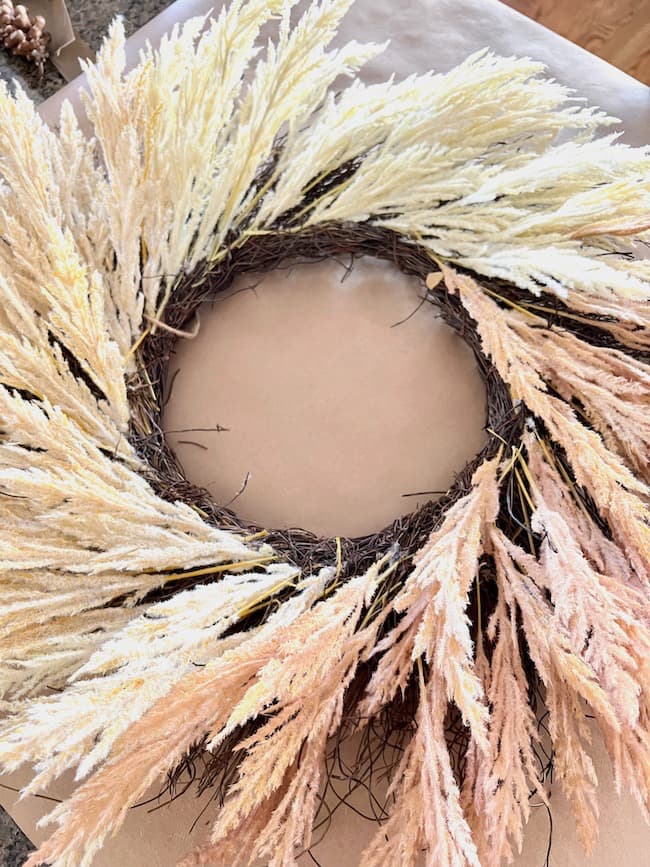 Step 1:
After I removed the ribbon from the wreath I began to glue the bottom of each pinecone around the inner ring of the wreath.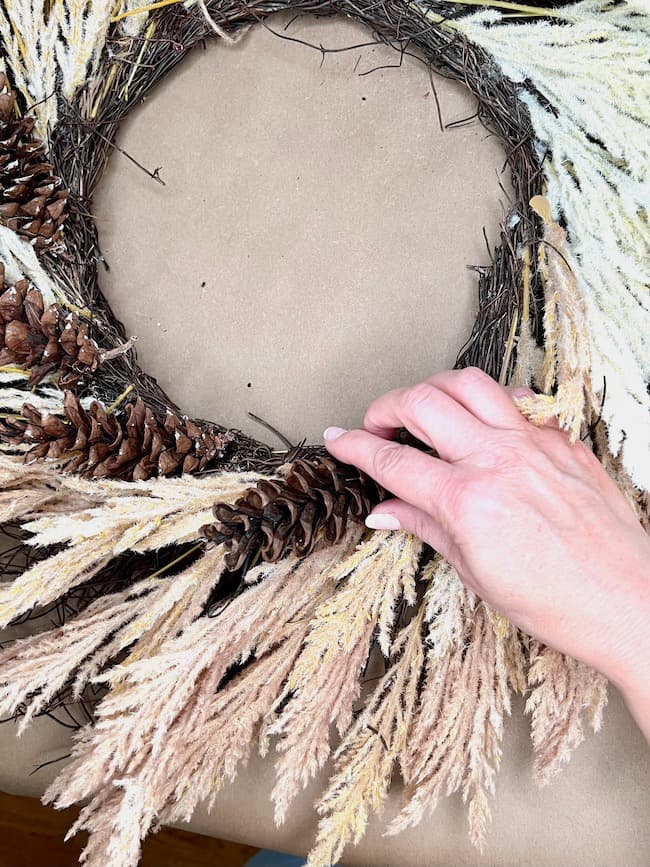 This inner part of the wreath needed a little something extra. It was a little sparse and the grapevine wreath was exposed. The pinecones were perfect for covering the exposed grapevine.
Space the pinecones around the inner circle of the wreath and attach with a hot glue gun. (This one is currently 50%)
If you live in an area with fall or winter temperatures that are pretty warm, then you might want to wire the pinecones to the wreath with floral wire instead of glue so that the glue doesn't melt.
Since we live in Kentucky, and the fall and winter months are cool enough, the hot glue gun is fine to use for this project.
Step 2:
Use some small pine cones, or "baby" pinecones like the ones I found in our yard, to fill in some of the gaps around the other pinecones.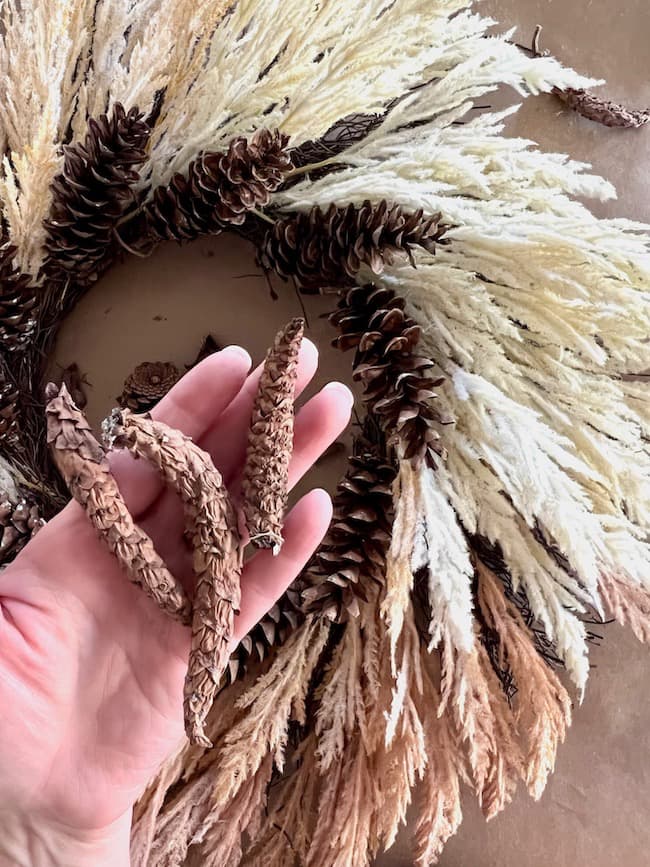 Step 3:
Add another outer layer of long narrow pinecones around the outer rim of the cones, and then you're done!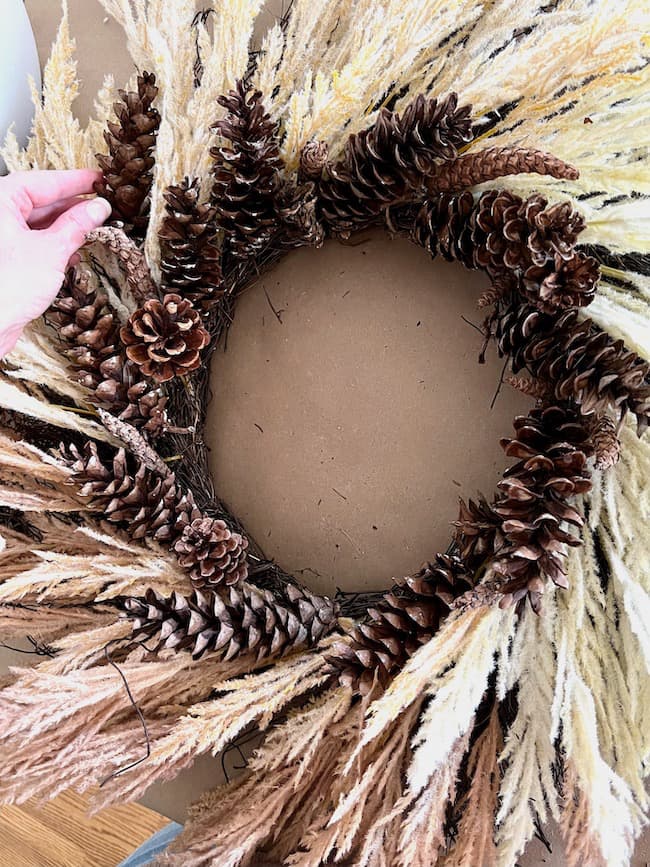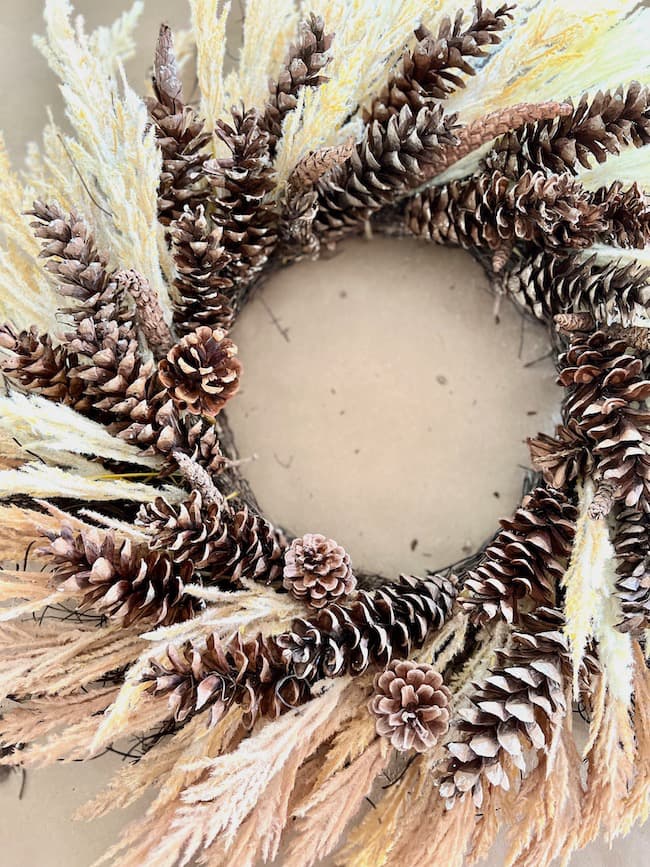 Hang your pinecone wreath with burlap ribbon.
I attached a piece of twine to the top of the wreath in the desired length to hang the wreath on our door using a door hanger.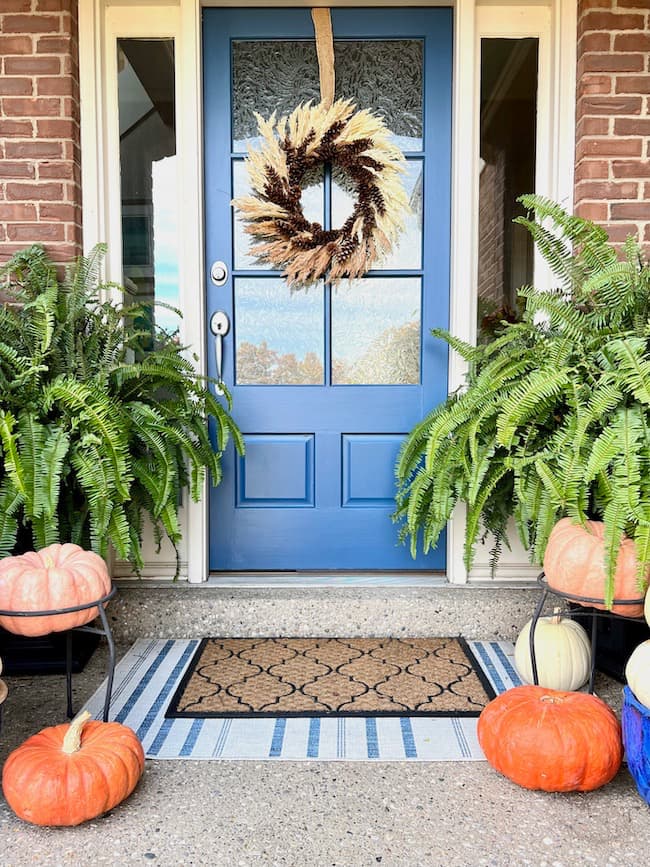 I always like to cover the black metal door hanger with ribbon for a nicer look, so I added some burlap ribbon to the top of the wreath to run up and over the door, hiding the door hanger.
Our fall mums have faded, so I regrouped and rearranged our pumpkins without the mums to carry us through a few more weeks until we start decorating for Christmas.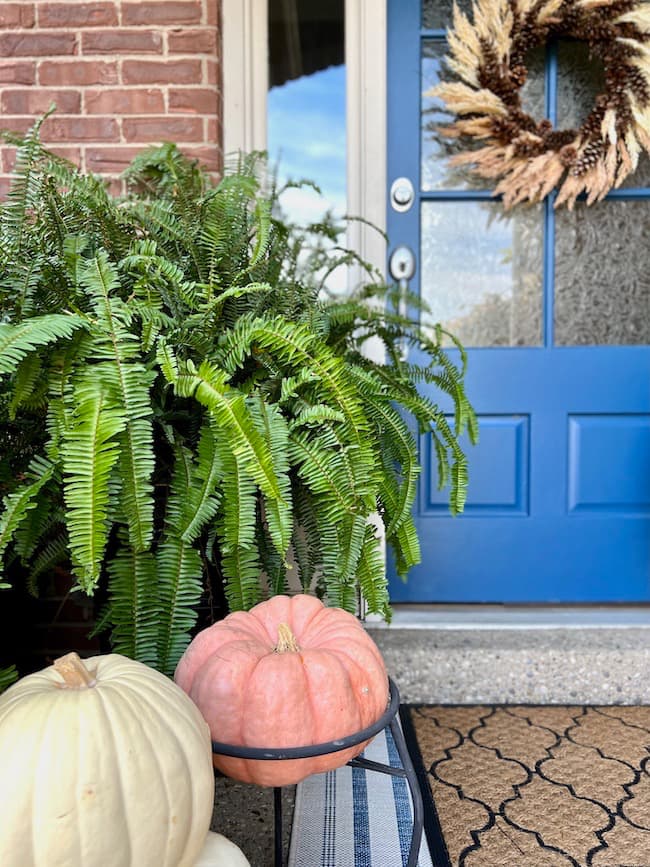 This DIY pinecone wreath is a nice neutral natural look for fall on the front door as we head into November.
---
Shop the Supplies

---
What else can you add to your diy pinecone wreath?
This DIY wreath looks great as is or you could embellish it with any of the following natural elements:
evergreen stems
twigs or branches
magnolia leaves (real or faux)
fall berries
bittersweet
acorns or nuts
wheat
corn husks
spanish moss
Other fall wreath ideas:
1. Create a colorful fall leaf and berry wreath.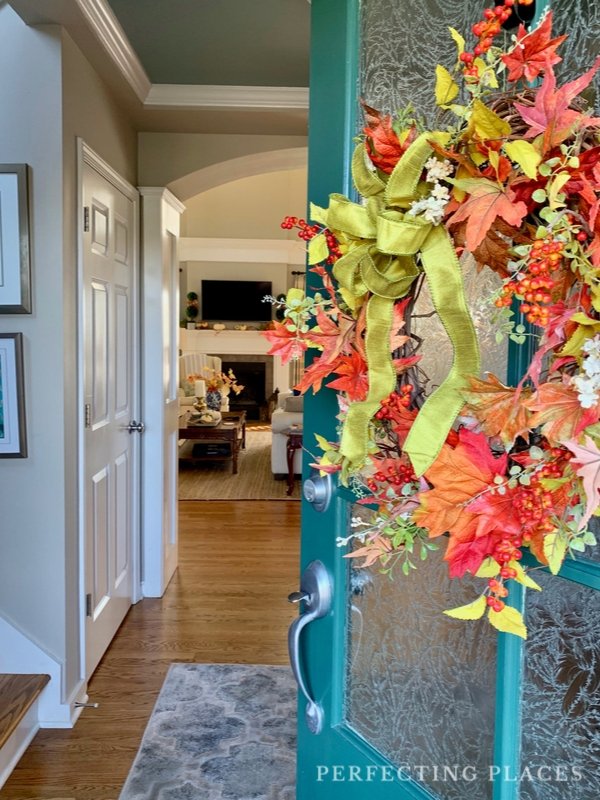 2. Make a cheerful blue and orange wreath.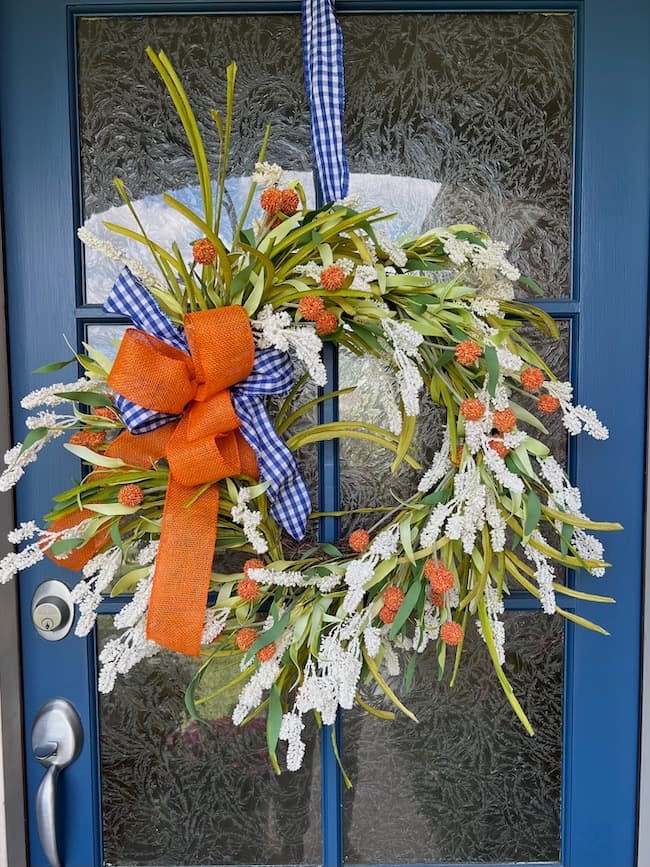 3. Add a bow to a simple boxwood wreath.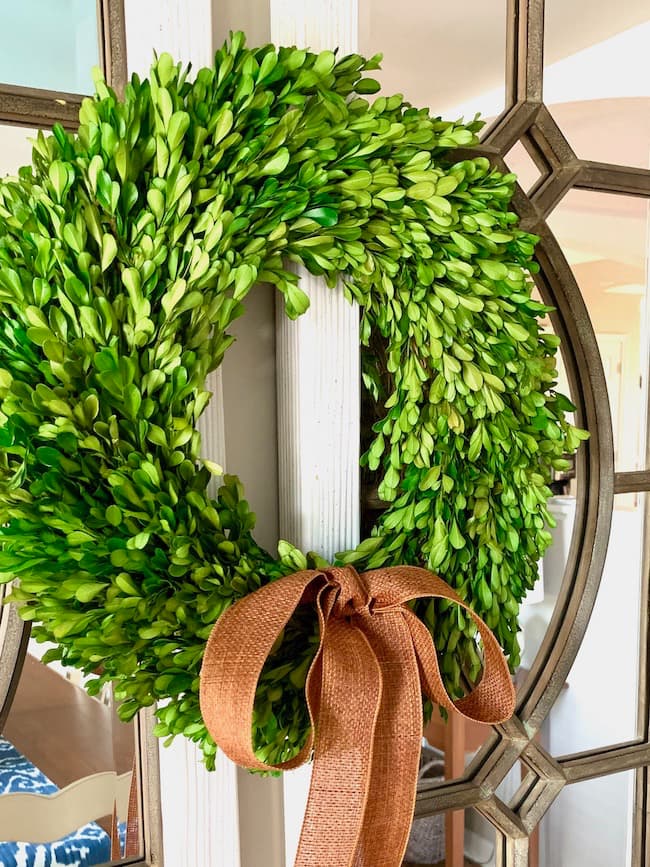 Do you have an existing simple wreath you can update with some pinecones for fall or winter? I hope you dry this idea to spruce it up and create a beautiful Thanksgiving or holiday wreath for your door.
It's a super easy way to create a beautiful diy pinecone wreath!
---
Shop for Fall Wreaths

---
Be Sure to Pin It for Later!!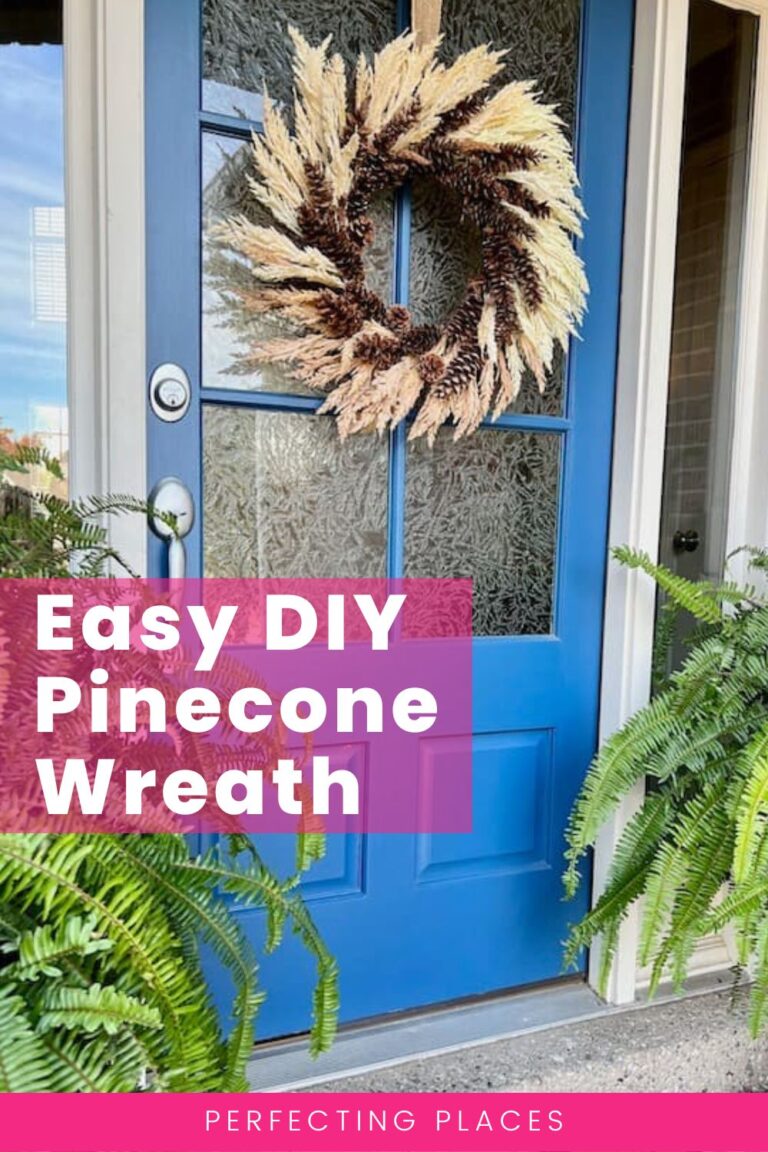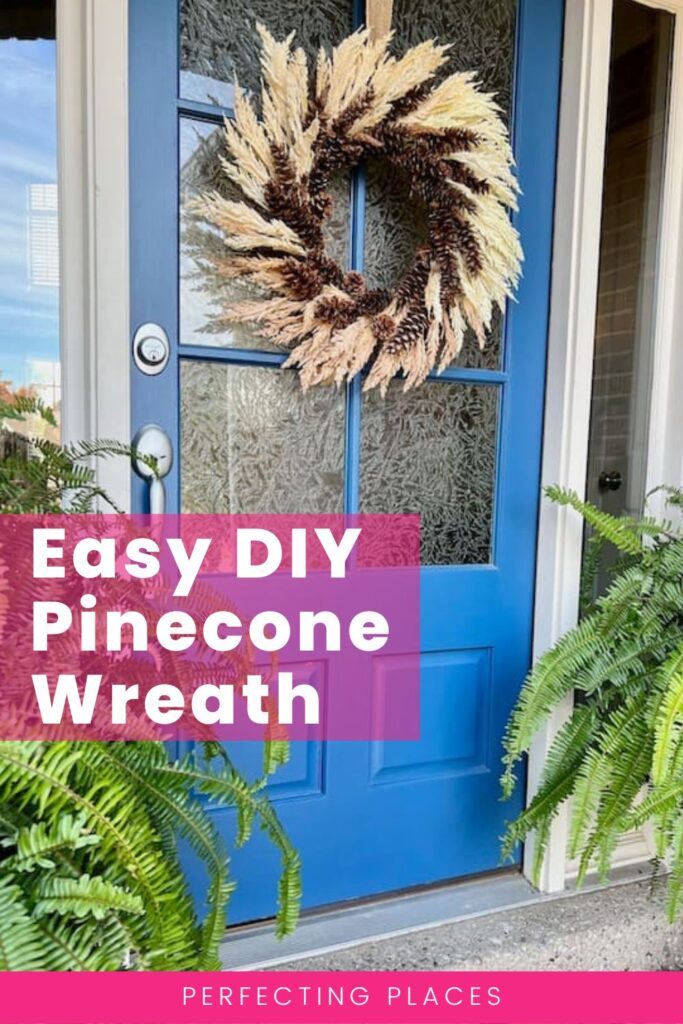 By the way, do you follow me on all the socials?? If not, check out my Pinterest, Instagram, and Facebook and be sure to follow me on all the socials so you don't miss out on any of my decorating and DIY ideas!
You might also enjoy these fall decor posts:
Colorful Fall Front Porch Decor Ideas for 2022