Easy Thanksgiving Dinner Table Decorations with Printables
Are you hosting Thanksgiving? Elevate your Thanksgiving dinner table decorations with this easy dried hydrangea centerpiece and printable place cards.
Welcome family and friends with a beautiful Thanksgiving tablescape featuring fall stems and dried hydrangeas in an abundance of rich fall colors. Elegant printable place cards will make each guest feel at home!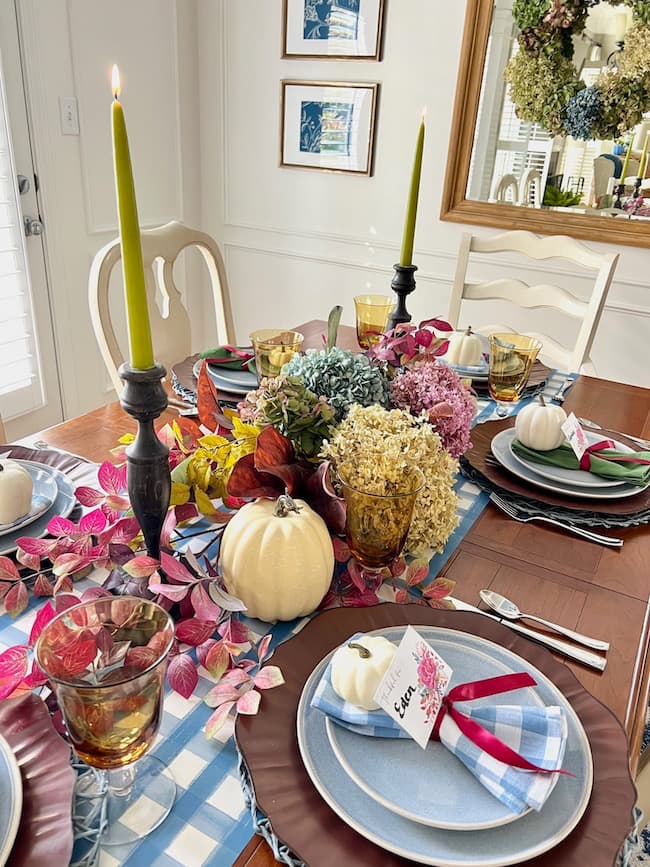 (This post contains affiliate links, so I may earn a small commission when you make a purchase through links on my site at no additional cost to you. As an Amazon Associate I earn from qualifying purchases.)
All of our children will be home for Thanksgiving this year, and that calls for a gorgeous Thanksgiving tablescape!
That also calls for simple Thanksgiving table decor ideas that are easy to put together.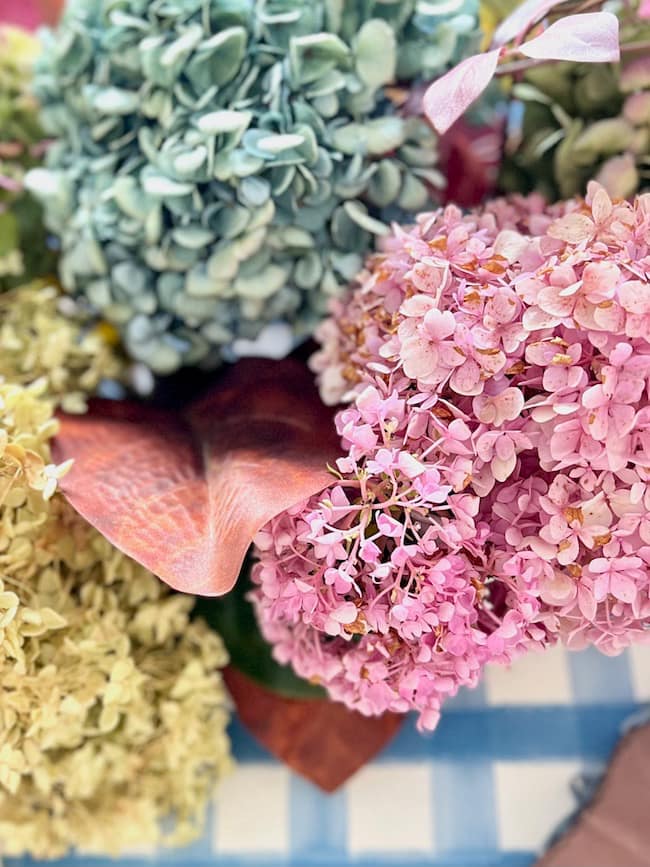 Our Thanksgiving Dinner Table Decorations:
With Thanksgiving just over three weeks away, I'm sharing our holiday table decor and lots of easy ideas to help you create a table your guests will love!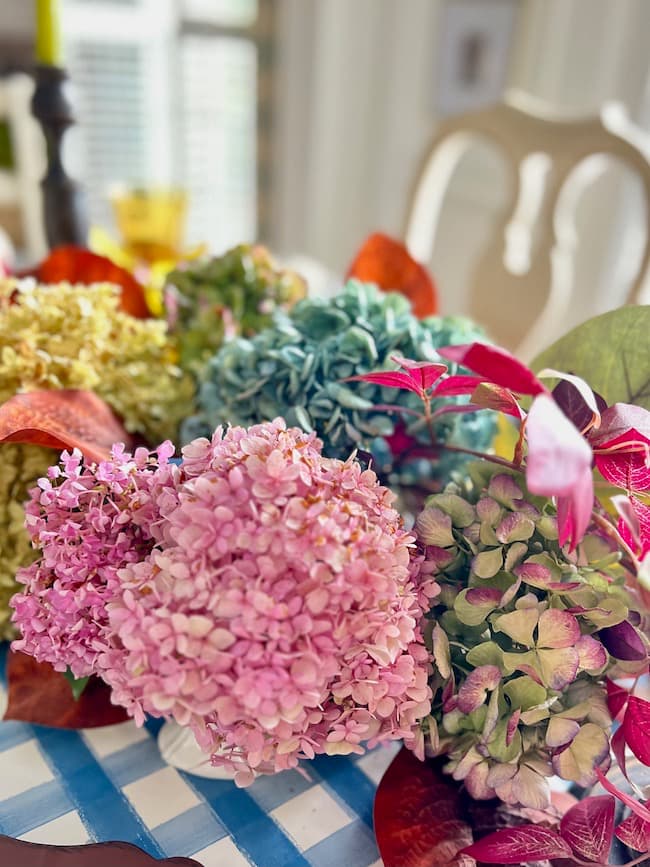 Create an Easy Centerpiece:
Earlier in the season I created a sprawling fall centerpiece to keep on our dining table throughout the fall season. Since our dining room adjoins our living room in our open floor plan, I like to keep a substantial centerpiece or focal point on our table all the time. We primarily use our kitchen table for dining since it's just my husband, our daughter, and myself here most of the time. So, it's perfectly ok to keep a large arrangement on the table.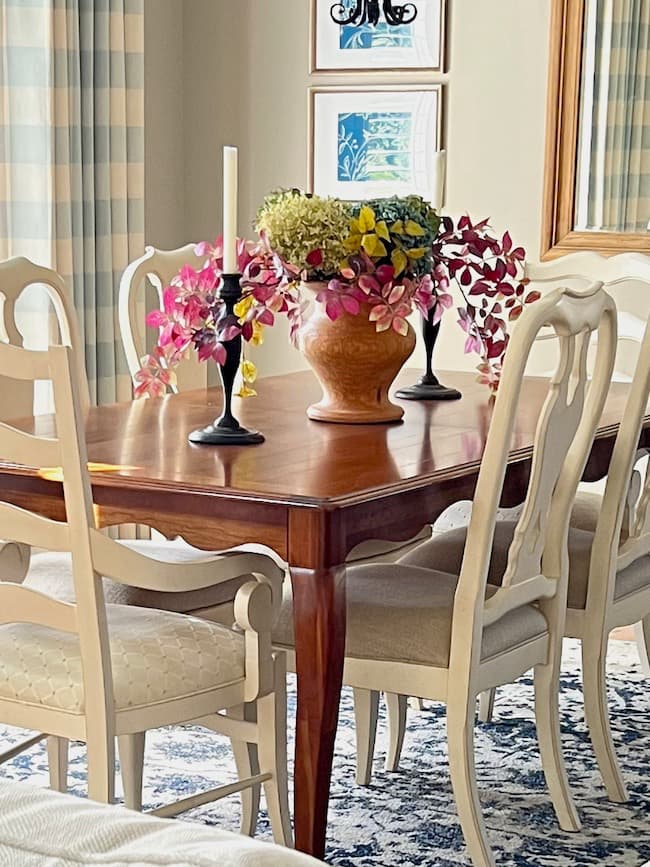 I featured a variety of dried hydrangeas from our garden in a large wooden vase and added some pretty burgundy faux fall stems. I've so enjoyed this arrangement all season long, and wanted to incorporate it into our Thanksgiving tablescape.
The only problem was the height of the centerpiece. The large vase made it too tall for dinner conversation when we're all seated around the table.
So I improvised. Using dried blooms and faux stems eliminated the need for a vessel to keep the flowers watered. I simply lifted the arrangement out of the vase and placed in on the paper table runner. Easy peasy!!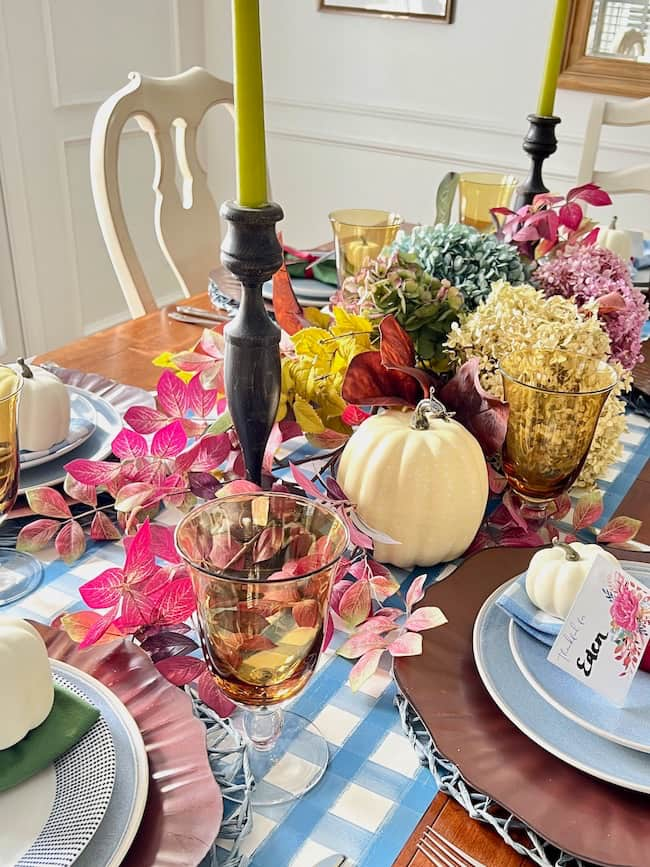 I added a few magnolia leaves to the mix and some pretty green candles for the easiest centerpiece ever!
Use a fun paper runner.
I keep a roll of this adorable blue and white plaid paper table runner on hand. It's perfect with our decor, and works for any season. I decided to use the paper roll for our table runner. The plaid creates such a cozy inviting look on the table. I purchased this paper roll in Franklin, Tennessee at one of my favorite little boutiques. 
​Simple place settings with a little rustic charm:
I added several layers to our place settings for lots of texture. I started with a blue woven place mat, followed by our old Southern Living at Home brown chargers that I've had forever and a day — but I still love them!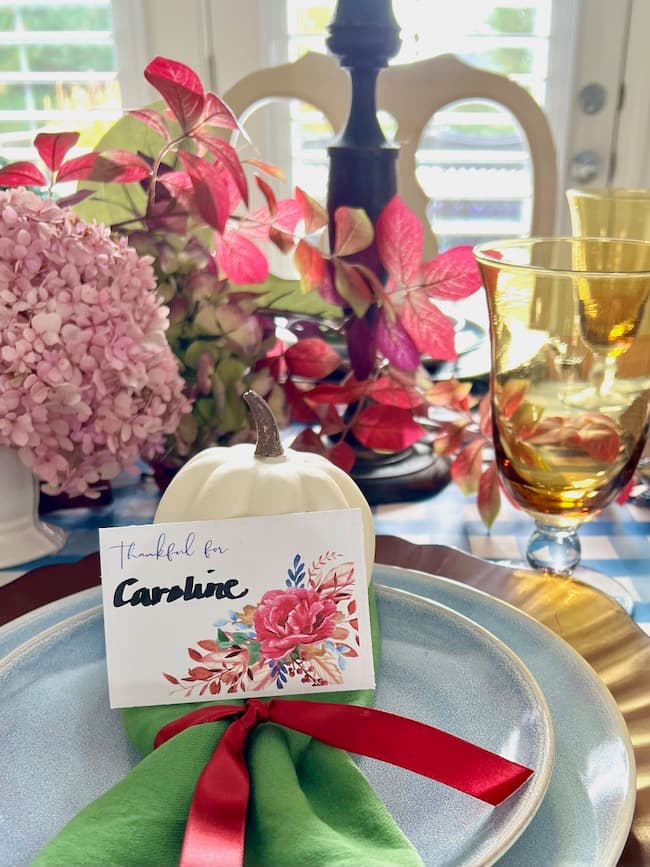 I found the prettiest subtle blue dinnerware by Better Homes & Gardens at Walmart for our place settings, and paired the plates with our amber stemware.
​Blue and white plaid napkins alternate with green for a little variety and color, and all are tied with a gorgeous burgundy satin ribbon to coordinate with the burgundy stems in the arrangement.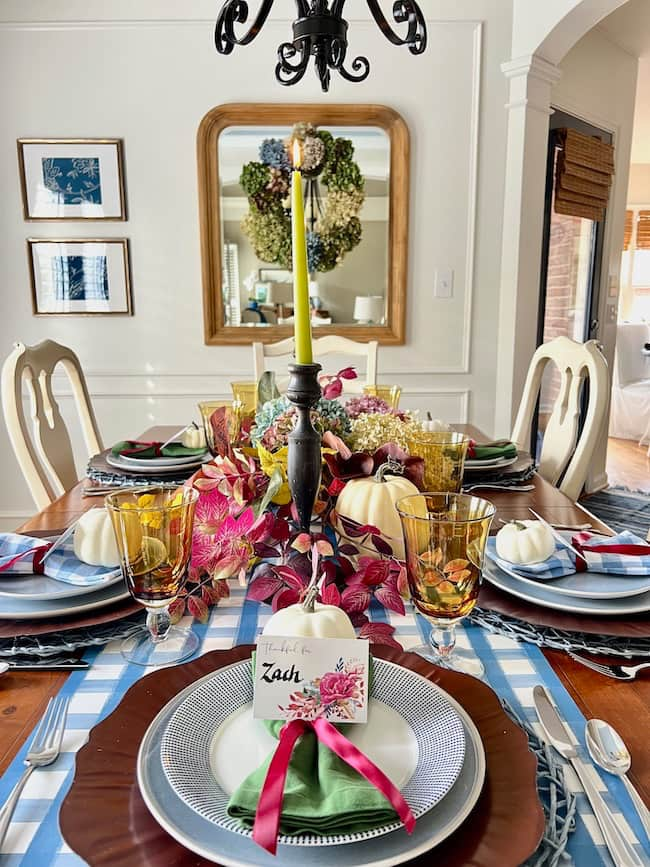 Every table setting has it's own cute little mini white pumpkin to serve as a place card holder for the prettiest coordinating Thanksgiving place cards!
If you love the place cards you're in luck, because I made these printable place cards just to share with you!! Click the download button to print. I recommend printing on card stock. You can make folded place cards, or cut them in half for a flat card.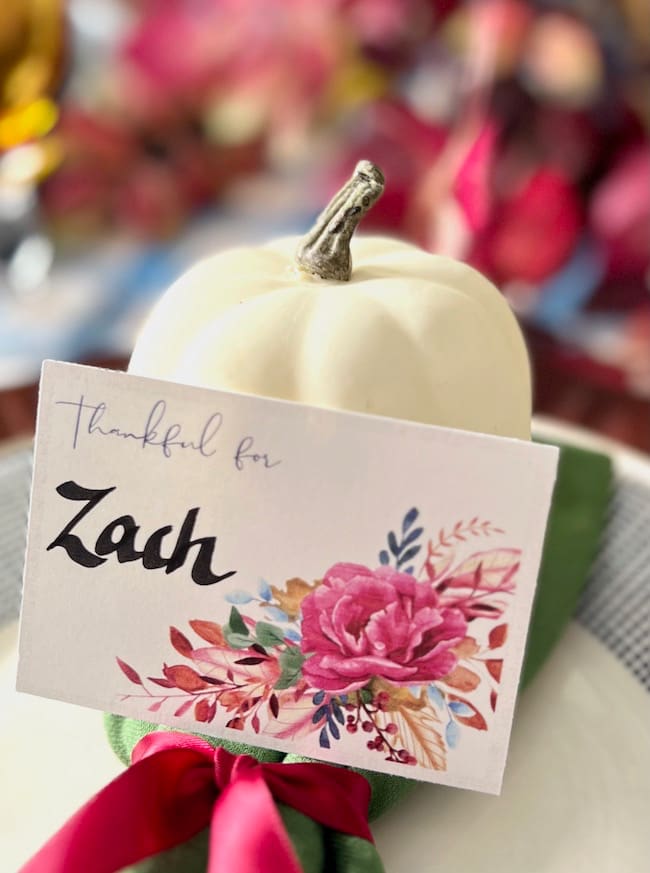 Tips for Creating a Lovely Thanksgiving Table:
1. Plan ahead: When preparing for your Thanksgiving dinner, it's crucial to plan ahead. This ensures you have everything you need for a beautiful table arrangement that impresses your family members and guests. I like to set my table a day or two in advance, so it's one less thing to worry about on Thanksgiving day.
2. Choose a Theme or Color Scheme: Selecting a color scheme and theme can guide your choice of Thanksgiving decorations and create a cohesive and visually appealing table setting. Incorporate your favorite autumnal colors, or add natural elements for a more rustic look.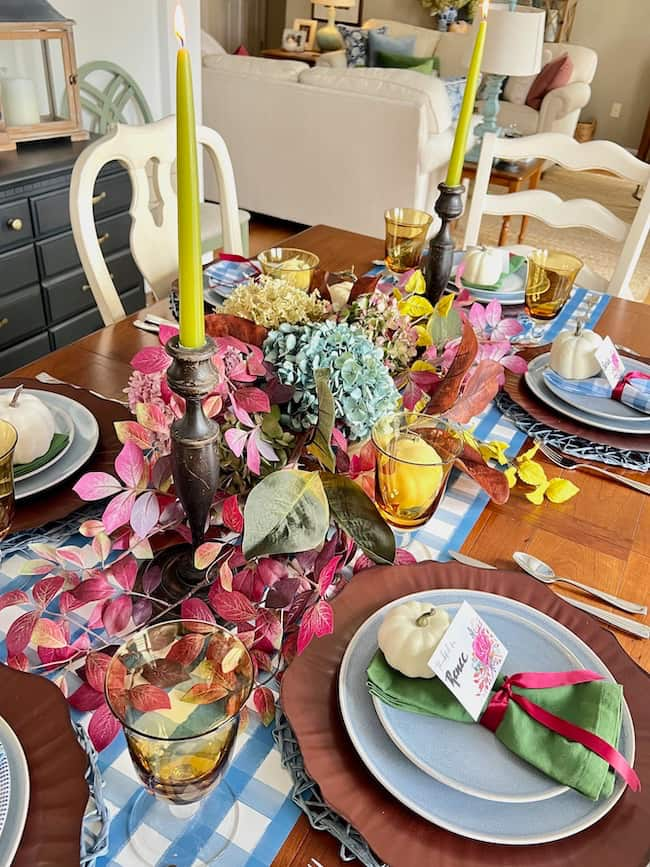 3. Use What You Have: Utilize items you already own, like white pumpkins and fall leaves, to add natural elements and autumnal charm to your dining table. I used blooms from our garden and floral stems I already had on hand to create the arrangement. Actually, the only thing I bought new for this tablescape was the dinnerware and burgundy ribbon.
4. Simple Centerpiece: An easy Thanksgiving centerpiece, like a floral arrangement with fresh flowers or faux pumpkins, can be the focal point of your beautiful table. There is so much simple beauty in the abundance of the fall season, so it doesn't take much to create a gorgeous fall table.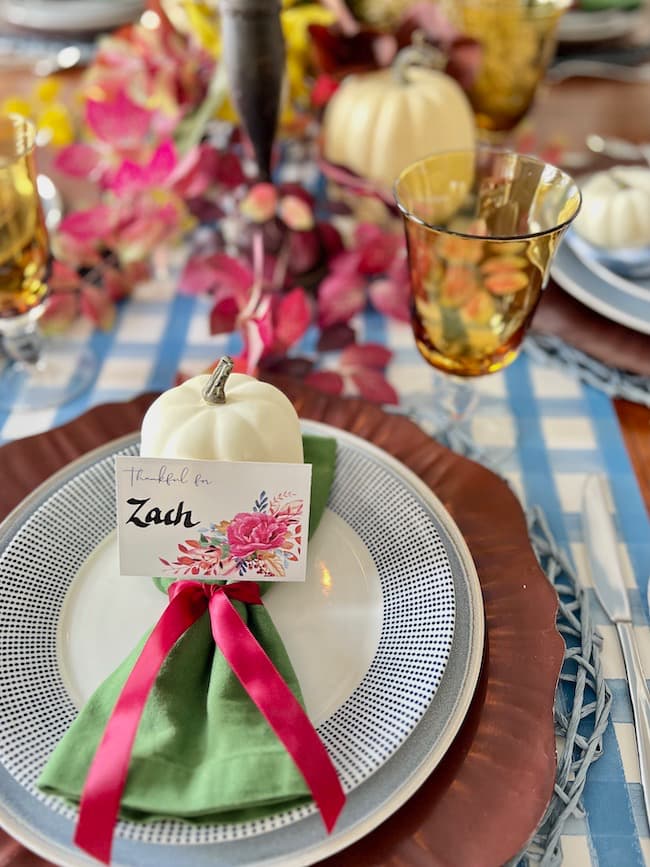 5. Printable Place Cards: Consider making Thanksgiving place cards as a great way to add a personal touch to your place settings and guide your guests to their seats.
6. Mix and Match Tableware: Don't fret about having matching dinner plates; mixing and matching tableware can lend an eclectic and unique look to your Thanksgiving tablescape. I mixed in some different salad plates at the end seats to add a little interest to the table.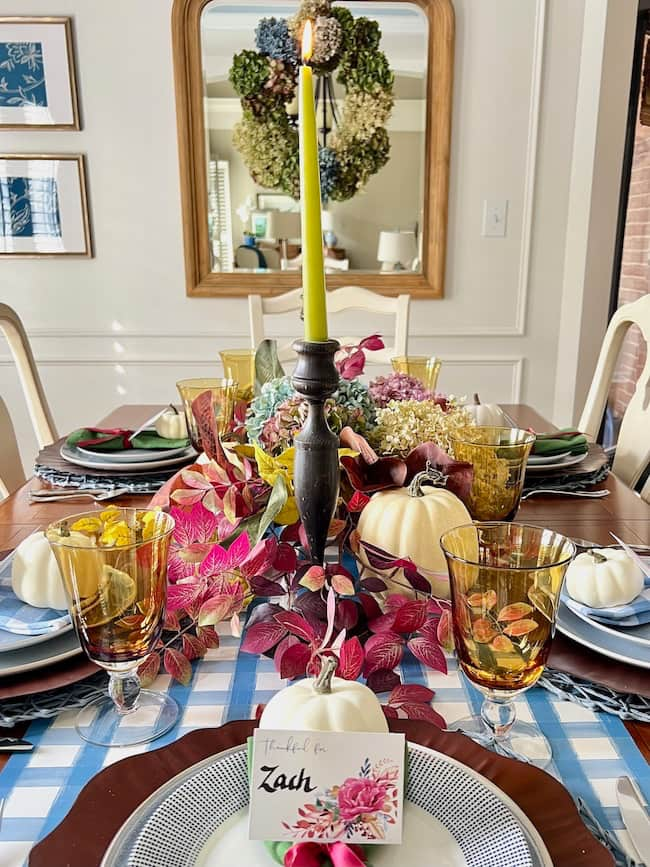 7. Candles and Lighting: Incorporate candles or string lights into your table arrangement for an elegant and cozy atmosphere during your Thanksgiving dinner party.
8. Napkin Folds: Learn a simple napkin folding technique to create stylish napkin rings and enhance the overall design of your dining room table. Or, simply tie a ribbon around them for an elegant look.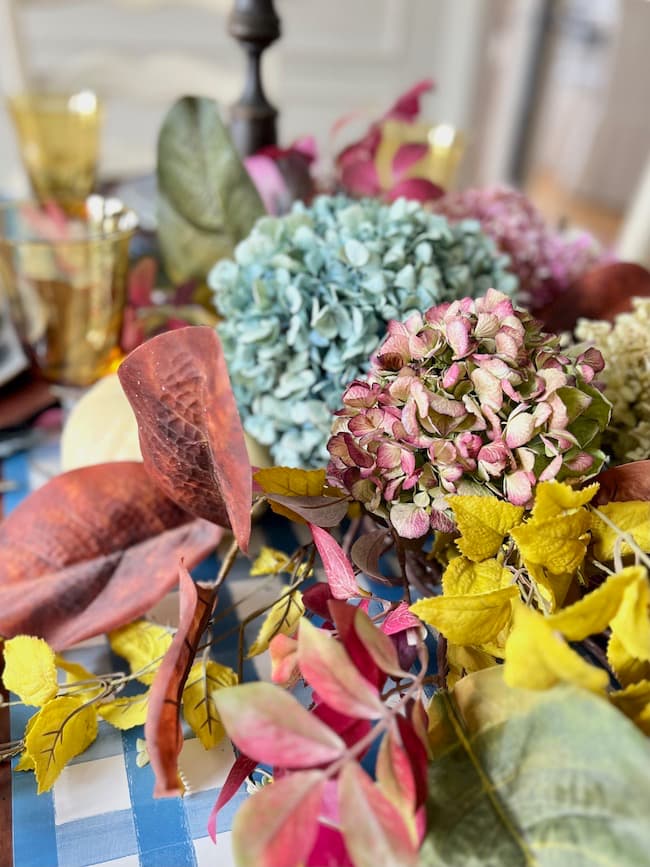 9. DIY Projects: Easy Thanksgiving centerpiece ideas, like crafting your own table runner or floral centerpiece, can add visual interest and a personal touch to your holiday table.
10. Keep It Kid-Friendly: If you're hosting a family Thanksgiving dinner, opt for unbreakable or disposable tableware to ensure a stress-free and beautiful setting.
11. Consider Dietary Restrictions: Keep in mind any dietary restrictions among your family members and guests when planning your Thanksgiving meal and place settings.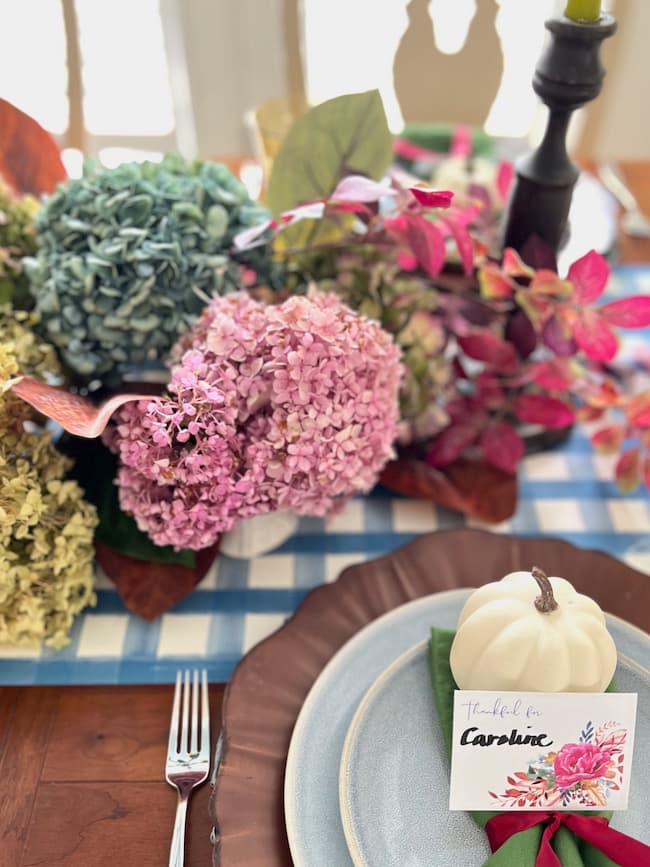 12. Layered Decor: Achieve a beautiful Thanksgiving table by layering different textures and heights with placemats, chargers, and a well-chosen table arrangement.
13. Music and Background: Set the mood for your special occasion with background music that complements the elegant centerpiece and overall design improvised for your holiday table.
14. Relax and Enjoy: Above all, remember that Thanksgiving is about showing gratitude, spending time with loved ones, and enjoying some great food! Keep your dinner table relaxed and beautiful, allowing everyone to enjoy the holiday season.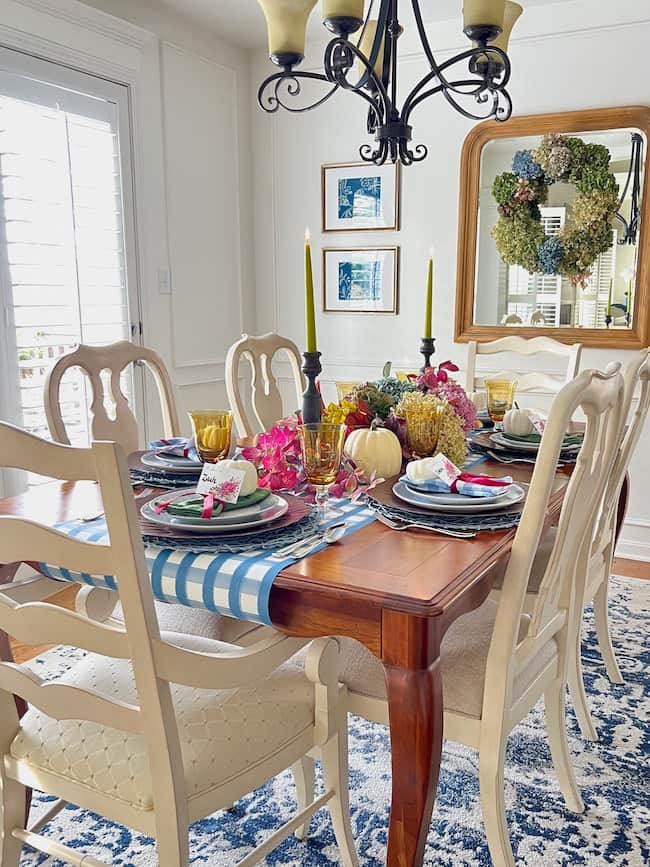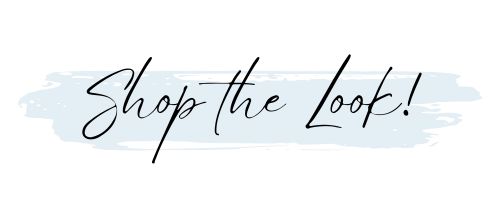 I hope these easy Thanksgiving table setting tips and beautiful centerpiece ideas inspire you to create a warm and inviting atmosphere for your holiday gathering. Whether you're celebrating with family or hosting a dinner party for friends, remember that the heart of Thanksgiving lies in sharing great food and cherished moments with those you love. Most importantly, it's about showing gratitude to the One who has so richly blessed us!
Wishing you a joyful and memorable Thanksgiving dinner!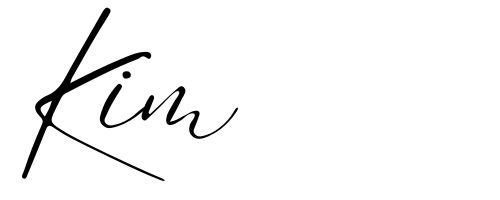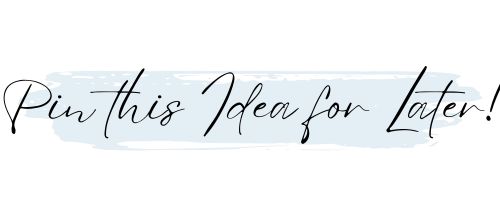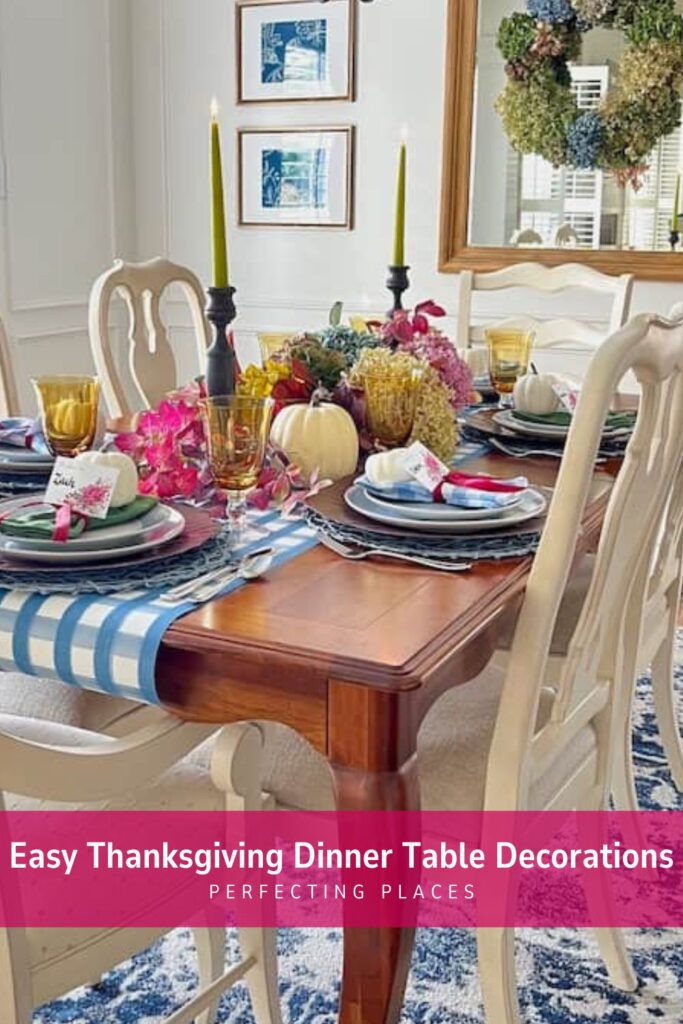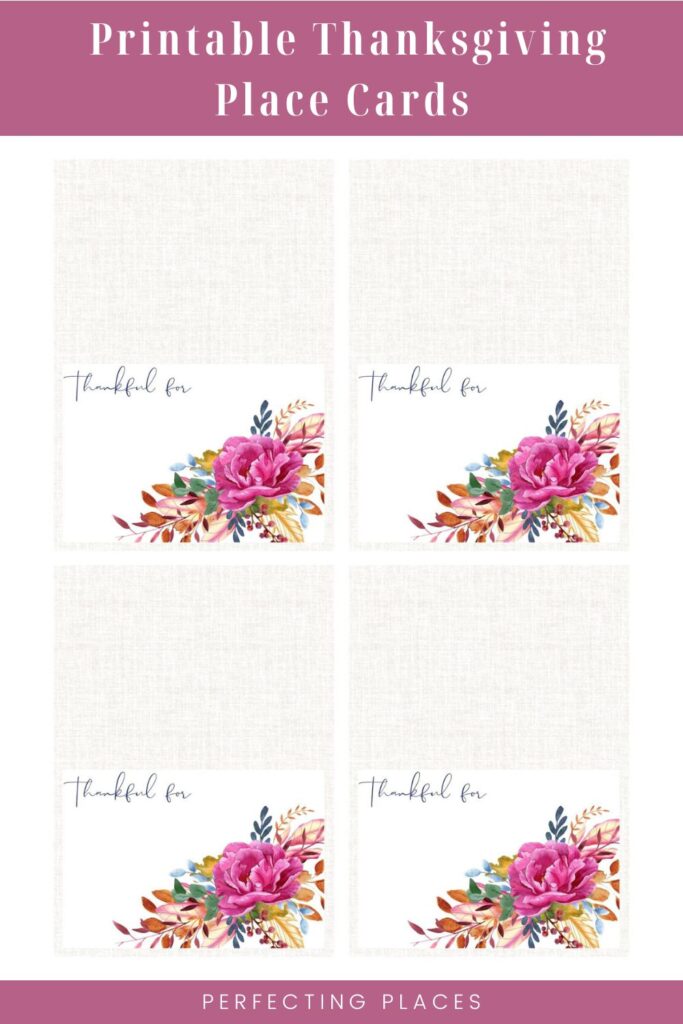 By the way, do you follow me on all the socials? If not, check out my Pinterest, Instagram, and Facebook and be sure to follow along so you don't miss out on any of my decorating and DIY ideas.