The Best Home Office Decorating Ideas on a Budget
Does your home office need a revamp? Use these home office decorating ideas to create a fabulous workspace on a budget!
These decorating ideas will help you create a beautiful home office for planning, creating, and accomplishing the tasks of the day.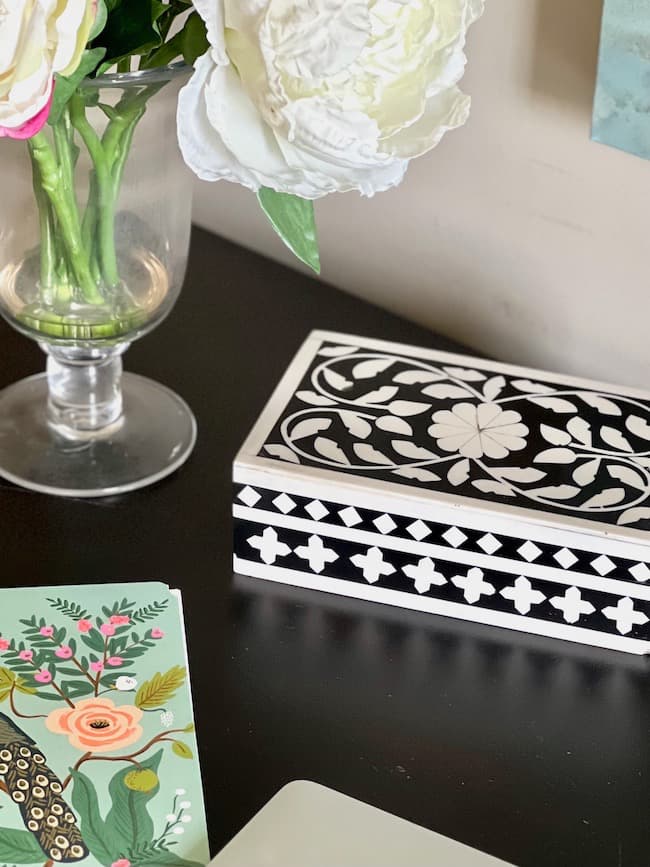 (This post contains affiliate links, so I may earn a small commission when you make a purchase through links on my site at no additional cost to you. As an Amazon Associate I earn from qualifying purchases.)
With the scent of freshly sharpened pencils in the air, back-to-school time isn't just for kids. Whether you go kicking and screaming or dancing happily back to new routines and schedules, it really is a wonderful time for a reset and a fresh start!
I know you're in the middle of back-to-school shopping, calendar setting, dorm room decorating, teacher meeting, and lunchbox planning, but today I'm focusing on you, sweet mamas!
I know full well the juggling act that defines a mom's life. From conference calls to carpooling, from deadlines to dinner prep, every day is a whirlwind of responsibilities, and you need a dedicated space to organize your thoughts, plan your days, create, and get lots of work accomplished.
That's why having a home office that's more than just a makeshift desk is essential. You need a sanctuary where you can focus on creativity, set goals, and work your plan — and it might as well be beautiful!!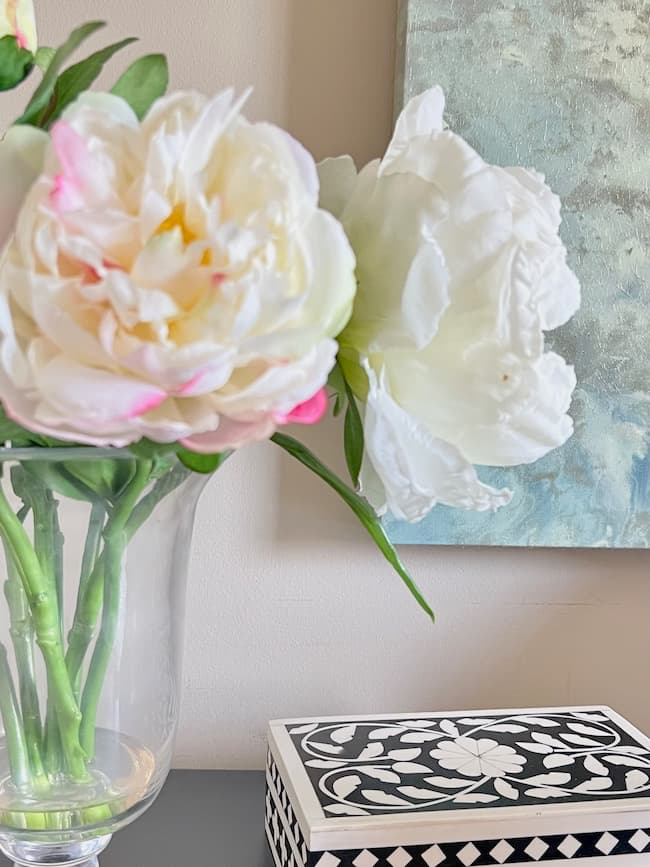 Create a Design Plan for Your Home Workspace.
Creating a functional home office is more than simply designating a workspace with a desk and chair. It's about crafting a space where your best work can unfold.
How do you work best? What inspires you the most as you work? Imagine a dedicated room where your creative ideas flow and you can efficiently accomplish the tasks for the day.
Taking the time to assess and tailor a space to your specific needs is the first step. Determine a design plan that combines your personal aesthetics with purpose, and you'll be inspired you to conquer your to-do list each day in a space that exudes your style!
Before you dive into decor decisions, envision how you want your home office to support your daily routines. Consider the tasks you'll tackle here, from virtual meetings and family scheduling to crafting projects or creative writing, and let these activities guide your design choices for this workspace.
Personalize Your Home Office with DIY Projects:
Infuse your workspace with touches of your personality. DIY projects are a great way to add those personal touches that make your home office uniquely yours while keeping your home office makeover budget-friendly.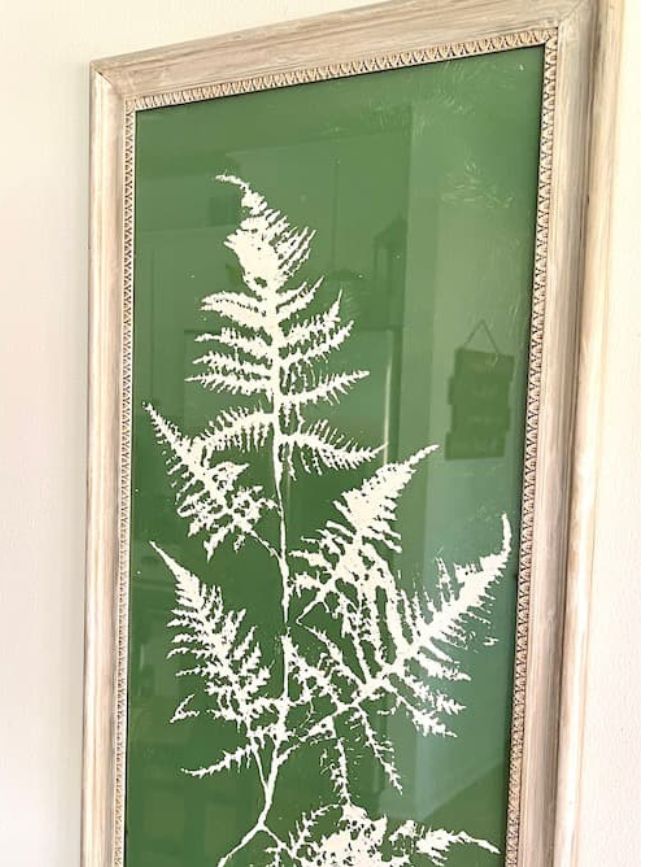 Create bulletin board, and fill it with cherished family photos, inspirational quotes, and even your children's artwork. It's a creative way to keep both memories and tasks in sight. 
Repurpose mason jars into stylish desk organizers.
Give a tired bookshelf a fresh coat of paint to match your chosen color scheme.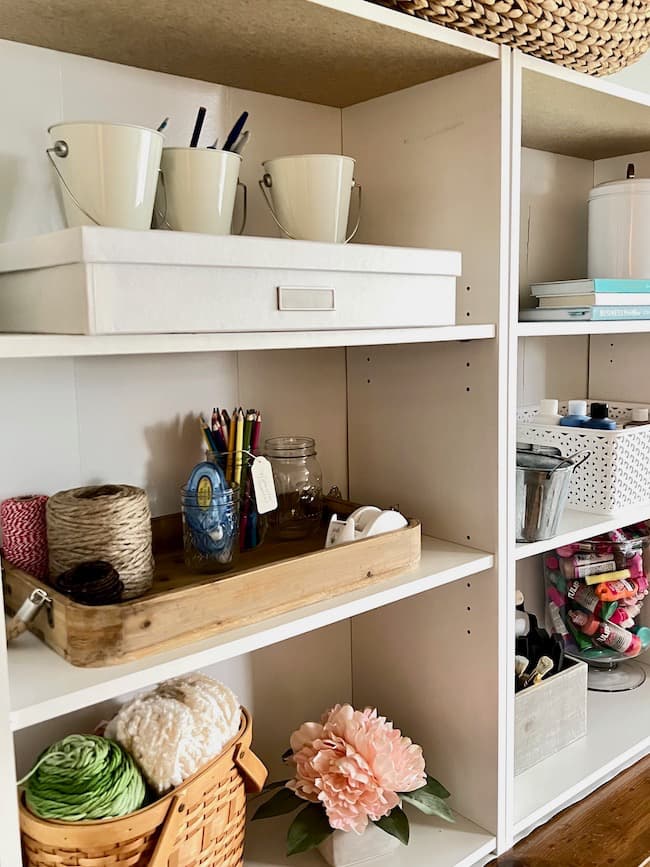 I created a unique home office space for myself in my upstairs craft room. You can see how I gathered items from around our home to add storage and create a functional muliti-functional space for my business, blogging, and crafting needs.
It's important to make your space suit your needs, and creating DIY solutions can keep your office space affordable!
Thrifty Furniture Finds for Your Home Office Space
Creating a beautiful and functional workspace doesn't have to break the bank. There are plenty of budget-friendly ways to furnish your home office without compromising on style.
Scour your favorite thrift store and online marketplaces for pre-loved treasures that reflect your design vision and personal style. Be creative with the items and furnishings you find, and don't be afraid to repurpose.
A vintage filing cabinet can double as stylish storage, and an old wooden table might just be the perfect work table for your DIY aspirations. So many budget home office ideas stem from your creativity, so search for furnishings with an open mind. In my craft room office space, I created a hutch by adding a pair of IKEA Billy bookshelves to the top of a dresser to hold my crafting supplies.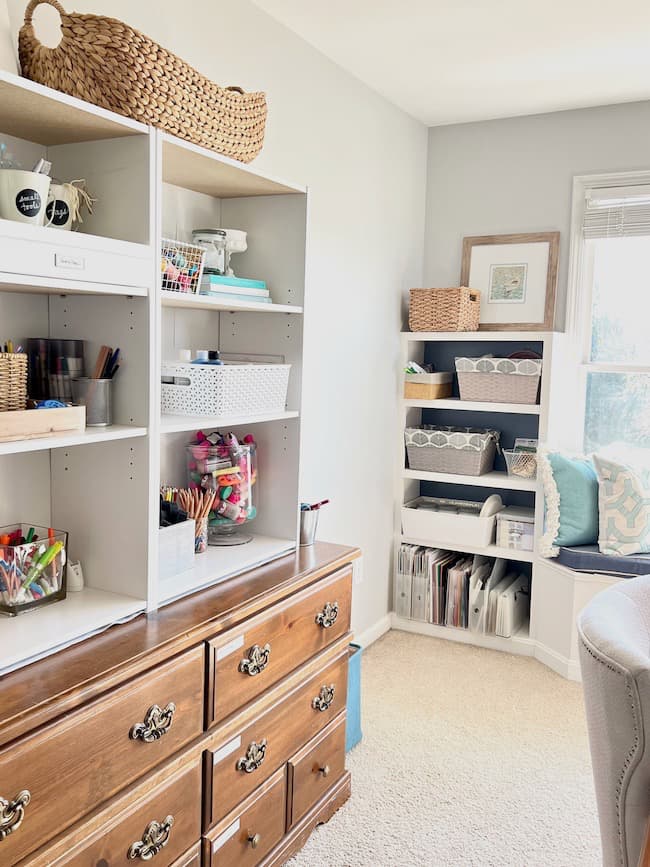 There are plenty of budget home office ideas and furnishings online, and I'm sharing some of my favorite furniture finds below.
The Best Lighting Ideas for Your Home Office:
Appropriate lighting plays a pivotal roll when designing an inspiring work environment. Embrace the power of natural light in your room by positioning your desk near a window if possible. Natural light not only enhances your mood but also reduces eye strain, making your room a more comfortable work environment.
Adding just the right amount of artificial and task lighting is an important design element in any room, but especially in a workspace. A desk lamp can increase your productivity by directly illuminating work surfaces. Consider adjustable lamp options that let you position the light exactly where you need it.
To brighten up the entire room, opt for table lamps placed on shelves, consoles, or side tables around the room. These additions not only fill the space with cozy ambiance but also contribute to a balanced overall lighting scheme.
Floor lamps with adjustable arms can provide ambient light while infusing a touch of style into your workspace.
You can find the lamps above and more of my favorite lamp options in my Amazon Storefront.
Don't merely rely on an overhead ceiling light as the primary light source in your room. Adding a variety of ambient and task lighting around your room is one of the best ways to create an inviting and productive environment for completing your tasks. Check out this ambient lighting post for tons of ways to add ambient lighting to your space.
Stylish Storage Solutions for Your Home Office Space:
An efficient home office space should certainly be well-organized with supplies easily accessible when needed. There are so many creative and stylish storage solutions that you can add to your space.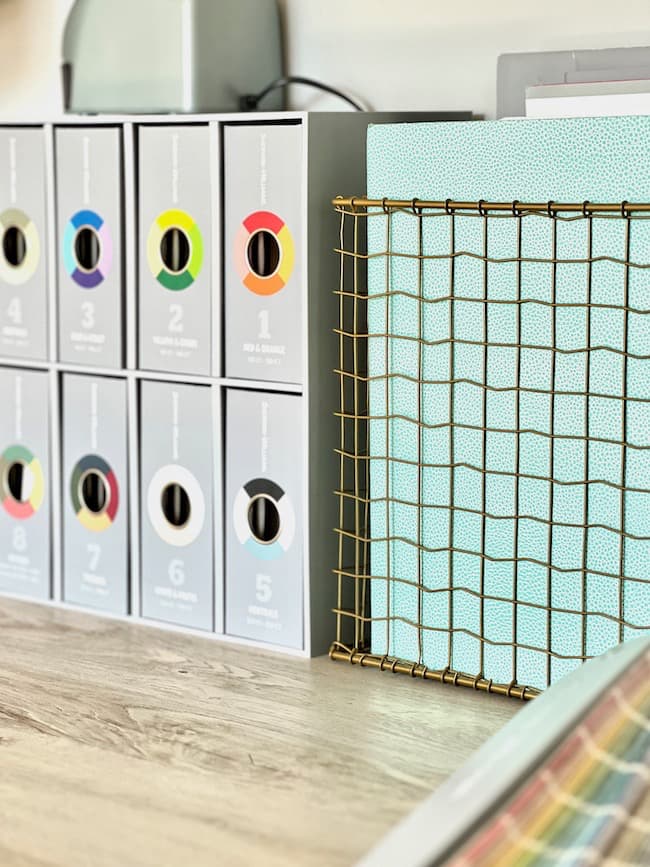 Stop rummaging through piles of paperwork, and add a file organizer. A well-placed file cabinet will ensure your important papers are within easy reach and stay neatly organized. Whether you prefer a vintage find or a modern design, a file cabinet or organizer is a must!
But storage space doesn't stop at files alone. You also need a way to corral all of your office supplies.
Decorative baskets can be both charming and functional, housing notepads, pens, and other essentials in a tidy manner. Floating shelves provide an excellent opportunity to display both decorative accents and items you frequently use. You can even take it a step further with wall-mounted organizers that keep your workspace clutter-free while adding a dash of visual intrigue.
Some of my favorite home office storage options are below.
The right storage solutions transform chaos into order! A well-organized home office where everything has its own place creates a serene workspace where your creativity can flow freely and tasks are accomplished with ease!
You'll find these ideas and more great home office storage solutions linked in my Amazon Storefront!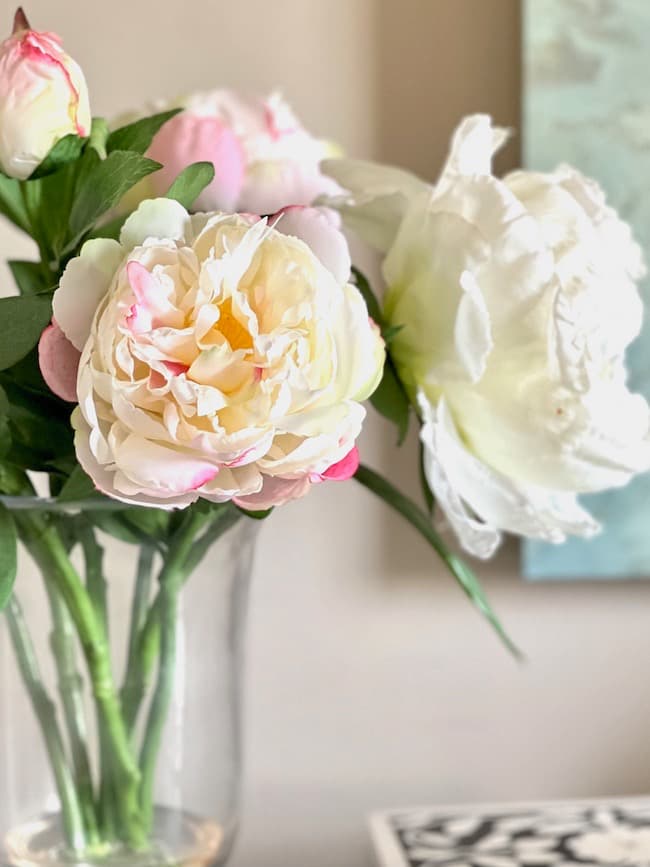 Add a Little Life to Your Workspace with Greenery and Natural Accents:
Bring a touch of the outdoors into your home office to inspire creativity and increase productivity. Indoor plants make a space more inviting, but they aren't just about aesthetics.
A live plant is a living, breathing decorative element that infuses your environment with energy and life. From leafy greens to low-maintenance succulents, there's a variety of indoor plants that can thrive even in the busiest of schedules, adding a pop of color and a breath of fresh air to your room. A pothos plant, a snake plant, monsterra, or a pretty succulent are all easy-care options for your home office space.
A plant added to these pretty blue and white ceramic pots is a welcome addition to any home office.
In addition to indoor plants, consider weaving in natural textures and accents for a cozy look. A woven rug under your desk, a wooden desk organizer, or even a faux fur throw draped over your chair can introduce texture and visual interest. By embracing these natural touches, you're not only enhancing your decor but also fostering a deeper connection to nature right within your workspace.
If you don't have a green thumb, there are so many pretty faux greenery and floral options that can add a fresh look to your office.
Add the faux greenery stems above to a pretty vase for a fresh update to your space.
Elevate Efficiency in Your Home Office with Some Simple Tech Upgrades
Updating your home office doesn't mean splurging on the latest gadgets. A few strategic tech upgrades can make a huge difference in catering to your home office needs. Identify areas where an office equipment upgrade would be a good idea.
Perhaps your laptop could benefit from an ergonomic stand to improve your posture, providing comfort that fuels productivity during those long working hours. Does your keyboard need a wrist rest to keep those long writing sessions more comfortable? Would an adjustable or standing desk increase your comfort and productivity?
Do all of those dangling cords drive you crazy? Consider investing in cable management solutions to keep your workspace tidy and efficient. Wrangling those cords might seem like a small change, but it's one that declutters your space and creates a more pleasing workspace.
In a home office space, sometimes small adjustments can make the biggest difference.
Infuse Your Personality into Your Dream Workspace
This is the fun part of designing your perfect home office – infusing your personality into every corner and crevice of the space. Unleash your creativity, and turn your workspace into a true reflection of who you are. From the simplest pencil holder to the grandest decor statement, every detail can work together to create the perfect workspace that inspires!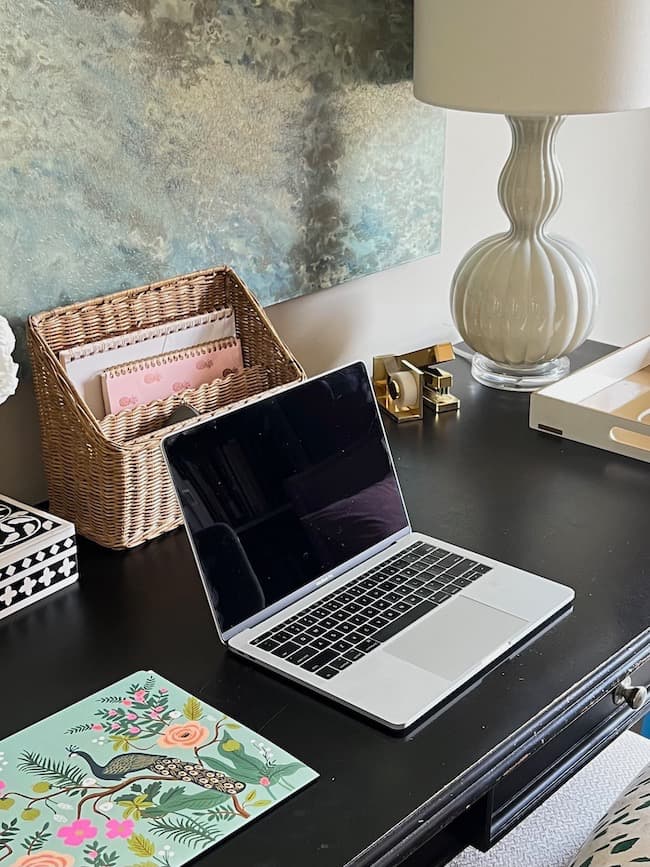 Begin by exploring your favorite colors – the shades that evoke feelings of comfort and inspiration. Create a color scheme that you love! Whether you're drawn to soothing neutrals, invigorating pops of color, or a blend of both, your color choices set the tone for the overall look and feel of your space, and you want it to inspire creativity and efficiency.
Whether yours is a small home office nestled in the corner of your living room, or a designated spacious room all to itself, adding touches of your personal style makes your workspace an inviting place to accomplish your day-to-day tasks.
Personal items such as family photos, trinkets from your travels, and artwork that speaks to your soul can transform your workspace from merely functional to an oasis where your ideas and creativity come to life.
Defining your design style is all about crafting an office environment that feels like you. If you find joy in combining antique treasures with modern elements, go for it! The beauty of your home office lies in its reflection of your personality, making it a space where you can thrive creatively and professionally.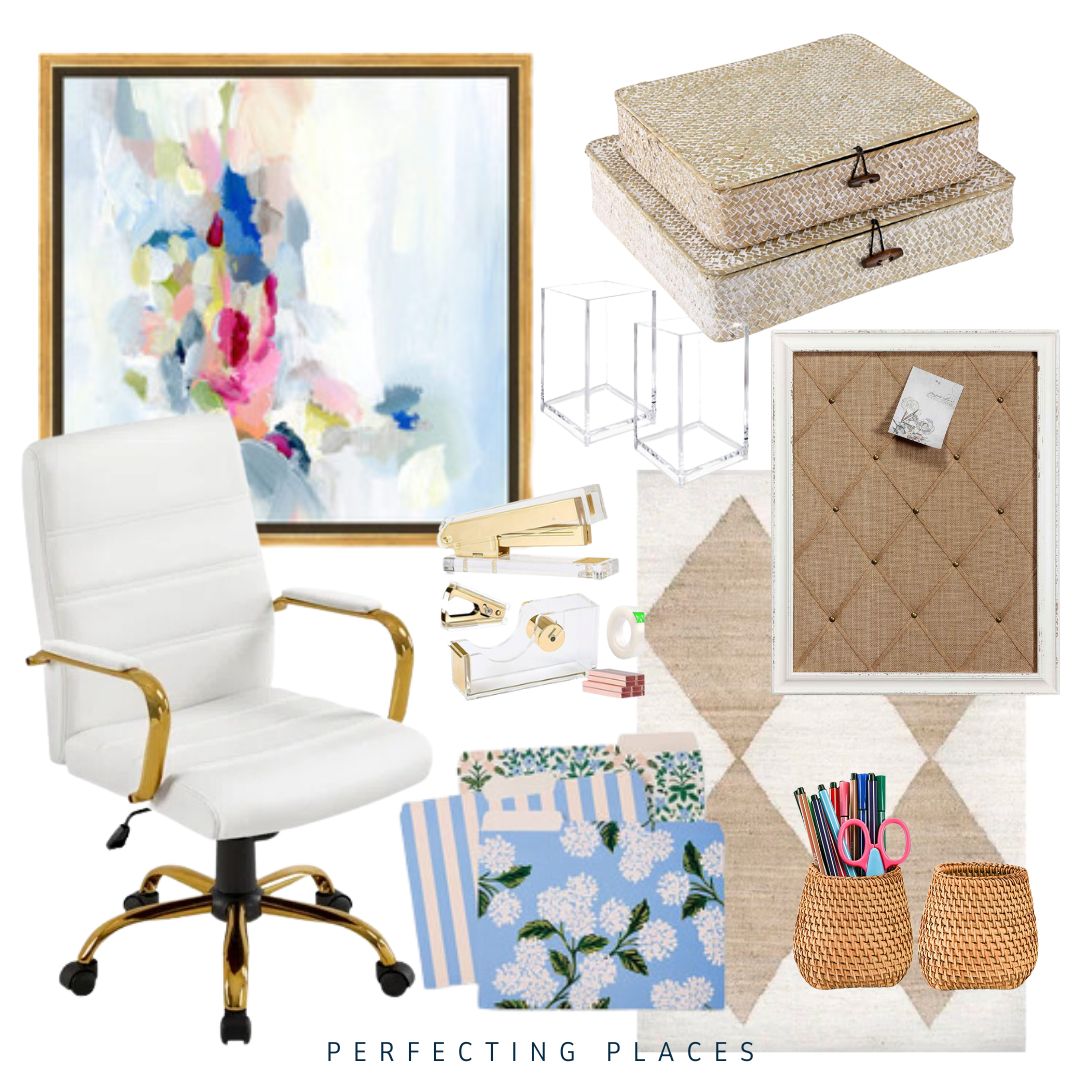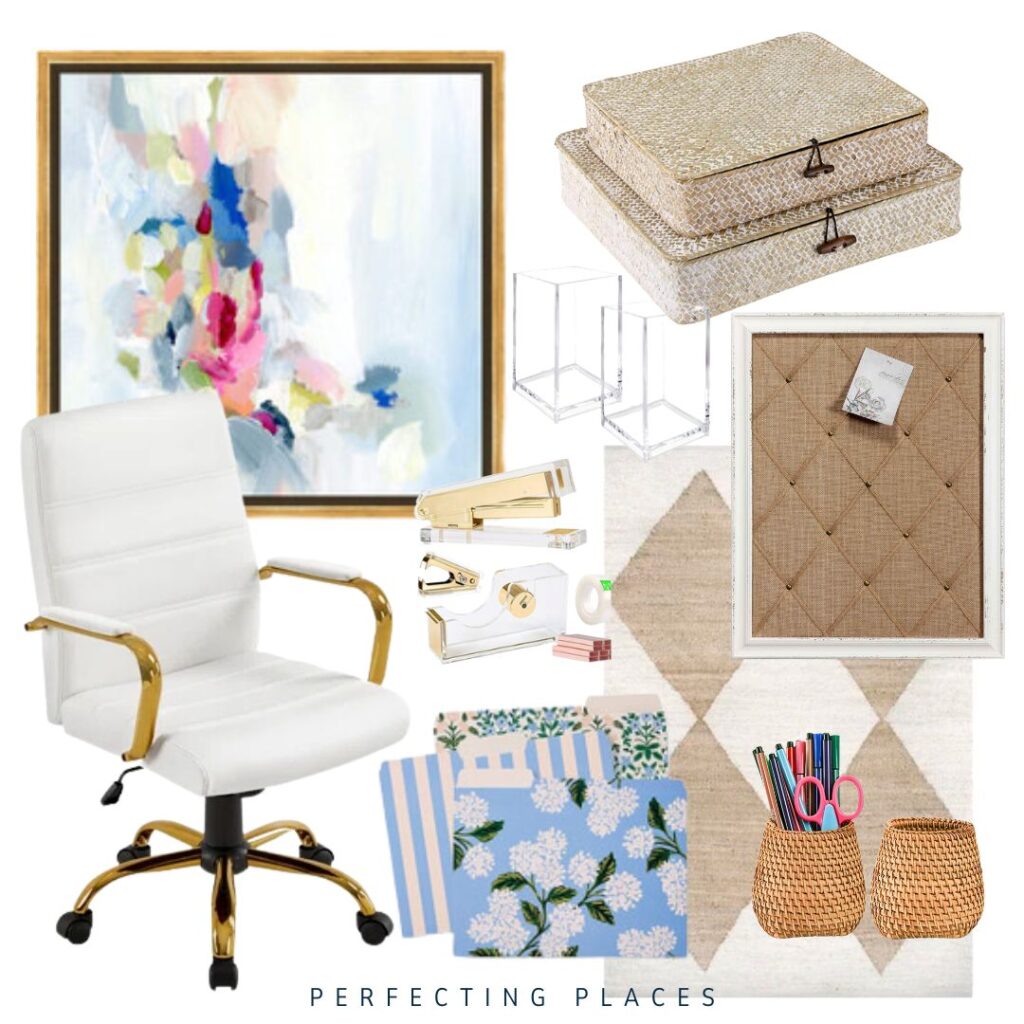 Shop this look for some of my home office decor favorites linked in the photos below.


Curating the Look — Key Decor Elements for Your Home Office Space
When designing a truly personalized workspace that's both beautiful and functional, some key decor elements need to be considered. Decorative elements such as area rugs, artwork, a well-organized desk, and a comfortable chair are important components of a well-appointed home office. These pieces not only enhance the visual appeal but also contribute to the functionality and comfort of your environment.
Area rugs are more than just floor coverings. They're anchors that define zones and add texture and color to your space.
A comfortable chair is more than just a practical necessity. Consider a chair in a style that complements the overall design of your space, while providing you with a cozy spot to bring your ideas to life.
Add artwork that inspires creativity. One easy way to personalize your home office is by adding your own art to the mix. Whether it's a canvas painted by you or artwork that captures your heart, your creations infuse the space with a sense of authenticity. Read how I created my own DIY Botanical Art in this post!
Remember, curating the look of your home office doesn't have to cost a fortune. With creativity and a keen eye, you can transform your space into an inspiring haven without spending a lot of money. 
Happy Decorating!