10 Tips for Last Minute Planning for Christmas
Today, I'm sharing 10 Countdown to Christmas ideas to help with all of your last minute planning for Christmas — just a few tips and ideas along with some favorite family recipes to help make sure you're ready to host the holiday festivities.
We're getting so close!! We're just a couple of weeks away from Christmas!! Our family Christmas celebrating really starts on the 20th with our first family event, so for us we're under two weeks away.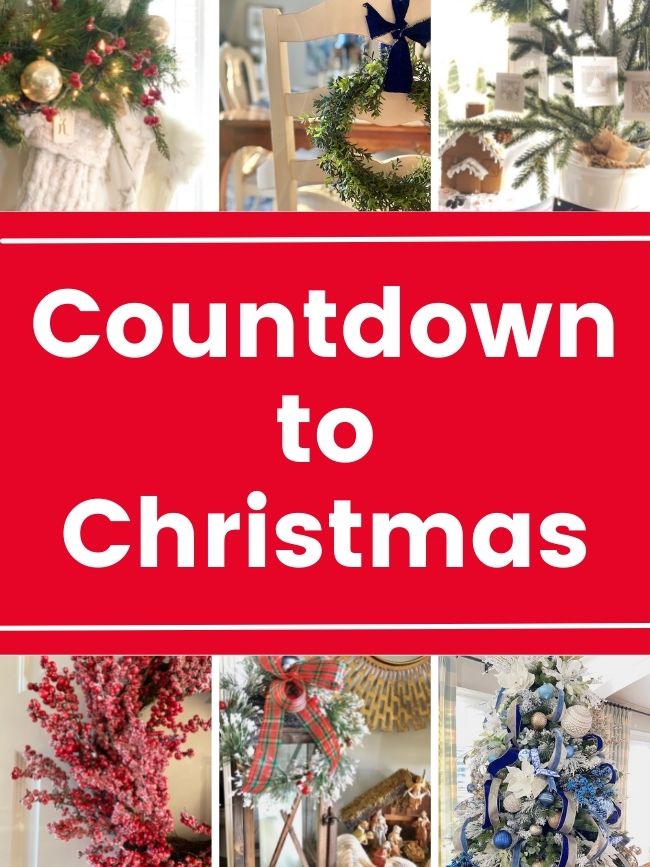 I love our family gatherings. I don't take them lightly because last year they were so scarce. We consider it a privilege to welcome family and friends into our home, and I certainly want to keep my mind fixed on the most important things of the season instead of getting crazy over small details.
So, I hope this countdown to Christmas list helps you prepare and be ready to have a joyful instead of stressful Christmas!
(This post contains affiliate links, so I may earn a small commission when you make a purchase through links on my site at no additional cost to you. As an Amazon Associate I earn from qualifying purchases.)
Last Minute Planning for Christmas Tips:
1. Clean out and stock your pantry for Christmas.
I'm not talking about a major pantry overhaul — we'll do that after the holidays as we get organized in the new year. For now, just do a quick check and throw out anything that has expired or you don't use. Clear out some space and make sure you have plenty of ingredients and pantry staples on hand for holiday baking and food prep. 
I'm stocking up on baking basics like flour and sugar, powdered sugar, and brown sugar, vanilla, baking powder and baking soda, cooking oils and sprays, and making sure I have the spices and seasonings I'll need on hand. 
Gather plastic wraps, foils, parchment and wax papers. If you're roasting a turkey,  make sure you have large bags for brining and roasting. Don't forget crockpot liners for easy cleanup as well. Keep some disposable storage on hand for sharing leftovers and Christmas goodies.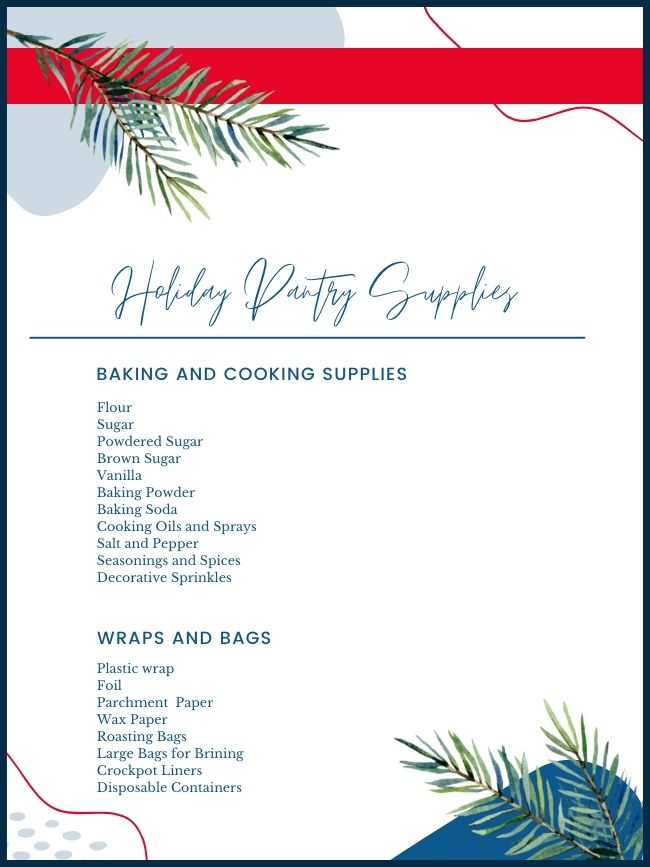 2. Nail down your holiday menus.
Decide what you're having and divvy up the dishes— the main dish, sides, bread, salads and desserts. Are you preparing everything or will your meals be potluck. In our family, the host determines the main entrees and sides and asks other family members to pitch in. Now is the time to request those special dishes.
My husband's side of the family loves flank steak, and we'll be hosting this meal this year, so we'll marinade and grill the steak ahead of time, seal it and then warm the sealed bags in warm water on the night of the meal.
Here's the marinade recipe we use.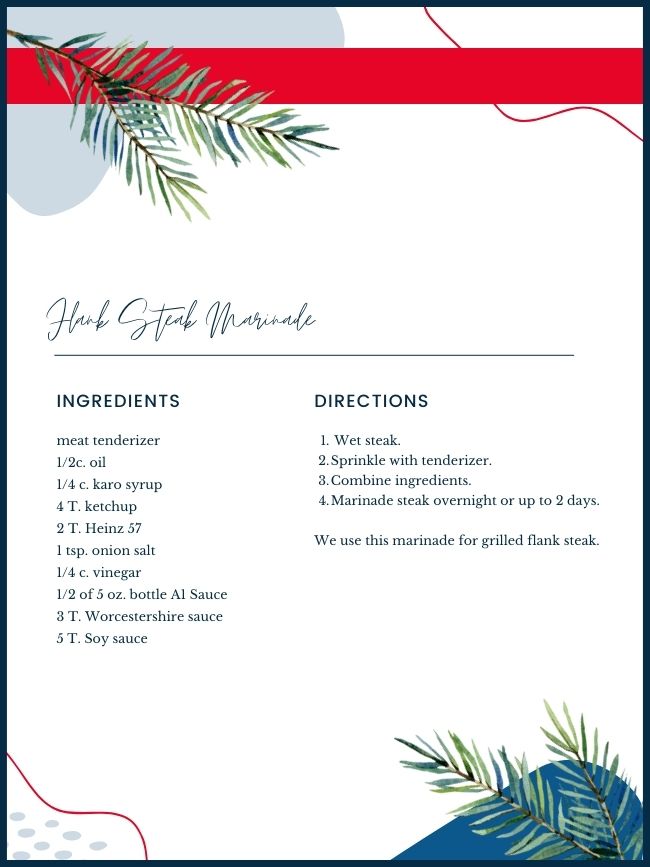 Another favorite family recipe I make every year is Strawberry-Pineapple Pretzel Salad. Our family simply calls it Pretzel Salad, even though there is nothing "salad" about it!! I always make several for our various family holiday gatherings. This isn't the Strawberry Jell-O salad you may be thinking of. No Jell-O is used in the making of my Pretzel Salad recipe!! It's just creamy goodness and a highly requested dessert, I mean "salad"!!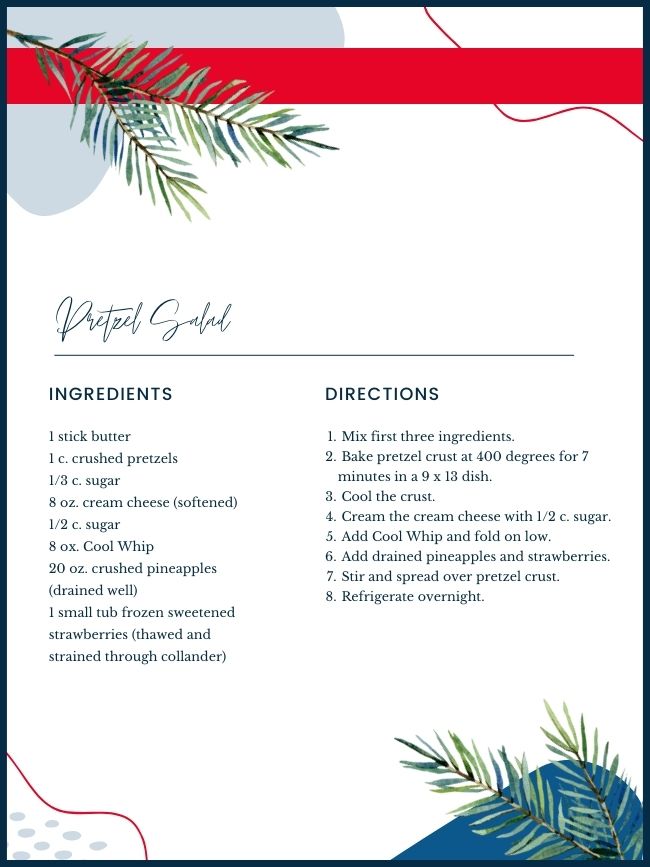 On Christmas Day, we start the day with a large breakfast. I'm sharing our favorite Sausage Casserole below. I've made this recipe for probably 25 years, and think I could make it in my sleep! I love to serve it with this wonderful French Toast Bake!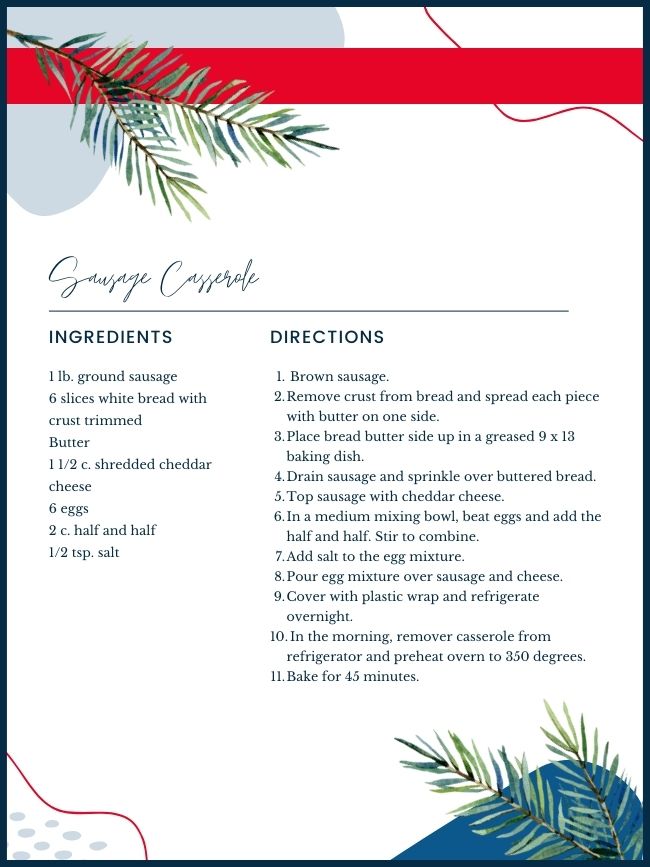 For dinner I make this wonderful make-ahead Holiday Brisket – a recipe I found years ago on StoneGable blog and it has become a family favorite!
I serve these wonderful Southern Living Classic Parmesan Scalloped Potatoes with it.
3. Plan your tables if you are hosting.
How many tables and seats will you need? Now is the time to get the plan together. Do you need to borrow any chairs or card tables.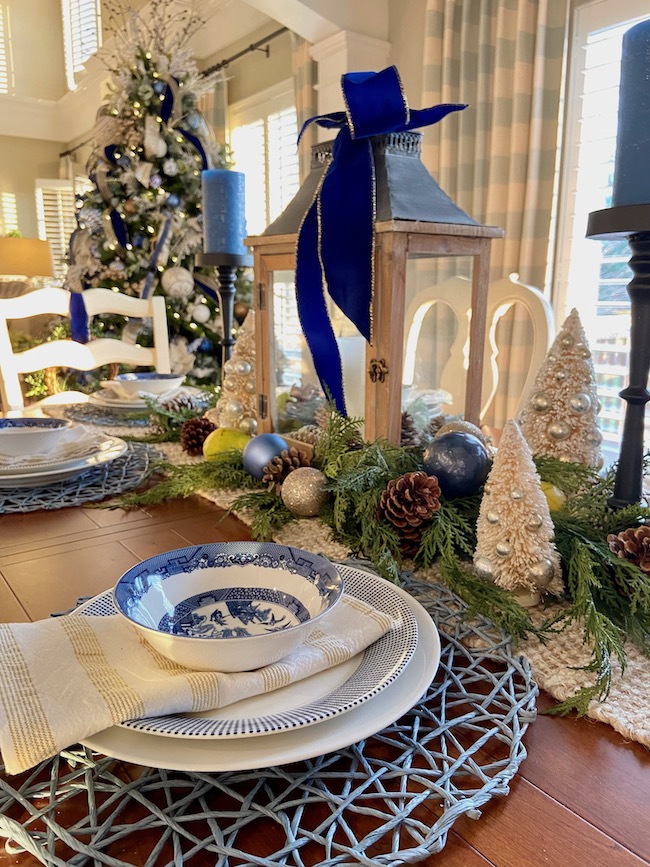 If you're using tablecloths, make sure they are clean and pressed.
Are you using dinnerware or disposable dishes? Plan your place settings now and purchase any needed paper products. Below are some pretty disposable options from Amazon. When I use disposable plates I like to use plastic chargers with them.
---
---
4. Clean your house to prepare for guests.
Don't wait until the last minute to clean. Go ahead and do a thorough cleaning now, and just keep it dusted, swept and wiped down this week. Your bathrooms, of course, will need to be cleaned right before guests arrive, but I find keeping the house clean is easier than waiting to do a major cleaning right before the event.
Freshen your guest rooms. Put fresh sheets on the bed. Add decorative Christmas touches to the room. Even something as simple as fresh greenery or a Christmas pillow will feel festive.
---
---
Make sure you have plenty of bathroom supplies on hand for guests. Stock up on soaps, toilet paper, kleenex, etc.
5. Stock up on candles.
Whether you use real candles or battery powered candles, make sure you have plenty of what you need on hand for entertaining. Don't forget the matches and lighters. Some of my favorite battery powered candles are below.
---
---
6. Wrap your gifts.
Make it a point to knock out your gift wrapping now, so you aren't scrambling at the last minute. Don't forget any last minute gift cards you need to purchase, and the gift card boxes for them.
Below are some cute gift box ideas for gift cards or small Christmas treats for neighbors, teachers, and friends.
---
---
7. Display your Christmas cards.
As Christmas cards arrive, hang them on a bulletin board, on the stair garland, in a card holder, or bowl. Enjoy the sweet messages of friends and family.
8. Add fresh greenery and flowers.
You can spruce up faux greenery with a few sprigs of fresh. Add to garlands, front porch pots, centerpieces and bowls. Simple touches of greenery are a lovely way to add holiday cheer. I talked about some great accent pieces which are great for adding simple touches of greenery in this post. I've added a few dried oranges in some of my greenery.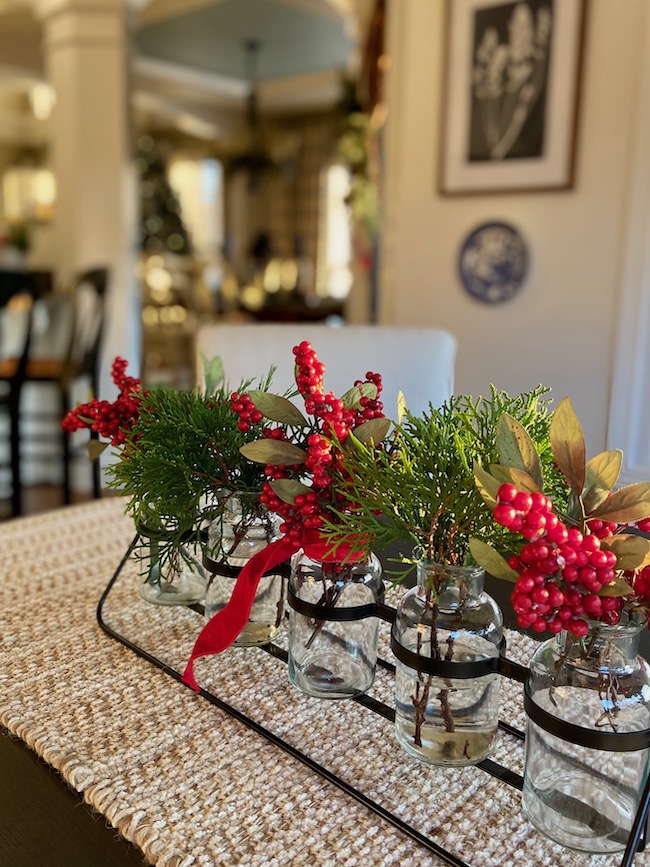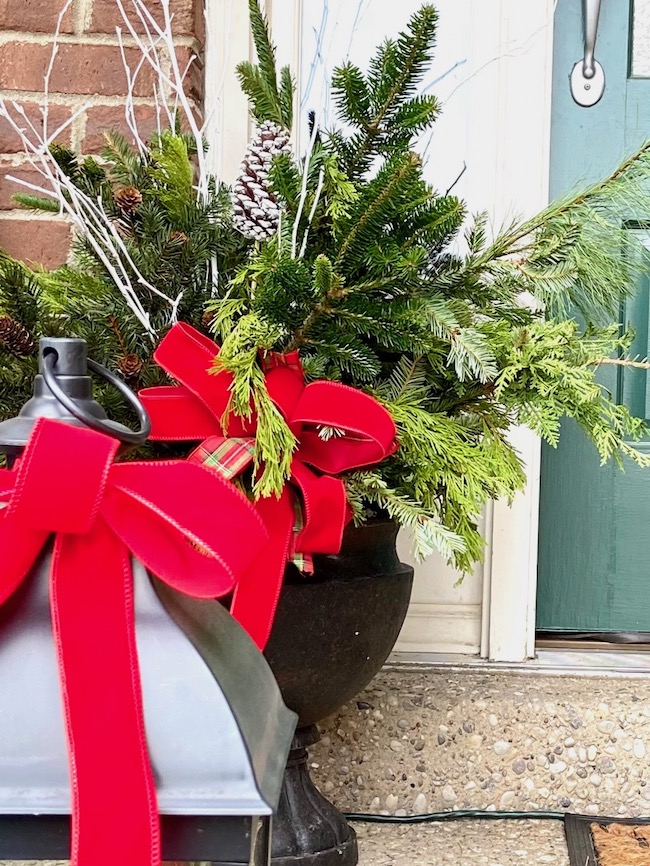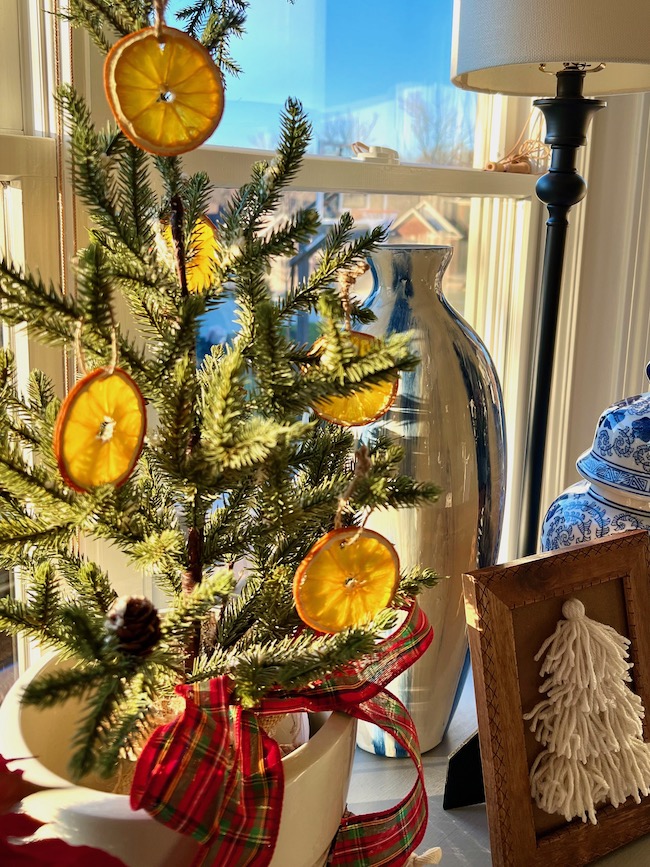 9. Plan your baking day.
Now that you're pantry is all stocked, pick a day or two to get your Christmas baking done. Make favorite cookies, candies, and breads to share with neighbors and friends. These make great hostess gifts as well. I'll be making lots of chocolate chip zucchini bread to share.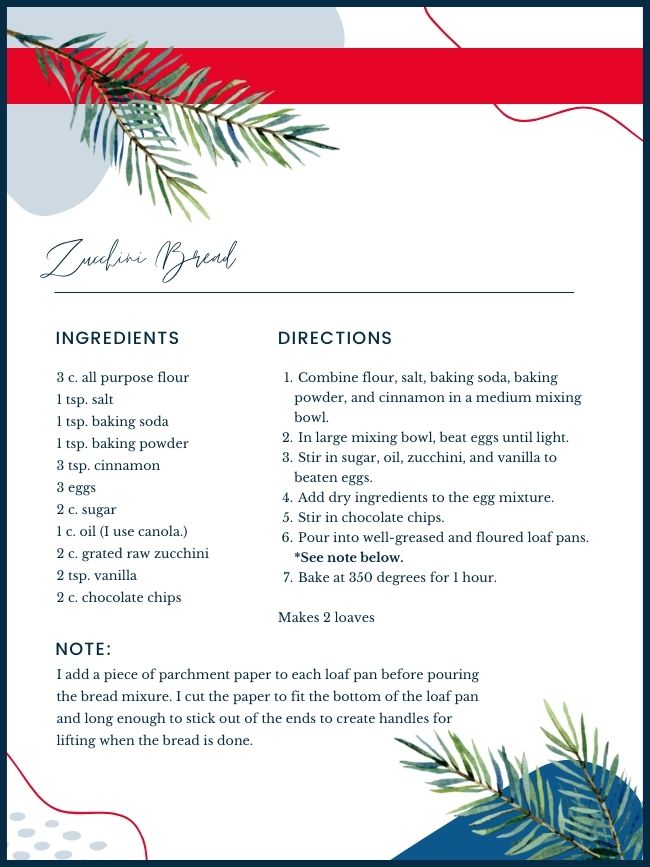 10. Be intentional
Don't let these days get away without making time to relax and enjoy the sights, sounds, smells, and joys of the season. It's so easy to get wrapped up in the busyness and miss out on what is important. 
Set aside some specific time to make special memories with your family. Start your mornings with a Christmas devotional or Christmas music. Focus in on the true meaning of the season — celebrating the birth of Jesus!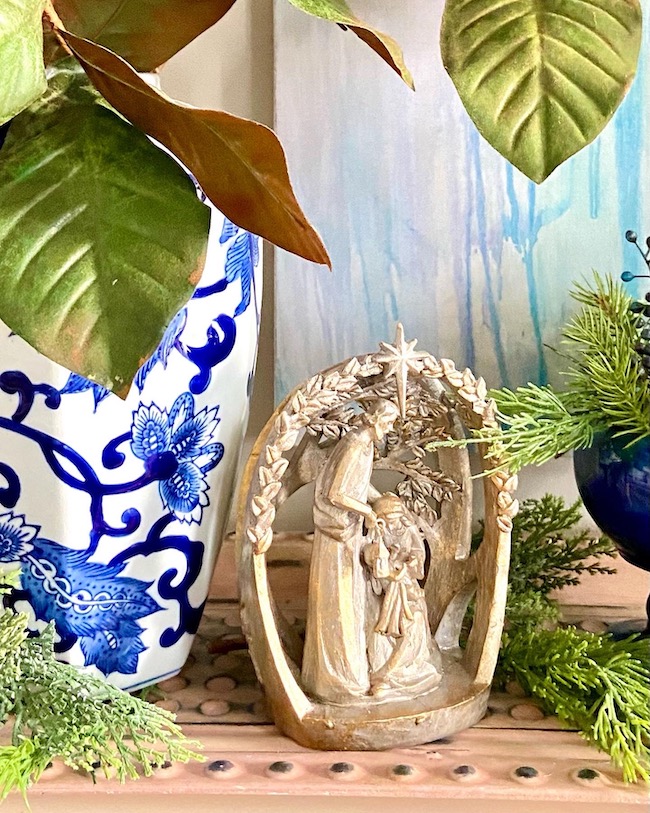 I love the beauty of the Christmas season, and while it's easy to focus on all of the pretty things, I am reminded that the real beauty of the season is the majesty of Jesus, and everything else pales in comparison.
Enjoy these last two weeks leading up to Christmas! I hope these tips help with your last minute planning for Christmas!
Merry Christmas!
You might also enjoy:
Gift Ideas for Those Who Love Home!
Gold Leaf Letter Ornaments and DIY Star Garland
Our Blue and White Color Scheme for Christmas