Our 2021 Christmas Home Tour
Well, I think I finally have it together! I've been working on it for about three weeks now, so I should be ready!! Today I'm sharing our Christmas Home Tour, and I'm so excited to invite you into our home. 
(This post contains affiliate links, so I may earn a small commission when you make a purchase through links on my site at no additional cost to you. As an Amazon Associate I earn from qualifying purchases.)
On our front porch, I added a mix of mostly fresh greenery with a few pieces of faux to our pots to give them a little extra fulness. I added white twigs and bright red bows. I love a traditional look for outside, and think nothing says Christmas like bright red bows and greenery on your front porch!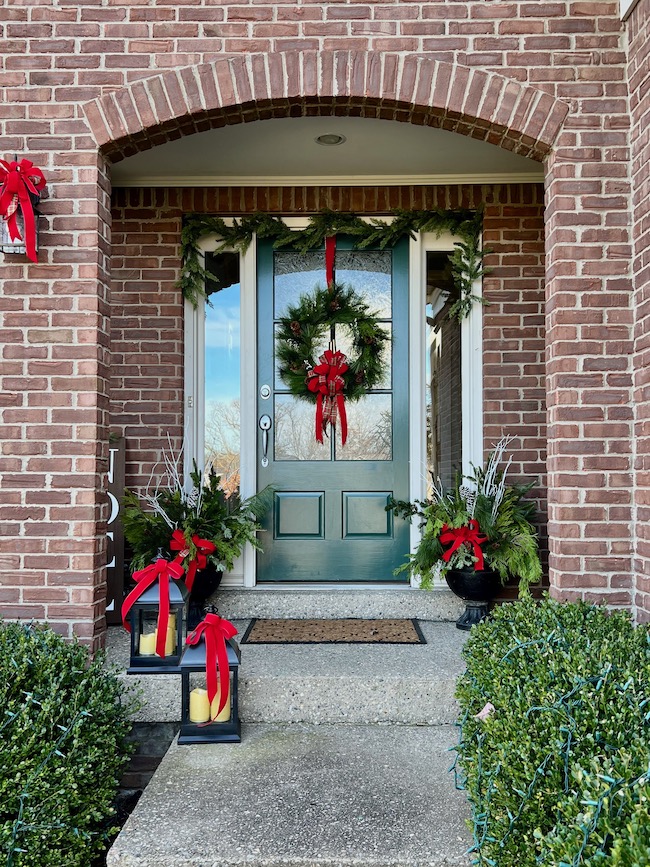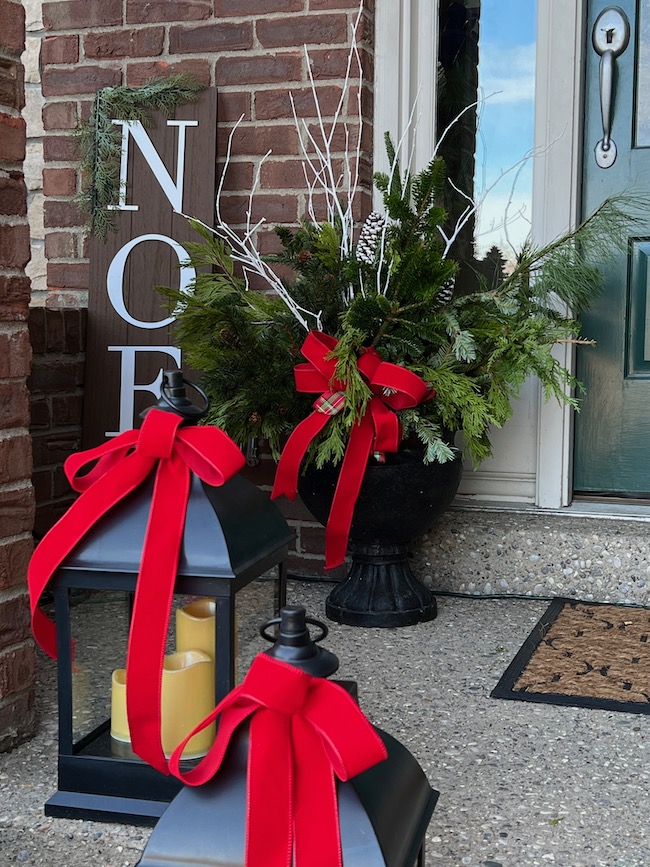 Moving inside, I wanted a blue and white color scheme in our main living area. In the past I've tried to veer away from traditional reds in our living room with no success, but this year I finally managed to do it!!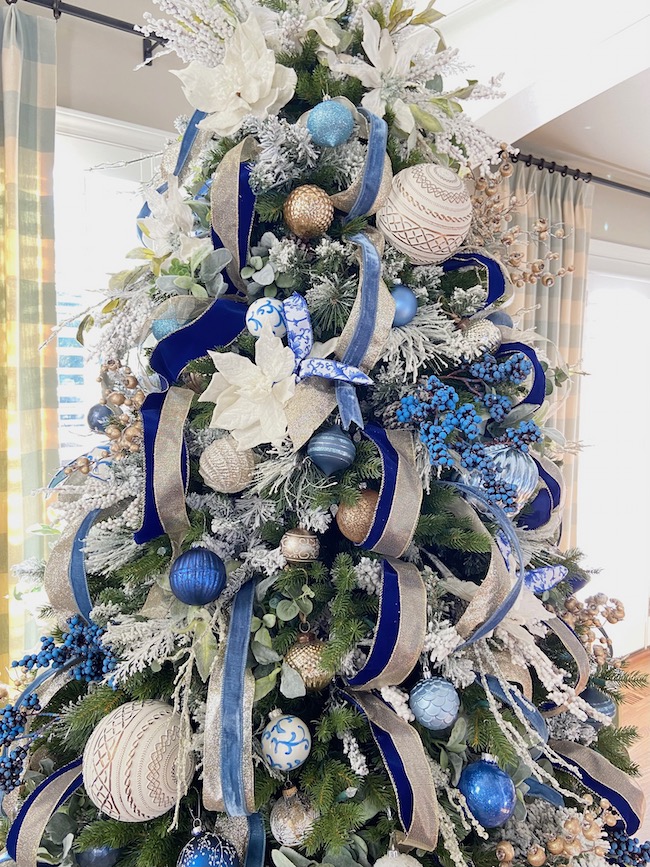 I showed you our blue and white Christmas tree a couple of weeks ago, and today I'm revealing the rest of the main floor! I've managed to stick to my blue, white, and gold color scheme in the living room, and I'm so proud of myself.
At times I've felt the red calling to me, but I resisted!! I am, however, a little concerned because there are still three more weeks until Christmas, and that's a lot of time to manage self control!
I carried the blue theme into the foyer and added these pretty blue bows with a little greenery to our stair newel posts. I think they look fancy! 🙂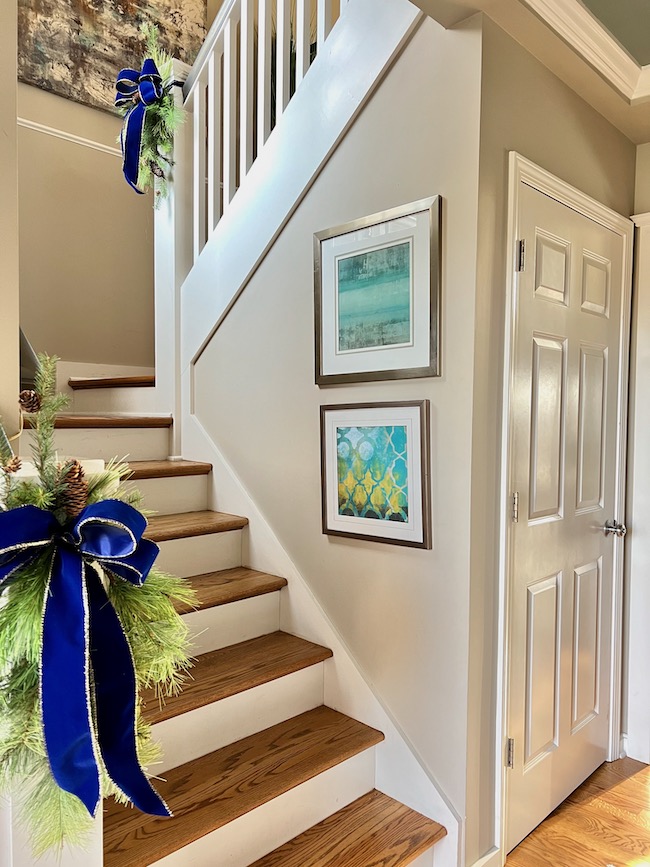 This little foyer table just keeps hanging in there. I think of it as the little foyer table that could.  I added some greenery to a vase with blue and green ribbon and moved one of the nativity scenes here. I like the texture and soft colors that the blue and green bottle brush trees add to the Willow Tree nativity.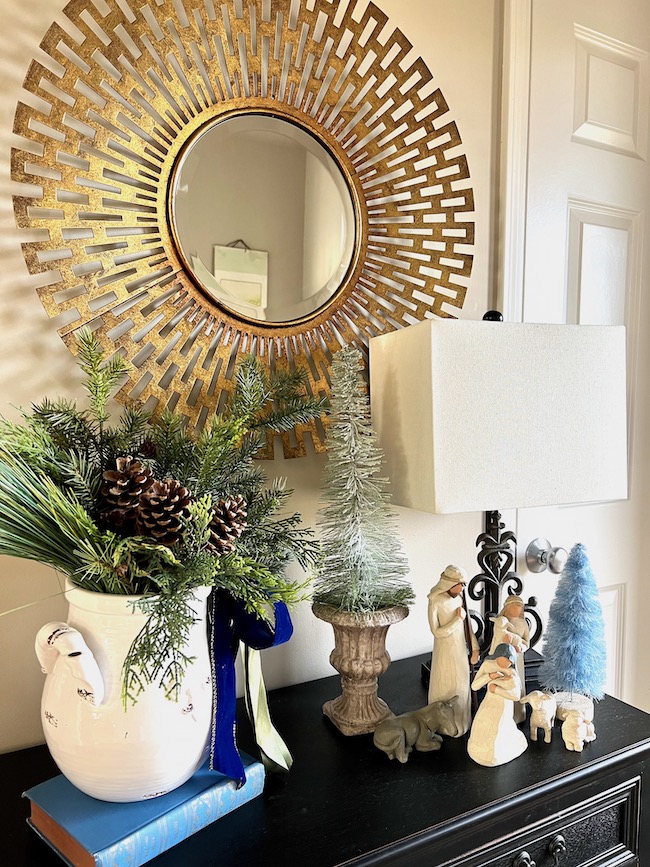 Our hydrangeas were abundant this year, and as I decorated areas of our house for Christmas, I removed all of the dried hydrangeas and just stuffed them here in this big basket! I think they're pretty with the blue and green color scheme on the table.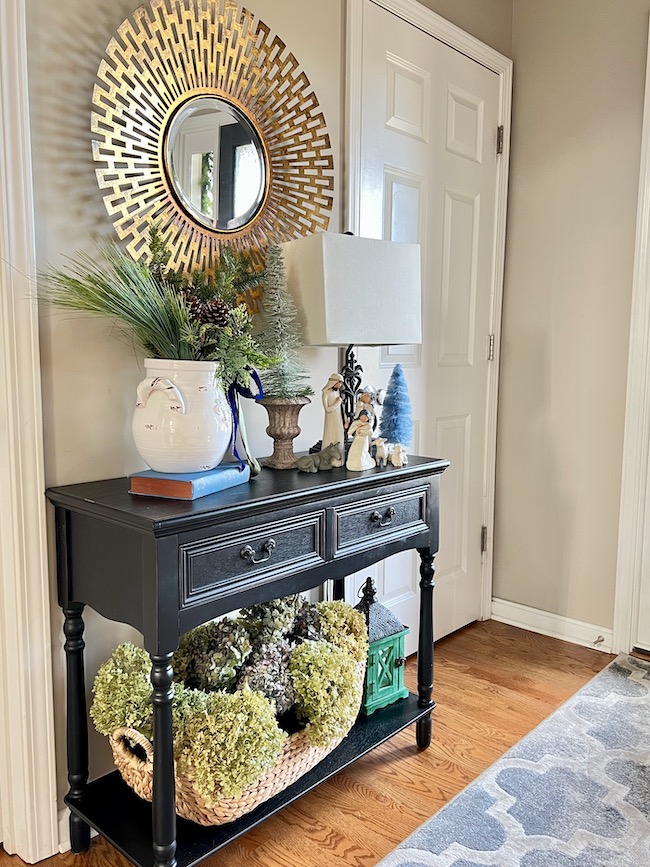 I don't know about you, but aside from the nativity scenes and a few small trees, I feel like I mostly have just a bunch of greenery, ribbon, and pieces of this and that, and not much actual "dedicated Christmas decor". I pull my look together by grabbing a vase from here and a tray from there and adding all the Christmas stems, greenery and ribbons and it somehow comes out looking ok. I love to use some basic staple decor pieces that I can easily change out from season to season.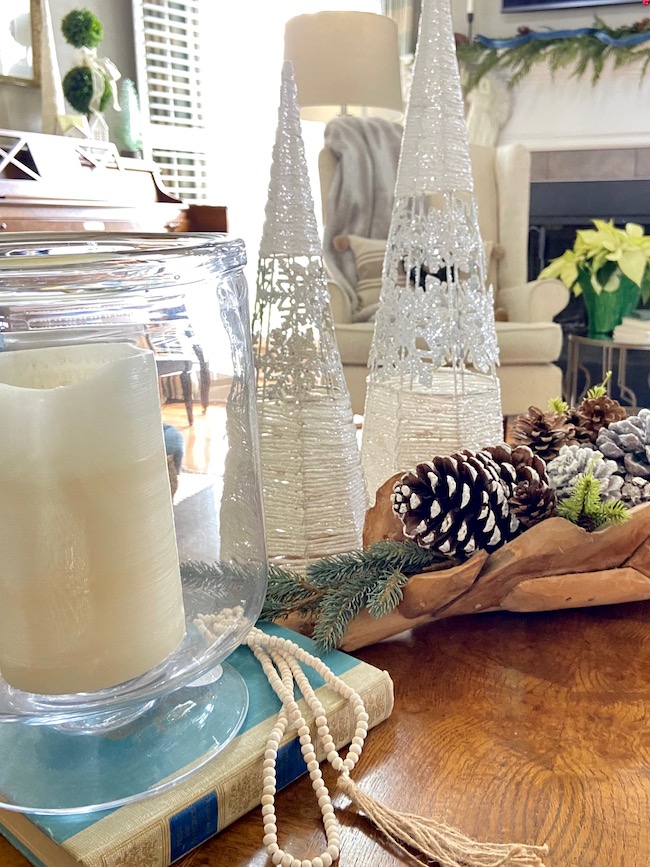 You may not know this about me, but I'm a major over thinker! I especially over think my own decor. If I'm going to live with it, I want to love it, so sometimes it takes me a little while to get where I'm going with decorating my own home. There are just so many possibilities swirling around in this head of mine — especially this time of year!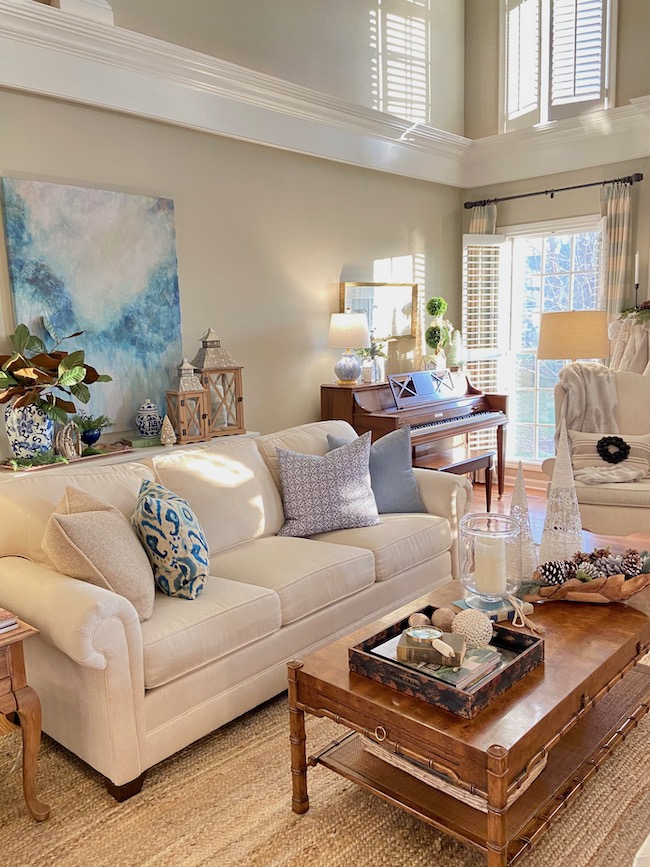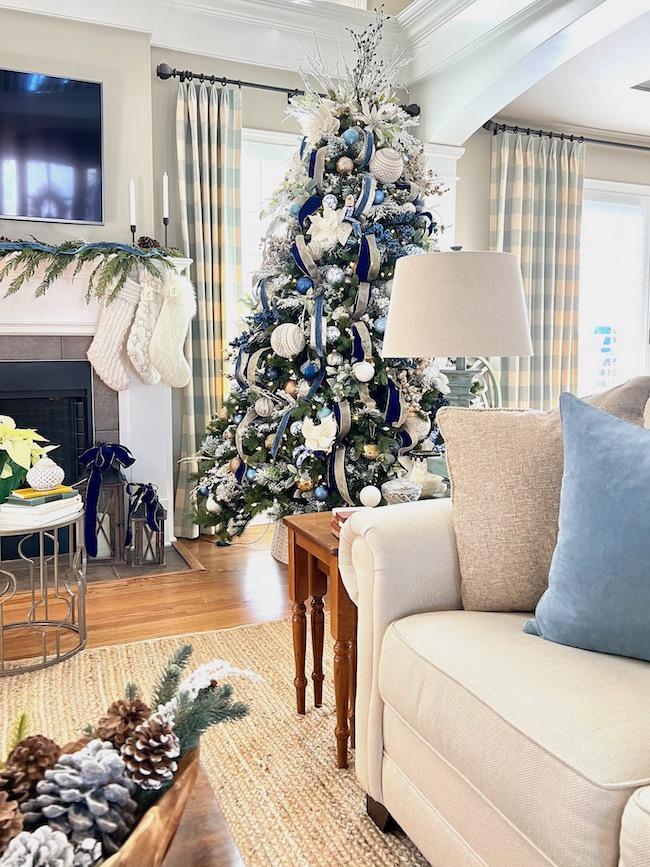 I wanted to keep our mantel simple with just a little greenery, white candles and our creamy white stockings.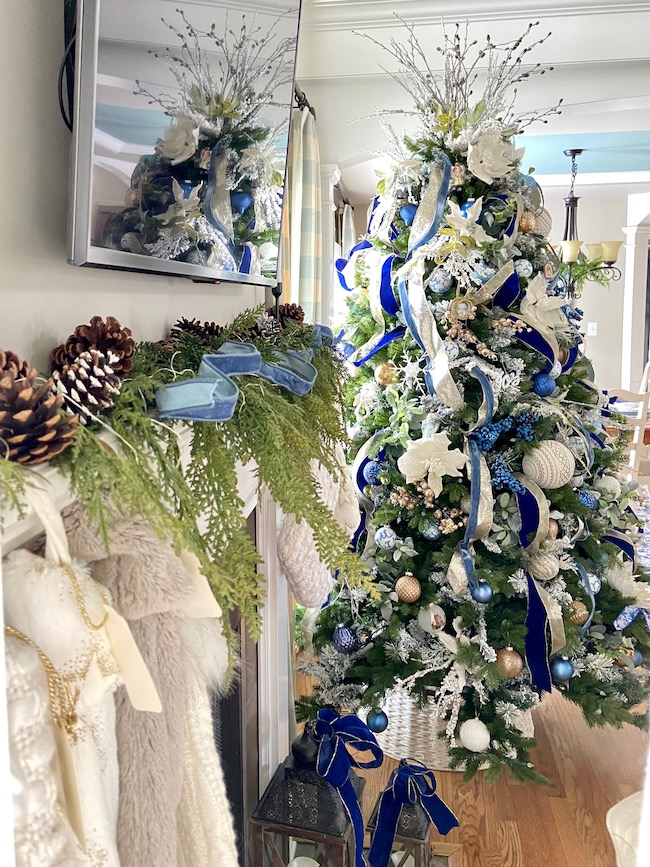 I started out with no lights, but we decided we like a little light on the mantel so I added fairy lights to the greenery. I'm also using these wonderful faux taper candles in the candle sticks. They have moving flames so they look real, and the best thing is they are remote controlled!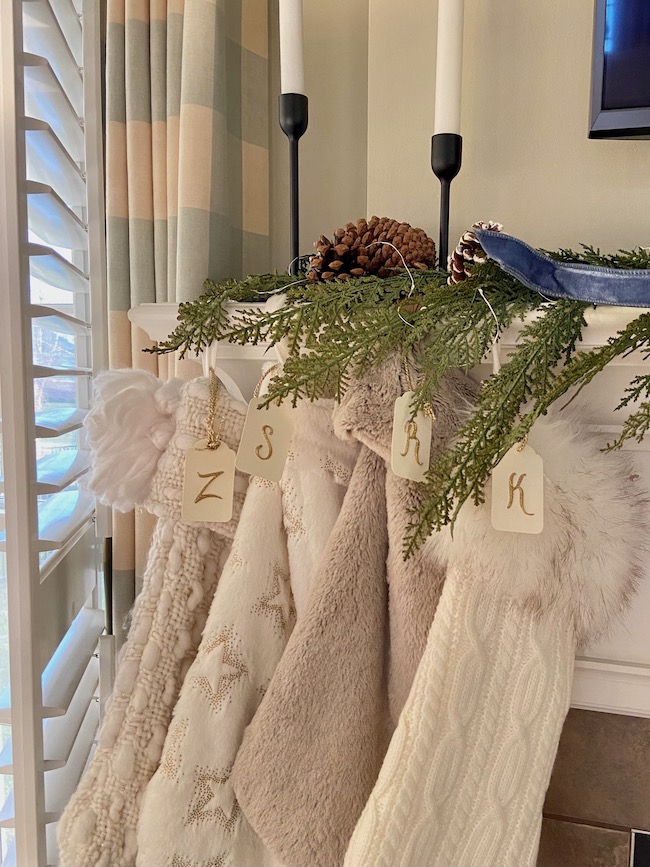 Our mantel is not very deep, so I have to be careful with what I put there. When I caved, I mean when we decided to put the TV over the mantel a couple of years ago, it became a little trickier to work around. I've found that simple is better here, for the most part.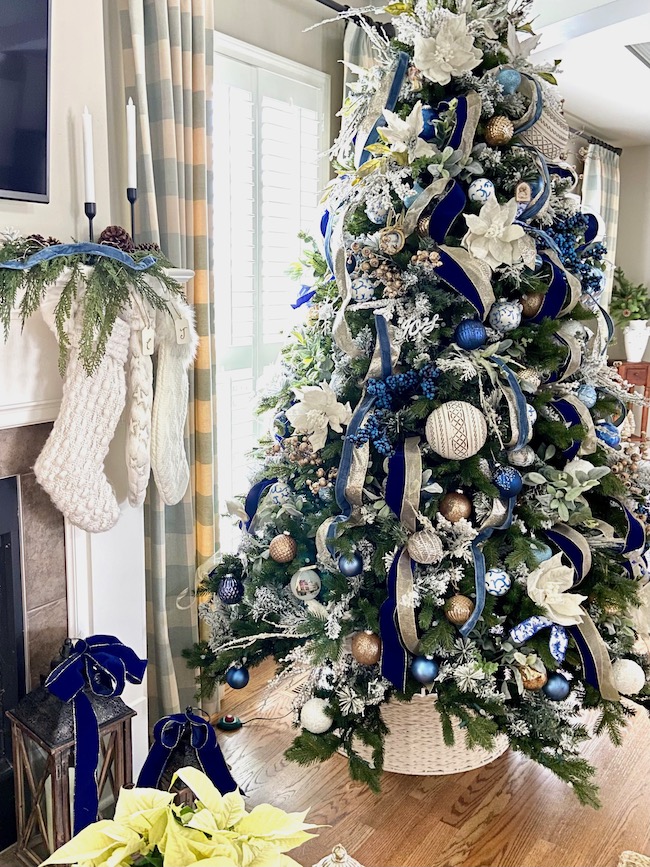 I shared this pretty blue and white lamp in my IG story last week. It's a purchase I made this year originally for our countertop, but I tried it here and loved it! So, sorry little kitchen countertop corner. You're stuck with the old lamp for now:)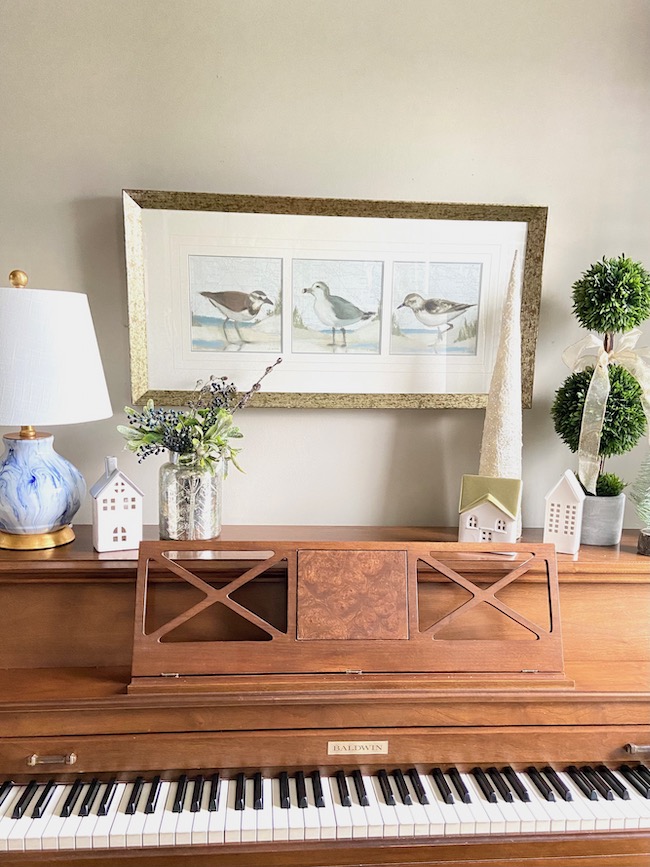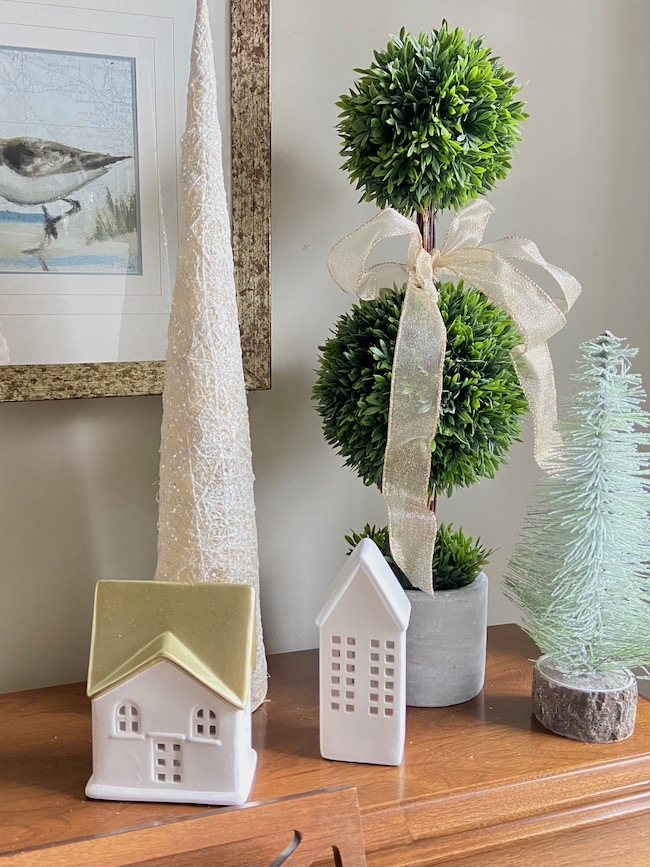 I added some simple houses and a shimmery gold ribbon to the topiary to be festive and fancy, and I'm hoping our son fills our home with some beautiful Christmas piano music this year. (We'll see about that!)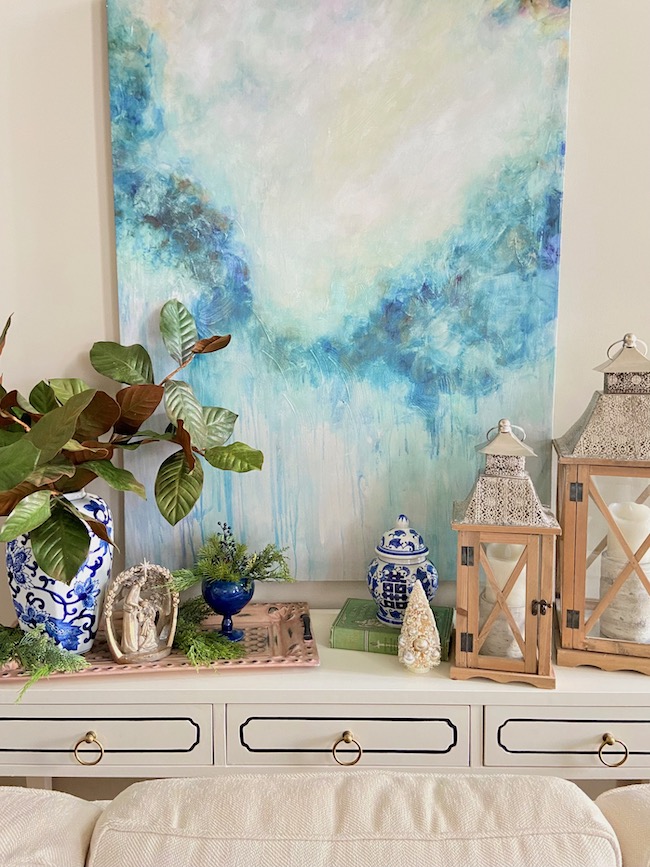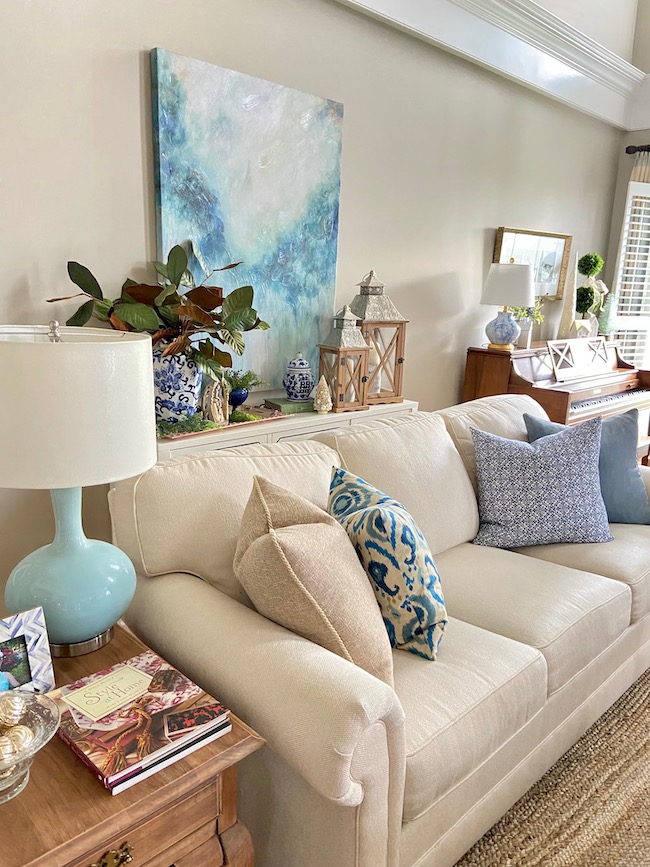 I added faux magnolia stems to the blue and white vase on the sofa table and placed it on this old Southern Living at Home tray with a little greenery and this sweet little gold nativity. (As a side note, once upon a time I used to sell Southern Living at Home when it was a thing — just a bit of Kim Hume trivia for you. Because of that, you may or may not recognize a few of those pieces showing up in my home from time to time.)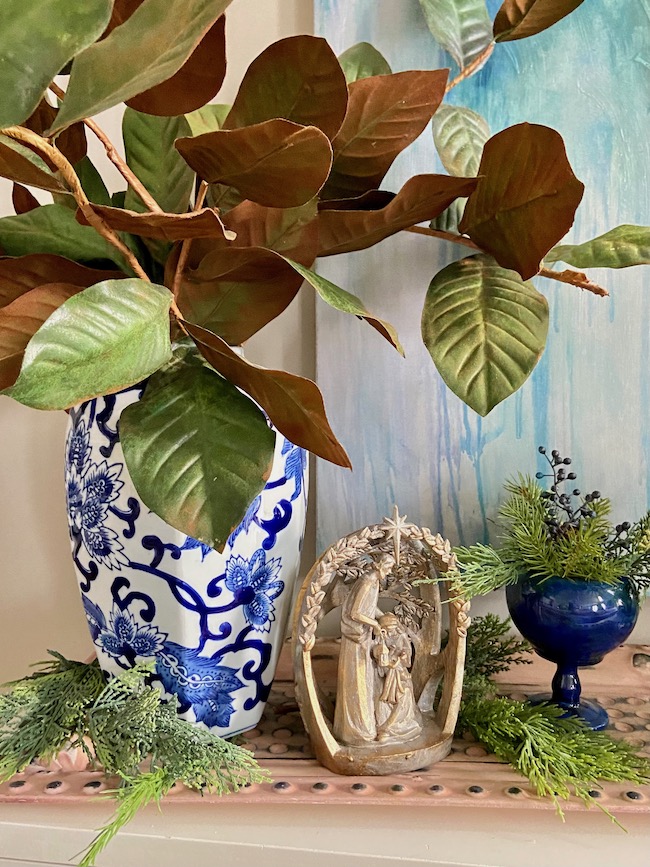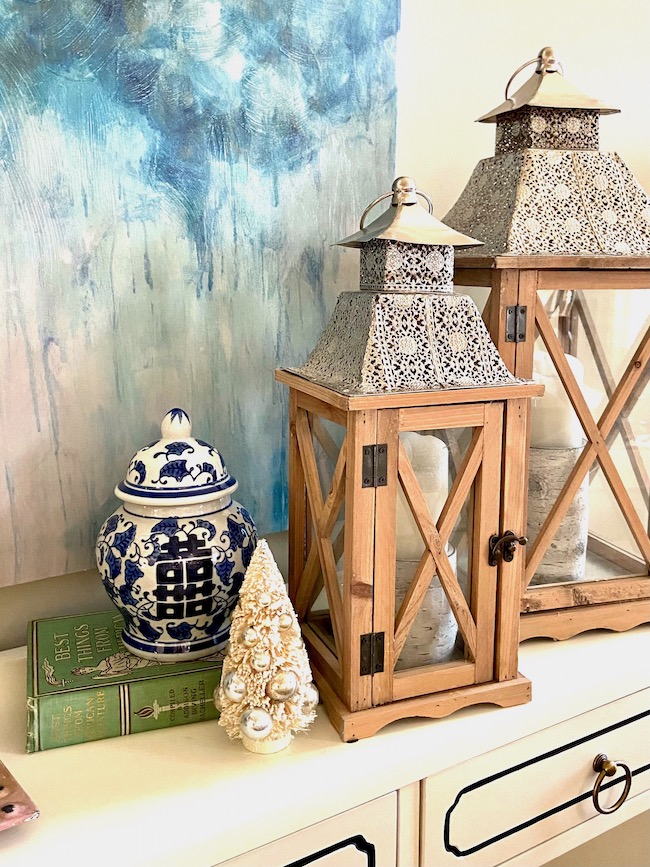 These wooden lanterns are so pretty with the candles lit at night. I use faux candles on timers in all of our lanterns and they are fabulous!! Every night around 5:30 they magically come on and stay lit for about 6 hours. The batteries last a very long time. These have lasted for almost an entire year (being lit for 5 hours every night)!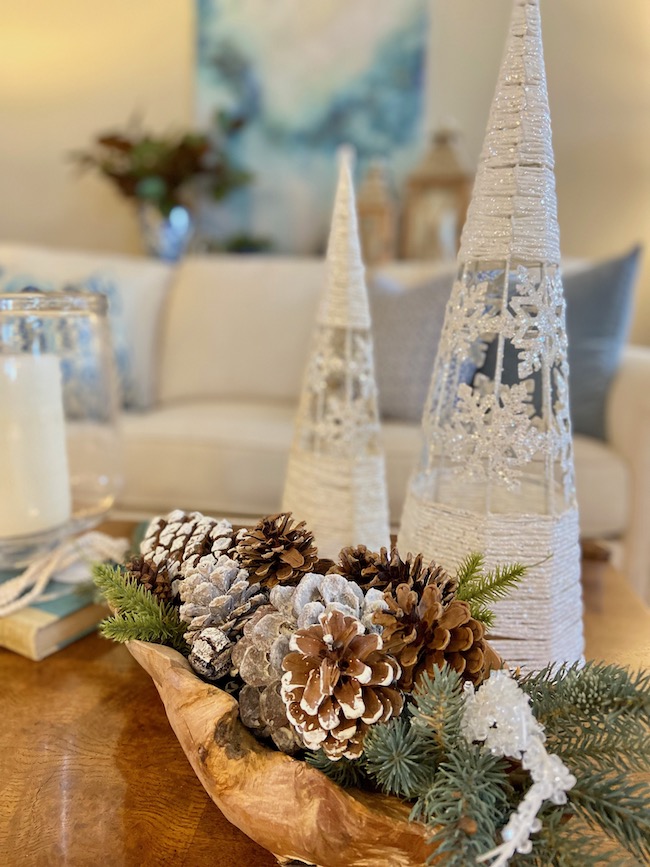 On the coffee table, I added a pair of tall cone trees and filled a quirky wooden bowl with pinecones for a more natural look. I like pairing a little bit of sparkle with the natural elements, especially since I'm not using red in here. I found this large hurricane at Target. I rounded out the coffee table with some coffee table books in a tray.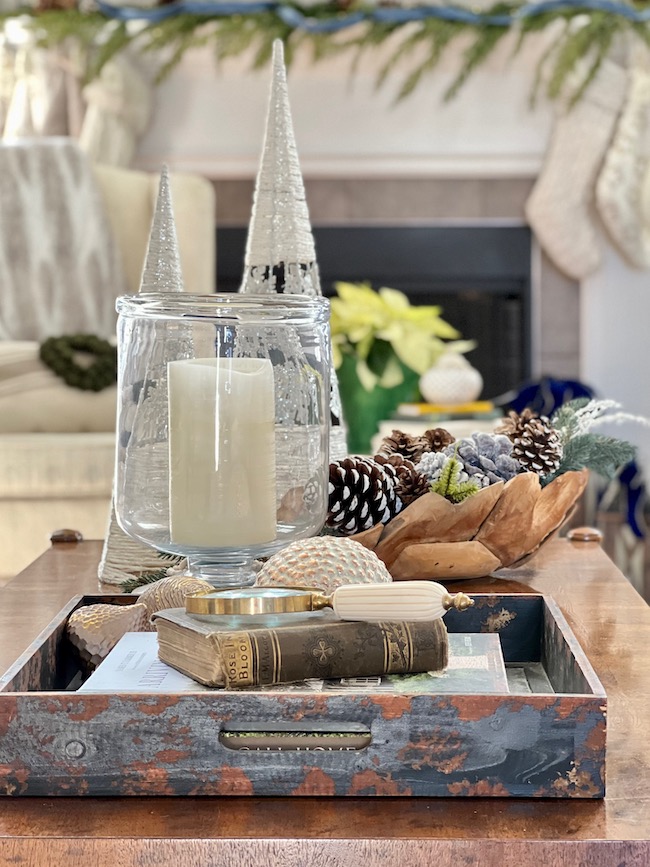 Our living room shelves also got a little Christmas sprucing for the holidays. I added our Fontanini nativity set here along with a few other Christmas themed pieces.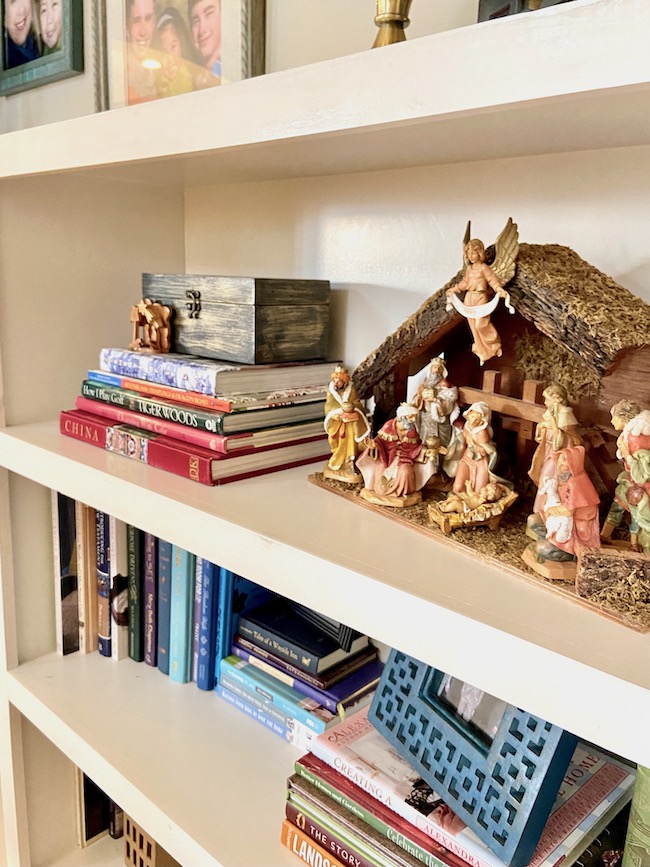 I continued the blue and white theme in the dining room. I added a lantern with greenery, pine cones and Christmas balls as a centerpiece, and added a few pears for a natural touch of bright green. I'm using blue and white dishes in here as well.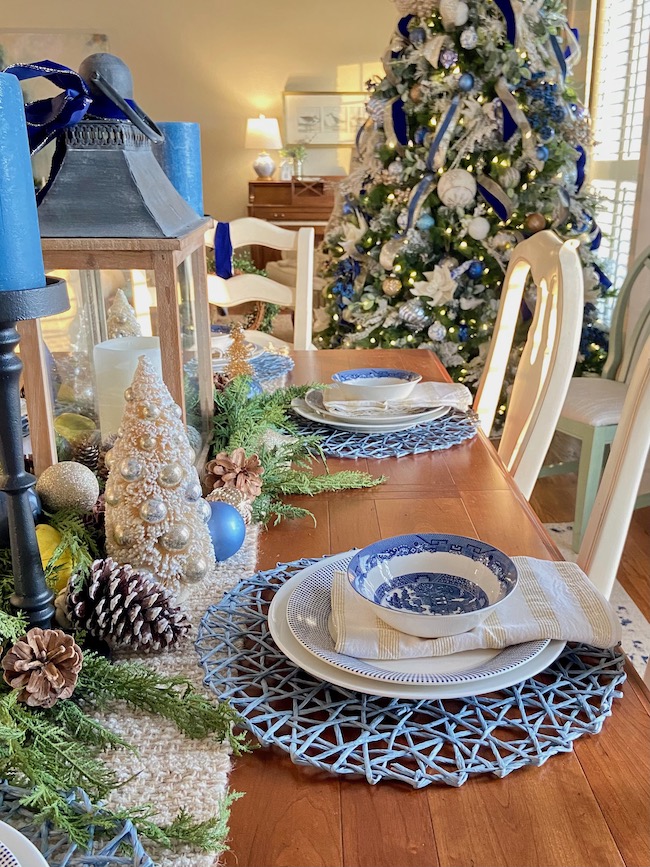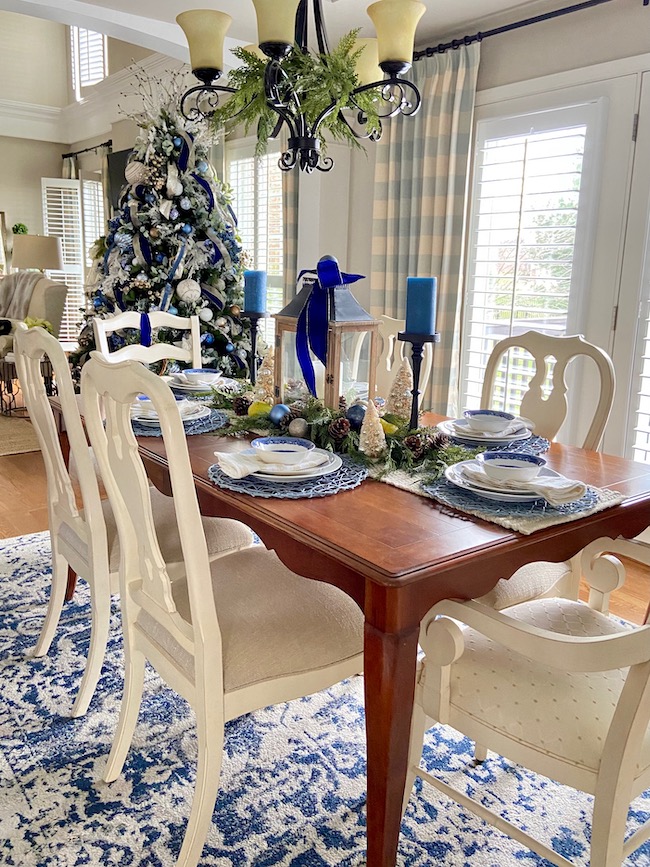 When I serve our Christmas meals here, I'll replace the lantern with a small bowl of ornaments. The lantern is pretty when we aren't using this table, but when Christmas arrives and we begin hosting dinners, I prefer a lower centerpiece.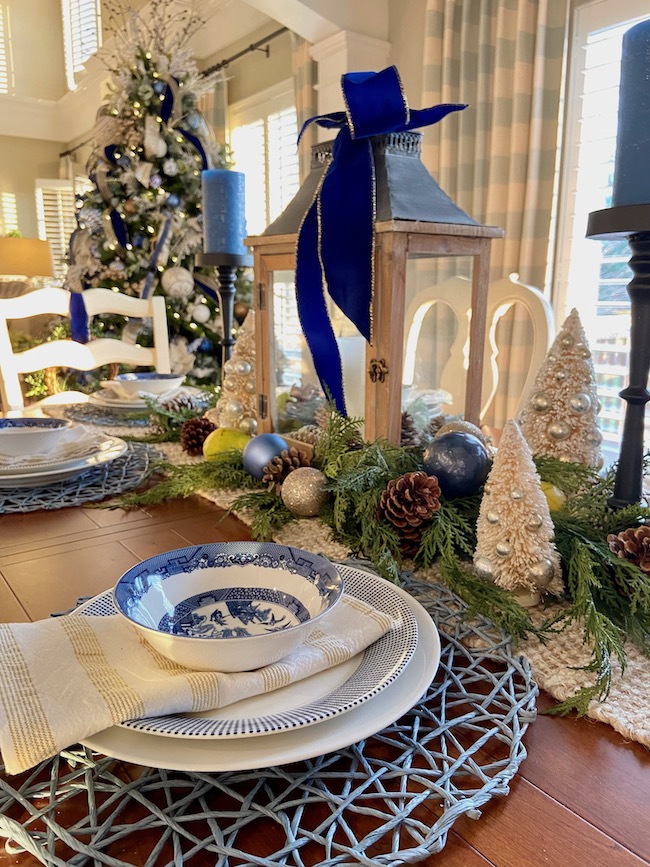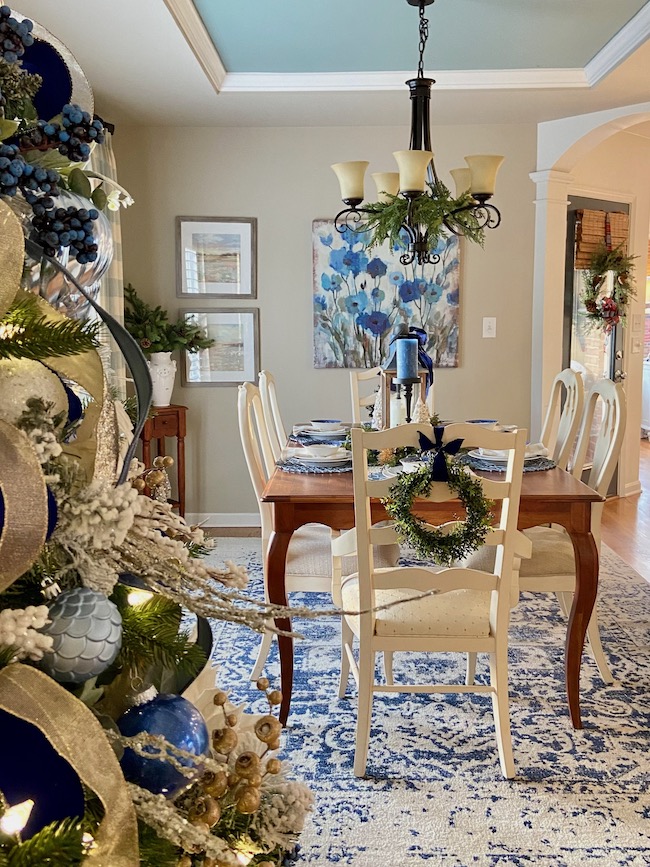 I love the little wreaths with blue velvet bows on the chairs.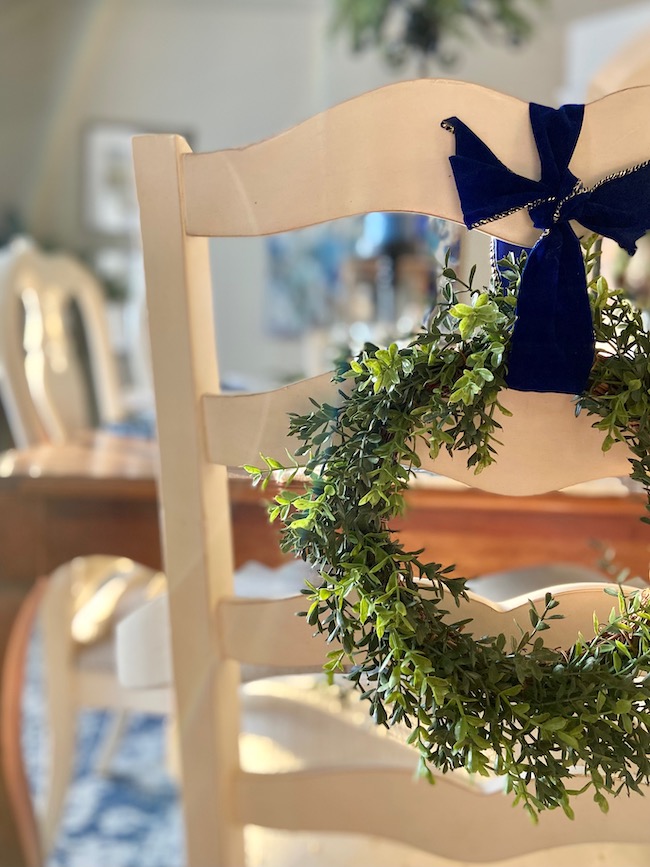 I did add a touch of red in the dining room with the pomegranates in the silver bowl — a little transition for you as we move into the kitchen, where there is definitely some red!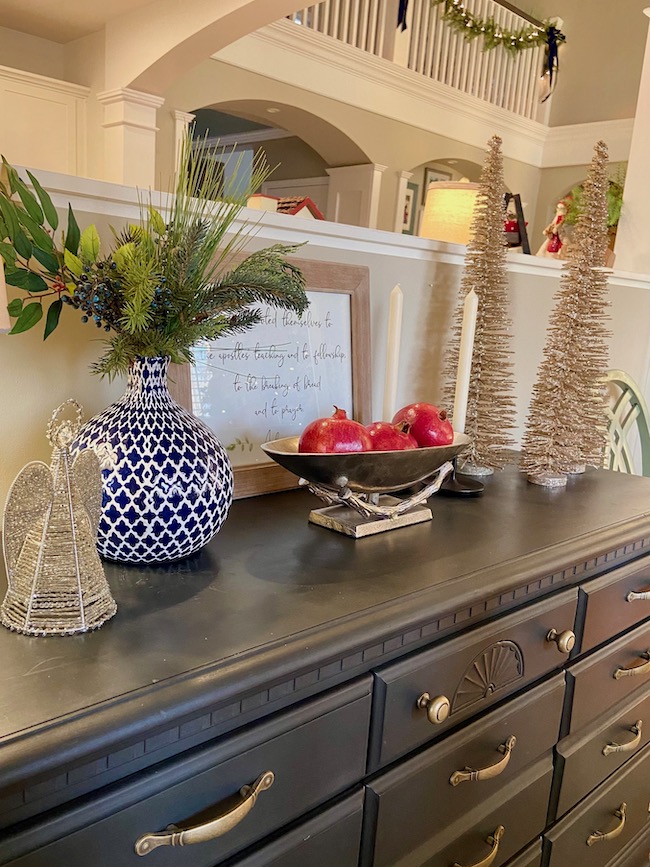 Now, for some Christmas red!!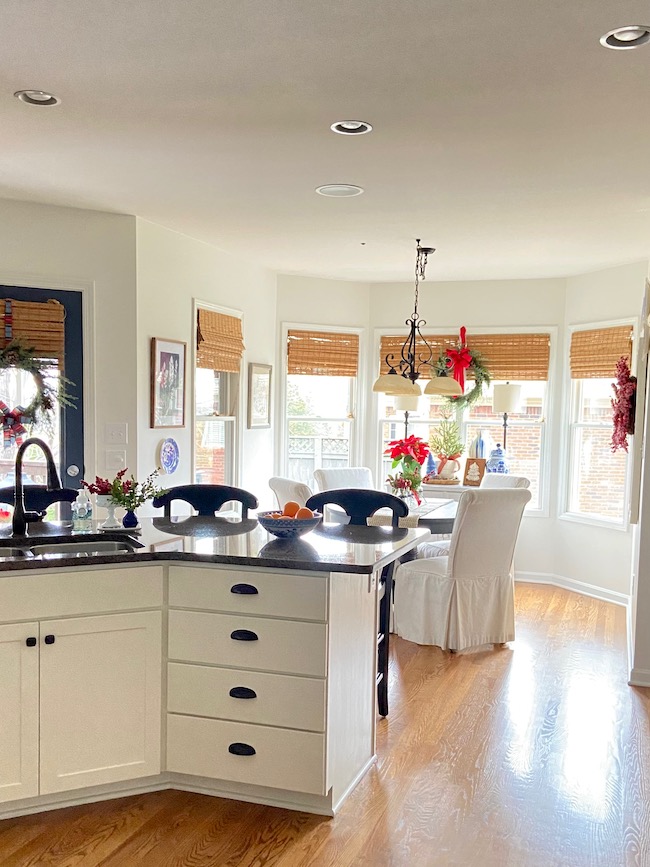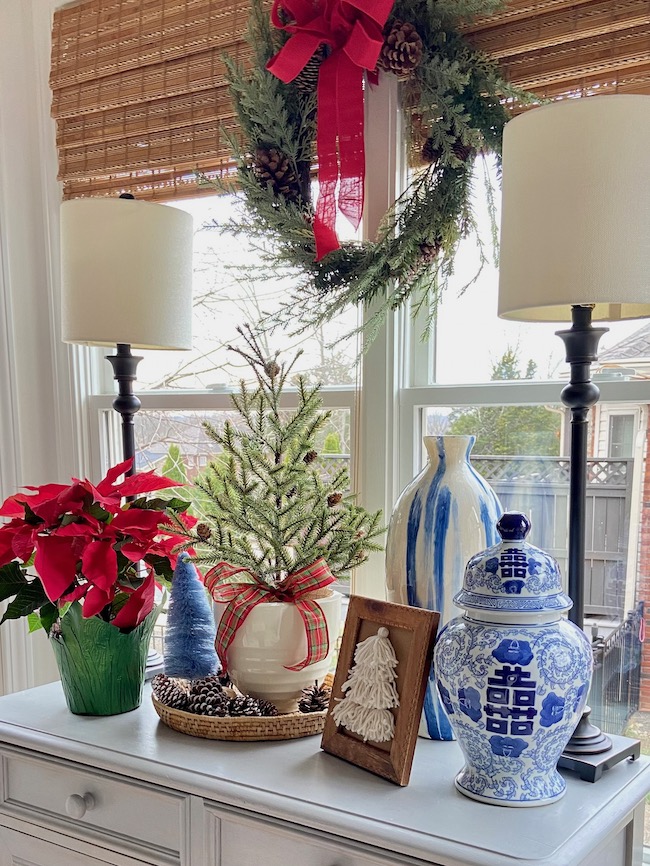 In the kitchen I went all red, plaid, and Christmassy!! I love the wreath with a big red bow on the bamboo shades. I added a sweet little tabletop tree with tartan plaid ribbon. The blue and white pottery with the red ribbon looks so festive and traditional.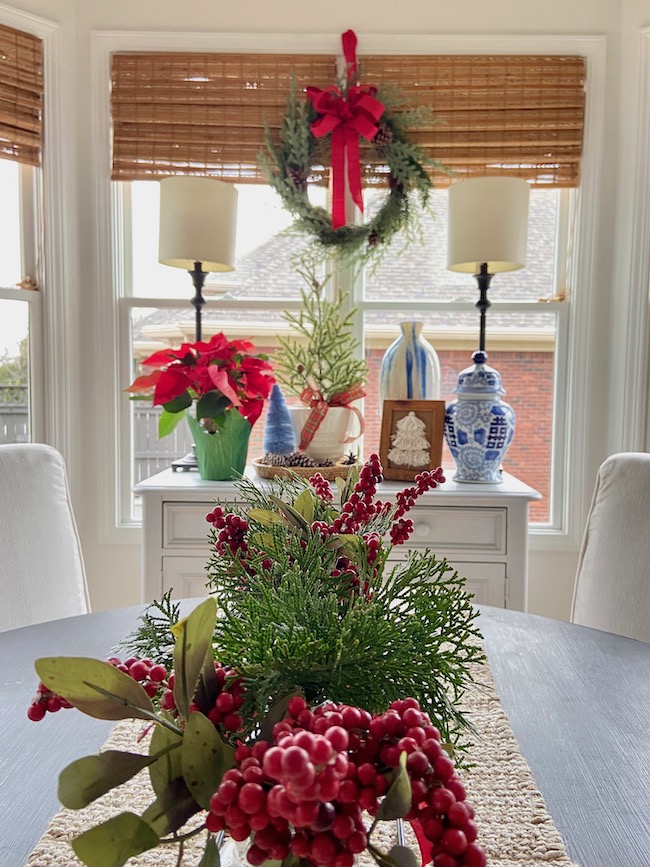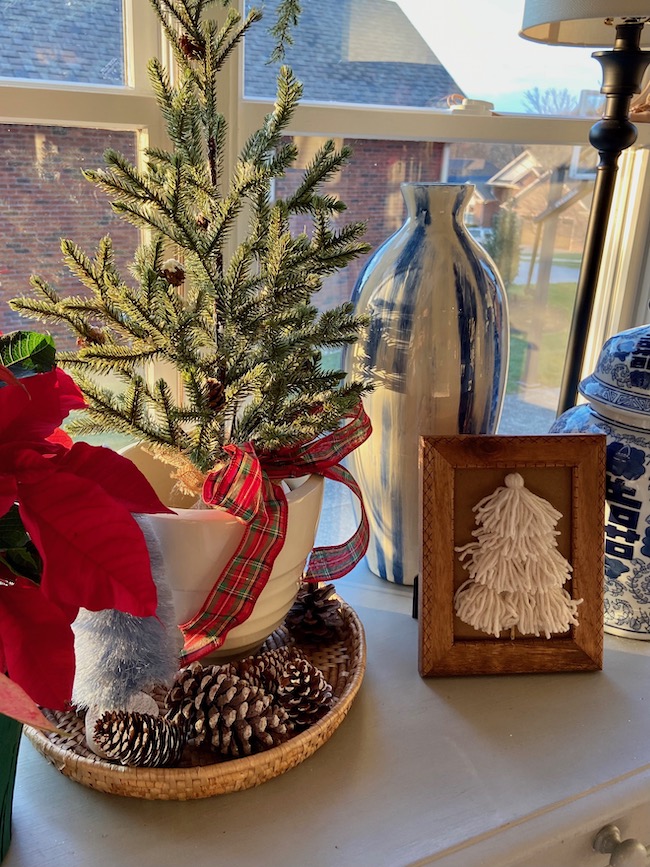 I made this fun little yarn tassel tree framed art this year, and love the natural wood frame with the rattan tray. It adds a cozy touch to the blue and white.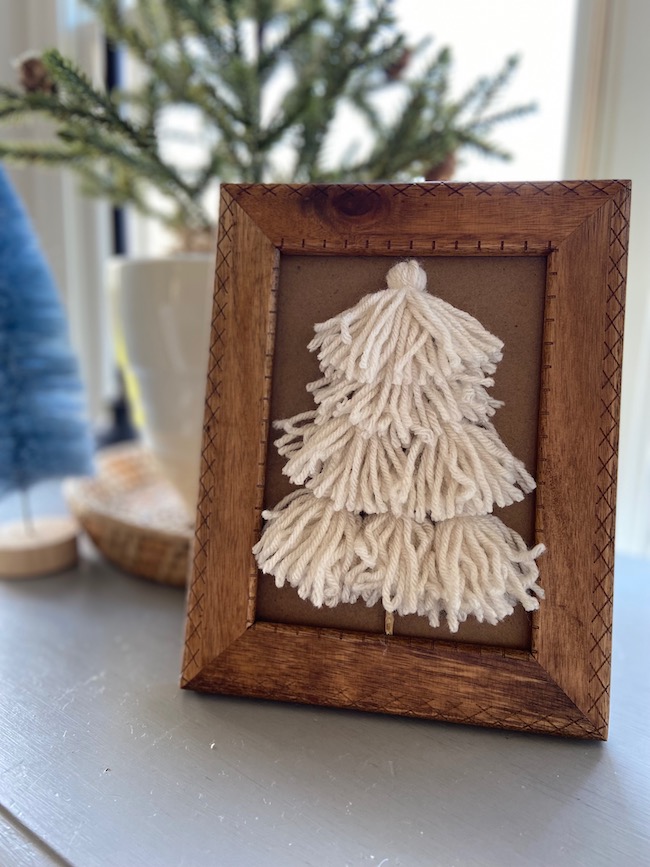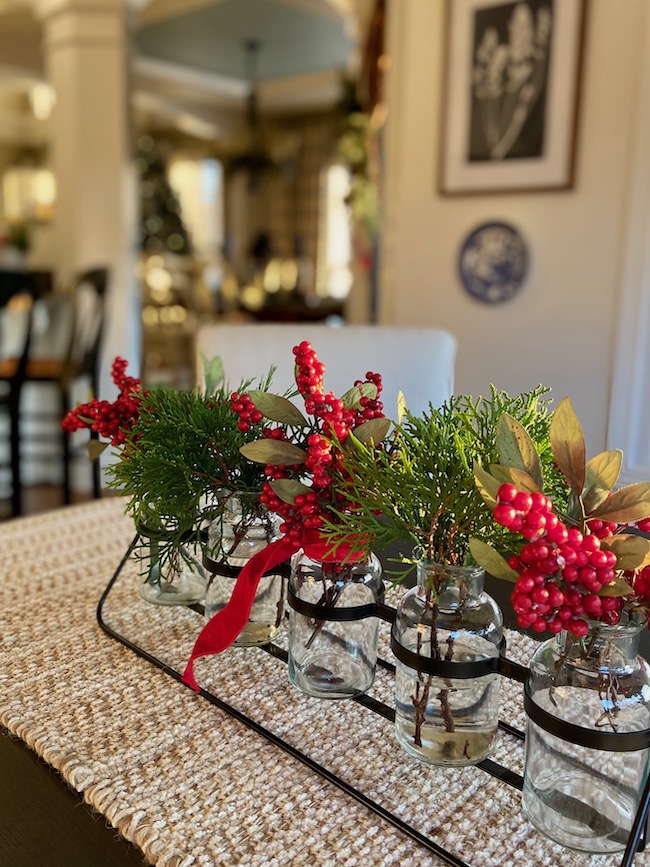 This little centerpiece was a fun addition this year. It came from At Home, and I will continue to use it throughout the year! I've added some faux red berries with some fresh cut greenery from our yard. It's a great way to pair real and faux stems because the jars are separate.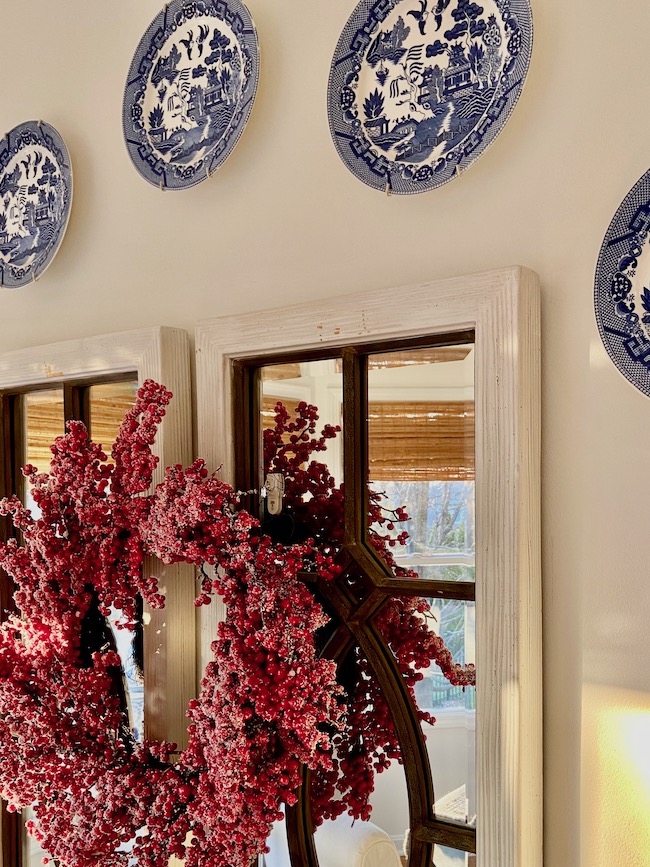 I added the red berry wreath to our mirrors with the blue and white plate gallery wall.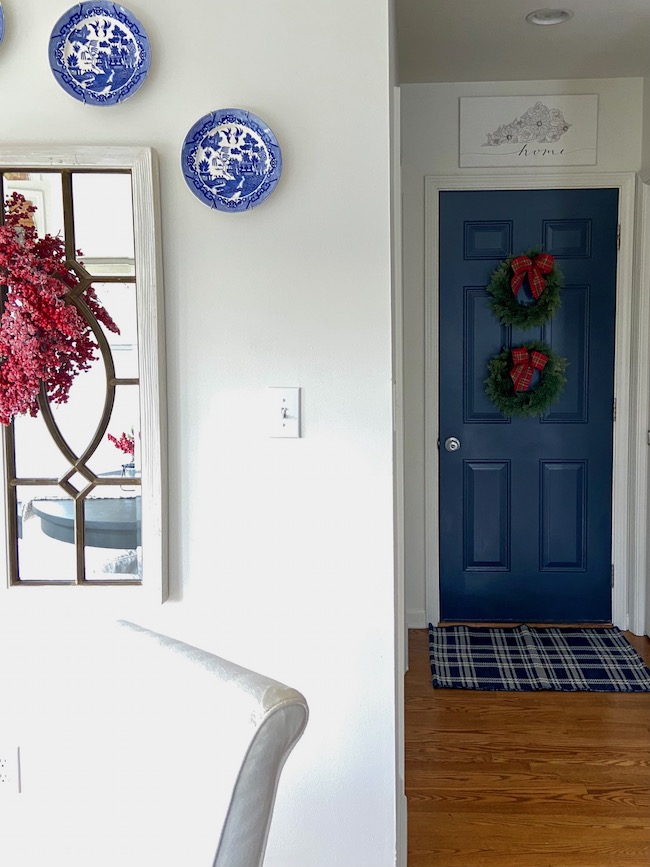 I also added tartan plaid ribbons to wreaths on our new Benjamin Moore Hale Navy kitchen doors. I love the way the plaid looks with the navy — so traditional!!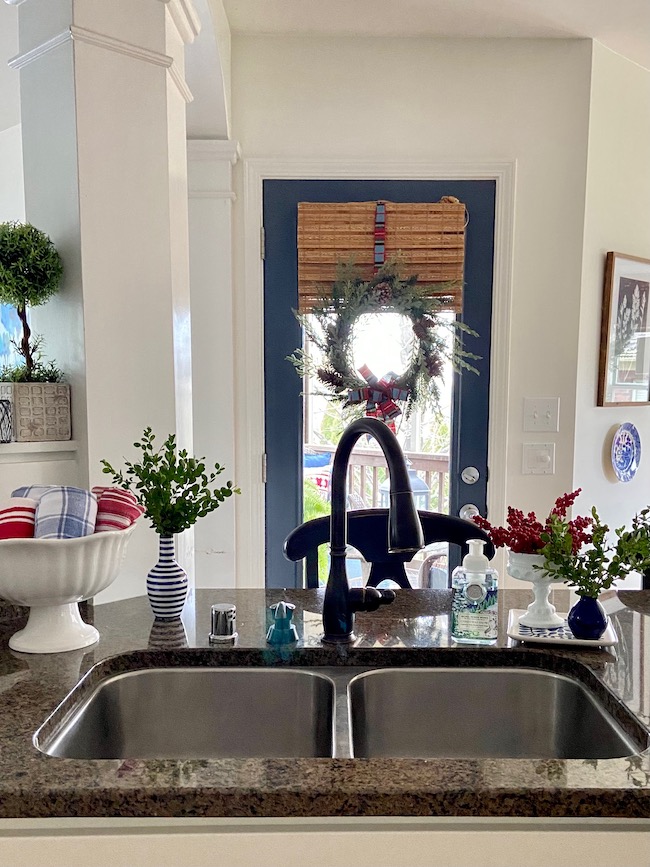 Around the countertops, I added lots of touches of red — little red ribbon on topiaries, red plaid tea towels, red and white mugs, and of course our Santa mugs.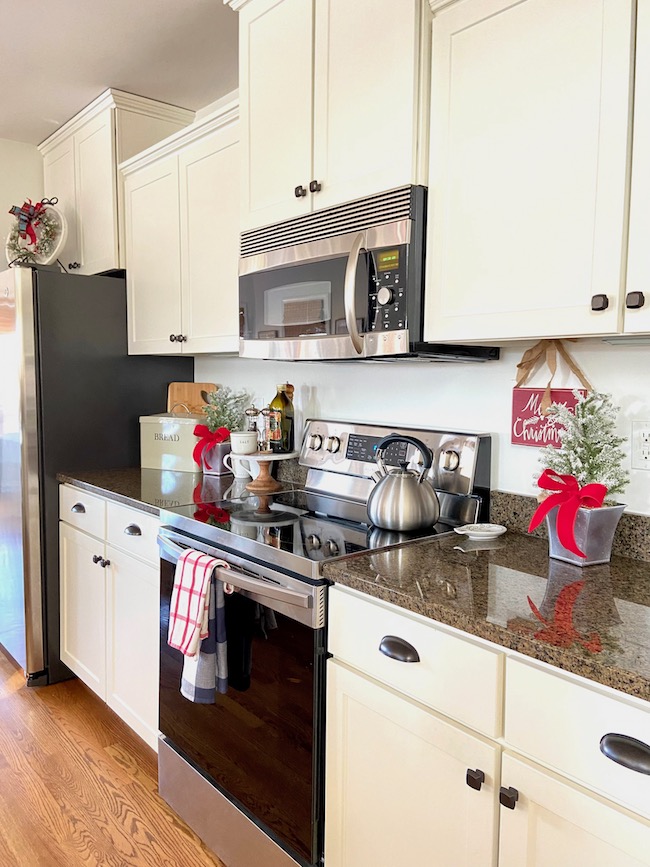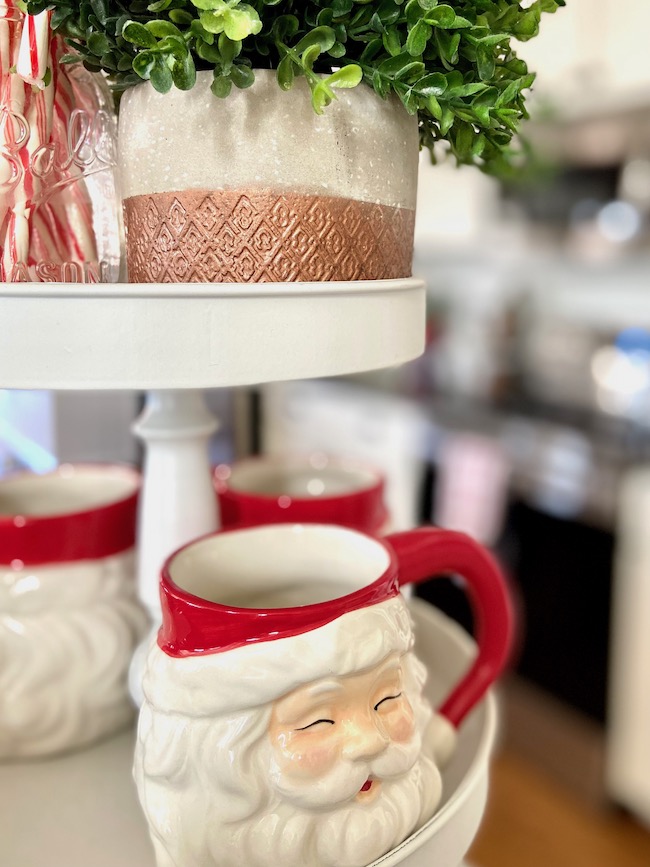 A hot chocolate bar has become a holiday tradition in our home, and it's one the neighborhood kids love as well!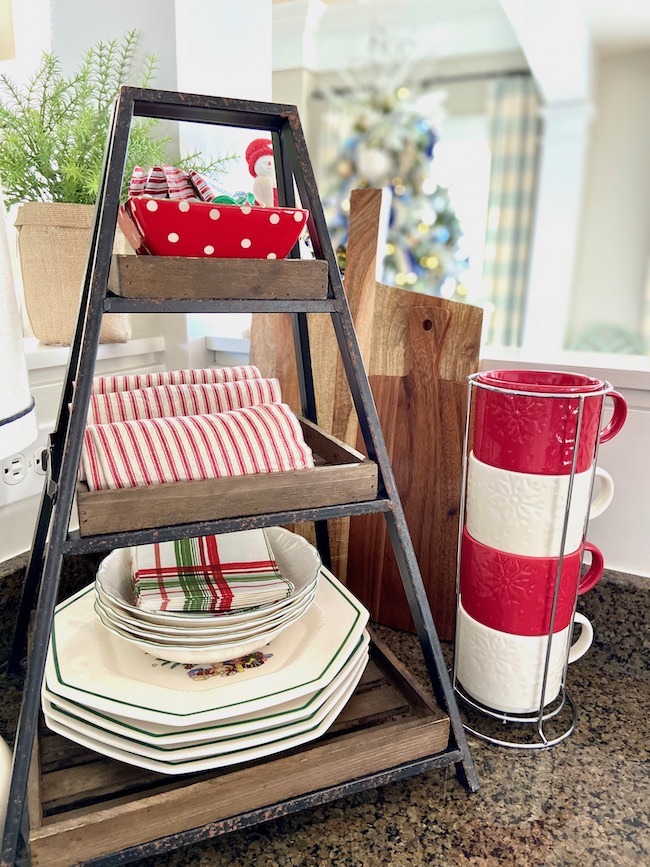 We were gifted this set of Christmas dishes years ago, and I like to use them throughout December instead of just waiting until Christmas day. I've displayed them on this tiered tray — it's both decorative and functional!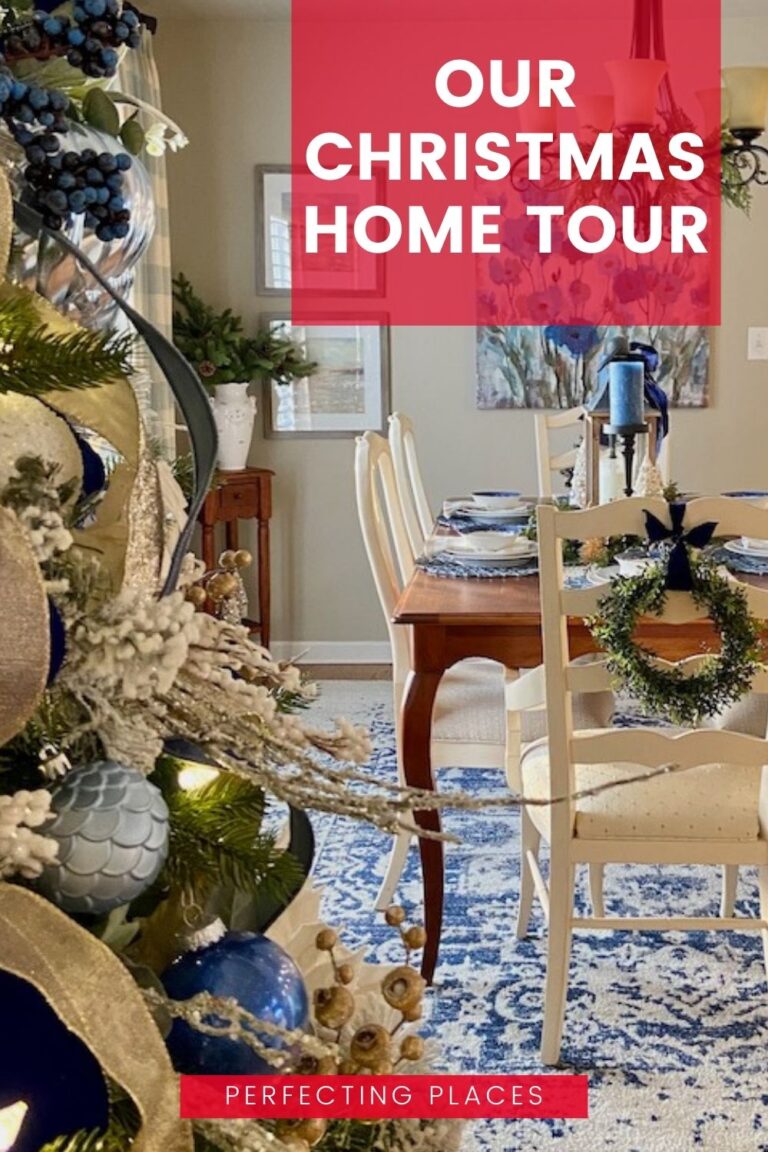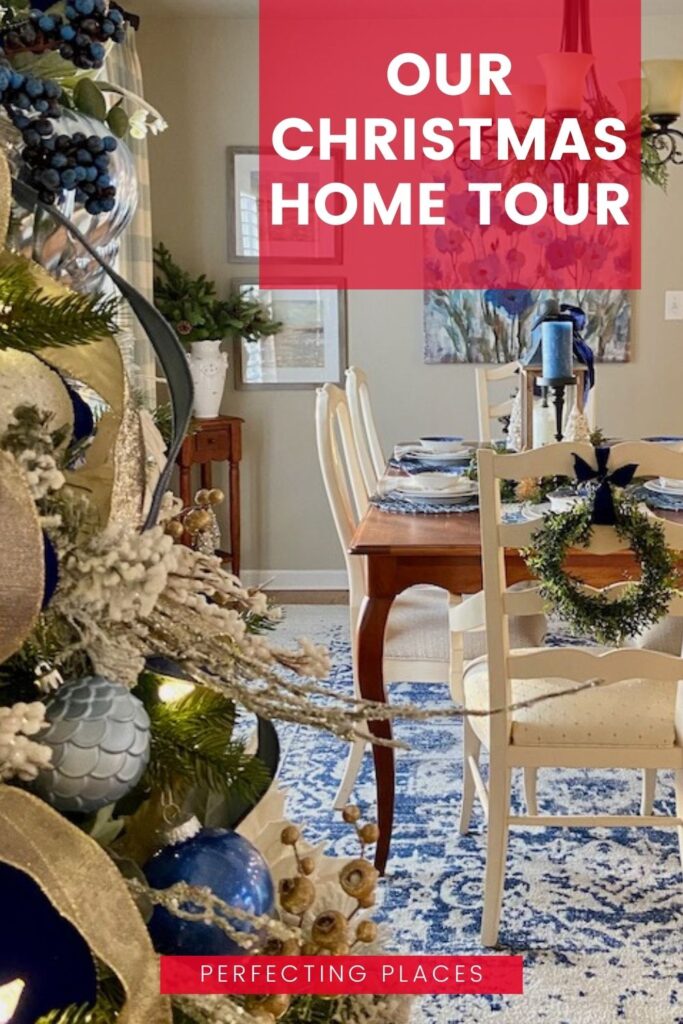 I hope you've enjoyed this Christmas Home Tour of the main living areas in our home. Who knows, there will probably be a little more tweaking here and there over the next three weeks, but I'm going to try really hard to stick to my blue and white in the living room!
Now, it's time to finish Christmas shopping and get some gifts wrapped under our tree!
Thanks so much for stopping by!
Other great Christmas decorating ideas:
DIY Christmas Decor You Can Make with Yarn — Tassel Trees and Pom Pom Wreaths
5 Simple Ways to Decorate with Bottle Brush Trees