25 Simple Ideas for How to Declutter Your Kitchen
Is kitchen organization on your to do list this month? Learn how to declutter your kitchen with these great ideas, and you'll have a clean and organized kitchen in no time!
The kitchen is the heart of the home, and since you probably spend a lot of time here it's easy for clutter to pile up if you aren't careful and strategic. With a few simple steps and tools you can maintain a clutter-free kitchen.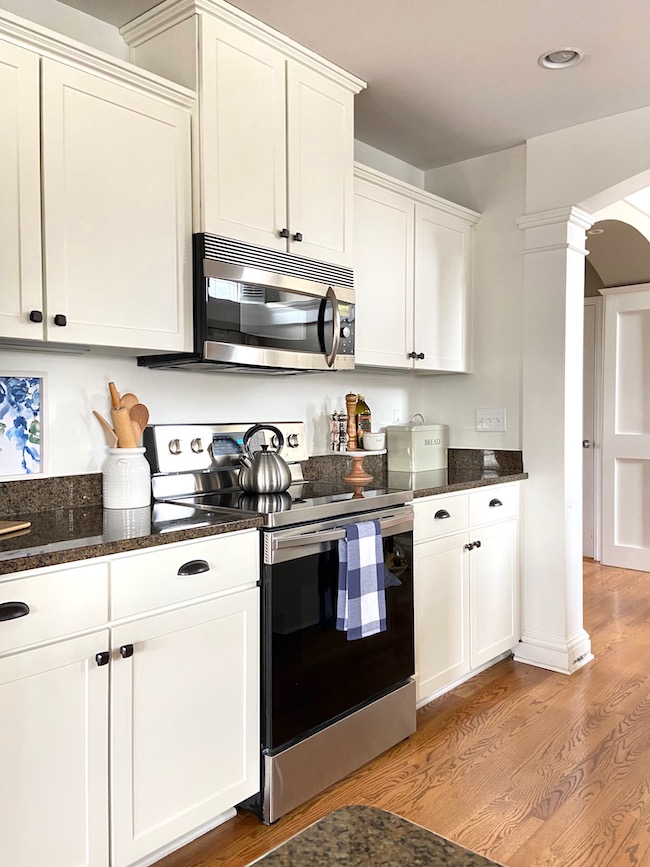 (This post contains affiliate links, so I may earn a small commission when you make a purchase through links on my site at no additional cost to you. As an Amazon Associate I earn from qualifying purchases.)
Have you ever heard the expression, "If Mama ain't happy, ain't nobody happy?". I'm not sure the origin of that phrase (although I think it was also a country song), but I know this mama can certainly impact the tone of our household depending on my mood.
But today, I'm applying that expression to the kitchen.
If the kitchen is a mess, so goes the rest of the house!
Our kitchen is definitely the center of our home — both literally and figuratively!
With our open floor plan, you simply can't close a door and forget about a messy, disorganized kitchen.
If we aren't diligent and careful, our kitchen can easily become a dumping ground for backpacks, and mail, and water bottles, and hair ties, and the list goes on and on!
And, before you know it, that kitchen clutter can make it's way into the entire house!
So today, I'm sharing some of my favorite ways to cut down on clutter in your kitchen with some great ideas and tools to help keep your space organized. An organized kitchen means less stress — and a happy mama!!
Some of these ideas involve organizational tools, and for those I'm sharing some of the kitchen items and resources we use in our own home. But a lot of these suggestions are simply about creating better habits so you can keep your home neat and tidy on a regular basis.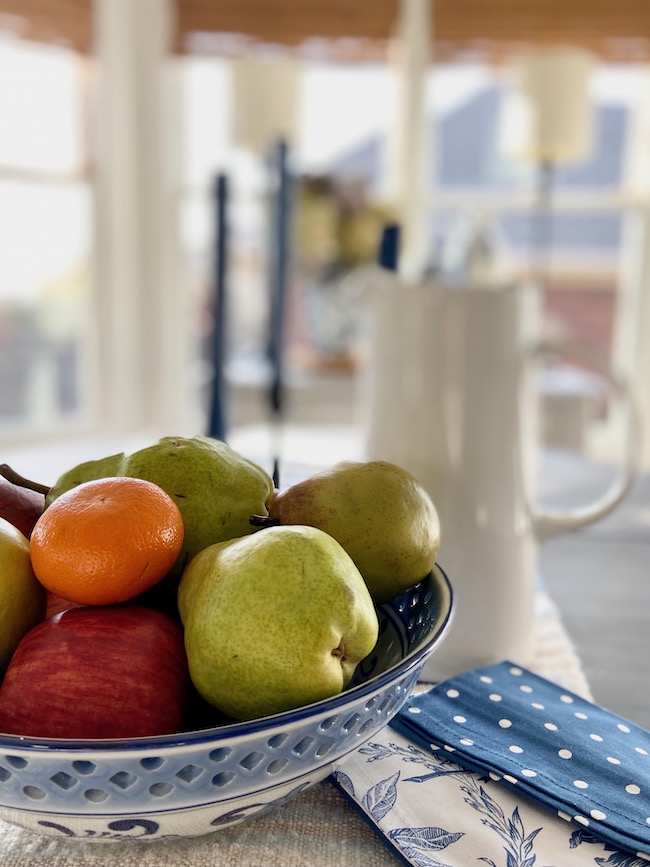 25 Easy Ways to Declutter and Organize Your Kitchen:
1. Toss out expired food from your pantry and refrigerator.
This seems like a simple idea, and it is. But it's easy for containers of leftovers to get pushed to the back of the refrigerator and go unused.
Start in your pantry and scan your pantry shelves for any foods that are past their expiration dates as well as open packages that are no longer fresh.
Check dressings and condiment bottles for expiration dates, and get rid of anything past it's prime to clear up valuable space! It's so much easier to maintain an organized home when you have plenty of room for storing items.
2. Add dividers to your lazy Susan.
Do you have a lower corner cabinet with a lazy Susan? I store commonly used baking supplies in ours along with mixing bowls and measuring cups. On the upper shelf I use these wonderful lazy Susan divider containers to corral smaller items.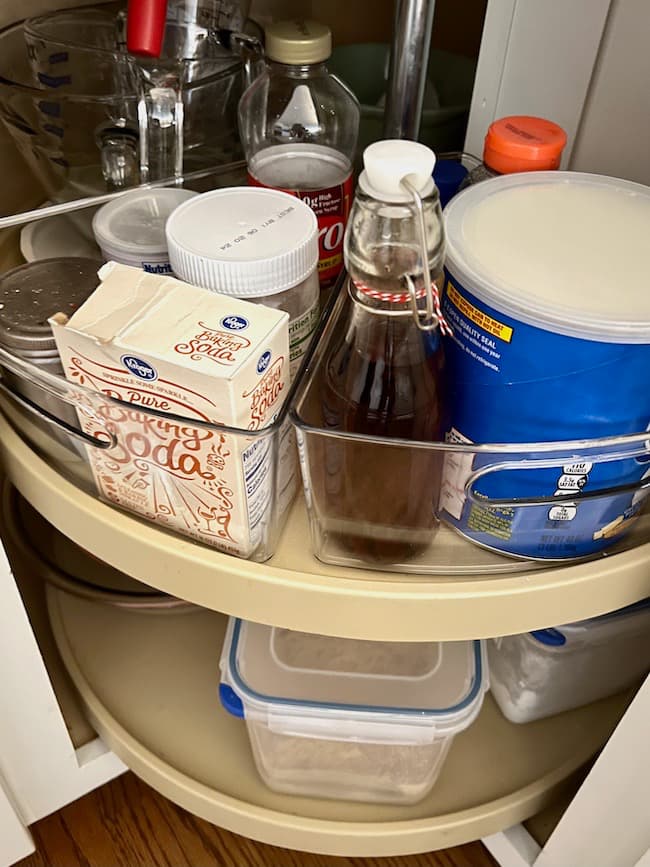 3. Install a pullout drawer under your kitchen sink.
A lot of new kitchen cabinetry offers pull-out drawer features in the lower cabinets. Our cabinets are pretty standard, but we've installed some pullout drawers in ours to help corral items. These pullout drawers are similar to ours.
The pullout drawer under our kitchen sink houses sponges, dish soap, and other cleaning items. You can configure your under sink cabinet space in different ways depending on your preference.
Some options such as this lower cabinet drawer organizer offer an additional shelf option as well to maximize vertical storage space under your sink.
4. Throw out or donate old gadgets, cookbooks, and kitchen tools you no longer use.
How many cookbooks do you own that you know longer use (or maybe used only once). Do you have small unused kitchen appliances or or duplicate items just taking up space? Take inventory of those items and donate anything that isn't of use to you. The more space you can clear up the better!
5. Corral commonly used seasonings on a pedestal.
I love to keep a salt cellar, pepper and salt mills, and olive oil handy beside our stove. I display them corralled together on a raised pedestal which clears some counter space below when preparing meals.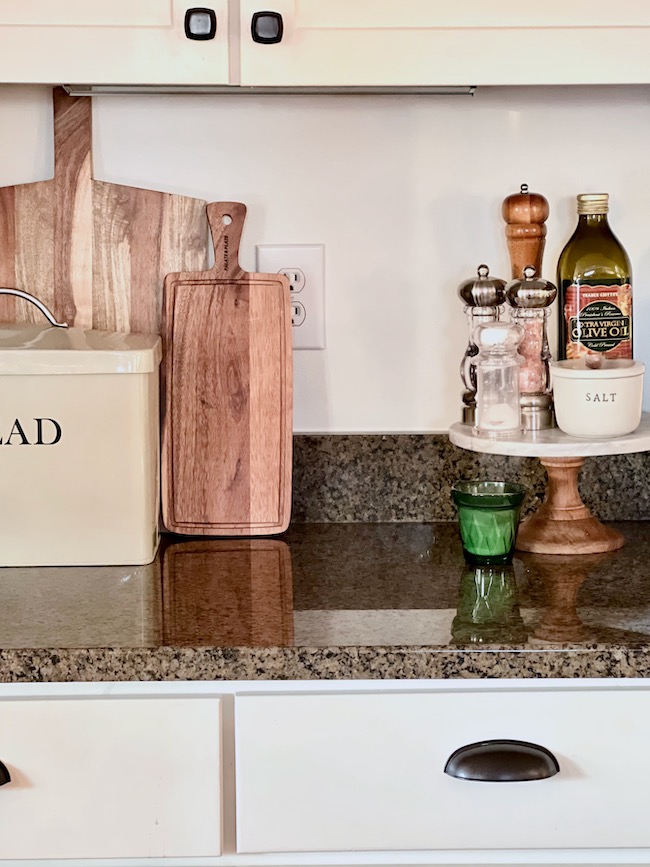 ---

---
6. Use an under-cabinet organizer for your pots and pans.
Can I tell you just how much I love this pot and pan organizer!! I added this to our lower kitchen cabinets last spring, and it has been the best way to keep our pans organized and easy to access! No more digging through heavy stack of pans.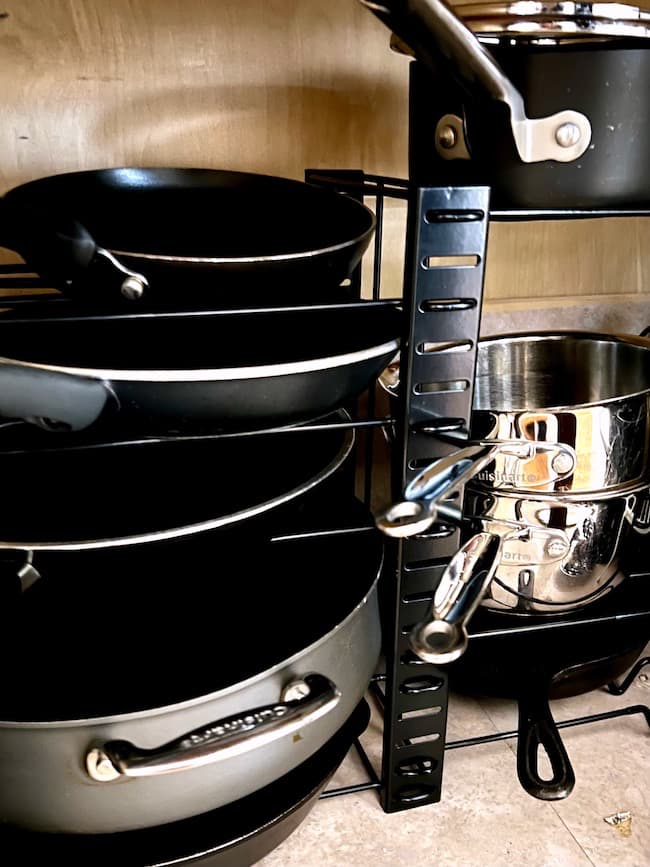 The shelves are adjustable to accommodate your various pots, and they have a rubbery coating to keep the pans from slipping and sliding. It's the best!
7. Store coffee pods in a glass container.
We purchased a new coffee maker last year, and began using K-cups for the first time. I like to keep our K-cups next to the coffee maker in a glass jar.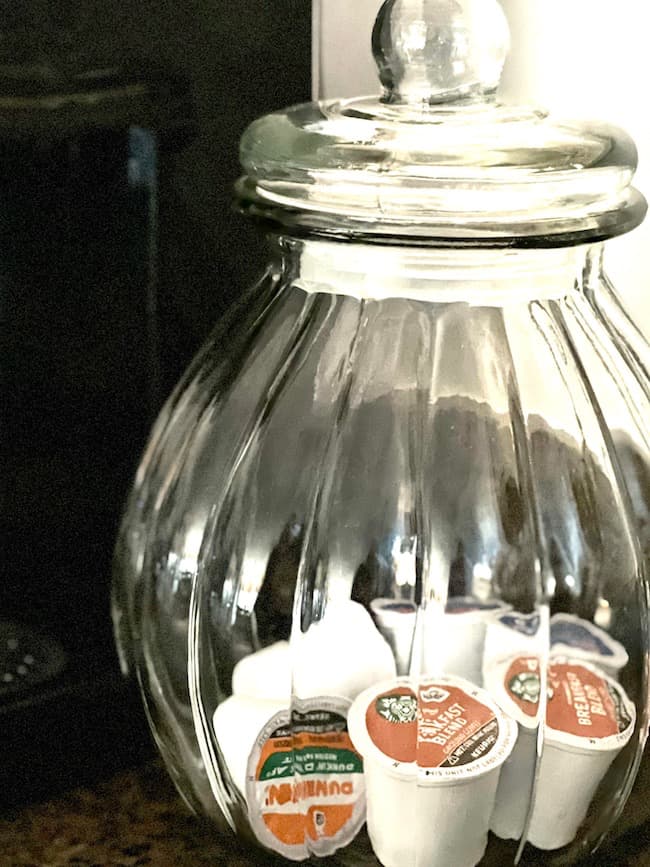 8. Add pull-out drawer organizers to your refrigerator.
You can add drawer space to your refrigerator with these pull-out drawers. Just attach them to a shelf and maximize the space in your refrigerator.
Be sure to measure your refrigerator shelves to make sure they can accommodate the size and number of pullout shelves and make sure the style of your shelf edge will work with the pullout shelves per the manufacturer's instructions.
9. Remove small appliances from your countertops.
Storing away your small appliances really helps to declutter kitchen countertops. You'll have more room for food prep, and there will be less visual clutter in the space. Utilize the lower cabinets to store items such as blenders and toasters. I store our hand mixer and other smaller hand-held appliances in a drawer.
10. Store your spices in a drawer.
I keep all of our spices in a couple of drawers in our kitchen. It's handy to keep them near where I'm prepping food. If you want to make it pretty, switch your spices into these cute little labeled jars.
11. Clean out old dish towels.
Our dish towel drawer can get a little overcrowded with old and ratty looking dish towels. Do yourself a favor and purchase some fresh new towels.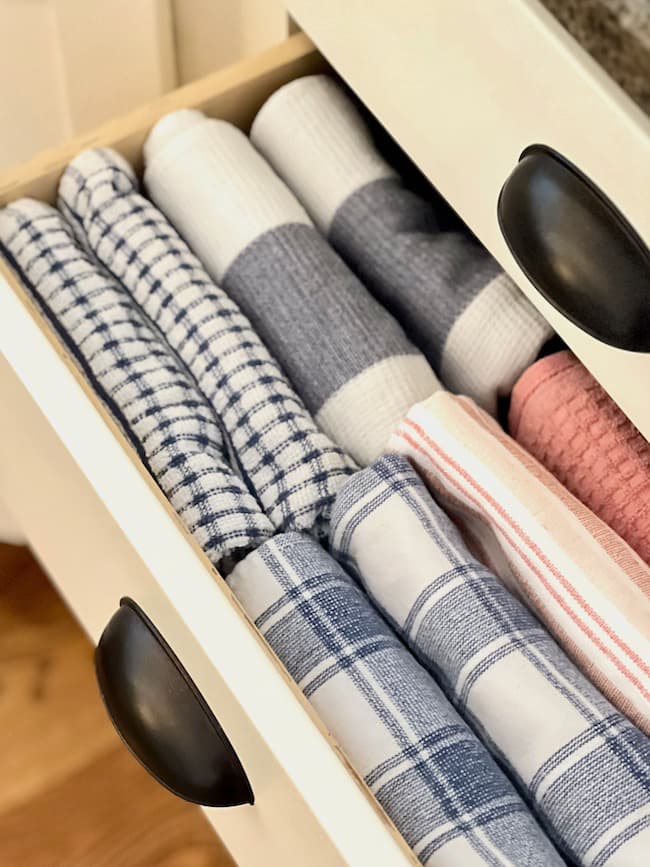 Instead of stacking them in your drawers, turn them on end and insert them in a row. It makes it easier to find what you're looking for, rather than rummaging through the drawer.
---

---
12. Create an in and out filing system for important papers.
Get all of those school papers, receipts, and bills off your kitchen counters and file them away into a hanging file system. I keep a small "command center" area inside our pantry. I've added a file organizer to the wall with appropiately labeled folders for our family members. This really helps to cut down on countertop clutter.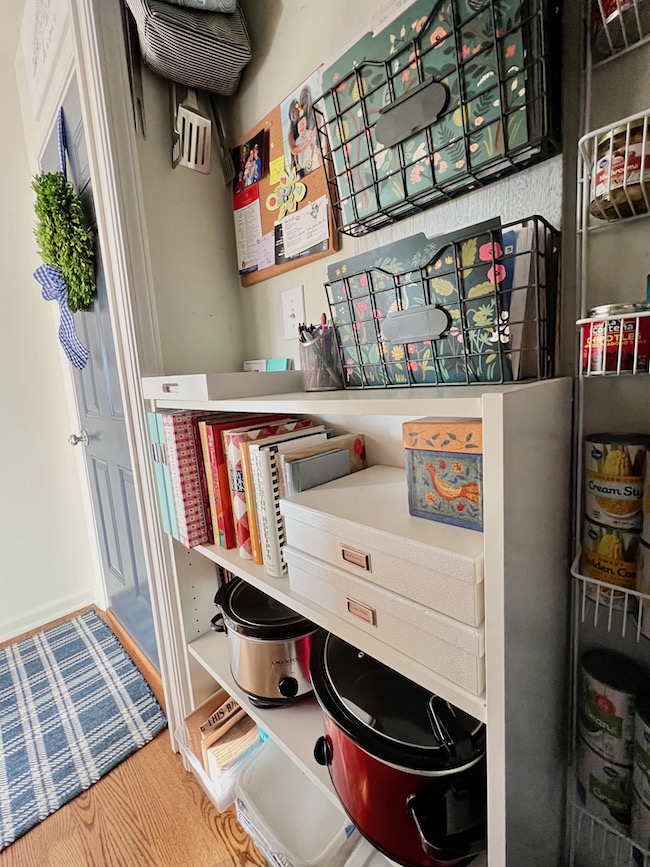 13. Keep kitchen utensils in a large crock beside the stove.
I love this large stone crock that I got for Christmas. It's perfect for holding all of our large kitchen utensils and rolling pins. Before, I used two different smaller containers for all of the items, but now I love being able to hold everything in one large crock.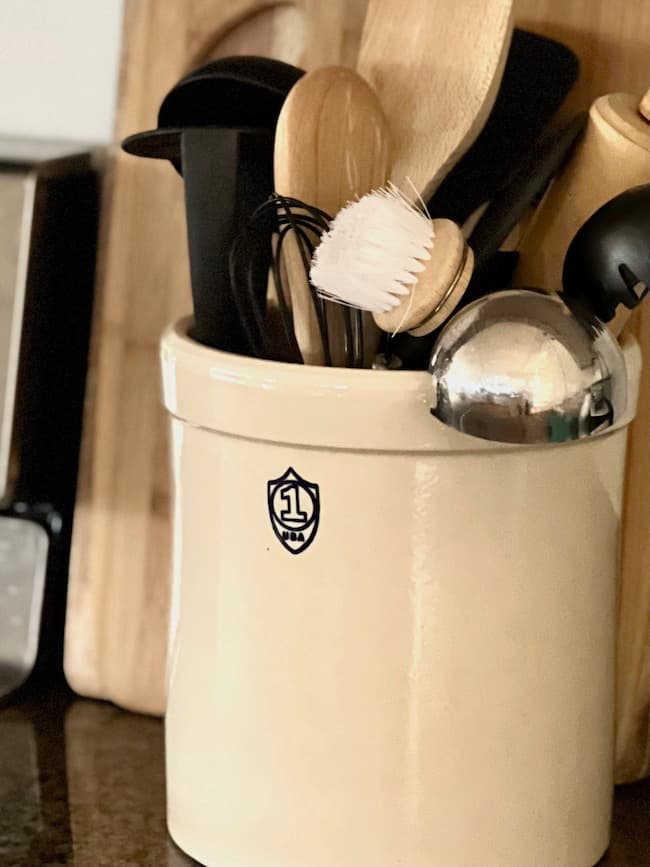 14. Use a lid organizer.
I use this lid organizer alongside our pot and pan rack in the lower cabinets beside our stove. It's such a great way to store the lids for our pots.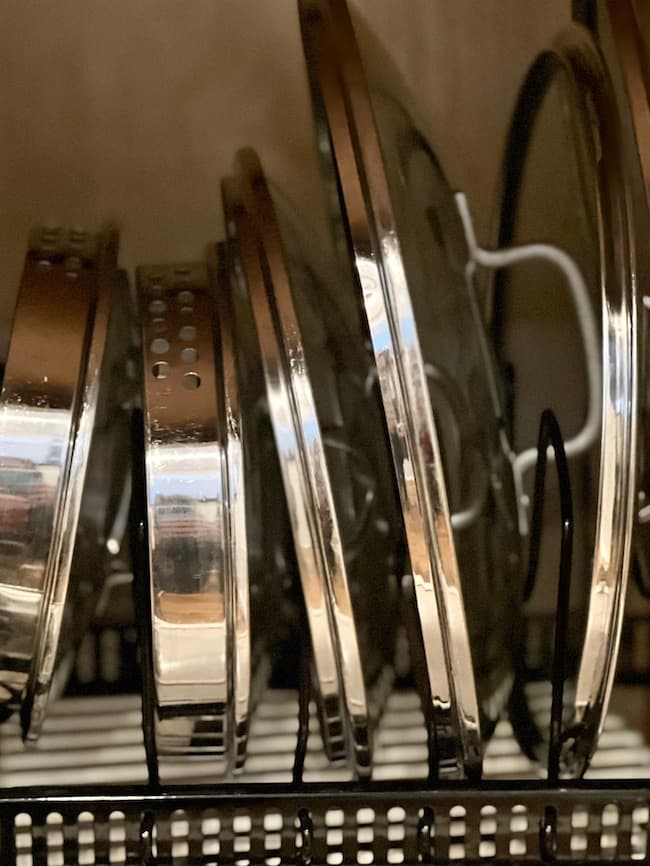 15. Pare down your coffee mugs and water bottles.
If you're like our family, you have an abundance of of coffee mugs and water bottles taking up valuable cabinet and drawer space.
Take inventory of your bottles and mugs and pare them down. If you've replaced old ones with new favorites get rid of the ones you no longer use. If they are still in good shape you can take them to your favorite donation center. Toss out any that are broken.
16. Store casserole dishes and platters vertically.
If you can avoid stacking your casserole dishes in your cabinets, it makes it so much easier to use them. Casserole dishes are so heavy, and it's a real workout to retrieve them sometimes when they're stacked on top of each other.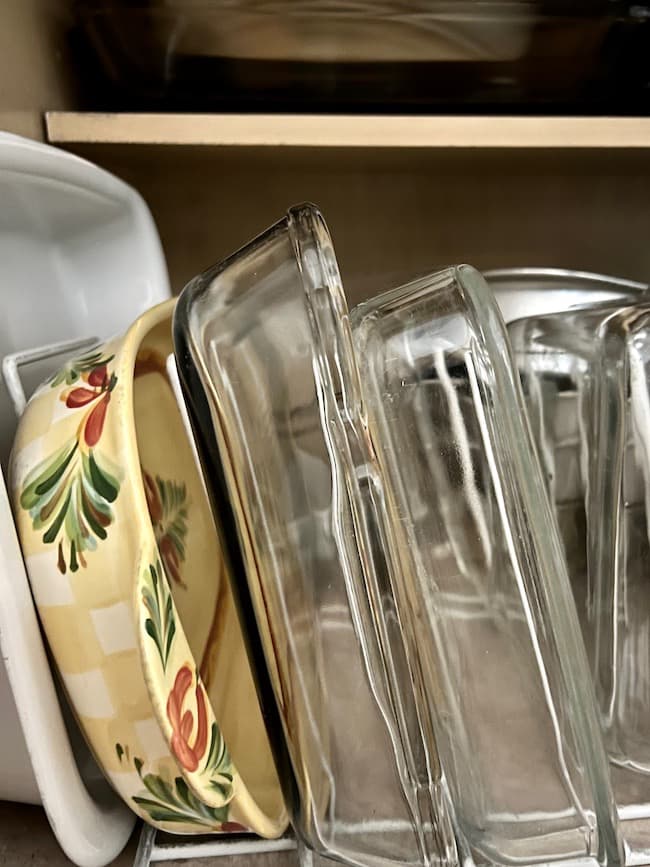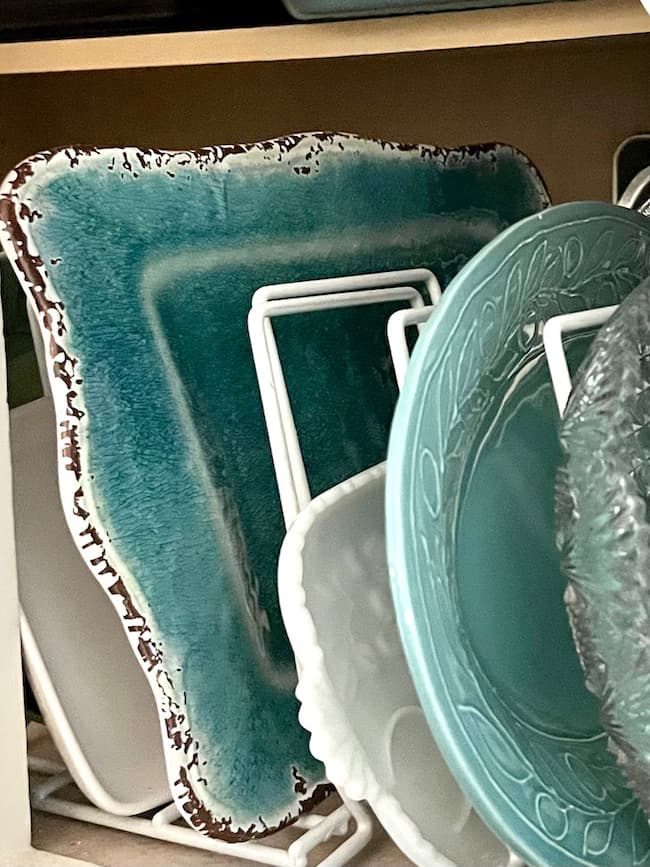 I like to store our baking dishes and serving platters vertically in our lower cabinets using divider racks similar to these. It's so much easier to use them now.
17. Keep glass and plastic food storage containers in a deep drawer or install a pull-out drawer.
I don't have a lot of drawer space in our kitchen. If you have a drawer to dedicate to your plastic storage containers, that's a great way to keep them corralled.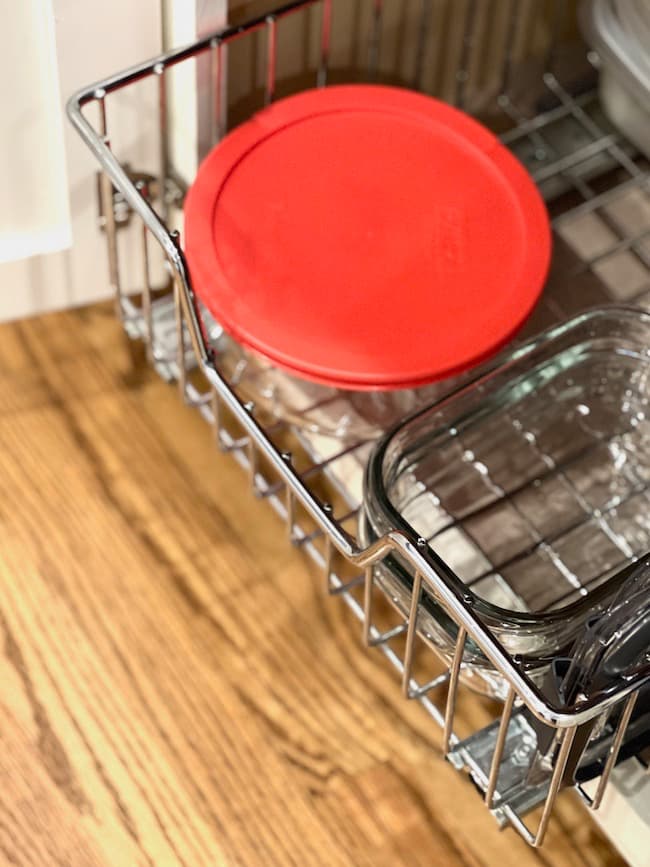 Since I don't have many kitchen drawers, I've added pullout drawers to our lower cabinets. I store our plastic and glass storage containers in one of these drawers.
---

---
18. Store larger, infrequently used appliances or serving items in the basement.
If you have items that you only use on rare occasions, remove them from your kitchen all together. I keep large glass cake stands, plate racks, and other infrequently used items in a designated space in our basement rather than taking up valuable space in the kitchen.
19. Sort and file your mail immediately.
Don't let mail pile up on your counters. Make it a best-practice to sort it, toss it, or file it as soon as you bring it in.
20. Use stackable containers to store leftovers in the refrigerator.
I prefer to use glass storage containers over plastic as much as possible. I just purchased this set of Rubbermaid stackable glass containers and love them.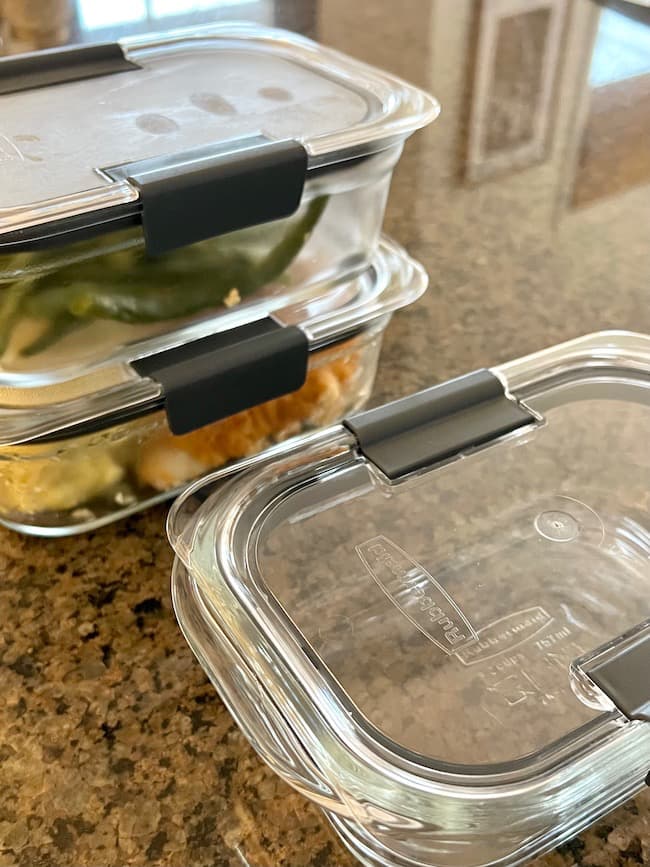 21. Install narrow shelves in pantry.
Our walk-in pantry is the perfect place for this narrow wire shelving. These shelves allow us to make use of the vertical space along the walls, and they're perfect for canned goods and other small items.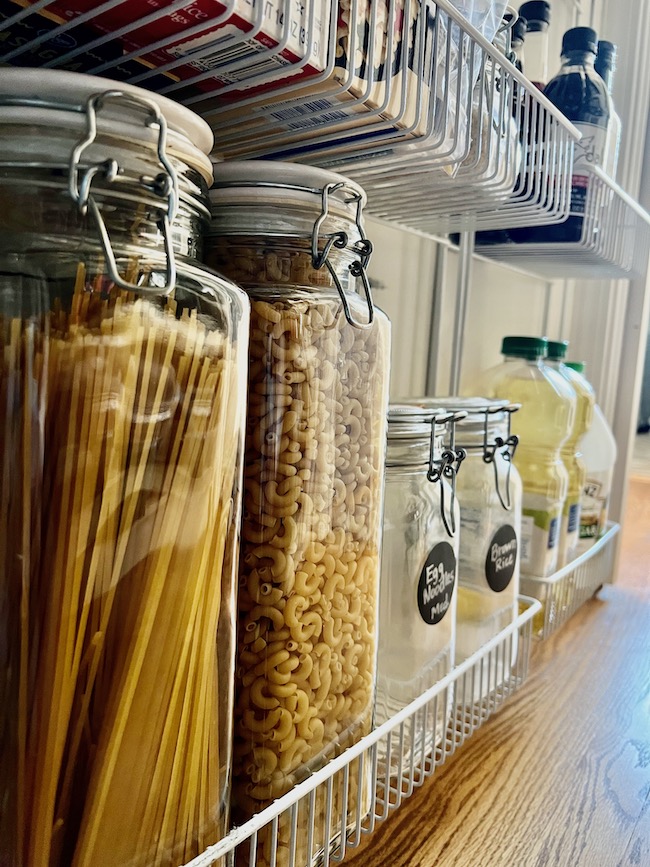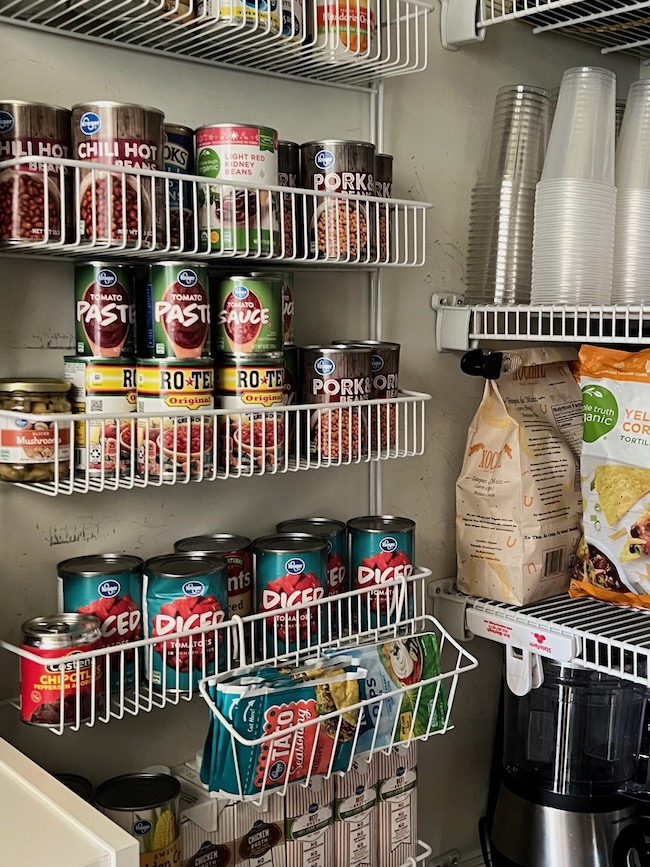 You can find even more tips for organizing your pantry in this post.
22. Use dividers in flatware and utensil drawers.
Utensils and flatware can become a jumbled mess in your drawers. I use expandable dividers in our drawers to sort our flatware and other cooking utensils. Ours are plastic and get very marked up over time, but these bamboo dividers are fabulous.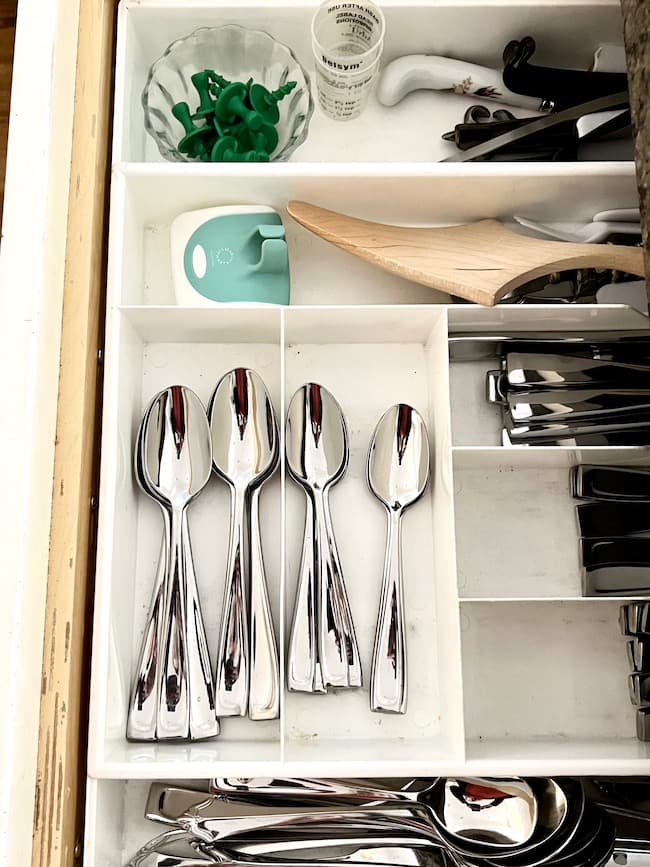 23. Store mugs on a tiered stand near your coffee maker.
I keep mugs and other coffee supplies out on our counter in a three tiered stand next to our coffee pot to create a simple coffee bar area. I often switch out favorite seasonal mugs here.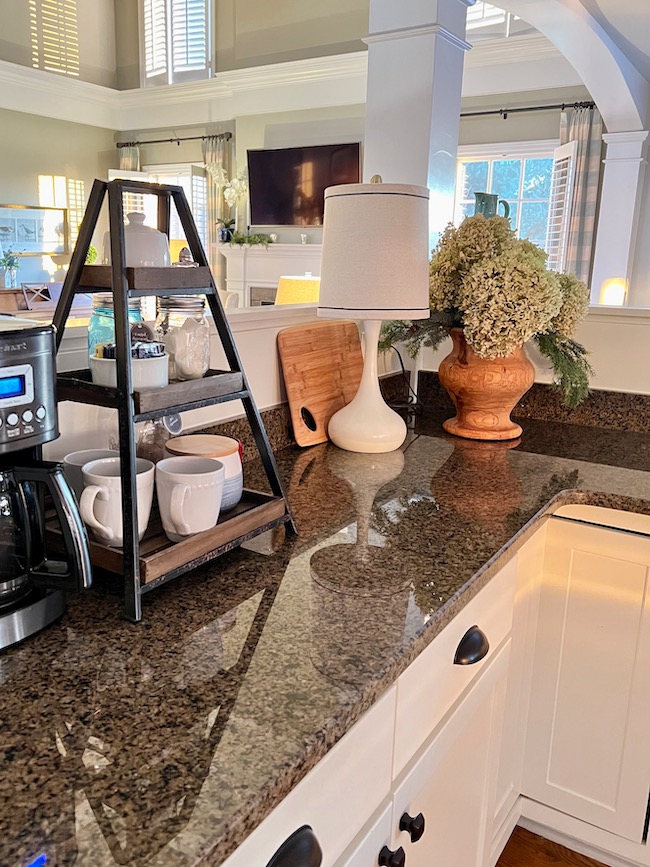 A mug tree is another great option for your coffee bar area. This not only makes it handy to grab your favorite mug, but also helps to free up cabinet space.
24. Use large glass canisters for baking essentials.
I love having our 2 gallon lidded glass canisters full of flour and and sugar out on our countertops. It makes it so simple to measure these baking essentials. You definitely want to use jars that have wide mouths to make measuring out your ingredients a lot easier. Make sure the lids will seal to keep the contents fresh.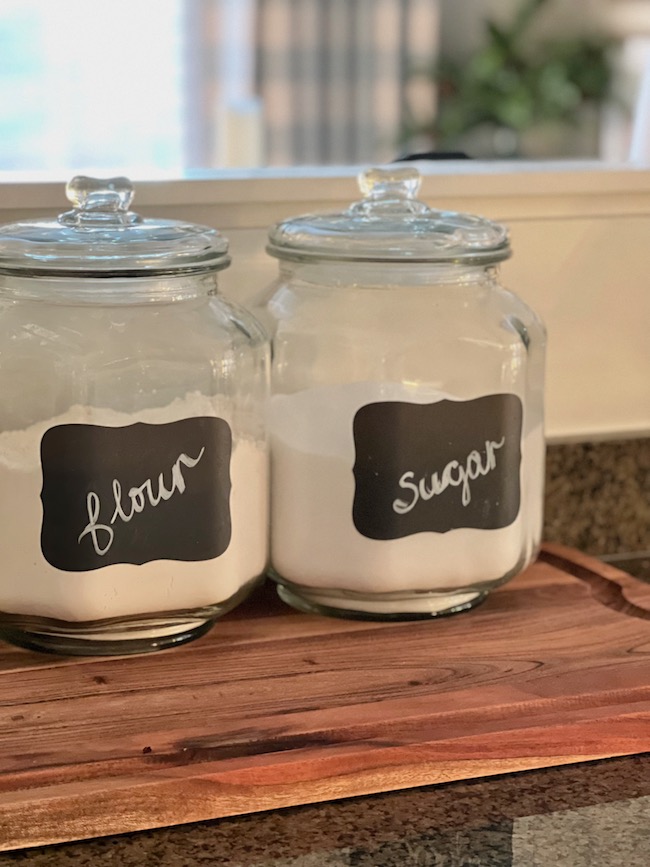 25. Put everything away as soon as you come home.
This is the simplest decluttering tip of all, but just because it's simple it doesn't mean it's always easy. It can be hard to break old habits of tossing items onto your kitchen counters as soon as you come home.
Train yourself and your family members to take each bag, backpack, water bottle, and paper to its designated place in your home immediately. If your home is like mine, it takes no time at all for things to pile up, and then suddenly it's a license for the clutter to spill out to every area of my home.
Organization Tools and Gadgets to Declutter Your Kitchen
These are some of my favorite organizational items and kitchen essentials to help with the process of decluttering your kitchen.

Is your kitchen due for a little decluttering and reorganizing? I hope these tips and tools help you get your space in order to help you create a beautiful and efficient kitchen for your family.
Happy Decluttering!
Pin and Save These Kitchen Decluttering Ideas for Later!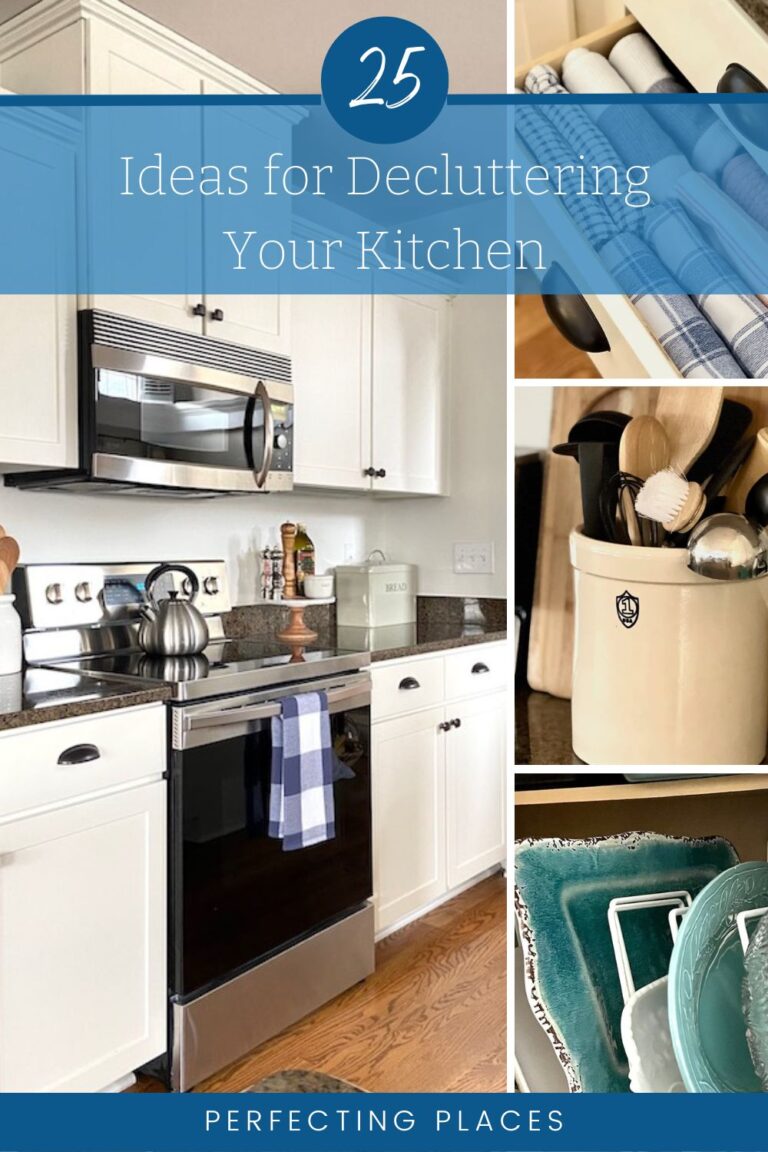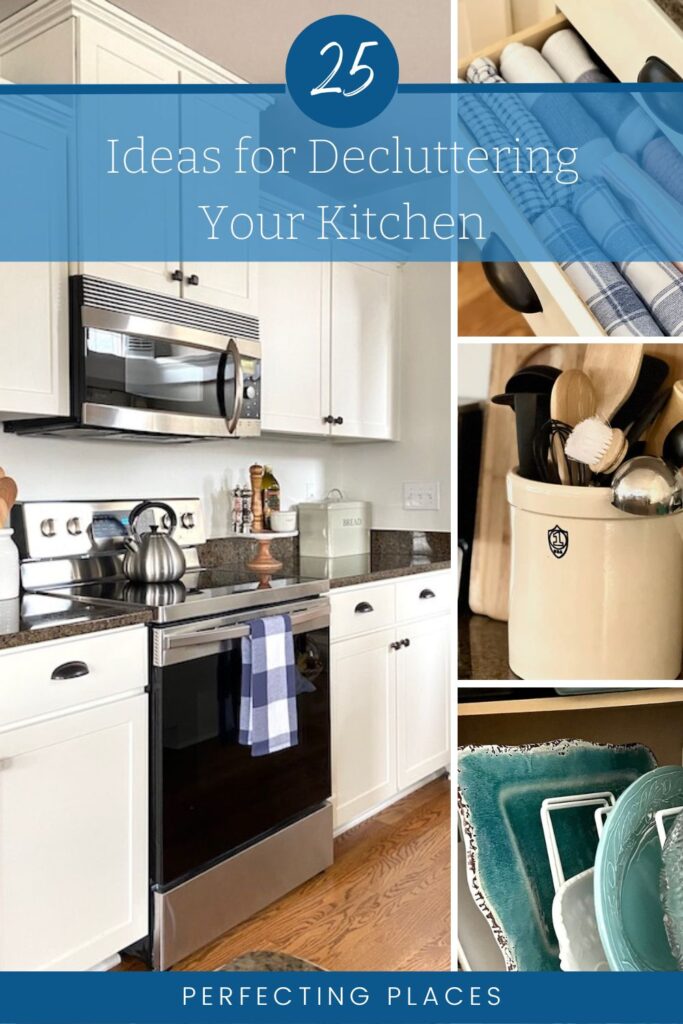 By the way, do you follow me on all the socials? If not, check out my Pinterest, Instagram, and Facebook and be sure to follow me on all the socials so you don't miss out on any of my decorating and DIY ideas