21 Back-to-School Home Organization Ideas for Fall
August is the perfect time to get organized! These back-to-school home organization ideas will set you off of the right foot for a great school year!
While we still have lots of summer left, the beginning of the school year is the perfect time to establish some new habits and get your home and your systems organized.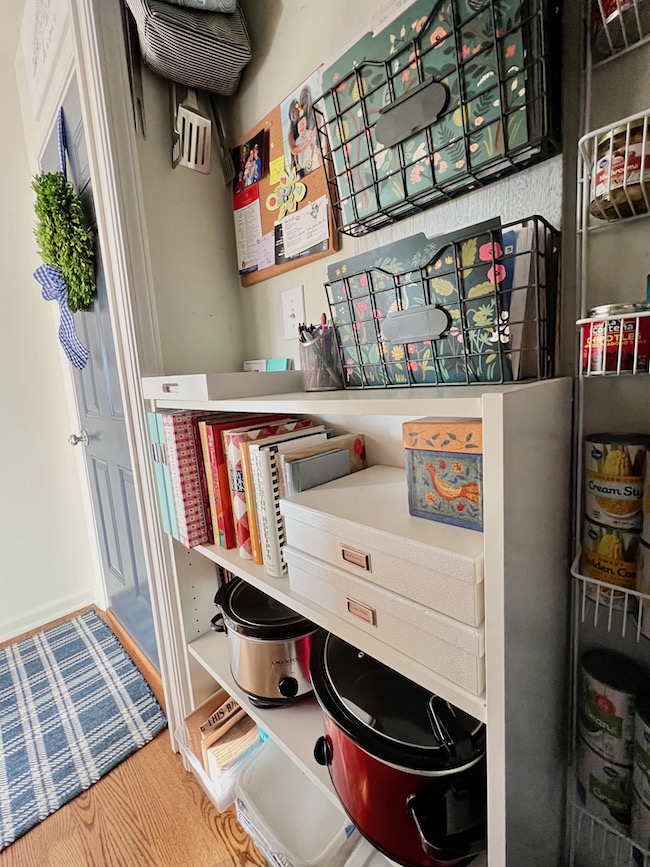 (This post contains affiliate links, so I may earn a small commission when you make a purchase through links on my site at no additional cost to you. As an Amazon Associate I earn from qualifying purchases.)
Well hello, August!
Whew! How did you get here so fast? I'm not quite sure what happened to July, but I'm excited to make the transition from laid-back summer days to the rhythms of fall and the new school year.
Something inside me just starts to shift once August arrives. Maybe it's the former teacher in me that makes August feel like a new beginning.
This summer it's been wonderful to let down and relax a bit, although I'm just not sure how the time has passed so quickly!
But, now that the calendar has turned to August, I'm itching to get back to some better routines and jump into some new projects as we head into fall just around the corner.
This time of year can feel a little overwhelming with the flurry of back-to-school shopping, the anticipation of new classes, and the whirlwind of autumn sporting events. But, fret not, my friend. I'm here to help you transition smoothly into this new school year with some handy home organization tips!
Back-to-school season is the perfect opportunity to reset, redecorate, and reorganize. From establishing routines to setting up cozy corners, from planning ahead for sports events to creating memorable family game nights, these fantastic tips will make this fall your most organized and fun-filled yet.
Easy Back to School Organization Tips:
1. Dedicate a study spot.
Do your kids have a dedicated study space for working on homework. Whether they work on their own in their rooms or in a central location, create a quiet, well-lit space to study and complete homework. Keep it distraction-free and make sure it's equipped with needed supplies for home.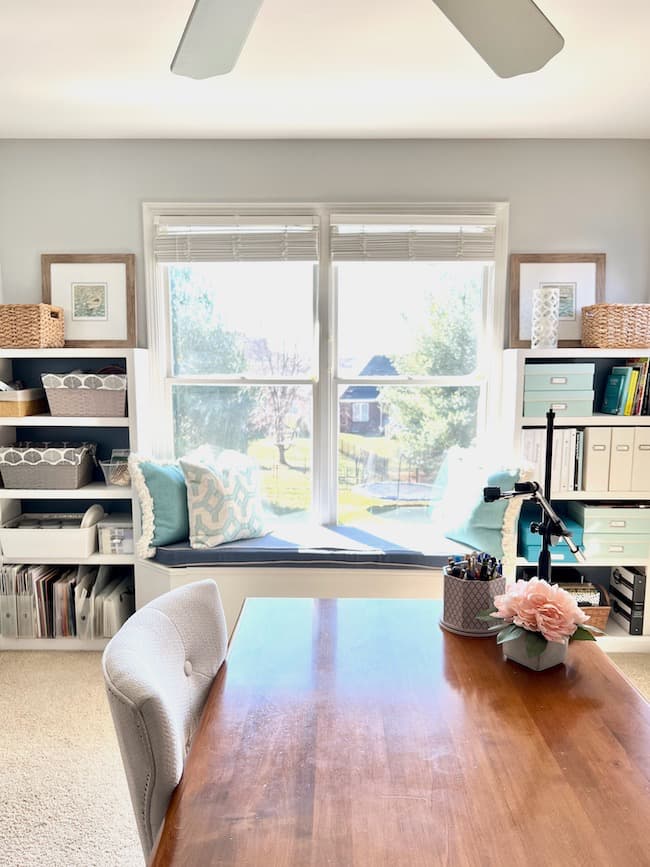 2. Stock a supply station.
Have school supplies like pencils, markers, scissors, and paper ready in a central spot for quick access when needed. It saves you from last-minute scrambles for a pencil or a ruler, and your children can quickly grab what they need without disrupting their focus on homework or projects.
Having plenty of homework supplies on hand encourages independence when they know where to find needed supplies without having to ask mom for everything!
3. Introduce a home filing system.
As your children get older, encourage them to keep track of homework and important papers using a simple, color-coded filing system.
A well-structured, color-coded filing system can be super helpful when it comes to keeping track of assignments, consent forms, and important school documents. You can dedicate a drawer or use a portable file box for this purpose. Each child could have their color, and within their section, you could further categorize documents by subject or type.
For older children, this is a great way to teach them the importance of being organized and responsible for their paperwork. Teaching your children to stay organized with their studies and assignments will reap great rewards as they become more and more self-sufficient.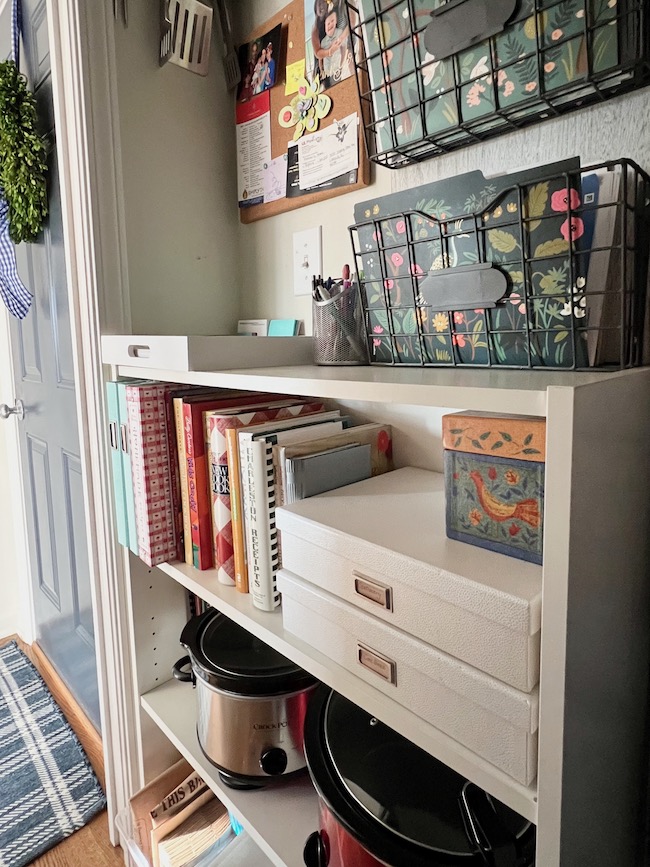 4. Create a family command center.
Assign a part of your home for displaying school schedules, assignment due dates, chore charts, and other crucial family updates. All the family activities are about to crank up again! You need a place to keep up with all those schedules and handouts.
Prevent the inevitable piles on your countertops by creating a space to process mail and notes from school. Create a paper/mail inbox and a space with separate folders for family members to keep track of important reminders.
A simple bulletin board can hold shopping lists, invitations, photos, or other reminders you like to keep top of mind.
This dedicated paperwork area is the perfect spot to sort mail, permission slips, and other documents that require your immediate attention.
5. Prep meals in advance.
Ah, the dreaded question — "What's for dinner?" Simplify your kitchen tasks by planning and preparing meals ahead. A weekly meal planner can help organize meals and save time on busy school days.
A weekly meal planner can help organize meals and save time on busy school days. Try batch cooking on weekends and freezing portions for effortless weeknight dinners.
For mornings, prepack healthy snacks or make-ahead breakfast items like muffins or granola bars. Keep lunch supplies together in your refrigerator and pantry for quickly making lunches.
By investing a bit of time in meal prep, you'll free up valuable time during the week, ensure nutritious meals for your family, and reduce the stress that often comes with last-minute meal decisions.
6. Reorganize wardrobes.
As seasons change, it's a perfect opportunity to go through your children's clothing and donate anything outgrown.
Create a system that allows you to organize outfits by day for smooth morning routines. This can be as simple as labelled dividers for each day of the week in their drawers or a hanging organizer in the closet. Including your children in this process not only gives them a sense of responsibility but also encourages them to express their individuality and make choices, making mornings less stressful and more efficient for everyone.
Encourage older children to join in this process. Sometimes, they have the best ideas for systems that work for them.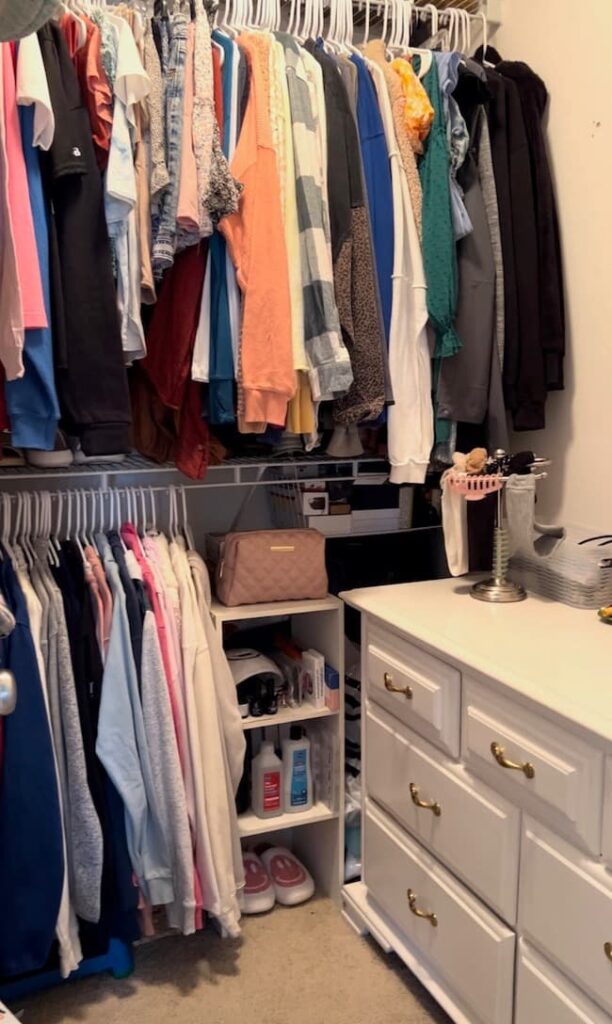 Caroline is an organizer and space planner at heart! She planned out a better closet organization system all on her own and enlisted the help of her dad to bring it to fruition! She knew what would work for her clothes and her routine and planned out a fabulous closet space!
7. Establish a routine.
The beginning of the school year in the perfect time for new routines. Set a regular bedtime and morning routine to help your kids adjust from the carefree summer days to the more structured school year.
Stick to these routines as much as possible, even on weekends, to create consistency. This not only ensures that they get enough rest, but it also helps them develop time management skills and a sense of responsibility that will be beneficial in their academic journey.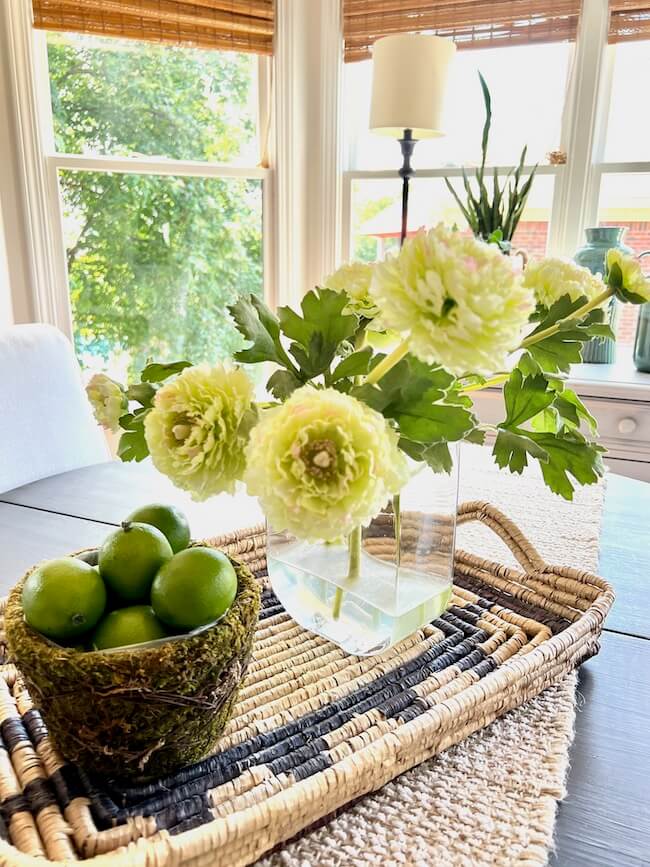 8. Declutter your space.
​The transition from summer to fall is the perfect time to declutter your home. Dispose of unused items and organize your spaces for improved efficiency.
By clearing out what you no longer need, you create more room for new possibilities and reduce the stress of managing excess items.
A decluttered space is not only easier to clean and maintain, but it also contributes to a sense of calm and order, making your home a more enjoyable place to be.
9. Manage screen time.
Set screen time boundaries during the school week, so children have ample time for homework, reading, family time, and a good night's sleep.
Implement rules that work best for your family, like no screens during meal times or an hour before bed. Not only does this help to ensure homework and studying are prioritized, but it also encourages other activities such as reading, playing, or participating in family conversations.
Balancing screen time with other activities helps to promote healthier habits and a more well-rounded lifestyle for your children.
10. Design an exit station.
This space is all about being prepared for busy mornings. Assign a space near the door for coats, shoes, backpacks, lunch boxes and other daily essentials, ensuring nothing important is left behind in the hectic morning rush.
Whether it's a dedicated mudroom or just an area in your hallway by the door, set up an area and teach your children to place the essentials here so they're easy to grab on the way out the door.
Start with one room at a time, and move around your home separating items into 'keep', 'donate', and 'discard' categories.
You can install hooks for hanging items, bins or shoe racks for footwear, and a small table or basket for keys and other small items. This designated exit station not only reduces morning chaos, but it also helps establish a habit of putting things in their designated place upon returning home, keeping your home tidy and stress-free.
11. Reorganize the kitchen.
With school starting again, it's a good time to re-assess and reorganize your kitchen — at least, the pantry and refrigerator. Adjust your kitchen for efficient lunch packing. Keep lunchboxes, reusable containers, and healthy snacks at an accessible spot.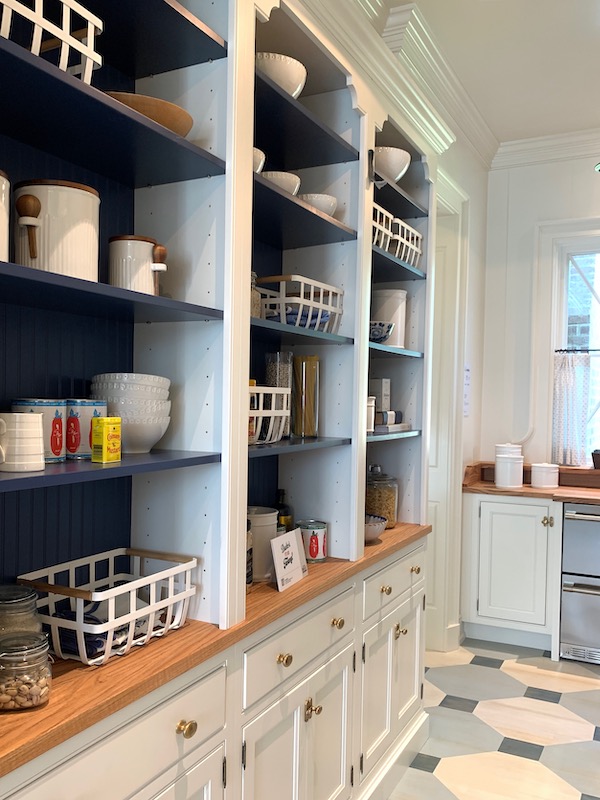 One of the best ways to maintain and encourage healthy eating habits is to make it easy for your family to access healthy food.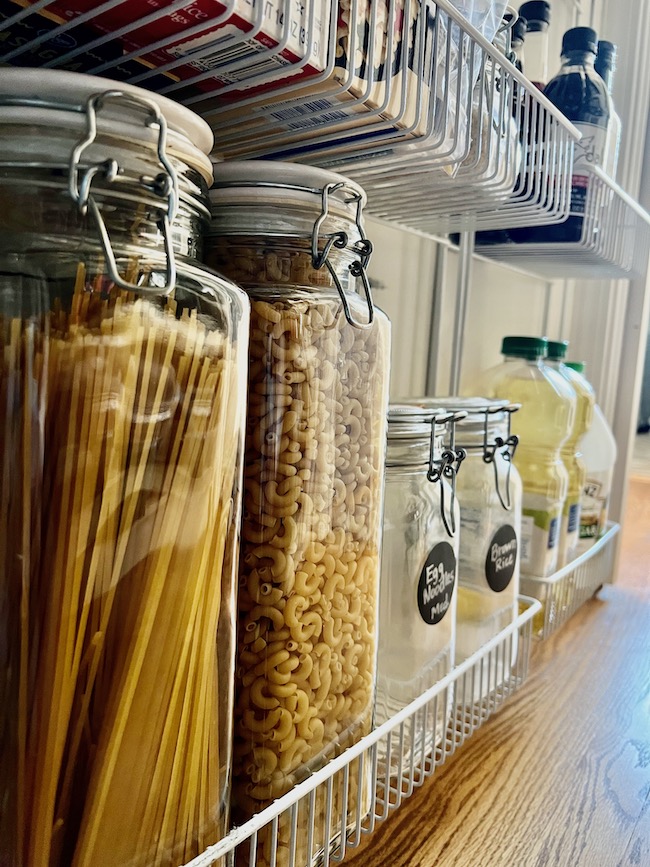 Go through your pantry and refrigerator and throw out anything that's out of date. Organize and corral your food into handy bins or baskets to keep the pantry organized. You can read more pantry and kitchen organization tips in this post.
Create a dedicated snack station for after-school snacks and packing school lunches.
Go a step further, and make meal prep a breeze with organized cabinets. I love this under cabinet pots and pan organizer and lid holder! They have transformed our pots and pans cabinet!!
12. Tidy up your mudroom.
If you have a mudroom, use it to its maximum potential by storing school sports gear and outdoor clothes. If you don't have a designate mud room, create a central place in your home that can serve as a drop zone for kids' backpacks, bags and all the items carried in after busy school days.
You can create your own makeshift "drop zone" with a cute bench and some wall hooks to hold backpacks and bags.
Personalize this area with each family member's name or initials, and consider adding a small basket or bin for each person to hold gloves, hats, or other small items. By having a designated place to 'drop' belongings when coming home, you can reduce clutter and keep your home organized, making the post-school or work routine much smoother.
13. Set up a device charging station.
Designate a spot where all devices can be charged overnight, minimizing the chances of your children getting distracted by them during study or sleep time. This could be a spot in your home office, a corner of the kitchen, or a designated table in the living room.
By establishing a central family charging station, you not only ensure that devices are charged for the next day, but also create a consistent routine that helps limit screen time before bed, promoting healthier sleep habits and uninterrupted study time.
14. Label your belongings.
From lunchboxes to winter coats, make sure all items are clearly labeled with your child's name.
This helps to avoid mix-ups at school and ensures that lost items have a higher chance of being returned. Using waterproof labels or permanent marker can be especially handy for items like water bottles or raincoats. With everything labeled, you're less likely to need to replace lost items, saving you time, money, and the hassle of having to repurchase lost goods.
15. Optimize your home office.
When Caroline goes back to school, I also like to revamp my own work space and work schedule a bit. Getting back into good work habits means clearing and organizing my own work space.
Whether it's the corner of your kitchen or a dedicated room, your home office should be a space that inspires productivity and creativity. Take the time to declutter your workspace, remove unnecessary items, and create a system that helps you stay organized.
Consider adding a pegboard for supplies, an inspiration board for brainstorming, and a filing system for important documents.
Remember to personalize this space, too – it should feel like a place you love, filled with your favorite colors and inspirational items that make you feel comfortable and motivated. I'm much more inspired when I work in a pretty space!!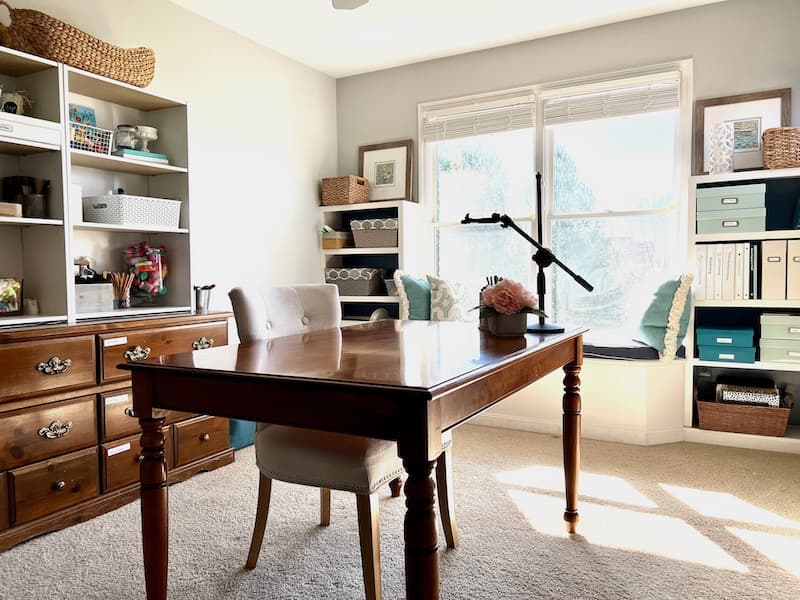 If your office also doubles as a crafting space, do a little craft room decluttering. Try using clear storage boxes to keep your materials visible yet neat. Label everything clearly and create distinct zones for different types of projects.
The key is to create a functional, pleasing space that encourages your creativity and helps you manage the demands of work and home life seamlessly. See how I organized my craft room space on a budget in this post!
16. Encourage gratitude.
Initiate a family gratitude journal to encourage your children to reflect on their day and promote a positive perspective for the new school year. This could be something as simple as a daily or weekly routine where each family member writes or shares something they are grateful for.
Not only does this instill an attitude of gratitude and positivity, but it also provides an opportunity to share and bond as a family.
Over time, this practice can help children appreciate their blessings, build resilience, and cultivate a positive outlook! A little bit of gratitude can make a big impact on attitudes!
17. Plan to support your school by attending fall football games and other sporting events, as well as school concerts, programs and other special events.
Foster a sense of team or school spirit in your family, whatever the age of your children. Keep a calendar of all upcoming school special events and programs, as well as fall sporting events, whether they are school sports or local games.
It provides opportunities to show support for your local teams and school programs, and creates memorable family outings. It's fun to build anticipation and excitement for these fun games and events throughout the fall season. Getting them on the calendar ensures you don't miss out on any of the fun!
18. Establish a game night tradition.
Consider establishing a family game night tradition. This can become a cherished family ritual and a great way to unwind and bond.
Choose a variety of games that cater to different age groups and interests in your family – board games, card games, or even interactive video games. This time together not only helps to de-stress and create lasting memories but also promotes healthy competition, team spirit, and a sense of togetherness among family members, making it something to look forward to each week.
19. Plan fall family time activities.
With so many extracurricular activities you have to be intentional about planning family time. Get creative with family activities this fall. Plan a backyard football game, have a pumpkin-carving contest, or a fall scavenger hunt. Intentional family time creates lasting memories for the whole family.
You can also consider cozy indoor activities such as movie nights with fall-themed movies or baking sessions where you all make autumn treats like apple pies or pumpkin bread together.
These activities not only offer quality family bonding but also provide a platform to teach children about the traditions and beauty of the fall season in a fun and engaging manner.
20. Add all important fall events to your family calendar.
With school, sports, after-school activities, social events, and holidays, the fall season can become quite hectic. To keep everything running smoothly, ensure all important dates and events are added to your family calendar. This could include school deadlines, parent-teacher meetings, sports games, family outings, and even personal appointments. Keeping it all organized on a large calendar for the entire family to see makes sure everyone is prepared for the most important things!
If you have high school students with phones and devices using a shared digital calendar can make this process easier, allowing everyone to access and update the calendar from their devices. This way, nothing slips through the cracks and everyone stays informed and organized. Plus, it's a great tool to help children learn about time management and responsibility.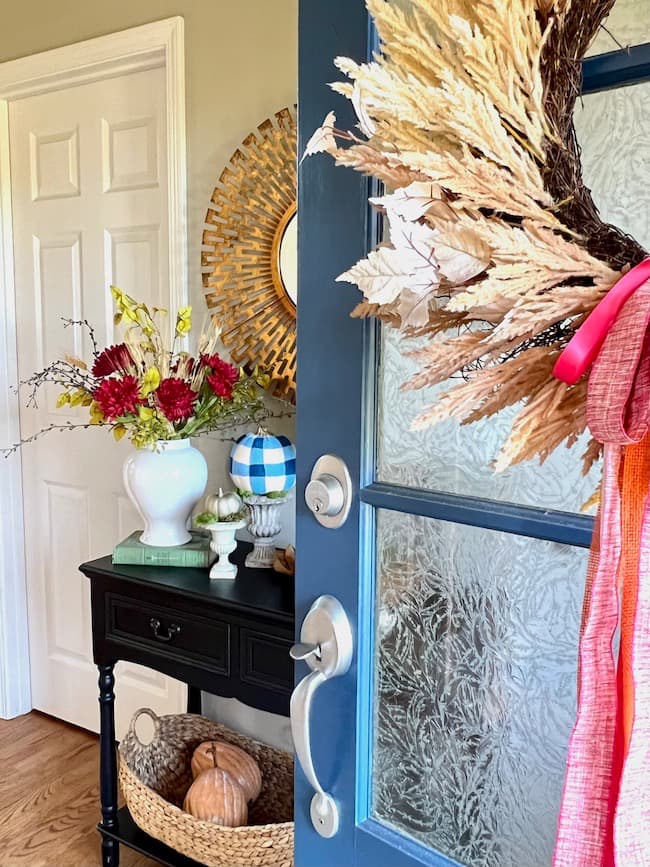 21. Start planning your fall home decor now.
Before you know it, the weather will start to turn a little cooler, and the fall decorating bug will bite! Once the calendar turns to September, we tend to be in full fall decor mode around here. The start of a new school year is a great time to start thinking about how you want to decorate your home for fall!
Decide on a fall color scheme for your decor, and consider incorporating elements like cozy fabrics, and fall-inspired motifs such as pumpkins, leaves, or apples.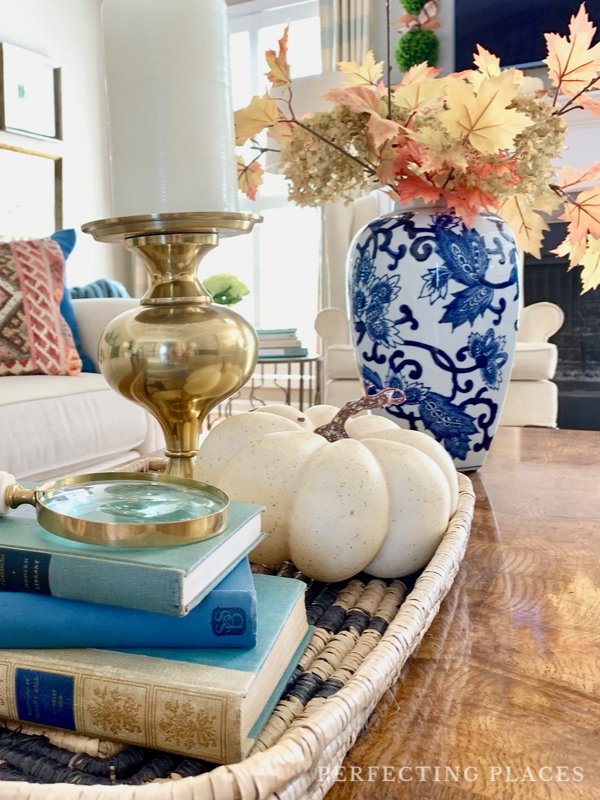 No matter your fall decorating style, it's a good idea to do a little planning ahead and even purchasing ahead to make sure you have the items you want on hand when it's time to decorate!
You can see previous fall home tours here and here. And for great fall color scheme ideas be sure to read Choosing Colors for Fall Decor for Home.

So, whether your home needs a little tidying up and organizing, your schedule and habits need some tweaking, you're sending kids back to school (or off on their own), or you just want a jump start as you start planning ahead for fall, these helpful tips for getting organized this month will help set you down the right path to a fabulous school year!
OK, August! I'm ready for you!!
Happy Organizing!