A Sweet and Salty Snack Mix Recipe for Valentine's Day
Does your Valentine prefer sweet or salty? This sweet and salty snack mix recipe for Valentine's Day is the perfect treat!
Valentine's Day is just around the corner, and if you need a quick treat or easy gift idea for your sweetheart, your kids, a teacher, or special friend you'll love this super simple recipe!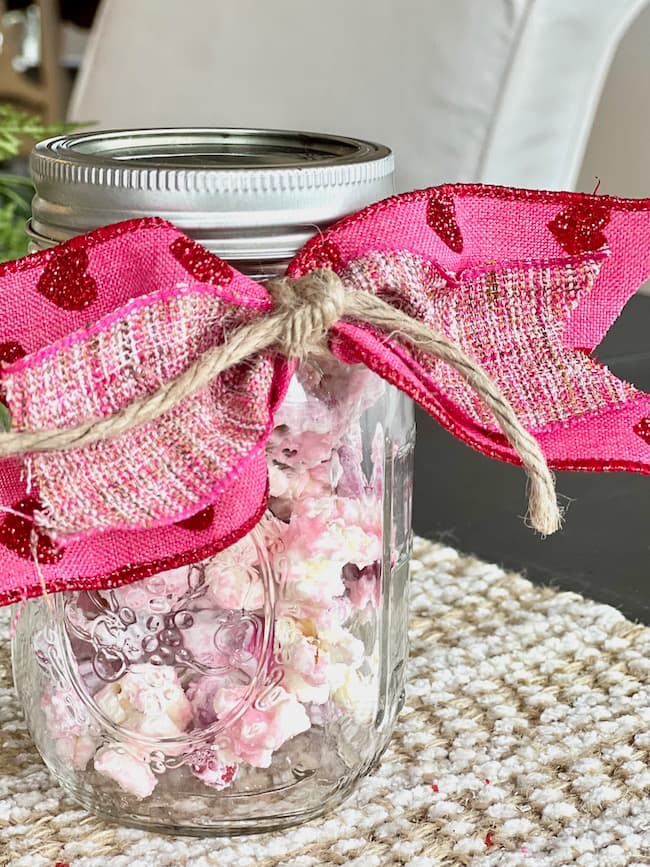 (This post contains affiliate links, so I may earn a small commission when you make a purchase through links on my site at no additional cost to you. As an Amazon Associate I earn from qualifying purchases.)
Do you have a sweet tooth, or are you more of a "salty bag of chips" kind of gal?
I have a major sweet tooth, and I don't think I've ever met a chocolate anything that I didn't love!
Chocolate typically plays the staring role on Valentine's Day — or really any day as far as I'm concerned!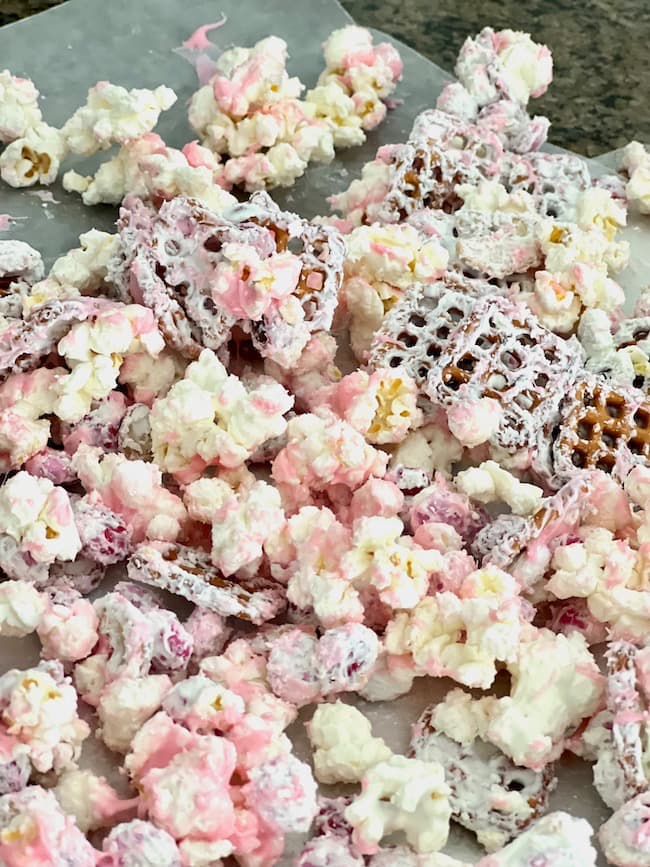 If you fall somewhere in between being a sweet or salty lover, you can have the best of both worlds with this sweet and salty snack mix! And if you're like me and still need your chocolate fix, I've got you covered with the M&Ms!
So fire up your taste buds for this super easy Valentine's treat and great snack that's perfect for sharing with your loved ones!
Ingredients for the Valentine's Snack Mix:
pretzels (waffles, pretzel sticks, or small pretzel twists)
popcorn
cashews (optional)
Valentine's M&M candies
white candy melts
pink candy melts
Mason jars
ribbon
*You can also change up the ingredients to this easy recipe according to your personal tastes. Consider adding Corn Chex, mini marshmallows, chocolate candies, white chocolate chips, crumbled Reese's peanut butter cups or Oreos, or your favorite cereals. The possibilities are endless, so be creative!
How to Make This Sweet and Salty Snack Mix Recipe for Your Valentine:
Gather all of your dry ingredients together as well as a large baking sheet or mixing bowl for combining the ingredients. I mixed everything on a large baking sheet, but you can certainly mix the ingredients in a large bowl if you find that easier.
Pop the popcorn. I used lightly buttered microwave popcorn for the recipe, but you can use any popcorn of your choice.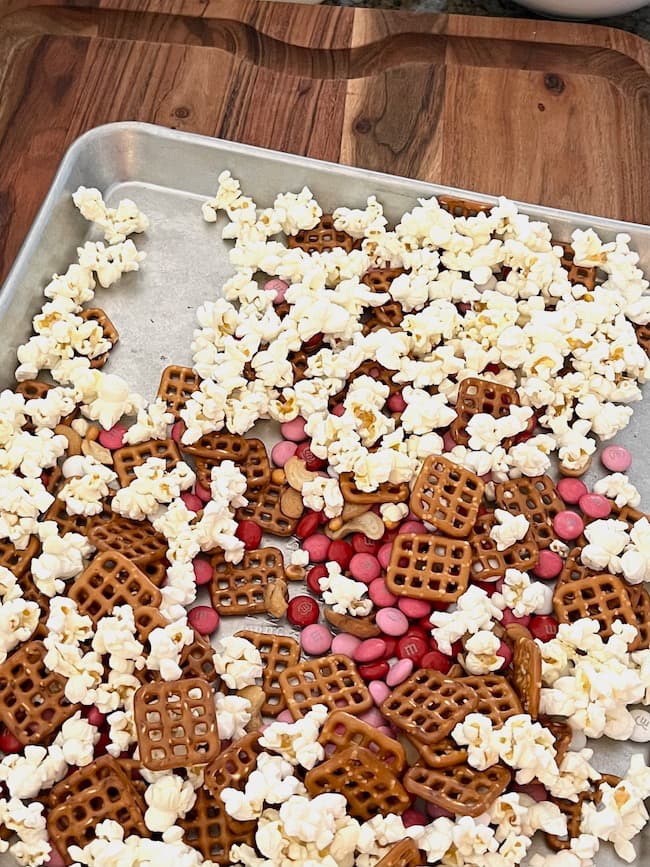 Combine the popcorn, pretzels, M&Ms, and nuts on the baking sheet. Feel free to adjust the amounts of these ingredients according to your personal preference.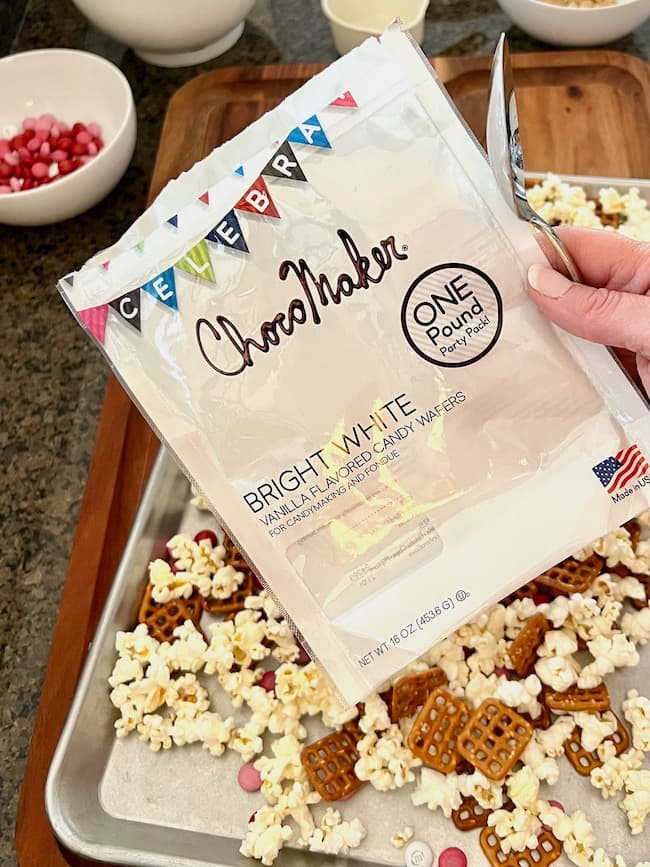 Melt the white candy pieces in the microwave (or on the stovetop if you prefer) according to the package directions. Pour the candy over the snack mixture and stir to combine. Make sure everything is coated with the candy.
Spread the candy coated snack mixture out in a single layer non the cookie sheet or onto additional sheets of wax paper or parchment paper so the candy can harden. It will harden pretty quickly.
Next, melt the pink candy melts and drizzle over the snack mixture. I found the pink candy melts to be a little thicker than the white candy so I ended up dropping it in more than drizzling.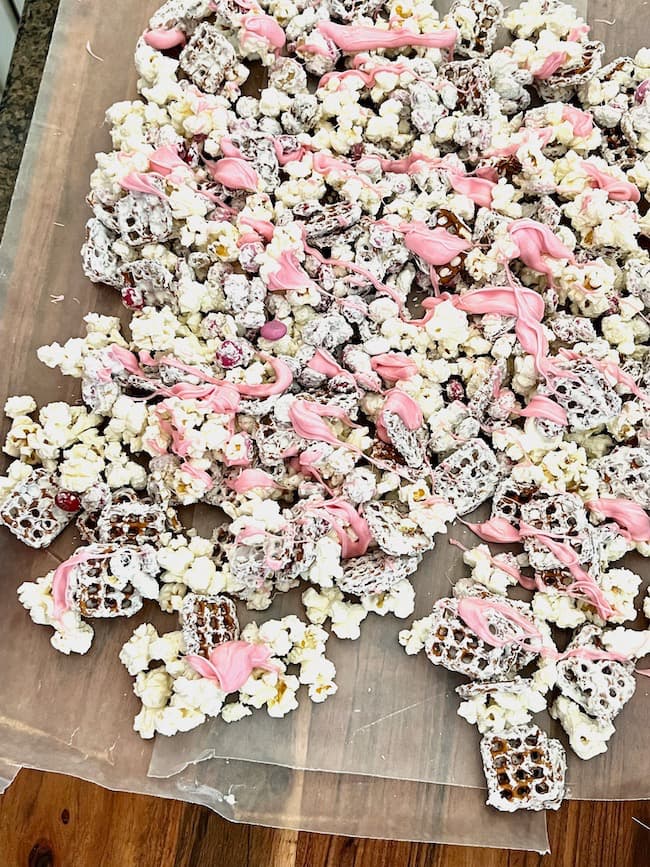 Stir the mixture to spread the pink. You're not trying to completely cover everything in the pink coating, just adding a little pink color to the mix.
Spread the sweet and salty snack mix out onto wax paper to harden. Store the treat in an airtight container or plastic bags to keep fresh.
What to do with the leftover melted candy: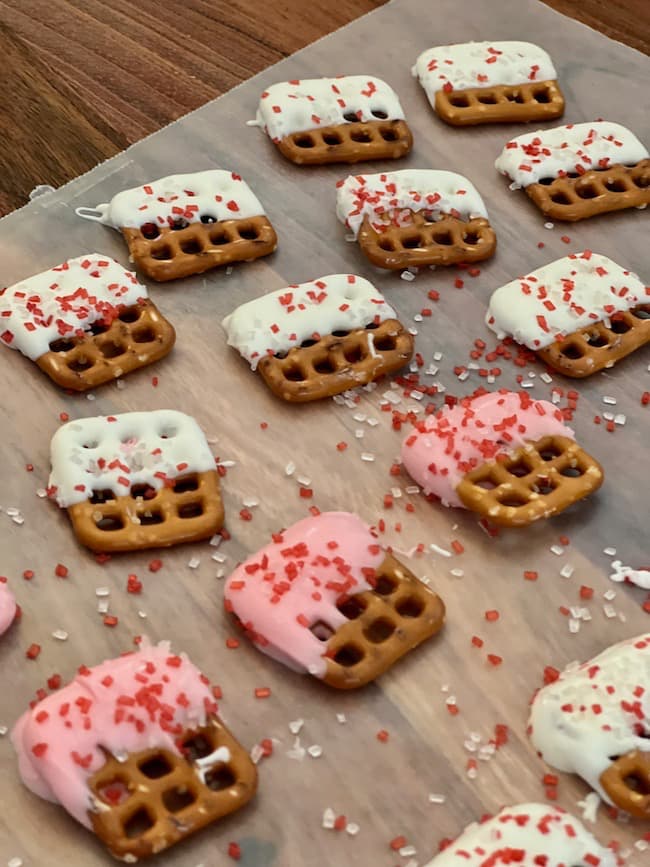 If you have leftover melted candy, create dipped pretzels by dipping one end of the waffle pretzels into the candy. Add some festive red and pink sprinkles and let the candy harden for another festive sweet and salty treat.
How to gift your special treats:
For a super simple gift idea, add your crunchy snack mix to small Mason jars.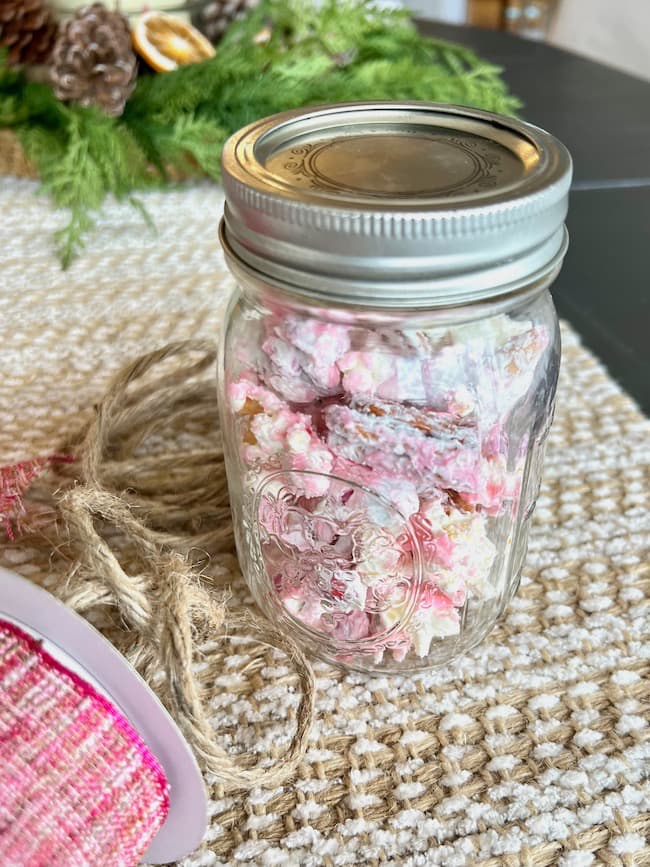 Packaging your snack mix in Mason jars is a great way to make your gift feel extra special. Add cute pink and red ribbon tied on with jute string for a festive touch. Your friends and family are sure to love this sweet and savory treat!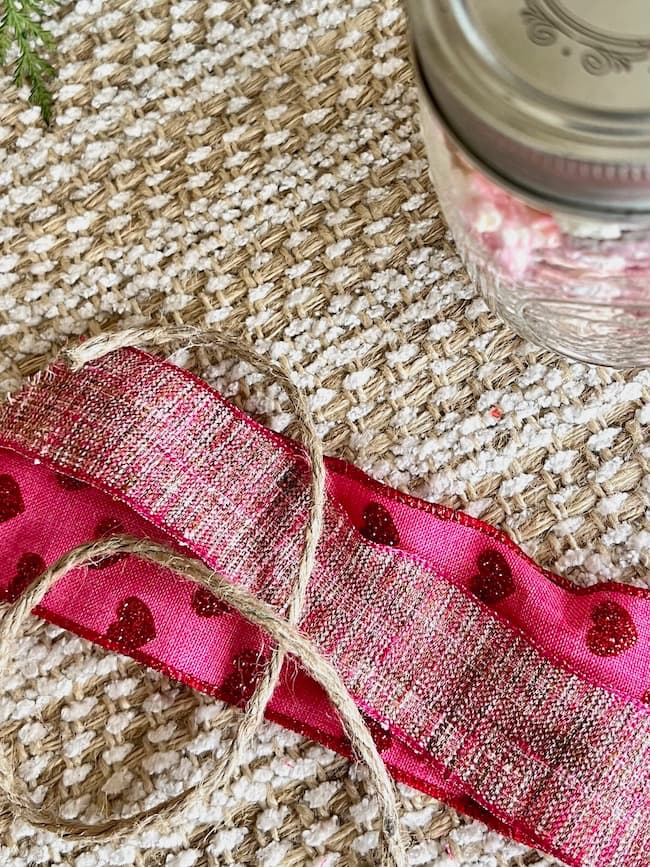 Keep this simple recipe in your back pocket for family gatherings, a family road trip, or for game day treats. It's easily adaptable to any holiday by changing out the color of your candy additions and melts.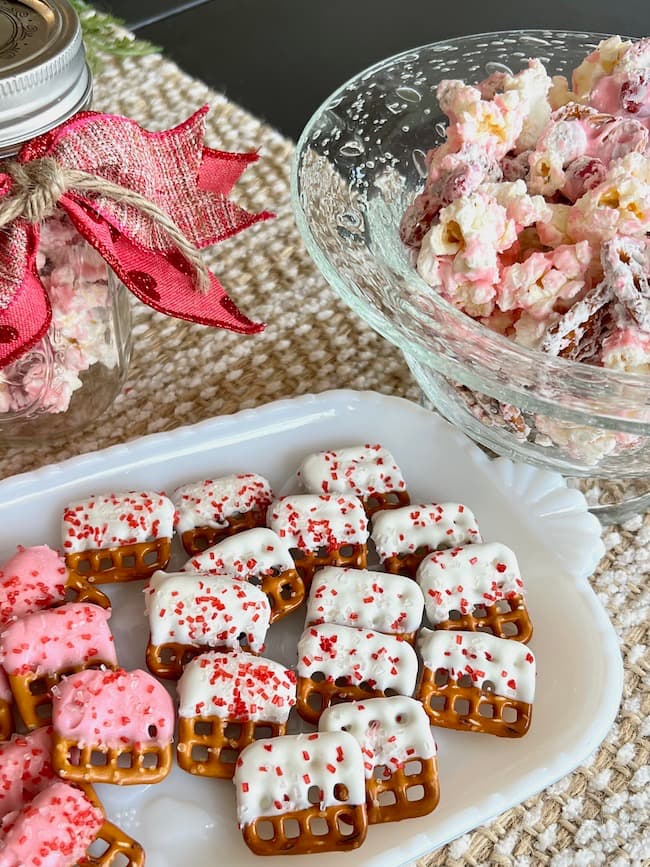 ---
Shop the Look:

---
So, if you're short on time, try this super easy and tasty sweet and salty snack mix recipe for Valentine's Day. Made with just a few simple ingredients, it's the perfect combination of sweet and savory and feels so festive! It's a fun dessert your family will love!
Happy Valentine's Day!
Sweet and Salty Snack Mix Recipe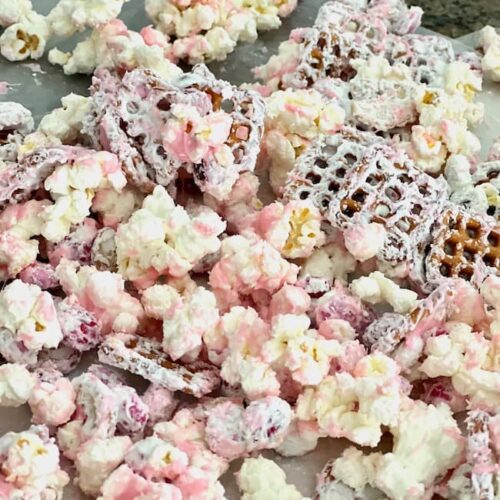 Sweet and Salty Valentine's Mix
If you fall somewhere in between being having sweet tooth and craving salty snacks, you can have the best of both worlds with this sweet and salty snack mix featuring popcorn, pretzels, M&Ms and candy melts!
Print Recipe
Ingredients
2-3

cups

pretzels

1

bag

microwave popcorn

1

bag

M&M candies in Valentine's colors

1/2

cup

cashew pieces (optional)

You can use peanuts as well, or leave the nuts out all together depending on your preference.

1

bag

white candy melts

1/2

bag

pink candy melts
Instructions
Pop a bag of microwave popcorn. You can use any popcorn you like. I used microwave popcorn because I had it on hand.

Combine pretzels, popcorn, nuts, and M&Ms on a large baking sheet.

Melt the bag of white candy according to package directions. I melted mine in the microwave.

Pour the melted white candy over the snack mixture and stir to combine.

Spread the snack mix out to let the candy harden.

For added color, melt the pink candy, sprinkle over your mix, and stir the ingredients to mix well.

Let the candy harden and you're ready to enjoy!
Pin It for Later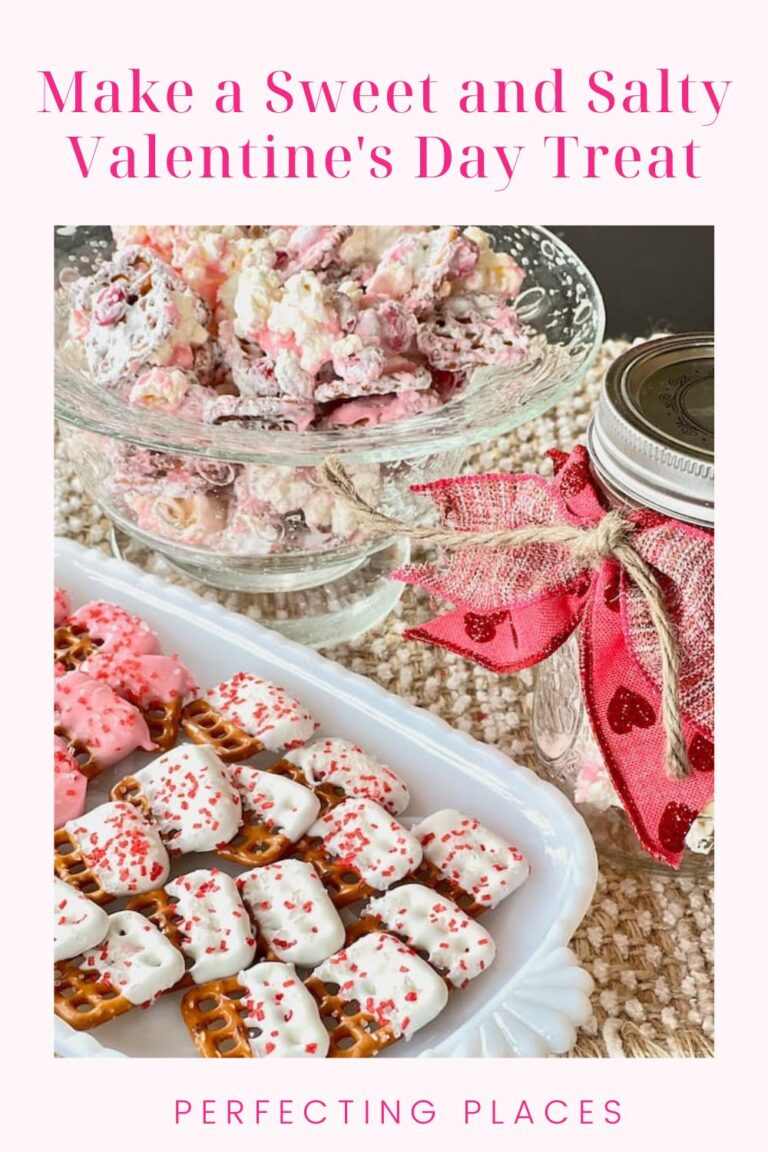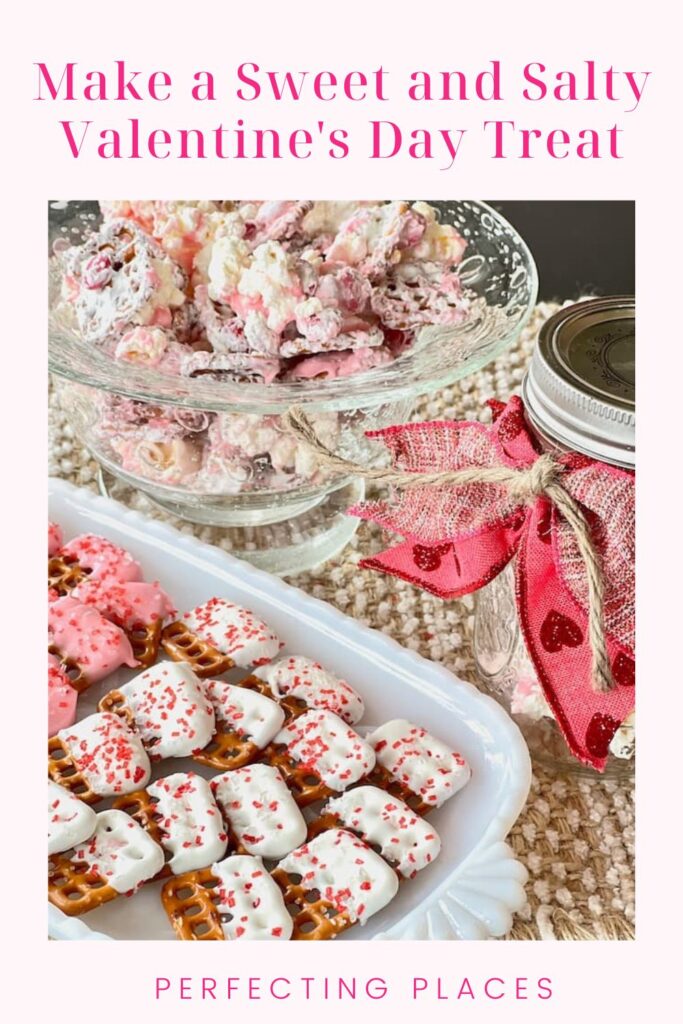 By the way, do you follow me on all the socials?? If not, check out my Pinterest, Instagram, and Facebook and be sure to follow me on all the socials so you don't miss out on any of my holiday decorating and DIY ideas!