Our Blue and White Color Scheme for Christmas
One of my favorite things about holiday planning is deciding on our color scheme for Christmas.
We're already a week into November and there just seems to be a little extra excitement about heading into the holidays this year. I think we're all just a little extra ready to gather… to celebrate… and to surround ourselves with our loved ones!
We're excited in the Hume household! Ok, in all honesty, one of us is excited about pulling out the Christmas decorations and putting up the tree. The others are warming up to the idea of decorating for Christmas early (one of the hazards of living with a design blogger).
While some of us are already jumping into Christmas decorating mode, I certainly don't want anyone to feel like you're are behind because you haven't put your Christmas tree up two weeks before Thanksgiving! I hope to simply help give a little inspiration and sources to make your own Christmas decor planning a little easier. You can read more about my tips for early Christmas planning here.
(This post contains affiliate links, so I may earn a small commission when you make a purchase through links on my site at no additional cost to you. As an Amazon Associate I earn from qualifying purchases.)
Whenever I start planning my Christmas decor for the year I always start with the color scheme.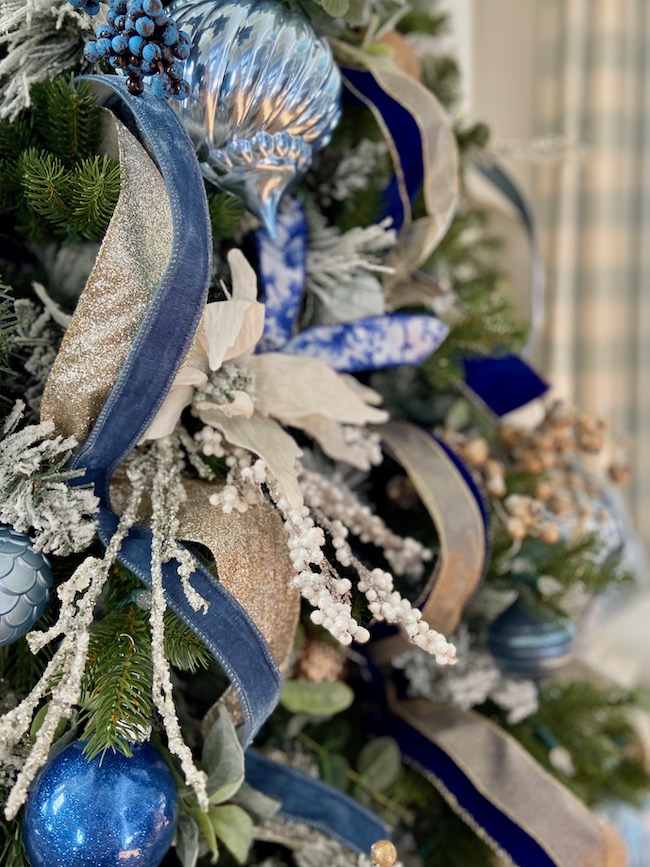 This year I'm using blue, white, and gold in our living room to coordinate with our living room colors.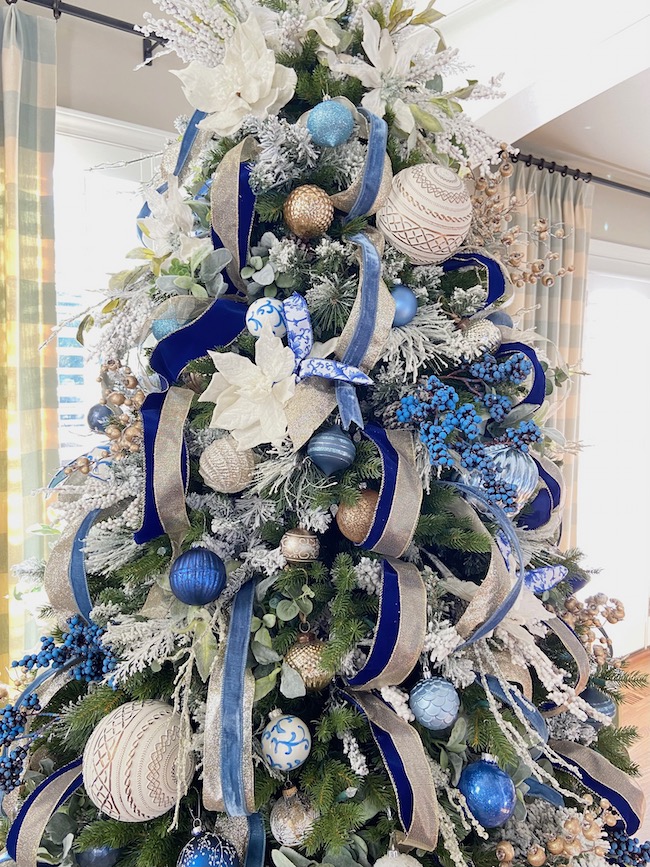 While I love the look of a Christmas tree that coordinates with the other colors in the room, I still need to have a healthy dose of Christmas red!
In our floor plan, our living room and dining room both open up to the kitchen, so I'll get my get my Christmas red fix by mixing all that blue with red, white, and tartan plaids in there.
My little traditional-Christmas-red-loving-heart and my little decorate-Christmas-to-match-your-decor-loving-heart will both be oh so happy!!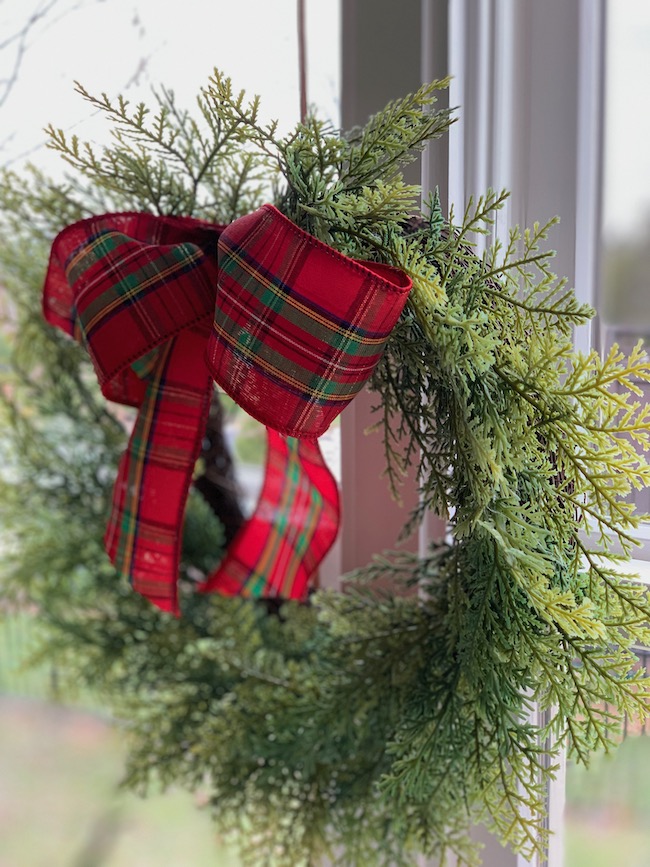 Our Christmas Tree Color Scheme:
Create a Temporary Flocked Tree with Garland.
First, consider what kind of tree. We have a traditional green artificial tree, but I do love the look of a flocked tree. To achieve a flocked look without committing to a flocked tree, I purchase inexpensive flocked garland, cut it apart, and intersperse it throughout the tree. The look is perfect, and by the time you add in all of the other decor, the tree essentially looks flocked! Then, next year if I want a more traditional look, I can leave the flocking out.

This year I also added eucalyptus and lambs ear greenery cut from garland.
Use Neutral Christmas Tree Decor as a Base for Your New Color Scheme for Christmas.
I like to start with neutral ornaments, ribbons, and florals in white, cream, and gold. This provides a great year-to-year base for your tree to which you can add each year's new color without having to change everything out.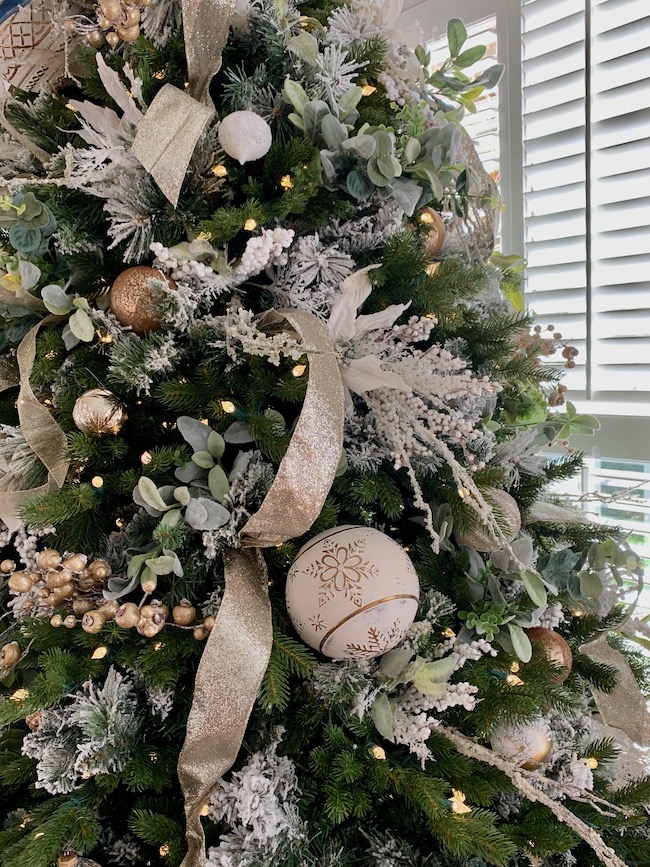 Creating the Blue, White, and Gold Color Scheme for Christmas:
This year I'm using blue, creamy white, and gold on our living room tree. I wanted a soft elegant look that coordinates with our room decor.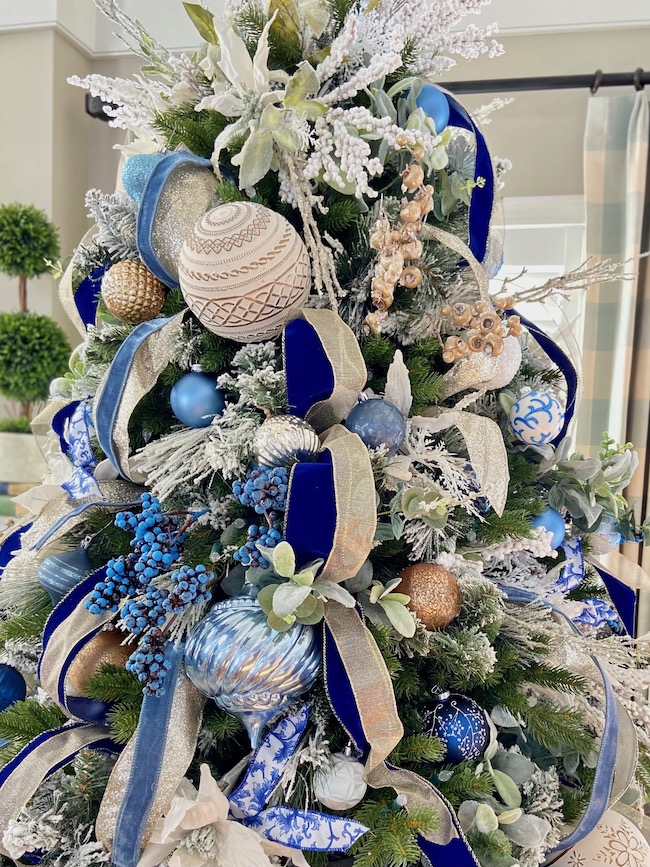 I've collected many of these items over the years, but add a little extra each year. This year I added the darker blue velvet ribbon and several new blue ornaments. I like to use different shades of blue to soften the look and add ornaments in various sizes as well. I also incorporated a couple different shades of blue ribbon layered with the gold. I find that layering the darker blue with the gold creates a softer, more subtle look for the tree.

I also have several hand-painted blue and white ornaments on our tree. These mimic the look of blue and white Chinoiserie porcelain.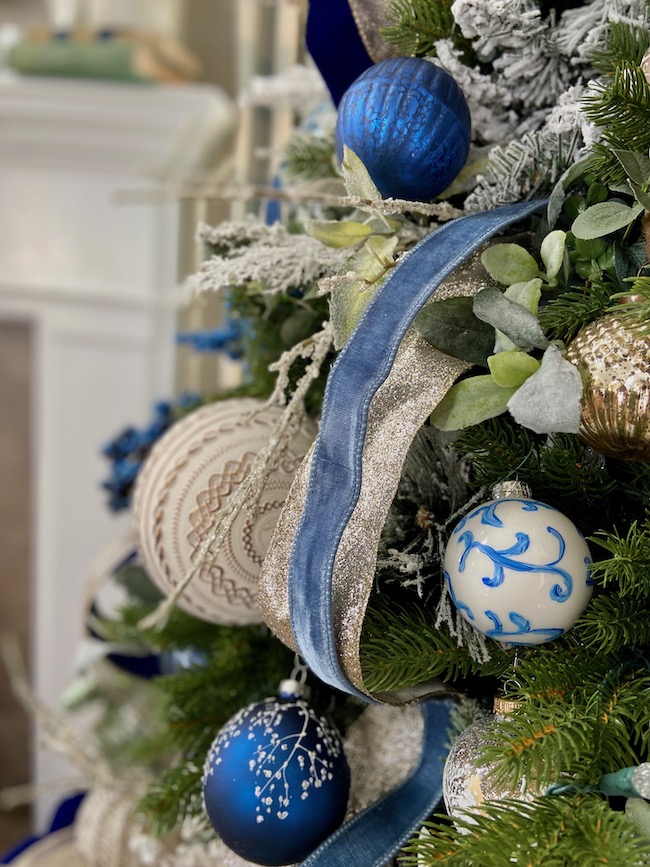 You can see the video about how I painted these very easy blue and white chinoiserie ornaments here.
Tartan Red and Blue Plaids in the Kitchen:
No matter how I change up my Christmas color schemes, nothing says Christmas to me quite like red, and especially red tartan plaid! This year our kitchen will be all decked out in plaid — blue, navy, red, and white — tartans and checkered. I haven't started decorating the kitchen yet, but this is the look I'm going for. The look will coordinate well with my living room tree in blue, cream and gold.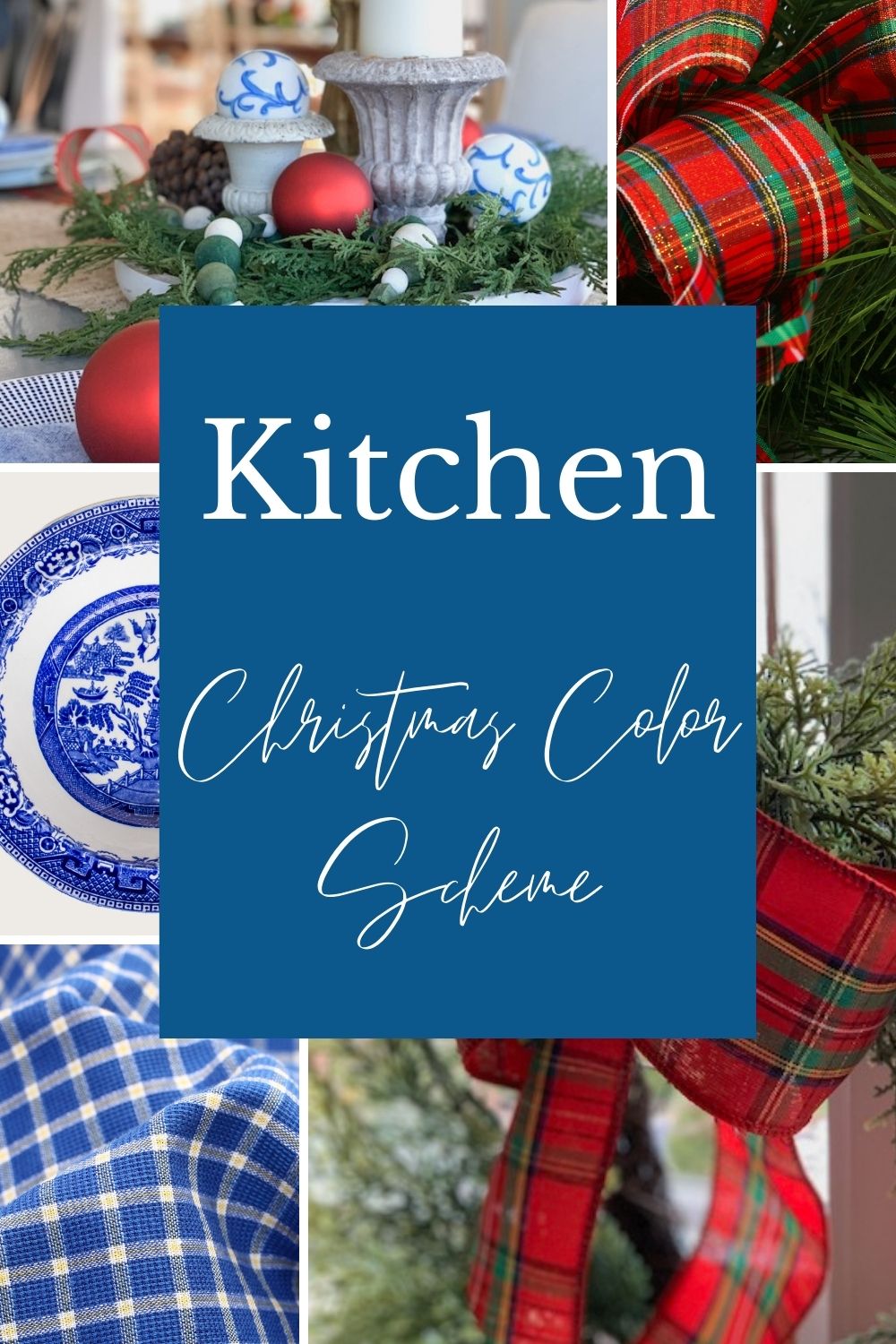 If you love tartan plaid as much as I do, check out our tartan plaid themed Christmas tree in this Christmas home tour.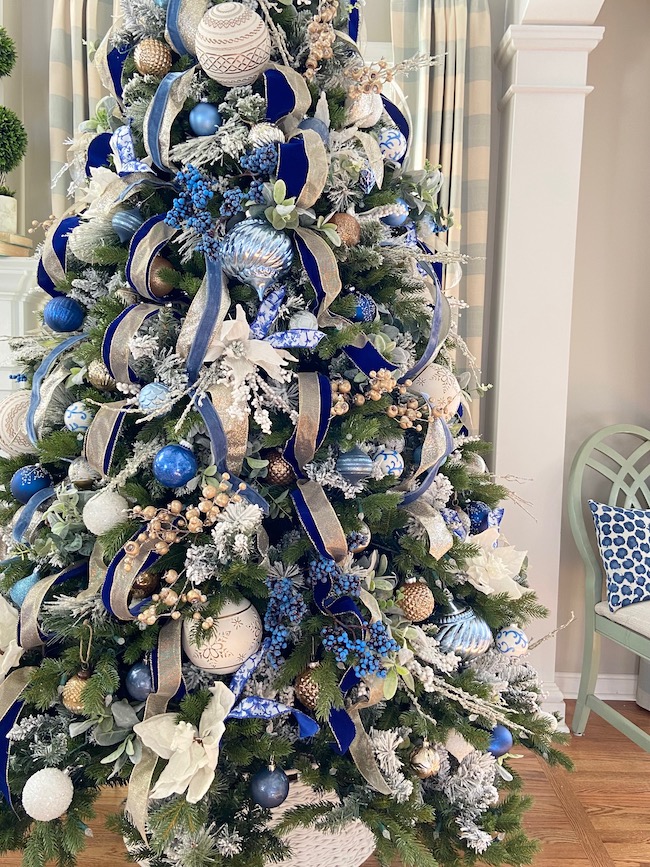 I have one Christmas tree down, but LOTS more decorating to go!!  Even if you aren't putting up your Christmas decorations until after Thanksgiving, you might want to consider ordering or purchasing any items you really have your heart set on a little earlier this year. Stores are a little short on supplies, and I have a feeling they will sell out earlier than usual.
I hope this gives you a little extra inspiration for your color scheme for Christmas!
Happy Christmas Decorating!