Christmas Theme Ideas for Decorating for the Holidays
Have you chosen a theme for your holiday decorating? I'm sharing the best Christmas theme ideas for decorating your home for the holidays.
Does decorating for Christmas feel a little overwhelming to you? There are so many beautiful colors and styles and decorating ideas to choose from that it can make your head start to spin!
One of the best ways to bring focus and clarity to your holiday decorating is to choose a Christmas decorating theme for your home for the year. It will make your seasonal decorating decisions so much easier!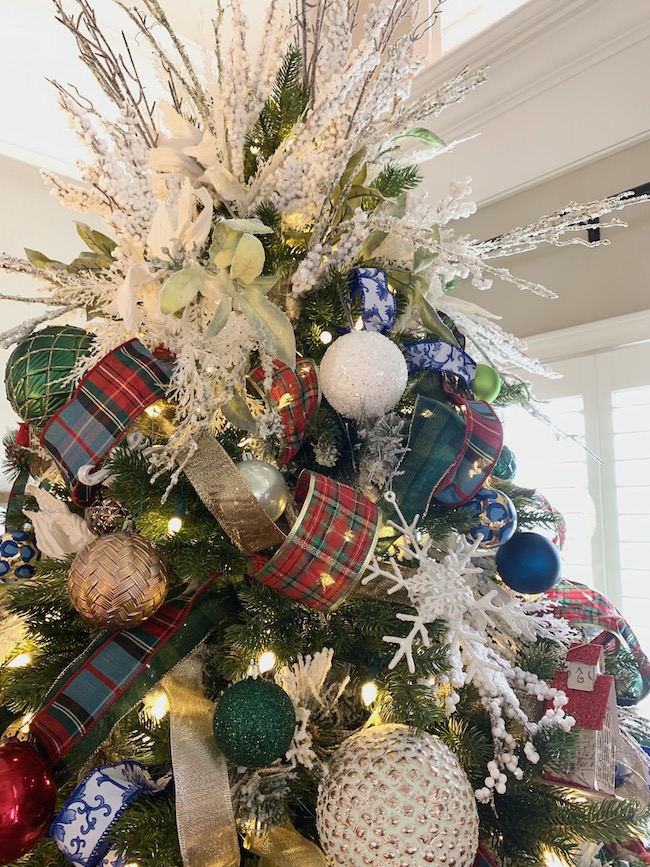 (This post contains affiliate links, so I may earn a small commission when you make a purchase through links on my site at no additional cost to you. As an Amazon Associate I earn from qualifying purchases.)
I'll let you in on a couple of little secrets.
One – I can get a little overwhelmed by all the things this time of year.
And two – I really, really love all the colors, and textures, and styles, and elements of decorating for the holidays.
I could spend hours roaming the aisles of Hobby Lobby, or Michael's, or TJ Maxx, or some of my favorite local boutiques and craft stores thinking about all the amazing things I could make or decorate for Christmas.
It's all so gorgeous and lovely, and sometimes I just can't decide what I want to do!
So, if you have a thousand things you need to get done over the next few weeks before Christmas, and you just need someone to narrow down the decorating possibilities for you, today is your lucky day!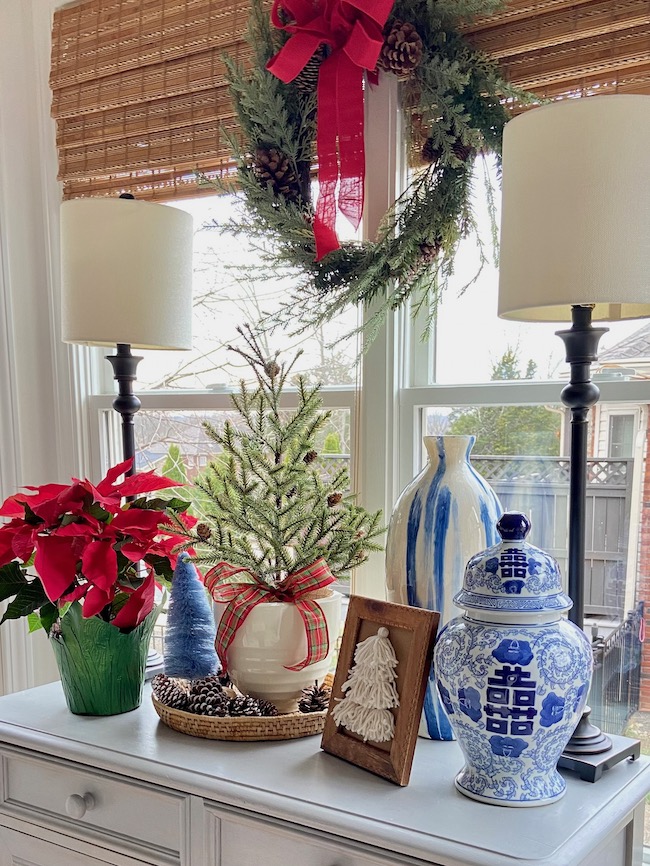 I'm sharing the best way to jump-start your holiday decorating – pick a Christmas decorating theme!
And, I'm going a step further – I'm sharing some of my favorite Christmas theme ideas for decorating your home this year!
What are the different styles of Christmas decorating?
Scroll through Instagram or Pinterest and you'll see a wide variety of Christmas decorating styles and colors. Some colors are bold and dramatic with lots of jewel tones and rich colors, while other looks are soft, calming and more neutral.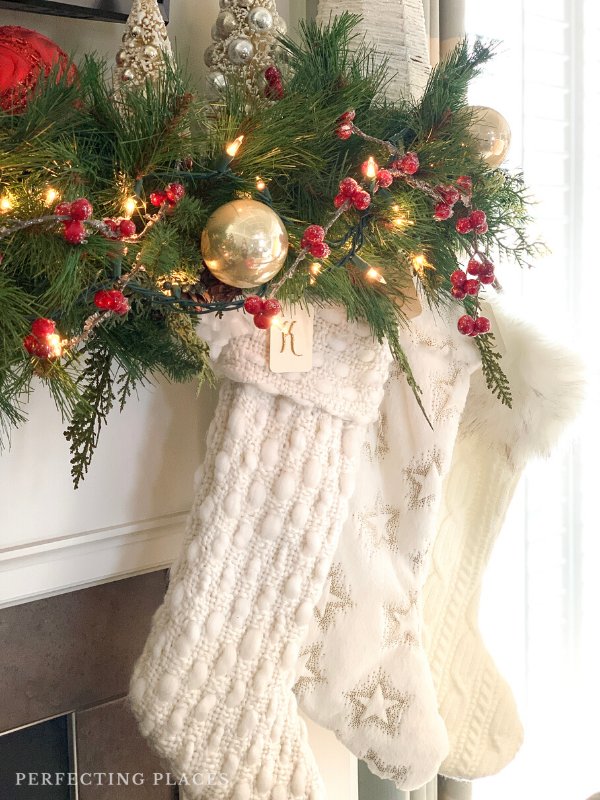 You'll see classic Christmas styles featuring lots of greenery, red berries, and traditional Christmas decorations. There are lots of vintage decor ideas with vintage ornaments and a nod to yesteryear. And, you'll find modern glam looks with lots of metallic accents and modern Christmas decor. 
Minimalist Christmas decor is also trending with simple greenery and white decorations. In contrast, you'll see more maximalist styles like cozy cottage core and grand millennial style. There is the rustic charm of a cozy cabin look, and styles that incorporate lots of natural elements or woodland creatures.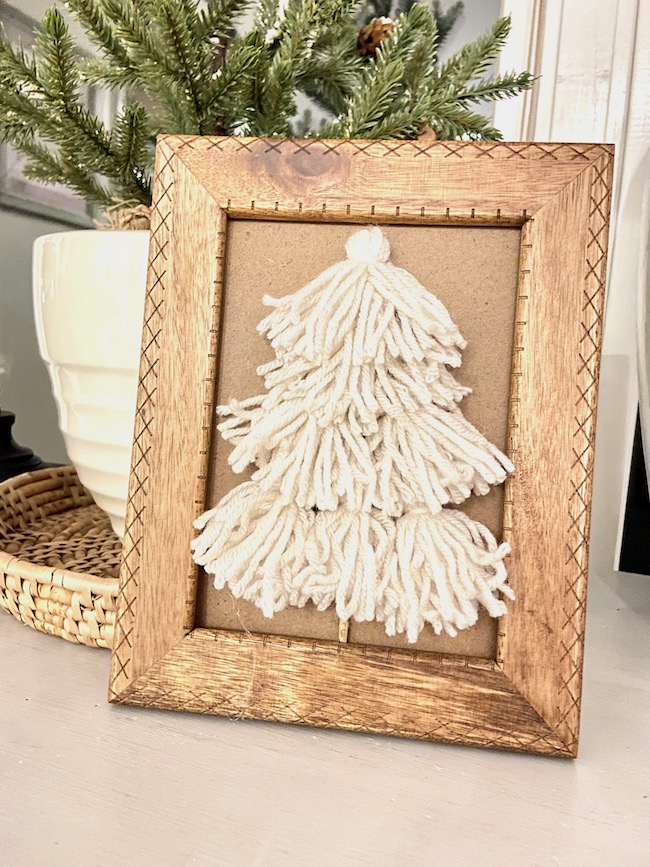 You might strongly favor one or more of these decorating styles. Or perhaps, you like to pull from several looks to create a style that's uniquely your own.
Determine how you want your home to "feel" this Christmas.
Do you want a clean, uncluttered look? Then you might go for a more minimalist contemporary style.
Would you like a cozy, peaceful and relaxed feel this year? Then a soft neutral color palette and lots of cozy textures might be perfect for you.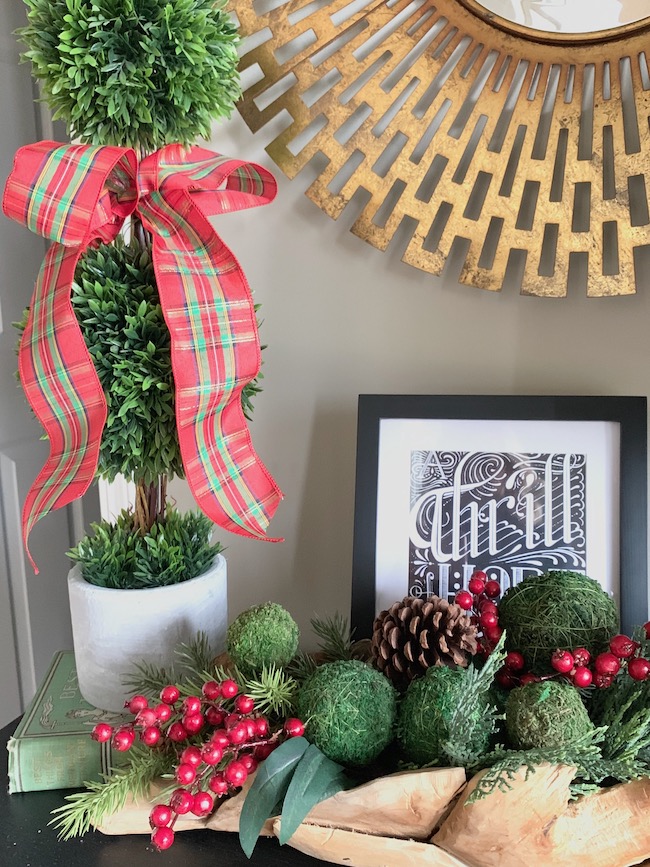 I tend to fall into the classic Christmas category with a bit of nostalgia and a lot of traditional styling, but I also love a cozy and inviting look that incorporates some natural decor elements.
How do you choose a Christmas decorating theme?
When deciding how you want to decorate your home for the holidays, first determine the overall feeling you want your home to exude.
Read through some of the descriptions of decorating styles above and determine which style best represents the look you're going for.
Choose your Christmas color scheme. 
The most important factor in your Christmas theme is the collection of colors you want to incorporate in your home for the season. Work from this color scheme when selecting your Christmas tree decorations and other holiday decor.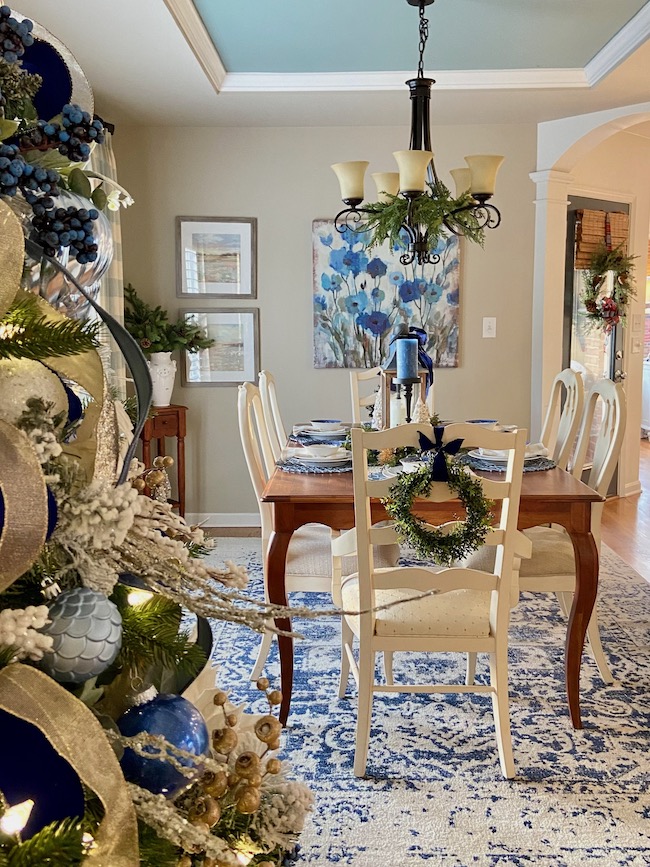 You can choose to coordinate with the "year-round" color scheme of your home, and choose Christmas decor in those colors. Our home is decorated in neutrals with a lot of blue and white throughout the year, so a blue and white Christmas color palette, particularly in the living room is a beautiful way to decorate for the season.
If you decorate with mostly neutrals throughout the year, then you'll probably enjoy sticking with a neutral holiday color scheme. This can be an elegant look using a lot of pretty metals. Or you can opt for a more casual, cozy neutral look adding in lots of texture and natural materials.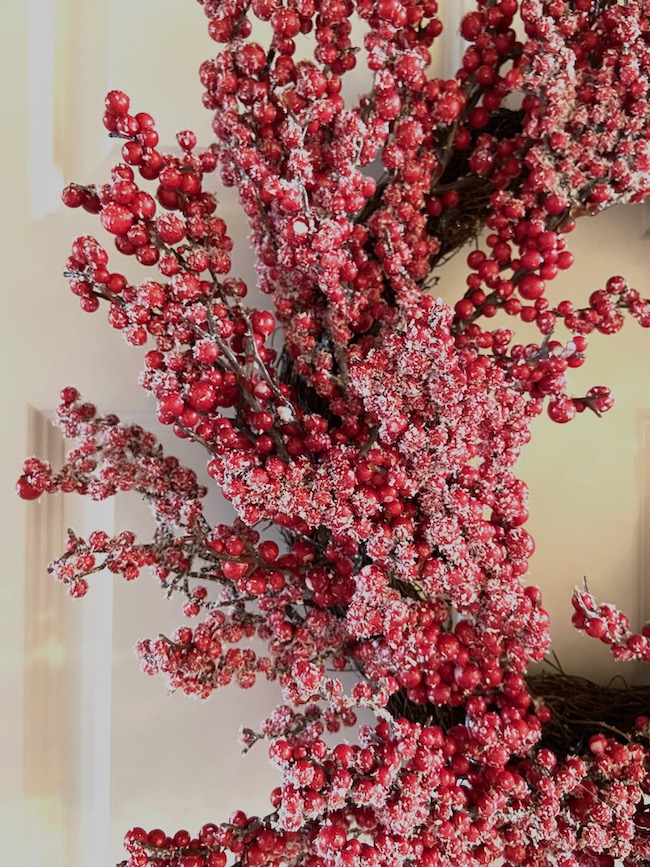 Maybe you're like me, and really enjoy traditional Christmas red. The color red just feels like Christmas to me, so I use it in some way in my home most years during the holiday season. I especially like to use a lot of red in our kitchen, but this year it's making its way back into our living room and dining room!
Once you decide on the colors you want to stick with for this holiday season, combine them with the decorating style or feel you're going for, and you have a perfect decorating plan and Christmas theme that reflects your style!
My Christmas Decor Theme for the Year
This year I'm calling my Christmas decor theme "Pinecones and Velvet". I'm combining the more casual natural element of pinecones with the more luxurious texture of velvet. This "high-low" decor style creates a nice juxtaposition of casual and formal, natural and elegant.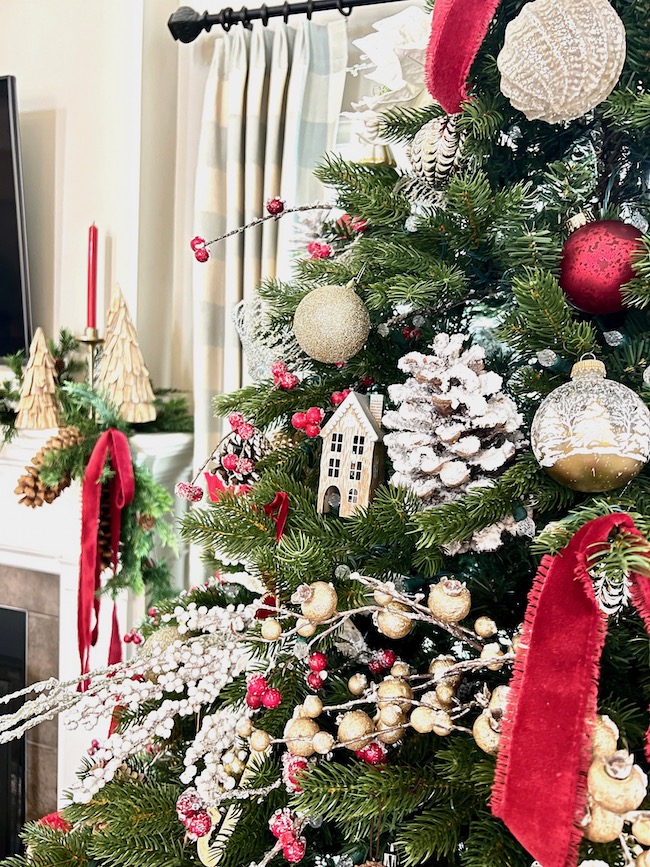 I love the contrast of the two elements in my decorating theme this year. 
Of course, I'll be using LOTS of pinecones of all shapes and sizes in our Christmas tree theme, on our mantel, and in other areas around the house. 
To contrast the rustic natural element of pinecones, I'm using lots of red velvet ribbon. I've combined pinecones and velvet ribbon on our mantel and in our Christmas tree. The red velvet ribbon I'm using in our living room has frayed edges which adds to the classic charm as well as a touch of vintage.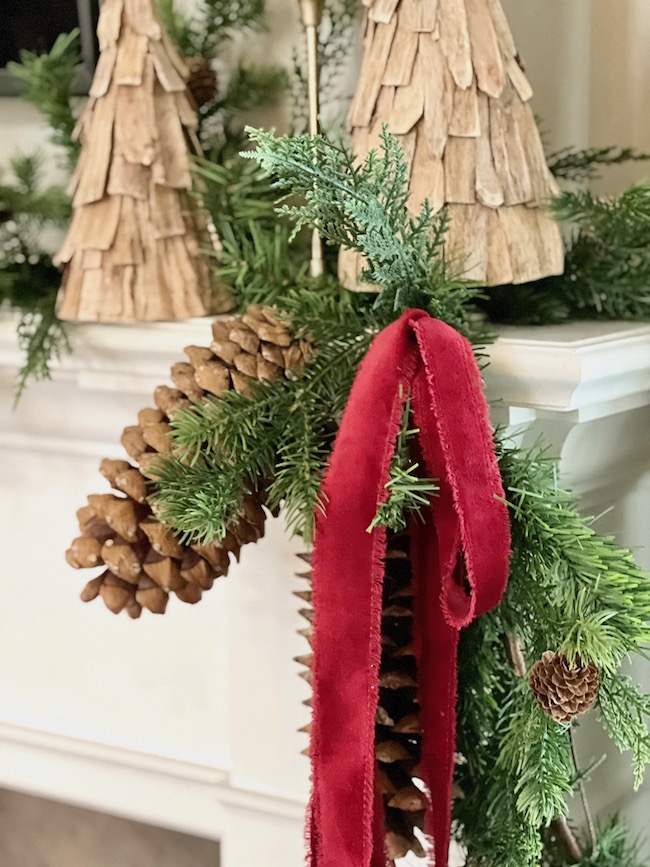 Our Christmas color scheme this year is primary red, cream, and gold in the living room.
In the kitchen, I'll inject a little more blue and use lots of red and white along with tartan plaids.
So, red, creamy white, gold, and blue makes up my Christmas color scheme.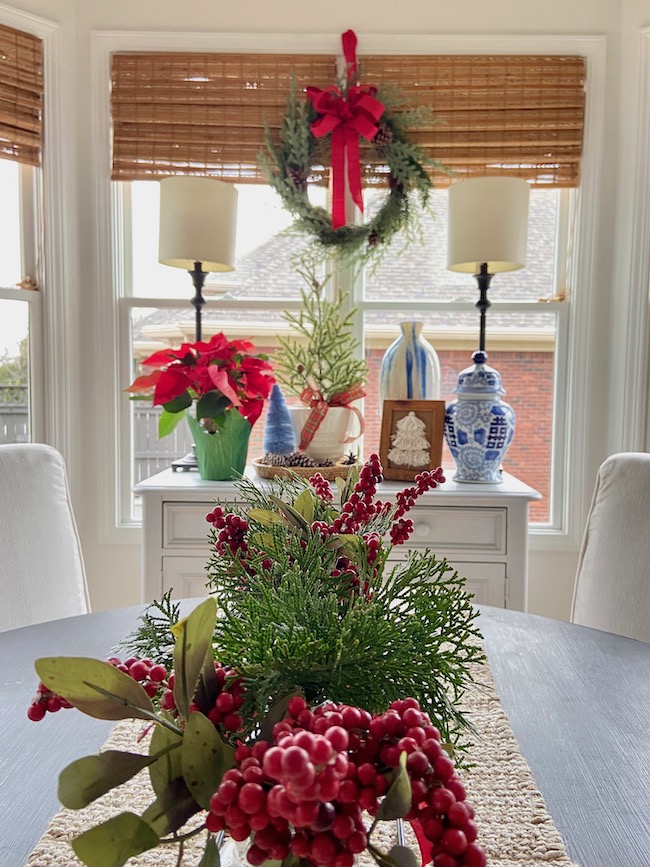 I love returning to this classic Christmas color palette this year.
Blue and White with Gold Christmas Decor Ideas 
A blue and white color scheme is a gorgeous look at Christmas. If your home's year-round color palette is blue and white, decorating in these colors, with a little gold for an accent color mixed in for good measure is a great classic look.
If you love blue and white Chinoiserie style with pretty ginger jars, this color scheme is perfect for you.
It's such an elegant look.
You can read more about creating a blue and white Christmas color scheme here.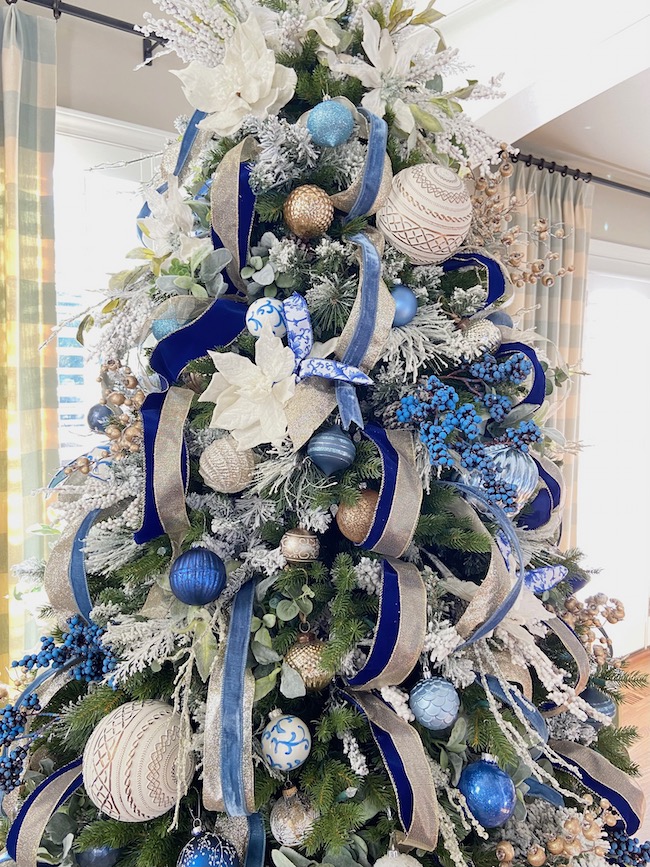 Add blue and white Chinoiserie ornaments to your tree, along with shimmery gold ornaments. Rich velvet ribbon in shades of blue paired with gold ribbon makes a very regal Christmas tree.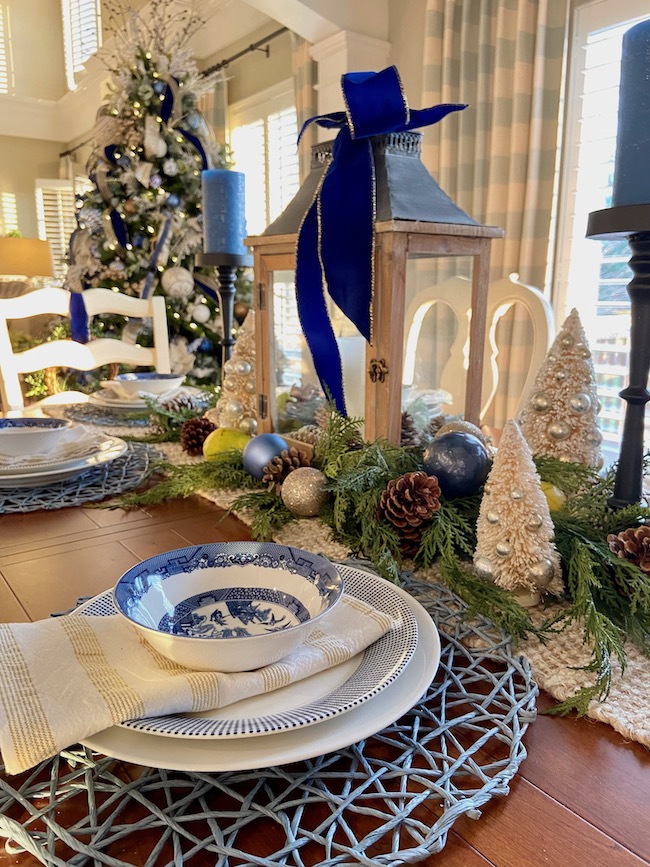 Carry the look into the dining room with navy velvet ribbon and blue Christmas ornaments scattered along the table.
Blue and white bottle brush trees paired with ginger jars on the buffet carry the theme into the kitchen.
If you love to decorate with bottle brush trees, this post is full of bottle brush tree inspiration.
Shop the Look for Favorite Blue and White Christmas Decor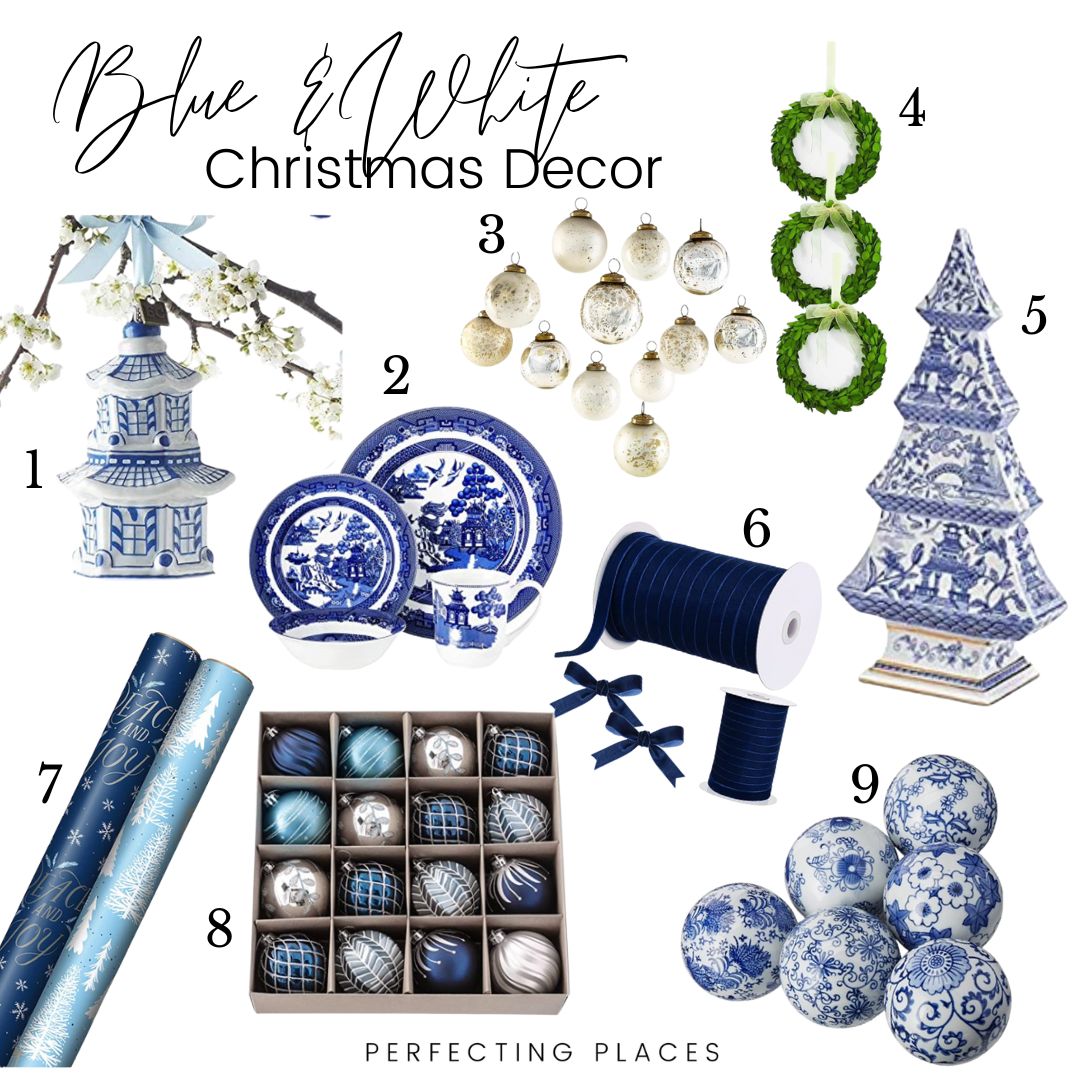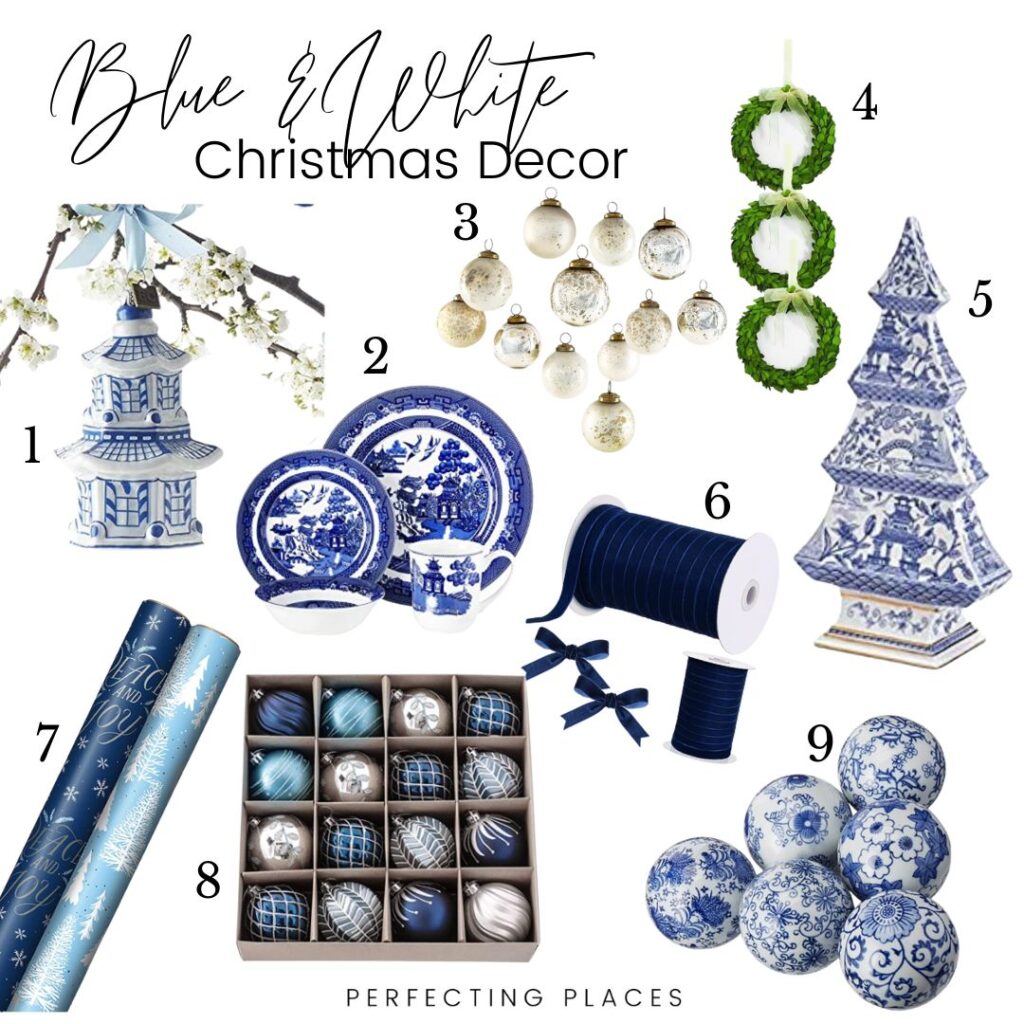 Classic Red and White Christmas Theme
A traditional red and white color scheme is such a charming look. It's such a classic look paired with vintage finds for a nostalgic feel in your home.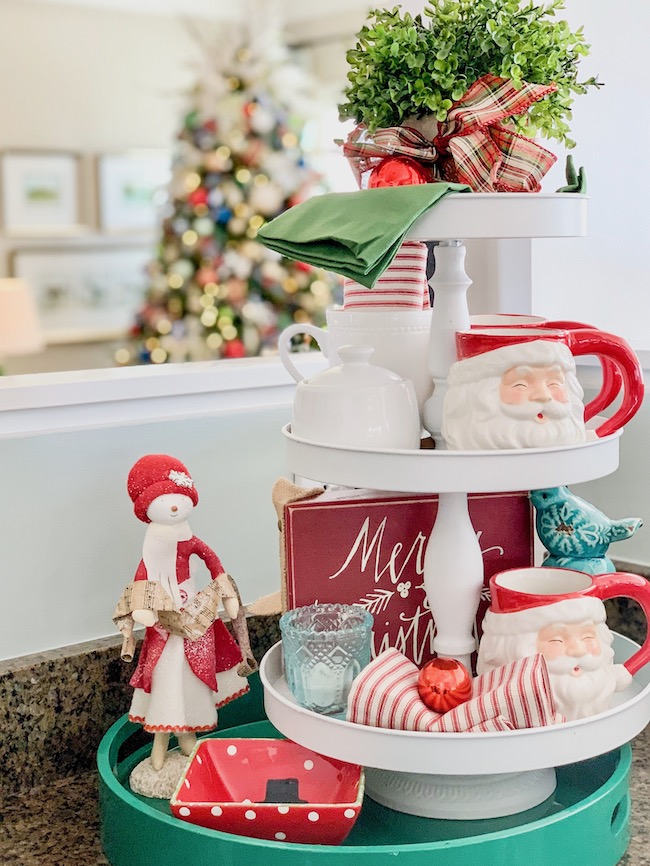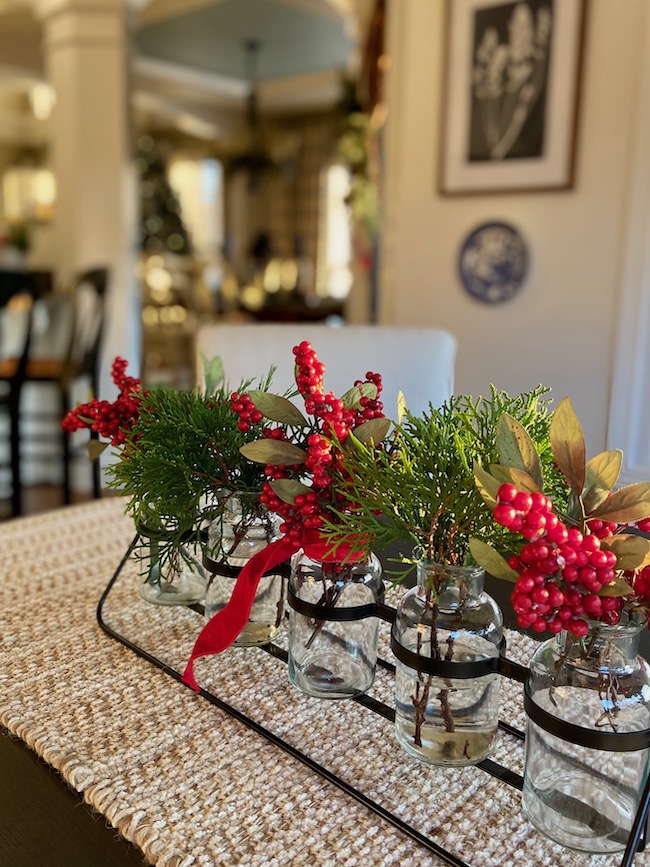 I like to use red and white in the kitchen for a cottage charm look.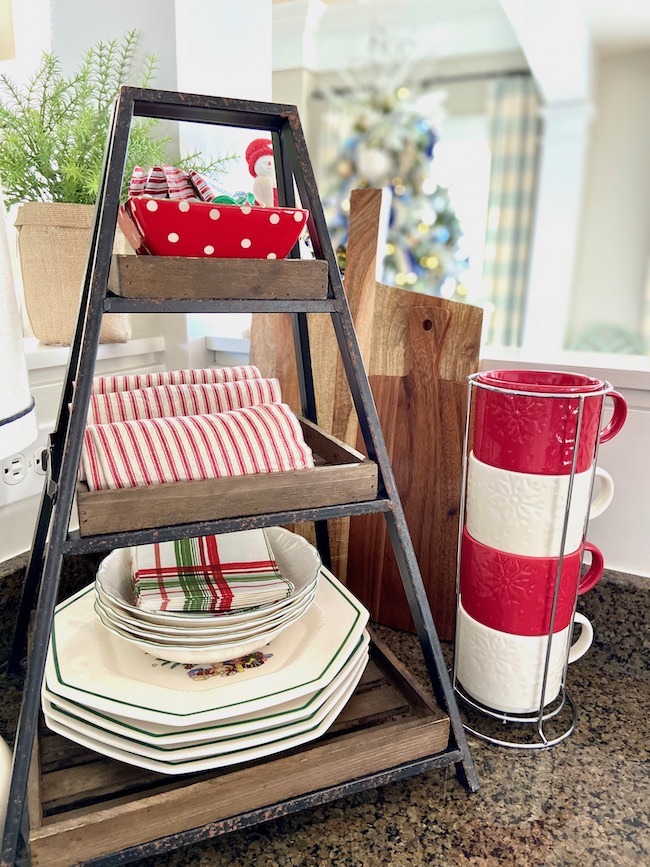 Santa mugs and a hot chocolate bar are perfect all decked out in red and white.
Shop the Look for Favorite Red and White Christmas Decor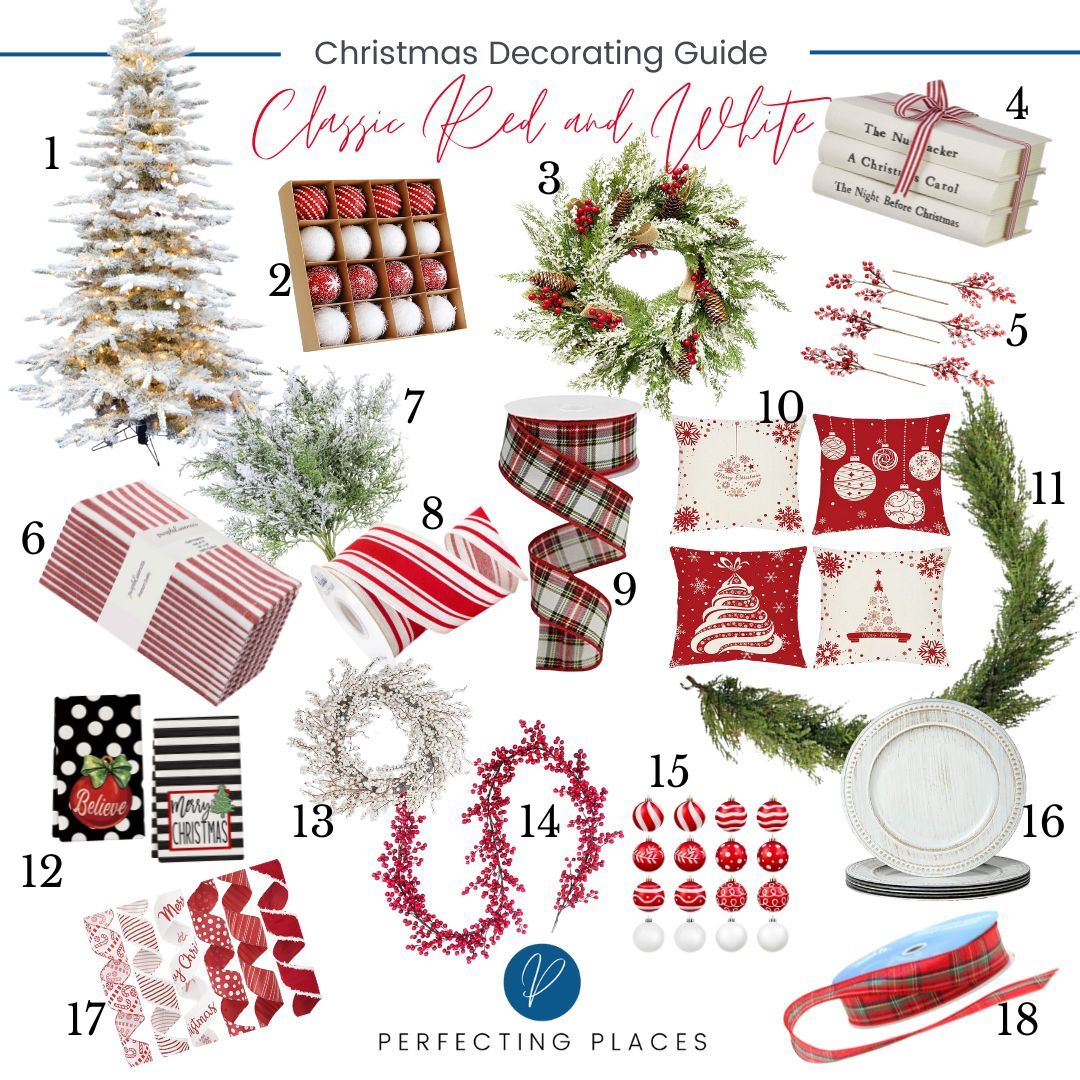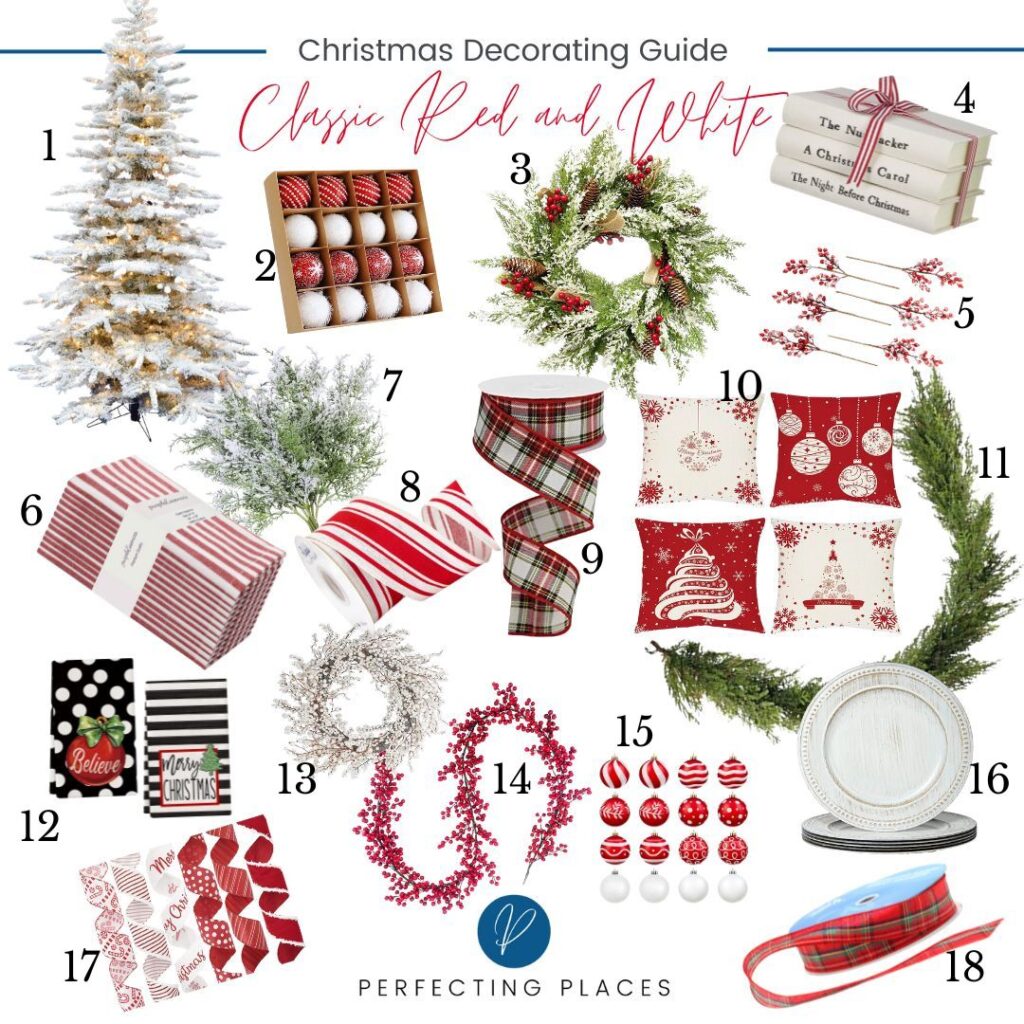 Tartan Plaid Christmas Theme
You can never go wrong with tartan plaid at Christmas. It's such a classic traditional look. It's perfect with a formal look or a more casual look.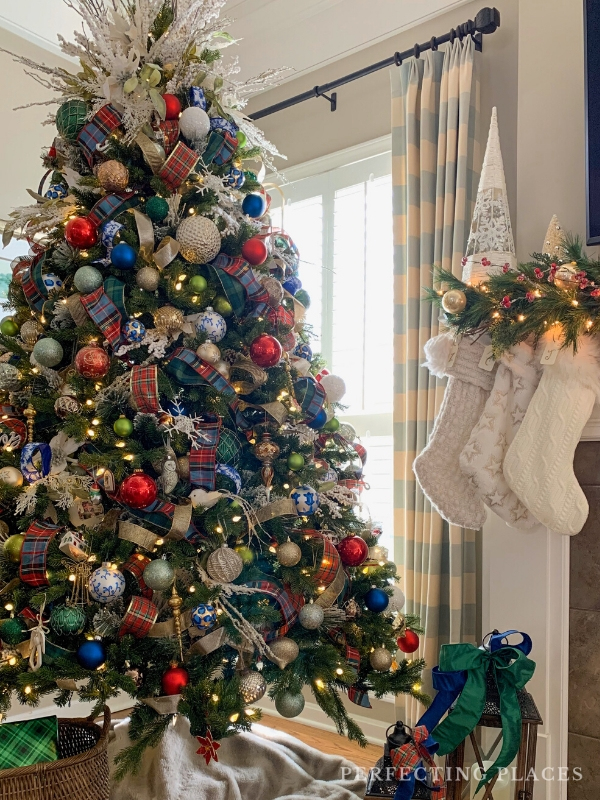 This tree is all decked out in tartan plaids from top to bottom for a burst of classic color and traditional holiday decor.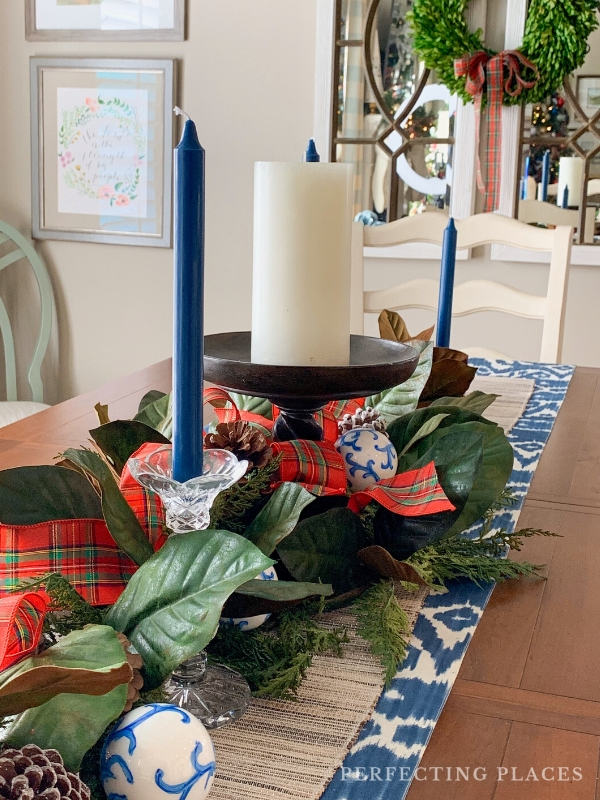 In the dining room, tartan plaid ribbon adds classic charm to a centerpiece.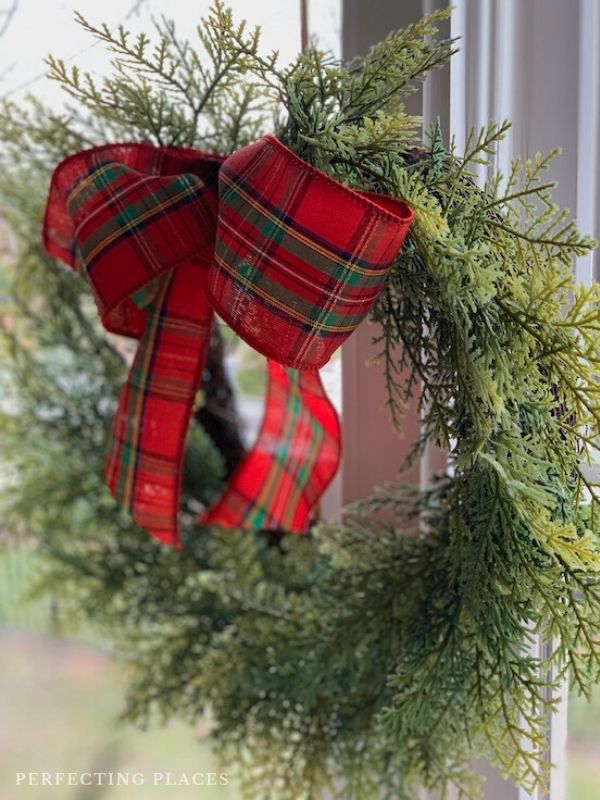 A red tartan plaid bow on a boxwood wreath is the quintessential Christmas look.
I share lots more tartan plaid and Chinoiserie style decor in this post!
Shop the Look for Tartan Plaid Christmas Decor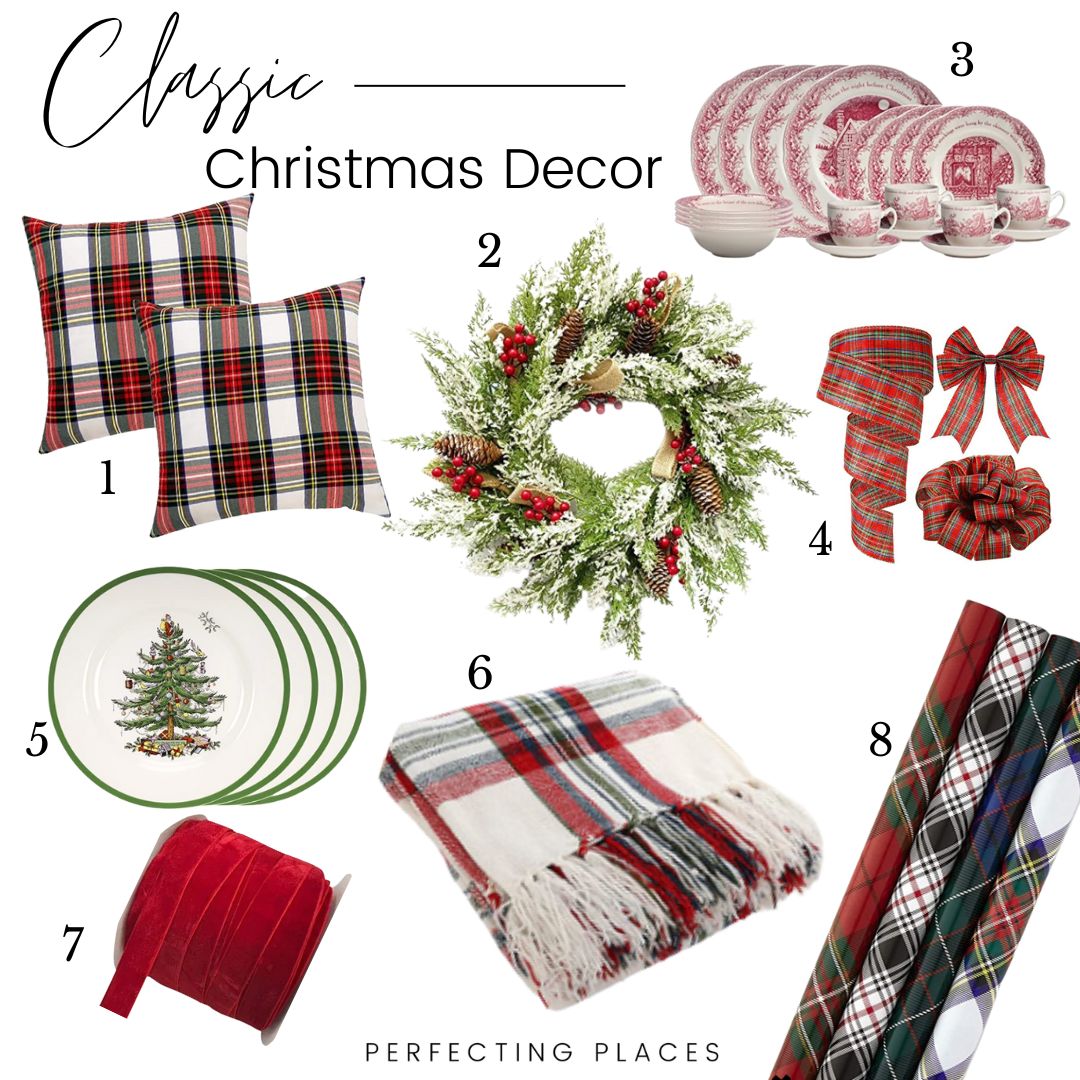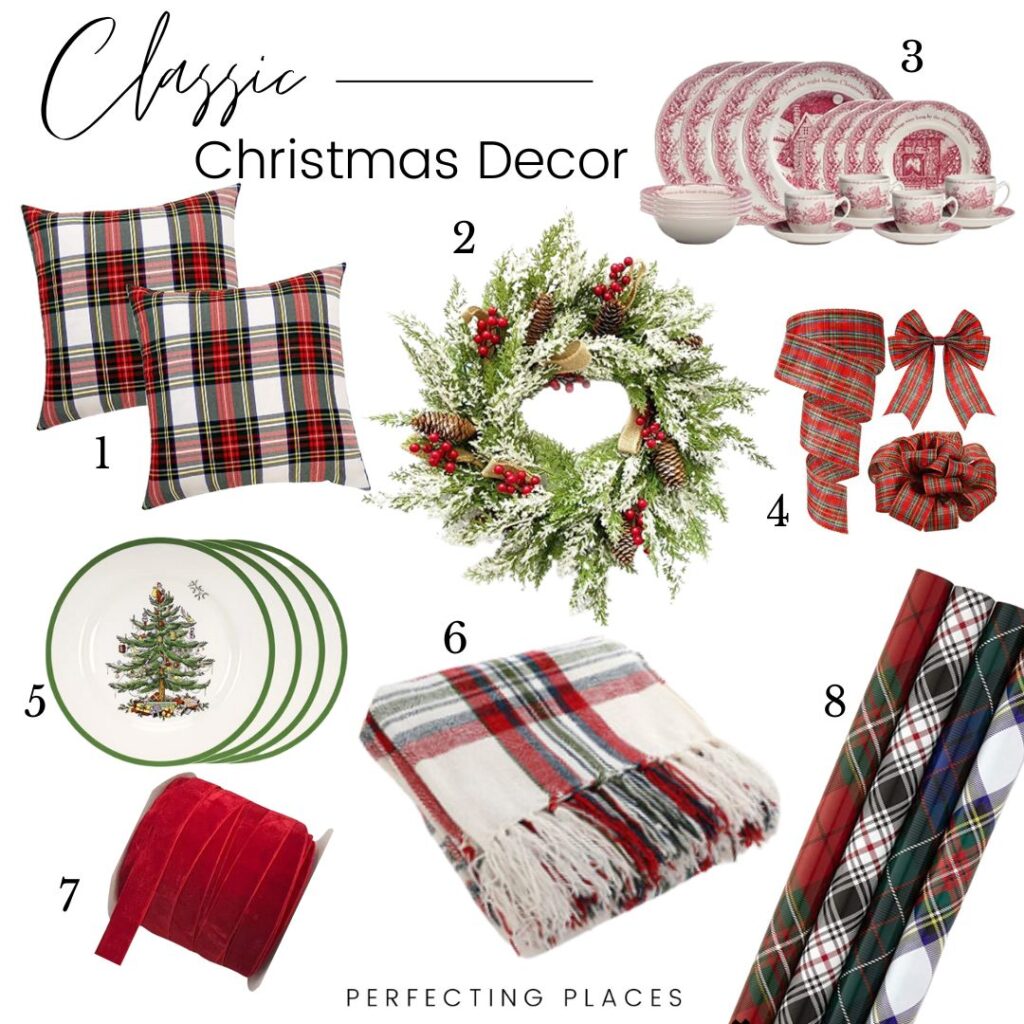 Neutral Christmas Theme
A neutral Christmas theme is such a soft and peaceful look. Sticking with a color palette of creamy whites and warm neutrals is a very cozy look for throughout the winter season.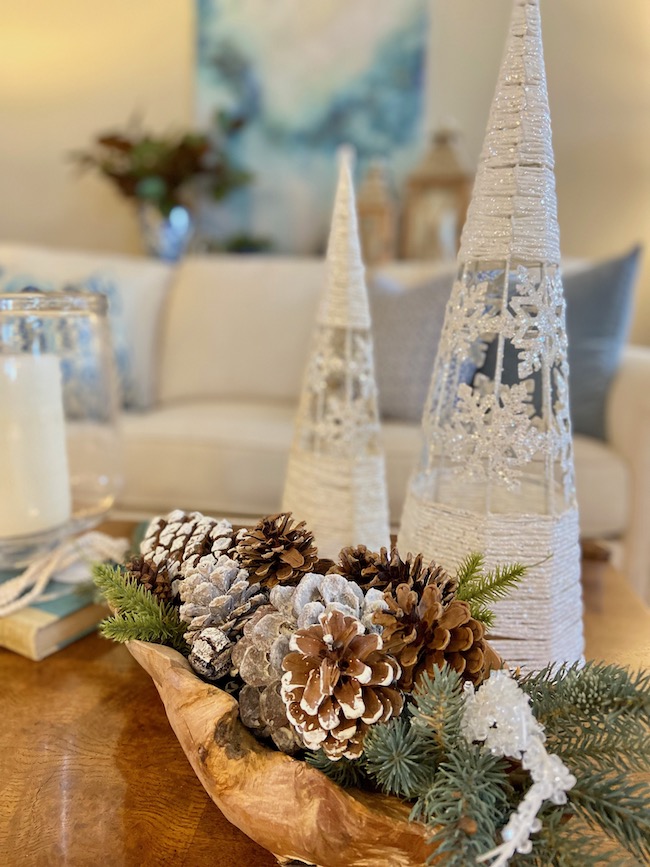 Even if you like to inject color into your home during the holidays, a nice neutral base for your Christmas decor makes it easy to switch out color schemes year after year.
Our Christmas tree has a nice neutral base of ornaments and florals. Mercury glass and gold or silver ornaments are perfect for this look, and really for any of the color schemes.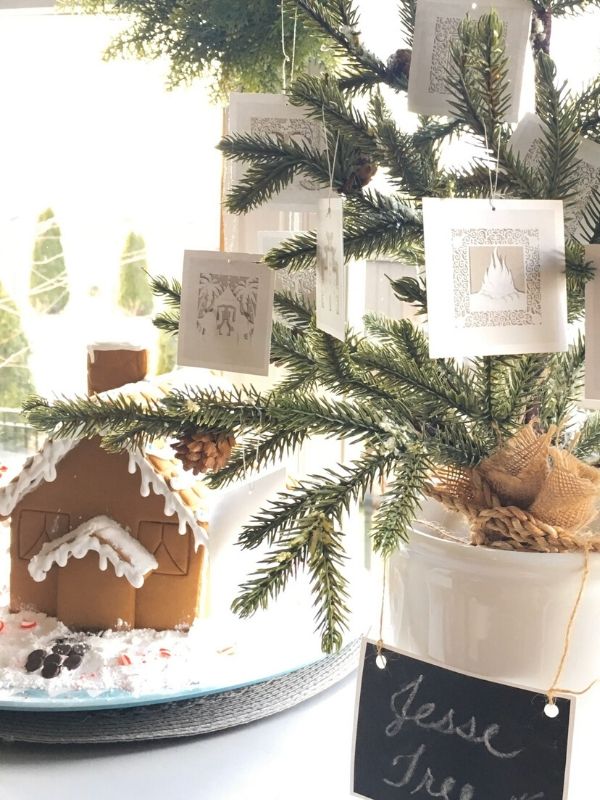 Adding natural elements and lots of texture makes a neutral color palette a beautiful option for Christmas.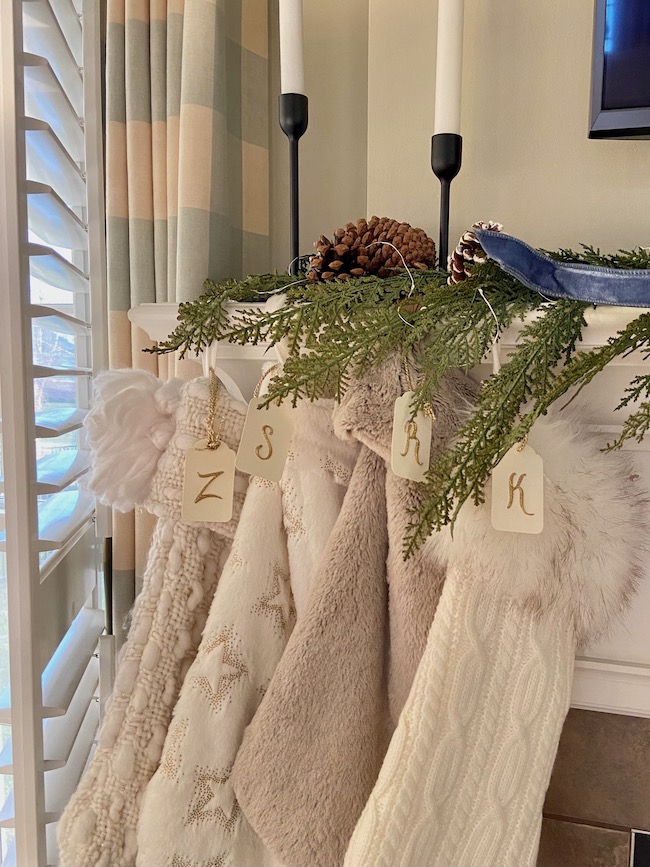 Nothing is more lovely that a neutral palette paired with lovely greenery. It's such simple but beautiful look.
Shop the Look for Tartan Plaid Christmas Decor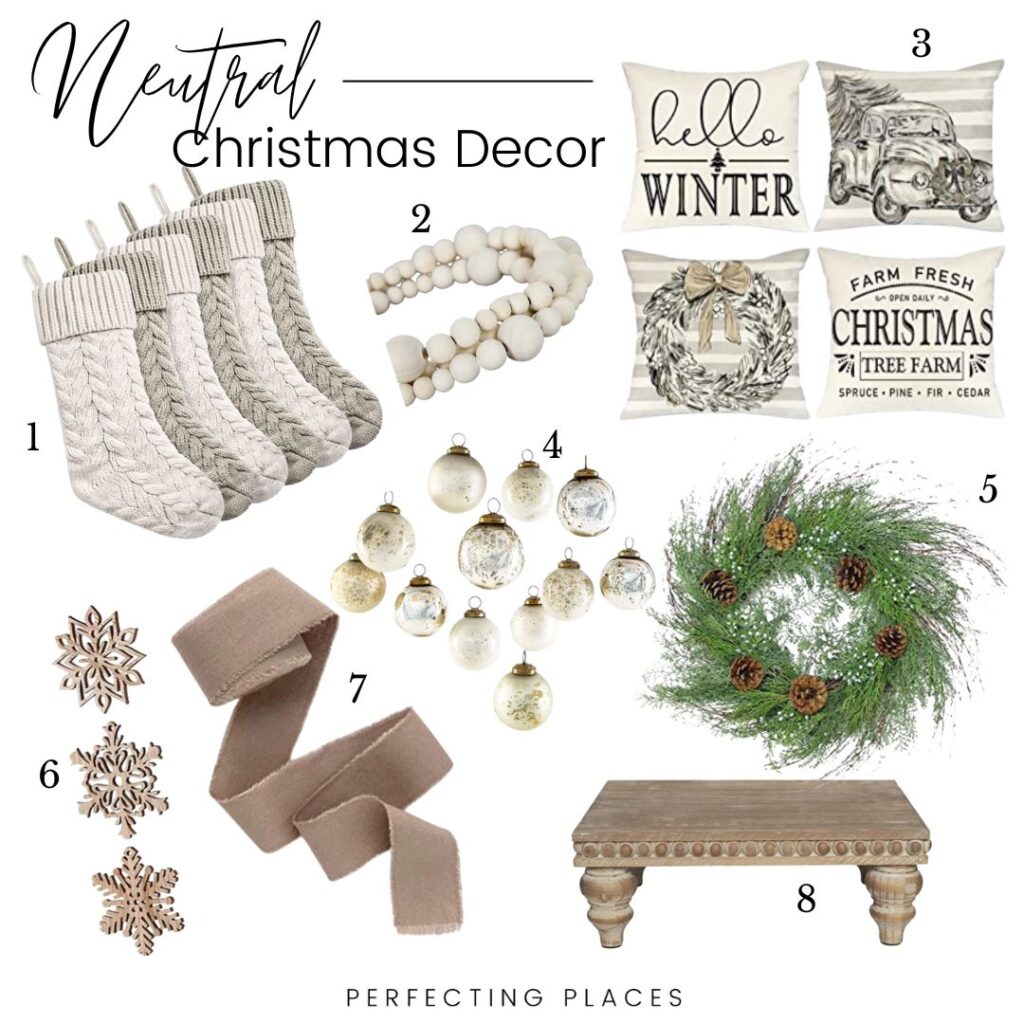 Pink and Gold Christmas Theme for a Girl's Room
This is a fun feminine look! Soft pink or blush is a lovely color to pair with gold for Christmas in your home, but especially in a girl's bedroom or home office for Mom.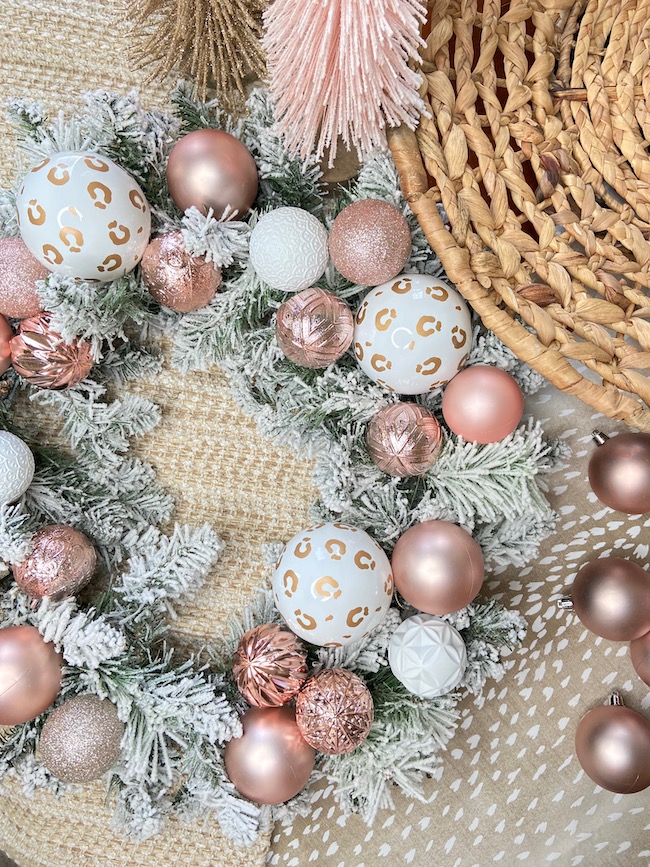 These gold and white Cheetah print ornaments are the perfect touch and are so pretty with the soft pink bottle brush trees.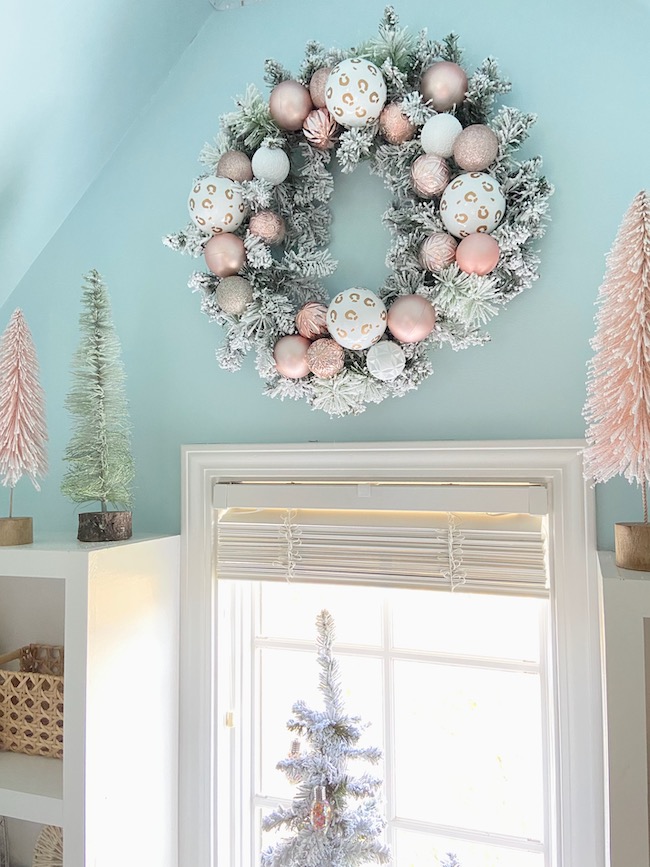 It's a fun alternative look to original Christmas colors in a girl's room.
Shop the Look for Pink and Gold Christmas Decor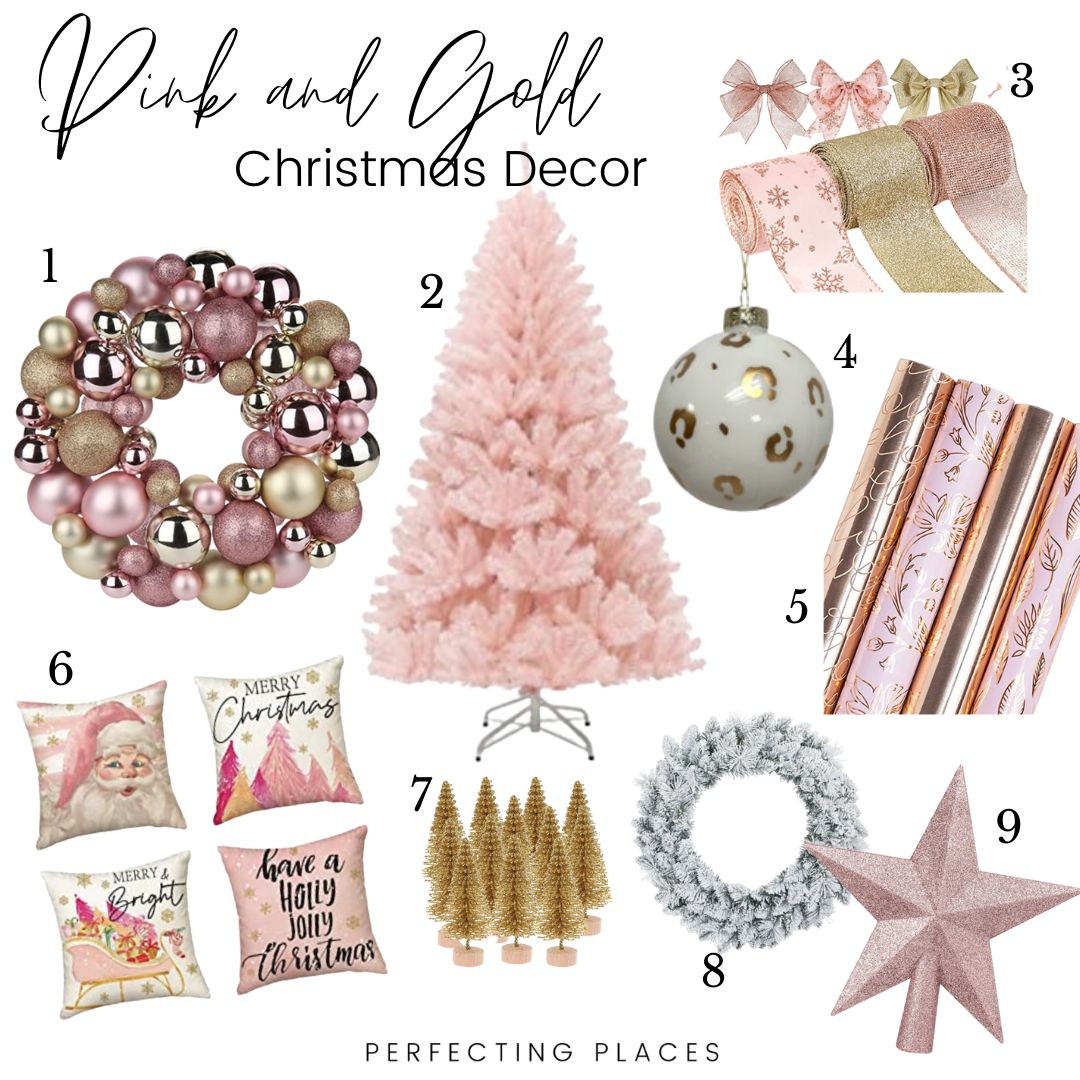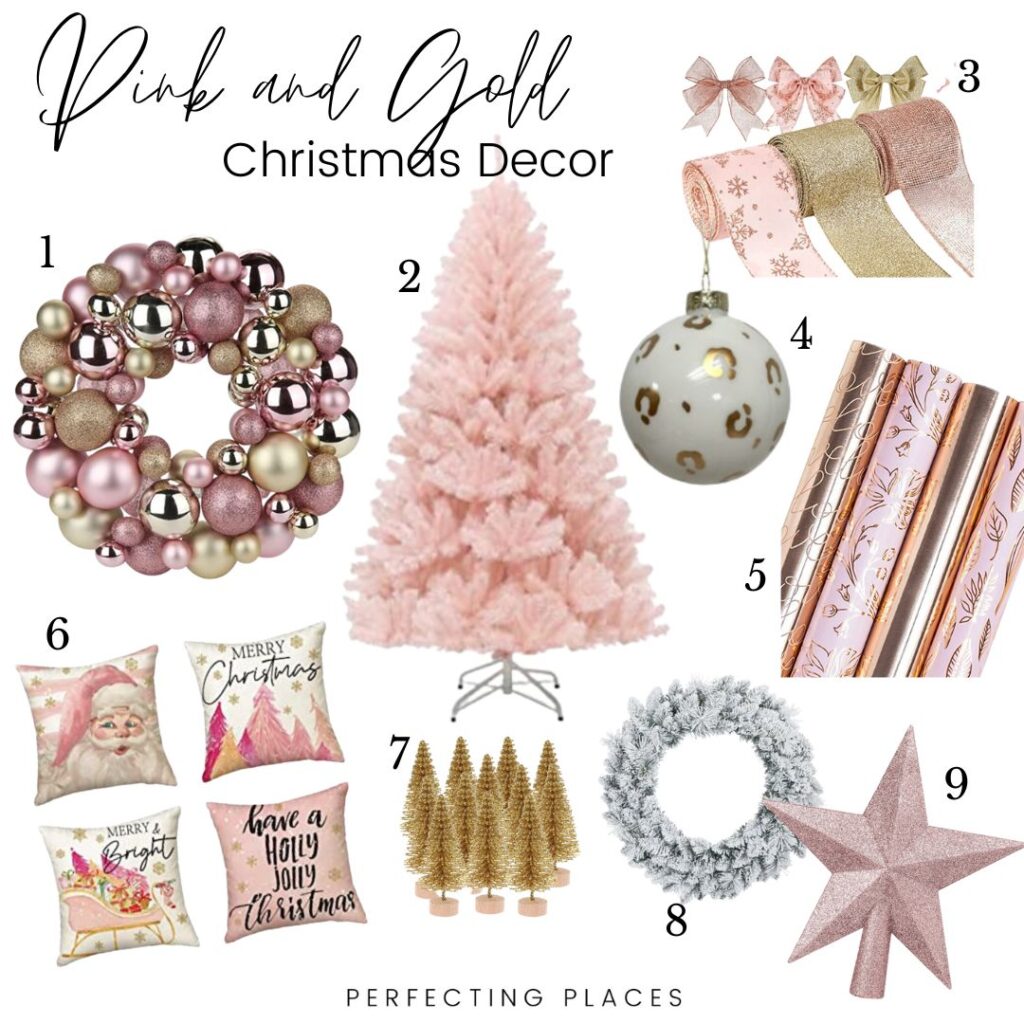 Now, what will your Christmas decor theme be this year? Do you have a favorite look for Christmas, or do you like to change things up year after year.
I hope these color scheme and Christmas theme ideas for decorating your home spark a little creativity in you and help to cut down on some of your decorating overwhelm!
Thanks so much for stopping by!
Happy Decorating!
Be sure to PIN this idea for later!!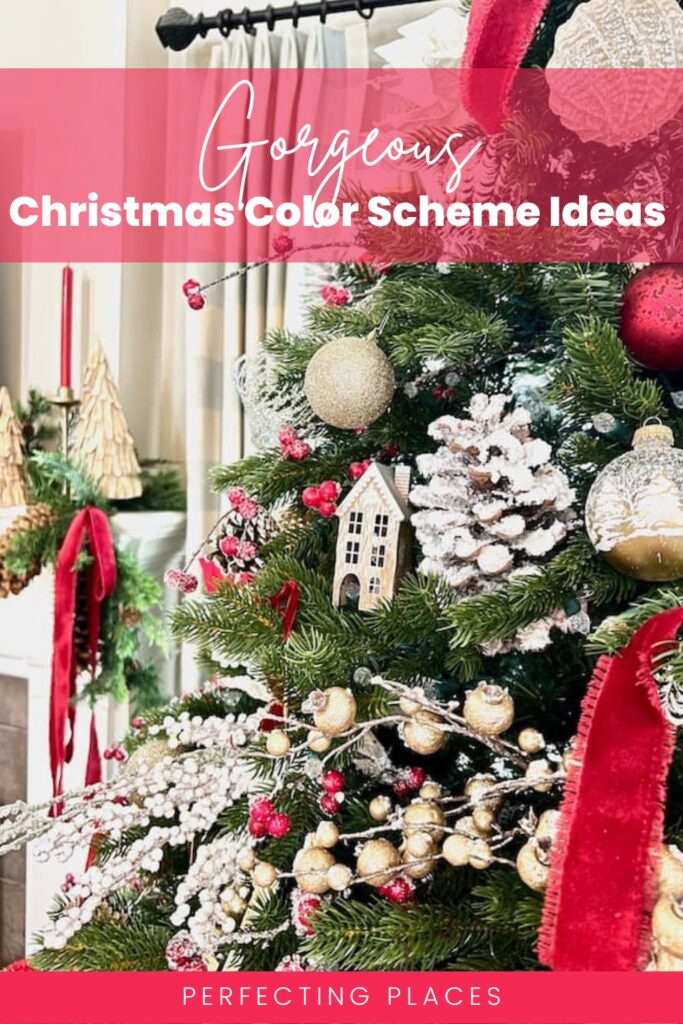 By the way, do you follow me on all the socials?? If not, check out my Pinterest, Instagram, and Facebook and be sure to fo